South Beach Diet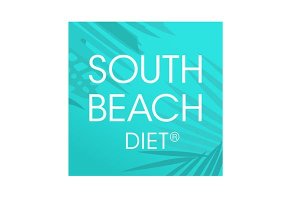 The South Beach Diet is a low-carb wellness plan designed to help you reach and maintain your goal weight without depriving yourself (at least after the first two weeks).
South Beach Diet Review: Can It Help With Weight Loss?
Medically Reviewed by Anthony Dugarte, M.D., C.S.C.S
What Is The South Beach Diet?
Created by cardiologist Arthur Agatston in 2003, the South Beach Diet began is a best-selling book and has since expanded into a commercial weight-loss program. The goal of this plan is to boost your metabolism so that it burns fat more efficiently for lasting weight loss.
It's possible to follow this plan by cooking your own recipes or by signing up for a subscription service that delivers pre-made snacks and meals to your door each month.
South Beach diet's central premise is that following a low-carb, high protein diet will keep you satiated without consuming too many calories, which consequently helps you to lose weight without having to count carbs. But will it work, and is it worth signing up for the program's subscription meal program? We'll sort through the facts below.
How Does This Diet Work?
Rather than branding itself as a ticket to fast fat burning, the South Beach Diet emphasizes sustained weight loss that produces results you can maintain for the long term.
"It's not a 'get slim quick' fix," says Gabriella Mancella, a corporate wellness dietician for Orlando Health. "It is a focused pattern of eating that highlights eating more well-rounded and does not restrict any one food group [after Phase 1]."
Contrary to popular perception, the South Beach Diet isn't carb-free. Instead, the plan distinguishes between "good" carbs and "bad" and guides you towards ones that are optimal for health and weight loss.
You'll eat lots of vegetables, fish, dairy, eggs and other forms of lean protein, and will focus on carbs that are low on the glycemic index, which means they don't overly affect your blood glucose levels and won't elevate your blood sugar.
In its classic form, the South Beach Diet is split into three phases:
Phase 1: Reboot Week
For your first seven days on the plan, you will focus on lean protein and healthy fats while avoiding fruit, starches, most carbohydrates, sugar, and alcohol. This is the hardest stage for many people, but it serves as the foundation for losing weight for the rest of the time.
Phase 2: Steady Weight Loss
During this part of the plan, you reintroduce healthy carbs (preferably from whole foods) into your diet. You'll eat three meals and two snacks per day, either that you make yourself or order via meal subscription. Simple sugars still aren't recommended, but a serving or two of alcohol a week is permitted.
Phase 3: Maintenance Phase
Designed as the transition from dieting to a lifelong eating plan, this phase allows you to enjoy all foods in moderation, preferably by taking portion control into account when you indulge.
Exercise is also an essential component of the South Beach Diet, and the plan recommends getting at least 30 minutes a day during weight loss (Phase 1 and 2) and 60 minutes during the weight maintenance (Phase 3). The plan's website includes a variety of fitness tips and exercises to help you get started.
About South Beach Meal Shipments
While it's possible to follow the South Beach Diet with your own food, the plan promotes using their meal subscription plan through Phase 2 to give you support and help you form new eating habits. While it's possible to purchase extra food a la carte, each plan provides space for your own cooking with two DIY breakfasts, lunches and dinners each week.
Below are the membership tiers available at the time of writing.
Plan
Cost
Features
Best of Bars and Shakes Kit
$3.57/day ($99.99)

Four weeks of keto-friendly shakes and bars
Tips for healthy meals for the rest of the day

Silver Plan
Women: $10.36/day ($289.99) Men: $11.79/day ($329.99)*

Four weeks of fully prepared breakfasts, lunches, and dinners

Gold Plan
Women: $11.79/day ($329.99) Men: $12.86/day ($359.99)

Four weeks of fully prepared breakfasts, lunches, and dinners
Option to choose from 101+ chef-inspired dishes and junk-free snacks

Platinum Plan
Women: $12.86/day ($359.99) Men: $13.93/day ($389.99)

Four weeks of fully prepared breakfasts, lunches and dinners
Option to choose from 101+ chef-inspired dishes and junk-free snacks
20 keto-friendly South Beach Simply Fit shakes (20g protein, 3g carbs each)
*Men's plans cost more per day because they include an extra snack.
When you sign up for a membership tier, you are automatically enrolled in an auto-delivery service.
This provides you with free monthly shipping and 35% off each meal compared to purchasing them a la carte. You can pause, update or cancel your order at any time, though the company terms and conditions state that you will pay $125 if you cancel your subscription before you receive your second order.
It's also possible to purchase South Beach Diet meals from other retailers such as Amazon or Walmart, though only the plan's official website offers a membership option.
South Beach's meal options differentiate between the phases with package coloring, which is teal (Phase 1) and light purple (Phase 2). Many of the meals will arrive frozen and should be kept that way until you eat them. Ready-to-go foods, such as shakes and bars, don't need to be refrigerated.
If you have questions about your order, you can call (888)841-2620 to speak with a company representative.
What Meals are Available from the South Beach Diet?
South Beach Diet offered hundreds of premade meals and snacks at the time of writing. Below is a small sampling of some popular options.
Breakfast options:
Turkey sausage and egg muffin
High-protein pancake mix
Beach shack strawberry shake
Just-add-eggs ham and cheese scramble
Lunch options:
Chicken with apricot glaze
Moroccan-inspired chickpea stew with pork
Tuna salad
Caribbean-inspired coconut soup with chicken
Garlic cheese flatbread
Dinner options:
Mushroom parmesan soup
Artichoke and spinach stuffed chicken breast
Chicken fajita bowl
White bean chicken chili
Roasted turkey with herb gravy
Snack options:
Decadent chocolate muffin mix
White cheddar flavored popcorn
Salt and vinegar multigrain chips
Original flavor meat snack stick
Salted caramel protein puffs
Shake options:
Vanilla or chocolate shake five-pack
South Beach Diet recommends mixing in fresh vegetables and other plan-approved ingredients into your meals, especially on DIY days, to add balance and variety.
Is the South Beach Diet Suitable for Everyone?
From what we learned on the plan's website, the South Beach Diet is designed to comply with a variety of different eating approaches and can be modified to be gluten-free and keto-friendly. Due to the nature of how the meals are assembled, it suggests vegans look elsewhere for losing weight.
The website FAQ makes it clear that while the plan offers plenty of keto-friendly options, it's not designed to be strictly keto or to keep people in ketosis for long periods. That's because they state that they don't believe nutritional ketosis is necessary for maintaining overall health and wellness.
South Beach Diet states that some health conditions exclude people from qualifying for their eating plan. They suggest the program isn't suitable for anyone under 18; those with a history of eating disorders; anyone with a Body Mass Index under 19; those with peanut, soy or latex allergies; those with heart conditions, celiac disease or who are on dialysis; and anyone who is breastfeeding an infant under four months old.
Regarding pregnancy, following Phase 2 and 3 is considered safe with a few dietary modifications, but pregnant women or those who are trying to become pregnant should avoid Phase 1.
Is There Any Science Backing Their Methods?
We can all agree that a healthy meal plan is a key component of any weight loss program, is there any research backing the South Beach Diet's Methods?
In this section, we'll discuss the available research for the weight-loss methods they offer.
Low Glycemic Index Foods
The South Beach Diet is based on the principle of opting for healthier carbohydrates, those with a low glycemic index (GI). This classification system provides details regarding the quality of the carbohydrates present in a particular food by assigning a number based on their ability to raise your blood sugar levels.
Quality carbs, those that provide a good source of fiber, generally have a scores of 55 or less. Larger numbers on this scale are associated with foods that cause more drastic spikes in your blood sugar and insulin levels.
By including a diet that focus on low GI foods, you can avoid the negative cycle associated with repeated blood sugar spikes – one that places you ate greater risk for type 2 diabetes, heart disease, depression, and some cancers.
As you can imagine, this area has been a hot topic for research.
An expert panel confirmed a need to offer information to both the general public, as well as healthcare providers, detailing the importance of the GI, as many chronic conditions are linked to poor diets.
Adopting a low GI diet improved blood sugar regulation but did not significantly reduce weight in 210 diabetic patients when compared to a high-cereal fiber diet. In 109 obese patients, a low GI diet did reduce fat mass, however.
A low GI diet did not result in weight loss for 162 diabetic patients, though it did lower post-meal glucose levels. In another study, a low GI diet did not burn fat, preserve muscle, or boost metabolism over 17-weeks.
Overweight and obese subjects that adopted a high-protein, low GI maintenance diet for 26-weeks were more likely to stick to the diet and maintain weight loss.
The big takeaway here is that there is a clear association with high GI foods and many chronic medical conditions. Low GI diets seem to benefit the regulation of blood sugar, though the weight loss benefits are less clear.
Portion Control
Current dietary guidelines provide recommendations for portion control, particularly in relation to calorie-dense foods. Another popular method of weight loss, this strategy has also been well studied.
In a study of weight loss in 186 obese women, the subjects were assigned to either a portion control strategy, a pre-portioned food group, or traditional healthy eating counseling.
While those that were provided pre-portioned foods (a service the South Beach diet offers) lost weight the quickest, they also regained it the quickest. At 6-months, the weight loss achieved did not differ between groups. At 1-year, the average weight loss for all was about a 6% reduction in their body weight.
Keep in mind these patients received professional guidance, a method proven effective in helping people achieve weight loss whether offered in person or over the phone. This service is available with certain weight loss programs, though it doesn't seem that the South Beach Diet provides this level of guidance.
The South Beach Diet and Lifestyle Change
In 2007, the weight loss effects of the South Beach Diet were specifically investigated.
Over 12-weeks, 20 overweight and obese patients that adopted the South Beach Diet experienced reductions in body weight, BMI, waist circumference, and body fat. The levels for insulin and hormones related to appetite were also positively affected, confirming the potential metabolic benefits demonstrated in GI research.
In addition to their low GI food and portion control methods, the South Beach Diet suggests other lifestyle modifications.
Exercise is also recommended throughout each phase of the program. They suggest up to 60-minutes daily while in the maintenance phase. These recommendations are in line with national guidelines.
Is the South Beach Diet Safe?
Implementing a healthy meal plan and daily physical activity can only improve your health. However, making changes to these factors are not without risk.
Making drastic changes to your diet can have various unwanted effects. It can impact medications you may take regularly. You may consume less energy-dense foods than what you are accustomed to, resulting in fatigue. These dietary changes can also lead to electrolyte or hormone imbalances that can be unsafe.
Your exercise plan should begin at a level that is appropriate for your current fitness level. A plan that is too rigorous can unsafely stress your heart if you are not accustomed to intense exercise.
For these reasons, it's important to include your physician in any plans for weight loss as they can track progress and monitor safety.
Bottom Line: Is the South Beach Diet Worth It?
In our opinion, there are plenty of reasons to consider the South Beach Diet—especially if you are intimidated by the idea of planning and preparing your own meals.
This low-carb, low sugar, high protein diet is a balanced way to eat that most likely won't feel overly restrictive for most people.
"This diet essentially is not a diet," says Mancella. "It is a focused pattern of eating that highlights eating more well-rounded and does not restrict any one food group. Typically, if a diet requires a restriction of any sort on certain food groups, I am hesitant to recommend it. The South Beach Diet is one that promotes the consumption of healthier food items compared to other diets that focus on restricting and limiting items."
According to Jason Machowsky, a board-certified sports dietician at Hospital for Special Surgery, there's a good chance you will lose weight on the South Beach Diet if you follow it correctly.
"There are many approaches to losing weight, of which the South Beach Diet is one of them. There is some research showing that the South Beach Diet promotes weight loss, but the same goes for plenty of other weight loss approaches - the key to all of them is staying consistent with the adopted eating habits. Otherwise, the weight will come back", he said.
What makes the South Beach Diet stand out from many other plans to us is their subscription meal service. If the idea of paying in advance for a month's worth of food appeals to you, then we think you'll like the convenience of this plan and how easy it is to stay on track.
However, sticking to pre-made meals for Phases 1 and 2 can lead to problems if you decide to go on your own for Phase 3.
It takes time to master a new eating style, and if you aren't cooking many of your own meals from the beginning, you might not develop a realistic sense of portion control and could potentially backside and regain the weight.
For that reason, we think it's important to cook for yourself at least two days a week while on the South Beach diet so that you ensure you learn what it takes to follow the plan for the long term.
But, so long as you follow the plan's dietary recommendations and get daily exercise, we think there's a good chance that it can help you develop a wellness lifestyle you can maintain for life.
Don't buy the food, cook it from the book.

By Paul V.

,

Florida

,

Jan 8, 2020
Verified Reviewer

I have used SBD for years and years and return to it to lose weight. The concept is sound. But this new system of prepared foods, shakes, etc. is such a scam. They default to automatic reorders that cost you hundreds each month and don't let you cancel. Plus, it took 3 weeks to get my first order - not helpful when you're motivated NOW.

The prepared food is tiny and awful. I have to wonder who owns SBD these days because I hope Dr. Agatston would not be a part of this current scheme.

My advice: Buy the book or go online and get the approved food list and unofficial recipes.

Bottom Line: No, I would not recommend this to a friend

---

Horrible experience

By Briggite M.

,

San Diego, CA

,

Oct 1, 2019
Verified Reviewer

I bought this diet thinking food was going to be as advertised, instead it looked like dog food. The lady I spoke with was very rude, stated she explained that you had to buy a 2-month supply, if you canceled early, within the first month, you had to still be charged $120 for cancelation fee. DONT buy the product!

Bottom Line: No, I would not recommend this to a friend

---

Terrible

By Beth B.

,

Tallahassee, FL

,

Jul 1, 2019
Verified Reviewer

DON'T DO IT! I ordered the one month plan, and the "meals" are skimpy, mushy 6 oz. portions. The "snacks" are mostly shakes or other sweet, tasteless bars. It's awful, and now I have a freezer full of this nasty stuff. I paid too much to throw it all out, so I have to keep eating this awful stuff. Don't do it!

Bottom Line: No, I would not recommend this to a friend

---

This is not a keto or diabetes friendly diet high on carbs!

1) I was debited for ordering a la carte without permission.

2) I wanted to cancel my whole delivery and was told that I would be penalized $125 something, unless you take delivery of two orders you'll be penalized.

3) Food too high on carbs and too many snack bars loaded with sugar.

4) The cancellation charge is not clear you have to go hunting for it. This is the most ineffective program.

5) What you are not being told from the TV starts to push this program that they have personal trainers and diet consultant.

Bottom Line: No, I would not recommend this to a friend

---

Advertisement

---

The food is horrifying, the customer service is horrifying, stay away from this company

By Francine M.

,

California

,

May 3, 2019
Verified Reviewer

I did the South Beach Diet plan when it first came out a couple of decades ago. It was TERRIFIC. I saw this new food program by South Beach and while I was skeptical of frozen food, I thought I would try it because I've been so busy, not cooking was a welcomed idea for a while.

What a mistake!

FOOD:

I am horrified by the items they call "food". I wrote a lengthy and thoughtful email three days into the South Beach Diet because of how disappointing and actually disgusting the three dinner meals I had were. And, the portion size is definitely not for an adult, even if you are losing weight. This is starvation. I explained that while I understand packaging images are often somewhat different than the actual product, the images in no way remotely represented what was provided. I took pictures of the box and placed the food item in the same picture. I took and sent it to South Beach. No one would be able to disagree with my assessment.

CUSTOMER SERVICE (if that's what they call it):

I also stated that I called "Customer Service" to cancel my next order and was informed that I would be charged $125 if I did so. I was again, appalled. The sales guy "Joe", told me it would be better if I ordered the $159 plan just so I didn't get penalized. I knew I wasn't going to get further with Joe, so I had him make the adjustment.

In the meantime, I then receive an email back thanking me for the email I sent and if I had any other issues, I should call. WHAT? After describing my displeasure, that's the reply? After showing them the quality of food they sent, THIS is how they treat people? NOW, I was pissed off.

This morning, I call and get "Anna". I tell Anna that I don't want to waste her time, and would like to speak with a manager or supervisor.

Anna: Can you tell me why?

Me: I briefly explained about my email, the response and that this is not acceptable and I'd like to speak with someone who is a supervisor.

Anna: Let me see if a supervisor wants to take your call. (I AM NOT KIDDING.)

I am put on hold. Anna returns.

Anna: We looked at your email and it appears there is no content in the email.

Me: What? If that's the case, you're telling me that customer service just sends out blanket statements without even reading the email. I would like to cancel my account and the next order.

Anna: The supervisor said I could cancel your order, so, my next order was canceled.

This is absolutely the worst experience I have had with a company in a very, very long time. The food quality is horrifying, the quantity is not meant for an adult female. Portion size is ridiculous. There is one package that apparently has a hamburger and it is less than the size of the palm of your hand. That is stunning.

Poor quality.

Poor customer service

Grade: F

There are plenty of options. Don't go this route.

Bottom Line: No, I would not recommend this to a friend

---

Scam

I was on SBD all the way to phase 3 and when I tried to cancel my plan they tell me I have to pay a $125.00 cancellation fee. So now I have to delay my order for who knows how long. Do not trust this company.

Bottom Line: No, I would not recommend this to a friend

---

An unethical company with bad business practices!

By Tone J.

,

New Mexico

,

Mar 19, 2019
Verified Reviewer

I can't say I am jazzed about the New South Beach Diet at all. There are several issues, and as the food concerned, I am disappointed. It was problems from the beginning. The sales representative I spoke to when I signed up wrote my email wrong, so I never received a welcome email which probably had a lot of information stated in it. I called the South Beach diet and asked if perhaps they could resend it to the correct email address, but they never did, oh well, probably not the worst that could happen, but it would have been nice to have it.

I did know that the food dishes came frozen and like the salesperson suggested when I signed up, I have taken out a couple of food dishes from the freezer the night before and let the food thaw, so I don't have to microwave the heck out of it before I eat it. I told the salesperson that I did not feel like eating frozen and microwaved food at the same time since that did not sound very healthy to me. I also mentioned to the sales representative when I signed up with the New South Beach Diet that I have severe food sensitivities to beef and pork (my digestive system can't digest it due to health issues), and frankly after have not eaten this type of food in 30 some years, it feels disgusting eating it. The sales person told me not to worry since I would be able to replace any of the red meat dishes. However, I have several times now thawed a food dish, warmed it up/cooked it on the stove top only to find that it had indeed had ham or beef in it; I am so disappointed!

I was starving and was looking forward to eating something. I thought to my self that diet certainly can be stressful but doing a diet the way South Beach intended it to be, dieting is supposedly less stressful. I ended up not being able to eat many of the dishes and had to wait until I had thawed a new meal (or microwave the food which I was not happy about), or until they sent me a replacement. The result was that I had to go to the store to buy more food.

I ended up making countless calls that were very frustrating for the most part. I wanted to cancel the South Beach Plan, but I was informed that I would have to pay additional money to do so. I thought to myself, that after all the frustration I now have to pay this unethical company more money? The ethical thing to do would be to state that the New South Beach Diet is not for people who have a food sensitivity to beef and pork because their meal plan is full of it! Their food/protein shakes, the casing around their sausages, and not to mention the many dishes.

After making a phone call regarding finding pieces of ham in a breakfast dish I was told that I would be contacted via phone the following day by sales representative after he had spoken to a supervisor, I said to them that the nutritional information did not mention it had ham in the dish. However, no one called (I was told that I might be able to cancel without the additional cancelation fee).

There are more awful things to mention, but I am not going to that at this time, other than saying that the New South Beach Diet company has unethical business practices, and that their sales representatives and diet counselors need to be trained more dealing with potential problems that may come up.

I do not recommend the New South Beach Diet to people with food sensitivities since you only end up wasting a lot of money for nothing besides this company would make anyone weight loss regiment a raving hell. I wish there were nice things to say, but unfortunately, there are none.

Bottom Line: No, I would not recommend this to a friend

---

South Beach Diet food tastes disgusting and a waste of money

By Linda B.

,

Florida

,

Feb 21, 2019
Verified Reviewer

The South Beach Diet plan is too restrictive in Pase 1, and the food tastes HORRIBLE. I had a significant headache when I followed the program according to their instructions and knew I was hypoglycemic. I contacted the company requesting them not to send the next month's delivery and ended up arguing with the customer service rep who attempted to change my mind which further aggravated my headache. They have a hidden $125.00 charge for canceling your order, so it cost me $425.00 for a terrible experience, and I have a freezer filled with food that I'm going to trash. Stay away from this program!

Bottom Line: No, I would not recommend this to a friend

---

Don't do new South Beach Diet

By Michelle V.

,

Camas, WA

,

Feb 10, 2019
Verified Reviewer

I am so glad I found some similar reviews to mine and hope if anyone is considering doing this they will think twice.

I've done the original South Beach Diet twice and the process works well for my body type. However, being in a busy season I thought we would do the pre-prepared meals to save money and time. They advertise "4 weeks plan with pre-prepared meals," so I thought this meant three meals a day, 7 days a week, 4 weeks.

When it arrived there was only one bit of information as to how to start and minimal information in the website. As it turns out the "plan" is only preprepared for you for the very first week. After that a booklet is provided (not included in mine but I found it online later), that is basically blank and you have to plan your meals yourself. I didn't want to do this because of time. The ease of a pre-prepared plan and meals as advertised was why I purchased in the first place.

I was also startled because the first week is basically a lot of shakes and bars and tiny meals. We were soooo hungry the whole time. My husband noticed the amount of sugar in the bars and shakes too - quite a bit more than any Atkins or low carb, low sugar shake/bar. Meals were pretty small and disgusting - I had to throw it in a pan and season to make it edible.

Throughout the first week we lost about 3-5 lbs of water weight but our clothes fit tighter and our faces puffed up. This is when I took a serious look at the amount of sodium in the food - off the charts for anyone who doesn't already eat a full diet of junk food. So while we lost a few pounds, I believe due to the 64 ounces of water per day, we both looked fatter. We both only needed to lose about 10 lbs each. We also were both bloated and constipated the whole time.

But I figured they had just updated the original plan and we stuck with it as we'd paid for it. But we ran out of food after 2 weeks. Then I noticed through website we were supposed to be doing a couple do it yourself meals - didn't realize this and hasn't budgeted for it. But this was all in the fine print and while it's misleading, I wasn't going to complain. I hadn't ordered a second box and was just planning to do the rest independently.

Once we stopped eating the pre-packaged meals and started doing the diet independently according to the original south beach diet, we started to lose real weight. I had learned a lesson but wasn't going to complain - I'm usually an avoider in customer service situations. But then I see a pending charge on our statement for a second box. I called in and told them we only wanted one box. They said the fine print stated I was signing up for 2 and I'd agreed to it. I felt that the fine print was different from the advertised print. I also mentioned that you see "keto friendly" everywhere on the website. This in combination with fact that the original South Beach Diet is truly low carb and low sugar, even no sugar the first two weeks, seems to be false advertising because the items in the box contain more sugar than either of the other two diets.

Like other reviewers have said, they told me there was a $125 cancellation fee. This would be $300 for two of us. I've never heard of a diet plan that didn't offer money back guarantee. Or at the least free cancellation. The agent kept asking me how much weight I'd lost and after telling her a number of times that I didn't want to discuss my weight, I just wanted to cancel, and she repeatedly asked me that, I told her it was none of her business. She then went in a tirade of shouting, I tried to intermittently interrupt to ask, "Are you seriously working in customer service?" She refused to transfer me to a manager but seemed to be putting me on hold to speak to one. I called back to try to speak to someone else because she had told me my account was "marked" as a combative customer. I said, "You mean like Elaine on Seinfeld?"

I did after an hour get to talk to someone else, kinder but still wouldn't let me cancel, only said he could defer my payment a couple of months before the next shipment. But that was only on one box, the other had already shipped and they still want us to pay for it. This guy said why don't you talk to customer service? I thought I was talking to customer service, but I agreed still trying to get through to a manager somehow. But the next customer service lady was as worse as the first. No matter what question I asked, she cut in and have robotic answers. The answers did not match the questions I'd asked and I wasn't able to get through one sentence.

Hung up, called back in, waited almost two hours, got through to a kinder gentleman who essentially gave me the same information. He said at the end though, "Between you and me you are not the only customer who has had this complaint. My hands are tied, I literally can't transfer you to a manager without losing my job, but I do know that some people have contested this with their credit card company." So that's what we are doing.

Please note, this new South Beach Diet is not the South Beach Diet! It will pump you full of sugar and carbs. I'm convinced that those who lose weight on it have come from a diet of fast food and processed food. Don't try it. I still stand by the diet from the original book. It still works!

Bottom Line: No, I would not recommend this to a friend

---

Original diet works...home shipped ripoff!

By Chuck W.

,

Ohio

,

Jan 16, 2019
Verified Reviewer

I went on the book version of the South Beach Diet seven years ago. It worked very very well. Recommended to many. I purchased the prepared ship to your home version several months ago. They did not ship 60 items upon the original order. After contacting them about the shortage, they did ship them eventually. The meals and desserts were marginally eatable. I realize that diet programs might not be 5-star restaurant quality, but it should at least be as good as "healthy choice" and others for the price. The book diet recipes are very good.

The coup de gras was the $125 cancellation fee. If you thought the food left a bad taste in your mouth...the fee put it over the top. Unfortunately, some marketing genius has destroyed the reputation of a great diet. Buy the book and make it at home, it really works and is far cheaper.

Bottom Line: No, I would not recommend this to a friend

---

If you are looking for awful tasting food (that and is also expensive) and horrendous customer service, then this is the diet for you!

By Lindsay K.

,

Florida

,

Jan 16, 2019
Verified Reviewer

If I could given the South Beach Diet a zero-star rating, I definitely would.

I have always been overweight (even when I was a competitive swimmer). I made it part of my New Year's resolution to try and lose weight and get to a healthy BMI. I researched a lot and found that the South Beach Diet had good reviews and seemed relatively easy to follow (especially with the food delivery as I work usually over 50 hours a weeks, which makes cooking hard). I was excited to get started although I wasn't thrilled with the price. It is about $375 per month and you still have to make six meals on your own so you are essentially spending over 400 a month on food (over $100 a week, which seems absurd).

I tried the food for two weeks, and found it be super processed and tasted unnatural. It was like eating plastic. The portion sizes are extremely small (especially compared to Jenny Craig or Nutrisystem, which are both handsomely larger). And they don't taste good. Nothing tasted good; not the shakes, snacks, meals, NOTHING. Which is one thing if you are seeing a result and losing weight, which I did not. I was extremely upset about this since I was following the diet religiously for a month and saw no progress on the scale. So, I was eating awful food and not seeing any results; not a great combo when paying an arm and a leg for it with guarantees that it will work (and quickly).

I decided that the South Beach Diet wasn't for me (obviously given the results). When I called to cancel (since you cannot do it online), the customer service agent kept asking why I wanted to cancel or what could be done to keep me. At this point, I wanted the South Beach Diet chapter of my life to close, with as little pain and annoyance as possible. I made it crystal clear that I just wanted to cancel my account and then the customer service agent informs me that he has to charge me an ADDITIONAL $125 to cancel my account. So, for a crappy month of meals, I got no weight change and an additional $125 out the door.

When I expressed my frustration and confusion over why they would be charging again (since they did not clearly state that was the cancellation policy), I was given an unsatisfactory response (it's Company Policy). I have never encountered such poor customer service. They do not care about their customers. The South Beach Diet company is a scam artist trying to suck all the money they can out of you! I felt like I was totally taken advantage of and like a schmuck, which is an awful feeling. I have no problem paying for something if I feel that it has that value. I do not like paying for something and feel that I am getting the rug pulled out from under me. I expressed those concerns to the agent as well as contacted the helpline hoping that they would have the decency to refund the cancellation fee (but to no avail). This is a horrible company with awful customer service. I cannot say it enough, it is a TOTAL SCAM!

If you want to spend a small fortune on crappy food with wishy-washy results and have to pay more when you want to leave and have to deal with a company that does not care about its customers at all, then this is for you.

Again, I cannot say it enough - DO NOT do the South Beach Diet, you will lose your money and reget it! I know if do.

Bottom Line: No, I would not recommend this to a friend

---