Isagenix Reviews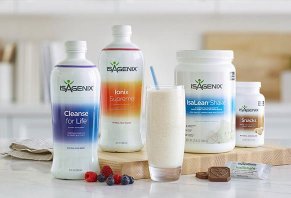 Isagenix manufacturers a variety of nourishing health and wellness supplements and other solutions, which are sold through the company's multi-level marketing business model.
About Isagenix
Using the best that science and nature have to offer, Isagenix's line of long-term health and fitness solutions promise to help you achieve a balanced weight, train harder and recover faster, age gracefully, and boost overall wellness.
In addition to these nourishing, no-compromise products that are easy to integrate into your everyday life, the company—who describes themselves as a 'goal-driven organization'—also provides a means for members to improve their lives financially.
Either way, will Isagenix help you live your best life, as advertised on their website? We'll help you take a high-level look at several important details we learned during our research, before committing your time and money.
How Does the Isagenix Opportunity Work?
According to the Vision Statement listed on their website, Isagenix exists to "impact world health and free people from physical and financial pain, and in the process, create the largest health and wellness company in the world," which they accomplish through the sale of their products (more soon).
In order to purchase, you'll have to sign up for one of the following membership types:
Customers – Can purchase products for you and your household.
Associates – In addition to personal use, these members also "have the opportunity to earn money by selling products to Retail Customers and from purchases made by Personally Enrolled Members, which include both Customers and Associates."
In other words, Isagenix is a multi-level marketing (MLM) organization, where Associate members can earn commission on each sale they generate, as well as on sales generated by any other Associates in their 'downline.' For more details about how this industry in general operates, be sure to read Crucial Things You Must Know About Multi-Level Marketing Before Joining.
Isagenix is fairly upfront that this is not a get-rich-quick scheme. In fact, of those who signed up as an Associate during 2016, the Earnings Statement on Isagenix's site indicates that:
50 percent made less than $254; 50 percent made more
10 percent earned more than $2,822
1 percent made more than $37,404
Combined, there are a total of 209 worldwide Associates who had sold more than $1 million
Isagenix is a member of the Direct Selling Association. Compared to many other MLM companies, Associates are never required to carry a retail inventory (although there are minimum selling requirements in order to be classified as 'active'), and they also provide a 12-month buyback policy for those who no longer wish to pursue a business opportunity.
Whether you're a Customer or Associate, Isagenix offers four different Android and iOS apps to help support your progress:
IsaOrder – Allows you to edit your Autoship details, check order status, and even place wholesale orders.
IsaLife – Geared toward members undergoing the company's 30-day system, with shake and cleanse schedules, food logs, and easy ordering. You can also set up notifications.
IsaPulse – Helps Associates connect with their team members, as well as receive updates from the company.
Isagenix Events – Provides agendas, venue maps, trainer details, and other important information related to the company's events.
With these high-level details in mind, let's zoom in and take a closer look at some of Isagenix's specific products.
Taking a Closer Look at Isagenix's Products & Ingredients
Isagenix offers dozens of products, including snacks, meal replacements, energy formulations, dietary supplements, an extensive Rejuvity skincare line, as well as combination packs. To maximize your time, we only focused on their most popular shakes and cleanses.
Cleanse for Life
Described as a blend of "natural cleansing herbs and antioxidant botanicals" that can help support detoxification and metabolism, while eliminating stubborn fat. Ingredients for the powder formula (also available as a liquid) include:
Niacin 4 mg
Vitamin B6 4 mg
Vitamin B12 15 mcg
Proprietary Blend 1,000 mg: Ionic Alfalfa, Aloe Vera Leaf Gel Powder, Bilberry Extract, Blueberry Extract, Ashwagandha Juice Extract, Pau D'arco Inner Bark Extract, Burdock Root Extract, Fennel Seed Extract, Rhodiola Root Extract, Yellow Dock Root Extract, Deglycyrrhizinated Licorice Root Extract, Eleutherococcus Senticosus Root Extract, Peppermint Leaf Extract, Turmeric Root Extract, Choline Bitartrate, Inositol, Betaine HCl, L-Methionine
IsaFlush
A system of herbs and minerals aimed at improving digestion and encouraging regularity, without the use of harsh laxatives:
Magnesium 200 mg
Proprietary Blend 100 mg: Bentonite, Hyssop Herb Top Extract, Peppermint Leaf Extract
IsaLean Shake
A low-glycemic meal replacement shake featuring active enzymes, superior branched-chain amino acids, and essential trace minerals that's "clinically tested to promote effective, healthy weight loss and lean muscle building."
Available in 11 different flavors, in canisters or packers, and as Dairy-Free and Kosher versions. Here are the ingredients for the Creamy Dutch Chocolate flavor (percent DV):
Vitamin A 50%, Vitamin C 40%, Calcium 30%, Iron 14%, Vitamin D 80%, Vitamin E 35%, Thiamin 60%, Riboflavin 70, Niacin 45%, Vitamin B6 60%, Folate 80%, Vitamin B12 200%, Biotin 45%, Pantothenic Acid 40%, Phosphorus 25%, Iodine 40%, Magnesium 50%, Zinc 45%, Selenium 40%, Copper 50%, Manganese 60%, Chromium 80%, Molybdenum 60%
IsaLean PRO Shake
Another meal replacement shake, but with 36 grams of protein and a different vitamin profile to help maximize metabolism and lean muscle building. Available in Chocolate, Vanilla, French Vanilla, and Strawberry Cream flavors.
Here's the profile for Natural Vanilla (percent DV):
Potassium 400 mg
Vitamin A 37%, Vitamin C 30%, Calcium 30%, Iron 3%, Vitamin D 60%, Vitamin E 26%, Thiamin 45%, Riboflavin 52%, Niacin 33%, Vitamin B6 45%, Folate 60%, Vitamin B12 150%, Biotin 33%, Pantothenic Acid 30%, Phosphorus 25%, Iodine 30%, Magnesium 33%, Zinc 33%, Selenium 30%, Copper 37%, Manganese 45%, Chromium 60%, Molybdenum 45%
IsaPro Whey Protein
Delivers 18 grams of undenatured whey protein concentrate per serving, making it great for any time of the day. Ingredients (Available in vanilla and chocolate flavors):
Whey protein concentrate (undenatured), natural Dutch cocoa powder, natural flavors, stevia (Stevia rebaudiana) leaf extract, Ionic Alfalfa™ (Medicago sativa) leaf extract, lactase, protease. Contains milk ingredients.
What Kinds of Results Can You Expect From Isagenix's Products?
Unpacking the clinical evidence behind each of the ingredients in just one of these formulas would take an entire article—not to mention all of the popular options listed here, or Isagenix's lineup as a whole.
But we've learned from our past research that most medical professionals and physicians emphasize our body does a great job of getting rid of toxins. As such, it doesn't require outside assistance from 'cleansing' supplements, whether 'flushing' via laxatives or other mechanisms.
And sites like WebMD and the Natural Medicines Database report there's also little-to-no clinical evidence that these types of supplements can help lose anything other than temporary water weight.
In fact, in some instances, these cleansing substances can do more harm than good and lead to side effects like diarrhea and a weakened immune system. To avoid any side effects, you'll always want to talk with your doctor before taking a new supplement.
Similarly, unless you're deficient in the vitamins they contain (which most of us aren't), we've also learned that organizations like the National Institutes of Health, the US Preventive Services Task Force, and the American Cancer Association emphasize that you likely won't meaningfully benefit from the use of dietary supplements.
With all of this said, the website notes that the company is supported by a Scientific Advisory Board and partners with "with well-respected universities and laboratories" to contribute "to evidence-based nutritional research while also providing clinical substantiation for Isagenix Systems for healthy weight loss and healthy living."
None of this evidence was listed on their site at the time of our research, and we didn't locate any studies matching the term 'Isagenix' on PubMed, the government's comprehensive list of clinical trials.
How Much Do Isagenix's Most Popular Products Cost?
Cleanse for Life
Powder Canister: $42.67
Liquid (2 oz): $51.93
Liquid (32 oz): $42.67
IsaFlush (60 capsules): $26.29
IsaLean Shake
Canister: $53.27
Packets: $57.27
IsaLean PRO Shake: $66.60
IsaPro Whey Protein: $53.27
If you're a new customer, Isagenix offers an additional 10 percent discount for signing up for their autoship program. You can also pay a $39 annual membership fee (or $29, if you agree to autoship) and receive 25 percent off.
All orders less than $50 come with a flat shipping charge of $8.95, while those over $50 will incur a ground shipping charge of $10.95, or seven percent of the total, whichever is greater.
Direct purchases come with a 30-day guarantee, less S&H charges, although only your initial order is covered if the product is opened. All future refund requests must be for unopened merchandise.
In order to request one, you'll need to reach out to customer support at (877) 877-8111 or Returns@IsagenixCorp.com.
What Can We Learn from Isagenix Reviews?
Again, Isagenix manufactures dozens of products. But overall, most Amazon customers seemed to report positive results with the company's offerings, which tended to have an average rating of about four stars.
Common compliments related to high quality and effective results (weight loss, increased energy, improved health, etc.), while complaints often referenced no results and high prices.
As a company, Isagenix International was co-founded by Jim and Kathy Coover in 2002. Despite this length of time, we encountered very little online professional feedback during our research.
One fairly in-depth review we did find was from Abby Langer, a Registered Dietitian since 1999 based in Canada. While you can read her entire feedback at your leisure for full perspective, she concludes:
"Verdict: Low-calorie diets make people lose weight. No food burns fat, even 'thermogenic herbs.' Detoxification of unknown toxins is one of the most persistent nutrition myths.
"Don't waste your money. Need a meal replacement? Grab some nuts and a piece of fruit."
Isagenix held an A+ rating with the Better Business Bureau, based on 28 customer reviews and nearly 30 closed complaints, as of 4/13/18. Most of these related to support concerns, although a company representative responded in each instance.
Isagenix vs. Vega One, Plexus, 310, Medifast, Shaklee, 18 Shake, Yoli, & 21 Day Fix
The fact of the matter is there are literally hundreds of meal replacement and weight loss shakes competing with Isagenix, many of which include similar ingredients profiles. Popular options include Plexus, 310, Medifast, Shaklee, 18 Shake, Yoli, and 21 Day Fix. How can you choose which way to go?
Because meal replacement shakes typically provide the same level of nutrition found in a full meal, but in 200-400 calorie servings, Healthline explains they can represent "a convenient way to get a healthy, low-calorie meal on the go," while simultaneously helping to resist unhealthy foods.
But they emphasize there can be big differences in quality between shakes, so you'll want to look for options that are low in sugar, refined carbs, fat, salt, and artificial ingredients.
Furthermore, most professionals point out that losing weight and keeping it off for good is about learning—and regularly implementing—healthy lifestyle habits, which isn't necessarily something a quick shake provides. As such, they're generally not considered a long-term solution.
If you choose to go this route, they recommend you focus on shakes that offer:
At least 15 grams of protein per serving
At least 3 grams of fiber per serving
Less than 10 grams of sugar per serving
No corn syrup
No hydrogenated vegetable oils
At least 33% of the Daily Value for vitamins and minerals
Our Final Thoughts About Isagenix
Whether you're looking to lose weight, improve overall health, or something else altogether, be sure to talk with your doctor if you're considering a dietary supplement.
They'll ask the right questions and order the appropriate tests to deliver a science-backed diagnosis, followed by related treatment recommendations—and whether or not products like those from Isagenix will deliver solid value for the money.
Speaking of money, no business decision should be made on a whim, even in light of Isagenix's no inventory commitment and buyback guarantee. So, be sure to read what other Associates are saying before making a commitment, which could provide a good indication of what you might experience after signing up.
Considering all of this, Isagenix has been in business for the better part of two decades, seems to come with a mostly positive online customer reputation, and prices most of their products competitively.