Trim Down Club Reviews
Claimed This company has claimed this profile, is getting alerted on any new customer reviews entering this page, and may engage in dialogue with its customers to address their matters.

Companies cannot pay money or provide goods in order to remove or alter customer reviews.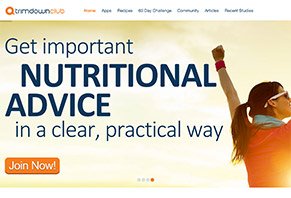 Trim Down Club is an online-only weight loss program, created by nutritionists and dietitians, focused on proper nutrition to help you shed unwanted pounds.
About Trim Down Club
Developed by nutritionists and dieticians, Trim Down Club is a membership-based weight loss program that promises to help men and women lose unwanted fat easily, permanently, and naturally; increase strength and energy, and live healthier, and simply feel better. And all of this for $1.99 for the first month, and $9.90/mo thereafter.
In order to accomplish this, the Club addresses the root cause of weight gain by providing three things:
Customized meal plans that match your body type, your tastes, and your lifestyle.
A collection of recipes that are delicious, nutritious, and most importantly, enjoyable.
Nutritional advice that is accurate and presented in a "clear, practical way."
Perhaps most of all, Trim Down Club is focused on bringing together a community of like-minded people who are intent on helping others enjoy good food and lose weight, which is why they call themselves a "club" in the first place.
We know you're excited to lose weight and live healthier. But once you get past all the marketing, can you really expect Trim Down Club to help you "get the body you've always wanted, naturally?" Consider the following:
How Does the Trim Down Program Help You Lose Weight?
It's no secret that in today's fast-paced world, nearly all of us are carrying around a few extra pounds based on the poor food choices we make.
Because of this, Trim Down Club primarily helps members lose weight by eliminating highly processed food from their diet and providing step-by-step instructions to naturally melt fat. All of this without 1) counting calories (or carbs, fat grams, or points), 2) subscribing to fad diets or pills, or 3) hunger or deprivation. In fact, their program promises to allow you to replace every bad food that you eliminate with at least one good food that you enjoy.
From a social aspect, Trim Down Club tells us their active community of members can help keep you motivated throughout the process, as well as different interest-specific groups you can join, including beginners, a variety of tips and tricks, members who are 50+, and support tools.
How Quickly Will You Lose Weight with Trim Down Club?
According to Trim Down Club's FAQ, "you will notice changes in how your clothes fit within the first month," in addition to shrinking bulges in specific areas, and less swollen fingers and face.
Overall, this generally translates into 1-3 pounds lost per week, depending on how overweight you are, which will continue occurring until you reach your target weight or hit a plateau.
In addition, your high cholesterol and diabetes symptoms may improve, as well as your energy levels and strength.
What Kinds of Recipes Are Featured in the Trim Down Club?
Trim Down Club provides a vast assortment of recipes for breakfast, lunch, and dinner on their website, as well as salads, soups, drinks, and seasonings, sauces, and condiments. These even include desserts, since they emphasize you shouldn't be deprived, although you will need to eat sweets in appropriate portions.
If you're wondering if there are any options that match your tastes, you can browse their Recipes page without first signing up for membership. And if you need a specialized menu based on your specific needs, such as gluten-free, low-cholesterol, low-sugar, non-dairy, or vegetarian, Trim Down Club offers options for you as well.
According to the company, these recipes can be made using foods found at your local supermarket, although they may cost more than the groceries you're currently buying.
Does Trim Down Club Focus On Exercise?
Trim Down Club states that 80 percent of weight loss revolves around the foods you eat, and only 20 percent relates to exercise. As such, the company focuses primarily on "balanced, complete nutrition incorporating whole, fresh foods," and claims that many people use the program to lose weight without ever exercising.
With this said, Trim Down Club membership does include access to an "anywhere, anytime" exercise program that incorporates fitness equipment you already own.
This means that while Trim Down Club may help you get trim, if you're also looking to become toned, you'll likely need to find an exercise program elsewhere.
Are Customers Losing Weight with Trim Down Club? Our Conversation With the Company
According to the company and the testimonials posted on their website, thousands of customers have reported that Trim Down Club has helped them find success (whether improved fitness, weight loss, etc.), and that the program and website were easy to use.
What Are Some Common Trim Down Club Compliments?
As far as compliments here on HighYa, some customers appeared to have been pleased with the weight loss results they achieved, the company's easy-to-use meal plans and menus, and stated that the information helped them achieve long-term weight loss.
What About Trim Down Club Complaints?
On the other hand, the most common Trim Down Club complaints appeared to revolve around constant upsells (we'll talk more about this in the next section), disappointment with the featured content, and difficult customer service experiences.
In this regard, we had the opportunity to speak with Adam Feldman, VP of Client Relations and one of Trim Down Club's founding members, who emphasized that the vast majority of HighYa's customer reviews occurred before the beginning of 2017. He noted that the company has only received one critical review since then, and that the company continues working with customers to process swift refunds, when requested.
Specifically, he explained the following:
"The previous reviews are from a time when we were learning what our customers wanted, as well as building the program. Now that we have a stable plan, with an extremely large and diverse member base, we are putting an even stronger emphasis on customer satisfaction and success."
What's the Company's BBB Rating?
From a company perspective, Trim Down Club is owned and operated by B2C Media Solutions Ltd based in San Francisco, CA. There, the company held an A rating and four closed complaints as of 9/26/17. Of the two with details available, one referenced recurring charges and the other related to difficulty obtaining a refund.
In all instances, a company representative seemed to respond quickly with a solution.
Here again, Adam remarked these complaints are more than two years old, and that the company has greatly increased customer satisfaction since that time.
Trim Down Club Pricing & Refund Policy
Currently, customers can sign up for a Trim Down Club membership for $1.99, which covers the first month. After that, the price increases to $9.90 per month, a change that Adam told us has "helped improve customer satisfaction by 15 percent."
As we saw from some of the complaints above, though, these lower prices don't necessarily mean that you won't be presented with many offers (some customers claim there are too many) after signing up.
However, Adam outlined that customers have full control over whether or not they agree to these offers, and that success is realistic, regardless of their purchasing decision, since everyone gets access to the same tools and support.
Nonetheless, for this price, you'll receive access to the following:
Personal Menu Planner – This is Trim Down Club's most popular tool, which provides you with a weekly menu, based on your specific dietary needs. All you have to do is choose the foods you love, and the Planner will combine them into the perfect balance of carbs, proteins, and fats, so you can lose weight and keep it off.
8-Week Plan – This is a carefully designed plan by the company's Chief Dietitian, Ossie Sharon, who has been helping people lose weight and keep it off for over 30 years.
Live Forums – Here, members can meet others who are on a mission to lose weight, as well as ask experts for advice regarding nutrition and fitness, 24/7.
Recipes – Using a variety of ingredients that can deliver new tastes, these recipes are approved by Trim Down Club's dieticians to "determine maximum fat burning capacity."
Guides & Videos – A collection of guides and videos that covers everything from food shopping tips to meal preparation.
Articles – The company claims these can help you stay up-to-date on everything related to health and wellness.
In addition, you'll also gain access to the company's 8-Week Plan, Great Soup Recipes, Big Book of Desserts, Cook Well Be Well, Simple Express Meal Plans, Ideal Weight Calculator, Express Meal Plans, community forums, articles, and studies, as well as different groups and activities.
All purchases come with a cancel-anytime 60-day money back guarantee, which can be requested by filling out the company's online contact form.
Is Trim Down Club the Right Weight Loss Program for You?
Chopping to the point: As you might imagine, there are dozens of personal factors that go into finding a weight loss program that meets your needs. As such, Trim Down Club may work impressively well for some individuals, and less so (or not at all) for others.
The good news is that Trim Down Club doesn't claim to be a quick fix, and states upfront that it will take willpower and dedication on your part to achieve your weight loss goals. And it's clear from our conversation with the company's VP of Client Relations, Adam Feldman, that the team is passionate about helping their customers lose weight and experience optimal results.
With this in mind, Trim Down Club seems to focus primarily on nutrition (which appears to be the most important aspect of losing weight), although you'll need to look elsewhere for anything more than basic exercise techniques. Also, be sure start slowly and not be persuaded to purchase everything that's presented as soon as you sign up.
What's your experience with Trim Down Club? Were you successful at losing weight? Tell the world about it by writing a review below!
Canceling

By Autumn W.

,

Macomb, MI

,

Feb 21, 2020
Verified Reviewer

I have tried multiple times to send an email to Trim Down Club about canceling my subscription and no one has gotten back to me and I am still being charged a monthly payment. It shouldn't be this difficult to cancel a subscription! I need this to get resolved and I will most definitely never recommend Trim Down Club to anyone!

Bottom Line: No, I would not recommend this to a friend

Feb 23, 2020

Hi Autumn,

I was just notified about your review and wanted to get back to you as soon as possible. First and foremost, I apologize that your time with Trim Down Club wasn't what either of us had hoped for. Sometimes our support teams replies are mistakenly placed in your email's spam/junk folder, and that's why you never saw our reply to your request.

If you haven't received your cancelation yet, you can personally email me your details and I'll take care of your account's cancellation and refund as soon as possible. You can email me for direct assistance at adam.feldman@trimdownclub.com

All the best,

Adam Feldman

Director of Client Relations

Trim Down Club

---

Don't waste your money

By Julie P.

,

Alberta, Canada

,

Jan 12, 2020
Verified Reviewer

Not user-friendly at all. I canceled my membership and even after receiving a confirmation email that they received my cancellation request, they still continued to charge my credit card! Just a scam if you ask me.

Bottom Line: No, I would not recommend this to a friend

Jan 14, 2020

Hi Julie, I've just seen your review and wanted to get back to you as soon as possible. First and foremost, I apologize that your time with Trim Down Club wasn't what either of us had hoped for. However, I want you to know that you can cancel your Trim Down Club subscription at any time. All you would have to do is email us at support@trimdownclub.com and we will take care of your request within 48 hours. If you haven't received your cancelation yet, you can personally email me your details and I'll take care of your account's cancellation and refund as soon as possible.

I want to ensure that you are 100% satisfied even if you are no longer a customer of ours so I would love for you to email me directly at adam.feldman@trimdownclub.com.

All the best,

Adam Feldman

Director of Client Relations

Trim Down Club

---

Advertisement

---

Deceptive sign up

By Mary L.

,

Ohio

,

Sep 12, 2019
Verified Reviewer

As soon as I signed up I saw I would be charged not $1.99 one month trial but $9.99 automatic every month on my credit card. Also, the information and the same type of recipes are on the internet for free, e.g. on medical sites for diabetes, etc.

Bottom Line: No, I would not recommend this to a friend

Sep 16, 2019

Hi Mary,

I have just been notified of your review and wanted to write to you as soon as I could. This is Adam Feldman the Director of Client Relations at the Trim Down Club. I want to start off by saying that I am sorry if you felt our program did not make it obvious that is was a monthly subscription. However, we do mention it multiple times throughout our sign-up process, both before and after the payment process. Now for the recipes you found online, if they are similar to our programs then they are most likely copies of ours as we have multiple professional nutritionists creating new recipes for our menu planner based on the different types of diets we have daily.

I want to ensure that you are 100% satisfied so I would love for you to email me directly at adam.feldman@trimdownclub.com with any questions or concerns you might have regarding your account or our program.

Wishing you all the best,

Adam Feldman

Director of Client Relations

Trim Down Club

---

Upsell after upsell

By Beverly H.

,

New York

,

Jul 18, 2019
Verified Reviewer

First, it took me a week before I got an email to even get on the site. I was stupid and went for the first round of upsells figuring the more info the better. I never got the links to the upsells and it took a week to finally get onto the site, then I clicked on the FREE GIFT...for only $6.98 shipping, but wait, if you spend $40 for the full-size product that you haven't tried yet then you can get $7 off. Refuse that and there is another product, and another and another and another until I finally gave up and asked for my money back!

Bottom Line: No, I would not recommend this to a friend

Sep 16, 2019

Hi Beverly,

I have just seen your review and wanted to write to you as soon as I could. This is Adam Feldman the Director of Client Relations at the Trim Down Club. I wanted to start off by apologizing for y our poor experience with our program, that was not our intention in the slightest and we are going to do whatever we can from here on to try to improve your overall experience. Now, as far as the upsells go, those are all completely optional and are each only offered one time meaning that after one refusal you won't be offered the product again. Additionally, you can cancel and refund your orders at any time as long as it's within 60 days of purchasing, so it's easy to take full of advantage of our offers and be able to keep your money if you're not satisfied.

I want to ensure that you are 100% satisfied even if you are no longer a customer of ours so I would love for you to email me directly at adam.feldman@trimdownclub.com with any questions or concerns you might still have.

Wishing you all the best,

Adam Feldman

Director of Client Relations

Trim Down Club

---

Advertisement

---

Absolute rubbish

By Danielle G.

,

Pawcatuck, CT

,

Jun 18, 2019
Verified Reviewer

I signed up for the Keto diet and what I got in return was a plan that is definitely not Keto based. Why do you false advertise to people! I am so angry and will be canceling my subscription even though you have taken $2 from me. An easy way for this company to be making $2 from many people with false advertising.

Bottom Line: No, I would not recommend this to a friend

Jul 15, 2019

Hello Danielle,

I've just been notified of your review and wanted to get back to you as soon as possible. First of all, I want to apologize that your time with Trim Down Club wasn't enjoyable, that's not the result that either of us had hoped for. We don't want any of our customers to feel as though they're being false advertised to, so I'd like to go over a few concerns you had. When customers sign up for the KetoTrim program from Trim Down Club they'll automatically be given a low-carb 28-day keto meal plan that they can follow. Additionally, our menu planner function now has a Keto filter option so customers can easily set their own Keto menus that come with ingredients and shopping lists.

I want to give you the opportunity to try our new Keto menu planner so please contact me directly and I'll get our support team to gift you free access to our program! You can message me directly at adam.feldman@trimdownclub.com

Wishing you all the best,

Adam Feldman

Director of Client Relations

Trim Down Club

---

Bad

By Kory O.

,

Alberta, Canada

,

Jun 14, 2019
Verified Reviewer

You have no way of canceling this service so I will be reporting it as fraud to my credit card company. It's pretty bad when you try to reach you and it says the site can't be reached. I thought I was getting keto-friendly diet menus, instead, I have to set things up myself. I want this canceled immediately, but I will be disputing this to my credit card company in the morning.

Bottom Line: No, I would not recommend this to a friend

Jul 15, 2019

Hi Kory,

I've just been notified of your review and wanted to get back to you as soon as possible. First and foremost, I apologize that your time with Trim Down Club wasn't what either of us had hoped for. However, I want you to know that you can cancel your Trim Down Club subscription at any time. All you would have to do is email us at support@trimdownclub.com and we will take care of your request within 48 hours. If you haven't received your cancelation yet, you can personally email me your details and I'll take care of your account's cancellation and refund as soon as possible.

As far as the menus go, when you sign up for KetoTrim through the Trim Down Club you'll receive a premade 28-day Keto meal plan just like every other customer. Additionally, you get the option to set up your own personalized menus through our meal planner function, but if that's not for you then you can always go back to the premade plan.

I want to ensure that you are 100% satisfied even if you are no longer a customer of ours so I would love for you to email me directly at adam.feldman@trimdownclub.com

All the best,

Adam Feldman

Director of Client Relations

Trim Down Club

---

Does not stand by their guarantee

By James C.

,

San Diego, CA

,

Apr 7, 2019
Verified Reviewer

I joined in February 2019, never received information about signing on, so I sent an e-mail. On March 3, 2019 I canceled the program and requested my money back as per their guarantee. Today, April 3, 2019, I was charged again. Now I am owed $19.80.

I was offered a lifetime free program if I paid the $9.90 one more time, however, this is not something I accept.

I did not use the service at all.

Bottom Line: No, I would not recommend this to a friend

Apr 8, 2019

Hey James, I was just notified of your review and wanted to quickly reach out to you. First, I am sorry that you were not able to access your Trim Down Club account. We send a confirmation email following every sign-up. But, maybe the email connected to the account had a typo, which could have stopped the system from sending it to you.

That said, I want to ensure that you were fully refunded based on our 60-day money back guarantee. And, that you receive the level of service that you truly deserve!

Please contact me directly at: adam.feldman@trimdownclub.com

Look forward to helping in any way I can!

Sincerely,

Adam Feldman

Director of Client Relations

Trim Down Club

---

Refuse refund

By Angie H.

,

Tennessee

,

May 31, 2018
Verified Reviewer

I have never received a notice of charge from Trim Down Club for four months. According to Trim Down Club, I signed up for the club on February 25th. Since then I have been charged four different times, first for $2.25 and then three times since for $10.87. I have no profile built, nothing. I may have inadvertently signed up but had I EVER received the first notice that they were charging me I might have reconsidered and canceled my membership before spending $45 on nothing.

I respectfully requested a refund since it had not been used and no notice ever was sent to me. I heard back from Justin Anderson, Director of Customer Affairs. He flat refused a refund and responded with, "I received your request to cancel your membership, and I wanted to remind you that you joined the Trim Down Club and accepted the terms and conditions of the program."

Make sure that if you subscribe you keep up with your account and any charges. You WILL NOT be notified, even on their site, that they are placing more charges against you.

Bottom Line: No, I would not recommend this to a friend

Jun 1, 2018

Hey Angie, this is Adam from Trim Down Club. I was just notified of this review and wanted to get back you as soon as I could. Just to clarify, Trim Down Club is a comprehensive health and wellness program that is clearly marketed as a monthly membership.

I see that Justin took care of your request and I'll be sending you a personal email to make sure that you are 100% satisfied with or without Trim Down Club. Sorry, and I look forward to making things right ASAP!

---

Too much "sell"

By CLFunk

,

Kalamazoo, MI

,

Mar 29, 2018
Verified Reviewer

I bought the plan, but before it could even be implemented, I canceled it. After paying and trying to set up the plan, I just got hit with "buy this first, you'll never get this price again" so many times. Each time for a different product that was going to make my weight loss faster and easier. Bull. I canceled. Hopefully, I get my money back without an argument, but I'm prepared for that if need be.

Bottom Line: No, I would not recommend this to a friend

Mar 29, 2018

Hi CL Funk, very sorry to hear that you decided to cancel before giving the program a fair chance. I do want to confirm that we offer a few different options to customize the plan, but these are completely optional. Everyone is different, and the extra options accommodate our members that are looking for additional resources and tools.

That being said, I am happy to let you know that we have a "cancel anytime" policy as well as a money guarantee. I would love for you to email me at adam.feldman@trimdownclub.com.

I want to ensure that you are taken care of and 100% satisfied. Thank you.

Adam Feldman

Director Client Relations

Trim Down Club

---

One year anniversary and have lost 46 lbs

By Erez Sayag

,

Maryland

,

Oct 21, 2017
Verified Reviewer

I was recommended to try the Trim Down Club program after trying many other diets. And, I am happy that I decided to give it a chance.

Exactly one year ago I started following their meal plans, and I have transformed the way I eat and look. I couldn't thank the Trim Down Club group enough for their menu planning app and community. These are results that I couldn't achieve when I was counting carbs. Now I simply choose the foods I want to eat, and they create a weekly menu based on those very selections.

I am very satisfied with my success and look forward to another great year of losing weight and feeling great!

Bottom Line: Yes, I would recommend this to a friend

Oct 21, 2017

That's just great Erez! We are so happy for your success and we wanted to congratulate you on your one year anniversary. Our menu planner is a very important part of our program and one that has helped many people like you reach their weight loss goals! Best of luck into the future.

---

My weight loss

By Connie Sides

,

Brookhaven, MS

,

Oct 19, 2017
Verified Reviewer

I took my aunt to the doctor and noticed that he had lost quite a bit of weight. So I asked him how he lost it. He said the Trim Down Club and that he recommends it. So after about 6 - 9 months I signed up.

At my heaviest, I weigh 345 pounds. You see, I use food to help me "feel better." I binge eat when I am upset or am hurting. Which is so bad to do! But I joined the Trim Down Club on December 31, 2015. At that time I weighed 305 pounds, and I worked really hard and only ate what was on my menu and lost done to 245.

I have had some setbacks this year and not done near as well. But I am back on track and starting to lose again. It's just taking me a while to get where I need to be. But with God and the Trim Down Club, I will lose the rest of the weight that I so desperately need to lose.

Thank you Trim Down Club for all of your help! I am so grateful for all help and tips.

Bottom Line: Yes, I would recommend this to a friend

Oct 19, 2017

Oh Connie, so happy that we've been able to help you lose weight and start seeing the benefits of healthy lifestyle. Binge eating can be difficult to overcome, but we're happy that you've changed your eating habits for the best!

---