DoFasting
Claimed This company has claimed this profile, is getting alerted on any new customer reviews entering this page, and may engage in dialogue with its customers to address their matters.

Companies cannot pay money or provide goods in order to remove or alter customer reviews.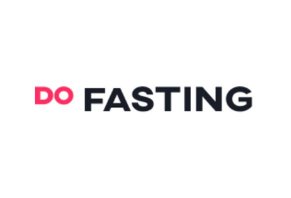 DoFasting sells personalized fasting plans that are designed to help you hit your goal weight based on the personal information you share.
DoFasting Review: What You Should Know
DoFasting is an online fasting guideline company that promises to provide you with a personalized fasting strategy based on your health goals.
According to the company website, the company takes your current diet, weight, and lifestyle into consideration to design a custom plan that will help you make simple changes in your routine to get the maximum benefits for your health.
While DoFasting promises to give you an eating plan designed for your individual needs, the brand is based around the concept of intermittent fasting. But is this a smart way to eat?
We'll look at the fact behind this timed fasting method to help you determine whether a program like DoFasting offers real health answers.
Creates structure and accountability for those learning to fast for the first time
Includes recipes and support articles
Subscription model lets you pay for only the time you use
Some customers thought the program wasn't personalized
Return policy might be difficult to use
More expensive than other fasting services
How Does DoFasting Work?
When you first sign up for DoFasting, you are instructed to take a 60-second quiz to determine your daily fasting agenda.
This quiz begins by requesting you select your gender, your familiarity with fasting, the time of day you feel most hungry, the timing of your meals, whether you prefer to cook or eat out, and whether you think fasting on weekends is possible for you.
You'll also specify your workout frequency, standard working hours, whether your job is physically demanding, and whether you are looking to lose weight or if you have current medical conditions.
Once you finish the quiz with information about your height, weight, and goal weight, the website will give you a summary of their recommended fasting plan.
This includes their prediction of when you will hit your goal weight, whether your BMI is within the healthy range, and what your daily caloric intake should be. They also specify whether fasting is safe for your personal situation.
If your predicted results appeal to you, you can then purchase a customized fasting plan. The company website states that it typically takes about two hours for a professional nutritionist to review your information and develop a plan that fits your perimeters.
If you don't receive your plan within that timeframe, they suggest checking your spam folder and logging onto your account through the website's myplan page to access it directly.
At the time of publication, we weren't able to view a customized fasting plan or make contact with the company to learn what precisely they include.
What we did glean from the company's FAQ page is that the fasting plan includes an eating plan with a meal guide and daily recommended calorie levels.
Likewise, DoFasting recommends all fasting participants primarily drink water, though coffee and tea are permitted in moderation. (Sugary, carbohydrate-heavy drinks like juice and soda banned). They also suggest pairing your eating plan with an exercise routine to maximize your results.
What Is Intermittent Fasting?
To find out more about what intermittent fasting is and how it works, we reached out to Gabrielle Mancella, a registered corporate wellness dietician with Orlando Health, to learn her thoughts.
"Intermittent fasting, put simply, is used to isolate the hours of eating food to a restricted period of time. This can range from any time of day or night, and is dependent upon the goals of the one who is fasting," Mancella told us.
Intermittent fasting is a popular fitness trend because it doesn't require you to change what you eat, but merely when.
There are dozens of variations that claim to combat different health concerns, but the most common methods include completing daily 16-hour fasts or fasting for 24 hours once or twice a week.
Many people start intermittent fasting to lose weight by consuming fewer daily calories, but the practice has other purported health benefits.
"When we are fasting, we are merely giving our gut a rest. This allows for the full digestion and absorption of the food that we consuming. It also maintains the size of the stomach in order to better control our portion sizes. We are halting the digestive processes in order to begin to prepare for the meal the next day," Mancella said.
Pricing and Refund Policy
All DoFasting plans are offered on a subscription basis. What you'll pay DoFasting depends on how many weeks you commit to at a time:
Annual plan: $1.25/week ($66 charged every 12 months)
Six-months plan: $1.75/month ($46 charged every six months)
Three-month plan: $2.50/week ($33 charged every three months)
You will need to cancel your subscription through your online account before it renews if you don't want to continue paying for it.
DoFasting allows customers to apply for refunds within the first 14 days after purchase. To do so, you will need to email the company at hello@dofasting.com and provide detailed information on the ways that the services you received don't match the description on the website. You will be updated if your refund is accepted.
Analysis of Customer Reviews
At present, 37 customers have left reviews for DoFasting on our website, and they average 3.3 stars. Here's our summary of what these reviews are saying:
Common Compliments:
Offered helpful support for getting started with fasting
Users successfully lost weight on the program
App and notifications created accountability for success
Common Complaints:
Service too simple for the price
Plans aren't truly customized, just a basic app with a timer and recipes
Users didn't like the subscription fee model
Refund policy is difficult to redeem
What Are Popular DoFasting Alternatives?
Though we weren't able to track down the specifics of a DoFasting fasting plan, there are several other programs available that are designed to help you navigate intermittent fasting. We chose three to compare to DoFasting.
| | | | | |
| --- | --- | --- | --- | --- |
| | DoFasting | BodyFast | Vora | Fast Habit |
| Service Type | Custom fasting plan | Virtual Intermittent Fasting tracker and coaching app | Intermittent fasting tracking app | Intermittent fasting tracking app |
| Cost | Subscription model, $1.25–$2.50 per week | Free for general access; $1.35 per week for the program's coach subscription | Free for general access; pro version is $5 | Free; pro version is $2.99 |
| Available Platforms | Online download | Apple and Android App | Apple and Android App | Apple and Android |
How does DoFasting compare to these other programs? For starters, BodyFast, Vora, and FastHabit are all offered as free mobile apps with options to upgrade to premium versions for more detailed analytics and/or ad-free content. You won't see what you get with DoFasting unless you commit to the subscription pricing.
We think the biggest distinguishing factor between DoFasting and the others is that DoFasting states that they put the focus on developing your personal fasting plan. The other three apps, in contrast, are less educational and put more emphasis on metrics.
For example, all three include timers to help you track fasting and non-fasting times. This is a smart option for those who already understand intermittent fasting and want a convenient way to track their progress, but it's not ideal for those who are new to the strategy.
BodyFast offers an additional coaching service that is similar to what DoFasting claims to offer, though you'll need to pay a subscription price of $5.40 per month for access.
If you're looking for a fasting program to follow for the long-term, you might save money by investing in DoFasting because you won't pay a continuous subscription fee.
However, your DoFasting plan gives you less flexibility over time because it's difficult to adjust your weight and goals without contacting the company and requesting they make you another custom plan.
For that reason, we suggest experimenting with the free version of any of the above apps to see if you like the services they offer. If one's a good fit, you might want to experiment with a premium version.
Even if the added cost isn't worth it to you, you will still spend less than you would on DoFasting, and you will have a way to test out the quality of the content you receive before committing to it.
The Bottom Line: Is DoFasting Worth It?
This customized intermittent fasting promises to offer plenty of value to customers, but we aren't sure that it's a better deal than the competition.
For starters, we couldn't learn much about the details of the customized fasting plans at the time of writing, and our attempts to contact the company for more information were unsuccessful.
We only have the company's self-published reviews to go off of that state that the service a good buy. In the same way, we think it's potentially problematic that the brand doesn't offer an easy way to modify your health goals once you pay for a program.
Our suggestion? Speak with your doctor or a certified dietician to develop an eating plan that fits your health goals and lifestyle. Dr. Mancella makes it clear that while intermittent fasting may have health benefits, it isn't for everyone.
"If you are medically compromised in any way, [intermittent fasting] may not be for you. This is because our metabolism is not only affected by the foods we eat and times of day we are eating; our bodies are highly unique," she said. "[When beginning to fast] it is crucial to be mindful of your lifestyle, commitments, and activity level whenever we are starting something new so that you can cater it to fit your lifestyle."
If you already have a method in place and are merely looking for a convenient way to track your fasting time, we recommend trying one of the three intermittent fasting apps we referenced earlier to see if it works for you.
Cannot contact company, need help

By Patricia W.

,

Manasquan, NJ

,

Mar 26, 2020
Verified Reviewer

I could not download the app on my phone after paying for it...I would like a full refund of $46.00. I have contacted my credit card company and they asked me to contact "DoFast". There is no way to contact them without starting a new account. Please help.

Bottom Line: No, I would not recommend this to a friend

---

A glorified countdown timer

By Tara M.

,

Toronto, Ontario, Canada

,

Mar 5, 2020
Verified Reviewer

The app is a glorified countdown timer. It also acts as a subscription and auto renews even though it isn't listed as a subscription under your Apple ID. Horrible customer service.

Bottom Line: No, I would not recommend this to a friend

---

Advertisement

---

DoFasting is really good

I'm happy I fount it and my dog is also happy. I had to adopt my sister's dog because she went to live in Europe. And the dog is very active I must say. He needs to run so much in order to be calm at home. So I started going for long walks and then I got motivated to lose weight. I discovered this app just on Facebook and I downloaded it. First two weeks weren't very pleasant, but maybe I had to start with 14-hour fasting before starting the 16. Anyway, I wanted quicker results so I was okay with struggling a bit. Because I lost 3 lbs the first week and 2 lbs the second week, I decided not to stop. And now I also keep on losing 2 lbs per week and I think it's a good and healthy speed. In two months that I'm doing fasting my stamina and energy levels are better and walking my dog is now great fun.

Bottom Line: Yes, I would recommend this to a friend

---

Waste of money

This write up is false. There is no custom plan. Not even a daily calorie suggestion. You have to purchase the app to find out that there is nothing to it. It's just a timer with a notification. You can set your clock on your phone to do the same thing for free. A few very basic recipes, and some low info articles you can find on-line as well. No refunds. It's "company policy." Just buy the book "The Obesity Code" and save your money.

Bottom Line: No, I would not recommend this to a friend

Jan 27, 2020

Dear Katherine,

We set a high standard for ourselves, and we're so sorry to hear this was not met in your interaction with our app.

Our app offers not only easy to use fasting tracker, which allows you to chose different fasting options and adjust your fasting hours easily but you can also find a personalized meal and workout plans, created by our professional nutritionists and trainers, based on your quiz answers. In your profile, you can easily track your progress. 'Tips' section in the app provides you with various articles on how to adopt a healthy lifestyle and intermittent fasting. Also, our specialists are ready for consultation 24/7. Meals database is being updated every week.

A full refund can be issued if the product was found faulty. Yet, we cannot provide a refund if you simply changed your mind or don't want the app.

Our team strives to make our app as much user-friendly and innovative as possible and we truly hope that with future updates and features of our app we'll be able to earn your trust.

If you need our support, motivation or consultation, do not hesitate to write to us at hello@dofasting.com, our specialists are always ready for a consultation!

---

Advertisement

---

Me and my mom are both hooked on this app

By Mildred H.

,

Seattle, WA

,

Jan 20, 2020
Verified Reviewer

Me and my mom are both hooked on this app. Even though my mom is 65 and isn't a big advocate of phones and apps, we both admit DoFasting is great. The notifications keep you on track. Also, even though you pay for the app, you save later (grocery shopping for the meal plan is cheap!).

Bottom Line: Yes, I would recommend this to a friend

Jan 21, 2020

Dear Mildred,

Thanks for leaving us such a wonderful review. We are thrilled that you loved your experience with our app.

We are so pleased to hear that our app keeps you on track! We believe that you'll reach your goals in no time!

If you need our assistance, useful tips or consultation on intermittent fasting - just write to us at hello@dofasting.com, our team will gladly assist you.

---

Such a good app

By Brenda R.

,

Detroit, MI

,

Jan 12, 2020
Verified Reviewer

It introduced me to intermittent fasting and I can't be happier. I really appreciate that it is not just a time tracking app, but also gives you lots of information about the fasting itself and that is my priority. Before going on any diets you should learn how they affect your body guys! And if in-app information is not enough, you can always drop an email to their customer service.

Bottom Line: Yes, I would recommend this to a friend

Jan 13, 2020

Dear Brenda,

Thank you for your review. We put customer experience and satisfaction as our priority, and your review reaffirms the hard work we put in every day.

We are so pleased to hear that you are enjoying our app and that you find it informative! Our team strives to improve our app every day and we can promise you, that even more, useful tips are on the way!

If you need our assistance, useful tips or consultation on intermittent fasting - just write to us at hello@dofasting.com, our team will gladly assist you.

---

No longer one-time fee.

By Linda B.

,

Florida

,

Jan 12, 2020
Verified Reviewer

Now you have to pay a subscription. I was hoping to pay the one-time fee but they no longer offer it. So I will probably go with another one. If I cannot cancel easily then it may not be worth the stress. I am retired and cannot afford it at this time. I would like to try it but I am very hesitant to do so.

Bottom Line: No, I would not recommend this to a friend

Jan 13, 2020

Dear Linda,

Thank you for your review. We are sorry to hear you had such a frustrating experience, but we really appreciate you bringing this issue to our attention.

You can purchase one of the three subscription options: 3-month subscription, which costs $33; 6-month subscription for $46; yearly subscription, which costs $66. After a subscription ends - the payment will be taken automatically, however, you can cancel automatic subscription renewal anytime by informing us at hello@dofasting.com.

Our app offers a personalized meal and workout plans, created by our professional nutritionists and trainers, based on your quiz answers, easy to use fasting tracker, which allows you to chose different fasting options and adjust your fasting hours easily. In your profile, you can easily track your progress. "Tips" section in the app provides you with various articles on how to adopt a healthy lifestyle and intermittent fasting. Also, our specialists are ready for consultation 24/7. Meals database is being updated every week.

Our team strives to improve our app every day and your feedback will be surely taken into consideration. We do hope that with further updates of the app we'll be able to earn your trust.

If you need our assistance, useful tips or consultation on intermittent fasting - just write to us at hello@dofasting.com, our team will gladly assist you.

---

I am pre-diabetic and DoFasting helped me a lot.

By Mabel K.

,

New York

,

Jan 9, 2020
Verified Reviewer

I am pre-diabetic. I was following some dietary guidelines my doctor provided me with, but I found it really hard to do. So I started browsing the net to see if there are any alternatives and I saw some forums talking about intermittent fasting. I decided to get an app for fasting when I saw that DoFasting includes more features than just a time tracker. So I'm doing the 16-hour fast and I find it not too hard. Also good that the meal recommendations are actual recipes, so I don't have to struggle too much to think of what should I have during my eating windows. Blood tests are saying my sugar levels are improved, so I can't be happier!

Bottom Line: Yes, I would recommend this to a friend

Jan 13, 2020

Dear Mabel,

We are so grateful for your kind words. Thanks for sharing your review with us and the community.

We are so thrilled to hear that our app met your expectations and that you are enjoying the meal recommendations! 16:8 is a perfect pick and the most important thing is that IF helped you to improve your sugar levels! We believe that you'll reach your goals in no time!

If you need our support, motivation or consultation - do not hesitate to write to us at hello@dofasting.com - we are always here for you!

---

Sneaky bastards

By Kimberly C.

,

North Carolina

,

Jan 6, 2020
Verified Reviewer

I read the no refund policy and decided against the app to find out later someone processed a payment for me. I want my money back! I would never recommend highway robbery to a friend or enemy!

Bottom Line: No, I would not recommend this to a friend

Jan 8, 2020

Dear Kimberly,

Thanks for sharing your feedback. We're sorry your experience didn't match your expectations. It was an uncommon instance and we'll do better.

You were charged since you have purchased a reoccurring 3-month subscription on September 20th and the subscription automatically renewed as indicated in your purchase confirmation. As per our terms and conditions, the subscription cancellation request should be sent to hello@dofasting.com. Unfortunately, we have not received a request from your email.

We have canceled your subscription and no further charges will occur, moreover, you can still use the app until the subscription ends. However, we regret to inform you, that due to our company policy, we are unable to issue a refund in this situation.

Please see our refund's policy which is stated in our Terms & Conditions:

5.2.4. the Company follows a no refund policy, unless the product is proven to be not as described or faulty. In such cases, client must contact our customer support at hello@dofasting.com within 14 days upon purchase and provide detailed information proving Company's product fault (with visual proof attached). Once a refund is issued, Client no longer has the access to Company's product. All refunds are applied to the original method of payment. By purchasing from the Company's website, client agrees to this refund policy and relinquishes any rights to subject it to any questions, judgment or legal actions.

Our team strives to make our app as much innovative as possible and even more useful features are on the way. We truly hope you'll give our app another chance.

---

DoFasting helped me to get the perfect body I wanted

By Jo H.

,

Louisiana

,

Jan 2, 2020
Verified Reviewer

DoFasting helped me to prepare my body for my vacation and is now helping me to lose all the weight I gained during the two weeks of constant food consumption. It is really nice that you can just do a pause and then jump back on it and you still get great results. I don't have too much extra weight, but I tend to eat excessively. Then I get really bloated and my belly looks like I'm pregnant, lol. So fasting really helps to "clean" myself. I did 20:4 fasting for a week after I got back from my vacation and my weight is now even better than it was before the trip. I will also try to keep doing 16:8 daily. You can really eat whatever you want then and you just don't gain weight. Love it and recommend it!

Bottom Line: Yes, I would recommend this to a friend

Jan 8, 2020

Dear Jo,

Thanks for leaving us such a wonderful review. We are thrilled that you loved your experience with our app.

We are so happy to hear that our app helped you to get fit just before your vacation! 20:4 and 16:8 are perfect picks!

If you need our assistance, useful tips or consultation on intermittent fasting - just write to us at hello@dofasting.com, our team will gladly assist you.

---

Awesome app

By Ollie D.

,

Louisiana

,

Dec 26, 2019
Verified Reviewer

Me and my mom are both doing intermittent fasting now with this app. I started doing it two weeks earlier and I want to tell you my experience: I'm doing it for a month now and so far I've lost 8 lbs. The first week wasn't really easy because it, of course, is hard to restrict yourself from food completely, but interestingly, it gets easier day by day. I think the body gets used to being fed at certain times and therefore my digestion is also much better - no bloating, no stomach pain. My mom's only on the app for 2 weeks, but she also really likes it. It is easy to use and very functional: has the time tracker, the food recommendations and sports program for different levels of fitness. We both give it 5 stars.

Bottom Line: Yes, I would recommend this to a friend

Jan 2, 2020

Dear Ollle, Thanks for leaving us such a wonderful review. We are thrilled that you and your mom loved the experience with our app. Your results are truly incredible! We are cheering for you and we believe that you'll reach your goals in no time! First weeks can be rough, but, as you mentioned, it gets easier every day. If you need our support, motivation or consultation - do not hesitate to write to us at hello@dofasting.com - we are always here for you!

---