DoFasting
This company has claimed this profile, is getting alerted on any new customer reviews entering this page, and may engage in dialogue with its customers to address their matters.

Companies cannot pay money or provide goods in order to remove or alter customer reviews.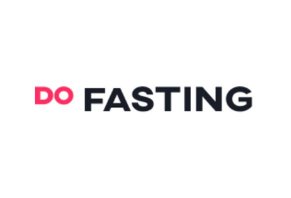 Summary
DoFasting sells personalized fasting plans that are designed to help you hit your goal weight based on the personal information you share.
Pros
Creates structure and accountability for those learning to fast for the first time
Includes recipes and support articles
Subscription model lets you pay for only the time you use
Cons
Some customers thought the program wasn't personalized
Return policy might be difficult to use
More expensive than alternative IF apps
DoFasting Review: What You Should Know
DoFasting is an intermittent fasting app that promises to help you lose weight by providing you with a personalized fasting strategy based on your health goals.
According to the company, it takes your current diet, weight, and lifestyle into consideration to design a custom plan that will help you make simple changes in your routine to get the maximum benefits for your health.
In this review, we take a detailed look at DoFasting to help you understand how it works and if it is the right option for you.
How Does DoFasting Work?
You start with a 60-second quiz to determine your daily fasting agenda.
This quiz begins by requesting you select your gender, your familiarity with fasting, the time of day you feel most hungry, the timing of your meals, whether you prefer to cook or eat out, and whether you think fasting on weekends is possible for you.
You'll also specify your workout frequency, standard working hours, whether your job is physically demanding, and whether you are looking to lose weight or if you have current medical conditions.
Once you finish the quiz with information about your height, weight, and goal weight, the website will give you a summary of their recommended fasting plan.
This includes their prediction of when you will hit your goal weight, whether your BMI is within the healthy range, and what your daily caloric intake should be. They also specify whether fasting is safe for your personal situation.
If your predicted results appeal to you, you can then purchase a customized fasting plan. The company website states that it typically takes about two hours for a professional nutritionist to review your information and develop a plan for you.
The fasting plan will include an eating plan with a meal guide and daily recommended calorie levels.
Likewise, DoFasting recommends that participants primarily drink water, though coffee and tea are permitted in moderation. (Sugary, carbohydrate-heavy drinks like juice and soda banned).
They also suggest pairing your eating plan with an exercise routine to maximize your results.
Is Intermittent Fasting Effective?
To learn more about the effectiveness of intermittent fasting, we spoke with Gabrielle Mancella, a registered dietician with Orlando Health.
"Intermittent fasting, put simply, is used to isolate the hours of eating food to a restricted period of time. This can range from any time of day or night, and is dependent upon the goals of the one who is fasting," Mancella told us.
Intermittent fasting is a popular fitness trend because it doesn't require you to change what you eat, but merely when.
There are dozens of variations that claim to combat different health concerns, but the most common methods include completing daily 16-hour fasts or fasting for 24 hours once or twice a week.
Many people start intermittent fasting to lose weight by consuming fewer daily calories, but the practice has other purported health benefits when done right.
"When we are fasting, we are merely giving our gut a rest. This allows for the full digestion and absorption of the food that we consuming.
"It also maintains the size of the stomach in order to better control our portion sizes. We are halting the digestive processes in order to begin to prepare for the meal the next day," Mancella said.
Pricing and Return Policy
Annual plan: $1.25/week ($66 charged every 12 months)
Six-months plan: $1.75/week ($46 charged every six months)
Three-month plan: $2.50/week ($33 charged every three months)
All plans are offered on a subscription basis. You will need to cancel your subscription through your online account before it renews if you don't want to continue paying for it.
The company allows customers to apply for refunds within the first 14 days after purchase.
Analysis of Customer Reviews
Over 50 customers have left reviews for DoFasting on our website, and they average 2.8-stars. Below is a summary of the main takeaways:
Common Compliments:
Offered helpful support for getting started with fasting
Users successfully lost weight on the program
App and notifications created accountability for success
Common Complaints:
Service too simple for the price
Plans aren't truly customized, just a basic app with a timer and recipes
Users didn't like the subscription fee model
Refund policy is difficult to redeem
Popular Alternatives to DoFasting
| | | | | |
| --- | --- | --- | --- | --- |
| | DoFasting | BodyFast | Vora | Fast Habit |
| Service Type | Custom fasting plan | Virtual intermittent fasting tracker and coaching app | Intermittent fasting tracking app | Intermittent fasting tracking app |
| Cost | Subscription model, $1.25–$2.50 per week | Free for general access; $1.35 per week for the program's coach subscription | Free for general access; Pro version is $5 | Free; Pro version is $2.99 |
| Available Platforms | Online download | Apple and Android App | Apple and Android App | Apple and Android |
BodyFast, Vora, and FastHabit are all offered as free mobile apps with options to upgrade to premium versions for more detailed analytics and ad-free content. You won't see what you get with DoFasting unless you commit to the subscription pricing.
We think the biggest distinguishing factor between DoFasting and the others is the focus on developing your personal fasting plan. The other three apps, in contrast, put more emphasis on metrics.
For example, all three include timers to help you track fasting and non-fasting times. This is a smart option for those who already understand intermittent fasting and want a convenient way to track their progress, but it's not ideal for those who are new to the strategy.
BodyFast offers an additional coaching service that is similar to what DoFasting claims to offer, though you'll need to pay a subscription price of $5.40 per month for access.
If you're looking for a fasting program to follow for the long-term, you might save money by investing in DoFasting because you won't pay a continuous subscription fee.
However, your DoFasting plan gives you less flexibility over time because it's difficult to adjust your weight and goals without contacting the company and requesting they make you another custom plan.
For that reason, we suggest experimenting with the free version of any of the above apps to see if you like the services they offer. If one's a good fit, you might want to experiment with a premium version.
Even if the added cost isn't worth it to you, you will still spend less than you would on DoFasting, and you will have a way to test out the quality of the content you receive before committing to it.
The Bottom Line
This customized intermittent fasting promises to offer plenty of value to customers, but we aren't sure that it's a better deal than the competition.
We think it's potentially problematic that the brand doesn't offer an easy way to modify your health goals once you pay for a program.
Our suggestion? Speak with your doctor or a certified dietician to develop an eating plan that fits your health goals and lifestyle. Dr. Mancella makes it clear that while intermittent fasting may have health benefits, it isn't for everyone.
"If you are medically compromised in any way, [intermittent fasting] may not be for you. This is because our metabolism is not only affected by the foods we eat and times of day we are eating; our bodies are highly unique," she said.
"[When beginning to fast] it is crucial to be mindful of your lifestyle, commitments, and activity level whenever we are starting something new so that you can cater it to fit your lifestyle."
If you already have a method in place and are merely looking for a convenient way to track your fasting time, we recommend trying one of the three intermittent fasting apps we referenced earlier to see if it works for you.
Customer Reviews
Posted on May 13, 2022
No customer support – bots
I requested a refund. Even though my order information was available, I was asked what I had purchased. It took several inquiries on my part to get an RMA. I sent the package back, got a USPS confirmation that it was delivered, they tell me, gonna take 10–30 days. I waited 30 days and asked again and include the RMA so you have a reference point. You come back with "Um what did you buy again?" even though you now have the order information and the RMA. Then you reply with:
"Could you please provide us with the tracking link so we could fasten the process and issue a refund sooner? Please kindly know that in order to do that we need proof that the package has been returned to our warehouse."
I no longer have access to that information from USPS. Please refund my money!
Length of Use: Less than 3 months
Bottom Line: No, I would not recommend this to a friend
Pros and Cons
No "pros" were specified in this review
Bot customer support
Run around
Frustrating con artists
Posted on Feb 21, 2022
Great customer service
I spontaneously purchased this 6-month plan but found due to health reasons this was not something I could do. I wrote and explained my situation and I was immediately provided a full refund. I was hoping I could do this, but at least the customer service was terrific and the refund immediate! Thank you!
Length of Use: Less than 3 months
Bottom Line: Yes, I would recommend this to a friend
Pros and Cons
The timers and reminders
The information and guidance through guides
Good plan ideas/suggestions
Medically I could not do this plan
Posted on Jan 31, 2022
Buyer beware!
I requested that DoFasting cancel ALL of my upcoming orders. They still charged me and are not responding to any of my emails requesting a refund of $228.60! This company has no phone number for customer service and what they are doing is unethical. I have requested a refund from PayPal and I will be submitting reviews across the internet to warn others not to fall for this scam.
Length of Use: Less than 3 months
Bottom Line: No, I would not recommend this to a friend
Posted on Nov 22, 2021
Not able to cancel this program yet
This program required an app. I am not tech-savvy so was never able to use this service. However, they have twice charged my credit card $52. I filed a dispute with my card provider, but it was denied because DoFasting said I signed up for it. Unable to find a phone number for them. Still determined to cancel. Beware seniors!
Bottom Line: No, I would not recommend this to a friend
Posted on Oct 20, 2021
Ripoff
This didn't give me a personalized plan, they are only trying to sell their products. I tried several times to follow for help and monitoring, but it was all about selling their products.
Length of Use: 3–6 months
Bottom Line: No, I would not recommend this to a friend
Pros and Cons
No "pros" were specified in this review
Misleading
Not personalized
Trying to sell their products, not help you
Posted on Oct 19, 2021
Fraud company that refuses to help with account
Downloaded the app in October 2020, was emailed and charged money on my credit card. Then when I wanted to cancel they can't find my email or credit card, they want copies of statements. One year later they bill my credit card again even though I had emailed them telling them I did not want their service, and again they refuse to help saying they can't find the email or credit card number.
Bottom Line: No, I would not recommend this to a friend
Pros and Cons
No "pros" were specified in this review
Their customer service is horrendously awful
Their product is expensive
They keep pushing supplements that you don't need
Posted on Jul 22, 2021
Beware - automatic renewal/cancellation
I was unaware of the auto-renewal option. The company did send me an email notifying me that the auto-renewal was imminent, which I found afterward in my SPAM folder. PayPal notified me that the renewal had been paid. I immediately contacted the company that same day to explain, only to be told that you must cancel your subscription PRIOR to the date of renewal, not ON the date of renewal. So I am charged $66.00 with no recourse, although they did cancel my subscription so I won't be charged any further money.
Length of Use: Less than 3 months
Bottom Line: No, I would not recommend this to a friend
Posted on Jun 28, 2021
Terrible app. Don't waste your money!
Wish I could give zero stars! I was charged for an app that didn't work with a new phone and not refunded by this scam of a company. Do not waste your money. Try something free like Fastic.
Length of Use: Less than 3 months
Bottom Line: No, I would not recommend this to a friend
Pros and Cons
No "pros" were specified in this review
Scam
Posted on May 15, 2021
DoFasting - disappointing, failed to fulfill one's hopes or expectations.
This product should be listed under the definition of "Disappointed." Do not waste your money. No free trial. Many aspects of the app don't work as expected. Barrage of ads for wellness/dieting products during signup. Paid app contains advertising. When I asked for a refund they were prompt in their response:
6.1. Under the applicable legal acts, the Client has a right to change their mind and return delivered (received) goods within 14 (fourteen) days from the day of delivery. However, there is also an exception established by those legal acts, according to which, the right to return goods is not applicable for contracts regarding the supply of Digital content in case the provision of such Digital content has already commenced. Therefore, in case the Digital content is already provided to the Client as indicated in Section 4.3, the Client loses his/her right of withdrawal of the Agreement.
Really?!
Length of Use: Less than 3 months
Bottom Line: No, I would not recommend this to a friend
Pros and Cons
No "pros" were specified in this review
App did not work as expected
Customer service was lacking
App contained advertising
Posted on May 7, 2021
I deleted it pretty quickly
This was really a very rudimentary and useless application. I deleted it pretty quickly. But unfortunately, purchasing the application also signed me up for an AUTOMATICALLY RECURRING subscription for some dubious diet products. For me, this is costing $66 every year.
This is known as the Kilo Grupe scam in PayPal community.
To cancel, go here: https://dofasting.com/clients/manage.
Also, it may help some folks to try this also:
On your computer, go to play.google.com/store/account.
Click Order History.
Find the order you want to return.
Select Request a Refund or Report a Problem and choose the option that describes your situation.
Complete the form and note that you would like a refund.
Length of Use: Less than 3 months
Bottom Line: No, I would not recommend this to a friend
Pros and Cons
No "pros" were specified in this review
It is useless
It is a con
Posted on May 6, 2021
It's a platform to sell their products, not help with fasting
The app is nothing more than a timer - it does not provide help, menus, or shopping advice, and all they want to do is sell you all their other (expensive) products.
Length of Use: Less than 3 months
Bottom Line: No, I would not recommend this to a friend
Pros and Cons
No "pros" were specified in this review
They don't offer "real" fasting service, just a timer
The don't offer any type of menu help or advice
They don't help with fasting planning at all
Our Promise to You
In order to safeguard you and ensure helpfulness and relevance, our compliance team manually assess every customer review before it goes live.
We have a zero-tolerance policy for fake reviews, and companies cannot control or alter any reviews at any time.