DoFasting
This company has claimed this profile, is getting alerted on any new customer reviews entering this page, and may engage in dialogue with its customers to address their matters.

Companies cannot pay money or provide goods in order to remove or alter customer reviews.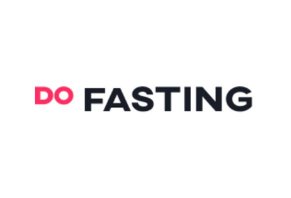 Summary
DoFasting sells personalized fasting plans that are designed to help you hit your goal weight based on the personal information you share.
Pros
Creates structure and accountability for those learning to fast for the first time
Includes recipes and support articles
Subscription model lets you pay for only the time you use
Cons
Some customers thought the program wasn't personalized
Return policy might be difficult to use
More expensive than alternative IF apps
DoFasting Review: What You Should Know
DoFasting is an intermittent fasting app that promises to help you lose weight by providing you with a personalized fasting strategy based on your health goals.
According to the company, it takes your current diet, weight, and lifestyle into consideration to design a custom plan that will help you make simple changes in your routine to get the maximum benefits for your health.
In this review, we take a detailed look at DoFasting to help you understand how it works and if it is the right option for you.
How Does DoFasting Work?
You start with a 60-second quiz to determine your daily fasting agenda.
This quiz begins by requesting you select your gender, your familiarity with fasting, the time of day you feel most hungry, the timing of your meals, whether you prefer to cook or eat out, and whether you think fasting on weekends is possible for you.
You'll also specify your workout frequency, standard working hours, whether your job is physically demanding, and whether you are looking to lose weight or if you have current medical conditions.
Once you finish the quiz with information about your height, weight, and goal weight, the website will give you a summary of their recommended fasting plan.
This includes their prediction of when you will hit your goal weight, whether your BMI is within the healthy range, and what your daily caloric intake should be. They also specify whether fasting is safe for your personal situation.
If your predicted results appeal to you, you can then purchase a customized fasting plan. The company website states that it typically takes about two hours for a professional nutritionist to review your information and develop a plan for you.
The fasting plan will include an eating plan with a meal guide and daily recommended calorie levels.
Likewise, DoFasting recommends that participants primarily drink water, though coffee and tea are permitted in moderation. (Sugary, carbohydrate-heavy drinks like juice and soda banned).
They also suggest pairing your eating plan with an exercise routine to maximize your results.
Is Intermittent Fasting Effective?
To learn more about the effectiveness of intermittent fasting, we spoke with Gabrielle Mancella, a registered dietician with Orlando Health.
"Intermittent fasting, put simply, is used to isolate the hours of eating food to a restricted period of time. This can range from any time of day or night, and is dependent upon the goals of the one who is fasting," Mancella told us.
Intermittent fasting is a popular fitness trend because it doesn't require you to change what you eat, but merely when.
There are dozens of variations that claim to combat different health concerns, but the most common methods include completing daily 16-hour fasts or fasting for 24 hours once or twice a week.
Many people start intermittent fasting to lose weight by consuming fewer daily calories, but the practice has other purported health benefits when done right.
"When we are fasting, we are merely giving our gut a rest. This allows for the full digestion and absorption of the food that we consuming.
"It also maintains the size of the stomach in order to better control our portion sizes. We are halting the digestive processes in order to begin to prepare for the meal the next day," Mancella said.
Pricing and Return Policy
Annual plan: $1.25/week ($66 charged every 12 months)
Six-months plan: $1.75/week ($46 charged every six months)
Three-month plan: $2.50/week ($33 charged every three months)
All plans are offered on a subscription basis. You will need to cancel your subscription through your online account before it renews if you don't want to continue paying for it.
The company allows customers to apply for refunds within the first 14 days after purchase.
Analysis of Customer Reviews
Over 50 customers have left reviews for DoFasting on our website, and they average 2.8-stars. Below is a summary of the main takeaways:
Common Compliments:
Offered helpful support for getting started with fasting
Users successfully lost weight on the program
App and notifications created accountability for success
Common Complaints:
Service too simple for the price
Plans aren't truly customized, just a basic app with a timer and recipes
Users didn't like the subscription fee model
Refund policy is difficult to redeem
Popular Alternatives to DoFasting
| | | | | |
| --- | --- | --- | --- | --- |
| | DoFasting | BodyFast | Vora | Fast Habit |
| Service Type | Custom fasting plan | Virtual intermittent fasting tracker and coaching app | Intermittent fasting tracking app | Intermittent fasting tracking app |
| Cost | Subscription model, $1.25–$2.50 per week | Free for general access; $1.35 per week for the program's coach subscription | Free for general access; Pro version is $5 | Free; Pro version is $2.99 |
| Available Platforms | Online download | Apple and Android App | Apple and Android App | Apple and Android |
BodyFast, Vora, and FastHabit are all offered as free mobile apps with options to upgrade to premium versions for more detailed analytics and ad-free content. You won't see what you get with DoFasting unless you commit to the subscription pricing.
We think the biggest distinguishing factor between DoFasting and the others is the focus on developing your personal fasting plan. The other three apps, in contrast, put more emphasis on metrics.
For example, all three include timers to help you track fasting and non-fasting times. This is a smart option for those who already understand intermittent fasting and want a convenient way to track their progress, but it's not ideal for those who are new to the strategy.
BodyFast offers an additional coaching service that is similar to what DoFasting claims to offer, though you'll need to pay a subscription price of $5.40 per month for access.
If you're looking for a fasting program to follow for the long-term, you might save money by investing in DoFasting because you won't pay a continuous subscription fee.
However, your DoFasting plan gives you less flexibility over time because it's difficult to adjust your weight and goals without contacting the company and requesting they make you another custom plan.
For that reason, we suggest experimenting with the free version of any of the above apps to see if you like the services they offer. If one's a good fit, you might want to experiment with a premium version.
Even if the added cost isn't worth it to you, you will still spend less than you would on DoFasting, and you will have a way to test out the quality of the content you receive before committing to it.
The Bottom Line
This customized intermittent fasting promises to offer plenty of value to customers, but we aren't sure that it's a better deal than the competition.
We think it's potentially problematic that the brand doesn't offer an easy way to modify your health goals once you pay for a program.
Our suggestion? Speak with your doctor or a certified dietician to develop an eating plan that fits your health goals and lifestyle. Dr. Mancella makes it clear that while intermittent fasting may have health benefits, it isn't for everyone.
"If you are medically compromised in any way, [intermittent fasting] may not be for you. This is because our metabolism is not only affected by the foods we eat and times of day we are eating; our bodies are highly unique," she said.
"[When beginning to fast] it is crucial to be mindful of your lifestyle, commitments, and activity level whenever we are starting something new so that you can cater it to fit your lifestyle."
If you already have a method in place and are merely looking for a convenient way to track your fasting time, we recommend trying one of the three intermittent fasting apps we referenced earlier to see if it works for you.
Our Promise to You
In order to safeguard you and ensure helpfulness and relevance, our compliance team manually assess every customer review before it goes live.
We have a zero-tolerance policy for fake reviews, and companies cannot control or alter any reviews at any time.