Daily Harvest Smoothies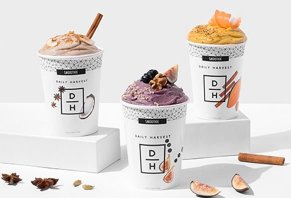 Summary
Daily Harvest is a smoothie and meal subscription service that delivers frozen, pre-measured ingredients to your home on a weekly or monthly basis.
Daily Harvest Smoothies Review: Is It Worth It?
Daily Harvest is a food subscription service that delivers cups of pre-portioned frozen ingredients for making smoothies, soups, lattes, breakfast bowls, and more at home. The company promises to make it easier to eat healthy by simplifying the process of preparing healthy snacks and smoothies.
The company states on their website that they work directly with farms to freeze produce within hours of harvesting to preserve peak nutrition, flavor, and texture of the ingredients in each serving. In this way, they claim, their smoothies and other meals are filled with nutrient-rich ingredients and are free of fillers, additives, and other troubling ingredients found in conventional frozen food.
Is Daily Harvest's convenience worth the price tag, and do the products live up to their health claims? Let's look closer at the facts to find out.
What Stands Out with Daily Harvest Smoothies?
Business Insider tells us that Daily Harvest was founded by Rachel Drori, a New Yorker who was seeking a better way to make smoothies at home without wasting time or ingredients. The resulting subscription service was soon sponsored by health food advocates like Gwyneth Paltrow and Serena Williams, and it now delivers weekly to over 95 percent of the contiguous United States.
According to the company website, Daily Harvest is as committed to quality as it is to convenience. They claim that a Michelin-trained chef and topline nutritionist crafted all their recipes to ensure an optimal pairing of taste and nutrition and that their ingredients are frozen within 24 hours of harvesting so that they are as fresh as possible.
Flavor-wise, Daily Harvest allows you to fill each subscription box with a combination of smoothies, harvest bowls, lattes, soups, chia parfaits, and overnight oats. We got the impression that the company is always tweaking their flavors and adding new options. Overall, there were almost fifty options available on the website at the time of writing.
Is Frozen Fruit Better Than Fresh?
As previously stated, Daily Harvest freezes their fruits and vegetables at peak ripeness. They claim that this preserves their nutritional value, flavor, and texture so that your body can benefit from peak summer ripeness in the dead of winter. The New York Times shows that freezing slightly alters the nutritional composition of fruits and vegetables, but that most research reveals no consistent differences in their vitamin content.
However, fresh produce can rapidly deteriorate in quality the longer it sits on store shelves (or in your refrigerator). The Chicago Tribune states that most fresh produce loses a third of their nutrients within three days after harvest and most fresh food takes far longer to land in your kitchen, much less be consumed.
Daily Harvest recognizes that most smoothie drinkers buy ingredients once per week and let them sit in their fridge long enough to slowly leach out their nutrients. By offering everything pre-frozen instead, they strive to ensure that everything stays nutritious until you're ready to eat it.
How Do You Use Daily Harvest Smoothies?
At the time of writing, the Daily Harvest website offered a comprehensive guide for how their subscription service works. You can start the process by checking whether delivery is available in your area.
From there, you can determine what size plan you want. Daily Harvest offers weekly and monthly subscriptions that range in cost per cup. Weekly options include six cups ($7.99 each), nine cups ($7.75), twelve ($7.49) and 24 ($6.99). The monthly plan also provides 24 cups at $6.99 per cup.
The next step in the process is selecting the products to fill your box. Daily Harvest offers smoothies, harvest bowls, soups, lattes, chia parfaits and overnight oats to choose from, all for the same price per unit.
One the website, you can sort the options by food type, your personalized likes and dislikes, key benefits, and dietary needs to make selection easier.
After your box is filled, you can complete your order and have it shipped to your address. The company will provide a delivery date, which is usually within ten days. You will receive a box packed with enough dry ice to keep the cups frozen, so long as you get to them within twelve hours of delivery.
Once your subscription arrives, you can pop the cups into the freezer until you're ready to prepare them. The company promises that the prep work is simple, taking five minutes or less for most meals and smoothies.
How to Prepare Daily Harvest Foods
Naturally, the steps for preparing Daily Harvest products depend on the type that you're making.
Most require a liquid base for either blending, soaking, or heating the food. The company recommends blending the smoothies with water, dairy or nut milk, or coconut milk, and the soups work best with water or broth.
You will need a freezer to store your delivery in and a 16-ounce capacity blender or bigger to make the smoothies. Once blended, the smoothies can be poured back into the container it arrived in.
About the Daily Harvest Subscriptions
When you order from Daily Harvest, you are automatically signed up for a subscription service based on the frequency you selected. While you can pause or cancel your subscription at any time, you need to finalize any changes before 6 pm ET on the Saturday before your delivery. Otherwise, you will still receive your order and be charged for it.
The day of your delivery differs depending on your region, and you'll receive this information when you first submit your order.
It's possible to skip deliveries at any time by using the included calendar tool on the website. They will show up as a red strikethrough.
You can get in touch with the company representatives through email, chat, or by scheduling a call through the automated forms on their website.
How Does Daily Harvest Compare to Other Subscription Companies?
From our understanding, Daily Harvest is striving to compete against two separate industries: premade smoothies and meal subscription services. How does it stack up?
Pricewise, Daily Harvest smoothies come in on the expensive side. The smoothies cost between $7 - $8 each, compared to about $5.00 for premade Evolution smoothies at Starbucks. While this seems expensive at first glance, you might still save money because you won't waste ingredients at home. Many Daily Harvest smoothies include ingredients that could be difficult to track down in grocery stores, especially at the quantity they contain.
Regarding other smoothie subscription services, we found that Daily Harvest Smoothies seems to have three primary competitors: GreenBlender, HungryRoot, and Splendid Spoon. Let's see how these three compare to each other.
GreenBlender smoothies weren't taking new subscriptions at the time of writing, but this subscription smoothie company costs approximately $4.90 per 12-ounce serving. Their weekly plan costs $49 per box, which provides ten smoothie servings. This company offers fresh or powdered ingredients (not frozen), meaning that you'll need to add ice to make them chilled.
HungryRoot meals are similar to the non-smoothie options at Daily Harvest, and they offer opportunities for plant-based, nutrient-dense dishes that can be made quickly. Some assembly is required for these foods, but you won't have to do much, if any, cooking.
From what we found on their website you'll pay about $69 for the starter box (shipping included), which consists of three meals with two servings each. This comes to about $11.50 per meal, which significantly more expensive than Daily Harvest. Also worth noting is that most HungryRoot meals seem to be meant to be served cold. This might be more convenient during the workday, but some customers might find it limiting.
Finally, Splendid Spoon offers a myriad of pre-made smoothies and soups (no blending or cooking required). Each meal is vegetarian-friendly, and a weekly subscription of 15 meals costs $135 per week, or $9 each. While the selection is more expensive and somewhat limited compared to Daily Harvest, Splendid Spoon's food is premade, so the only prep work necessary is heating your soup.
With these options in mind, what subscription service makes sense? Daily Harvest comes out favorably price-wise at approximately $7 per meal, but you'll need to put in some prep time to make your meal. However, the company also offers a larger selection of meal options than the competition we looked at, making them a potentially better choice for the adventurous eater.
What Is the Daily Harvest Smoothie Calorie Count?
Daily Harvest smoothies and other options are advertised as filling, nutritious meal replacements. Does this match reality?
Most of the meals are made from all-natural ingredients like seeds, fruits and vegetables, and nut butter, foods which have long been considered nutritious by leaders in the health industry. Overall calorie counts are a different story, as there is considerable variance between options. Some smoothies (like the Green Monkey) clock in at just 100 calories which won't keep you satisfied for very long.
On the other end of the spectrum, the Chocolate Luvahhh smoothie contains almost 450 calories, which is over a quarter of most people's daily requirements. The protein and fat content of Daily Harvest meals will also vary considerably depending on whether you add milk or water as a liquid bade.
For these reasons, it's difficult to determine whether Daily Harvest dishes can make an adequate substitute for your regular meals. Your personal experience will depend on what options you select and how you make it.
Of note: Daily Harvest lists most serving sizes as half a package on their website, but through reading reviews we found that most people seemed to consume their food in one sitting. For this reason, it might be best to double the listed nutrition facts to get a better understanding of the health effects for you.
About Daily Harvest Smoothie Ingredients
It's clear from the company website that Daily Harvest takes pride in their ingredients. They state that 98% are organic and that they support farms that classify as Certified Transitional, which means that they are in the midst of a three-year transition towards becoming organic. In this way, the company states, they are working to create a healthier, more sustainable national food system.
Regarding allergies, the company states that all of their recipes are dairy and gluten free except for a few that contain sesame (Cauliflower Rice + Kimchi Harvest Bowl, Beet + Sesame Harvest Bowl, Kale + Lemongrass Harvest Bowl, Mushroom + Miso Soup, and Turmeric + Lemongrass Detox Broth contain soy. Our Brussels Sprouts + Tahini, Beet + Sesame, Chickpea + Za'atar, and Kale + Lemongrass Harvest Bowls). They do note, however, that everything is processed in a facility with dairy, soy, and gluten.
What Do Customers Think of Daily Harvest Smoothies?
We found plenty of perspectives online about previous customer's experience with Daily Harvest, and most were positive.
On the company website, hundreds of reviews are listed that were related to specific food options. Many go into detail about the ways the customer personalized their meals (for instance, adding chicken broth instead of water in the harvest bowls). We read lots of reviews that praised the flavor profile for each dish, and numerous reviewers noted how easy the prep process was.
A review from Business Insider is also favorable towards the company. The reviewer noted that the smoothies were a stellar alternative for buying groceries for a single person, as fresh produce often goes bad before it's used. The review praised how easy the smoothie prep was, and that they were surprisingly rich for being dairy-free.
Similar opinions are also on Trustpilot. Many reviewers noted that the food tasted fresh, healthy, and filling, though a few stated that the soups were too garlicky.
We did notice some customer service complaints on the site. A few people complained that their food was melted and spoiled before it arrived, and others noted that they had difficulty getting their money back if they complained about their order. Others noted that the company website seemingly made it difficult for them to find how to cancel their order.
Another complaint we noticed is that many customers wished Daily Harvest would send them email reminders for when their week's orders were due. This meant that many people missed the date to select their order and were sent the same items as the previous week instead.
Finally, some found it frustrating that they needed to have extra ingredients on hand (such as coconut water) which increased the overall per-smoothie price.
Our View: Do Daily Harvest Smoothies Make Sense?
From what we found online and from previous customer reports, Daily Harvest is good at what they do; they deliver convenient, healthy smoothie ingredients and other meals. While many people noted that they would pay far less for a similar product at the grocery store or even Starbucks, others were clear that they appreciated the ease it offered and that they didn't need to waste ingredients.
Regarding those ingredients, Daily Harvest takes care to fill their food products with fresh ingredients and relies on freezing temperatures (not added preservatives) to keep them safe. According to the New York Times and Chicago Tribune, this is a smart way to ensure your ingredients maintain nutrition until you eat them.
So what do we think of Daily Harvest? If you want a new way to add healthy, balanced foods to your diet or want to streamline your smoothie process each morning, Daily Harvest might be perfect for you. If you'd rather have more freedom for your smoothies or want a subscription service that offers a greater variety of hot food items, you might be better off with a company like Blue Apron instead.
Customer Reviews