Sun Basket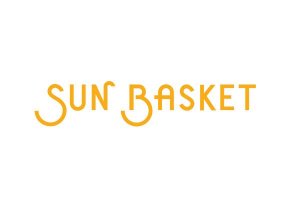 Summary
Sun Basket is a food kit subscription company that offers you a wide variety of healthy, organic menu options to choose from each month.
Sun Basket Review: Is It Worth It?
What Is Sun Basket?
Sun Basket is a gourmet food subscription company that promises to send you top quality organic ingredients for easy-to-follow recipes, most of which you can make in 30 minutes or less.
This meal's kits recipes are developed by Justine Kelly, an award-winning California chef. Using her experience from working at the award-winning restaurant The Slanted Door, Kelly sources ingredients from around the world to create globally-inspired meals that even novice chefs can make from home.
The company promises that their meals contain organic produce and clean meats as much as possible, all packaged in eco-friendly materials. Is this a subscription service you should depend on for family dinners? Let's look closer at what you get with Sun Basket.
How Does Sun Basket Work?
First, we'll walk through Sun Basket's sign up process.
When you decide to get started with Sun Basket, the first step is creating an online account that includes your zip code.
If Sun Basket delivers in your area (it's currently available in all US states but Alaska, Hawaii, and parts of North Dakota, Montana, and New Mexico), you'll navigate to a screen to choose your meal preferences.
At this point, you can choose how many people you are cooking for (two or four), how many recipes you want per week (two, three, or four), your meal type preference, and the week of your first delivery day.
The meal type options available at publication included the following.
Chef's Choice: Hand-picked recipes that highlight seasonal produce, house-made sauces, and top-quality meats.

Carb-Conscious: Lower carb menu options.

Paleo: Meals based around meat and vegetables with minimal carbs and no dairy, gluten, grains, corn, or soy.

Gluten-Free: Meat and vegetable meals served with gluten-free alternatives. Note: these meals aren't suitable for those with severe gluten intolerances because they are manufactured in the same facilities that handle the plan's other meals.

Lean & Clean: Each meal contains about 550 calories per serving, and they are high in protein and fiber while free of gluten, dairy, and added sugars.

Vegetarian: Meals made with fresh vegetables, organic eggs, and responsibly sourced dairy

Vegan: These meat-free recipes contain plenty of plant-based protein and no eggs or dairy.

Mediterranean: Menu items based around seasonal produce, lean meat, whole grains, healthy fats, and fresh herbs.

Pescatarian: These vegetarian-friendly meals contain wild-caught, sustainably sourced seafood.

Quick and Easy: Meals made with minimal ingredients and no fuss so you can get them on the table faster.

Diabetes-friendly: Healthy meals formulated to help you manage diabetes.
Sun Basket will send you weekly dinner recommendations based on your chosen meal preference, but you can swap those options out and choose meals from any category.
After you confirm your address, you can choose your meals for the week. Below are some of the menu options offered for late September 2019.
New Mexican chicken fajitas with bell pepper and soy

Spicy barbacoa pulled-pork sliders with mango slaw

Chilaquiles Verde with fried eggs and queso fresco

Spanish-style chicken and quinoa with fire-roasted tomatoes

Steaks with mushroom pan sauce and Brussels sprouts

Greek shrimp with roasted red pepper sauce and garlic-feta toasts

No-bake lamb flatbread with tomatoes and sumac yogurt

Chicken piccata with fresh whole wheat penne and kale

Greek Islands salmon over zucchini noodles and wilted greens
These menu options change weekly, though popular options will come back repeatedly.
Sun Basket also offers a Family Menu plan, which lets you choose from six kid-friendly recipes taken from that week's Chef's Choice and Vegetarian meals. You'll save money per serving compared to the classic plans.
Once you make your selection and confirm your order, Sun Basket will confirm your delivery date, which will fall on Monday to Thursday between 8 a.m. and 9 p.m., depending on where you live.
You can make changes to the coming week's menu by noon on the Wednesday before your delivery.
Your meals will arrive in a chilled box containing fresh, pre-measured ingredients for each recipe. While the box will be equipped with ice packs that should last until delivery, the company suggests moving perishables into the fridge right away.
All seafood should be consumed within three days of delivery, while meat, poultry, and produce will last for five.
For many recipes, you'll need to have pantry staples like olive oil, salt, pepper or butter on hand. Basic kitchen tools like pots, pans, knives, peelers, and measuring cups are also necessary.
Is Sun Basket Food Healthy?
One significant selling point for Sun Basket is their purportedly higher quality ingredients. Do they live up to the hype?
According to the company website, Sun Basket is a certified organic handler. The company strives to source organic eggs and produce at all times, as well as antibiotic and hormone-free meat and wild-caught seafood.
When possible, Sun Basket sources ingredients from US farms, ranches and seafood purveyors. All organic food will come clearly labeled within your kit.
From a health perspective, all Sun Basket recipes are approved by an in-house dietician and comply with USDA guidelines.
Most average 500 to 800 calories per serving and offer nutritionally balanced portions of whole grains, protein and healthy fats with minimal added sugars and processed ingredients.
At least one meal per week will be approved by the American Heart Association for a heart-healthy diet. These meals have a Healthy Heart-Check symbol on the recipe.
Regarding allergies, all Sun Basket meals are processed in facilities that handle gluten, milk, eggs, nuts, seafood, and other common allergens. Out of an abundance of caution, those with severe food allergies likely shouldn't order Sun Basket food.
If your allergy issues aren't extreme, you can choose to opt-out of select ingredients like soy, fish, poultry, lamb, pork, beef, and dairy. Once you do so, meals that contain these ingredients won't be automatically selected for you.
What Does Sun Basket Cost?
The cost for Sun Basket meals depends on your plan and the number of servings you purchase per week. The following chart displays the pricing per serving for a variety of options.
| | Two Weekly Recipes | Three Weekly Recipes | Four Weekly Recipes |
| --- | --- | --- | --- |
| Two People (Classic Menu) | $12.99/ servings | $11.99 | $10.99 |
| Four People (Classic Menu) | $12.99 | $11.99 | $10.99 |
| Four People (Family Menu) | $10.99 | $10.99 | $10.99 |
Your first delivery with Sun Basket ships free. After that, it's a $6.99 fee.
Signing up for meals from Sun Basket automatically enrolls you in a weekly subscription. You can skip a delivery or cancel your subscription at any point through your online account or by contacting customer service at (855) 204-7597.
Sun Basket also offers a 100% money-back guarantee on all deliveries, so long as you contact the company within seven days of delivery.
Looking at Sun Basket Reviews and Complaints
Online Sun Basket reviews offer a lot of insight into what people love and loathe about this plan.
According to Yelp, Sun Basket averages three out of five stars after 800 reviews.
We read dozens of comments from people who had subscribed for years and loved everything about their meals, from the menu variety to the recipe instructions and quality of ingredients.
Others took a less favorable approach and shared photos of smashed or rotting ingredients, poor communication, and high price per serving.
Many people also were upset because some of their meals came with different ingredients than what was listed online, which often changed the flavor profile of the dish.
Tammy Kresge, author of health blog Organize Yourself Skinny, wrote that she appreciated all the menu options available, but didn't think many qualified as kid-friendly, even in the family plan.
The Bottom Line: Should You Sign Up for Sun Basket?
Now to wrap this up—is Sun Basket worth it? There's no denying that these gourmet meals come at a premium price.
If you compare the cost per meal of Sun Basket to other subscription meal prep companies in our guide, you'll see that Sun Basket costs more than most, especially when you factor in shipping.
However, few other meal kit companies have as strong of a commitment to organic ingredients or offer as many menu options each week. Freshly comes closest in our opinion, and both are at a similar price point to Sun Basket.
We think Sun Basket makes sense for anyone who loves to cook and eat gourmet foods but also wants to eat more healthy.
These meals are formulated with both flavor and nutrition in mind, and they aren't necessarily the best for putting comfort food on the table quickly.
So long as that fits your requirements for a subscription meal kit company, we think Sun Basket is well worth trying.
Customer Reviews