Blue Apron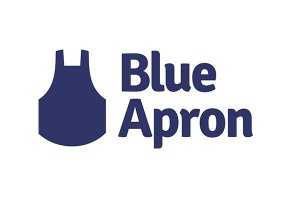 Blue Apron is one of the original subscription meal kit services, and the company offers you an ever-changing weekly dinner menu and an optional wine subscription.
Blue Apron Meal Kit Review: Is It Worth It?
Is planning for dinner the worst part of your evenings? For those looking for a way to put homemade food on the table without grocery shopping or meal planning, getting a box with pre-portioned ingredients can be a big stress reliever.
Blue Apron is a subscription meal kit service that sends the ingredients for creating original recipes to customers across the United States.
The company is named after the apron color of choice of beginning chefs, and it signifies their commitment to helping those who might feel intimidated by the kitchen be able to make home-cooked meals.
In this way, Blue Apron's menu often focuses on ingredients and cooking styles you might not be familiar with to broaden your culinary horizons and make it easier to put dinner on the table.
Does Blue Apron have the advantage over other meal subscription companies? Our analysis should help you decide whether it makes sense to sign up.
Wide variety of meals to choose from
Slightly lower cost per meal than many competitors
Customer reviews praise the quality of recipes and ingredients
Optional wine program pairs with the meals
It might be difficult to cancel your account
Some customers were billed even after canceling
Meals may occasionally arrive missing ingredients
Not suitable for anyone with severe food allergies
No add-on options like competitors have
Menu Options
Blue Apron offers different menu options each week. Below is the full menu list of meals available for one week.
Signature Meals (fan-favorites):
Miso-Ginger Chicken with Sesame Rice & Roasted Broccoli
Shrimp & Sweet Potato Curry with Lemongrass & Coconut Milk
Creamy Spinach Beef Burgers with Roasted Potato Wedges
Pesto Chicken Pasta with Brussels Sprouts & Lemon Ricotta
Deviled Salmon with Zucchini & Tomato-Shallot Pan Sauce
Za'atar Beef & Freekeh Lettuce Cups with Lemon-Tahini Sauce & Mint
Mojo-Style Chicken Thighs with Cilantro Slaw & Garlic-Lime Pepitas
Mexican-Spiced Port Chops with Guajillo Barley & Cotija Cheese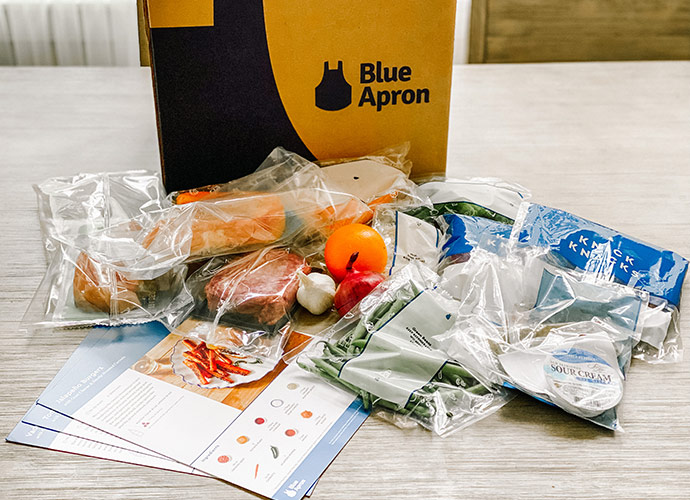 Contents of the Blue Apron box
Vegetarian (meat-free dishes):
Udon Noodles and Spicy Peanut Stir-Fry with Mushrooms, Carrots and Bok Choy
Lentils & Lemon-Shallot Dressing with Roasted Vegetables & Fried Eggs
Creamy Risotto with Peppers, Tomatoes, & Romano Cheese
Signature for Four (designed to be family-friendly):
Cajun-Style Chicken & Cheesy Broccoli with Dinner Rolls & Spiced Honey Butter
Hoisin & Honey-Glazed Chicken Thighs with Garlic Rice & Spicy Cabbage Slaw
Harissa Pork Chops with Pistachio, Lemon & Feta-Dressed Sweet Potatoes
Mushroom & Bok Choy Ramen with Black Bean Sauce & Soft-Boiled Eggs
Zesty Beef & Gnocchi with Zucchini & Romano Cheese
Shrimp & Sweet Potato Curry with Lemongrass & Coconut Milk
Allergy and Nutrition Information
All Blue Apron ingredients are packaged in facilities where there is a risk of contamination with milk, eggs, wheat, soy, nuts, and other possible allergens. For this reason, the company suggests that those with severe food allergies avoid signing up, even if their allergen isn't listed in the ingredients list.
You can look at the full nutrition facts for all Blue Apron meals both online before you order them and on the recipe cards included in your delivery. The company strives to offer at least one recipe with fewer than 48g net carbohydrates per serving each week (other recipes average about 64g net carbs per serving). You can identify these recipes by their "Carb Conscious" badge.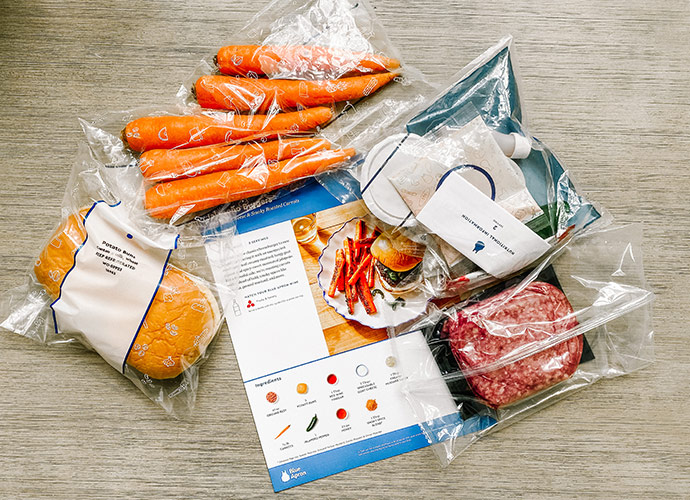 Jalapeno Burgers with Goat Cheese and Smoky Roasted Carrots from Blue Apron
Pricing and Plans
What you'll pay for Blue Apron meals depends on the number of meals and servings you want per week. You can choose between three main options:
2-Serving Signature:
Two Meals: $9.99/serving plus $7.99 shipping, $47.95 total
Three Meals: $9.99/serving, free shipping, $59.94 total
4-Serving Signature:
Two Meals: $8.99/serving, free shipping, $71.92 total
Three Meals: $7.99/serving, free shipping, $95.88 total
Four meals: $7.49/serving, free shipping, $119.84 total
2-Serving Vegetarian:
Two Meals: $9.99/serving plus $7.99 shipping, $47.95 total
Three Meals: $9.99/serving, free shipping, $59.94 total
Every week, you can sign in to your Blue Apron account and choose your preferred meals for the week. If you don't make a selection in the allotted timeframe, Blue Apron will make it for you.
Note that you can't change your menu options once the week is listed as "order processed."
How to Cancel Your Subscription
Once you sign up for Blue Apron, there is no obligation to continue your subscription for any timeframe, and you can skip up to five weeks of deliveries in a row through your account settings.
You can cancel your subscription at any time by messaging the Customer Experience team at cancellations@blueapron.com. They will email you instructions for canceling soon after.
If you have other questions about your account of Blue Apron in general, direct them to contact@blueapron.com or (646) 891-4349.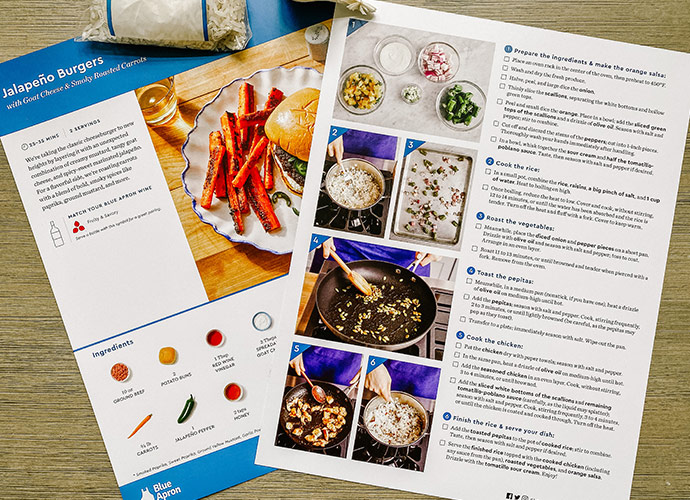 Blue Apron's recipe cards
Blue Apron's Wine Service
Beyond meals, Blue Apron also offers a wine subscription service. You will receive six 500ml bottles (about 2/3 the size of a standard-sized wine) for $65.99 per order. Though you can't choose exactly what wines you receive, it's possible to choose all reds, all whites, or a mix of each.
Due to differing state laws, the Blue Apron wine program isn't currently available in every state. You will need to have an adult 21 or older available to sign for the delivery when it arrives. If that's an issue, you can send the deliveries to your place of work.
Blue Apron wine includes a wine pairing key that's designed to help you match styles of wine to your recipes. The pairing key options include:
Floral & Aromatic: suitable for spicy, fragrant dishes
Light & Fresh: ideal for light flavors like salads, pasta, and pesto
Zesty & Tropical: often paired with cheeses, fish, and spring vegetables
Crisp & minerally: suitable for smoked fish, strong cheese
Lush & Fruity: opulent, buttery wines best with roasted chicken, pasta
Light & Bright: pairs with red meat, Mexican food
Fruity & Savory: suitable for herbal, smokey flavors like stewed lentils and roasted beets
Plush & Fruity: best with meat, fish, or meaty mushrooms
Bold & Spicy: spiced flavors suit braised meat, especially lamb
Rich & Decadent: pairs well with burgers, BBQ, and braised short ribs
Crisp & Minerally: best with seafood, light flavors
Lush & Fruity: suitable for poultry, salads, and grilled vegetables
Each Blue Apron recipe card includes at least one of these wine keys to give you guidance for what to serve with the dish. If you have further questions about the wine program or need to change your delivery date, get in touch with customer support at contact@blueapron.com.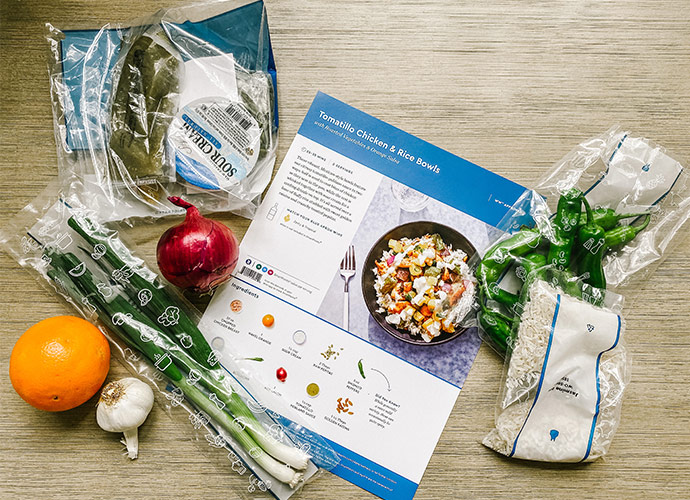 Tomatillo Chicken and Rice Bowls with Roasted Vegetables and Orange Salsa from Blue Apron
Analysis of Customer Reviews
More than 20 HighYa readers have reviewed Blue Apron, for an average score of 2.6 stars. We looked through these comments, as well as ones left on Consumer Affairs (2.5 stars average), to see what customers are saying.
Common Compliments:
Delicious meals, fresh ingredients
The company replaces or refunds damaged ingredients
Exciting recipes with unique condiments and spice blends
Generous portion sizes
Makes it possible to experiment with new cooking strategies
Finished meals are restaurant quality
Common Complaints:
Expensive meals made with cheap ingredients
Charges continued after canceling accounts
Figuring out how to cancel an account involves lots of Google searches, calls and emails
Meals were too high in carbs for many people
Lots of single-use plastic
Poor customer service experiences
Blue Apron vs. HelloFresh and Home Chef
Three of the most prominent players in the subscription meal kit industry are Blue Apron, HelloFresh, and Home Chef. Though similar, each offers something different for subscribers.
| | Blue Apron | HelloFresh | Home Chef |
| --- | --- | --- | --- |
| Cost Per Serving | $7.49–$9.99 | $7.49–$10.99 | $7.49–$12.95 |
| Shipping Cost | $7.99, free for orders over $50 | $6.99 | $10, free for orders over $49 |
| Weekly Meal Options | 11+ | 20+ | 15+ |
| Add-Ons | Wine subscription | Quick lunches, sides and complements, desserts and treats, proteins, and wine subscription | Lunches, salads, snacks, extra protein, and pre-made meals. |
| Available in Stores? | No | Yes | Yes |
This chart shows that each meal kit's serving sizes are approximately the same price. What you pay for Blue Apron meals depends entirely on what plan you sign up for, but HelloFresh and Home Chef both offer add-on options like gourmet meals, lunches, salads, and desserts that can make your pricing change week to week.
All three plans also offer an ever-changing roster of meals, including vegetarian and family-friendly meals each week. Both Home Chef and HelloFresh also lets you select low calorie or low carb plans to ensure you meet your dietary goals.
Deciding which plan to sign up for might depend on whether you're looking only for dinner options or would appreciate some of the extras offered by Home Chef and HelloFresh.
You will likely pay slightly more per serving with these plans, but the convenience of getting more types of food at once might be worth it if it stops you from going grocery shopping as often—and potentially spending more on impulse buys.
Home Chef is also the only plan currently available in stores. That's appealing for those who don't want to be locked into a subscription service or who wish to change how many meals they purchase in a given week. However, you lose the convenience of home delivery this way.
The Bottom Line
Blue Apron is considered by many to be the standard for a meal subscription service. The company has been around since 2012, and many customers have been subscribers for close to a decade.
It's an excellent option for anyone who doesn't enjoy meal planning or grocery shopping, or who wants to cook more and go out to eat less often. The meals feature simple instructions, though many include ingredients and cooking styles that aren't necessarily familiar to the target audience.
If you're looking for a way to get home-cooked food on the table faster, Blue Apron will help you succeed. Keep in mind that there are dozens of other meal subscription services available, and many are designed to appeal to niche interests rather than a broad customer base like Blue Apron.
Our ranking of the best subscription meal services of 2020 should help your research process.
---
Overall Experience:

I bought a gift card at Costco, set up an account, and placed an order. The food and delivery were fine, but the constant harassment to add a credit card to an account and the sending of orders I did not make is ridiculous. If your product is good then I will want to add a credit card. I can't even "re-activate my account" without adding a card to see what they will be sending me next week (again what I didn't order).

Bottom Line: No, I would not recommend this to a friend

---

Total scam and disgusting expensive food

By Valentina

,

Cambridge, MA

,

Aug 28, 2017
Verified Reviewer

Overall Experience:

It's impossible to cancel the account. They just continue to send you food and charge you for that. I have sent an email saying I want to cancel membership, but it had no effect at all.

The meals are pretty expensive, but they send you the cheapest food - chicken breasts, spaghetti, etc. There are a lot of "spices" in the recipe, an unknown powder that tastes very unnatural and obviously is not healthy. Half of the meals I couldn't even eat despite how much time it took to cook.

The worst experience ever! Please think twice before giving them your credit card number.

Bottom Line: No, I would not recommend this to a friend

---

Cannot cancel deliveries; Blue Apron adds fraudulent charges to your credit card

Overall Experience:

I canceled my Blue Apron account within 24 hours of receiving my first order. A few days later, I noticed a pending charge on my credit card for $60. I got in touch with Blue Apron's customer support and asked them to go ahead and void the unauthorized transaction, as my account had already been closed for days and I hadn't made any additional orders. They declined to void the transaction even though they admitted that my account had been closed for days.

Blue Apron is clearly running a bad company, in which they fraudulently charge your credit card for orders you did not make, even if you close your account with them.

Bottom Line: No, I would not recommend this to a friend

---

I tried to cancel but they are still sending me food.

Overall Experience:

I will be contacting my Legal Shield lawyers tomorrow to help me with this. My friend thought she was doing me a favor by giving me a free week of food, but it turns out to be a sham because they will not let you cancel. I am paying for at least one dinner I "skipped" before I canceled.

In order to "cancel" you have to email them to ask them how to cancel. They send the email, and you think you have canceled, but before you know it, notice of another week being sent to you shows up on your email. It arrives tomorrow. I "skipped" it at the time I canceled, but suddenly I am scheduled for the next two months of deliveries. I have "skipped" them, but don't think this will work, and I will have to "skip" meals for the rest of my life. I want out of this nightmare.

Bottom Line: No, I would not recommend this to a friend

---

Advertisement

---

Horrible cancellation policy, NOT worth it

Greenville, SC

,

Feb 8, 2017
Verified Reviewer

Overall Experience:

I've been trying to cancel for a week.

It is NOT as simple as clicking "cancel" on their website. That's complete bull. You have to google "how to cancel Blue Apron," to then get an email link to send a cancellation email. Once you get a response back, you then must go to the cancellation link that ONLY works from a DESKTOP computer. There's no magical "desktop site" button on their website, nor a site map. You must find this mythical link from an actual desktop computer, which I don't even own.

This is the most absurd waste of time and money I've ever seen. Do not waste yours.

Bottom Line: No, I would not recommend this to a friend

---

Not for me

By Ned

,

Ohio

,

Feb 1, 2017
Verified Reviewer

Overall Experience:

So Blue Apron may be good for someone who does not cook but wants to learn the basics. And also someone who does not have any dietary restrictions. And someone who doesn't mind eating absurd amounts of calories, carbs, sodium, and saturated fat. And someone who does not mind paying up to three times the cost of the meal at their local grocer. I mind all of this.

All of the meals sent were nearly inedible for me as I am diabetic and allergic to shrimp. If I didn't want to die from anaphylactic shock, then I was to perish from a carb overload. In the trial stage, I had no access to nutritional information and only a vague list of ingredients. Once I got the only delivery, it was apparent that two of the three meals (of which it didn't let me choose other options) were over 94g carbs each. I can only have 30-45 since I control my condition with diet and exercise, with Metformin.

I canceled as soon as my package arrived.

Bottom Line: No, I would not recommend this to a friend

---

Overall Experience:

I have loved Blue Apron since the first order.

The ingredients are fresh and the recipes are delicious. Occasionally there are items are missing, but Blue Apron gladly and rapidly compensates with a partial refund, if everything is not as expected. I highly recommend this service.

Bottom Line: Yes, I would recommend this to a friend

---

Overall Experience:

I've read many of the reviews on this site and frankly I'm surprised. I've found the service and food to be excellent. Only once in 6 months have we not gotten everything in our delivery and it was a spice blend that I easily substituted with one I had on hand. The portion sizes are spot on and sometimes even a little large. We love that the meals are simple and flavorful. I usually do all the cooking and I can easily put it together in 30-45 minutes.

Bottom Line: Yes, I would recommend this to a friend

---

Overall Experience:

I have been receiving meals for a few months now and have been very pleased. You CANNOT be a picky eater or hate greens as most meals have them included. I love trying them cooked in different ways and Blue Apron does a good job at that. Portions are usually enough but if it isn't enough for you, add an extra potato or a chicken thigh. Most recipes are something I have not tried before and they are wonderful. Blue Apron immediately credited my account for a meal when the chicken breast was of unsatisfactory quality. I have found them to be reliable and quality high. All packaging materials are recyclable.

The prep work takes a little time which is to be expected when you use fresh food and vegetables. My experience has been great and my husband looks forward to the meals every week!

Bottom Line: Yes, I would recommend this to a friend

---

You can never cancel.

By Alison

,

Maryland

,

May 2, 2016
Verified Reviewer

Overall Experience:

Very sketchy. You cannot cancel your account. I planned to send a 2 week gift to my sister and brother in law. I had to enroll in continuous delivery, but figured I was responsible enough to manually cancel after the 2 weeks. I emailed customer service to see how to do it; they replied that I had a 3 day (beginning a week after I emailed them) to cancel. Any earlier and I would not get them their week 2 delivery, any later and I'd have to be charged for the following week. I dutifully marked my calendar and signed in to cancel. The instructions emailed were completely false. They required me to follow tabs that didn't exist. An hour of sleuthing later, it seems that you need to email a specific cancelation email that doesn't cancel you but days later replies with a hidden link to follow to cancel. The Blue Apron's business model is that of a roach motel.

Bottom Line: No, I would not recommend this to a friend

---

Too expensive and too frequent

By Drewes Kooi

,

Columbus, OH

,

Mar 24, 2016
Verified Reviewer

Overall Experience:

Our daughter gave us a trial membership for which she paid $59. After that it continues automatically, so before you know it you pay $59 each week for that food, too frequent and not sure it's worth the price. I would not recommend it for that reason. I canceled.

Bottom Line: No, I would not recommend this to a friend

---