Blue Apron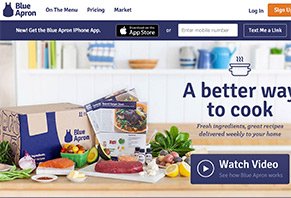 Available nearly nationwide, Blue Apron's home-delivered meal kits offer a potentially savory solution for busy families looking to spice up weeknights.
Blue Apron Meal Kit Review: Is It Worth It?
Tired of cooking the same couple of recipes? At first glance, Blue Apron ready-to-make meal kits seem like a great answer to the most-asked question in any household: "What's for dinner?"
The subscription-based service promises to spice things up by delivering all you need to make restaurant-quality meals in your home—at a better value than you'd find shopping at your local grocery store.
In this review, we examine Blue Apron's claims, meal options, and cost to help you decide if it is worth it for you.
Customizing Your Blue Apron Membership
When signing up for Blue Apron, you're given several options to customize your deliveries.
First, you'll decide how many people each delivery should feed; two, four, or six. You'll also choose either a fish/ meat/ poultry or vegetarian plan.
Finally, you're able to specify if you'd like to receive your delivery on a Wednesday, Thursday, Friday, or Saturday, and pick a delivery time between 8 am and 8 pm.
The Blue Apron website states that members will be notified when additional delivery slots become available in their area. While we haven't seen a review claiming a preferred delivery time wasn't available, this might be a concern for those with a strict schedule.
Receiving Your Blue Apron Delivery
Deliveries of raw ingredients and quality spices come three times a week. Included is a step-by-step recipe guide complete with pictures, ensuring your meals look as fantastic as they're supposed to taste.
A cornerstone of Blue Apron's promise is that ingredients are perfectly premeasured and portioned so that there's no waste. This could also be handy for those who struggle with a heavy hand in the kitchen, as each serving of a Blue Apron meal is designed to be within 500-700 calories.
How do ingredients stay fresh en route? Never fear, your filet won't be traveling all the way from Blue Apron's Brooklyn-based headquarters! Instead, they source ingredients from local farms and suppliers, to keep things fresh (nearly) nationwide.
Cooking a Blue Apron Meal
Blue Apron recipes change throughout the year, ensuring the local ingredients you're using are seasonal and fresh. Additionally, Blue Apron promises never to use the same recipe more than once in a year.
Deliveries come with almost everything you need. What's not included? Only the basics, such as salt, pepper, and olive oil. Blue Apron also promises that the only cookware you'll need is basic pots, pans, and knives.
Blue Apron meal kits are designed to take only 35 minutes from box to plate, adding extra appeal for busy households who hunger for higher quality or more adventurous options, but who can't commit to hours in the kitchen.
Their final claim to fame is that cooking a Blue Apron meal won't ever make you feel like Chef Ramsey is standing over your shoulder. Designed to be easy enough for beginners and varied enough to keep more-able cooks interested, Blue Apron aims to please every palate and level of experience.
Managing Your Blue Apron Membership
Each Blue Apron kit costs $9.99 per person, per meal. Since you'll be sent three meals per week for a minimum of two people, this means you'll be spending at least $60 per week—more if you have additional mouths to feed. Shipping fees and taxes are already included in the price, and the credit card you provided during sign up will be charged on a weekly basis.
Curious chefs can try out Blue Apron without any fear of commitment—you can cancel your membership anytime or skip as many deliveries as desired at no charge.
However, you'll need to cancel no later than seven days prior to your next delivery date in order to avoid being billed for the following week. Also, you must know that the deadline to cancel is at 12:00 PM EST. To do so, you can simply cancel online in your account settings.
What Are Customers Saying About Blue Apron?
Customer reviews submitted here at HighYa were split into two camps. Nine of the twenty-four reviewers gave Blue Apron at least four out of five stars, plus a heaping of compliments.
Rhya from California gave Blue Apron five stars and states:
"The quality of the food is great and the techniques are the type that you can use when cooking non BA dishes as well. Your food WILL look exactly like the food in the picture and you will feel like you are eating at an amazingly yummy restaurant. The portion size it actually perfect."
Paul S. gave the service a four-star review, commenting that portion sizes were a bit small. However, still a positive experience:
"Everything arrives fresh and in good condition. The proteins are high quality. The recipes are usually tasty, and always interesting. I have learned a lot of cooking tips just from the few months I have been using the service."
However, initial reviews also show that some Blue Apron members were left hungry for more than just bigger portion sizes—namely service.
Cecelia from San Jose, California was left empty-handed and out $60 when her delivery failed to arrive. Additionally, an attempt to cancel the service took an extra week, and an email to customer service was left unanswered.
The Bottom Line on Blue Apron
Because Blue Apron meal kits include literally everything needed, making dinner is almost as easy as ordering it in, without the guilt.
With its organized packaging, clear recipes, and menus, it might just be the perfect option for busy weeknight meals and to shake up your cooking routine. Additionally, reports of the service being a scam are few and far between, and can hopefully be considered not the norm.
However, after checking out Blue Apron's online menus, others may shy away from using it as weekly meal service and just periodically order when the mood strikes.
» Recommended Reading: Best Subscription Meal Kits of 2019
8 out 9 people found this review helpful

Very scam-like

I bought a gift card at Costco, set up an account, and placed an order. The food and delivery were fine, but the constant harassment to add a credit card to an account and the sending of orders I did not make is ridiculous. If your product is good then I will want to add a credit card. I can't even "re-activate my account" without adding a card to see what they will be sending me next week (again what I didn't order).

Bottom Line: No, I would not recommend this to a friend

---

10 out 11 people found this review helpful

Total scam and disgusting expensive food

By Valentina

,

Cambridge, MA

,

Aug 28, 2017
Verified Reviewer

It's impossible to cancel the account. They just continue to send you food and charge you for that. I have sent an email saying I want to cancel membership, but it had no effect at all.

The meals are pretty expensive, but they send you the cheapest food - chicken breasts, spaghetti, etc. There are a lot of "spices" in the recipe, an unknown powder that tastes very unnatural and obviously is not healthy. Half of the meals I couldn't even eat despite how much time it took to cook.

The worst experience ever! Please think twice before giving them your credit card number.

Bottom Line: No, I would not recommend this to a friend

---

Advertisement

---

16 out 16 people found this review helpful

Cannot cancel deliveries; Blue Apron adds fraudulent charges to your credit card

I canceled my Blue Apron account within 24 hours of receiving my first order. A few days later, I noticed a pending charge on my credit card for $60. I got in touch with Blue Apron's customer support and asked them to go ahead and void the unauthorized transaction, as my account had already been closed for days and I hadn't made any additional orders. They declined to void the transaction even though they admitted that my account had been closed for days.

Blue Apron is clearly running a bad company, in which they fraudulently charge your credit card for orders you did not make, even if you close your account with them.

Bottom Line: No, I would not recommend this to a friend

---

16 out 16 people found this review helpful

I tried to cancel but they are still sending me food.

I will be contacting my Legal Shield lawyers tomorrow to help me with this. My friend thought she was doing me a favor by giving me a free week of food, but it turns out to be a sham because they will not let you cancel. I am paying for at least one dinner I "skipped" before I canceled.

In order to "cancel" you have to email them to ask them how to cancel. They send the email, and you think you have canceled, but before you know it, notice of another week being sent to you shows up on your email. It arrives tomorrow. I "skipped" it at the time I canceled, but suddenly I am scheduled for the next two months of deliveries. I have "skipped" them, but don't think this will work, and I will have to "skip" meals for the rest of my life. I want out of this nightmare.

Bottom Line: No, I would not recommend this to a friend

---

Advertisement

---

21 out 21 people found this review helpful

Horrible cancellation policy, NOT worth it

Greenville, SC

,

Feb 8, 2017
Verified Reviewer

I've been trying to cancel for a week.

It is NOT as simple as clicking "cancel" on their website. That's complete bull. You have to google "how to cancel Blue Apron," to then get an email link to send a cancellation email. Once you get a response back, you then must go to the cancellation link that ONLY works from a DESKTOP computer. There's no magical "desktop site" button on their website, nor a site map. You must find this mythical link from an actual desktop computer, which I don't even own.

This is the most absurd waste of time and money I've ever seen. Do not waste yours.

Bottom Line: No, I would not recommend this to a friend

---

9 out 11 people found this review helpful

Not for me

By Ned

,

Ohio

,

Feb 1, 2017
Verified Reviewer

So Blue Apron may be good for someone who does not cook but wants to learn the basics. And also someone who does not have any dietary restrictions. And someone who doesn't mind eating absurd amounts of calories, carbs, sodium, and saturated fat. And someone who does not mind paying up to three times the cost of the meal at their local grocer. I mind all of this.

All of the meals sent were nearly inedible for me as I am diabetic and allergic to shrimp. If I didn't want to die from anaphylactic shock, then I was to perish from a carb overload. In the trial stage, I had no access to nutritional information and only a vague list of ingredients. Once I got the only delivery, it was apparent that two of the three meals (of which it didn't let me choose other options) were over 94g carbs each. I can only have 30-45 since I control my condition with diet and exercise, with Metformin.

I canceled as soon as my package arrived.

Bottom Line: No, I would not recommend this to a friend

---

1 out 2 people found this review helpful

Great Service

I have loved Blue Apron since the first order.

The ingredients are fresh and the recipes are delicious. Occasionally there are items are missing, but Blue Apron gladly and rapidly compensates with a partial refund, if everything is not as expected. I highly recommend this service.

Bottom Line: Yes, I would recommend this to a friend

---

2 out 3 people found this review helpful

It's great.

I've read many of the reviews on this site and frankly I'm surprised. I've found the service and food to be excellent. Only once in 6 months have we not gotten everything in our delivery and it was a spice blend that I easily substituted with one I had on hand. The portion sizes are spot on and sometimes even a little large. We love that the meals are simple and flavorful. I usually do all the cooking and I can easily put it together in 30-45 minutes.

Bottom Line: Yes, I would recommend this to a friend

---

3 out 3 people found this review helpful

Great meals

I have been receiving meals for a few months now and have been very pleased. You CANNOT be a picky eater or hate greens as most meals have them included. I love trying them cooked in different ways and Blue Apron does a good job at that. Portions are usually enough but if it isn't enough for you, add an extra potato or a chicken thigh. Most recipes are something I have not tried before and they are wonderful. Blue Apron immediately credited my account for a meal when the chicken breast was of unsatisfactory quality. I have found them to be reliable and quality high. All packaging materials are recyclable.

The prep work takes a little time which is to be expected when you use fresh food and vegetables. My experience has been great and my husband looks forward to the meals every week!

Bottom Line: Yes, I would recommend this to a friend

---

39 out 39 people found this review helpful

You can never cancel.

By Alison

,

Maryland

,

May 2, 2016
Verified Reviewer

Very sketchy. You cannot cancel your account. I planned to send a 2 week gift to my sister and brother in law. I had to enroll in continuous delivery, but figured I was responsible enough to manually cancel after the 2 weeks. I emailed customer service to see how to do it; they replied that I had a 3 day (beginning a week after I emailed them) to cancel. Any earlier and I would not get them their week 2 delivery, any later and I'd have to be charged for the following week. I dutifully marked my calendar and signed in to cancel. The instructions emailed were completely false. They required me to follow tabs that didn't exist. An hour of sleuthing later, it seems that you need to email a specific cancelation email that doesn't cancel you but days later replies with a hidden link to follow to cancel. The Blue Apron's business model is that of a roach motel.

Bottom Line: No, I would not recommend this to a friend

---

13 out 13 people found this review helpful

Too expensive and too frequent

By Drewes Kooi

,

Columbus, OH

,

Mar 24, 2016
Verified Reviewer

Our daughter gave us a trial membership for which she paid $59. After that it continues automatically, so before you know it you pay $59 each week for that food, too frequent and not sure it's worth the price. I would not recommend it for that reason. I canceled.

Bottom Line: No, I would not recommend this to a friend

---