Freshly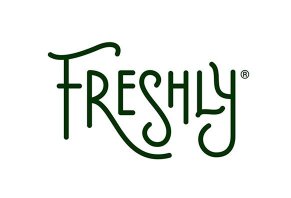 Summary
Freshly is a meal subscription service that provides you with fresh, pre-cooked meals each week that are free of gluten and artificial preservatives.
Freshly Review: Is It the Right Meal Subscription Service for You?
Freshly is a meal subscription company that delivers fresh, pre-cooked meals to subscribers across the country on a weekly basis.
The brand claims that their meals are always served fresh (never frozen) and that they take just three minutes to heat in the microwave.
A Freshly company representative told us that the business was founded in 2015 by two long-term friends, Michael Wystrach and Carter Comstock, as a way to deliver healthy meals to people who cared about what they ate and wanted the convenience of a home-cooked meal without the effort.
The company promises that all of their meals are gluten-free and made of all-natural, high-quality ingredients and that they don't compromise on portion size. They state online that it's their goal to provide customers with easy access to healthy foods without the hassle of shopping, prepping, and cleaning.
Is this meal service worth committing to or are you better off going in a different direction? Let's look closer at the details.
How Does a Freshly Subscription Work?
The first step for signing up for Freshly is determining whether the brand delivers in your area. While the company delivers to every state but Alaska and Hawaii, not all regions within a state are served so you will need to verify if your address will work through their zip code search before signing up for the service.
From there, you need to decide on the size of your meal plan. These were the weekly subscription options at the time of writing:
| Meals Per Week | Four | Six | Nine | Twelve |
| --- | --- | --- | --- | --- |
| Cost Per Meal | $12.50 | $9.99 | $9.99 | $8.99 |
| Weekly Meal Cost | $49.99 | $59.99 | $89.99 | $107.99 |
Shipping is free for all orders, and you can change up the number of meals you order every week through your online account.
Once you sign up for your subscription, you will need to select between approximately meal options and choose your shipping date.
After your first order, you'll get weekly deliveries of the meals you choose, and every delivery period you can adjust the number and variety you receive. The company states that it's also possible to skip up to three weeks in a row or to cancel your subscription at any time without penalty.
The company states that they will send all subscribers weekly email reminders of the deadline to make changes to their order and that subscribers will automatically receive the same meals or company selected ones each week if they don't specify which ones they want.
According to their website, all Freshly meals are shipped in 100% recyclable packaging that's designed to keep it cold for up to twelve hours before you get to it. From there, the meals can be stored in the fridge until you heat them, either in the microwave or oven.
If you choose to cancel your subscription, you can do so from your online account or by contacting the company directly at 1-844-373-7459.
What Are The Meals Like?
The Freshly website states that the company makes all of its meals in a 60,000-square-foot facility in Phoenix that they optimized for small-batch production on a large scale. Each meal is delivered fully cooked in microwave-safe containers, and the company states that they can be heated within 90 seconds in the microwave.
When we did our research, Freshly offered about meals at a time in a continuously-rotating collection. While most meals will remain the same from week to week, the company states that they change out a few every given week.
They also told us that the meal portions average out to 13 ounces per serving and that you can research meals' exact weight on their website before ordering.
The company says that all Freshly meals are certified gluten-free and they are made without artificial preservatives, meaning that their refrigerated lifespan is approximately 4-5 days. Customers can extend their meals' use-by date by freezing them on delivery.
Every Freshly subscriber has the freedom to choose any combination of meals from the company each week, and the meals are sorted categorically for convenience. These categories at the time of publication were the following: over 25 grams of protein, under 35 grams of carbs, under 500 calories, vegetarian, and paleo-friendly.
Some of the meal options we saw included grilled chicken risotto with butternut squash, turkey meatballs and linguine with spicy arrabbiata, chicken tikka masala with vegetable biryani, slow-cooked beef chili, a Southwest veggie bowl, and teriyaki salmon cakes.
Do these meals taste as good as they sound? The best way to find out is by looking through previous customer reviews.
What Do Previous Customers Think?
We gauged the customer response to Freshly meals on numerous customer review sites, including Yelp and TrustPilot.
Overall, we found that Freshly seemed to earn high points with customers for their consistency each month. Unlike with meal kit companies that send you individual ingredients, we didn't notice any comments about missing or damaged meals.
However, these reviewers seemed more conflicted about the quality of Freshly meals. Many commented that the dishes were some of the best pre-made meals they had ever had and that many tasted like they had been made at home. Other reviews we read compared the food's quality to low-grade TV dinners and they stated that they thought the portion sizes were "insultingly small".
We also noticed a few reviews that stated that steak-based dinners were chewy and weird, while others thought the company offered them some of the best steak they'd ever tasted.
Such a wide range of opinions shows that taste preferences tend to be subjective, so someone else's experience of Freshly food won't necessarily match your own.
What Meal Subscription Companies Are Similar to Freshly?
How does Freshly compare with other meal subscription companies? We made this chart to find out.
| | Freshly | Blue Apron | Hello Fresh | Fresh Meal Plan |
| --- | --- | --- | --- | --- |
| Est. Cost Per Serving | $8.99 - $12.50 | $8.50 - $10.00 | $9.99 - $11.50 | $10.00 - 13.00 |
| Available Across US? | All 48 contiguous states but not all zip codes | Yes | Yes | All 48 contiguous states but not all zip codes |
| Shipping Costs | Free | No additional charge | $5.95/ order | Approximately $20 weekly |
| Approximate Weekly Meal Options | 30 | 8 | 12 meals (classic and veggie plan) | 7 plans, approximately 5 - 7 meals per plan |
| Possible to Pause Subscription? | Yes, for up to three weeks at a time | Yes (within seven days of delivery) | Yes (within five days of delivery) | Yes (pause by Wednesday of the week before delivery) |
| Level of Kitchen Effort Required | None (meals arrive pre-made) | Medium (half hour prep time, ingredients for multiple dishes often packaged together) | Medium-Low (fairly basic recipes with minimal prep time) | None (meals arrive pre-made) |
As this chart makes clear, Freshly is most similar in concept to Fresh Meal Plan. Both companies deliver health-focused pre-made meals across much of the contiguous United States, and their meals are at a similar price point (though you'll need to pay for shipping with Fresh Meal Plan).
One point of difference is that Fresh Meal Plan requires you to commit to just one category of meals per subscription, and each option costs a different amount. You'll have about six meals to choose from weekly in each category, and Fresh Meal Plan will make the selection automatically if you don't specify your preferences before the cutoff date.
Blue Apron and Hello Fresh each differ from Freshly because the companies will send you ingredients, rather than pre-made meals. You might pay slightly less per serving this way, but you should plan on spending an average of half an hour on cooking for each meal.
Saying this, who is Freshly best for? The company representative we spoke with told us that the brand makes sense for people with hectic lifestyles who want to eat healthily but don't want to spend time in the kitchen.
It's a smart dinner option for those who want to minimize their gluten intake but don't want to go through the trouble of finding and making gluten-free recipes. If that sounds like you, there's a good chance that you will appreciate the convenience this pre-made meal delivery service offers.
The Bottom Line: Does Freshly Make Sense for Dinner?
Freshly has branded itself as a nutrition-minded, convenient option for delivering pre-made meals to people who don't want to stress about dinner.
You'll pay slightly more for Freshly meals on average than you will for other meal kits, but many people will likely find the simplicity of tossing the meals in the microwave (rather than cooking from scratch) to be worth the price.
Those who care about the quality of ingredients might appreciate that the meals are preservative and gluten free. However, their four- to five-day span of freshness after delivery might be too short for some people, primarily if they prefer not to freeze them first.
Whether or not you enjoy the taste of your Freshly meals might come down to personal preferences. The reviews we read from previous customers showed that some people thought the food was restaurant quality, while others felt it was more suitable for the frozen food aisle.
One advantage of choosing Freshly is that the brand offers upwards of 30 meal options at a time, meaning that even picky eaters should manage to avoid receiving meals that they don't like.
If you're on the fence about trying Freshly, keep in mind that the service makes it simple to cancel your subscription, so you won't be locked into a longer service than you want if you decide it's not for you.
Customer Reviews