Dodow Sleep Aid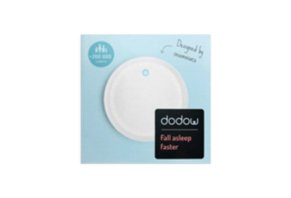 Using principles of meditation and breathing exercises, the Dodow sleep machine touts the ability to help you fall asleep faster by turning your focus away from stressful thoughts that keep you awake.
About Dodow Sleep Aid
Dodow is a sleep-aid that implements rhythmic breathing and soft blue light to help relax you so you can get to sleep better
The product is the invention of a team of four different men, two of which had issues falling asleep easily.
"Two of our team members are former insomniacs who had not been able to find simple, safe and drug-free solutions to their sleep problems," the site's About page says. "They all joined forces to develop Dodow, combining their skills in various areas, such as science, design, meditation, yoga, etc..., with the goal of helping people recover sound sleep patterns without medication."
The four of them combined their expertise to create Dodow in conjunction with French lighting company Unilux. According to their site, 80% of Dodow sleep aids are manufactured in France.
As you decide if this product is right for you, we think there are several important issues at stake. First, how does the Dodow sleep machine work and how does it leverage light to get you to calm down? Second, what's the science behind the effectiveness of light and breathing in helping people fall asleep?
In this review, we'll answer those questions and provide you with an overview of what Dodow customers say about the product's effectiveness.
How Dodow Sleep Aid Works
At its core, the Dodow sleep aid device teaches you how to breathe in a way that will calm your blood pressure and help you relax so that you can fall asleep.
When you turn the machine on, it's blue light radiates upward to the ceiling for a period of four seconds, during which you are supposed to inhale from your abdomen. Then, the light recedes for six seconds, during which you are supposed to exhale. Basically, you're taking a 10-second breath.
You have two choices for how long you go through the breathing cycles. Tap the Dodow once for an eight-minute session and tap it twice for a 20-minute session. You can also choose various brightness settings for the blue light.
According to Dodow's website, this 10-second breath cycle is based in a particular form of yoga we'll talk about and, in limiting you to six breaths a second, you switch your mind from being alert to being at rest.
Here's how they describe it:
"By breathing long enough at the Dodow rhythm (6 respirations per minute), you stimulate the baroreflex, a small physiological mechanism that restores the balance of the autonomic nervous system. Thus, you will quickly pass from the alert state (activation of the sympathetic nervous system) to the resting state (activation of the parasympathetic nervous system), the same condition which you are in during digestion: slightly drowsy."
There are two factors here involved in how the machine operates: light and breathing. The light the machine emits is a soft blue color. The breathing, of course, is dependent on you following the rhythm that the light establishes.
If you can nail the rhythm and focus on the light, then Dodow claims on their site that the combination of light and breathing should have a "hypnotic effect". They say that, "after a few minutes you are able to let go and sleep."
Pro tip: According to their site, Dodow customers fall asleep 2.5 times faster than they did before owning the machine.
What's the Science Behind the Dodow Method?
The product's website provides multiple studies about light, breathing and sleep, as well as a quick rundown of the yoga technique that inspired the Dodow breathing rhythm. These two factors – science and yoga – are the "magic" behind the Dodow, the company says.
If you remember, we included a quote a few seconds ago in which the company says their machine has the ability to pass you from the alert state to the resting state. On the Dodow website, they have a section for doctors in which a physician by the name of Dr. David O'Hare talks about this state of alertness.
Basically, he says, we get so stressed out about our day that we lay in bed and our minds are racing, making it impossible to sleep. In this situation, our sympathetic nervous system is activated. And, when it's activated, it's really tough to fall asleep.
By causing you to meditate on your breathing, using a yoga-inspired breathing method and making a habit out of this nighttime routine, O'Hare says the Dodow can help you solve your insomnia problems.
"Dodow aims to work quickly, effectively and naturally to counteract the effects of stress that are detrimental to sleep," O'Hare's page says.
He goes on to list several studies that point out an aroused sympathetic nervous system can cause insomnia. He then talks about the benefits of meditation and practicing Pranayama breathing, which is a breathing cadence used in Pranayama yoga.
O'Hare points to a study that indicates Pranayama can reduce blood pressure and enhance the "activation of the parasympathetic system," which is the system that puts your mind at rest. We read through the summary and want to point out a few things:
Practicing this style of yoga was more effective in lowering blood pressure than a drug named Buscopan
The participants performed yoga; they were not trying to fall asleep through breathing methods
The room temperature was between 64-68 degrees
Participants were 25-40 years old
We have no doubt the yoga exercises in the study helped calm the participants but it's important to point out that the study did not isolate the breathing in the routine. Rather, it looked at the effects of the entire yoga routine.
This is an important point because the Dodow encourages yoga-style breathing and meditation, but not the physical movements associated with a yoga workout.
Based on our research of the studies listed on Dodow's site, we believe there's ample evidence that an overactive sympathetic nervous system can cause you to stay awake and, in some cases, lead to insomnia.
We also believe there's ample evidence to suggest that a yoga routine can lower your blood pressure and lead to relaxation. However, the study that proved this did not make mention of the effectiveness of a meditation- and breathing-only form of the yoga routine.
We also reached out to experts about this matter, all of whom indicated that deliberate, slow breathing techniques can help you relax at bedtime. Each expert provided a different technique but they were all in agreeance that how you breath can contribute to pre-sleep relaxation.
These experts also noted that any light – and especially blue light – can actually impede your ability to fall asleep.
"Certain types of light can absolutely affect sleep. In particular, blue light exposure—especially in the evening hours—delays melatonin production, thus keeping us more alert and awake," said Greg Bullock, marketing manager at TheraSpecs, a company who manufactures tinted glasses to reduce migraines and headaches.
Customer reviews, as we'll explore in a few minutes, do have a few examples of people saying the Dodow didn't work for them. However, it's hard to say that Dodow's blue light was the cause of that ineffectiveness.
Dodow's Pricing
You can purchase the Dodow from the company's website ($59) or Amazon ($59.90). The advantage to Amazon is that Prime members can get the item in two days, whereas purchases from the website can take up to 10 days.
Dodow has a 100-day money-back guarantee through which you can return your Dodow if you aren't happy with it. You also have the ability to return the item via Amazon, as well, if you choose to purchase it there.
Dodow's Customer Reviews
At the time of publishing, Dodow had more than 600 reviews on Amazon with an average rating of 3.5 stars. The reviews we read were split between those who say the machine helped them or a loved one fall asleep after years of trying, or that the machine didn't work.
There were several complaints that the lighting mechanism stopped working shortly after receiving it and several reviewers noted that it was very difficult to open the compartment where you insert the batteries.
What we learned from these reviews is that, if you follow the breathing patterns and the abdominal breathing techniques that Dodo recommends, there's a good chance the machine will help you fall asleep.
However, temper your expectations, as multiple recent reviews at the time of publishing indicated that issues with the machine's lighting and functionality did not help them relaxed as promised.
Bottom Line
Dodow's strengths lie in the fact that it provides a novel way for individuals to get into a nighttime routine that relaxes them and prepares them for sleep. And, many customers have noted that the machine actually works, a conclusion that has some scientific support, although not an extensive list of pertinent studies.
The downside to the product is the cost, as a $59 machine may be too expensive if you're on a tight budget. And, because the machine acts as a breathing trainer, you may be able to find pre-sleep breathing routines that may or may not be as effective as the Dodow.
Just remember, though, that the combination of breathing and the pulsing light the Dodow emits can create a state of meditation that simple breathing exercises may not be able to match.
In general, this product has enough positive customer response to indicate it can help your nighttime routine.
Terrible customer service

By Kristen N.

,

Seattle, WA

,

Mar 19, 2019
Verified Reviewer

I bought the Dodow, one for myself and one for my husband, thinking if it did not work I would return it. I decided it wasn't for me. I have emailed the company repeatedly (well within the return window) with no replies. Typically, I would just call my credit card company and get my money back that way, but because it was PayPal or something (I'm really not sure), and during a super busy time, I didn't feel like spending an hour trying to find out how I paid for it. The product may work for some, but the company is terrible, and for that reason alone I don't recommend purchasing this item. I may still dispute this transaction later, as I have ample proof that I tried to contact them.

Bottom Line: No, I would not recommend this to a friend

---

Advertisement

---