Focallure Reviews
Claimed This company has claimed this profile, is getting alerted on any new customer reviews entering this page, and may engage in dialogue with its customers to address their matters.

Companies cannot pay money or provide goods in order to remove or alter customer reviews.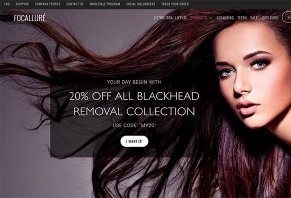 Focallure offers cosmetics, including mineral makeup, eyeshadow palettes, eyeliners, and skin care. Learn if they live up to their claims of exceptional service and products made in the USA.
---
This company is actively collecting reviews from its customers. All reviews submitted are subject to moderation and approval to ensure they meet our

Review Guidelines

.

I love everything I get!

By Kristina J.

,

Stafford, VA

,

Jan 21, 2020
Verified Reviewer

I was worried at first that this would not be something I was going to be pleased with but to my surprise, I love all the makeup! I would suggest this to everyone I see, I love it that much! Thank you.

Bottom Line: Yes, I would recommend this to a friend

---

Terrible and dishonest company

By Carrie L.

,

United States

,

Jan 17, 2020
Verified Reviewer

I signed up for a subscription in November via a promotion which allowed me to receive my first box for free and pay for shipping. Once I received my first box, I was highly disappointed with the quality of the products. The packaging for each product was cheap, the quality of the products themselves were very poor. The products look like they came from a Claire's, not a company attempting to provide reputable beauty products to consumers. I then attempted to cancel my subscription, which can only be done by emailing the company. They do not have a customer service number, mind you. After THREE WEEKS of back and forth communication and speaking with FIVE different employees from the company, not only could they not provide proof that their promotional policy required me to pay for the full price of the first box if I chose to cancel before receiving a second box, but they charged my card a second time WITHOUT MY AUTHORIZATION. Furthermore, I had it in writing no less than FOUR TIMES that I DID NOT authorize a second charge and requested to cancel my subscription! I have never dealt with such poor customer service, dishonest, and a downright SLEAZY and SLIMY company! Save yourself the hassle and go to Ipsy, FabFitFun, or frankly ANY other beauty subscription company because this company is TERRIBLE. What a joke of a company! The creator(s) should be absolutely ashamed of themselves for their utter lack of professionalism.

Bottom Line: No, I would not recommend this to a friend

---

Advertisement

---

So far so good

By Wardah T.

,

Syosset, NY

,

Dec 27, 2019
Verified Reviewer

I liked the products in the box I received. I'm still deciding if I will be continuing the subscription. So far the items are of use, hopefully they don't disappoint in the next one.

Bottom Line: Yes, I would recommend this to a friend

---

BabeBox

By Angela C.

,

Indiana

,

Dec 19, 2019
Verified Reviewer

I love anything to do with BabeBox, all full-size products. BabeBox staff is very friendly and answer quickly when you ask a question or post a review. I would and will request BabeBox to my friends and family, they have a wide variety of products to choose from and cover almost everything. I can't wait to get my next one.

Bottom Line: Yes, I would recommend this to a friend

---

Advertisement

---

BabeBox

By Donna A.

,

Kansas City, MO

,

Dec 16, 2019
Verified Reviewer

Great quality products, cute packaging, quick shipping. I will actually use these products. I would definitely recommend BabeBox. Great subscription box. They are the first subscription box I tried because of their awesome promotional offer and I will be staying with them for sure.

Bottom Line: Yes, I would recommend this to a friend

---

Great products

By Kitsana C.

,

Lynnwood, WA

,

Dec 13, 2019
Verified Reviewer

I loved everything I got in my box, amazing products. Will definitely recommend. You get stuff you wouldn't normally try and I love that it gets me to use products outside my comfort zone.

Bottom Line: Yes, I would recommend this to a friend

---

Great box of goodies

By Jennifer R.

,

North Carolina

,

Nov 21, 2019
Verified Reviewer

Was not expecting much but was greatly surprised with the amazing full-sized products that come in this box. I look forward to my next box and more amazing products. Thank you for great products.

Bottom Line: Yes, I would recommend this to a friend

---

I love it

By Nicole F.

,

Kansas

,

Nov 13, 2019
Verified Reviewer

Absolutely love this. BabeBox has full-sized products that I enjoy and can use more than I would get if they were trial sized. Even though I received a couple of items that I personally don't use they will make a great gift for the people I know. Especially with the holidays approaching.

Bottom Line: Yes, I would recommend this to a friend

---

Great company

By Natasha A.

,

Baker, MT

,

Nov 11, 2019
Verified Reviewer

Super excited to get my first BabeBox, looks like they have great products from the unboxings I have watched! The customer service is absolutely amazing and the price is great! Will definitely recommend to family and friends!

Bottom Line: Yes, I would recommend this to a friend

---

Top notch ordering experience

By Caitlin C.

,

South Carolina

,

Nov 7, 2019
Verified Reviewer

So in my search to try a new beauty box subscription I came across BabeBox by Focallure. They offer the first box free so immediately I was interested. All I had to pay was shipping which was under $7 and I thought that was a pretty good bargain. So before I signed up I decided to actually check out some of the products on their site that might show up in my box and again I was not disappointed. I am a huge fanatic for lipsticks and the colors they offer are absolutely stunning, in both liquid and crayon styles as well as both glossy and matte. Navigating their site was also fairly easy and very straight forward, which is nice for people who are not tech-savvy. Overall the ordering experience was top notch and I can't wait to receive my box (which shipped out only a business day or 2 after I ordered it) and review the products within it.

Bottom Line: Yes, I would recommend this to a friend

---

Great experience!

By Lacey P.

,

Wasaga Beach, Ontario, Canada

,

Nov 6, 2019
Verified Reviewer

I have so far had a great experience. Great products. Great customer service. Always delivered in a timely manner. Full-sized products unlike many boxes out there. Overall 5 out of 5 rating.

Bottom Line: Yes, I would recommend this to a friend

---