Freedom Debt Relief Reviews
Claimed This company has claimed this profile, is getting alerted on any new customer reviews entering this page, and may engage in dialogue with its customers to address their matters.

Companies cannot pay money or provide goods in order to remove or alter customer reviews.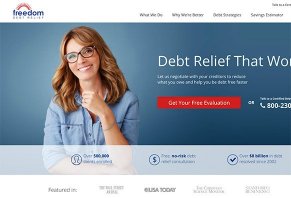 For clients looking to become debt-free faster, Freedom Debt Relief helps resolve an average of more than 43,000 accounts per month.
About Freedom Debt Relief
Founded in 2002 by Stanford Business School graduates Andrew Housser and Bradford Stroh, Freedom Debt Relief helps clients settle and resolve their unsecured debts in as little as 24-48 months, instead of declaring bankruptcy. Cumulatively, they've helped resolve more than $8 billion in debt for more than 500,000 clients since opening their doors, which is more than any other company in the nation.
The process is straightforward: Talk to a Certified Debt Consultant to make sure Freedom Debt Relief is the right debt solution for you, see what you could save by partnering with them, and then enroll in their program if you choose.
We all want to be debt-free faster. But is Freedom Debt Relief necessarily your best option? Let's start by taking a look at how their program works.
How Does Freedom Debt Relief Work?
To qualify for Freedom Debt Relief's program, you'll need to owe at least $7,500 in unsecured debt (e.g., credit cards, medical bills, etc.) and be struggling to make your minimum monthly payments due to a financial hardship, whether caused by the loss of a job, divorce, medical bills, or the passing of a loved one.
Credit score isn't an eligibility factor, although the company currently only offers their services to residents of the following 34 states and territories: AL, AK, AZ, AR, CA, CO, DE, FL, ID, IN, IA, KY, LA, MD, MA, MI, MN, MO, MT, NE, NV, NM, NY, NC, OK, PA, SD, TN, TX, UT, VA, DC, WI, Guam, Puerto Rico, and American Samoa.
If you meet these core criteria, the company's debt relief program works over five steps:
A Certified Debt Consultant—each of whom is required to undergo training and meet strict qualifications established by the International Association of Professional Debt Arbitrators (IAPDA)—will evaluate your debt and advise which options are available. In these instances, the company will be upfront about whether or not their program is the right solution, and if not, refer you to other companies who might be a better fit.
Then, the company will customize your program and give you all the available information about your options, based on your needs. Depending on how much you can afford to pay each month, you'll be informed of your potential savings and overall program length.
Once your program is in place, you'll begin putting funds each month into an FDIC insured account, which will be used to repay your debts. You'll maintain control of the account at all times. In the meantime, you'll be asked to quit using your credit cards, which will boost FDR's ability to resolve your debts.
After money accumulates in your account, Freedom will contact your creditors and negotiate settlements for you. According to the company's website, they've been negotiating with creditors for over a decade and resolve an average of 43,891 accounts each month, thereby giving you more leverage.
Finally, after all your debts have been resolved, your program will be complete.
How Much Does Freedom Debt Relief's Program Cost?
Freedom Debt Relief doesn't assess their clients any upfront fees until after a debt has been resolved, and there are no monthly fees involved.
However, the company emphasizes that the special purpose bank account they set up for clients can charge a small monthly fee, like most other financial accounts. If this is the case, it will be included in the client's monthly program deposit amount, which—again—is something they maintain control over at all times.
The length of Freedom's program varies between clients. Once a settlement is negotiated, though, the final fee can range anywhere between 18 and 25 percent, depending on the client's state of residence and the debt amount.
For example, if you owe $10,000 on one of your accounts and Freedom Debt Relief negotiates a settlement for $6,000, you could pay between $1,800 and $2,500 in fees, for a total of $7,800-$8,500. In this example, your overall savings could be between $1,500 and $2,300 off your original debt.
For additional details or to undergo a consultation, you can reach a Certified Debt Consultant at 800-230-1553.
What Can We Learn From Freedom Debt Relief Online Customer Reviews?
Since writing our original article, nearly 90 HighYa readers have provided feedback about their experience with Freedom Debt Relief, giving the company an average rating of 3.7 stars.
Common compliments related to effective debt reduction/settlements and helpful Consultants, while complaints frequently revolved around settlements that didn't meet expectations, as well as steep fees.
We also encountered more than 12,000 customer reviews on Consumer Affairs, where the company had a slightly higher average rating of 4.6 stars. Most of the compliments and complaints mirrored those found here on HighYa.
San Mateo, CA-based Freedom Debt Relief is accredited with the Better Business Bureau and has more than 1,300 customer reviews (89 percent of which were positive) and 320+ closed complaints, as of 4/17/18. Details were available for very few complaints, although a company representative responded in each instance with a resolution.
Debt Relief vs. Credit Counseling: How Can You Choose the Right Solution?
According to the Federal Trade Commission, reputable credit counseling organizations—and their certified counselors—can "advise you on managing your money and debts, help you develop a budget, and offer free educational materials and workshops."
In other words, while they often don't always offer settlement services with creditors, they can help you develop a financial plan that helps you pay them off in a timely manner and get back on track. They're typically non-profit organizations as well, so their assistance might cost you little-to-no money.
On the other hand, if you're looking to gain access to many of these same services and potentially reduce the amount you owe to creditors, a for-profit debt relief company like Freedom Debt Relief might fit the bill. Obviously, the downside is that you'll pay a not-insubstantial fee for their services.
Before signing up for one, though, the FTC recommends:
Making sure that you can afford to regularly deposit money into the savings account. After all, if there's no money available, the company can't bargain with creditors on your behalf.
Keeping in mind that not all accounts are settled. You could end up owing just as much as you do currently, although this could certainly help you save on interest and late payments.
Remembering that if you decide to stop making payments on your debt, this could negatively impact your credit score.
Another important consideration is that you're allowed to contact your creditors directly and negotiate settlements on your debt, which obviously won't cost you anything other than time. Granted, you won't have the leveraging power of a company like Freedom (regardless of whether or not you have a savings account in place), but it's certainly something to keep in mind, depending on your circumstances.
Let's go ahead and bring everything together so you can make a decision about Freedom Debt Relief.
Our Final Thoughts About Freedom Debt Relief
The bottom line is that if you meet their qualification criteria and have carefully considered the potential pros and cons of using a for-profit company discussed above, Freedom Debt Relief has been in business for more than 15 years and comes with an overwhelmingly positive online customer reputation.
As such, this could be a good indication of what you might experience after becoming a client. And if not, you might not have much more to lose than a few minutes of your time by reaching out to a Certified Debt Consultant and seeing whether or not they're a good fit for you.
This company is actively collecting reviews from its customers. All reviews submitted are subject to moderation and approval to ensure they meet our

Review Guidelines

.

Get help with your debt relief through Freedom!

By Diane R.

,

Indianapolis, IN

,

Mar 31, 2020
Verified Reviewer

Freedom Debt Relief is a very helpful company that helps you get your bills in order. Their customer service employees are very friendly and answered all my questions. They are available any time to help you out. I am looking forward to continue working with them.

Bottom Line: Yes, I would recommend this to a friend

Apr 1, 2020

Diane, thank you for the amazing feedback! We work extremely hard to provide our clients with relief when going through this process. Please lean on us if you need anything during this time. We can be reached at (800) 655-6303 or at support@freedomdebtrelief.com. Thank you for being a valued client of Freedom Debt Relief!

---

Getting out of debt

By Marian B.

,

Philadelphia, PA

,

Mar 31, 2020
Verified Reviewer

I had the pleasure of speaking to Seth and he was so nice. He took the time to explain everything to me and answered all the questions I had. I'm very anxious and happy to have to joined the company and I can't wait to be out of debt.

Bottom Line: Yes, I would recommend this to a friend

Apr 1, 2020

Marian, welcome to the program! We are excited to start this journey to a debt-free future with you. As you continue, remember you can lean on us whenever you have any questions or concerns at (800) 655-6303 or at support@freedomdebtrelief.com. Thank you for choosing Freedom Debt Relief!

---

Advertisement

---

Great program

By Phillip L.

,

Roanoke, VA

,

Mar 24, 2020
Verified Reviewer

I should have let you help me from the jump-in stead of letting the rip-off credit card companies beat up and wreck my finances.

FDR has been a lifesaver and I would highly recommend this to anyone who is in financial dire straights with one or more credit cards.

Bottom Line: Yes, I would recommend this to a friend

Mar 25, 2020

Hi Phillip! No worries, we are here to step in and assist you now. We can't wait to help you reach all your goals. Please feel free to lean on us and to reach out to Client Services if you ever have any questions. You can call us at (800) 655-6303 or email us at support@freedomdebtrelief.com. Thank you for being a valued client of Freedom Debt Relief!

---

Getting started

By Ida P.

,

Jamestown, CA

,

Mar 23, 2020
Verified Reviewer

Everything has been great so far. I am just in the beginning stages with this company, but their response to my questions, getting me through the paperwork, and understanding my personal situation has been great. I look forward to being debt-free in the future.

Bottom Line: Yes, I would recommend this to a friend

Mar 25, 2020

Welcome to the program, Ida! We are so glad you decided to move forward with this solution to resolve your debt. We can't wait to get you started! As we continue down this journey to financial freedom, please remember you can track your program process online through your Client Dashboard at www.fdrclient.com. Thank you for choosing Freedom Debt Relief!

---

Advertisement

---

Satisfied Customer

By Juanita S.

,

New York

,

Mar 23, 2020
Verified Reviewer

I was reluctant at first to go with FDR, because I was feeling stressed about my credit being damaged. I was struggling to keep my debt in check. Since FDR is helping me, much of that stress is gone. I am able to breathe a bit easier taking care of things now. One of my 8 debts is satisfied and a second very close to being settled as well. It's a good feeling knowing that I did not let my creditors down. I believe in being responsible when I make a debt to pay that debt and FDR helped me with that. I would refer anyone struggling with the decision to get help from FDR to reconsider. I gave them a high rate because I am in a much better place mentally. Thank you, FDR.

Bottom Line: Yes, I would recommend this to a friend

Mar 25, 2020

Juanita, thank you for leaving such a great review. You are off to a strong start, and we are proud of your accomplishments thus far. Please remember you can depend on us whenever you need anything concerning your graduation path. You can call us at (800) 655-6303 or email us at support@freedomdebtrelief.com. Thank you for letting us be your partner on your journey to a debt-free future.

---

Too soon

By Ulysses M.

,

West Palm Beach, FL

,

Mar 23, 2020
Verified Reviewer

It's too soon to review the services, being that I'm just getting started. When I have something to review then I will. So far I want to say thank you, Freedom Debt Relief. I don't have anything else to report right now and would like to submit this review. I hope that I got enough characters now.

Bottom Line: Yes, I would recommend this to a friend

Mar 25, 2020

Ulysses, welcome to the program! We look forward to helping you reach your financial goals. Please let us know if there is anything you need during this time. You can call us at (800) 655-6303 or email us at support@freedomdebtrelief.com. Thank you for choosing Freedom Debt Relief!

---

My partner in business

By Lana J.

,

Westfield, MA

,

Mar 21, 2020
Verified Reviewer

I clicked on the email and could not believe how fast they got back to me. I felt comfortable and at ease speaking with them, and a sense of relief as we spoke. I liked that they said we were partners. A partner wants you to succeed. When they said they can help me lower my monthly payments on my bills and help me get out of debt, my whole body relaxed. Everything was easily explained to me and my future no longer looked bleak, but bright. Also being able to let the creditors know when they write or call me that I can give them their name and phone number, so that they can speak with them instead of me, which of course was less stressful. I did not have any explaining to do. I trust my partner Freedom Debt Relief and I believe everything they told me. They have already set things in motion as proof that they mean what they say. Thank you FDR with all my heart. I am forever grateful to you.

Bottom Line: Yes, I would recommend this to a friend

Mar 22, 2020

Lena, it is a pleasure to be your partner towards the financial future of your dreams. We couldn't be more excited for you. As you continue, remember to track your success along your Client Dashboard at www.fdrclient.com. Thank you for choosing Freedom Debt Relief to meet your financial needs!

---

Questionable

By Erika B.

,

California

,

Mar 21, 2020
Verified Reviewer

At first they were really helpful. They said the website would have everything I needed and they would upload any documents I would need there so I could download them if I needed. Like tax 1099C or any settlement notices they received. Nope, that never happed. Getting my 1099C from them was like pulling teeth on a crocodile. Telling me they would go to my address, how could the creditors sent to my address when you at the beginning asked me to change my address to your address in Arizona?

Let's talk about fees, wow, these guys are expensive, I understand they are negotiating my card balances down but 21% and then $3 or $5 or $10.00 fees for every payment made, EFT fees, every phone call made.

Then they change their website and you no longer can see each settlement payment by monthly transaction and the date it will pay and how much.

Customer service will not help, they just beat around the bush.

I paid a lump sum to graduate early, they are the ones that told me the actual dollar figure to send in to pay everything off, that was on 9/15/2019. Usually when you have enough money to pay a settlement they will pay it off. Oh, not this time, oh, they stated oh, the rules have changed, we will not pay your 4 accounts until the 5th account is fully negotiated with the company. Strange when just a month prior they just paid an account because there was enough money in the account to do so, but when it was on my terms, they refused. They just wanted all of those monthly EFT fees to add up. But they finally did. No, I am waiting on one account that on my credit report that reads charged off as bad debt profit and loss write off and they refuse to give me answers on what they are going to do next, the account is no longer reporting there is no new collection on my account so the company did not transfer the debt, it says charged off as bad debt profit and loss write-off.

Bottom Line: No, I would not recommend this to a friend

Mar 25, 2020

Thank you for voicing your concerns to us, Erika. We are sorry you aren't satisfied with how your program was handle. We would like the opportunity to address your concerns and better your experience. One of our team members will be reaching out shortly. Thank you for choosing Freedom Debt Relief.

---

Change of address and increase payment

By Stephen H.

,

Harlingen, TX

,

Mar 17, 2020
Verified Reviewer

The person took the information that I provided and gave me an update on some of my things in negotiation. The amount of money I will be saving is usually over 40% of what the original amount due was. I'm thoroughly excited and extremely pleased.

Bottom Line: Yes, I would recommend this to a friend

Mar 18, 2020

Thank you for sharing your excitement with us, Stephen! Our team of negotiators work hard to be able to provide you with the best savings possible. Do not hesitate to reach out to Client Services if you ever have any questions at (800) 655-6303. Thank you for choosing Freedom Debt Relief to meet your financial needs!

---

Great experience

Freedom Debt Relief really helped me out of my financial mess. Their representatives were very helpful, and explained everything I need to know about the program.

They were able to make my $600 a month credit payments down to $200 a month. I am very happy with their service and would recommend their program without hesitation.

Bottom Line: Yes, I would recommend this to a friend

Mar 17, 2020

We appreciate your kind feedback, Stephanie. Thank you for sharing the positive experiences you're having in our program. The greatest reward is knowing your monthly deposit was calculated to be less than your combined monthly payments to your creditors! That is one of our top goals. Be sure to log into your Client Dashboard at www.fdrclient.com to view the progress you're making. Thank you for being the best part of Freedom Debt Relief!

---

Extremely helpful and knowledgeable

By Brenda B.

,

Chambersburg, PA

,

Mar 12, 2020
Verified Reviewer

I had a lot of reservations going into this. Mostly fear and anger. Wondering how I'd gotten myself into the situation and if doing this was really my best option. The staff is professional and really listened to my questions and helped to ease my fear. I know in the long run this was truly the best decision that I could have made.

Bottom Line: Yes, I would recommend this to a friend

Mar 16, 2020

Welcome to Freedom Debt Relief, Brenda! Thank you for sharing the fact that our advocates have been able to resolve any concerns you've had regarding our program. It's also rewarding to hear how pleased you are with the decision to move forward with us. We are confident in our ability to resolve the enrolled balances. Keep in mind you can visit your Client Dashboard at www.fdrclient.com to monitor the progress you're making. Thank you for choosing Freedom Debt Relief to reach your financial goals!

---