GenF20 Plus Reviews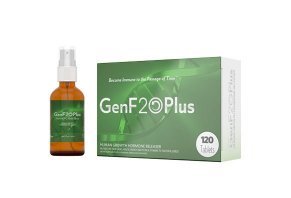 GenF20 Plus, a supplement in pill or spray form, claims that their blend of ingredients boosts your body's ability to produce human growth hormone, a chemical they say improves your overall health.
About GenF20 Plus
GenF20 Plus is a supplement that comes in spray and pill form that claims to unlock your body's ability to create more human growth hormone (HGH), a chemical that helps children and adolescents grow and aids in a variety of bodily functions.
The supplement is offered by a Leading Edge Marketing, a firm who specializes in natural health and beauty products.
The company has a board of advisors that includes three doctors from different fields, one of which, Dr. Steven Lamm, who is featured on the GenF20 Plus website and claims that the supplement truly helps stimulate your body to produce HGH.
Lamm is the director of NYU Langone's Preston Robert Tisch Center for Men's Health, where he specializes in treating ADHD, obesity, male sexual dysfunction and several other conditions. He also provides primary care.
According to Lamm and the website, GenF20 Plus will help you:
Increase muscle mass and tone
Increase libido
Look more youthful
Have "almost" limitless energy
Lose fat and improve metabolism
The site says that these claims are based on research-backed ingredients that unlock your body's ability to create more HGH.
Our goal in this review is to help you understand what HGH is and what it does, talk about the ingredients in GenF20 Plus that claim to spur HGH production and then review the research behind those claims.
What is HGH?
Human growth hormone is a chemical that's kept in your pituitary gland, which is a small organ at the base of your brain. Your pituitary releases HGH for a variety of reasons. One of the prominent ones is to help your body grow when you're a kid and a teenager.
But HGH does other things, too. According to WebMD, it regulates your body's fluids, helps metabolize fat and sugar and may help your heart. This is why the makers of GenF20 Plus say their supplement is important; it spurs the production of a chemical that helps your body regulate itself and strengthen muscles and bones.
Over time, your body produces less HGH. In an article for the Today Show, Dr. Judith Reichman points out your HGH production declines after you hit 30.
Because of this, there are many who believe that getting injections of HGH will return them to their youthful days when they had more strength and energy. Reichman says as much, pointing out that people think that taking HGH pills or getting shots will give them more energy, strengthen their muscles and help with tissue repair.
However, according to Reichman, using HGH for anything but medical conditions is illegal.
GenF20 Plus isn't illegal, though, because it doesn't contain HGH. Rather, it contains various amino acids (anything that starts with "L-") that, they say, help your pituitary gland produce more HGH.
How Does GenF20 Boost Your HGH?
The GenF20 Plus pill has 14 different ingredients and the spray has 15 different ones. While the website claims that all ingredients provide benefits, only certain ones are directly related to the ability to encourage HGH production:
GABA (50mg)
Colostrum (50mg)
L-Arginine (130mg)
L-Glycine (100mg)
L-Ornithine (25 mg)
Pituitary powder (30mg)
GTF-Chromium (0.1 mg)
Of these seven ingredients that GenF20 says can help boost your HGH production, they claim that three of them are backed by research: L-Arginine, L-Glycine and L-Ornithine.
We wanted to know what the research said about these three ingredients, so we did a little digging to find out.
Does the Research Support the Claim that GenF20 Plus' Ingredients Can Promote HGH Production?
In this section, we've pulled up various studies in which researchers used ingredients found in GenF20 Plus to conduct studies on the body's production of HGH.
L-Arginine: Syracuse University and Live Strong Say It Might Work
In 2008, Syracuse University's Dr. Jill Kanaley published research that covered the effects of oral L-Arginine supplements and exercise on an individual's ability to create HGH.
What Kanaley found is that HGH production went up when individuals took 5-9g of L-Arginine when they were at rest but that exercise was a more effective way of raising HGH:
"At rest, oral L-arginine ingestion will enhance the growth hormone response and the combination of arginine plus exercise increases growth hormone, but this increase may be less than seen with exercise alone. This diminished response is seen in both in both younger and older individuals."
Her study also points out that past research seems to indicate that taking L-Arginine and exercising can increase HGH levels by 200%, but that exercise alone can raise it 500%.
L-Glycine: A Small Study Shows Promise
In 1978, a team of four Japanese researchers gave 31 subjects a drinkable form of L-Glycine. Of those 31 subjects, 12 had surgery to reduce the size of their stomach and 19 were of normal weight.
The test results showed that there was "clear and significant increase" in HGH levels increased after taking L-Glycine, though the study's summary didn't say by how much.
L-Ornithine: Positive Results When Used with L-Arginine
A team of Polish researchers tested 17 athletes who underwent intense weight training and also took L-Ornithine and L-Arginine. The test was a double-blind, controlled study, which, based on our research, is pretty much the gold standard of reliable testing methods.
The researchers measured the athlete's human growth hormone levels at rest, two minutes after an intense weight-training session and one hour after the session. The at-rest results showed no real difference between those who were taking the HGH stimulants and those who weren't.
However, the team noticed an increase in HGH in the blood samples taken two minutes after the workouts and one hour after the workouts. The doctors went as far as to call the increases "significant".
Our Thoughts on the Research Behind Three GenF20 Plus Ingredients
We believe the research we looked at shows that the amino acids in GenF20 Plus may boost your HGH levels.
But there are a few things to keep in mind. First, the doses of amino acids given in the tests were administered in liquid form and only one indicated the dosage, which was 5-9 grams of L-Arginine. GenF20 Plus pills have just over 1 gram of L-Arginine and the site lists no dosage levels for the spray.
This leads us to believe that you may see fewer benefits that what was observed in the research simply because you're ingesting lower amounts of amino acids.
With all this in mind, we're sure you're wondering if GenF20 really works.
According to a study commissioned by Leading Edge Marketing, in which a team of researchers studied the effects of GenF20 Plus on a group of subjects ranging in age from 35 to 65. The researchers ran tests on HGH levels and how they affected sleep, memory, libido, and energy.
Here is the concluding paragraph of their study:
"In summary, GenF20 Plus may not have delivered the projected efficacy results in this study, but is certainly worthy of further exploration as a potential agent to make the quality of life better in overweight and aging population."
While the results weren't what the researchers expected, they did say there were significant increases in HGH levels in participants 40 or older.
Side Effects of HGH Boosts
Based on our research, we believe the greatest threat of side effects comes from those who take HGH injections. WebMD notes that there is a myriad of things that could go wrong, including swelling, high cholesterol carpal-tunnel syndrome and an increased risk of diabetes.
We believe that those side effects may not be an issue with GenF20 because you're not actually taking concentrated injections HGH, only the amino acids that boost HGH production. However, if you notice any of the side effects listed above or any other adverse reactions while taking the supplement, consult your doctor immediately.
Pricing for GenF20 Plus
You can buy the supplement in pill or spray form starting with a one-month supply going all the way up to six months. Prices range from $59.99 to $359.94 for the pills and $39.99 to $239.94 for the spray.
You also have the option of buying a combo pack of both pills and spray for anywhere from a one-month to a six-month supply. Prices are $82.99 to $399.99.
According to the fine print we read, you have 67 days from the day your order was delivered to return your products for a refund. The containers can be opened or empty.
It will take up to 30 days after they receive your return to process your refund.
The site also notes that they will "never automatically ship more boxes to you and bill your credit card unless you personally re-order."
GenF20 Plus says that you can earn a free year of their product if you send them before and after pictures of your body. In order to be eligible for this deal, you have to order at least a four-month supply of their pills, spray or both.
The details of this program are included on the page you use to buy the product.
How Does GenF20 Compare to Other HGH Boosters?
We've done reviews of multiple HGH boosters and found that one month of this supplement is cheaper than SeroVital-hgh, which is $80/month.
The advantage you have with GenF20 Plus over these other two supplements is that you aren't enrolled in an auto-ship program. These programs automatically send you new product every month and are, based on our research, notoriously hard to opt-out of.
Should you buy GenF20 Plus? If you've already made up your mind to buy an HGH supplement and price is a concern, this product might be a good fit.
However, if you're undecided, take a few minutes to read through our guide to safely buying supplements online. It will help you understand what to look for if you decide to research other supplements before making your decision.
Our Final Thoughts About GenF20
Based on the research we read through, we believe that GenF20 Plus has the potential to increase your HGH levels.
However, as the studies we read included subjects ranging in age and weight, you have to keep in mind that your results may vary from what the supplement claims on its site and what the research shows.
Another important factor to remember is that exercise, as the research showed, is a good way to boost your HGH levels.
Also, remember that the various ingredients that GenF20 Plus contains were, according to the research we read, administered in liquid form, so it's difficult to say how effective pills would be.
Should you decide to order this product and are not satisfied with it or have questions, you can call Leading Edge Marketing at 1-866-621-6886 or email them at credits@lemsupport.com.
SCAM ALERT!

By David B.

,

Phoenix, AZ

,

Jul 30, 2019
Verified Reviewer

My wife and I have been taking GenF20 HGH Releaser pills for over a year. The vendor's claims have been completely false. We haven't lost any belly fat, in spite of diligent daily diet control and exercise. We feel woozy, "out-of-it" and lethargic most of the time, feelings we never experienced before beginning the GenF pill regimen. In my opinion, this product is a waste of money and ineffective. I say this based on the results my wife and I have experienced over a period of more than a year of taking this supplement. We plan to discontinue paying their rip-off price for an ineffective dietary supplement once our current supply is depleted. We are still hoping to experience the benefits touted by the vendor, in which case we would continue using the product, but I seriously doubt anything will change within the next six months.

Bottom Line: No, I would not recommend this to a friend

---

Advertisement

---