GenF20 Plus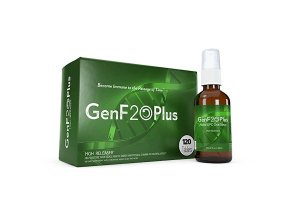 Summary
GenF20 Plus is a dietary supplement that is intended to naturally restore your HGH levels through the combined actions of the ingredients offered in their tablets and oral spray.
GenF20 Plus Review: What You Should Know
GenF20 Plus is a dietary supplement that combines tablets and an oral spray to allegedly help you restore your Human Growth Hormone (HGH) levels.
HGH is produced in your pituitary gland and has a number of actions that are related to growth and metabolism. These effects are wide-ranging and are associated with growth, development, metabolism, and physical performance.
Each effect is accomplished either by HGH directly or by insulin-like growth factor I (IGF-I), its primary mediator. Because of their roles in your body, ingredients that are proposed to support these hormones are often included in anti-aging supplements.
As HGH declines with age in both men and women, natural methods of maintaining levels may be advantageous. According to the product page, with daily use of GenF20 you will:
Look younger
Increase muscle mass and definition
Boost Metabolism and fat loss
Enhance libido
Increase energy
While these benefits are clearly desirable, can GenF20 Plus really live up to such lofty claims?
In this article, we'll review any research associated with the proposed benefits to help you determine if GenF20 Plus can naturally boost your GHG levels.
Is There Any Scientific Support for GenF20 Plus Ingredients?
According to the website, the GenF20 Plus blend of ingredients is responsible for the alleged ability of the supplement to restore HGH levels.
For best results, GenF20 Plus recommends taking 2 tablets with breakfast and 2 tablets with dinner. Also, you should use 3 pumps of the oral spray under your tongue with each 2-tablet serving.
Each GenF20 Plus tablet contains the following (keep in mind that recommended use is to ingest 4 tablets each day, so multiply the above servings by 4 for the daily totals):
Amino Acids:
L-Arginine – 130mg
L-Glutamine – 115mg
L-Glycine – 100mg
L-Lysine – 100mg
L-Tyrosine – 100mg
L-Ornithine – 25mg
L-Valine – 40mg
Amino acids serve as the building blocks for all proteins – molecules that have a hand in virtually every chemical reaction in your body. As HGH is a protein hormone, the ability of amino acids to support its function has been investigated.
Thus, amino acids are common ingredients in products that claim to boost HGH.
A supplement offering a similar blend of amino acids to that of GenF20 Plus was recently studied. Over the course of 2-hours, the supplement boosted HGH levels more than 680% when compared to placebo.
Extracts, Minerals, and Other Ingredients:
Deer Antler Velvet – 50mg
Colostrum – 50mg
GABA – 50mg
GTF Chromium – 0.1mg
Phosphatidylcholine – 25mg
Astragalus Root Extract – 60mg
Anterior Pituitary Powder – 30mg
The above ingredients are commonly found in supplements with proposed HGH-boosting benefits.
Gamma-aminobutyric acid, or GABA, is one example. This chemical messenger acts in your brain and has an inhibitory function on the nervous system though it may also increase HGH levels.
In fit men, 3000mg of GABA boosted HGH up to 400% 90 minutes after taking 3,000mg of GABA. GenF20 Plus offers just a third of this amount each day, however.
Astragalus is another common ingredient that is alleged to support HGH. Most of its support is in laboratory and animal studies. In mice, astragalus reduced the metabolic stress of weight gain and insulin resistance.
Colostrum is a substance found in the breast milk of mammals. In addition to offering immune support, it may improve exercise performance.
According to this study, colostrum may reduce body fat and increase lean muscle by boosting IGF-1 levels.
Every pump of the oral spray provides a similar blend of ingredients:
B12
B6
SAMe
GABA
Mucuna Pruriens (seed)
Moomiyo Extract
Ornithine Alpha Ketoglutarate
L-Glutamine
L-Arginine
L-Lysine
L-Valine
L-Isoleucine
L-Tyrosine
Glycine
GenF20 Plus Clinical Studies
At the very least, it's clear that GenF20 Plus includes ingredients that are commonly found in supplements that claim to elevate HGH levels, but does that mean they actually work?
We may be able to shed some light on this question by reviewing the results of a clinical trial that tested GenF20 Plus.
A 2015 study with 70 healthy adults examined the effect of GenF20 Plus on IGF-1 levels, memory, libido, energy, sleep, and body composition. Patients included in the study had at least 2 of the following conditions: decreased memory, decreased libido, low energy levels, or poor quality of sleep.
Compared to placebo, those that were randomized to treatment with GenF20 Plus experienced a greater increase in IGF-1, particularly if they were age 40 or greater. GenF20 Plus did not benefit memory, libido, energy, or quality of sleep, however.
Thus, there is some support for the ability of GenF20 to boost IGF-1, though this did not translate into any real benefits for the study subjects.
The researchers believe that perhaps the trial did not allow for a long enough time period to see tangible benefits. While this could be true, there are not any studies that evaluate the long-term use of GenF20.
It is also important to mention that articles published in the Open Access Journal of Clinical Trials (OAJCT) do go through a peer-review process. However, the impact factor of this journal is less than 1. This indicates that the articles published in OAJCT are not cited very often.
Is GenF20 Plus Safe?
A common benefit of using a nutraceutical is that the risk for serious adverse effects is often lower than traditional medical treatment. GenF20 Plus likely falls into this category as many of the ingredients in their blend are obtainable from a regular diet.
Much of the research regarding the ingredients has been done in animals or in a laboratory setting, however. These types of trials are not necessarily indicative of the safety or efficacy in human subjects.
Thus, the best indication we have so far is the GenF20 Plus Clinical Trial.
There were 7 total adverse events in the GenF20 Plus group and 5 in the placebo group. These included mainly acid reflux and stomach pain, though headaches and rash were also reported. Most events were considered mild and all resolved by the end of the study.
Despite a low risk for use, it is best to speak with a doctor before using GenF20 Plus. If you are experiencing decreased memory, libido, energy levels, or sleep, your doctor can help you identify the source of these issues.
Pricing
GenF20 Plus is available directly from their site. You can purchase packs that include both the tablets and oral spray (recommended use), just the tablets, or just the spray. Purchasing options are:
Both tablets and oral spray:
6-month supply – $399.99
5-month supply – $349.99
4-month supply – $287.99
3-month supply – $220.99
2-month supply – $159.99
1-month supply – $82.99
Tablets only:
6-month supply – $359.94
5-month supply – $299.95
4-month supply – $239.96
3-month supply – $179.97
2-month supply – $119.98
1-month supply – $59.99
Oral spray only:
6-month supply – $239.94
5-month supply – $199.95
4-month supply – $159.96
3-month supply – $119.97
2-month supply – $79.98
1-month supply – $39.99
Also, if you purchase a 4-month supply and send your before and after pictures, you'll be awarded a one-year supply of GenF20 Plus absolutely free if your pictures are selected for the website.
Lastly, your purchase is backed by a 60-day guarantee. If you are unsatisfied for any reason, process your return by sending your used GenF20 Plus to: Leading Edge Health, c/o 129, Roweland Drive, Johnson City, TN, 37601.
For additional questions, call (866) 269-3487.
Popular Alternatives
Because HGH has been linked to anti-aging benefits, there are a number of dietary supplements that claim to positively affect levels.
We've previously reviewed a good example called SeroVital.
SeroVital offers a blend of amino acids and extracts, though not as comprehensive as the blend found in GenF20 Plus.
Though SeroVital is available directly from the products page, your best bet is purchasing through other retailers like.
Costco: $94.99 (160-count)
GNC: $69.99 (120-count)
Ulta: $69.30 (120-count)
Amazon: $93.22 (160-count) and $89.99 (148-count)
While these prices are cheaper than what you'll pay for GenF20, keep in mind that the research behind SeroVital offers similar findings: their blend seems to boost HGH levels though no other benefits were seen.
The Bottom Line
While there is some support for GenF20 Plus to boost your IGF-1 levels, there is no evidence that this effect will translate into any meaningful health benefits.
Thus, claims that you will look younger, build muscle, burn fat, recharge your sex life, or increase energy with daily use are not supported at this time.
Nonetheless, GenF20 Plus is generally safe when used as directed, though acid indigestion, stomach pain, and headaches may occur.
Between the lack of science to back up the lofty claims and the expensive price tag, GenF20 is likely not your best first option. Your best bet is to first speak with a doctor to identify the source of symptoms you may be experiencing.
Customer Reviews
Posted on Jul 30, 2019
SCAM ALERT!
My wife and I have been taking GenF20 HGH Releaser pills for over a year. The vendor's claims have been completely false. We haven't lost any belly fat, in spite of diligent daily diet control and exercise. We feel woozy, "out-of-it" and lethargic most of the time, feelings we never experienced before beginning the GenF pill regimen. In my opinion, this product is a waste of money and ineffective. I say this based on the results my wife and I have experienced over a period of more than a year of taking this supplement. We plan to discontinue paying their rip-off price for an ineffective dietary supplement once our current supply is depleted. We are still hoping to experience the benefits touted by the vendor, in which case we would continue using the product, but I seriously doubt anything will change within the next six months.
Bottom Line: No, I would not recommend this to a friend
Our Promise to You
In order to safeguard you and ensure helpfulness and relevance, our compliance team manually assess every customer review before it goes live.
We have a zero-tolerance policy for fake reviews, and companies cannot control or alter any reviews at any time.