SeroVital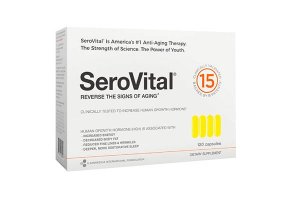 SeroVital is a daily supplement that contains a propriety blend of amino acids meant to boost your body's production of human growth hormone (HGH) to give you the looks and energy level of a younger person.
SeroVital Review: Does It Work and Is It Safe?
Medically Reviewed by Anthony Dugarte, M.D., C.S.C.S
HighYa is supported by our readers. When you buy something through a link on this page, we may earn an affiliate commission. Learn more.
SeroVital is a supplement that's marketed towards women who want to restore their youth, though they suggest that men can also benefit from use.
It purportedly increases your levels of human growth hormone (HGH) by providing your body with amino acids to foster its production in the pituitary gland.
According to the company, this supplement is the only clinically tested HGH secretagogue formulation that increases the body's natural levels by more than 600%.
Can Oral Supplements Boost Human Growth Hormone Levels?
HGH is an essential hormone that is naturally released by the pituitary gland, and its partially responsible for putting you through puberty, your overall body composition, and even heart functioning.
Your HGH production goes down naturally as you age, starting in your mid-twenties, and this deficiency is believed to be one cause of common aging symptoms like loose, wrinkled skin, lower energy levels, and thinning hair.
The central premise of SeroVital is that taking amino acid supplements will boost your HGH production. However, this evidence isn't 100-percent clear.
Dr. Annthea Fenwick, a fitness expert, told us that HGH supplements haven't been studied as much as injections have been.
The product website references a double-blind, placebo-controlled clinical study where the supplement succeeded in increasing the growth hormone by 682 percent.
Notably, the company states that this increase falls within a physiologically normal range, so the effects on your health might not be dramatic.
For example, a 2017 study on women with heart failure found that amino acid supplements like SeroVital made less of a difference in the HGH levels than a protein-rich meal replacement drink.
Claimed Benefits and Dosage
SeroVital contains a proprietary blend of amino acids that are designed to increase your HGH levels naturally. According to the company, keeping your levels high may result in more energy, better sleep, a higher sex drive, less body fat, and smoother, more elastic skin.
While the supplement is marketed more towards women, the product website states that it works for all adults between ages 18–70.
You are instructed to take four capsules daily on an empty stomach, either two hours before breakfast or two hours after dinner. Otherwise, the amino acids in your food might interfere with it.
The company states that you shouldn't take more than four capsules within 24 hours.
You can take SeroVital for as long as you want to increase your HGH levels, though the company states that the positive effects may gradually reverse once you stop.
SeroVital Ingredients: Are They Safe and Effective?
Below we've summarized the reported impacts of each active ingredient in SeroVital, as well as any supporting scientific evidence for their efficacy.
L-Lysine HCI
This is an essential amino acid your body takes in through food. Lysine is involved with growth, calcium absorption, and collagen production. It's best to take in at least a gram a day, and it's plentiful in protein-rich foods.
While earlier studies demonstrated that amino acid mixtures containing lysine were able to promote HGH secretion in adults, more recent results have been contradictory.
HGH in elderly women was not increased despite significantly increased levels of arginine and lysine after consumption of the amino acid mix. Use is generally safe, even at doses up to 17,500mg/day, though gastrointestinal related side effects have been reported.
L-Argnine HCI
This non-essential amino acid is used to regulate heart health and control high blood pressure and kidney functioning, and it also stimulates the release of HGH.
Argnine works by widening your arteries to increase oxygen delivery and blood flow through your body. There's evidence that Argnine more effectively stimulates HGH production when combined with lysine.
Again, when paired with lysine in earlier studies, amino acid mixtures offered promise in stimulating HGH secretion. Though this effect was contradicted in a more recent study.
Doses at 3.6 g/kg body-weight/day are safe in rats. Long-term studies are needed to characterize the effects of chronic use in humans.
N-Actyl L Cysteine (NAC)
This is a synthetic compound that your body converts to glutathione, a protein that works as a natural defense for the liver.
Consumer Lab reports that the compound is often incorporated into anti-aging products. They state that there's minimal evidence that it works when taken through an oral supplement because it doesn't seem to stay absorbed long enough to be effective.
NAC didn't slow or reverse the age-related decline of blood levels of hormones associated with the aging process in rats.
Oral NAC is safe, even at 3.6g/day, with adverse events rarely reported. Nonetheless, there remains limited support for the dietary use of NAC to reverse or slow the effects of aging.
Oxo-Proline
Also called pyroglutamic acid, oxo-proline is another amino acid your body converts into glutathione.
Support for oxo-proline's ability to boost HGH comes mainly from animal studies, this makes characterizing the safety profile challenging.
L-Glutamine
Derived from glutamic acid, glutamine is an amino acid that helps normalize the functioning of your immune system, digestive tract, and muscle cells.
You lose glutamine as you age and when you undergo heavy exercise, infections or trauma, so it's often used in the form of an oral supplement to restore functioning.
While 2g of oral glutamine increased HGH in 8 of 9 subjects, scientific support for use in this capacity is sparse.
High doses ( over 40g/day) may be associated with adverse effects like alteration in the absorption of other amino acids, enhanced ammonia productions, and a reduction in the ability of your body to maintain acid-base balance.
Schizonepeta Powder
Schizonepeta (also called hairy sage) is a plant used to treat skin conditions like eczema. While it's considered safe to ingest, large doses have been linked to worsening cases of liver disease.
Support for an anti-aging role is not currently available. The lethal dose is estimated to be 2.652 +/- 0.286 g/kg in a mouse study.
Key Takeaways:
In a randomized trial, SeroVital increased HGH levels 8-fold from baseline measurements when compared to those who took a placebo, but the difference between them started to drop after two hours. The effect of this supplement in raising HGH was tested in this trial, but not the overall effects of elevating HHG levels.
Regarding the individual ingredients, support for a role in boosting HGH or slowing age is mixed or absent altogether. Therefore, long-term studies are needed to clearly identify the potential benefits of this supplement.
Because SeroVital's ingredients are listed as part of a proprietary formula, not knowing the amount of each makes it difficult to fully characterize the safety. However, the ingredients are generally safe.
Pricing
SeroVital is available at three price points:
One-time purchase: $99/ box (120 count)
Monthly subscription: $79/ box (120 count)
90-day challenge: $198/ three boxes (360 count)
The company states that each purchase is risk-free for the first thirty days and that you can request a full refund—minus shipping costs—if you aren't happy with your results.
Additionally, SeroVital is available from the following retailers:
Costco: $94.99 (160 count)
GNC: $69.99 (120 count)
Ulta: $69.30 (120 count)
Amazon: $93.22 (160 count) and $89.99 (148 count)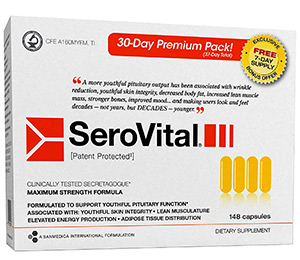 Buy SeroVital from Amazon:
SeroVital costs $89.99 for 148 count box, with free shipping. SeroVital suggests you take four capsules daily, so this box is equal to a 37-day supply.
Analysis of Customer Reviews
119 SeroVital customers left reviews on our website for an average rating of 2.6-stars. Reviewers on Amazon rate the supplement higher at 3.8-stars out of five.
Some of the most common comments were from customers who took the supplement for several months at a time and noticed significant differences in their life. The majority of reviewers seemed to be in their fifties or older, and many commented on how much younger they believed that they looked because of it.
Lots of reviewers also reported that SeroVital gave them more energy and that their hair grew faster and came in fuller. Others stated that it minimized their hot flashes and helped them sleep better.
Not all SeroVital users seemed to achieve such impressive results, as others stated that their improvements were almost unnoticeable and not worth the monthly cost for them.
In some cases, women wrote that they didn't feel like they benefited from SeroVital until they stopped taking it. Then they were reminded what their baseline was before they started taking it.
The Bottom Line
HGH supplements might not be the anti-aging cure they claim for everyone. One study points to the ability of SeroVital to boost HGH, but we do not know the overall effects of this action.
Results from studies regarding the individual ingredient's ability to boost HGH range from not supportive to mixed. Each ingredient is generally safe, though we don't know the amounts included in SeroVital's blend.
Several factors influence your body's hormone production levels beyond your age.
These include your sleep cycle, exercise habits, and diet. Supplements like SeroVital might make some difference but a better way to boost your HGH levels is to exercise and get lots of sleep.
Likewise, you are setting yourself up for problems if your hormones become too unbalanced.
Deborah Maragopoulos, an integrative nurse practitioner, told us that you ideally should ensure your other hormones like estrogen, testosterone, progesterone, DHEA, and cortisol are balanced before starting HGH supplementation.
---
Energy

By Patty F.

,

Wichita, KS

,

Oct 14, 2020
Verified Reviewer

Length of Use: Less than 3 months

Overall Experience:

I woke up this morning, realizing that for the first time, I woke up rested and didn't feel like I was 'waking up tired'.

I have taken SeroVital Advanced - taken as directed. I saw some reviews saying they took it all times of days. Instructions have me taking 2 in the morning and 4 at night.

I am sleeping/resting better, and it took me by surprise the other day when a co-worker told me "Something had changed - what have you been doing? Your skin looks great."

I don't know if it's the SeroVital or if I'm just actually more rested for some other reason. All I know is I feel better. All over kind of feel better. And I actually have energy.

I don't know if this has anything to do with it, but I did notice that each one of the negative reviews stated they purchased at Costco. I purchased mine directly. I didn't expect to notice any results for at least 30 days (in time to buy some more), but I have felt something different right away in these three weeks.

Pros and Cons:

Clear directions
Gives me energy
Capsules did not upset my stomach
6 capsules a day - I might try the powder next time
Trying to remember to take at night

Bottom Line: Yes, I would recommend this to a friend

---

Severe side effects

By Tammie W.

,

North Bend, OH

,

Sep 22, 2020
Verified Reviewer

Length of Use: Less than 3 months

Overall Experience:

I had high hopes in taking SeroVital. I am a 60-year-old woman married to a much younger man. I had been taking SeroVital for around a month and had just ordered a new subscription thinking I would give it at least 3-4 months to show results. I started having severe pain in my hips. I thought possibly that I needed a hip replacement, being the age I was. But then my left arm started severe pain and felt like I had carpal tunnel. I just couldn't believe that all of these pains would start at the same time and be so severe. I thought about if anything had changed and thought about taking the SeroVital. I immediately looked up reviews for the products to learn that joint pains can be a side effect. I have discontinued taking the product almost 2 weeks ago and am almost back to normal. On the bright side, I did start trying the under eye cream and it seems to be working fine. I will make the decision in a month or 2, whether that product is actually working or not.

Pros and Cons:

No "pros" were specified in this review
Severe joint pain

Bottom Line: No, I would not recommend this to a friend

---

Zero

By Charlie S.

,

Missouri

,

Jul 29, 2020
Verified Reviewer

Length of Use: 3–6 months

Overall Experience:

Took it for three months. There was no noticeable difference. Would not be an endorser of this product. A total waste of money.

Pros and Cons:

No "pros" were specified in this review
The price

Bottom Line: No, I would not recommend this to a friend

---

Those that suffer from herpes beware

By Angelic F.

,

Honolulu, HI

,

Jul 20, 2020
Verified Reviewer

Length of Use: Less than 3 months

Overall Experience:

This product contains Arginine which is known to trigger outbreaks in some people who get herpes. I get a small patch on my chest any time I eat Arginine dense foods (pine nuts, almonds) and I try to avoid hem them like it's an allergy. I know if I balance out with Lysine I'm usually ok, but I tried the first pack of pills just the way they come, to see if it was well balanced (they don't give amounts of each its "proprietary") and within 3 minutes I had an outbreak. I immediately took some Lysine to try and balance out but of course, it was too late. I'm not sure if I will try taking with extra Lysine at the same time because this seems like a high Arginine blend or if I'm just going to return.

Bottom Line: No, I would not recommend this to a friend

---

Advertisement

---

Very bad side effects

By Sally B.

,

Florida

,

May 21, 2020
Verified Reviewer

Overall Experience:

DO NOT TAKE THIS DRUG! I took if for two weeks and felt horrible. I had an insatiable thirst and regardless of how much water I drank, I was still dehydrated. My thoughts were all over the place so I couldn't focus on job-related tasks or simple things at home. I was waking up during the middle of the night feeling dehydrated and couldn't back to sleep. I did lose my appetite but ended up getting sick because I wasn't eating properly due to a loss of appetite. I felt like I was floating around all day. I will be returning the remainder of the product back to Costco and suggest that they remove it from their shelves. I would give 0 stars but one is the least you can give. Please don't take it!

Bottom Line: No, I would not recommend this to a friend

---

Love this product, have taken for about 3 years

By Pat N.

,

Castle Rock, CO

,

Apr 17, 2020
Verified Reviewer

Overall Experience:

SeroVital is everything that is stated. I have had really good results - one major thing is no water retention in my legs. I experienced weight loss in hard to lose areas, such as my arms. I do believe I have a higher energy level and I'm in my 70's, but don't look like it. THANK YOU SeroVital.

Bottom Line: Yes, I would recommend this to a friend

---

Does not work! Zip, zero, nada!

By Mark L.

,

Detroit, MI

,

Feb 10, 2020
Verified Reviewer

Overall Experience:

I've been on this product, taking as advised for almost a month! I cannot see nor do I feel any difference! I'm very disappointed, especially considering how much this product costs! I wouldn't recommend it to anyone!

Bottom Line: No, I would not recommend this to a friend

---

False company claims

By Lisa S.

,

Atlanta, GA

,

Dec 20, 2019
Verified Reviewer

Overall Experience:

I am a Fitness Trainer for a major gym in the USA and many of my clients were asking if this product would help them. I bought the product and did a test to see if there is indeed HGH.

First of all, the company states that the product is FDA approved, it is not. The company sells it as an over the counter vitamin, therefore it does not need to be FDA approved.

Second, HGH is an illegal substance.

Third, to check to see if a product has HGH in it, all you need to do is buy a simple pregnancy test. If you have a liquid HGH product you can drop a few squirts onto the test and wait a few minutes. If it shows a positive then there is indeed HGH in the product. If you have the tablets, simply take one and dissolve in warm water and place the tip of the pregnancy test in the water.

Bottom Line: No, I would not recommend this to a friend

---

50/50

By Stephanie N.

,

Southern California

,

Nov 2, 2019
Verified Reviewer

Overall Experience:

I've been taking SeroVital purchased at Costco for almost 4 months and I'm 64. At first I felt it was making a difference in how I felt overall, plus my hair got thicker and my skin smoother - that's the upside. The last 3-4 weeks I have experienced severe joint and muscle pain to the point I almost needed a cane to walk, horrible constipation, and waking up 2-3 times a night-the downside. Since I stopped taking it 2 days ago the side effects have all but disappeared. I may try a reduced dose as some here have done but not right away.

Bottom Line: Yes, I would recommend this to a friend

---

I found this product expensive and ineffective

By Nancy S.

,

New Jersey

,

Sep 17, 2019
Verified Reviewer

Overall Experience:

I wasted so much money on this and it did absolutely nothing for me. I see you have increased your advertising again. The advertising is the only good thing about this product. I find it expensive and ineffective.

Bottom Line: No, I would not recommend this to a friend

---

Unexpected side effects

By Marie K.

,

Florida

,

Jun 21, 2019
Verified Reviewer

Overall Experience:

Decided to try SeroVital and got the Advanced version. Took it for two months and during that time, I got severe muscle aches in my upper arms and shoulders and pain in my rotator cuff. Now I never attributed it to the SeroVital, until I ran out and didn't get around to ordering another month. Within a few days, all my muscle aches and joint pain diminished dramatically. Logic says it was the product.

Bottom Line: No, I would not recommend this to a friend

---