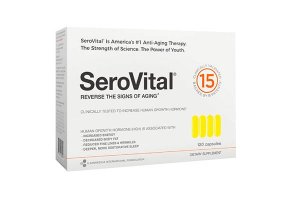 SeroVital is a daily supplement that contains a propriety blend of amino acids meant to boost your body's production of human growth hormone (HGH) to give you the looks and energy level of a younger person.
What Is SeroVital?
SeroVital is a supplement that's marketed towards women who want to restore their youth.
It purportedly increases your levels of human growth hormone (HGH) by providing your body with amino acids to foster its production in the pituitary gland.
According to the company website, SeroVital is the result of more than 25 years of research on aging, and it claims that it the supplement is the only clinically tested HGH secretagogue formulation that increases the body's natural levels by more than 600%.
The company website makes it clear that they can't legally make claims about how the extra hormones in your system from taking SeroVital will affect your health. However, we found that the purported benefits of keeping your HGH levels high seem impressive.
So, will this supplement act as the fountain of youth, or is it merely an expensive way to attempt to avoid the inevitable? We'll dive into those details here.
How Does SeroVital Work?
SeroVital contains a proprietary blend of amino acids that are designed to increase your HGH levels naturally. According to the company website, keeping your levels high may result in more energy, better sleep, a higher sex drive, less body fat, and smoother, more elastic skin.
While the supplement is marketed more towards women, the product website states that it works for all adults between ages 18-70.
To experience the benefits, you are instructed to take four capsules daily on an empty stomach, either two hours before breakfast or two hours after dinner. Otherwise, the amino acids in your food might interfere with it.
Regardless of your timing, the company states that you shouldn't take more than four capsules within 24 hours.
You can take SeroVital for as long as you want to increase your HGH levels, though the company states that the positive effects may gradually reverse once you stop.
What Is Human Growth Hormone?
We've covered the topic of HGH (human growth hormone) in depth in our article about HGH, but here's a summary.
HGH is an essential hormone that is naturally released by the pituitary gland, and its partially responsible for putting you through puberty, your overall body composition, and even heart functioning.
Your HGH production goes down naturally as you age, starting in your mid-twenties, and this deficiency is believed to be one cause of common aging symptoms like loose, wrinkled skin, lower energy levels, and thinning hair.
Can Oral Supplements Boost Human Growth Hormone Levels?
The central premise of SeroVital is that taking amino acid supplements will boost your HGH production. However, based on our research and discussions with experts, this science isn't 100-percent sound.
In our previous article, Dr. Annthea Fenwick, a Southern California fitness expert, told us that HGH supplements haven't been studied as much as injections have been.
Paul Jenkins, founder of DNA Lean and a sports coach with more than 20 years of experience, agreed.
"When you use exogenous growth hormone [through injections], you select the exact dose then administer it. With supplements there are so many variables that determine how much growth hormone will be produced; you just can't dose it the same," Jenkins told us.
Saying that, it's important to note that SerVital doesn't contain any HGH, but rather a proprietary blend of amino acids.
The product website references a double-blind, placebo-controlled clinical study where the supplement succeeded in increasing the growth hormone by 682 percent.
Notably, the company states that this increase falls within a physiologically normal range, so the effects on your health might not be dramatic.
For example, a 2017 study from Physiological Reports on women with heart failure found that amino acid supplements like SeroVital made less of a difference in the HGH levels than a protein-rich meal replacement drink.
Next, we'll look closer at the ingredients list to see whether it supports these clinical findings.
What Ingredients Are in SeroVital?
Below we've summarized the impacts of each active ingredient in SeroVital.
Unless otherwise noted, this research came from ConsumerLab.com, a leading provider of independent lab test results.
L-Lysine HCI
This is an essential amino acid your body takes in through food. Lysine is involved with growth, calcium absorption, and collagen production. It's best to take in at least a gram a day, and it's plentiful in protein-rich foods.
L-Argnine HCI
According to WebMD, this non-essential amino acid is used to regulate heart health and control high blood pressure and kidney functioning, and it also stimulates the release of HGH. Argnine works by widening your arteries to increase oxygen delivery and blood flow through your body. There's evidence in the 2010 book Nutritional Supplements in Sports and Exercise that Argnine more effectively stimulates HGH production when combined with lysine.
N-Actyl L Cysteine (NAC)
This is a synthetic compound that your body converts to glutathione, a protein that works as a natural defense for the liver. Consumer Lab reports that the compound is often incorporated into anti-aging products, they state that there's minimal evidence that it works when taken through an oral supplement because it doesn't seem to stay absorbed long enough to be effective.
Oxo-Proline
Also called pyroglutamic acid, oxo-proline is another amino acid your body converts into glutathione.
L-Glutamine
Derived from glutamic acid, glutamine is an amino acid that helps normalize the functioning of your immune system, digestive tract, and muscle cells. You lose glutamine as you age and when you undergo heavy exercise, infections or trauma, so it's often used in the form of an oral supplement to restore functioning.
Schizonepeta Powder
Per RXlist, schizonepeta (also called hairy sage) is a plant used to treat skin conditions like eczema. While it's considered safe to ingest, large doses have been linked to worsening cases of liver disease.
The company website states that SeroVital supplements also contain inactive filler ingredients like rice flour, gelatin, magnesium stearate, microcrystalline celluluse, silicon dioxide, candurin silverfine, yellow #5, and titanium dioxide.
Our research didn't turn up any meaningful side effects associated with taking these ingredients in the form and frequency they are contained within the supplements.
Are SeroVital Ingredients Effective?
There is evidence that some of the amino acids that SeroVital contains can increase your body's HGH production, especially when taken together.
Consumer Lab brings up concerns with supplement products that list their ingredients as proprietary formulas (like SeroVital does), rather than reporting the total amount of each active ingredient. This makes it difficult to determine whether there is enough of the key ingredients to be effective.
Likewise, oral supplements might not be an efficient way to boost your hormone levels. Consumer Lab shares the results of studies that raised the amount of HGH for participants by just 2% to 4%, and reports that their levels stayed elevated for less than ninety minutes before falling back to their baseline.
The study published on SeroVito's website shows that the HGH levels in participants who took the supplement did rise compared to those who took a placebo, but the difference between them started to drop after two hours. According to the company, it's still up for examination whether this rate of change can lead to positive effects.
How Much Does SeroVital Cost?
At the time of writing, it's possible to buy SeroVital from the company website at three price points.
One-time purchase: $99/box
Monthly subscription: $29/first box, $79 following boxes
90-day challenge: $198/three boxes
The company states that each purchase is risk-free for the first thirty days and that you can request a full refund—minus shipping costs—if you aren't happy with your results.
To receive return instructions you can contact SeroVital's customer service at (800)435-1409 or at customerservice@serovital.com.
What Are Customer Opinions of SeroVital?
We believe looking at published reviews is one of the best ways to get a sense of how well a product may work for you.
Close to 150 HighYa readers published reviews on our previous analysis of SeroVital, and they awarded it an average of 2.6 stars, with most leaving either five star or one-star reviews. Amazon reviewers took a more positive approach, as SeroVital earned 3.5 stars out of five on that site.
Some of the most common comments were from customers who took the supplement for several months at a time and noticed significant differences in their life. The majority of reviewers seemed to be in their fifties or older, and many commented on how much younger they believed that they looked because of it.
Lots of reviewers also reported that SeroVital gave them more energy and that their hair grew faster and came in fuller. Others stated that it minimized their hot flashes and helped them sleep better.
Not all SeroVital users seemed to achieve such impressive results, as others stated that their improvements were almost unnoticeable and not worth the monthly cost for them. In some cases, women wrote that they didn't feel like they benefited from SeroVital until they stopped taking it and were reminded what their baseline was before they started taking it.
Our View: Is SeroVital Worth It?
Based on our research, we believe that HGH supplements might not be the anti-aging cure they claim for everyone.
As we wrote in our article on HGH supplements, several factors influence your body's hormone production levels beyond your age.
These include your sleep cycle, exercise habits, and diet. Supplements like SeroVital might make some difference but Consumer Lab reports that a better way to boost your HGH levels is to exercise and get lots of sleep.
Likewise, you are setting yourself up for problems if your hormones become too unbalanced.
Deborah Maragopoulos, an integrative nurse practitioner, told us that you ideally should ensure your other hormones like estrogen, testosterone, progesterone, DHEA and cortisol are balanced before starting HGH supplementation.
Jenkins added that HGH is just one of many hormones that influence aging.
"Maintaining a normal level of HGH can help with aging. However, HGH is just one hormone that is part of a complex array of hormones and internal feedback mechanisms. To slow aging, it is also imperative to maintain sex hormones (estrogens and testosterone) and thyroid hormones," he said.
1 out 2 people found this review helpful

50/50

By

Stephanie N.

,

Southern California

,

Nov 2, 2019
Verified Reviewer

I've been taking SeroVital purchased at Costco for almost 4 months and I'm 64. At first I felt it was making a difference in how I felt overall, plus my hair got thicker and my skin smoother - that's the upside. The last 3-4 weeks I have experienced severe joint and muscle pain to the point I almost needed a cane to walk, horrible constipation, and waking up 2-3 times a night-the downside. Since I stopped taking it 2 days ago the side effects have all but disappeared. I may try a reduced dose as some here have done but not right away.

Bottom Line: Yes, I would recommend this to a friend

---

11 out 11 people found this review helpful

I found this product expensive and ineffective

By

Nancy S.

,

New Jersey

,

Sep 17, 2019
Verified Reviewer

I wasted so much money on this and it did absolutely nothing for me. I see you have increased your advertising again. The advertising is the only good thing about this product. I find it expensive and ineffective.

Bottom Line: No, I would not recommend this to a friend

---

21 out 21 people found this review helpful

Unexpected side effects

By

Marie K.

,

Florida

,

Jun 21, 2019
Verified Reviewer

Decided to try SeroVital and got the Advanced version. Took it for two months and during that time, I got severe muscle aches in my upper arms and shoulders and pain in my rotator cuff. Now I never attributed it to the SeroVital, until I ran out and didn't get around to ordering another month. Within a few days, all my muscle aches and joint pain diminished dramatically. Logic says it was the product.

Bottom Line: No, I would not recommend this to a friend

---

20 out 38 people found this review helpful

Miracle pill

By

Barbara S.

,

Calgary, Alberta, Canada

,

Mar 5, 2019
Verified Reviewer

I was shocked to see the negative reviews. My husband started taking injections of HGH last year. They were expensive and I hate needles but saw what it solid to him. He lost 30 pounds over 5 months and looks like he's now my age. I'm 36 and he's 46, I ordered SeroVital and did the 3-month challenge. By summer my fiancé was down to 156 pounds, and I was close behind at 161 pounds. I started at 210 pounds. Our sex life alone was better than going to the gym. My face tightened up. My eyelashes grew longer to the point where I would get mascara in my eyebrows.

Bottom Line: Yes, I would recommend this to a friend

---

Advertisement

---

28 out 38 people found this review helpful

SeroVital works

By

Mary B.

,

San Diego, CA

,

Feb 16, 2019
Verified Reviewer

I have been taking this product for about one year. I noticed no side effects but I would advise people to take the product either first thing in the morning or midday, and no later than 4 pm in the afternoon if you like to go to bed earlier than most because if you follow the instructions on use you are pretty much guaranteed to feel better and have more energy. But ladies and gents - that is the idea - it gives you more energy to actually be more physically active, so if you take it closer to bedtime and it keeps you awake, take it during the day or in the morning when you can enjoy activities you need the energy for, that is called a blinding glimpse of the obvious.

I looked at all the negative reviews and I highly doubt the pills caused some of those "side effects." I believe that the people who complained it was a scam should think about what else they had going on in their life or be honest about how they used the product and whether they followed instructions and also think about what other supplements they might have been taking that when taken with SeroVital may have caused cramping, bloating, etc. These pills aren't going to change your life completely or provide you with a new body like the TV show "Bringing Sexy Back." If you tend to be a negative person, SeroVital is not going to change that, and if you don't want to put in any physical effort with the energy you get from SeroVital, well as Cher said once, "if it came in a bottle everyone would [look like her]."

BUT for those of us who are interested in doing non-invasive things to promote life quality as we age so we can do all the things we have always done, well, SeroVital can be an important component of one's anti-aging arsenal. As with any drug or supplement, just let your doctors know you take it so he or she can monitor you and help keep you healthy and thriving.

Bottom Line: Yes, I would recommend this to a friend

---

30 out 47 people found this review helpful

I was disappointed when I read the reviews...but!

By

Linda R.

,

Middletown, OH

,

Dec 15, 2018
Verified Reviewer

I was disappointed when I read the reviews about SeroVital-hgh. I had just purchased mine from Kohl's. I got home, opened the box and saw the yellow pills...yes all four of them, and it sparked a memory. You see I was adopted by my aunt and had two sisters and a brother, my adopted family. I had moved into my older sisters place for a brief spell. I remembered her taking four yellow pills. I ask what are those? She said some fancy name I couldn't remember. I ask what they were for? She said HGH, I said what's that? She told me to look it up. Well, I couldn't remember the name she said, so I never looked it up. That was around 2012 or 2013. I will say this I wish I started taking HGH when she did because now, I look older than she does. My sister is right around 70 and she doesn't look a day over 40. I'm 53, and I look 63. I'm trying this product as of 12/12/18 and I will write a new review later, especially if I start looking decades younger.

Bottom Line: Yes, I would recommend this to a friend

---

56 out 60 people found this review helpful

Does nothing!

By

Annelies B.

,

Springfield, MO

,

Nov 18, 2018
Verified Reviewer

I have been taking that crap since April of this year. I'm 78 years old and it has done absolutely nothing for me! I don't see less wrinkles or feel better! I always take care of myself anyway! It doesn't make me look younger whatsoever! As advertised by Kym Douglas, where you suppose to look DECADES younger! Are you kidding me? In my opinion, BIG SCAM!

Bottom Line: No, I would not recommend this to a friend

---

56 out 61 people found this review helpful

Letters on package HGH replaced with 3 yellow bars

By

Nancy K.

,

Dacula, GA

,

Nov 2, 2018
Verified Reviewer

Once I realized this was really just a hype I returned it to Costco. I still have the booklet that was enclosed in my package with the letters HGH but the outside of the box just had the three yellow bars. This is very deceptive advertising, and I truly don't think Costco should continue to stock this because it is not a drug/supplement that contains the human growth hormone and does not make anyone look any younger as it claims. Shame on Costco for being fooled and shame on this company for getting something over on Costco who normally sells quality goods.

Bottom Line: No, I would not recommend this to a friend

---

23 out 28 people found this review helpful

No more hot flashes

By

Kristy L.

,

Dexter, ME

,

Oct 20, 2018
Verified Reviewer

I was taking anything I could to get relief from non-stop horrendous hot flashes, mood swings, and night sweats. Nothing helped. I decided to try SeroVital. It has been a godsend! After two weeks, no more hot flashes (they actually were weaker by the 4th day of taking). I haven't really noticed weight loss, but my moods are better and there are no night sweats. I just wish it wasn't as expensive, and/or I could get coupons. It's a great product!

Bottom Line: Yes, I would recommend this to a friend

---

44 out 46 people found this review helpful

Extreme cramping

By

Sharon G.

,

Arizona

,

Oct 19, 2018
Verified Reviewer

I have been taking SeroVital for a few months and the only good thing about SeroVital is the amazing sleep I was getting. Then came the really bad menstrual cramps, sometimes twice daily. These cramps were daily followed with extreme nauseousness and bloating. It got to the point where I was keeping a heating pad at my desk at work because the BAD cramping would last 45 minutes or longer. I even scheduled an appointment with my gynecologist to see what was going on. However, the soonest I could get in was two weeks away.

So, in the meantime, I researched the reviews on SeroVital and A LOT of reviewers wrote about the bad cramps and how it made some people very nauseous to the point where they were getting sick. I immediately stopped taking SeroVital, and by the next day I was able to claim my life back! The bloating went away and so did the cramps and the nauseous feeling.

The only good thing about SeroVital was the deep sleep, but I noticed no other benefits as the product claims. In the end, it wasn't worth all the pain I went through, and I was able to cancel my doctor appointment.

Bottom Line: No, I would not recommend this to a friend

---

22 out 23 people found this review helpful

Truly helpful!

By

Evelyn B.

,

Virginia Beach, VA

,

Sep 26, 2018
Verified Reviewer

I took SeroVital for about three consecutive months. I noticed almost immediately, I had more energy, and I was able to sleep throughout the night. I also lost about five or six pounds, and my hair grew longer quickly. The negative side effects included feeling joint pain in my knees and gaining some fatty tissue on my ankles.

Bottom Line: Yes, I would recommend this to a friend

---