Somaderm Gel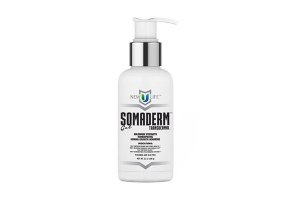 After regularly applying to areas of thin skin, New U Life's blend of three active homeopathic ingredients in Somaderm Gel claims to help boost HGH levels and optimize health.
Somaderm Gel Reviews - Regain Your Youth?
Somaderm Gel is a homeopathic, transdermal, over-the-counter product that promises to slowly elevate human growth hormone (HGH) levels in the body. As a result, the manufacturer advertises it works at the cellular level to help you obtain optimal health and regain your youth.
They indicate that since hormones are stored in the fatty tissue layer, you should apply the gel to thin areas of the skin. Specifically, "wherever veins are visible," such as your underarms, forearms, wrists, and behind the knees.
This way, it will "ensure that Somaderm Gel will be transported directly to the bloodstream."
Is this really the only homeopathic, transdermal, over-the-counter HGH product available without a prescription? Even then, is it the cutting-edge scientific breakthrough advertised by New U Life? Let's start by taking a look at the role this hormone plays in the human body.
The Science Behind Human Growth Hormone (HGH)
Created by the pea-sized pituitary gland located at the base of the brain, the Mayo Clinic explains growth hormone "fuels childhood growth and helps maintain tissues and organs throughout life."
However, this gland "slowly reduces the amount of growth hormone it produces" beginning in middle age. And it's this recognition, they tell us, that has triggered an interest in using synthetic human growth hormone (HGH) to potentially help reduce common downsides related to the natural aging process, including "decreased muscle and bone mass."
The problem? "There's little evidence to suggest human growth hormone can help otherwise healthy adults regain youth and vitality," they report. In fact, "experts recommend against using HGH to treat aging or age-related conditions."
Granted, all of this relates to the injection of artificial HGH. What about the ingredients found in Somaderm Gel and their HGH-boosting ability via the skin?
What Ingredients Will You Find in Somaderm Gel?
The New U Life lists the following ingredients for Somaderm Gel:
Active ingredients: Glandula suprarenalis suis 6X, Thyroidinum 8X, Somatropin 30X
Inactive ingredients: Purified Water, Phenoxyethanol, Caprylyl Glycol, Sorbic Acid, Aloe Barbadensis Leaf, Camellia sinensis (Green Tea) Leaf, Acrylates/C10-30 Alkyl Acrylate Crosspolymer, Glycyrrhiza glabra (Licorice) Root, Vitex agnuscastus (Chaste Tree) Fruit, Epimedium sagittatum (Epimedium) Aerial Parts, Ginkgo Biloba Leaf, Mucuna pruriens (Velvet Bean) Seed, Dioscorea villosa (Wild Yam) Root, Sodium Hydroxide, Ascorbic Acid, PEG-33/PEG-8/PEG-14/Dimethicone, Aloe barbadensis Leaf Juice, Tocopherols (Soy), Edetate Disodium, Natural Plant Extract, Potassium Sorbate Extract
Sites like Truth in Aging, Paula's Choice, and EWG.org indicate that most of Somaderm's inactive ingredients work as conditioning agents (caprylyl glycol, aloe, licorice, PEG-33/PEG-8/PEG-14/dimethicone), consistency agents (acrylates/C10-30 alkyl acrylate crosspolymer), and cleansing agents (sodium hydroxide).
Additional functions include preservatives (phenoxyethanol, sorbic acid, potassium sorbate), antioxidants components (Camellia sinensis, ascorbic acid), and penetration enhancers (edetate disodium). In other words, ingredients you're likely to find in many other skincare formulations.
Taking a Closer Look at Somaderm Gel's Homeopathic Ingredients
What about Somaderm Gel's active ingredients? The National Library of Medicine's DailyMed (last updated 4/20/18) lists this specific formulation's marketing status as "unapproved homeopathic." They also include the following disclaimer:
"This homeopathic product has not been evaluated by the Food and Drug Administration for safety or efficacy. FDA is not aware of scientific evidence to support homeopathy as effective."
Why is this? Homeopathic formulations are based on two central principles: like cures like, and dilutions/the law of minimum dose.
First, an ingredient that produces similar symptoms to the disease being addressed is added to a solution, such as water or alcohol. Then, this water/ingredient mix is subjected to a series of successive dilutions (also referred to as dynamizations or potentizations).
An X next to a number indicates that a "substance has been diluted by a factor of 10 at each stage." So, in the instance of Somaderm Gel's Glandula suprarenalis suis (as the first example), it's been diluted to one part in ten, eight times.
Or, to put it into raw numbers, this means the formula contains one part Glandula to 100 million parts solution (10 x 10 x 10 x 10 x 10 x 10 x 10 x 10).
The problem, according to the International Journal of Pharmacotherapy, is that when it comes to homeopathic solutions, "the largest dilution possible that still contains at least one molecule of the original substance is 12C." This could present a logistical problem based on the 30X dilution of Somatropin in Somaderm Gel.
And "even among smaller dilutions that do contain some molecules of the original substance, there almost certainly aren't enough to have a meaningful effect on the human body."
Could Somaderm Gel's Homeopathic Ingredients Cause Side Effects
With so little of each active ingredient in Somaderm Gel, side effects could be rare. And like any skincare formulation, its inactive ingredients could cause irritation and redness at the application site, especially for those with sensitivities.
This is why it's essential to have an in-depth consultation with your dermatologist before beginning any new skincare, supplement, or homeopathic regimen, who can help you avoid potential side effects based on your diagnosis. This is especially the case for any product that promises to have a hormonal effect on the body.
With these details in mind, the Somaderm website emphasizes that application location "should be rotated so that no area of the skin gets overused."
How Much Does Somaderm Gel Cost?
Somaderm Gel is only available from New U Life, at the following prices:
One-time purchase: $169.99, plus applicable S&H
Membership: $149.99, plus free S&H
All orders come with a 30-day refund policy, less S&H. Per the site's cancellation policy, "If your Somaderm Bottle has been open or the plastic wrap has been broken, you must Contact Us before returning the product." Otherwise, you can "simply mail it back with your packing slip or the return order form."
You can call support at 844-510-6398 or send an email to support@newulife.com.
How to Choose Between Somaderm Gel & Other Homeopathic Solutions
We encountered many other homeopathic formulations aimed at boosting HGH levels during our research, including popular options on marketplaces such as Amazon and Google Shopping, like High-Tech Somatomax ($45), Liddell Homeopathic Vital High Immune ($32), HPTP Pituitary Drops ($21), Vital II Hormone Free Spray ($28), and Clinical Strength Secretagogue Gold – Orange ($45), to name just a few.
As advertised on the New U Life website, though, Somaderm Gel was the only topical/transdermal offering available. Does this mean it's worth the meaningfully higher price, though?
Returning to our Evidence-Based Medicine article cited earlier, regardless of the formula or the sales price, the fact of the matter is there's little-to-no double-blind, placebo-controlled, peer-reviewed clinical evidence that homeopathy works. In fact, the FTC is considering requiring that all homeopathic products sold in the US come with a disclaimer on their packaging that they don't work.
For this reason alone, we'll reiterate that if you're considering a homeopathic product—Somaderm Gel or otherwise—to address a real-world problem, make sure that you discuss the situation with your doctor before proceeding.
They can a) deliver a scientifically sound diagnosis after questioning and testing, and b) recommend options based on this diagnosis, including whether or not your options include homeopathy.
Bottom Line
In addition to the lack of reported clinical evidence for homeopathy in general, explicitly referencing Pleasant Hill, CA-based New U Life, the company held an F rating with the Better Business Bureau, calculated according to seven customer reviews and nine closed complaints, as of 9/20/18.
Most seemed to reference problems receiving orders and no response from support. All were listed as 'unanswered.'
Another critical factoid to keep in mind is that, although New U Life promotes Somaderm Gel as 'FDA registered,' the reality is that the supplements industry is almost wholly responsible for self-regulation. In other words, supplements aren't reviewed by the FDA prior to public release, and the FDA doesn't keep a database of 'registered' supplements.
Considering all of this, in addition to the product's ultra-high price, we think the best option for achieving the most value for your money is talking with your primary care physician before placing an order for Somaderm Gel.
Wished I would had known sooner!

By Patricia C.

,

Saskatchewan, Canada

,

Oct 31, 2019
Verified Reviewer

Golden years with a Golden product. I am 59 years young...been faithfully on the gel since August 21, 2019. Love, love, love this gel. It has changed my life. Being allergic to wheat and dairy products for over 20 years, I have felt so crappy and felt like I had no life left and thought my growing old was going suck...But then I discovered the gel...Wow, wow, wow! I am getting my life back, feeling young inside, energy like I have never had in a while...better mood, better sleep, no more brain fog or upset stomach, no aches and soreness, no more headaches, smoother skin, noticeable loss in inches, my pants are feeling looser...Can't wait to see more benefits! All of my symptoms that were aligning me are going away. Thank you for making a product that finally WORKS! And yes, I was skeptic at first but I am glad I decided to try it. If you are on the fence about this product, don't be, you have nothing to lose but everything to gain. What are you waiting for? I say try it, then talk about it. Just don't knock until you give it an honest try...give it at least 6 months to see the true benefits though. You won't be sorry you did!

Bottom Line: Yes, I would recommend this to a friend

---

Updated review

It is a scam

By Connie J.

,

Booneville, AR

,

Oct 3, 2019
Verified Reviewer

My sister was convinced that my long term use would help correct my low thyroid issue but over a year after I started faithfully using Somaderm, I had my blood work done and there was no change in my thyroid reading levels.

Bottom Line: No, I would not recommend this to a friend

Previous review
Sep 26, 2019

It is a scam

Don't waste your money! I cannot say that loud and clear enough! I was lucky enough that I was able to buy it at a reduced priced (about $130 a bottle) because my sister became a "dealer". I have been using it every day for 1 year and 2 months now (I am on my 4th or 5th bottle) and can not tell any difference in how I feel or look. I kept using it, thinking that I would see or feel a difference, plus I did not want my sister to be stuck financially with her unused bottles that she could not sell. My sister was "embarrassed" that she so excitedly endorsed this product and NO ONE that she sold it to felt like it did what it was supposed to do...the rage to endorse this product is now over and I wonder if it was some kind of pyramid scheme. I feel sorry for my sister.

(

read more

read less

...)

---

Advertisement

---

Total scam

By Jen H.

,

Utah

,

Sep 3, 2019
Verified Reviewer

This product is a total scam. I was promised a 100% customer satisfaction if not a 100% money-back guarantee. I spent over $1K and received a little over $600 back. They know this is a crap product, that is why they don't stand behind it.

Bottom Line: No, I would not recommend this to a friend

---

After 5 months

By Steven M.

,

English Town, NJ

,

Aug 2, 2019
Verified Reviewer

I'm 51. I feel 35, look 35-38. Works wonders. Very pleased. No side affects at all. My sleep is better, I'm stronger, I have way less joint pain! People...I'm growing hair. I don't expect to look like Fabio but holy cow! I wake a lot less to use the bathroom. Muscle mass is showing. I can go on for days! All I can truly say is try it. Less than 3 bucks a day...we waste that on coffee.

Bottom Line: Yes, I would recommend this to a friend

---

Advertisement

---

I love the Gel!

By Lisa N.

,

Arkansas

,

Jul 24, 2019
Verified Reviewer

I have used Somaderm for 7 continuous months. I started by using it every day twice a day and now use it 5 days a week. The gel is incredible but it does take time to work. After 1 month, fewer aches and pains, great sleep and increased energy. After 3 months, hot flashes were gone and hormones more balanced. More benefits than I can state here but you have to stick with it. One bottle lasts two months...try it!

Bottom Line: Yes, I would recommend this to a friend

---

Great PRODUCT!

By Teja F.

,

Texas

,

Jun 20, 2019
Verified Reviewer

I've been using the Somaderm Gel product for over a month now and the results are fabulous! Better sleep, better mood, fat loss, less pain, and better muscle tone. This is the BEST product I have EVER used. Period!

Bottom Line: Yes, I would recommend this to a friend

---

Sadly disappointed

By Dina S.

,

Virginia Beach, VA

,

Jun 20, 2019
Verified Reviewer

I was over the moon to hear of a friend's success with this product, so I tried it and went all in signing up as a member. Initially, I had instant success, with the relief of the hot flashes, but not long after, it seemed to just not work anymore. I decided to stick with it using the product twice daily for 6 months. There was no change for the better and now I have an overabundance of product that I will not use and refuse to sell based on my results. I can't in good faith sell a product I cannot back personally. I'm on hold right now with the company in hopes to get my money back for 5 unopened bottles (4 auto ship and 1 remaining from my initial order). Here's hoping they will do the right thing!

Bottom Line: No, I would not recommend this to a friend

---

Love the gel!

By Steve H.

,

Odessa, FL

,

Jun 17, 2019
Verified Reviewer

I've been on the gel for 6 months now and love it. Everyone expects results in one day and it just doesn't happen with any product. I feel like a young kid again, full of energy and sleep like a baby. If you're one that wants it to work on day one, please don't order it. If you plan to give it at least 3 months, do it and you won't regret it.

Bottom Line: Yes, I would recommend this to a friend

---

Thank God for this gel!

By Tanya D.

,

Portland, OR

,

Jun 17, 2019
Verified Reviewer

Been on Tramadol for 13 years. Sciatica for 20 years. This gel within one made A HUGE difference. I'm more focused, alert, and overall happier. I'm perimenopausal and was really feeling those crappy things you hear about. Total reversal! Only been using for less than 3 months, and am SO EXCITED to see what I feel month after month. My friend lost 8 pounds within her first month. My boyfriend's knees don't hurt and he sleeps solid. He was an insomniac. Not sure about the negative reviews. Everyone feels things differently. 40 benefits can be found! When you don't drink enough water OR don't use the recommended dosage, it'll take longer to feel and see results. HIGHLY RECOMMEND!

Bottom Line: Yes, I would recommend this to a friend

---

Disappointed

By Kim G.

,

Newe Jersey

,

May 14, 2019
Verified Reviewer

I used Somaderm Gel for 6 months twice daily. No changes noted at all with my body. In fact, for me, my sleeping pattern was much worse! When I first noticed this, I then applied my 2nd dose of the day around dinner time hoping this would help with my sleeping but it didn't change anything at all. Now off of the gel I'm sleeping so much better!

Bottom Line: No, I would not recommend this to a friend

---

Works very fast and well for me, despite being under high amounts of stress.

By Amy P.

,

Florida

,

May 6, 2019
Verified Reviewer

I'm a 51-year-old female diagnosed with low thyroid about 2 years ago and started menopause around the same time.

I currently take 4 things for sleep. I wake up multiple times in the night tossing and turning or at 2 am and can't get back to sleep, which usually results in my watching TV for 3 hours and then when I am about to fall asleep the alarm goes off. I go through the day walking around like a zombie. Anyhow, I actually tracked my progress on a spreadsheet for the first 3 weeks, here's what I found. First night I woke up only once and was able to go back to sleep, wow. Second week I noticed better mood and energy, and third week I noticed continued better sleep and energy and longer eyelashes. I'm very pleased with my results so far and can't wait to see my results 3-6 months from now!

Bottom Line: Yes, I would recommend this to a friend

---