SOMADERM Gel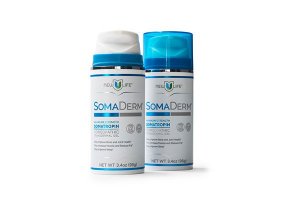 Summary
New U Life claims that SOMADERM Gel will provide all the benefits of growth hormone when applied transdermally. However, the ingredients lack strong scientific research.
SOMADERM Gel Review: Does It Provide Benefits?
What is SOMADERM Gel?
SOMADERM Gel is a synthetic version of growth hormone (GH) that allegedly improves bone and joint health, build muscle, reduce fat, and improve sleep with regular use.
Your pituitary gland produces GH, a hormone with wide-ranging effects related to growth, development, metabolism, and physical performance.
Deficiency can occur spontaneously, and without a clear cause, it may be associated with an underlying medical condition. As GH has so many important actions, the unwanted effects of associated with low levels are numerous and can include:
Mental decline
Depression and anxiety
Fatigue
Decreased muscle mass and strength
Fat accumulation around your midsection
Decreased bone density
Poor heart function and increased plaque
Blood clotting
There are medical treatment options for those with GH deficiency, but New U Life claims to offer a non-prescription option that can provide some of the benefits of GH.
New U Life states that you can preserve your youth and fight aging by using SOMADERM Gel regularly.
But is there any merit to these claims?
In this review, we'll help you answer this question by highlighting the available support for SOMADERM Gel's active ingredients.
But first, let's discuss the recommended use for this supplement.
How to use SOMADERM Gel
According to the website, you should apply 2-4 pumps in the morning and 2-4 pumps in the evening for 5-days on. You would then take a 2-day break.
Also, New U Life recommends applying SOMADERM Gel to your armpits, forearms, wrists, and behind the knees. Rotate these areas of the application so no patch of skin is overused.
As SOMADERM Gel is transdermal and absorbed into your blood circulation through the skin, you must apply it over thin areas of your skin. The concentration of the supplement can be drastically reduced if you massage it into thicker areas of skin like your thigh or calf, for example.
While New U Life claims that following these steps will allow for SOMADERM Gel to be readily absorbed into your bloodstream, they do not detail how quickly you can expect to see results.
The Research Behind SOMADERM Gel's Active Ingredients
New U Life claims that SOMADERM Gel's proposed benefits are made possible by blending just 3 ingredients.
The SOMADERM Gel active ingredients are:
Somatropin 30X
Glandula Suprarenalis Suis 6X
Thyroidinum 8X
The dosing of the SOMADERM Gel ingredients is listed as the number of times that they've been diluted. The larger numbers represent weaker concentrations for that particular ingredient.
Somatropin
According to New U Life, the star ingredient, somatropin, is a synthetic GH that is available for over-the-counter (OTC) use because it has been diluted 30 times.
Somatropin allegedly offers many of the benefits of GH while avoiding the unwanted side effects that may be associated with injectable forms of treatment.
GH gel formulations were tested in the late 70s and compared to standard injectable treatment in children with GH deficiency. While the gel was effective in stimulating growth and preventing the larger spikes in GH levels associated with injections, neither the gel nor the injections were able to sustain the growth rate of these children.
In an animal study, the concentrations achieved with transdermal GH preparations were comparable to injectable forms. Rather than massaging a gel into the skin, a radio-frequency device was used to create pores, however.
In the long-term, somatropin treatment in those with GH deficiency can improve body composition, muscle strength, bone density, and cholesterol levels.
However, the support for treatment with diluted, transdermal formulations of somatropin is lacking.
Glandula Suprarenalis Suis
Your adrenal glands play a wide array of roles vital to normal body functions. They help regulate metabolism, blood pressure, fluid balance, and blood sugar.
According to New U Life, glandula suprarenalis is an extract intended to support the function of your adrenal glands.
We were unable to track down any credible research regarding this ingredient, however. Thus, there is currently no support for its efficacy or safety.
Thyroidinum
Your thyroid gland is part of a system that helps regulate many body functions related to metabolism, heart rate, body temperature, growth and development, and even brain function.
According to New U Life, thyroidinum is included in their blend to support thyroid health.
Regarding its effect on metabolism, oral thyroidinum supplementation did not lead to weight loss in fasting subjects.
More recently, thyroidinum 3X was found to improve weight loss and symptoms associated with hypothyroidism. However, it is important to note that these subjects were also on standard medical treatment for this condition.
Again, support for the transdermal use of this ingredient is lacking. While oral supplementation has been tested, they only seem to benefit those with low thyroid hormone levels.
Is SOMADERM Gel Safe?
New U Life offers a blend of ingredients that have not been extensively studied in human trials. Also, the majority of the available research has tested the short-term use of oral preparations.
As support for transdermal use in human subjects is lacking, conclusions regarding the safety of SOMADERM Gel can't be made at this point.
Injectable treatment with synthetic GH has been associated with joint pain, insomnia, headache, back pain, and muscle spasms, though it is generally considered well-tolerated. Animal studies have demonstrated that concentrations may be similar when applied transdermally, so similar side effects may occur with SOMADERM Gel.
While we weren't able to locate any research that tested the safety of glandula suprarenalis, a study reviewed 12 different OTC adrenal support supplements and found that they may contain hidden steroid and thyroid ingredients that can be harmful.
Thyroidinum 3x was safely tested in those with hypothyroidism. However, oral formulations were used in this study.
There is no indication that this supplement is capable of boosting hormone levels into dangerous levels, but it is a good idea to be aware of signs and symptoms should they arise.
Signs of Excess GH
Enlarged facial features
Enlarged hands or feet
Thickened, oily skin
Fatigue
Swelling and muscle pain
Joint pain
Sign of Adrenal Hyperactivity
Increased fat accumulation around your midsection
Round face
Fatty hump on your neck
Thin skin
Weak bone and muscles
fatigue
Signs of Thyroid Hyperactivity
Irritability
Increased heart rate
Hand tremors
Weight loss
Diarrhea
Excess sweating
It is best to speak with a doctor before using SOMADERM Gel, especially if you feel your GH levels may be low. As a delicate interplay of multiple systems regulates your hormone levels, it is not a good idea to manage them on your own.
Identify the underlying cause first and then collaborate with your doctor to outline the best plan of care.
The Cost
New U Life offers SOMADERM Gel directly from their website.
You can purchase your bottle for $169.99 + shipping. If you opt for the subscription service, you'll save $20 and receive free shipping. This service requires a membership.
New U Life does back your purchase with a 60-day guarantee, though they apply a 25% restocking fee to orders of 2 bottles or more. According to their site, you must contact support before returning opened products.
For membership inquiries or to initiate returns, New U Life suggests calling 925-274-5000 or emailing support@newulife.com.
What Are the Alternatives to SOMADERM Gel?
For now, it seems as though New U Life has the market cornered regarding OTC synthetic GH gels.
However, supplements that claim to boost GH levels or provide the benefits of this hormone are numerous.
SeroVital is one example.
SeroVital offers a blend of amino acids and extracts that are alleged to boost GH. It is available directly from the products page. Additional retailers carry the supplement:
Costco: $94.99 (160 count)
GNC: $69.99 (120 count)
Ulta: $69.30 (120 count)
Amazon: $93.22 (160 count) and $89.99 (148 count)
While you'll pay less than half of the price for SOMADERM Gel, don't expect an abundance of scientific support for the ingredients. SeroVital's blend seems to boost HGH levels though no other benefits were seen.
Whether topical or oral formulations, it is best to speak with your doctor before attempting to manage hormone levels on your own.
The Bottom Line
New U Life's SOMADERM Gel offers 3 ingredients that all lack strong scientific support for their ability to offer benefits when applied transdermally.
There is evidence that injectable forms of synthetic GH formulations can be effective in managing GH deficiency, but this does not infer that diluted transdermal preparations will be efficient in those with normal levels.
New U Life claims that a key benefit of their product is avoiding the adverse effects commonly associated with medical management for low GH. However, without studies investigating transdermal application, no conclusions can be drawn regarding the safety or effectiveness of SOMADERM Gel.
In fact, you may be at risk for boosting hormone levels into dangerous ranges if levels are already adequate.
When you figure-in the high cost, suspect return policy, and potential for harm, it is best to stay away from this product.
Never manage hormone levels on your own - always speak to a physician about the symptoms you may be experiencing.
Our Promise to You
In order to safeguard you and ensure helpfulness and relevance, our compliance team manually assess every customer review before it goes live.
We have a zero-tolerance policy for fake reviews, and companies cannot control or alter any reviews at any time.