Glucocil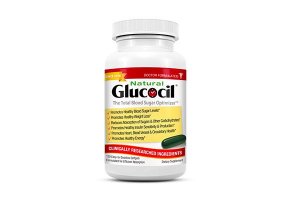 Summary
Glucocil is a nutritional supplement that claims to help your body maintain healthy glucose levels, while also improving circulatory health and helping you lose weight.
Glucocil Review - Ingredients, Safety, Cost, Does It Work
What is Glucocil?
Glucocil is a dietary supplement from Neuliven Health that is said to keep your blood sugars in check.
They recommend taking 1 softgel with your 2 largest meals for the first 3-days, and from then on, taking 2 softgels with each of your two most substantial meals.
According to Neuliven Health, following these simple directions will:
Support healthy blood sugar levels
Reduce the absorption of carbohydrates
Promote insulin sensitivity
Contribute to weight loss
Foster heart, blood vessel, and circulatory healthy
Increase energy
Neuliven Health claims these benefits are made possible by their blend of 14 clinically researched ingredients.
Can these ingredients help you achieve all of these effects?
In this article, we'll review the available literature for the contents of the proprietary blend offered in Glucocil to help you determine if this is the supplement you've been missing.
What Ingredients Does Glucocil Contain?
Glucocil includes a combination of vitamins, minerals, herbs, and extracts that Neuliven Health claims will promote healthy blood sugar levels. The ingredients that they have selected are all proven to accomplish this effect, according to Neuliven Health.
Up next, we'll touch on each of the 14 ingredients to highlight any support for their purported benefits.
Vitamin D - 200IU
Vitamin D is obtained from fortified dairy foods, fatty fish, and even sunlight. This fat-soluble vitamin may play a role in heart function, joint health, and weight loss.
The weight loss benefits of vitamin D were demonstrated in a study with overweight and obese women.
Those that received 600mg of calcium and 5mcg of vitamin D twice daily experienced a significant decrease in body weight and fat mass over 5-weeks when compared to placebo.
While this 5mcg vitamin D dose is equivalent 200IU, the weight loss benefits were only seen in subjects that were not consuming enough calcium prior to the study.
Vitamin B1 - 4mg, Vitamin B6 - 4mg and Vitamin B12 - 15mcg
B vitamins are found in meat, seeds, and nuts and may support brain and nerve function, red blood cell development, energy metabolism, and weight loss.
Vitamin B1 plays a role in multiple steps in the Kreb's Cycle, one of the processes our body uses to generate energy. As deficiency has been linked to fatigue, doses ranging from 600 mg/day to 1,500 mg/day improved fatigue in subjects with inflammatory bowel disease.
Vitamin B6 may positively affect blood sugar regulations. In a Japanese study, those with type 2 diabetes were less likely to have diabetic eye disease with a high dietary intake of B6.
Vitamin B12 deficiency has been linked with fatigue, though supplementation does not seem to boost energy in those with adequate intake.
Chromium - 200mcg
Chromium is a mineral you can obtain from foods like beef, fruits, broccoli, and whole-wheat products.
A review of 15 randomized studies did not find chromium to be beneficial for glucose or insulin regulation at doses ranging from 10-1000mcg.
In terms of weight loss, a review of 20 randomized studies found chromium supplementation offered mild benefit in overweight and obese individuals.
Fish Oil - 1200mg
The omega-3 fatty acids found in fish oil may support heart health; Omega-3 fatty acids decreased the level of fats in blood after meals.
Glucocil Blood Glucose Management Blend - 1050mg:
The FDA does not require that companies disclose the amount for the individual ingredient included in a proprietary blend. Therefore, Neuliven Health only provides the blend's total amount.
Unlike the non-blend ingredients, comparisons can't be made to the doses included in research studies.
In any event, let's take a closer look at the contents of the Blood Glucose Management Blend.
Alpha Lipoic Acid (ALA)
Thought to work as an antioxidant, ALA may also offer weight loss benefits.
A review of 12 studies found that ALA doses ranging from 300 to 1800mg/day resulted in significantly more weight loss over an average of 6-months when compared to placebo. However, the average weight loss was only about 3lbs.
Mulberry Leaf Extract
Mulberry, a fruit related to the fig, has been used in natural medicine for centuries. It may help reduce the absorption of carbs.
Despite a long history of use, mulberry extract has not been extensively studied. In obese mice, mulberry fruit extract effectively at reduced body weight.
Gymnema Extract
This shrub is found in tropical areas and thought to combat diabetes. In fact, 200-400mg may reduce the absorption of sugar in your intestine.
Veld Grape Extract
Another ingredient commonly used in natural medicine for centuries, veldt grape may offer protection from diabetes and heart disease.
In obese subjects, 514mg of veldt grape twice daily significantly reduced body weight, fasting blood glucose, cholesterol, LDL-cholesterol, and indicators of inflammation.
Banaba Extract
This extract is obtained from trees found mainly in Southeast Asia. Its active compounds, corosolic acid and penta-O-galloyl-glucopyranose, are thought to reduce blood sugar levels.
A mixture containing 2g of banaba extract did not improve blood glucose levels in subjects with impaired sugar regulation or mild diabetes. Treatment did reduce inflammation associated with diabetes, however.
Insulina
This extract has been commonly used to treat diabetes in Brazil for years, though its mechanism of action is still unclear.
The first attempt to characterize its actions in diabetic rats did not iron out these details, though it was effective at reducing blood sugar levels.
Cinnamon Bark
Cinnamon bark may offer antioxidant, anti-inflammatory, and disease-fighting benefits. This spice has also been studied for its proposed ability to regulate blood sugar.
In sedentary, obese women, 5g of cinnamon bark improved blood sugar regulation.
In a review of 10 randomized studies, cinnamon doses ranging from 120mg/d - 6 g/d over 1 to 4-months reduced fasting blood sugar levels.
Berberine
Berberine is a salt found in Berberis plants. It is thought to possess anti-inflammatory, neuroprotective, and diabetes fighting capabilities.
In a randomized trial, those with metabolic syndrome that were randomized to receive 500mg of berberine three times daily over 3-months experienced remission of the syndrome, improved insulin sensitivity, and decreased waist circumference.
The Takeaway
The big takeaway here is that while most of the ingredients offered in Glucocil are scientifically researched, many of the studies tested them at doses much larger than what this supplement provides in a single serving.
The good news is that suggested use is for 2 servings daily starting after your first 3-days tring Glucocil. This may get you closer to the dosing you'd likely need to see results.
The bad news is, Neuliven Health provides only the total amount for the blend; 1050mg. Some of the ingredients have been individually tested at doses larger than the entire amount of a single serving of Glucocil's blend.
This means that for some of these ingredients, even 2 doses daily may not be enough to see results. This can affect your pocketbook; if you need the full 4 softgel dose each day, your bottle will only last 15-days.
Safety and Side Effects
The individual ingredients included in the blend, as well as the vitamins and minerals found in Glucocil have all been safely tested in humans, often, in much larger doses than what is available in a single serving of this supplement.
However, managing blood sugar levels on your own can be dangerous. Adding this supplement with other anti-diabetic supplements or drugs can cause unsafe drops in your glucose levels.
Ingesting Glucocil without food, or using this supplement in conjunction with a fasting diet can similarly result in unsafe blood sugars.
Signs and symptoms of low blood sugars can include:
Pale skin
Sweating
Hunger and thirst
Shakes
Irritability
Headache
Dizziness and disorientation
Confusion
Slurred speech
Loss of consciousness
If you experience these while using supplements like Glucocil, your blood pressure may be too low. Seek immediate medical attention.
For these reasons, never manage your blood sugar without medical supervision. If you think your levels are too high, speak with your doctor to identify the cause.
How Much Does Glucocil Cost and Where Do I Get It?
Glucocil is available on their website.
There are 2 purchase options available:
You can pick up 60 softgels for $39.95. You'll pay $109.95 for 3 bottles.
Although they claim 1 bottle is a 1-month supply, recommended use after the first 3 days is 4 softgels daily. At this dosing regime, you'll need 2 bottles to get you through the month.
They also offer a subscription option for the 1-month supply quantity only. Opting for this package will save you only 5% per order, though you can cancel any time.
Lastly, your Glucocil purchase is backed by a 30-day guarantee.
Per their website:
Submit a return request at https://shop.glucocil.com/pages/returns within 30 days of purchase (Product issues not declared within 30 days of purchase are not entitled to a refund).
Address the return package to: Neuliven Health, Inc., 10171 Pacific Mesa Blvd, Ste 302, San Diego, CA 92121.
Are There Any Alternatives?
There are many blood sugar control supplements on the market comparable to Glucocil.
Blood Sugar Support from NusaPure is a great example. You can purchase 60 gelcaps for $17.97 on prime.
Like Glucocil, they offer chromium, banaba extract, cinnamon bark, gymnema, mulberry extract, and ALA in addition to the other ingredients in their blend.
They also detail the amount for each ingredient in the blend, though most are offered at much lower doses than proven successful in research studies.
If your physician agrees that a blood sugar control supplement can be a valuable part of your care, a more cost effective option may be a better choice.
The Bottom Line
Glucocil seems to offer many ingredients with research to support the purported benefits its company makes.
There are 2 main issues, however:
First, we aren't provided details for the individual ingredients included in the blend. This makes it impossible to compare to doses used in research studies.
Secondly, the total amount of their blend is less than what many of the ingredients have been tested individually. Even at 2 servings daily, you may not be getting enough to see results.
At HighYa, 35 users rank this supplement at 2.7 out of 5-stars. This unfavorable rating seems to be mainly related to cost, ineffectiveness, and stomach cramping associated with use.
There's also a question of safety, particularly in those fasting or on anti-diabetic medications.
Though these ingredients may offer benefits at larger doses, you should speak to your physician before use to avoid unsafe drops in your blood sugar.
Customer Reviews
Posted on Jul 17, 2014
Phone number is scam
I never got my product and the phone is ALWAYS busy. I've called over and over dozens of times and never get anything but a busy signal on the other end. I may have to get the credit card company involved just to cancel the card to escape from this scam.
Bottom Line: No, I would not recommend this to a friend
Posted on Jul 4, 2015
Glucocil Scam
Not only can I not get a hold of these people, my blood sugar went up about 30 points when taking this supplement.
Bottom Line: No, I would not recommend this to a friend
Posted on Jul 4, 2015
No one answers their 888 number so you cannot cancel
This product upset my stomach. Before I could contact them at their 888 number, I received another container of Glucocil.
Bottom Line: No, I would not recommend this to a friend
Posted on Aug 13, 2014
Stomach bloat & discomfort
For some reason this causes extreme bloat and discomfort in my stomach. I can't speak to its effect on my sugar levels because I stopped taking it after just a few weeks.
Bottom Line: No, I would not recommend this to a friend
Posted on Jul 7, 2015
This company is a Scam!
I have seen NO changes in my blood sugar. I can NEVER get them on the phone and the line is always busy! Sometimes they just close their office during a normal business day, and you can't contact them. They don't have an email contact and the only way you can return their product is to have a "Return Number." Well how do you get a Return Number if you can't get them to answer the phone? I have even left a phone message after waiting 15 minutes on the phone to return my call. Asked them to call me because I wanted to cancel future orders and they never called me back.
Bottom Line: No, I would not recommend this to a friend
Posted on Jul 12, 2015
Phone Number? Good luck.
I attempted to cancel the order due to bloating and gas starting two days after I began taking the pills. I was on hold from 9 AM until 9:53 with just a recording telling me to hold on.
Bottom Line: No, I would not recommend this to a friend
Posted on Feb 3, 2015
No change in blood sugar
I took the product faithfully for 60 days. There was no change in my blood sugar readings nor in my weight. Those claims were false for me.
Bottom Line: No, I would not recommend this to a friend
Posted on Mar 1, 2015
Scam
This wouldn't do anything.
Bottom Line: No, I would not recommend this to a friend
Posted on Apr 25, 2015
Bad side effects
There are bad side effects and loose stools. It doesn't seem to matter what I eat ever since first weeks use. These issues have not stopped even after four days of not taking this supplement.
No, I would not recommend this at this time as I stopped taking it four days ago after completing the first initial bottle and started experiencing diarrhea. After being on it for a week, I thought it was food related but started being careful about what I eat. The symptoms have not disappeared since being off of it yet so I'm still trying to determine if it is the cause as it said it could cause loose stools.
Bottom Line: No, I would not recommend this to a friend
Posted on Jun 27, 2015
No effect
The only difference when taking Glucocil was that I experienced a terrible case of diarrhea.
Bottom Line: No, I would not recommend this to a friend
Posted on Aug 3, 2015
Waste of money and health
Bought this as a sample and after 3 pills (2 in the evening and 1 at lunch) my blood sugar jumped to 266 (204 5 hours later). Called to cancel and no pick up from customer support in 10 minutes.
Bottom Line: No, I would not recommend this to a friend
Our Promise to You
In order to safeguard you and ensure helpfulness and relevance, our compliance team manually assess every customer review before it goes live.
We have a zero-tolerance policy for fake reviews, and companies cannot control or alter any reviews at any time.