Dexcom G6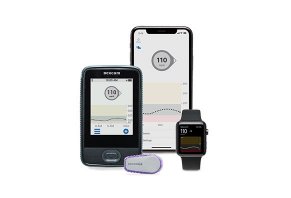 Summary
The Dexcom G6 is a continuous glucose monitoring system that is designed to guide treatment decisions and management of your diabetes without the need for traditional fingerstick tests. While it may be a good option, it's important to factor in the costs and whether you're covered by insurance.
Dexcom G6 Reviews - Important Things To Consider
What is Dexcom G6?
The Dexcom G6 is a small sensor and transmitter that continuously monitors your glucose levels to guide treatment decisions and management of your diabetes without the need for traditional fingerstick tests.
More than 10% of the US population has been diagnosed with diabetes. Though the disease is associated with a number of unwanted physical and emotional burdens, even monitoring glucose levels can negatively impact the quality of life.
Since their introduction, portable meters have allowed for self-monitoring and better control of diabetes. However, these devices require frequent fingersticks to obtain measurements and can contribute to considerable patient morbidity.
According to Dexcom, the G6 continuous glucose monitoring (GCM) system offers a pain-free method of measuring your blood sugar levels.
The small, wearable sensor sends your glucose reading to a smart device every 5-minutes without the need of fingersticks.
According to the company, your Dexcom G6 will:
Help you predict where your glucose levels are heading
Allow you to make treatment decisions with using painful fingersticks
Alert you when you're readings are outside of the desired range
Allow you to share your glucose data with up to 10 followers
Dexcom states that the G6 is proven to lower your A1C (a measurement that indicates how well blood glucose is controlled over a 2-3 month span) and also reduce the number of hypoglycemic (unsafe drops in blood sugar) events.
But can you be certain that Dexcom G6 measurements are accurate?
In this article, we'll help you answer this question by reviewing any available research examining Dexcom G6's ability to provide accurate blood glucose measurements.
How to Use the Dexcom G6
To begin using your Dexcom G6, you'll need 3 things:
A display device - this can be the Dexcom receiver or a smart device.
The applicator and a built-in sensor
The Transmitter
The first thing you'll need to do is download the Dexcom app through Google Play or the App Store. To link your device, enter the sensor code when prompted by the app.
Similarly, turn on your receiver and enter your sensor code when prompted.
Then, you'll need to use the applicator to insert the built-in sensor just below the surface of your skin. To do so, remove the applicator from the box and select the appropriate sensor site. The patch of skin over your abdomen located between your belly button and hip is recommended.
Next, wash your hands and prep the sensor site with an alcohol wipe. Remove the labels covering the adhesive portion of the applicator. Place the adhesive on the skin over the sensor site and break off the safety guard.
Lastly, press the button to insert the sensor and discard the applicator.
To insert our transmitter, first, clean it with an alcohol wipe. Next, insert the transmitter tab into the sensor slot and snap the transmitter firmly into place.
It can take up to 30-minutes to pair your device to the sensor. Once paired, follow the prompts for the 2-hour warmup. Once this is complete, you'll begin to receive your glucose readings every 5-minutes, up to 288 times each day.
At this point, you can configure your app and personalize your desired blood glucose range, as well as select with whom you'd like to share the data.
Now that you have a better understanding of how to use your Dexcom G6, it's clear that the system seems to provide more data than would be obtainable from portable meters and fingerstick tests. After all, it certainly isn't feasible to stick your finger 288 times in a single day.
While eliminating the pain associated with traditional methods of monitoring blood sugar is important, this doesn't necessarily mean that the Dexcom G6 measurements are accurate.
Is There Any Science Backing the Dexcom G6?
According to Dexcom, the G6 is proven to lower your A1C and risk for hypoglycemia. Additionally, they claim that the Dexcom G6 has been compared to the test your doctor orders, which is considered the gold standard for measuring your blood glucose.
As both methods differ somewhat in how glucose is measured, the readings they provide are unlikely to be the same. They should be close, however. According to the Dexcom website, the G6 provides accurate readings, meaning that each measurement is relatively close to what your doctor would measure.
As an example, Dexcom believes that their system follows the %20/20 rule.
As your glucose is measured in mg/dL, your G6 reading should be within 20mg/dL when your meter reading is 80mg/dL or lower. If your meter reading is higher than 80mg/dL, your G6 measurement should be within 20% of this number. This rule is likely based on the results of clinical research.
When compared to a laboratory method of measuring blood glucose, Dexcom was found to be within 16.7% of gold standard measurements, on average.
When the original Dexcom system was modified, it was again put to the test. Over 7-days, subjects with diabetes wore a Dexcom sensor and compared glucose measurements to laboratory measures. Researchers concluded that the Dexcom system was within 9% of lab values, on average.
The Dexcom G6 was also studied. In both adults and children, this system was also found to be safe and accurate, with more than 90% of measurements falling within 20% or 20mg/dL of the gold standard.
The Dexcom G6 was also associated with fewer instances of hypoglycemia and more readings within the 70-180mg/dL range.
Most recently, the 20/20 rule was put to the test in pregnant women with diabetes that utilized the Dexcom G6 over a 10-day span. Researchers found that, when compared to the gold standard for measuring blood glucose, the Dexcom G6 was accurate and safe.
Dexcom devices have been safely and accurately tested in children, adults, and during pregnancy. The most recent generation has seemingly improved upon earlier devices.
Is It Safe to Use?
The Dexcom G6 CGM system is generally safe to use. Serious adverse effects were not reported in the available research studies that were published in peer-reviewed medical journals.
This does not mean that the Dexcom G6 is entirely without risk, however.
Skin irritation and infection are probably the most likely side effects of using this device. Following the instructions for placing the sensor can limit your risk for unwanted effects. Ensure that you've washed your hands and also prepped the skin, sensor, and transmitter with alcohol wipes.
You can take additional steps to limit skin irritation:
Make sure skin is clean and dried thoroughly
Trim hair over sensor site to ensure proper contact
Limit moisture at sensor site and avoid using lotions and creams in this area
A barrier film may help to further reduce the risk for skin irritation
While self-monitoring is a vital component of controlling your diabetes, you should always do it in conjunction with a medical professional.
Be sure to regularly discuss pertinent aspects of your care with your doctor regularly.
What Does It Cost?
Details regarding pricing are not provided on the Dexcom website.
The first step in obtaining your Dexcom G6 requires you to provide your personal contact information, as well as your diabetes type, current treatment, and insurance provider. To determine if Dexcom G6 is right for you, a customer representative will reach out to you to discuss further.
If you have Medicare, you may be eligible for coverage if you meet the following criteria:
You have a diabetes diagnosis
You have used a home blood glucose monitor at least 4x daily
You require 3 or more insulin injections or use an insulin pump
Your insulin dosing has required frequent adjustments
You've met with your doctor to discuss the criteria above every 6 months
If you don't meet the above criteria, you may be eligible to use the Dexcom G6. Once your doctor has prescribed it, you can pick up the system from your local Walgreens.
The Dexcom site does not provide pricing details if your insurance provider does not cover the Dexcom G6. Your best bet is to provide your contact information to speak with a representative about the most cost-effective options.
We were able to dig up some out-of-pocket pricing information elsewhere, however.
According to GoodRx, the Dexcom G6 is available over-the-counter from major retailers like Costco, Publix, Walmart, CVS, Target, and Walgreens.
Pricing for the G6 receiver varies, ranging from $600-$850.
Keep in mind that you will need to replace the sensors every 10 days. Also, the transmitter battery lasts about 6-months, so replacing your transmitter is also required as well. A pack of 3 sensors costs around $420 on average, while a transmitter often costs around $300.
As you can see, the Dexcom G6 can be an extremely expensive method for monitoring blood sugar if you are required to pay out-of-pocket. Again, speaking with a customer representative may reveal more cost-effective options. However, even a 50% reduction in average pricing would still represent a costly investment.
What Are the Alternatives to Dexcom G6?
There are other CGM devices available that similarly aim to avoid the pain and hassle associated with constant finger pricks.
The FreeStyle Libre System is one example. This GCM device uses a sensor that communicates with a receiver, and can store 90-days of glucose data. Medicare also covers this device.
The starter kit costs $215. Libre sensors last 14 days, and replacements cost $67/sensor. This is still a pricey option, but more cost-effective than the Dexcom G6. A prescription is required, however.
The Eversense Implantable GCM is also covered by medicare and uses a sensor that communicates with a receiver. Covered by Cigna and Medicare, Eversense sensors last for 90-days through insertion and removal must be done by a medical professional.
Again prescription is required and pricing information requires you to speak with a customer representative.
The Bottom Line
The Dexcom G6 is reasonably accurate when compared to the gold standard for measuring glucose. Also, serious side effects were not reported in the available research. Nonetheless, you should always take precautions to minimize the risk of skin irritation and infection.
While the Dexcom G6 does avoid the need for fingersticks, it is an expensive method for measuring blood glucose. If you aren't covered by insurance, your monthly costs can top $700 for replacements.
There are more cost-effective CGM devices available that also use sensors to communicate with receivers. If you're interested in CGM and are required to pay out-of-pocket, these may be a better option when compared to the Dexcom G6.
Be sure to speak to your doctor about your current management to determine if CGM is safe for you to use.
Customer Reviews
Posted on Nov 27, 2022
Dexcom G6 is getting there, but...
I've been using the Dexcom G6 for about 12 months. I used the G5 before that.
The pros? Ten-day sensor life (compared to 7 days with the G5).
The cons?
1. Sleepless nights because of false low readings (yes, Dexcom tells us that to avoid "false lows" we must pick a site on our stomach that will not put pressure on the sensor). Oh, come on! Are we to sleep standing up? (That's rhetorical.)
2. False highs, particularly during the first 48 hours. Again, sleepless nights (yes, I can turn off the alarms but hey, I want reliability, from the end of the 2-hour warm-up session).
3. The 2-hour "warm-up session" for a new sensor should be improved, given that Dexcom informs customers not to rely on the Dexcom readings UNTIL after 24 hours have passed. This must be improved I think so Dexcom has a way to go to satisfy me on the realistic 24–48 hour "warm up" sessions. NOTE: My experience with the older G5 was that it was much more reliable than the G6 after only a 2-hour warm-up.
4. I'm uncertain about product reliability during hypoglycemia. I can't find it anywhere on the Dexcom site. (Rather than telling me I'm "low", or "urgent low", I want to know the readings.) Yep - it's back to finger prick for that answer.
Length of Use: 2+ years
Bottom Line: Yes, I would recommend this to a friend
Pros and Cons
Good tech support — 24-hour service and always very helpful.
Yes, Dexcom has delivered on lowering my HBA1C (down to 7.2 now) and, avoiding hypoglycemic attacks (whew!). For that, I'm very grateful and, Dexcom has delivered on its promise.
I'm not happy with the 24-48 hour "warm up". I think 2 hours is enough for a proper, reliable warm up.
Posted on Nov 15, 2022
Dexcom G6
Been using it for two years, and it's a very convenient device if only it sticks to the company's claim. Sensors do not last the entire 10 days, I'm changing mine every 7-8 days, good thing is Dexcom will replace your sensor for any reason of a malfunction and the sensor needs changing before it's time. You will begin getting inaccurate readings, errors, no readings for 30-3 hrs.
Length of Use: 2+ years
Bottom Line: No, I would not recommend this to a friend
Pros and Cons
Free replacement for any malfunction
24-hour customer service
No finger sticks
Too many malfunctioning
Replacing sensor before 10 days
Too many errors
Posted on Sep 19, 2022
Have patience with Dexcom G6
I'm 74, a widow. Installed this myself. It took me about 10 days to figure the G6 out. It is misleading when they mention no fingersticks. On the days you install a new sensor, you will need to do fingersticks because it takes several hours on that day for it to work well. Have patience. I love it!
Length of Use: Less than 3 months
Bottom Line: Yes, I would recommend this to a friend
Pros and Cons
They were very helpful
They handled the billing for me
Was able to send me 90 days' worth
No "cons" were specified in this review
Posted on Jul 14, 2022
Opposite of reality readings
"Wrongcom" likes to alert me I'm having urgent low sugars that are dropping fast although I'll feel like my sugar is high, and when I check it with the FAR MORE ACCURATE fingerstick meter, it's 195 and rising. Just incredible that this scam of a company had made it this long but they NEED to be stopped before diabetics die because of believing the OPPOSITE OF REALITY READINGS.
Length of Use: 1–2 years
Bottom Line: No, I would not recommend this to a friend
Posted on Jul 2, 2022
Dexcom - never on target for me
I struggle with the Dexcom G6 sensor/transmitter readings on a constant basis. Right now my Dexcom is going off with an urgent low alarm saying that my blood sugar is 43. My blood glucose monitor says that my blood sugar is 107. I've calibrated it three times in the last 25 minutes and it has changed again to say my blood sugar is an "urgent low" condition. No, it is not. If I could give it a half star, I would, and that is only because it's only useful to tell me which direction my blood sugar is heading.
Length of Use: 1–2 years
Bottom Line: No, I would not recommend this to a friend
Pros and Cons
The product was recommended by my doctor
Better than fingersticks
The product does not work for me
I don't want to need a prescription for being able to test my blood (transmitter)
Posted on Jun 12, 2022
Unreliable sensor
I have experienced problems with the sensor. I get false readings. Yesterday I was awakened by a low blood sugar alarm. I did a finger stick and my blood sugar was 134. I calibrated. It took 3 tries. According to the start point, my bs was 39. Then it happened again about an hour later. This started at about 2 am. Re-calibrated again. Took several tries. Then early in the morning, I got a false high blood sugar reading — my blood sugar was 189. Calibrated AGAIN. No sleep. The same thing happened the next night at 3 am. I have had sensor troubles before and it is always the same lot number 9117. I requested and reported this and I am still getting these sensors. I am a type 1 diabetic and rely on my bs readings. They need to be accurate.
Length of Use: 3–6 months
Bottom Line: No, I would not recommend this to a friend
Pros and Cons
Responsive
Replace faulty products
Product has problems
Too much down time
Posted on May 26, 2022
Deplorable customer service and continually failed system
I have used Dexcom for 4 years starting with the G5 and now the G6. I have never had a problem until recently when 4 sensors failed and 1 transmitter. Customer service has been beyond deplorable. The customer service representative spoke over me repeatedly noting that I was not changing the sensor correctly. Trust me when I tell you, as I did her, that I have done this successfully for years but just in case that wasn't clear enough, I pointed out that to change a sensor you must follow the process on the app. The woman was so condescending and rude. I have been without blood glucose monitoring for 3 days and I will need to go back to finger sticks. Worst customer service I have ever experienced. I will be looking into other glucose monitoring systems. Customer service is so bad I will try a different system despite having had mostly good experiences with the Dexcom. I never want to speak to them again.
Length of Use: 2+ years
Bottom Line: No, I would not recommend this to a friend
Pros and Cons
Started out very good
System "was" reliable
No finger sticks
System quality failing rapidly
Multiple sensor fails
Customer service is horrible and dishonest
Customer service knows of problems but lies about it
Posted on Apr 21, 2022
BG not accurate
I tested my BG using a glucometer while I had the Dexcom G4 on me. If my real BG is 4.0, Dexcom shows 6.3.
This situation is really dangerous. This product has so many failures – like sensor error, not accurate, bad adhesive tape, transmitter fails sometimes, device doesn't read if not closed time for awhile, etc.
I strongly do not recommend this product.
Length of Use: 3–6 months
Bottom Line: No, I would not recommend this to a friend
Pros and Cons
No "pros" were specified in this review
Sensor error
Not accurate
Bad tape, sensor falls off in a couple of days
Transmitter hurts when pressing it
Transmitter fails and its battery doesn't last 90 days as promised
More expensive than its competitors
If the receiver loses its signal, it needs 30 minutes to show the BG again – very annoying
Posted on Apr 1, 2022
Inaccurate
Wow, where do I begin? First, the customer service is not good. I advise anyone that is going to use it to get the Dexcom meter. Cell phones are upgraded all the time and also the Bluetooth, and that can lead to communication problems between the sensor and the meter. It only will read up to 400 high sugar and after you will have to guess on making adjustments to insulin. Lows take a long while to change from to actual raising. You might take more sugar than needed due to Dexcom slow transmission of rising sugar level. In all, I stopped using the FreeStyle and switched to the Dexcom G6. Big mistake!
Length of Use: 1–2 years
Bottom Line: No, I would not recommend this to a friend
Pros and Cons
No "pros" were specified in this review
Worst customer service
In accurate readings
Alarms keep sounding 30 minutes after problems solved
Posted on Feb 20, 2022
Worst system ever
Please don't buy this system, it is useless. And so is their customer service. Stay away from this, stay far away. I would rather prick my finger a 100 times than deal with this.
Length of Use: Less than 3 months
Bottom Line: No, I would not recommend this to a friend
Pros and Cons
No "pros" were specified in this review
Is the worst company I ever dealt with
Posted on Jan 23, 2022
Great technology but their distributor is AWFUL
I have been a Type 1 diabetic for over 35 years.
I have been using Dexcom for over two years now, and it has revolutionized the way I treat my diabetes. Instead of getting only 7–10 readings per day (from fingersticks), I can see the trends in my glucose readings every five minutes throughout the day. This allows me to be in MUCH better control of my diabetes, and I am incredibly thankful for that. I think the use of Dexcom will add years to my life.
There is only one product attribute that I wish was a bit better. The adhesive that keeps the sensor on your body could be quite a bit stronger (a particular issue for someone with body hair). It tends to start coming up from my skin after 5–6 days (even when using an over patch), and I'm constantly having to check that the sensor is secure from that point until Day 10 when the sensor expires. I wish I could be more confident in the adhesion of the sensor. I used to use the Freestyle Libre before Dexcom and that sensor didn't have the same adhesion issues, so I'm hoping Dexcom is working on this aspect of their product. Once that is done, it will be near perfect.
I will say that the readings are a bit off when you first apply a sensor, so it is very important to calibrate it right away by using a fingerstick. I'm routinely getting readings that are 30 points lower than what the fingerstick produces when I first apply the sensor. But, once I calibrate things, the readings between the Dexcom and fingersticks are very, very similar.
The major problem with Dexcom is that I have to work through Edgepark (a medical supply distributor) to get the product. This wasn't always the case, as I used to be able to order directly from Dexcom with no issue. But they must have determined that it would save cost if they made all customers work through Edgepark. Fair enough, except Edgepark is a disaster and I'm not being dramatic. It took Edgepark over 30 days to process my last order (which meant I was without Dexcom for almost 20 days), and they put my endocrinologist through quite a process during that period, as well.
Specifically, they needed to confirm my prescription (which is understandable). They were routinely contacting the wrong doctor's office in the process, even after I got involved to make sure they had the correct contact information. (This was odd because they always got in touch with the correct doctor on prior orders.) And worse, they never reached out to me to let me know they were having issues; I had to figure that out on my own by following up with Edgepark several times throughout the month. And then, when they finally did get in contact with the correct doctor, they kept changing the "ask" of her. First, it was the case notes, which were provided. Then it was an authorization form, which was also then provided. Then they were complaining that the form was not completed correctly, despite the fact that my endocrinologist completes these same forms for many patients every day. In the end, the only way things got done was that my endocrinologist had to call Edgepark herself, which seems like a poor use of her time.
I got the distinct impression that Edgepark was trying to drag things out, either because they didn't have the supply chain in order to ship my product or because they were trying to push out the billing to my insurance. I'm not sure, but it was very, very fishy. I have filed a complaint with the FDA against Edgepark as a result of all of this, and, if this continues to be an issue, I will be going back to the Libre despite the fact that I love the Dexcom technology. It took dozens of hours of my time during the 30 days and I don't love the Dexcom technology more than Libre enough to justify that level of effort.
So I hope that Dexcom either finds a new distributor or goes back to fulfilling orders themselves.
Dexcom will tell you that Edgepark is "getting better", but that was not my experience.
I wish I could give this five stars, and I would if not for the fact that you have to work through Edgepark.
Length of Use: 2+ years
Bottom Line: Yes, I would recommend this to a friend
Pros and Cons
Technology greatly increases my control of my blood sugars
Technology is very easy to use
I have been able to reduce my insulin usage by over 30% and I have all but eliminated my lows
The biggest downside by far is that you have to work through Edgepark (a distributor) to get the product and they are awful
Sensor adhesive could be stronger
Our Promise to You
In order to safeguard you and ensure helpfulness and relevance, our compliance team manually assess every customer review before it goes live.
We have a zero-tolerance policy for fake reviews, and companies cannot control or alter any reviews at any time.