Dexcom G6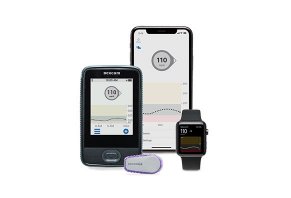 Summary
The Dexcom G6 is a continuous glucose monitoring system that is designed to guide treatment decisions and management of your diabetes without the need for traditional fingerstick tests. While it may be a good option, it's important to factor in the costs and whether you're covered by insurance.
Dexcom G6 Reviews - Important Things To Consider
What is Dexcom G6?
The Dexcom G6 is a small sensor and transmitter that continuously monitors your glucose levels to guide treatment decisions and management of your diabetes without the need for traditional fingerstick tests.
More than 10% of the US population has been diagnosed with diabetes. Though the disease is associated with a number of unwanted physical and emotional burdens, even monitoring glucose levels can negatively impact the quality of life.
Since their introduction, portable meters have allowed for self-monitoring and better control of diabetes. However, these devices require frequent fingersticks to obtain measurements and can contribute to considerable patient morbidity.
According to Dexcom, the G6 continuous glucose monitoring (GCM) system offers a pain-free method of measuring your blood sugar levels.
The small, wearable sensor sends your glucose reading to a smart device every 5-minutes without the need of fingersticks.
According to the company, your Dexcom G6 will:
Help you predict where your glucose levels are heading
Allow you to make treatment decisions with using painful fingersticks
Alert you when you're readings are outside of the desired range
Allow you to share your glucose data with up to 10 followers
Dexcom states that the G6 is proven to lower your A1C (a measurement that indicates how well blood glucose is controlled over a 2-3 month span) and also reduce the number of hypoglycemic (unsafe drops in blood sugar) events.
But can you be certain that Dexcom G6 measurements are accurate?
In this article, we'll help you answer this question by reviewing any available research examining Dexcom G6's ability to provide accurate blood glucose measurements.
How to Use the Dexcom G6
To begin using your Dexcom G6, you'll need 3 things:
A display device - this can be the Dexcom receiver or a smart device.
The applicator and a built-in sensor
The Transmitter
The first thing you'll need to do is download the Dexcom app through Google Play or the App Store. To link your device, enter the sensor code when prompted by the app.
Similarly, turn on your receiver and enter your sensor code when prompted.
Then, you'll need to use the applicator to insert the built-in sensor just below the surface of your skin. To do so, remove the applicator from the box and select the appropriate sensor site. The patch of skin over your abdomen located between your belly button and hip is recommended.
Next, wash your hands and prep the sensor site with an alcohol wipe. Remove the labels covering the adhesive portion of the applicator. Place the adhesive on the skin over the sensor site and break off the safety guard.
Lastly, press the button to insert the sensor and discard the applicator.
To insert our transmitter, first, clean it with an alcohol wipe. Next, insert the transmitter tab into the sensor slot and snap the transmitter firmly into place.
It can take up to 30-minutes to pair your device to the sensor. Once paired, follow the prompts for the 2-hour warmup. Once this is complete, you'll begin to receive your glucose readings every 5-minutes, up to 288 times each day.
At this point, you can configure your app and personalize your desired blood glucose range, as well as select with whom you'd like to share the data.
Now that you have a better understanding of how to use your Dexcom G6, it's clear that the system seems to provide more data than would be obtainable from portable meters and fingerstick tests. After all, it certainly isn't feasible to stick your finger 288 times in a single day.
While eliminating the pain associated with traditional methods of monitoring blood sugar is important, this doesn't necessarily mean that the Dexcom G6 measurements are accurate.
Is There Any Science Backing the Dexcom G6?
According to Dexcom, the G6 is proven to lower your A1C and risk for hypoglycemia. Additionally, they claim that the Dexcom G6 has been compared to the test your doctor orders, which is considered the gold standard for measuring your blood glucose.
As both methods differ somewhat in how glucose is measured, the readings they provide are unlikely to be the same. They should be close, however. According to the Dexcom website, the G6 provides accurate readings, meaning that each measurement is relatively close to what your doctor would measure.
As an example, Dexcom believes that their system follows the %20/20 rule.
As your glucose is measured in mg/dL, your G6 reading should be within 20mg/dL when your meter reading is 80mg/dL or lower. If your meter reading is higher than 80mg/dL, your G6 measurement should be within 20% of this number. This rule is likely based on the results of clinical research.
When compared to a laboratory method of measuring blood glucose, Dexcom was found to be within 16.7% of gold standard measurements, on average.
When the original Dexcom system was modified, it was again put to the test. Over 7-days, subjects with diabetes wore a Dexcom sensor and compared glucose measurements to laboratory measures. Researchers concluded that the Dexcom system was within 9% of lab values, on average.
The Dexcom G6 was also studied. In both adults and children, this system was also found to be safe and accurate, with more than 90% of measurements falling within 20% or 20mg/dL of the gold standard.
The Dexcom G6 was also associated with fewer instances of hypoglycemia and more readings within the 70-180mg/dL range.
Most recently, the 20/20 rule was put to the test in pregnant women with diabetes that utilized the Dexcom G6 over a 10-day span. Researchers found that, when compared to the gold standard for measuring blood glucose, the Dexcom G6 was accurate and safe.
Dexcom devices have been safely and accurately tested in children, adults, and during pregnancy. The most recent generation has seemingly improved upon earlier devices.
Is It Safe to Use?
The Dexcom G6 CGM system is generally safe to use. Serious adverse effects were not reported in the available research studies that were published in peer-reviewed medical journals.
This does not mean that the Dexcom G6 is entirely without risk, however.
Skin irritation and infection are probably the most likely side effects of using this device. Following the instructions for placing the sensor can limit your risk for unwanted effects. Ensure that you've washed your hands and also prepped the skin, sensor, and transmitter with alcohol wipes.
You can take additional steps to limit skin irritation:
Make sure skin is clean and dried thoroughly
Trim hair over sensor site to ensure proper contact
Limit moisture at sensor site and avoid using lotions and creams in this area
A barrier film may help to further reduce the risk for skin irritation
While self-monitoring is a vital component of controlling your diabetes, you should always do it in conjunction with a medical professional.
Be sure to regularly discuss pertinent aspects of your care with your doctor regularly.
What Does It Cost?
Details regarding pricing are not provided on the Dexcom website.
The first step in obtaining your Dexcom G6 requires you to provide your personal contact information, as well as your diabetes type, current treatment, and insurance provider. To determine if Dexcom G6 is right for you, a customer representative will reach out to you to discuss further.
If you have Medicare, you may be eligible for coverage if you meet the following criteria:
You have a diabetes diagnosis
You have used a home blood glucose monitor at least 4x daily
You require 3 or more insulin injections or use an insulin pump
Your insulin dosing has required frequent adjustments
You've met with your doctor to discuss the criteria above every 6 months
If you don't meet the above criteria, you may be eligible to use the Dexcom G6. Once your doctor has prescribed it, you can pick up the system from your local Walgreens.
The Dexcom site does not provide pricing details if your insurance provider does not cover the Dexcom G6. Your best bet is to provide your contact information to speak with a representative about the most cost-effective options.
We were able to dig up some out-of-pocket pricing information elsewhere, however.
According to GoodRx, the Dexcom G6 is available over-the-counter from major retailers like Costco, Publix, Walmart, CVS, Target, and Walgreens.
Pricing for the G6 receiver varies, ranging from $600-$850.
Keep in mind that you will need to replace the sensors every 10 days. Also, the transmitter battery lasts about 6-months, so replacing your transmitter is also required as well. A pack of 3 sensors costs around $420 on average, while a transmitter often costs around $300.
As you can see, the Dexcom G6 can be an extremely expensive method for monitoring blood sugar if you are required to pay out-of-pocket. Again, speaking with a customer representative may reveal more cost-effective options. However, even a 50% reduction in average pricing would still represent a costly investment.
What Are the Alternatives to Dexcom G6?
There are other CGM devices available that similarly aim to avoid the pain and hassle associated with constant finger pricks.
The FreeStyle Libre System is one example. This GCM device uses a sensor that communicates with a receiver, and can store 90-days of glucose data. Medicare also covers this device.
The starter kit costs $215. Libre sensors last 14 days, and replacements cost $67/sensor. This is still a pricey option, but more cost-effective than the Dexcom G6. A prescription is required, however.
The Eversense Implantable GCM is also covered by medicare and uses a sensor that communicates with a receiver. Covered by Cigna and Medicare, Eversense sensors last for 90-days through insertion and removal must be done by a medical professional.
Again prescription is required and pricing information requires you to speak with a customer representative.
The Bottom Line
The Dexcom G6 is reasonably accurate when compared to the gold standard for measuring glucose. Also, serious side effects were not reported in the available research. Nonetheless, you should always take precautions to minimize the risk of skin irritation and infection.
While the Dexcom G6 does avoid the need for fingersticks, it is an expensive method for measuring blood glucose. If you aren't covered by insurance, your monthly costs can top $700 for replacements.
There are more cost-effective CGM devices available that also use sensors to communicate with receivers. If you're interested in CGM and are required to pay out-of-pocket, these may be a better option when compared to the Dexcom G6.
Be sure to speak to your doctor about your current management to determine if CGM is safe for you to use.
Our Promise to You
In order to safeguard you and ensure helpfulness and relevance, our compliance team manually assess every customer review before it goes live.
We have a zero-tolerance policy for fake reviews, and companies cannot control or alter any reviews at any time.