Glucocil Reviews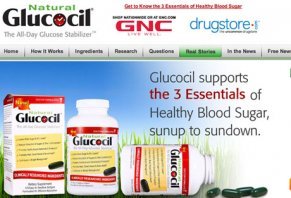 Glucocil is a nutritional supplement that claims to help your body maintain healthy glucose levels, while also improving circulatory health and helping you lose weight.
About Glucocil
Manufactured by Neuliven Health based out of San Diego, CA, Glucocil is a health supplement that claims to reduce the amount of glucose produced in your body; to increase the health of your circulatory system; and to help you manage your weight. The supplement is manufactured in the U.S., and claims to have over seven years of research behind it.
Neuliven Health has an A+ rating with the Better Business Bureau, with five closed complaints within the past three years. They are also highly active in social media, with more than 101,000 Facebook likes, and appear to have overwhelmingly positive customer feedback. Based on what little complaints we could find, the most common include no reduction in sugar levels, weight gain, and high cost.
How Glucocil Works
The company states that Glucocil has undergone seven years of research and development, and is intended to maintain healthy glucose levels within your blood. While the company's statements have not been evaluated by the FDA, it claims to accomplish this in three ways:
Reducing the absorption of glucose through the intestines,
Reducing the amount of glucose produced in the liver, and
Increasing glucose uptake at the cellular level.
In addition to these primary benefits, Glucocil is also claimed to provide several secondary benefits such as maintaining healthy lipid levels in your bloodstream, promoting circulatory health, and managing your weight.
Glucocil Ingredients, Dosage, and Side Effects
According to the Glucocil website, the supplement contains the following ingredients, all of which either reduce glucose absorption, and/or promote circulatory health:
Proprietary Mulberry Leaf Extract
Alpha Lipoic Acid
Banaba Leaf Extract
Berberine
Chromium Picolinate
Cinnamon Bark Powder
Fish Oil
Gymnema Sylvestre Extract
Insulina (Cissus sicyoides) Leaf Extract
Veld Grape (Cissus quadrangularis) Stem Extract
Vitamins B1, B6, and B12
Vitamin D
Neuliven Health claims that Glucocil's benefits have been thoroughly researched over the course of seven years, and even provides a comprehensive addendum here. In order to maximize Glucocil's benefits, the manufacturer recommends that it be taken once daily prior to eating for the first three days, and then twice daily thereafter. However, they also state it can be taken as much as three times per day, if needed.
According to the Glucocil FAQ, the only sides effect includes "minor GI discomfort," which is only experienced by a small minority of users. Based on our research, we were unable to confirm any other regularly experienced side effects, other than the reinforcement that those with heart, liver, or kidney disease should avoid taking it altogether.
Glucocil Pricing & Return Policy
Each bottle of Glucocil contains 120 softgels, and can be purchased through a number of sources, including GNC ($47.99), Drugstore.com ($30.00), and directly from the company's website. If you purchase from the manufacturer, you'll be offered a 15-day sample at no cost, with the exception of $4.99 shipping and handling. All you'll need to do is enter your address, phone number, email address, and credit card information in order to have 60 softgels shipped to you within 48 hours.
With that said, while it may initially appear less expensive when ordering directly from the company, keep in mind that you'll also be automatically enrolled in their "autoship program." This means that unless you cancel with 18 days of your order date, you'll continue to receive regular shipments of Glucocil every 30 days at a cost of $59.99, plus $4.99 shipping and handling. However, even after this occurs, the company claims you can cancel at any time without further obligation.
If you're unsatisfied for any reason, Glucocil comes with a 30-day money back guarantee, which begins from the date your order is placed. In order to begin the return process, you'll need to call the company at 1-888-406-7101, at which point you'll be given a Return Merchandise Authorization (RMA) number. This is an important step, because without the RMA number clearly marked on the outside of the package, the manufacturer will not accept it, and you will not be given a refund. However, once it is accepted, your refund will be processed within 3-5 days, and will appear on your credit card within one billing cycle.
Bottom Line: Is Glucocil a Scam?
While Glucocil does not appear to be a scam, there are several red flags you should keep at the top of your mind. First, the supplement is not FDA approved. What's more, the company actually received formal notification from the U.S. Food and Drug Administration in July 2013 that statements on its website violate laws which restrict claims about "treat[ing] diabetes and its complications." In other words, they're squarely on the FDA's list of "illegally sold diabetes treatments." Additionally, in at least one European study, chromium polynicotinate (or chromium salt)—one of the primary ingredients found in Glucocil—was linked to liver toxicity.
With this said, a wide variety of online reviews reflect favorable results from the regular use of Glucocil, most of whom are Type II diabetes patients. However, as with any supplement, experiences vary widely between individuals, and Glucocil is no different. If you do choose to add Glucocil to part of your regimen, keep in mind that there is scant evidence to support the manufacturer's claims, and it's highly recommended that you consult with your physician beforehand.
3 out 4 people found this review helpful

Glucocil is a no-brainer!

By Trey S.

,

Oct 12, 2019
Verified Reviewer

Glucocil is so naturally the right choice. I know this is an opinion. But the facts are in the amazing results that are shown in my health and it's an integrative approach to diabetes health that includes nutrition, diet, activity, and knowledge. Advanced Diabetes Support Formula is the nutritional foundation for you to successfully self-manage your diabetes and live a healthier life. This is not only a diet program, it's a full lifestyle.

Bottom Line: Yes, I would recommend this to a friend

---

4 out 4 people found this review helpful

Useless product

By Dale D.

,

Denham Springs, LA

,

Jun 20, 2019
Verified Reviewer

I ordered the product from the company which gave a $5 discount for the first bottle which lowered the cost to $35. I took the recommended dosage for the first 3 days of 1 capsule with lunch and 1 capsule with dinner. After the initial three days, I started taking the 2 capsules for lunch and 2 capsules for dinner. The discomfort in my stomach started almost from the first day I started taking the full dosage. It gave me tremendous flatulence and very loose stools. I have just completed the 30-day supply and have to say that this product is not only useless in reducing my blood sugar levels, but it has continued to cause the flatulence and loose stools. Certainly not recommended by me!

Bottom Line: No, I would not recommend this to a friend

---

Advertisement

---

2 out 3 people found this review helpful

It works

By Olivia J.

,

Phoenix, AZ

,

May 28, 2019
Verified Reviewer

I have tried this twice. It reduces sugar. And lowers my blood pressure. It is pricey but cheaper at drugstore.com.

I would recommend this product to a friend.

Amazing product.

Bottom Line: Yes, I would recommend this to a friend

---

6 out 10 people found this review helpful

Glucocil is amazing!

I have had diabetes for five years. After taking this product for one month, my sugar levels are down to half of what they used to be. They were around $300 and now they are down to $150.

I love this product.

Bottom Line: Yes, I would recommend this to a friend

---

Advertisement

---

29 out 32 people found this review helpful

Scam Artists

By James B.

,

Granbury, TX

,

Jul 15, 2018
Verified Reviewer

I received an email touting the product, I am pre-type 2 diabetic.

The offer was for a FREE 15-day trial. I was to pay S & H. Before the 15 days were up, I received a 30 day supply and $64.98 was charged to the card I used for Shipping and Handling. I am an internet shopping junkie, and if anywhere in the offer a subscription to the product was to be automatic, it was very cleverly disguised in the fine print. A sorry way to make a living. And, Oh, the product did not work for me.

Bottom Line: No, I would not recommend this to a friend

---

30 out 33 people found this review helpful

This stuff does not work!

I ordered the 15-day supply and tried it after paying $5.00 to cover shipping for the FREE SAMPLE. What a joke. My blood sugar skyrocketed.

Furthermore, an order I did not make showed up UNWANTED AND UNORDERED by me and a charge for $65.00 was made to my credit card WITHOUT my approval. I dropped the unopened package at the Post Office marked RETURN TO SENDER. I finally located an email address and sent them a note to CEASE and DESIST from sending more unwanted packages and to refund my charges.

Bottom Line: No, I would not recommend this to a friend

---

27 out 31 people found this review helpful

High blood pressure

Has anyone experienced high blood pressure with Glucocil?

I like it, but my blood pressure has skyrocketed, so please me know. My sugars and weight have both decreased, I just have the blood pressure problem and wonder if anyone else does?

Thanks.

Bottom Line: Yes, I would recommend this to a friend

---

24 out 26 people found this review helpful

Yes, it works

By David

,

Georgia

,

Apr 3, 2017
Verified Reviewer

I am a type 1 diabetic. I take insulin via a pump. Keeping my sugars under control is extremely difficult. I don't take Glucocil on a regular basis, but if my sugar goes over 200, I take two pills, and within an hour it has dropped to a normal range. I have to be careful about taking it when my sugar is less than 200, or it will drop too much.

Bottom Line: Yes, I would recommend this to a friend

---

26 out 29 people found this review helpful

I'm a believer

Am a 74-year-old man and weigh 200 lbs. I received a pre-diabetes diagnosis in about 2007, and my "before breakfast" blood sugar level was 140-150. I started taking Metformin and monitoring my BS level. No increase but no drop either.

I tried Glucocil in about 2012. There was no change for a month, but then my BS level started dropping and got down to 110-120 level. I am still taking Metformin (2000 mg/day) and Glucocil. I am not on any strict dietary regimen, but my BS level goes up if I get careless about eating, then comes back down when I eat sensibly.

Bottom line, Glucocil works for me.

Bottom Line: Yes, I would recommend this to a friend

---

52 out 54 people found this review helpful

Glucocil is an amazing product. I highly recommend it.

By Lindsin

,

Miami

,

Oct 11, 2016
Verified Reviewer

I am a 53-year old female and for 2 months I was hospitalized. I had been feeling awful for weeks and could barely get up from bed. When I did I had to sit down right away because I would become faint. So, at the ER I was diagnosed with the onset of Type 2 Diabetes. My blood sugar was 576. I was treated with different insulin for 4 days and the lowest they ever got it to go down was 364 which was the day I was discharged.

I was prescribed Lantus, Trajenta and Metformin. After reading up on diabetes 2, I decided a different approach to my care. I didn't fill my prescriptions and immediately changed my eating habits. I cut sugar and glucose spiking carbs. I also read up on alternative herbal and natural meds when I discovered the benefits of Glucocil. I ordered the free trial and began to take it as indicated. Eight weeks ago I was 192 lbs.

Today I weigh 159 lbs. and my blood glucose levels are in the 2 digits ranging from 72 - 92 and 93 - 101 postprandial (2 hours). If you are serious about stabilizing your blood glucose level this is the natural supplement that I highly recommend. It will turn your life around. Best of luck.

Bottom Line: Yes, I would recommend this to a friend

---

43 out 44 people found this review helpful

Great product

By Martha

,

Phenix City, AL

,

Aug 26, 2016
Verified Reviewer

Diagnosed with type II diabetes, A1C was 12.4, blood sugar 280 in January 2015.

Doctor put me on Metformin and Avandia which caused severe diarrhea and dizziness. I couldn't leave the house. So I started changing my diet and walking, lost about 10 lbs. I saw the ad for Glucocil and decided to try it. Blood sugar went down to around 180 and continued to drop over the next year.

I went back to the doctor and he was mad I had quit my meds but was shocked when I explained about this product. I even quit taking Glucocil for a month to see what would happen and my blood sugar went back up.

After my new A1C came back at 7.6, blood sugar 133, and triglycerides and cholesterol both dropped he told me to keep on doing whatever I was doing and come back in 6 months. I did experience a little diarrhea after moving the dose up for about a week, nothing as severe as the Metformin was.

I still have a way to go getting these levels down but my diet hasn't been great lately. I don't know if I'll be completely off Rx meds but do believe this product has worked.

Bottom Line: Yes, I would recommend this to a friend

---