Goby Toothbrush Reviews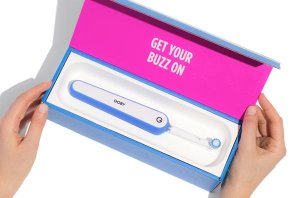 Summary
Goby's oscillating electric toothbrush claims to deliver many of the most popular features, with a competitive price and convenient subscription plan.
What Is Goby Toothbrush?
The electric Goby Toothbrush uses a rotationally oscillating head that's allegedly proven to clean better than a manual toothbrush, while improving oral health. All you have to do is glide it along, and it will handle all the brushing.
By selling direct to consumers, the company claims to deliver this at a fraction of the price of the competition.
Additional Goby features include a two-minute brushing timer with 30-second prompts to let you know when it's time to change teeth quadrants, as well as soft, premium bristles to deliver a thorough, yet gentle, clean.
If you've recently researched electric toothbrushes from mainstream brands like Oral-B and Sonicare, you know that it's possible to spend a significant amount of money.
With many of these same essential functions at a meaningfully lower price, will Goby deliver better value? This article explores the brush's features, cost, and comparison to its competitors to help you decide if it's right for you.
Features
On the outside, Goby features a minimalist design, with a single button that allows you to turn the toothbrush on and off, as well as switch between sensitive and standard modes.
Once turned on, its rotationally oscillating brush head uses soft, premium bristles to provide a polished finish, unlike sharp bristles that can damage gums and lead to bacterial infections. During operation, the built-in timer will prompt you to switch quadrants every 30 seconds using a gentle vibration, and then automatically turn off after two minutes. And when it's time to replace a brush head, the power button will light up.

The Goby Toothbrush in orange, which features a minimalist design, a rechargeable battery that will last two weeks at a time, and that notifies you when it's time to replace brush heads. Image credit: BGLG, Inc.
Once you're finished brushing, Goby comes with a sleek, hygienic stand that can discreetly collect toothpaste residue, with a removable tray for easy cleaning.
Although it only requires two charges per month (according to the company, using more than 150g of pressure can reduce battery life), you can pair the portable USB charging shell with your stand to recharge when not in use. Or, it can be used on its own.
Like to brush in the shower? Per the toothbrush's website, Goby is safe to use in the shower and "in environments where it will get splashed with water," although it shouldn't be submerged in any body of water.
These all sound like great features, but should you spend the money on an electric toothbrush in the first place? What are the advantages? Are there any possible downsides to consider?
Important Things To Consider About Electric Toothbrushes
Manual and electric toothbrushes work functionally the same way—the big difference is in their speed and consistency.
For example, both of these methods move back-and-forth, side-to-side, or a combination of the two, in order to remove plaque and other stuck-on debris. However, whereas the manual options implement the user's arm and hand movements, electric toothbrushes feature built-in motors that precisely move their head thousands of times per minute.
These movements can involve back-and-forth motions or rotation-oscillation (the head alternates between clockwise and counterclockwise motions, which is the case with Goby), or a combination of the two.
In many studies, the fast motions delivered by electric toothbrushes have been shown to clean better than manual models. For example, according to the National Magazine for Dental Hygiene Professionals, "Powered toothbrushes, whether powered by batteries or one of the more upscale versions, provide anywhere from 10 to 49 percent greater plaque removal than manual brushes in single-use trials."
When using proper technique, they also report that significantly less force is needed to achieve this cleaning, potentially leading to less sensitivity and fewer side effects like gingival and tooth injuries. It can also make electric toothbrushes a more convenient option for those with orthodontic and dental implant work, chronic pain or movement problems, as well as children and adolescents.
Compared to traditional models, perhaps the biggest downside associated with electric toothbrushes is their price, which can edge—or even exceed--$200. Comparatively, what will you pay with Goby?
Pricing
Available in black, blue, pink, and orange, the Goby Toothbrush is priced at $75 as a one-time purchase. However, with a subscription, it costs $60 upfront. Should you subscribe, you will be billed $6 on the months you select to receive the toothbrush head replacement.
You can select the head replacement to occur every month, 2 months, or 3 months. Subscriptions can be changed or canceled at any time.
Regardless of which option you choose, your order will come with free shipping, one brush head, a hygienic stand, a USB charging shell, and one USB converter.
All Goby Toothbrushes come with a 60-day money back guarantee (starting from the date of receipt), less S&H charges. However, brush head return requests cannot be accepted once they've been opened from the packaging.
The company also stands behind the toothbrush with a lifetime limited warranty against "defects as a result of fault in the materials or workmanship in the construction and manufacture of the product."
In order to request a refund or process a warranty claim, customer support can be reached at (888) 973-4629 or help@goby.com.
Goby vs. Popular Alternatives
Lumping Goby into a general 'electric toothbrush' category puts it up against some big-name brands like Oral B, Sonicare, and Waterpik, to name just a few—some of which can edge toward $200.
In addition to rechargeable batteries, zone timers, low battery indicators, and interchangeable heads, many of these high-end models also deliver features like multiple cleaning modes, visible pressure sensors, sonic speeds, and a variety of intensity settings. Some even feature facial pattern recognition.
But at $50, Goby's toothbrush seems to deliver a lot of essential features for the money, including a monthly subscription so you can always make sure your heads are as fresh as possible.
Here were some of the top results for electric toothbrushes under $65 (the same as Goby's non-subscription price) on Google Shopping at the time of our research:
| Model | Price | ADA Seal of Approval? | Key Features |
| --- | --- | --- | --- |
| Goby Toothbrush | $65/$50; $6 per replacement brush head | No | Quadrant timer, auto-shutoff after 2 minutes, low battery/head replacement indicator |
| Quip Toothbrush | $25 - $55 for brushes; $5 for replacement heads | Yes | The only other company currently offering an electric toothbrush subscription, 2-min timer, 30-sec interval vibrations, plastic or metal design |
| Philips Sonicare Essence Electric Toothbrush | $30 | No | 2-min timer, angled brush head, one mode |
| Oral-B Pro 1000 CrossAction | $50 | Yes | Head oscillates, rotates, and pulsates; 30-second zone timer, one mode |
| Philips Sonicare 2 Series | $50 | No | 2-color battery indicator, up to 31,000 brush strokes per minute, 2-min smart timer, easy-start feature |
Thee price doesn't make much of a difference, as long as you stay at $10 or above. According to the National Magazine for Dental Hygiene Professionals, "Several clinical studies demonstrated that some of the most affordable power brushes - those in about the $10 range - perform as well as or better than the expensive brushes in removing plaque."
They go on to emphasize: "While the highest priced power brushes often utilize advanced oscillating and ultrasonic features, new research demonstrates that the oscillating and translating brush head design of a lower cost battery power brush can be equally or more effective in combating plaque."
Oftentimes, the higher price in some toothbrushes is justified by smart technology and other features, which otherwise may not translate into a better cleaning experience than a toothbrush that costs around $20.
Whether electric or manual, Colgate's Oral Care Center also recommends looking for a toothbrush with soft bristles, as well as those with a head shape and size that fits comfortably in your mouth.
When searching for toothbrushes, look for an American Dental Association seal on the package, which suggests that it has been reviewed to ensure safety and effectiveness.
Our Final Thoughts
When using the proper technique with a manual or electric toothbrush, they can effectively clean teeth and help maintain proper oral health. This could then foreseeably lead to a healthier mouth and happier dentist appointments, as claimed on the Goby website.
However, when it comes to actual plaque reduction, electric models could have a slight advantage.
On top of this, they can make the brushing process easier (especially for children or those with dexterity concerns) and more pleasurable, while common features like multiple modes and timers can add a certain level of convenience.
With respect to which brand is right for you, this largely depends on personal factors like budget, design preferences, functionality needs, and so forth.
But outside of Quip, if you're looking for an attractively designed brush with many of the most popular features, a competitive price, and a subscription program, Goby is currently your only option.
Customer Reviews
Posted on Feb 18, 2020
After dentist clean
I didn't actually purchase my Goby Toothbrush, it came with a dental advantage plan I signed up for through Dental Works. They send me a replacement brush every 3 months as long as I keep my membership. ANYWAY, this is my first electric toothbrush so I don't have anything to compare it to, but the amount of clean I feel after using this is comparable to a regular 6-month cleaning at my dentist. I like the streamlined look, simple to use, 2 min timer with 30-second vibe so you switch quadrants, and the sturdiness. I don't feel like this brush will fall apart and will last a long time. I love it!
Bottom Line: Yes, I would recommend this to a friend
Posted on Sep 5, 2019
Sketchy, nonexistent customer service.
After I placed an order for a brush, I realized it had been incorrectly sent to the billing address rather than the shipping address. (My order confirmation email makes it clear that I entered both correctly and this was a mistake on Goby's end.) I sent multiple emails to customer service, and have received no reply in almost a week. Once it became clear that dealing with customer issues was not a priority, I logged into my Goby account to cancel the brush head subscription on my account, only to realize that it was set to send me brush heads every 2 months, NOT every 3 months as I had selected.
The cherry on top is that, even after canceling my subscription, there does not appear to be any way to delete my credit card information from Goby's system. Super sketchy. AVOID.
Bottom Line: No, I would not recommend this to a friend
Posted on Jul 23, 2019
Not horrible customer service, no customer service
Trying to contact customer service for 2 days - leave message, say will get back as soon as can, went online, email advised would get followup soon, got chat, confirmed my issue and email, said were connecting me with someone who should be able to assist - nothing. Called today, could only leave message. Not comfortable that this company can back up product.
Bottom Line: No, I would not recommend this to a friend
Posted on Apr 7, 2019
Love it!
I'm a fan of all kinds of electric toothbrushes and one doesn't fit everyone or every occasion. Although I enjoy the tingle of Sonics, I also like the power scrubbing I get from an oscillating brush like the Goby. It is good to change things up and attack those bacteria in your mouth from every direction. I love my Goby.
Bottom Line: Yes, I would recommend this to a friend
Our Promise to You
In order to safeguard you and ensure helpfulness and relevance, our compliance team manually assess every customer review before it goes live.
We have a zero-tolerance policy for fake reviews, and companies cannot control or alter any reviews at any time.