Quip Toothbrush Reviews
Claimed This company has claimed this profile, is getting alerted on any new customer reviews entering this page, and may engage in dialogue with its customers to address their matters.

Companies cannot pay money or provide goods in order to remove or alter customer reviews.
Quip Toothbrush's simple design and monthly refill program promise to help simplify your teeth care, save you money, and provide you with proper dental advice.
About Quip Toothbrush
Advertiser Disclosure: Quip pays a monthly fee to HighYa to lease ad space only on this URL. Advertisements displayed on this page are provided by quip. Should a reader click on a quip advertisement and make a purchase on quip's website, HighYa DOES NOT earn any commission.
Quip Toothbrush is an online subscription service that promises to help you simplify your oral health. How?
First, Quip's attractively designed electric toothbrushes include only the features you need and exclude those you don't. You'll have just one mode (a 2-minute timer with 30-second intervals), gentle vibrations with no harsh rotations, a slim design that's travel-ready, and replaceable heads with soft, round tip bristles.
Second, Quip's subscription plans (more about this soon) come with anti-cavity fluoride toothpaste that includes "only the ingredients your teeth need." And since you'll only need a pea-sized portion, the company claims one tube can last you up to 3 months.
Finally, Quip claims they've partnered with dentists to provide proper oral care advice, which can help improve your routine, technique, upkeep, and more.
Although Quip Toothbrushes are the result of "years of research and design," does this mean they're worth the price? Should you opt for a single purchase, or for monthly refills? What are customers saying? In this Quip Toothbrush review, we'll take an in-depth look at what you might expect so that you can make a more informed decision.
What Features Does a Quip Toothbrush Provide?
According to their website, Quip is out to simplify the process of caring for your teeth. Instead of focusing their research and development on bristle angles or other features that might provide 0.25% better performance, Quip claims they wanted to address the core factors that lead to teeth problems; namely:
Brushing too hard
Not brushing long enough
Not brushing twice a day
Not replacing your brush often enough
As a result, they "set about creating a more honest, accessible and simple oral care line that would cut out the excess to help focus on the basics that really matter."
Quip Toothbrush Features
Powered by a single AAA battery that will last up to 3 months, Quip's motor features the same vibration frequency (15,000 RPM) that you'll find with most standard vibrating toothbrushes. Quip also uses a single pulse every 30 seconds to remind you to change quadrants (upper left, bottom left, upper right, bottom right), although this isn't necessarily unique among electric toothbrushes. It also features a 2-minute timer to remind you to stop brushing, so you don't damage your teeth or gums.
The base/handle of each Quip Toothbrush is available in either durable matte-finished ABS plastic or precision CNC'd aluminum. Quip's soft brush head (there are no medium or firm options, which the company claims can damage your teeth and gums) attaches to each base and features 1,200 DuPont nylon bristles inserted into 34 tufts.
All Quip Toothbrushes also come with a travel cover that mounts to any glossy surface via a reusable suction strip, which also doubles as a storage container.
What's the price for all these features?
How Much Do Quip Toothbrushes Cost?
Quip Toothbrushes are available in 6 colors: Silver Metal, Slate Metal, Copper Metal, Gold Metal, Green Plastic, and Blue Plastic. Each purchase includes the option to sign up for automatic brush and toothpaste refills, or just the toothbrush itself at a slightly higher price.
Starter Sets
Electric Starter Set – Includes one electric brush, travel cover mount, large toothpaste, and small toothpaste, with replacement brush heads, toothpastes, AAA batteries once every three months: $25 ($40 without refills) for plastic handle, or $40 for a metal handle ($55 without refills)
Electric Brush Starter Set – Includes one electric brush and travel cover mount, with a replacement brush head and AAA battery once every three months: $30 for a plastic handle ($35 without refills), or $45 for a metal handle ($50 without refills)
Annual Prepaid Deals
Electric Annual Set – Includes electric brush, travel cover mount, large toothpaste, small toothpaste, and replacement brush heads, toothpastes, AAA batteries once every three months, prepaid: $50 for a plastic handle, or $65 for a metal handle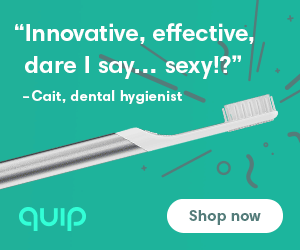 Advertisement
Electric Brush Annual Set – Includes an electric brush, travel cover mount, and replacement brush heads and AAA batteries once every three months, prepaid: $40 for a plastic handle, or $55 for a metal handle
Group Sets
Electric Couple Set – Includes two quip electric brushes and small and large toothpastes, with replacement brush heads, toothpastes, and AAA batteries once every three months:: $40 for plastic handles, or $75 for metal handle ($100 without refills)
Electric Family Set – Includes four quip electric brushes and small and large toothpastes, with replacement brush heads, toothpastes, and AAA batteries once every three months: $125 for plastic handles, or $150 for metal handles ($200 without refills)
Additional Items
Toothbrush Head: $5 (same price, with or without refills)
Toothpaste 4.7oz: $5 (same price, with or without refills)
Travel Cover Mount: $5
White Plastic Manual Toothbrush: $10 ($5 refills every three months)
Keep in mind that refill plans are optional, ship free, and can be canceled at any time, although they cannot be paused. Without a refill plan, shipping will cost you $5.
The company provides a lifetime guarantee on all Quip Toothbrushes that are associated with an active refill plan, along with a 30-day refund policy.
Pro tip: According to Quip's website: "We charge shipping ($5 for a single brush plan, $10 for a couples plan and $15 for a family plan) to cover the return shipping cost and deduct it from your credit card refund unless you ship using your own means."
To request a refund, customer service can be reached at help@getquip.com or via online chat.
Although Quip isn't the lowest priced electric toothbrush on the market, it's certainly near the bottom. Outside of price though, what are customers saying about its performance?
Quip Toothbrush Reviews
Quip had been on the market for well over a year at the time of our research, and featured on many high-profile websites, including TechCrunch, Engadget, Popular Mechanics, and more. In most of these instances, they were high-level overviews or only provided insight into the company's business model.
However, the author of this Fast Company article (and her husband) had a chance to try out a Quip Toothbrush and found: "As a user of one of the fancier models of the Sonicare electric toothbrushes, the Quip brush didn't feel as powerful or as satisfying to me. However, my husband, who uses a manual toothbrush, found the brush to be a step up from his everyday routine."
Stephen Pulvirent over at Bloomberg had an opportunity to use a Quip Toothbrush for a while, and claimed that it looked great and that he "genuinely enjoyed" using it. He didn't love the taste of the toothpaste though, and noted that the plastic model "felt hollow and a little too lightweight."
In the end, the author felt that Quip's toothbrush is "practical, reasonably priced, and still gives you that much-needed dose of mild, self-satisfied futurism."
Finally, Dave Lee provides us with a quick but informative video review of his experience with Quip's subscription service. He noted that he didn't like Quip's first generation toothbrushes, but that these second gen versions seemed to be a big upgrade.
Overall, he felt that the metal handle was nicely weighted, the head felt secure when attached, it has a stronger head vibration, and that they did a "really good job" on the aesthetics. In the end, he claimed to have had a "really solid brushing experience."
Who Founded Quip?
Quip was founded by industrial designer Simon Enever and product designer Bill May, who wanted to help people take better care of their teeth by simplifying the process. Simon came from NY-based design agency ECCO, whereas Bill previously worked for Lifetime Brands.
Prior to launching as Quip, it appears the company initially attempted to raise funding through an Indiegogo crowdfunding campaign under the brand name byDefault, which didn't meet its goal of $60K.
Is Quip a Serious Electric Toothbrush Contender?
When it comes down to it, Quip is upfront and honest about the results you might expect: "The truth is, a correctly used, soft bristle $5 manual toothbrush is just as effective as a $25 quip electric toothbrush which is just as effective as a $250 electric one! The issue is, us humans aren't the best at using them!"
And this is where the company seems to shine. Based on what we learned during our research and from customer reviews, they seem to offer a quality product at a reasonable price, along with a convenient refill program that can be easily canceled at any time. They also come with mostly positive online customer feedback.
To top everything off, Quip' toothbrushes come with a 30-day refund policy, so you'll only be out of few dollars in S&H for giving them a try.
Tell us about your Quip experience by writing a review below!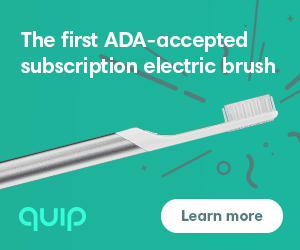 Advertisement
This company is actively collecting reviews from its customers. All reviews submitted are subject to moderation and approval to ensure they meet our

Review Guidelines

.

I LOVE QUIP

By Faith D.

,

Springfield, OR

,

Jan 17, 2020
Verified Reviewer

Quip is the perfect combination of a fancy electric toothbrush and a good old fashioned, familiar toothbrush. I love everything about it: the sleek look, awesome, protective case that I can take with me or stick to the mirror in my bathroom, 2-minute timer with reminders every 30 seconds to brush my teeth evenly, and never having to worry about charging it! Quip is amazingly well-priced and it is so convenient to sign up for new brush heads every three months. I love this product so much I purchased 5 people in my life a Quip for their Christmas gifts. Thank you, Quip!

Bottom Line: Yes, I would recommend this to a friend

---

Value

By Doug J.

,

Cedar Rapids, IA

,

Jan 17, 2020
Verified Reviewer

Price was my first draw to a Quip. After having and using it twice daily I am pleased with it. I do think the vibrations could be more. The brush material seems to do an exceptional job at cleaning my teeth.

Bottom Line: Yes, I would recommend this to a friend

---

Great for travel

By Michael P.

,

Philadelphia, PA

,

Jan 17, 2020
Verified Reviewer

Did a lot of traveling this holiday and QUIP was great. All your dental essentials are given in a neat packaging. You can take those products and neatly pack them in any travel case. Love the mirror stick feature!

Bottom Line: Yes, I would recommend this to a friend

---

Surprisingly thorough cleaning

By Annie M.

,

Eckert, CO

,

Jan 17, 2020
Verified Reviewer

When I first tried my Quip, I was baffled because of its gentle action and low noise. At first I thought I was making a mistake after being used to buzzier electric toothbrush products which I had used for years. But then I was surprised to see how much crud the Quip cleaned out between my teeth when flossing afterwards. I am definitely sold on this product. My teeth feel cleaner and my gums healthier. Plus it doesn't cost an arm and a leg like other products I've used. Plus, for an adult, I have a small-sized mouth and would have to purchase the juvenile products. With Quip it feels just right! When I go to the dentist in three weeks for my cleaning, I'm eager to find out what they say.

Bottom Line: Yes, I would recommend this to a friend

---

Love it

By Nancee L.

,

Astoria, OR

,

Jan 17, 2020
Verified Reviewer

Favorite thing is it doesn't take up counter space - which I don't have much of anyway! Great product and great price. I'm looking forward to my first refill. Stuck right on the wall next to my sink and works every time. Purchased at Target which was also comforting that I could see it before purchase.

Bottom Line: Yes, I would recommend this to a friend

---

Great adjunct to dental care!

By Howie M.

,

Minneapolis, MN

,

Jan 16, 2020
Verified Reviewer

I've used a few vibrating toothbrushes over the years, and the quip is definitely the highest quality of the bunch. The vibrations make it more effective and efficient than traditional toothbrushes, and - I'm making this up - I think the extra stimulation helps promote gum health. I also use another brand's electric toothbrush, with the rotating head, which provides another level of cleaning. My regimen is to use the quip in the morning and throughout the day, then use the other technology before going to bed. A great one-two punch! (And the quip is better for travel.)

Bottom Line: Yes, I would recommend this to a friend

---

More thoroughly clean than I imagined

By Cindy M.

,

Torrance, CA

,

Jan 16, 2020
Verified Reviewer

I had listened to radio commercials for the Quip Toothbrush. At first, I thought it would be pretty much the same as a regular electric, vibration toothbrush. The commercials offered by radio hosts that actually tried the Quip, and their first-hand experience shared, is what convinced me to try it. Yes, it is quite a bit more money than a regular brush. But once I tried it...WOW. My teeth were cleaned so thoroughly it was almost like I had been to the dentist. It was worth the extra few dollars to feel a clean and HEALTHY mouth every single day. Good job, Quip designers! And thank you. I'm recommending it to everyone I know.

Bottom Line: Yes, I would recommend this to a friend

---

Inexpensive modern motion toothbrush

By Trish M.

,

Peoria, IL

,

Jan 16, 2020
Verified Reviewer

First saw ad over a year ago on Instagram and tried it. Loved it and the inexpensive auto ship of toothpaste, brush head, and batteries every 3 mo. Makes you change it where I might not have gotten a new one with another brush on my own. I liked it so much I ordered the new flosser for myself and the toothbrush and flosser for my grown daughters this Xmas. I recommend.

Bottom Line: Yes, I would recommend this to a friend

---

My mouth has never felt cleaner

By Laurie M.

,

Freehold, NJ

,

Jan 16, 2020
Verified Reviewer

My mouth has never felt cleaner! Got these for the entire family for Christmas. Everyone loves their toothbrush! The toothpaste tastes great as well. I think this really helps encourage the kids to brush their teeth more often!

Bottom Line: Yes, I would recommend this to a friend

---

Best toothbrush

By Vanessa D.

,

Dallas, TX

,

Jan 16, 2020
Verified Reviewer

I absolutely love my quip toothbrush. It's so lightweight and easy to travel with. No worries about recharging and charger. Just replace your heads. Definitely getting one for home and work travel.

Bottom Line: Yes, I would recommend this to a friend

---

Great product

By Austin O.

,

Roanoke, VA

,

Jan 16, 2020
Verified Reviewer

I love the ability that it breaks down the time and I can rest assured that I have brushed my teeth for the proper amount of time, every time! I used to have an issue with my gums bleeding when I brushed, it has since stopped!

Bottom Line: Yes, I would recommend this to a friend

---