Quip Toothbrush Reviews
Claimed This company has claimed this profile, is getting alerted on any new customer reviews entering this page, and may engage in dialogue with its customers to address their matters.

Companies cannot pay money or provide goods in order to remove or alter customer reviews.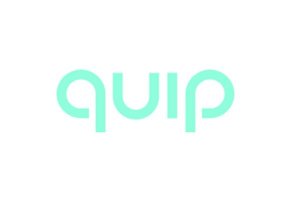 Quip Toothbrush's simple design and monthly refill program promise to help simplify your teeth care, save you money, and provide you with proper dental advice.
Quip Toothbrush Reviews - Right Choice for Your Teeth?
Advertiser Disclosure: Quip pays a monthly fee to HighYa to lease ad space only on this URL. Advertisements displayed on this page are provided by Quip. Should a reader click on a Quip advertisement or some of the links and make a purchase on Quip's website, HighYa DOES NOT earn any commission.
Many people neglect their oral hygiene more than they should, and it's easy to assume that splurging for a pricy electric toothbrush will solve this problem.
Quip, in contrast, is a simplified electric toothbrush subscription service designed to help customers become better at brushing. This (relatively) low-cost, lightweight toothbrush is designed to mimic a manual brush but claims to include the best features of an electric brush to help you achieve your cleanest mouth.
Can Quip compete with other electric toothbrush powerhouses like Oral B or Sonicare? In this review, we'll discuss our analysis and personal experience with Quip.
Takes up less space than traditional electric brushes
Lifetime warranty with subscription enrollment
Runs on AAA battery for easy replacement
Less cost-effective without a subscription
Only one-year warranty without a subscription
Can only buy replacement heads online
How Does Quip Work?
Quip toothbrushes start at $25 each and run off a single AAA battery that should last for at least three months before you replace it. This means you won't need to mess with a charging stand or built-in battery, as is common with other brands.
The brush produces "sensitive, silent sonic vibrations" for two minutes at a time, and it pulses every 30 seconds to remind you to move to another quarter of your mouth. They are waterproof—meaning you can use them in the shower—and include a travel cover that also works to mount the brush to any glossy surface (like a mirror) to save you counter space.
Advertisement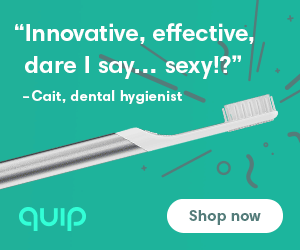 Subscribers also receive a refillable floss dispenser that is refilled every three months.
Quip claims to be the first subscription electric brush and refillable floss accepted by the American Dental Association. This means that its products meet the ADA's requirements for safety and efficacy.
Other brands meet this certification, including Oral B, Sonicare, CVS Health SmileSonic, and more.
Our Personal Experience with Quip
HighYa founder Vlad Rappoport has been using Quip for a while. He shared that he was initially skeptical that the brush's vibrations weren't strong enough to be effective, especially compared to the Philip's Sonicare he used previously.
However, the brush soon surpassed his expectations.
"Overall, after a couple of weeks of using it, my teeth were clean and sustained whatever cleanness I've accomplished with my Philips Sonicare prior", he shared. "This is an absolutely fantastic toothbrush and cheaper than those robust electric toothbrushes."
He also added, "You get the best of both worlds – you get that simple light manual toothbrush look and feel while still accomplishing results of high-end robust toothbrushes. My 10-year old niece somehow heard of Quip as well and specifically requested it as a Christmas present. I have never heard of a 10-year-old asking for a toothbrush for Christmas. Something must've appealed to her."
Finally, Rappoport added, "Quip is also ideal if you travel and want to pack light. It's easy to pack and not as bulky as traveling with an electric toothbrush."
While Rappoport shared that he doesn't think Quip performs any better than his more expensive Sonicare, he believes it's an excellent brush for anyone, but especially those who prefer a regular, non-electric feel to their toothbrush.
Is Quip Brush Better for Your Mouth?
One of Quip's main selling points is that its electric toothbrush is stripped down to the essentials of sensitive vibrations and a two-minute built-in timer, without extra features like multiple brushing settings or Bluetooth compatibility.
The company states that one of the main reasons dentists recommend electric toothbrushes is that the brushes encourage gentle brushing and help users develop the habit of brushing for the full two minutes.
According to Consumer Reports, both manual and electric toothbrushes are equally effective once you brush for this long, though those with gingivitis will benefit more from going electric.
For that reason, Quip brushes are designed to help you build better brushing habits without making you pay for features that don't necessarily make a difference for your teeth.
In this way, the company claims to combine the low-cost efficiency of a manual brush with the positive habit-forming properties of an electric model.
Quip Pricing
It's possible to purchase all Quip products individually or in sets as part of a subscription program.
Starter Set
This three-month starter set comes with an electric toothbrush, all-in-one travel cover, mount and stand, a 4.7 oz toothpaste tube, and a 3-month supply of dental floss.
Pricing depends on your preferred toothbrush and floss materials, and include the following options.
Toothbrush:
Green Plastic: $30 ($25 with subscription)
Metal: $45 ($40 with subscription)
All-black metal edition: $55 ($50 with subscription)
Refillable Floss Dispenser:
If you sign up for a subscription, you'll pay between $25–$65 for the first month and then $15 every three months for the refill plan, which includes a new battery, toothbrush head, toothpaste, and floss refill.
If you choose to repay for the first 12 months, you will save 20% off your total order. Once the three prepaid refills have been sent out, your plan will switch to the three-month subscription model.
If you decide to purchase a toothbrush, replacement brush heads, floss, or toothpaste as one-time purchases, note that you will need to pay $10 shipping for each order. Shipping is free on the subscription plan.
Quip toothbrushes are also available at Target for the same prices you'd be paying on Quip's website through a subscription model. Additionally, the brush is available on Amazon, but at a higher cost.
Kids Set
This smaller toothbrush is available in four colors and has a rubber grip handle. You'll pay $30 for the brush ($25 with subscription) and $10 every three months for a replacement brush head, battery, and watermelon flavored toothpaste.
Return Policy
Quip accepts returns within the first 30 days of purchase. You will receive a full refund once the company receives your return.
All Quip products come with a lifetime guarantee on the subscription plan. If your brush stops working, you can reach out to help@getQuip.com, and an assessment team will remotely inspect it before sending you a new one.
Note that any brush purchased without a subscription is only covered by warranty for one year after purchase.
You can cancel your subscription at any time with no charge. Just keep in mind that doing so will void your lifetime guarantee.
Advertisement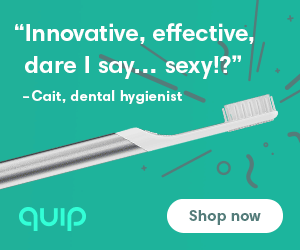 Analysis of Customer Reviews
More than 650 HighYa readers have left reviews on Quip, and they average 4.4 stars, with 86% of users saying they would recommend this brand to their friends. Likewise, there are more than 200 reviews of Quip on ConsumerAffairs, and this little electric toothbrush averages more than 4.5 stars on the platform.
Here's a summary of some of the opinions from these reviews.
Sleek Product Design
Dozens of Quip reviews raved about this brush's stylish design. They loved how small it was when compared to other electric toothbrushes with bulky charging stations, and appreciated the Instagram-worthy design.
Many mentioned that the brush took up less space in tiny bathrooms and that they loved the option of attaching it directly to their mirror to free up the counter.
Great for Travel
Many people purchased Quip specifically for use during travel, and they loved how well it worked for this purpose. The slim design and replaceable battery meant it took up less space than other models, and they didn't have to worry about it dying during the trip.
Others kept a Quip at the office or their gym so that they could clean their teeth easily when away from home.
Good Beginner Electric Toothbrush
For many HighYa reviewers, Quip was their first electric toothbrush experience. These users noted that the vibrations weren't as intense as they first feared they would be and that the two-minute timer helped them develop better brushing habits right away.
Refill Policy
In a few cases, reviewers struggled with the company's refill policy. Some had to call Quip directly to set it up because the website wouldn't recognize their order otherwise.
Might Not Clean as Well as the Competition
Though most reviewers thought Quip worked great to clean their teeth, a few thought it didn't compare well to other brands like Oral B. One user shared that she used Quip for a year and developed five cavities in that time, when previously she hadn't had any. Everyone has their own subjective preferences, however.
Better Clean Than Before
Many Quip users shared that they were getting better reports from their dentist after using the subscription service. Some stated that their previous plaque buildup was gone and that their mouth felt cleaner after brushing than it ever did with a manual.
Key Takeaways: Quip customer reviews are overwhelmingly positive. Quip toothbrush is an excellent option for anyone interested in a low-profile device that works well both at home and while traveling.
Popular Alternatives: How Does Quip Stack Up Against Them?
What are you compromising if you commit to Quip over a better-known electric toothbrush brand? Our chart compares three popular options.
| | | | |
| --- | --- | --- | --- |
| | Quip | Oral B PRO 500 | Sonicare 2 Series Plaque Control |
| Toothbrush Cost | $25-$55 ($5 less if subscribing) | $34.99 | $69.99 |
| Use Modes | 2-minute automatic run time, pulse alerts every thirty seconds | 2-minute in-handle timer, buzzes every thirty seconds | Two-minute timer, beeps every thirty seconds. Includes EasyStart program to slowly build up intensity for those transitioning from manual brushing |
| Time/Cost for Replacement Heads | Replace head every three months, $5 each | Replace every three months, prices range, starting around $1/head on Amazon | Replace every three months, prices start at $15 per head |
| Battery | AAA battery, lasts three months | Charging stand, lasts five days between charges | Charging stand, lasts up to two weeks between charges |
| Speed | 15,000 brush rotations per minute | 7,600 brush rotations per minute | Up to 31,000 brush movements per minute |
| Subscription Available? | Yes | No | Yes (for replacement heads) |
| Warranty Information | Lifetime manufacturing warranty for subscribers (one year otherwise) | Two-year manufacturing warranty | Two-year manufacturing warranty |
All three of these brushes contain similar functionality. Each is automatically set to run for two minutes per session and will alert you every half minute to move to another part of your mouth. Such reminders match the Mayo Clinic's recommendation for optimal twice-a-day brushing sessions.
Each brush differs significantly in brushing speed, with Quip falling in the middle of the pack. That won't necessarily make a significant difference in how effective it is for cleaning your teeth, so long as you are brushing for at least two minutes per session.
Keep in mind that Quip uses a replaceable battery while both Oral B and Sonicare come with charging platforms. With these two models, you'll save the inconvenience of switching out batteries every few months, but you'll need to remember to charge the brush almost weekly.
For those with a small bathroom, this charging station might get cumbersome- especially if you have multiple family members with similar brushes. Likewise, if the rechargeable battery goes in the brush, you'll have to throw it out.
It's also worth noting that you might need to pack the charging station if you take either of these brushes on trips, which means it will take up more space in your luggage as Quip or a manual.
If you're struggling to choose between these models, think about how you want to buy replacement heads. Oral B and Sonicare are both popular brands, meaning you should be able to buy them on Amazon and at dozens of retail locations.
Quip, in contrast, is only available online, which means you need to plan on paying $10 in shipping for every order unless you commit to the subscription program.
Some people will appreciate the convenience that this delivery system offers, while others will prefer to buy replacement heads in person on their own timing.
The Bottom Line: Is Quip Worth It?
Based on our analysis and personal hands-on experience, we recommend the Quip toothbrush.
Quip brushes offer a compromise between manual and electric toothbrushes that seems to give users the best of both worlds.
This brush goes back to the basics, so you're not paying for more than you need while still benefiting from the primary advantage of going electric—learning how to brush your teeth thoroughly.
If you want a sleek brush that doesn't break the bank, then consider signing up for Quip's subscription program so you can take advantage of free shipping and the lifetime guarantee.
If a subscription doesn't interest you, you'll likely save more over time sticking with another brand so you can buy replacement heads at the store and save on shipping costs.
Advertisement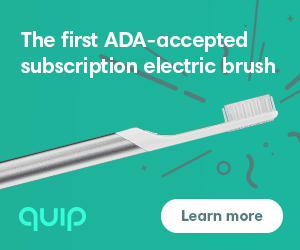 ---
This company is actively collecting reviews from its customers. All reviews submitted are subject to moderation and approval to ensure they meet our

Review Guidelines

.

Great product!

By Michelle S.

,

Mansfield, OH

,

Jun 25, 2020
Verified Reviewer

Length of Use: Less than 3 months

Overall Experience:

I had been hearing about the Quip Toothbrush from a few podcasts and thought I should do some research. Went to the website and was impressed with what I found. I bought a Quip for my fiance and he loved it! I thought I should try it out too and I love my Quip! The toothbrush is revolutionary and everything is shipped to your every 3 months for greater efficiency! I highly recommend for anyone that likes a great clean feeling and an organized structure.

Pros and Cons:

The toothbrush
The toothpaste
The material and aim towards sustainability
Slow shipping and delivery
Floss quality is not great

Bottom Line: Yes, I would recommend this to a friend

---

Highly recommend

By Alex E.

,

Mountain View, CA

,

Jun 21, 2020
Verified Reviewer

Length of Use: Less than 3 months

Overall Experience:

I have been using my Quip for about a month now and can already see a difference. The 30-second vibrations help me make sure I am focusing enough on brushing each tooth, and brushing everything for an overall 2 minutes. I ordered the toothpaste subscription with my brush and am so happy I did. It is refreshing but also has a great whitening effect. Within 2 weeks I had people tell me my teeth looked whiter! I also love that it comes with a stand/travel cover, and that it can be pressed on to a mirror/flat surface time and time again. 100% recommend!

Pros and Cons:

The brush itself
Built in timer with vibrations!
The toothpaste
The 2-in-1 stand and travel cover
No "cons" were specified in this review

Bottom Line: Yes, I would recommend this to a friend

---

Great product - just as Dale Jr described

By Gary S.

,

Kokomo, IN

,

Jun 21, 2020
Verified Reviewer

Length of Use: Less than 3 months

Overall Experience:

I heard about this product from the Dale Jr Download Podcast. Dale is a great ambassador for your product, and the quip works just as Dale described it on the show!

Pros and Cons:

Compact
Intervals
Bristles
No "cons" were specified in this review

Bottom Line: Yes, I would recommend this to a friend

---

From a hygienist

By Kim A.

,

Concord, NC

,

Jun 17, 2020
Verified Reviewer

Length of Use: 6–12 months

Overall Experience:

This is a nice and simple toothbrush to recommend to patients with a nice price! I love the color and style choices and the automatic refill option. I also love the option to include other products if so desired. I have several patients who have purchased Quip products. I also love that it is easy to travel with.

Pros and Cons:

Simple
Nice color selections
Easy to reorder
I wish it did a bit more than vibrate

Bottom Line: Yes, I would recommend this to a friend

---

My teeth feel dentist clean!

By Rachel R.

,

Massachusetts

,

Jun 16, 2020
Verified Reviewer

Length of Use: Less than 3 months

Overall Experience:

My mouth feels so much cleaner! When I run my tongue over my teeth they feel so smooth and perfect. I feel like I just came from the dentist every time I brush. I honestly didn't expect to like quip this much but I'm never going back to a manual toothbrush again. Now I need to get my boyfriend on the quip train!

Pros and Cons:

The brush head
The timer
The cute handle
No "cons" were specified in this review

Bottom Line: Yes, I would recommend this to a friend

---

Fantastic brush!

By Bobbie A.

,

Torrington, CT

,

Jun 16, 2020
Verified Reviewer

Length of Use: Less than 3 months

Overall Experience:

Love this toothbrush, it gives a quick pause every 30 seconds and 3 times before the 2 minutes is up, I absolutely love that the new brush head and battery are only $5, making it very affordable.

Pros and Cons:

Price
Pause in vibration
Teeth feel very clean after
No "cons" were specified in this review

Bottom Line: Yes, I would recommend this to a friend

---

Absolutely amazing

By Becky A.

,

Nashua, NH

,

Jun 15, 2020
Verified Reviewer

Length of Use: Less than 3 months

Overall Experience:

This toothbrush is amazing. I was skeptical but it feels like I just left the dentist every time I use it! I never have to worry about changing the head on time because they get mailed automatically.

Pros and Cons:

Sturdiness
Soft bristles
The button is a little awkward to press but no big deal

Bottom Line: Yes, I would recommend this to a friend

---

Pretty cool!

By Jerry C.

,

Texas

,

Jun 10, 2020
Verified Reviewer

Length of Use: Less than 3 months

Overall Experience:

Exceeded expectations. Like the timer aspect and the replacement plan. Very convenient. No issues with equipment thus far and the first replacement is next month.

Pros and Cons:

Timer
Convenience to re-order
Compact
Color options

Bottom Line: Yes, I would recommend this to a friend

---

Very impressed

By Meredith W.

,

Austin, TX

,

Jun 9, 2020
Verified Reviewer

Length of Use: Less than 3 months

Overall Experience:

I was nervous it would be awkward to use based on the shape but it's comfortable and super lightweight! Love the timer feature and the travel case/stand. Super impressed and worth a try!

Pros and Cons:

Lightweight
Timer
Lid/stand
No "cons" were specified in this review

Bottom Line: Yes, I would recommend this to a friend

---

A truly refreshing brushing experience

By Andrew K.

,

Lexington, KY

,

Jun 3, 2020
Verified Reviewer

Length of Use: Less than 3 months

Overall Experience:

I love the Quip Toothbrush. It gives my teeth and my gums a refreshed feeling following each brush. I had been using a manual toothbrush for my whole life. I won't ever return to a manual toothbrush after my amazing experience with Quip!

Pros and Cons:

Cleans thoroughly
Great design
Timer built into the toothbrush
No "cons" were specified in this review

Bottom Line: Yes, I would recommend this to a friend

---

Fresh and clean

By Haley A.

,

Portland, OR

,

Jun 2, 2020
Verified Reviewer

Length of Use: Less than 3 months

Overall Experience:

I love the Quip Toothbrush because it leaves my teeth feeling super refreshed and clean. I also love the fact that new brush heads are able to be delivered right at my doorstep...it makes the process a lot easier than having to go to the store and buy a whole new toothbrush each time.

Pros and Cons:

Look of toothbrush
Delivered every three months
Effectiveness
Affordable
No "cons" were specified in this review

Bottom Line: Yes, I would recommend this to a friend

---