Gotham Steel Pans Reviews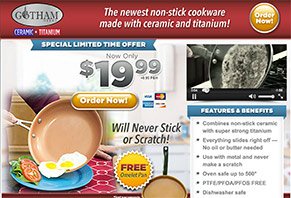 Gotham Steel Pans claim to feature advanced cooking technology, including a smooth non-stick cooking surface and strong titanium, to make cooking easy.
About Gotham Steel Pans
HighYa is supported by our readers. When you buy something through a link on this page, we may earn an affiliate commission. Learn more.
Endorsed by Chef Daniel Green, Gotham Steel Pans make cooking easy by combining a non-stick ceramic surface with super strong titanium. How?
By allowing your food—whether it's eggs, steaks, or even cheese—to slide right off, without using butter or oil. They also promise that you won't have to worry about scratching your Gotham Steel Pans since they're safe to use with metal cookware.
Need a way to make one-pan recipes? Gotham Steel Pans can help there too, since they're oven-safe up to 500 degrees, and are PTFE/PFOA/PFOS-free. And when you're finished, pop your pans in the dishwasher for easy cleanup.
Will Gotham Steel Pans really make cooking as easy as they claim, and will they stand up to real-world cooking? In this review, we take a detailed look at their claims to help you make an informed decision.
What's So Special About Gotham Steel Pans?
First, even if you're a newbie to the world of cooking, you already know that non-stick pans are not a recent invention and that you'll find a wide selection at just about any home goods store near you.
And despite how "revolutionary" it might seem, you'll find dozens of non-stick cookware that also uses titanium. Sure, these might not always be as inexpensive as Gotham Steel Pans, but they might also be better quality.
Pro tip: These types of pans are not made completely using titanium, which would cause them to be prohibitively expensive. Instead, as the product's name implies, these are aluminum pans infused with titanium, with a stainless steel handle.
If you did this, at the very least, you'll be able to see and hold your pan before purchasing. And if you're dissatisfied, purchasing locally will make the return process easier, while saving you some money in non-refundable S&H charges.
Want even more options? Try typing "titanium non-stick pans" into your favorite search engine. You'll quickly find that you have literally thousands of choices.
So, what makes Gotham Steel Pans different from these other options? Outside of price, there doesn't something to be anything that's meaningfully different.
The Science Behind Non-Stick Cookware
Most non-stick cookware uses a thin Teflon coating on the cooking surface, the trade name for polytetrafluoroethylene, or PTFE. More recently, due to potential health concerns, PTFE is often replaced with another type of fluoropolymer.
Whichever substance is used (although Gotham Steel Pans are also claimed to be PFOA and PFOS-free), non-stick coatings work their magic by preventing your food and the pan from bonding at a molecular level, which they normally would under such high-heat conditions.
Our Test: Do Gotham Steel Pans Work?
For more product tests: Click here to subscribe to HighYa's YouTube channel
How Much Does Gotham Steel Pans Set Cost?
One 9" Gotham Steel Pan is priced at $19.99 plus $6.95 S&H. At checkout, you'll also be able to purchase an omelet pan for an additional $6.95 S&H.
Gotham Steel Pans come with a 90-day refund policy, less S&H. Did you choose the free omelet pan? This means you could lose as much in S&H as you'll receive in a refund should you decide to process a return.
You'll need to contact the manufacturer's customer service department at 888-326-0978 to request one.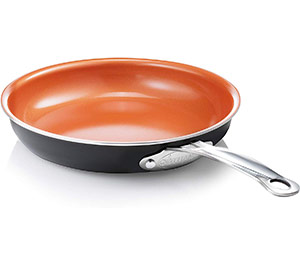 Buy Gotham Steel Pan from Amazon:
Gotham Steel sells three of its models on Amazon: 9.5" ($16.98), 11" ($17.53), and 12.5" ($29.88). Shipping is free on orders over $25.00.
Approved Heating Sources for Non-Stick Cookware
While you'll always want to check with your stove's manufacturer about the types of cookware that can be used with it, titanium non-stick cookware is generally thought to be acceptable for ceramic and gas burners.
On the other hand, DoItYourself.com recommends avoiding using titanium cookware on electric stoves, since it "conducts heat too quickly and can cause the thermostat in the burner to shut down too early or damage it." Again though, this might be manufacturer-specific, so when it doubt, check your user manual.
Finally, using titanium cookware like Gotham Steel Pans on an induction cooktop might be a bit of a crapshoot. Why? Because, in order for a pan to be effective on an induction cooktop, the bottom must be made of a ferrous (i.e. magnetic and consisting of iron) material. And unfortunately, titanium is a non-ferrous metal; unless Gotham's manufacturer has included iron in the bottom and not advertised this fact.
Is Gotham Steel Pans' Non-Stick Coating Indestructible?
When Chef Daniel Green started whisking eggs with an electric mixer inside his Gotham Steel Pans, you might have cringed. You're never supposed to do that to non-stick pans, right?
Right! If you want your non-stick pans to last as long as possible, you should avoid touching the surface with sharp or abrasive objects, like metal utensils or cookware (spatulas, etc.), as well as steel wool.
Will you be able to tell a difference after doing it just one time (like Chef Green)? Probably not. But it's certainly not something you'd want to do on a regular basis, despite how the Gotham Steel Pans commercial might have made it seem.
Pro tip: Most professionals also recommend that you avoid putting non-stick cookware in the dishwasher, despite what's claimed in the Gotham Steel Pans commercial.
The Bottom Line
If you're going from a traditional pan to a non-stick one like Gotham Steel Pan, will it make cooking easier? Probably so.
Regardless of your cooking experience, the key here is that there doesn't appear to be anything special about Gotham Steel Pans that you wouldn't also find priced similarly elsewhere online, or at a retailer near you. And despite its name, it appears the only steel contained in the pan is its handle.
And considering that you'll be losing a decent chunk of change in non-refundable S&H for giving Gotham Steel Pans a try, we might recommend exploring the local options before placing your order.
---
Who knows?

By Ann S.

,

New York City, NY

,

Jun 21, 2020
Verified Reviewer

Overall Experience:

I placed an order in early May. After numerous calls to Customer Service, along with wait times of up to an hour, I'm being told that they expect another order on July 1 and maybe they will be able to ship my order sometime after that. As to the quality...if I ever get the pan, I might have an opinion. Right now, this is a place I would NEVER order from again.

Bottom Line: No, I would not recommend this to a friend

---

Overall Experience:

I saw the ad for 1 frying pan for $19.99 plus get one free but when I saw they took immediately off my card almost $60 then I saw they added an 11-piece pan set I DID NOT ORDER and couldn't find a way to get ahold of them. I just got a card apologizing for the delay and they were out of what I did order. I'm going to get a full refund finally after getting a card apologizing for the wait, signed the bottom of the card, and sent back to cancel. They are ripoffs and I am going to post them on ripoff.com.

Pros and Cons:

No "pros" were specified in this review
Scammers

Bottom Line: No, I would not recommend this to a friend

---

Scratches and sticking

By Cathy M.

,

North Port, FL

,

Jun 17, 2020
Verified Reviewer

Length of Use: Less than 3 months

Overall Experience:

We purchased, through Amazon, the 13-piece cookware set. We wanted pans that were non-stick and easy to clean.

You advertise that nothing sticks to the pans and there is no need to use oils or butter. Also, my metal cookware won't scratch the pans.

To date, my pans have been scratched with metal cookware.

At this moment, I am soaking the one pan, in order to get the stuck-on eggs out. I only hope the stuck-on eggs come out and I can use the pan again.

Needless to say, I am very disappointed with these pans so far.

Pros and Cons:

Stackability
Lids are interchangeable
They scratch with metal cookware
Eggs stick and don't slide right out!

Bottom Line: No, I would not recommend this to a friend

---

Worked the very first time...

By Kevin E.

,

Sioux Falls, SD

,

Jun 12, 2020
Verified Reviewer

Length of Use: Less than 3 months

Overall Experience:

Not worth the money I spent at all. Pans stick and are a pain to clean...literally the exact opposite of what they are marketed to be. Couldn't be more disappointed (unless they had been delivered by a messenger who kicks you in the balls upon delivery).

Pros and Cons:

Daydreaming about Gotham being sued out of existence for false marketing.
Getting duped by a marketing campaign.
Being tempted to throw the pan out in the first 30 days.

Bottom Line: No, I would not recommend this to a friend

---

Advertisement

---

Slightly better than Cast Iron.

By Alan B.

,

Kingston, Ontario, Canada

,

Jun 12, 2020
Verified Reviewer

Length of Use: 6–12 months

Overall Experience:

I have the largest size pan and an egg pan.

Very disappointed with both. The product has been untruthfully promoted. Note that promotion videos do not show the cooking process from start to finish.

Food has stuck to both pans right from the start.

Cooked marinated fast fry steak fillets and the pan was charred beyond redemption.

Pros and Cons:

Attractive looking product when new.
Inferior product not as advertised.
Truth in advertising was ignored.
No useful instructions given with the product.

Bottom Line: No, I would not recommend this to a friend

---

I love these pots and pans

By Stacy P.

,

Chaparral, NM

,

May 23, 2020
Verified Reviewer

Overall Experience:

I bought a complete set of the Gotham Steel pots and pans. I absolutely love theses. I read a lot of negative reviews on them, about how the coating is coming off and or sticking. I only use the set on an electric stove and only on medium heat. That is the only heat you need on them, they heat up very well on this temp. If you read the directions on what heat settings to use them on they will not stick or warp. I have had my set for over a year and they are still like brand new.

Very satisfied.

Bottom Line: Yes, I would recommend this to a friend

---

Gotham Steel Pro pans are freakin' awesome!

By Peter H.

,

Marysville, WA

,

May 13, 2020
Verified Reviewer

Overall Experience:

Note that this is for the GS Pro pans, not the standard GS pans! The packaging says they are different products. Well, the title kind of says it all. I've had virtually every type of non-stick pan made by mankind. Why? Because most of them ended up in exactly the right place; the trash! However...I found the GS Pro pans at Costco a couple or three months ago. It was the "Pro" in the title that tweaked my curiosity. Marketing, yeah it works on me sometimes. Well, the pans specifically said that they would work on induction cooking systems, a first for non-stick pans that I've found. I took them home and couldn't wait to give them a try.

My wife and I like stuffed hash browns in the morning. The difference is that I like cheese on mine and she doesn't. I put a substantial amount of cheddar cheese on half the hash browns and, wait for it, flipped the hash browns in the pan, waited about 30 seconds and flipped it again. Wow! It was like a TV show! They came out absolutely beautifully! My side had cheese toasted into the potatoes and the wife's didn't. And hey, ABSOLUTELY NOTHING STUCK! I cussed my other pans every time I used them. They stuck like an IRS assessment!

So here I am a couple or three months later and still NOTHING STICKS! These pans are a joy to use. Ok, maybe it's me. I always hand wash my pans with a sponge pad, not a scratchy pad, and a small amount of dishwashing liquid. It doesn't matter if you burned the crap out of supper, they WIPE clean, just like the TV ads! Although they are "dishwasher safe" I choose to wash them in the sink; it takes all of about 15 seconds in the sink. I make sure that I DO NOT USE METAL UTENSILS! EVER. In fact, the instruction sheet that came with the pans specifically says no metal utensils. I use them on a moderate heat, lower than about 80% on my induction cooktop. When not in use, I keep a fabric separator between them so they won't get scratched by the other useless cookware in the cupboard. They work as well today as they did 3 months ago and I use them every day.

Well, that's about all I can say. Would I recommend them? Absolutely! I would just add that you should be willing to play by the rules: no metal utensils and don't get rough with them either temperature-wise or rough handling. Cook on! It's hash brown time!

Bottom Line: Yes, I would recommend this to a friend

---

Supposed non stick egg pan

By Dennis D.

,

New Port Richey, FL

,

May 13, 2020
Verified Reviewer

Overall Experience:

Used the small egg pan for a simple fried egg. It stuck badly. Definitely NOT what happened on the infomercial. Definitely does NOT work as advertised. Not only did it not work, we had a hard time cleaning the egg off in the sink. The small pan was a total flop.

Bottom Line: No, I would not recommend this to a friend

---

Updated review

Great Customer Service

By Ruth P.

,

Kalamazoo, MI

,

May 9, 2020
Verified Reviewer

Overall Experience:

Luckily, I tried calling again and this time I was able to talk with customer service. They were great and they're sending me the pan I originally ordered free, plus I can keep the pan they sent by accident, and they offered me a 5% discount for their mistake.

Bottom Line: Yes, I would recommend this to a friend

Previous review
May 6, 2020

Not as described

I ordered the Gotham Steel Hammered 9.5" fry pan with a free hammered egg pan. Instead, they sent me a 9.5" Granitestone aluminum pan! I called them, however, no one would answer the phone and left me waiting over 15 minutes before I finally hung up. I tried to contact them online, however, you can only check on your order, you can't ask them any questions. They are a company to stay away from.

(

read more

read less

...)

---

Steel frying pan

By Bill G.

,

Ontario, Canada

,

Apr 21, 2020
Verified Reviewer

Overall Experience:

We bought the Gotham Steel frying pan approximately 1 year ago. When we first started using the pan it was great and as advertised. However, after approximately 6 months everything would stick - eggs, pancakes, peameal bacon. We went back to our old T-fal pan and although not perfect night and day, better than the Gotham frying pan. Save your money and buy something else.

Bottom Line: No, I would not recommend this to a friend

---

Updated review

Refund?

By Dennis J.

,

St. Petersburg, FL

,

Apr 12, 2020
Verified Reviewer

Overall Experience:

With all that...Can anyone say they got a refund, and if so, there needs to be more. THIS PRODUCT has failed many and the company is allowed to keep the money. I still have it if you want it back, only used 3 or 4 times.

Bottom Line: No, I would not recommend this to a friend

Previous review
Apr 7, 2020

Junk grill

Underside of the grill is not coated and food drippings burned to the underside. When cleaned some of the copper coating was worn off and the spot grew and everything sticks. You don't have to worry about the copper, coat come off with a steel spatula. I WASHED IT OF WITH A GREEN SCRUBBY. $60 wasted.

(

read more

read less

...)

---