Hims Hair Loss Treatment Reviews
Claimed This company has claimed this profile, is getting alerted on any new customer reviews entering this page, and may engage in dialogue with its customers to address their matters.

Companies cannot pay money or provide goods in order to remove or alter customer reviews.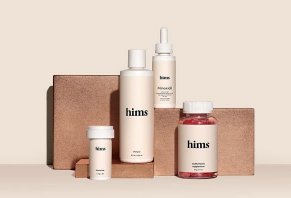 Hims offers a hair loss treatment that allegedly helps address male pattern baldness (androgenetic alopecia). Learn how customers are rating their experiences with the product.
---
Hims hair product scam

By Bill N.

,

Florida

,

Nov 1, 2019
Verified Reviewer

Overall Experience:

After trying it for nearly a year I realized the product doesn't work. This wouldn't be so bad in itself, maybe it just wouldn't work for me specifically. But it gets worse.

When I tried to cancel, they made it nearly impossible. When I get ahold of a person they say ok canceled but continue to charge me. Online is unnavigable for cancellations. And six attempts at phone cancel later I'm still being charged. I think it's a card charging scam.

Bottom Line: No, I would not recommend this to a friend

---

Shady company that should be investigated

By T G.

,

Los Angeles, CA

,

Jul 14, 2019
Verified Reviewer

Overall Experience:

After being on finasteride for 18 months, I developed serious side effects such as gynecomastia and testicle pain. After trying to talk to the "doctor" that prescribed my medication I was repeatedly ignored. This is a serious violation of all medical laws and if a real doctor says that I've done irreversible damage I will undoubtedly look into filing a malpractice claim. For the sake of your health, please avoid this company at all costs.

Bottom Line: No, I would not recommend this to a friend

---

Advertisement

---

Slickly produced pick-pockets: "Membership fees" cost me $120 without warning over 8 months.

By Dustin B.

,

Seattle, WA

,

Jul 12, 2019
Verified Reviewer

Overall Experience:

So, you're looking to get some hair-loss, ED, or anxiety medication online. Cool. Take care of yourself.

So you sign up with Hims - they have good articles written about them, their website is super slick, you get a prescription, they deliver genuine product. Over three months you get three months worth of your prescription of medication. You're happy, but you don't need any more medication. So you let your prescription lapse. If you need more, you figure, you'll renew it and continue the monthly refills at $35 a month. Fair.

Then, 8 months later, long after you've gotten your last batch of medication and Hims is just a distant memory you finally notice a monthly charge of $15 on your credit card statement from "HIMS & HERS HEALTH FORHIMS.COM CA". Strange. You quickly search Mint and realize that you've been charged $15 eight times, totaling $120, for each month you haven't used their services.

Did you miss some email notifications? Were you asleep at the wheel when you could've put a stop to this back in November 2018, the first month it happened? You search through all your emails, because you use Gmail, you never delete your emails, so you expect receipts, right?

Well. Not for these charges. You search and all you find are 17 promotional emails from them between November 2018 and June 2019. You email customer service looking to get your money back. Customer service explains that "this membership fee was previously bundled and included in the price of the products you were receiving each month". You look at you email receipts and on your website profile - no such "bundle" is indicated. If it said "$20 - medication, $15 - membership fee", fair. But no, it's just $35 for the medication.

When you weren't getting medication, they still charged you $15. For the privilege of sending a single email to a doctor who'd rubber-stamp your prescription renewal for the next three months.

Imagine if Amazon Prime was free if you buy something every month - but as soon as you don't, you're charged $15. Not participating is when they pick your pocket. Hims is a company that punishes you for not ordering.

$15 a month for a membership that took you mere minutes of effort to join.

The "best they can do" is refund 3 months. Hims, a company with a potential valuation of over $1 billion, apparently can only afford to refund $45, and pocket the remaining $75 of your money.

Use some other service and pay attention to their business model. Cancel accounts and memberships when no longer needed, restart them quickly when you need to start again.

Bottom Line: No, I would not recommend this to a friend

---

They have shady business practices

By Jared v.

,

Georgia

,

Jul 1, 2019
Verified Reviewer

Overall Experience:

They do not let you cancel your subscription in the app. You must speak to them directly. You can pause your subscription, but be warned that they will process your order two days before your subscription is supposed to resume, and then they will refuse to give you a refund or cancel the order (even if it hasn't shipped yet).

Bottom Line: No, I would not recommend this to a friend

---

So far so good, even with customer service.

By Farley O.

,

San Antonio, TX

,

Apr 29, 2019
Verified Reviewer

Overall Experience:

I first tried to get Keeps, but was turned down for a reason they would not answer, so I turned to Hims and was approved with the same answers I gave to Keeps. Anyway, my order arrived within less than a week and the regimen (I am using the entire package) is as easy as pie.

I did have an issue with the free one month charge, as I was charged $49.00, but with a simple phone call, I immediately received a $44.00 refund. It's only been about a week, so I can't say anything about new hair growth, but the shampoo absolutely has my hair looking fuller and less brittle.

The key is using the product as prescribed. Use it, don't just let it sit on the shelf. USE. IT. I will definitely report back in a few months as to whether I see a positive outcome with hair growth.

Bottom Line: Yes, I would recommend this to a friend

---

Amazed

By Brian B.

,

Rockwall, TX

,

Feb 10, 2019
Verified Reviewer

Overall Experience:

I was amazed at how well it worked, I have tried pretty much all the items in the system with no results in the past. Decided to give it a try, and it took about 90 days to see anything, but at 5 months most of my hair was back. I know this won't work for everyone, but it did for me, and I'm thankful. It's worth a try in my opinion.

Bottom Line: Yes, I would recommend this to a friend

---

Rip off

By Rafael R.

,

California

,

Feb 10, 2019
Verified Reviewer

Overall Experience:

Rip off. The process to order is not easy but the real problem was being charged monthly hidden fees after my order was complete for several months. This isn't explained in checkout. They don't email you or provide terms of service on their website. There is no receipt emailed to you and no way to review your order on their website. Customer service was unhelpful.

Bottom Line: No, I would not recommend this to a friend

---

Advertisement

---

I'm pleased with results thus far

By Chris F.

,

Ohio

,

Jan 30, 2019
Verified Reviewer

Overall Experience:

I'm surprised to see so many bad reviews. I've been using the shampoo and vitamins (no meds) for about 3 months now, and there is definitely a visible difference! I was thinning badly on the crown and frontal region of my head and it's starting to fill in (I turned 37 in January 2019). My advice is to be patient. Even if it initially feels like you're losing more hair, just hang in there.

Bottom Line: Yes, I would recommend this to a friend

---

Awful customer service

By T G.

,

New York, NY

,

Jan 7, 2019
Verified Reviewer

Overall Experience:

I've had numerous terrible customer service experiences with this company. They act like they're not in competition with a bunch of similar businesses. I will take my business to their competitors instead.

Bottom Line: No, I would not recommend this to a friend

---

Scam, zero stars

By Nadia P.

,

Marietta, GA

,

Jan 6, 2019
Verified Reviewer

Overall Experience:

I ordered the so-called sample for $5.00 for my husband. They never sent me the sample and they told me that the $5.00 is a doctor's fee and it is not refundable. They are crooks. Do not deal with this horrible company.

Bottom Line: No, I would not recommend this to a friend

---

Save your money

By Steve C.

,

Columbus, OH

,

Dec 5, 2018
Verified Reviewer

Overall Experience:

I heard about them on a podcast. After signing up for the $5 first month, I was surprised when I got charged $50 instead. I am still waiting three days for a response. The order has not shipped yet either. They ship slowest mail USPS first class. I also found out you still have to go to the pharmacy. This is something I signed up to not have to do. They fill your finasteride prescription, and it is generic. Not that this is a big deal, but it is because they charge $28 which you can nearly buy brand name Propecia for. You are overpaying a lot monthly when you can get generic for $10 or less a month.

Bottom Line: No, I would not recommend this to a friend

---

This company is awful

By Mike F.

,

California

,

Dec 1, 2018
Verified Reviewer

Overall Experience:

I ordered Hims five days ago. They took my money immediately and now no response. I've sent several messages with no reply. I have no idea if I'm getting hair loss pills or not. I'm going to dispute the charge with my bank because this company lacks customer service. I have no idea why they suck so much. I've read several reviews, and this seems to be a pattern. There are plenty of other legit companies.

Bottom Line: No, I would not recommend this to a friend

---

Advertisement

---

Impossible to cancel

By D D.

,

Georgia

,

Nov 4, 2018
Verified Reviewer

Overall Experience:

I have been going back and forth with their "customer service" to cancel the subscription that I did not know I was signing up for. So far, it is not canceled yet, so I am disputing charges with my credit card company and blocking future charges. This is not cool.

Bottom Line: No, I would not recommend this to a friend

---

It really works

By Ak K.

,

Miami, FL

,

Oct 8, 2018
Verified Reviewer

Overall Experience:

It really works. First you need to get the pills, you really need to dose the pills to work, and you have to take it every day because if you stop your hair falls. I get the prescription from my doctor and I tell him to give me 90-day supply. Then I have this app, it's called GoodRx, and it is amazing, you save money on prescription medication. I get it to $17 to $30 for the total 90 days. I just buy the shampoo and vitamin, but you can get the drip on Amazon, it is cheaper than online. I really like the shampoo, it works, but you need to get the pills.

Bottom Line: Yes, I would recommend this to a friend

---

Just because it's on TV doesn't mean it is not a scam.

By Chris P.

,

Spokane, WA

,

Sep 16, 2018
Verified Reviewer

Overall Experience:

So far everything that they said has been a lie, from the prices to the products, and even opting out of there so-called monthly scam. There is no way I would ever do business with this company again. I was smart enough to start this on a PREPAID debit card so they can't charge what is not there, since when they found out they could charge me for more crap. They went into beast mode, sending multiple emails a day that I owe them money and "would you like to purchase more products from us." Lol, really? If a customer supposedly owes you, why would you try to sell them more? Just a scamming company. I should have put two and two together when I saw the snopp selling it. After going to Walmart and Target, I saw that the same products just in different packaging for a much lower cost and better online reviews. Save your money and save your sanity, do your business locally.

Bottom Line: No, I would not recommend this to a friend

---

Money trap

By Todd S.

,

Fort Lauderdale, FL

,

Sep 14, 2018
Verified Reviewer

Overall Experience:

Do not go for the $5 trial. I did and could not get out if it. There is NO way to cancel online. If you can get through to "support" they will say that they'll cancel your account but you will still get billed.

Also, they charge $18 for one bottle of minoxidil and I went to Walmart and got three of the exact same thing for $14.

Seriously a big rip off. STAY AWAY!

Bottom Line: No, I would not recommend this to a friend

---

Wasn't approved and still charged a fee

By Dan M.

,

San Diego, CA

,

Aug 21, 2018
Verified Reviewer

Overall Experience:

I've heard this from several people, "I wasn't approved but I was still charged a doctor fee." There was almost zero communication basically after submitting all my information, I got an email saying they wouldn't serve transgender people taking hormones. Then was charged, and never received the actual product. I wouldn't recommend them. I've heard of several people who got a similar email, some who had no medical history but were randomly disapproved and charged. I would stay away and use one of the more highly-rated similar websites.

Bottom Line: No, I would not recommend this to a friend

---

Advertisement

---

Excellent

By Gerry H.

,

Pennsylvania

,

Aug 16, 2018
Verified Reviewer

Overall Experience:

I don't know why so many people are having issues with Hims Hair Company? I started using them two months ago, and I gotta say they have been great to me. They have a Twitter direct message and if you have any questions, they instantly contact you! So, I don't know why people can't get a hold of them? Anyway, I been using their hair products now, plus Finasteride even before I decided to join their site and I've been on just Finestride for six months. My hair is amazing! It used to be so thin up front and top, and now it's almost entirely covered, another three to four months, I think I'm back to my 20-year-old hair. I am now 40! So guys, just be patient. Also, if you have an issue just go on Twitter and direct message them it's so simple and fast!

Bottom Line: Yes, I would recommend this to a friend

---

Hims - customer service is terrible

By Chris I.

,

California

,

Aug 4, 2018
Verified Reviewer

Overall Experience:

I'm sad to say the customer service has been terrible for me. They have had a lot of trouble getting my orders on time and have charged me for orders that never came. Even after having them issue me refunds and supposedly fixing the problem, I'm still not receiving orders in a timely manner.

I wanted to like this service, but it simply has been an awful experience for me.

Bottom Line: No, I would not recommend this to a friend

---

Mad

By John C.

,

Florida

,

Jul 27, 2018
Verified Reviewer

Overall Experience:

I never received any product. I made several attempts to resolve. Just one more company to deal with that never sends the product. After two weeks of calling, I finally got through to be aggravated trying to cancel. What a job. BUYER BEWARE.

Bottom Line: No, I would not recommend this to a friend

---

2 weeks late

By Adam B.

,

USA

,

Jul 16, 2018
Verified Reviewer

Overall Experience:

No, I do not recommend this company.

I ordered a subscription from them and I have been waiting two weeks for it and they haven't shipped it yet. And after two weeks of waiting for it and emailing back and forth, nobody can help me. It's been exhausting trying to get customer service to help me. They just blame it on the medical team.

Bottom Line: Yes, I would recommend this to a friend

---

Very disappointing service

Overall Experience:

Ok, it's not Amazon. But if you're providing a service, there needs to be a modicum of responsibility and promptness, which was not met.

I have no complaints against their products. I did not see any improvement after five months on my sightly thinning patch on my crown, but I was willing to give it a long-term shot. I also have no problems against their questionnaire. In fact, I find that commendable, as the whole thing can be done at my leisure instead of going to a doctor.

My complaint is against customer service. Someone said that they're a startup that's struggling with increasing volume of customers. Time to restructure. This cannot be an excuse in a competitive market where customers can't wait for days for a response. If you can't handle it, either improve or give up, instead of displeasing customers.

The doctors are weird. They either don't look at your case or don't read your emails properly. I get advice that I didn't ask for, and don't get the advice I asked. They also got my two subscription plans mixed up.

The moment they took away the option to pause or cancel orders from the website, I smelled a rat. They took away control from the customer in order to manipulate them into dependence on their customer service, which apparently didn't exist. Two of my emails from three months ago went unanswered, even after follow up. When I asked to pause my subscription, no answer for days. Now they're notifying me that my order will ship soon. So their decision about the website was to basically stall until your credit card was charged, then frustrate you by emails up until you give up.

I'm not giving up - the cancellation, I mean. I've emailed them for that. If that goes ignored, I'm disputing the case with the help of my credit card. Discover is great that way. If forhims.com is inept enough to ignore Discover's investigation, is a foregone conclusion. If they do respond, I have evidence of their lack of service and response. I'm pretty sure it'll be the former.

No, I'm not paid by a competitor, although now I'm going to find one. Save your money, and yourself from frustration.

Bottom Line: No, I would not recommend this to a friend

---

Advertisement

---

Great results, simple, and well-priced

By Carl B.

,

Los Angeles, CA

,

Jun 22, 2018
Verified Reviewer

Overall Experience:

Seems many are frustrated with their customer service. I've not interacted with them more than once, and that time I got help within a couple of hours. My experience has been very smooth. Took some pics, answered a few questions, paid $5 and got my first shipment in the mail within a week or so. I have now been using it for three months and have visible results. Hair loss has stopped, and there is budding regrowth. I do the whole package, with finasteride, multivitamins, shampoo, and minoxidil, and it really has been very successful. The pricing is amazing, the service of not having to think about these products being refilled is great, and with the results I've seen so far, I can't see myself not continuing to be a customer.

Bottom Line: Yes, I would recommend this to a friend

---

It really does work!

By Paolo Iñigo T.

,

South Orange County, CA

,

Jun 19, 2018
Verified Reviewer

Overall Experience:

I've been seeing Hims products on social media for at least a few months before trying it myself earlier this month. I didn't use the $5 hair kit that they are offering, but I just bought the shampoo. After a few days of trying it, I see some hopeful results. As a 33-year-old guy, my hair has started to lose rapidly since 2014. Being a single guy, I started to worry. I've tried over the counter hair growing shampoos here and there for the past four years, but neither of them worked. I'd say that Hims shampoo is the only hair growing shampoo product that has worked for me. I'd definitely buy this shampoo again once it runs out.

Bottom Line: Yes, I would recommend this to a friend

---

Hims scam

By Michael J.

,

Wisconsin

,

Jun 18, 2018
Verified Reviewer

Overall Experience:

So first off, let start off saying that I was recommended by a friend to use Hims, so I said why not. They ask questions about ED, so I told them my experience, and from what doctors told me, this is how I answered their questions. So I was denied by them. Their response was to see my primary doctor, which I did. This is why I came to their website, because my doctor wouldn't help me.

So I wait a while and try again. Now this time they tell me there's something wrong with my photos, I have to upload it, which I did FIVE TIMES! I get a few more emails, so today, 6/11/2018, I decided to call. Now mind you, I check my account and it says my order is being packaged, but once I get on the phone with customer service, they tell me the doctor denied me and I should check my messages again. Another doctor denied me for the fourth time.

Now let me say this, my brother is in his late twenties, and I'm in my early forties, and he has been approved. LOL. I don't feel like I should have to lie to receive their products, but I'm very disappointed with how things went.

Bottom Line: No, I would not recommend this to a friend

---

Never got anything

By Tony R.

,

San Francisco, CA

,

Jun 15, 2018
Verified Reviewer

Overall Experience:

I paid the five bucks and two weeks later still never got anything. I go on the web page and emailed them to both emails they have up and never got a real response. I don't even see a phone number so I can call them or else I would call and see why I haven't got anything. Don't buy it.

Bottom Line: No, I would not recommend this to a friend

---

It's not Amazon, fellas.

By Josh U.

,

Cincinnati, OH

,

Jun 5, 2018
Verified Reviewer

Overall Experience:

I'm not a review writing kind of guy. I don't even participate in social media. I do rely on others that write reviews for all of my online purchases. This has to be posted/read. I'm not sure if this will help me just yet, but it could help YOU with your hair. If you're serious about doing something for hair or lack thereof, don't listen to folks that are impatient. I use Amazon Prime and am used to getting stuff in two days with quick answers.

I prefer to buy stuff online unless it's something that is probably best to buy in person or local, like shoes or vegetables.

I'm 36 and my hairline has been, umm, high since at least my 21st birthday. However, over the past two years, my crown has been thinning too fast.

I've been taking nutritional supplements supposed to affect the DHT and some biotin for three months. I've seen some small improvements.

I didn't try Rogain because of the price and the mixed results from others. What brought me to Hims was the ease of getting finasteride because I don't have health insurance. I also like Hims openness of "this is what offer, this is what it does, this is how much it costs."

From the start of my process to the product in hand was just under two weeks, 8-9 business days with a holiday weekend in there.

Yes, you have to answer questions.

Yes, you send pictures.

Yes, there are doctor emails and maybe follow up questions.

Yes, the process takes time.

No, it's not a scam.

Minoxidil and finasteride are not proprietary, and you don't have to buy their other stuff.

I paid $5 for the complete hair kit, what's to lose?

Bottom Line: Yes, I would recommend this to a friend

---