Hims Hair Kit Reviews
Claimed This company has claimed this profile, is getting alerted on any new customer reviews entering this page, and may engage in dialogue with its customers to address their matters.

Companies cannot pay money or provide goods in order to remove or alter customer reviews.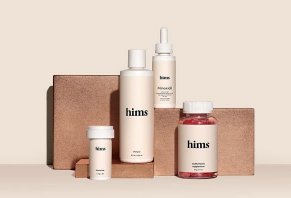 Hims offers three different Hair Kits that promise to help address androgenetic alopecia (male pattern baldness), including online prescription medications.
About Hims Hair Kit
By connecting men with credible doctors to obtain preventative care prescriptions, but without appointments, waiting rooms, or awkward conversations, Hims Hair Kits and sexual health products promise to help make achieving personal wellness easy and affordable.
In fact, the website reports theirs are available at up to 80 percent less than over-the-counter products and prescription options found at your local pharmacy.
But, when it comes to hair loss and sexual wellness, is the lowest priced option necessarily your best? Regardless, can you expect Hims kits to help you keep that beautiful hair, as claimed on the website?
Stick with us over the next few minutes, and we'll help you decide whether or not you should go with them, or one of the competitors.
The Basics of Hair Loss
Hair loss can be caused by a wide variety of issues, including poor nutrition, some medications, trauma, and poor grooming habits.
However, among men and women, the most common cause is androgenetic alopecia, or male and female pattern baldness. While the process isn't fully understood by the medical community, it's thought that a hormone named dihydrotestosterone attacks hair follicles and causes them to produce increasingly thin hair. Eventually, they stop producing hair altogether.
While there's no known cure for hair loss, how do Hims' kits claim to help?
Which Products and Ingredients Will You Find in Hims Hair Kits?
With thee details in mind, Hims offers three different kits, as well as each of their products a la carte:
Edible Hair Kit – Finasteride (30 x 1 mg pills) and The Vitamin (30 edible biotin gummies)
OTC Hair Kit – DHT Shampoo (8 oz bottle) and The Vitamin
Complete Hair Kit – Everything found in the above kits, in addition to a 2 oz bottle of minoxidil drops
Keep in mind that to place an order for a kit containing finasteride, you'll need to obtain a prescription through one of the doctors in the company's network.
To accomplish this, the site's FAQ indicates you'll need to complete a digital assessment on their website, which they indicate will take less than five minutes. Beforehand, though, you'll need to enter your DOB, shipping and credit card information, and upload a government-issued ID.
Afterward, customers can ask the doctor questions anytime using the company's secure, HIPAA-compliant messaging platform.
Important note: All of Hims' doctors are licensed, board certified, and located in the United States, although they're not licensed in every state. Before placing your order, make sure you take a look at their licensed states, which could vary depending on the product you're considering.
Except for prescription medications, all of the products found in Hims Hair Kits are manufactured in the US. These include:
5% Minoxidil Treatment
Ingredients: 5% Minoxidil w/v, Alcohol, Propylene Glycol, Purified Water
Without going into unnecessary detail, minoxidil (the active ingredient popularized by brands like Rogaine, although it's also found in hundreds of OTC products, whether from Hims or otherwise) is a vasodilator, which means it's a substance that widens blood vessels and improves circulation, leading to improvements in male and female pattern baldness.
However, WebMD, reports that it's not understood exactly how minoxidil accomplishes this, and that "it is not used for baldness at the front of the scalp or receding hairline in men." In other words, if you're suffering from hair loss anywhere other than the crown, it might not be a valid option.
Of course, this is something that Hims can help you determine through their five-minute digital assessment.
DHT Shampoo
Beauty expert Paula Begoun emphasizes that only the first five or six ingredients in any shampoo are present in high enough concentrations to make a meaningful difference. However, since some ingredients further down DHT Shampoo's list have some clinical support for their efficacy related to hair loss, we've presented the complete lineup here:
Purified Water, Sodium Xylenesulfonate, Cocamide Betaine, Trideceth Sulfate, Cocamide MEA, Glycerin, Cocamidopropyl Betaine, Sodium Chloride, Sodium Benzoate, Salicylic Acid, Lavender Oil, Peppermint Oil, Tea Tree Oil, Methylparaben, Polyquaternium 7, Phenoxyethanol, Cysteine-Bis-PG-Propyl Silanetriol, Lecithin, Nettle Leaf Extract, Hops Flower Extract, Grapefruit Peel Extract, Biotin, Folic Acid, Cyanocobalamin, Niacinamide, Pantothenic Acid, Pyridoxine, Riboflavin, Thiamine, Yeast Peptides, Yeast Extract, Blue 1
According to sites like Truth In Aging, EWG.org, and WebMD, the majority of DHT Shampoo's ingredients act as surfactants and cleansing agents (sodium xylenesulfonate, cocamide betaine, trideceth sulfate), emulsifiers (cocamidopropyl betaine), conditioners (glycerin, cysteine-bis-PG-propyl silanetriol), preservatives (sodium benzoate, methylparaben, phenoxyethanol), and film formers and antistatic agents (polyquaternium 7).
They indicate that salicylic acid is especially effective for increasing cell turnover, which can help promote scalp health, although there's little-reported evidence that this can directly impact genetic hair loss.
On the other hand, WebMD tells us that lavender is possibly effective for improving "hair growth by as much as 44% after 7 months of treatment," when combined with a topical solution of thyme, rosemary, and cedarwood oils.
However, none of these sites reported that these ingredients have been specifically shown to address DHT's negative impact on hair follicles.
Multivitamin Supplement
The only ingredients listed on the Hims website for their Multivitamin Supplement were: Corn Syrup (From Corn, Sugar (From Beets), Water, Gelatin, Natural Flavor, Citric Acid, Pectin (Derived from Fruits), Colors (from fruits and vegetables), Lactic Acid.
We called the customer support line below during normal business hours looking for additional information, although the only option was to leave a voicemail. As such, we sent an email but hadn't received a response at the time of publishing.
Hims Finasteride
Each film-coated pill contains 1 mg of Finasteride.
Note: Per the Hims FAQ, "It is not known if Finasteride works for a receding hairline on either side of and above your forehead (temporal area)."
Could Any of the Ingredients in Hims Hair Kits Cause Side Effects?
The Hims FAQ emphasizes that their "hair loss products are only recommended for patients age 18 – 65," and their sexual health products "for patients aged 25 – 65." Furthermore, that Finasteride "is for use by men only and should not be used by women or children."
Outside of this, WebMD indicates that common side effects associated with minoxidil include burning, stinging, or redness at the application site (no specifics provided). In some instances, however, (again, no specifics) it can cause serious side effects such as dizziness, fast or irregular heartbeat, chest pain, and hand or foot swelling.
RxList indicates that finasteride can cause side effects such as impotence, abnormal ejaculation or trouble having an orgasm, dizziness, weakness, runny nose, and skin rash.
Finally, WebMD reports that in rare instances, tea tree oil can cause skin irritation and swelling.
How Much Do Hims Hair Loss Kits Cost?
Hims' hair kits will cost you:
Edible Kit: $28/mo
OTC Hair Kit: $30/mo
Complete Hair Kit: $44/mo
Individual hair loss and sexual wellness products are priced at:
Vitamins: $16
Minoxidil: $13
DHT Shampoo: $11
Finasteride: $28.50
Sildenafil: $20
When purchasing your first hair kit, Hims provides free shipping via first class mail. For all subsequent orders, they charge a flat $5 rate, while orders over $50 automatically include free shipping.
Can you pay through insurance, health savings, or flexible spending account? The FAQ reports that their services might be covered under insurance, depending on the prescription and plan, although this is something you'll need to verify independently.
However, they emphasize that they're "available at 50-80% off retail cost, making them more affordable and accessible to consumers."
If you opt for a subscription plan, it can be changed, paused, or canceled at any time.
All Hims orders come with a satisfaction guarantee that they contain what you ordered and arrive undamaged. However, "in order to keep these products safe and secure, we cannot accept any returns."
Customer service can be reached at 800-368-0038 or support@forhims.com.
What Do We Know About the Company Behind Hims Hair Kits?
Hims, Inc. is based out of Austin, TX and was founded in November 2017 by Andrew Dudum. He's a serial founder and is also behind companies such as Atomic, Ever Co, Terminal, TalkIQ, Cherubic Ventures, and Mira Technologies (to name just a few).
Hims held an A+ Better Business Bureau rating, with no customer reviews or closed complaints, as of 12/18/17. According to their website, they "will continue to develop and evolve new and existing science-backed products focusing on a variety of men's health needs and concerns," including upcoming skincare products.
Do Hims' Hair Kits Have Any Competition?
According to IBISWorld, the hair loss treatment manufacturing industry rakes in more than $4 billion annually, so Hims' hair kits are clearly up against a lot of competitors. In this sea of options, how can you make a more empowered decision that what you're purchasing will deliver value?
It all starts with what's causing your hair loss. For example, as we discussed above, sites like WebMD report that minoxidil and finasteride have clinical evidence indicating they could address aspects of androgenetic alopecia.
However, if you're experiencing a receding hairline or hair loss anywhere other than on your crown, or if your hair loss is advanced, you might not experience these same benefits.
It's also important to keep in mind that these aren't your only hair restoration options, which include surgical transplants, toupees, wigs, and weaves, light treatments, and even topical fibers that can be applied during your morning routine.
Even if we're only narrowing our options down to hair kits that contain some form of minoxidil, Hims is still up against some fairly deep competition, including Rogaine, Nioxin, Keranique, Foligain Trioxidil, and Bosley, to name just a few. Price-wise, most ranged between $20 and $50, with some reaching as high as $100.
How can you decide whether or not a Hims Hair Kit is more worthy of your money?
Our Final Thoughts About Hims Hair Kits
The bottom line is that, while you understand there isn't a cure or a one-size-fits-all solution to genetic hair loss, you want to at least put up a fight. And based on what we learned from sites like WebMD, Truth In Aging, and RxList, it seems like many of the ingredients in Hims' kits could provide some measure of help.
However, you'll need to obtain a prescription for finasteride (or sildenafil, if sexual wellness is your concern), which will involve talking with a doctor. And if you don't want to make an appointment with yours, Hims is currently the only company offering an all-in-one solution that includes assessment, prescription fulfillment, and different hair loss kits.
On top of this, Hims seems to have a mostly positive—if not somewhat limited—online reputation. But keep in mind that none of their products come with refunds, so you'll want to make 100 percent certain you're ready to spend the money before placing your order for one of their hair loss kits, or for their standalone products.
---
Hims is legit - used for 3 months and love it

By DLB

,

San Francisco, CA

,

Feb 19, 2018
Verified Reviewer

Not sure why the title suggests hims is a scam. These dudes are legit. I've received all my shipments on time and have used the complete hair/gummy kit for three months. They're straight up about the side effects, and personally, I've experienced none of them. I've actually taken Finasteride for 5 years but switched to hims because it was 50% cheaper. Hard to argue with that. Super happy with the product.

Bottom Line: Yes, I would recommend this to a friend

---

Great products and service

By MMA

,

New York, NY

,

Feb 23, 2018
Verified Reviewer

I don't write reviews often but feel compelled to write one for hims because my experience with them and their products have been incredible.

Sign up: Super seamless. You answer an intelligent and thorough questionnaire through a very sleek interface. Someone mentioned that it was lengthy; of course, it is, you want to make sure you're getting the right treatment!

Doctor follow up: An hour and 45 minutes (just checked the time stamp on my emails) after I finished the signing up, I received an email from one of their doctors confirming the assessment and products that would be sent. The message was thorough, professional, and clearly personalized.

Shipping Confirmation: Two days after I signed up, I received an email confirming that my order had shipped. Simple.

Delivery: Three days after the shipping confirmation email, I received the goods.

Box: Clearly the packaging doesn't matter to the effectiveness of the product, but it's stylish and adds to the entire experience.

Price: I can't speak to price comparisons because I'm new to the hair loss game (not a game I want to be playing), but it feels relatively cheap, especially considering the heavily discounted first-month price.

Subscription model: Frankly as a millennial, I don't need another "thing" I have to remember to buy. The subscription model is great because you set it up once and boom, you never run out.

Most importantly, effectiveness: The products have been super effective, and I'm continuing to use hims products. At the end of the day, you'll never know if the product works unless you try it, and frankly, with their effectively free first month, it's pretty irrational not to try it.

Service: I just tried getting in touch with them and got a response immediately.

Bottom Line: Yes, I would recommend this to a friend

---

Excellent product!

By Daniel Kubin

,

New York, NY

,

Feb 23, 2018
Verified Reviewer

The hims product was exactly as advertised - great! An A+ product with A+ packaging and A+ results! It was pain-free dealing with their support team, and the whole process from order to delivery was exceptionally smooth. I would recommend hims to anyone who is losing their hair.

Bottom Line: Yes, I would recommend this to a friend

---

It's not Amazon, fellas.

By Josh U.

,

Cincinnati, OH

,

Jun 5, 2018
Verified Reviewer

I'm not a review writing kind of guy. I don't even participate in social media. I do rely on others that write reviews for all of my online purchases. This has to be posted/read. I'm not sure if this will help me just yet, but it could help YOU with your hair. If you're serious about doing something for hair or lack thereof, don't listen to folks that are impatient. I use Amazon Prime and am used to getting stuff in two days with quick answers.

I prefer to buy stuff online unless it's something that is probably best to buy in person or local, like shoes or vegetables.

I'm 36 and my hairline has been, umm, high since at least my 21st birthday. However, over the past two years, my crown has been thinning too fast.

I've been taking nutritional supplements supposed to affect the DHT and some biotin for three months. I've seen some small improvements.

I didn't try Rogain because of the price and the mixed results from others. What brought me to Hims was the ease of getting finasteride because I don't have health insurance. I also like Hims openness of "this is what offer, this is what it does, this is how much it costs."

From the start of my process to the product in hand was just under two weeks, 8-9 business days with a holiday weekend in there.

Yes, you have to answer questions.

Yes, you send pictures.

Yes, there are doctor emails and maybe follow up questions.

Yes, the process takes time.

No, it's not a scam.

Minoxidil and finasteride are not proprietary, and you don't have to buy their other stuff.

I paid $5 for the complete hair kit, what's to lose?

Bottom Line: Yes, I would recommend this to a friend

---

Advertisement

---

It really does work!

By Paolo Iñigo T.

,

South Orange County, CA

,

Jun 19, 2018
Verified Reviewer

I've been seeing Hims products on social media for at least a few months before trying it myself earlier this month. I didn't use the $5 hair kit that they are offering, but I just bought the shampoo. After a few days of trying it, I see some hopeful results. As a 33-year-old guy, my hair has started to lose rapidly since 2014. Being a single guy, I started to worry. I've tried over the counter hair growing shampoos here and there for the past four years, but neither of them worked. I'd say that Hims shampoo is the only hair growing shampoo product that has worked for me. I'd definitely buy this shampoo again once it runs out.

Bottom Line: Yes, I would recommend this to a friend

---

Great results, simple, and well-priced

By Carl B.

,

Los Angeles, CA

,

Jun 22, 2018
Verified Reviewer

Seems many are frustrated with their customer service. I've not interacted with them more than once, and that time I got help within a couple of hours. My experience has been very smooth. Took some pics, answered a few questions, paid $5 and got my first shipment in the mail within a week or so. I have now been using it for three months and have visible results. Hair loss has stopped, and there is budding regrowth. I do the whole package, with finasteride, multivitamins, shampoo, and minoxidil, and it really has been very successful. The pricing is amazing, the service of not having to think about these products being refilled is great, and with the results I've seen so far, I can't see myself not continuing to be a customer.

Bottom Line: Yes, I would recommend this to a friend

---

Excellent

By Gerry H.

,

Pennsylvania

,

Aug 16, 2018
Verified Reviewer

I don't know why so many people are having issues with Hims Hair Company? I started using them two months ago, and I gotta say they have been great to me. They have a Twitter direct message and if you have any questions, they instantly contact you! So, I don't know why people can't get a hold of them? Anyway, I been using their hair products now, plus Finasteride even before I decided to join their site and I've been on just Finestride for six months. My hair is amazing! It used to be so thin up front and top, and now it's almost entirely covered, another three to four months, I think I'm back to my 20-year-old hair. I am now 40! So guys, just be patient. Also, if you have an issue just go on Twitter and direct message them it's so simple and fast!

Bottom Line: Yes, I would recommend this to a friend

---

It really works

By Ak K.

,

Miami, FL

,

Oct 8, 2018
Verified Reviewer

It really works. First you need to get the pills, you really need to dose the pills to work, and you have to take it every day because if you stop your hair falls. I get the prescription from my doctor and I tell him to give me 90-day supply. Then I have this app, it's called GoodRx, and it is amazing, you save money on prescription medication. I get it to $17 to $30 for the total 90 days. I just buy the shampoo and vitamin, but you can get the drip on Amazon, it is cheaper than online. I really like the shampoo, it works, but you need to get the pills.

Bottom Line: Yes, I would recommend this to a friend

---

I'm pleased with results thus far

By Chris F.

,

Ohio

,

Jan 30, 2019
Verified Reviewer

I'm surprised to see so many bad reviews. I've been using the shampoo and vitamins (no meds) for about 3 months now, and there is definitely a visible difference! I was thinning badly on the crown and frontal region of my head and it's starting to fill in (I turned 37 in January 2019). My advice is to be patient. Even if it initially feels like you're losing more hair, just hang in there.

Bottom Line: Yes, I would recommend this to a friend

---

Amazed

By Brian B.

,

Rockwall, TX

,

Feb 10, 2019
Verified Reviewer

I was amazed at how well it worked, I have tried pretty much all the items in the system with no results in the past. Decided to give it a try, and it took about 90 days to see anything, but at 5 months most of my hair was back. I know this won't work for everyone, but it did for me, and I'm thankful. It's worth a try in my opinion.

Bottom Line: Yes, I would recommend this to a friend

---

So far so good, even with customer service.

By Farley O.

,

San Antonio, TX

,

Apr 29, 2019
Verified Reviewer

I first tried to get Keeps, but was turned down for a reason they would not answer, so I turned to Hims and was approved with the same answers I gave to Keeps. Anyway, my order arrived within less than a week and the regimen (I am using the entire package) is as easy as pie.

I did have an issue with the free one month charge, as I was charged $49.00, but with a simple phone call, I immediately received a $44.00 refund. It's only been about a week, so I can't say anything about new hair growth, but the shampoo absolutely has my hair looking fuller and less brittle.

The key is using the product as prescribed. Use it, don't just let it sit on the shelf. USE. IT. I will definitely report back in a few months as to whether I see a positive outcome with hair growth.

Bottom Line: Yes, I would recommend this to a friend

---