Iaso Tea Reviews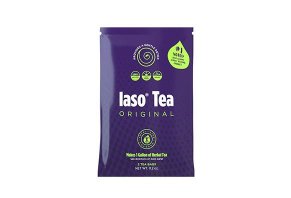 Summary
Iaso Tea is an herbal detox tea by Total Life Changes that promotes healthy weight management and appetite control. The research for weight management regarding its proprietary blend of ingredients lacks in humans.
Pros
Iaso Tea will provide you with natural ingredients
Cons
Five pack of Iaso Tea is expensive
Research is lacking regarding the overall efficacy of decreasing appetite
Iaso Tea Review: Does It Help with Weight Management?
Iaso Tea by Total Life Changes is a natural herbal detox tea that claims to promote healthy weight management, controls appetite, and support healthy digestion.
Tea has been researched and studied to determine if there are, in fact, any beneficial health effects.
Some studies include bodyweight reduction, prevention of cardiovascular disease, and cancer.
Iaso Tea provides a proprietary blend of ingredients alleged to help regulate digestion and control your appetite, leading to reduced body weight.
However, tea drinking benefits have only been observed in some human studies with consumption of three to four cups or higher per day.
In this article, we will review the available research to help you determine if there is any merit to the claims made by Total Life Changes.
How to Use Iaso Tea
To prepare Iaso tea, you will need to bring one quart of water to a boil. Once the water has been brought to a boil, add two tea bags into the boiling water, remove from heat, and cover.
You will also want to allow the tea to steep for a minimum of four hours.
Drinking two cups of Iaso Tea a day can provide with the following ingredients:
Holy Thistle
Blessed Thistle
Persimmon Leaves
Papaya Extract
Malva Leaves
Marsh Mallow
Myrrh
Chamomile
Ginger
Total Life Changes website lists the above ingredients for Iaso Tea; however, dosage details are not disclosed.
Does Iaso Tea Help with Weight Management?
Cnicus benedictus or Blessed or "holy" thistle is typically provided in drinks. It is used to stimulate appetite, decrease flatulence, and aid digestion.
Research lacks the efficacy of blessed thistle, and it seems unlikely that this ingredient in Iaso Tea will provide you with this benefit.
Iaso Tea contains papaya extract and is primarily known for its role in anti-obesity. Papaya is widely grown and used in Central and South America and Asia.
A study in rats that were fed a high-fat diet found that 1.0 ml reduced obesity-associated risk.
Due to the lack of available research in humans, further studies are needed to determine humans' overall efficacy.
Further, it is challenging to compare the dosage used in the study to the dosage offered in Iaso Tea as the information is disclosed.
Does It Improve Digestion?
Chamomile, an active ingredient in Iaso Tea, is a form of a medicinal herb used worldwide to treat various ailments and diseases.
However, there appears to be confusion regarding its effectiveness.
A clinical trial found that 70 mg of chamomile extract, along with 100 mg of myrrh, were effective and considered safe for use in patients who had symptoms of acute diarrhea.
Further, the efficacy was found to be comparable with conventional strategies that are used in routine care.
Chamomile and myrrh in Iaso Tea have some scientific support regarding efficacy in promoting digestive health.
Iaso Tea also provides ginger in its proprietary blend. It is suggested to offer benefits on abdominal pain or discomfort, also known as dyspepsia.
A randomized study of eleven patients was given 1.2 g of ginger in the form of capsules.
The results from the study found that ginger did not affect gastrointestinal symptoms in their patients.
Iaso Tea utilizes marshmallow root (Althaea Officinalis), typically used in folk medicine to treat gastrointestinal disorders.
In a study, 100 mg of marshmallow root may protect against a peptic ulcer in rats.
Research regarding ginger and marshmallow's efficacy in Iaso Tea to aid in gastrointestinal function is lacking, which requires more human clinical trials.
Is Iaso Tea Safe?
The majority of ingredients found in Iaso Tea may be generally recognized as safe but do not have extensive research behind them.
The ingredients listed on the Total Life Changes website do not disclose each ingredient's amount; therefore, providing a comparison to the available studies is impossible.
According to the FDA, ginger is recognized as a food additive that is "generally recognized as safe."
A study found that oral ingestion of 1000 mg of ginger extract was reported to be well tolerated with no adverse effects. However, the findings from this study were done in rats.
If you intend to seek treatment and relief of gastrointestinal relief and discomfort, you should consult with your physician before taking a detox supplement as there may be underlying causes.
How Much Does Iaso Tea Cost?
Iaso Tea is available for purchase on the Total Life Changes website. According to the package description, one packet will make one gallon of herbal tea. A pack of five Iaso Tea packets will cost you $49.95.
Total Life Changes offers a 30-day guarantee with a 100% refund of the price paid. To begin the refund process, you will contact customer service at (810) 471-3812.
However, searching for Iaso Tea on Amazon will provide you with more reasonable options than what is available on the Total Life Changes website.
For instance, you can purchase one pack of 25 packets for $37.95 and have the ability to return the product to Amazon for a refund.
The Bottom Line
Iaso Tea by Total Life Changes contains natural ingredients but lacks strong research regarding weight management efficacy.
Detox supplements continue to be a popular topic, especially if weight loss continues to be an issue if traditional methods become increasingly challenging.
The claims made by Total Life Changes regarding Iaso Tea may have some support of aiding digestion; however, more studies are needed that include humans.
Purchasing a five-pack of Iaso Tea on the Total Life Change website is expensive. Still, cheaper options are available elsewhere, such as Amazon.
Diet and exercise are still the most viable methods to facilitate weight changes and ensure adequate amounts of fruits and vegetables are incorporated to help with overall health.
Customer Reviews