Keeps
Claimed This company has claimed this profile, is getting alerted on any new customer reviews entering this page, and may engage in dialogue with its customers to address their matters.

Companies cannot pay money or provide goods in order to remove or alter customer reviews.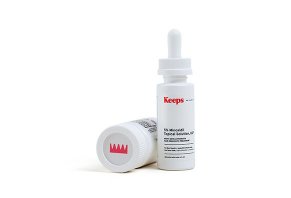 Keeps provides men with a customized hair loss treatment plan from a state-licensed physician, along with FDA-approved medications, including Finasteride and Minoxidil.
---
This stuff works

By Antonio S.

,

Dallas, TX

,

May 14, 2019
Verified Reviewer

Overall Experience:

I did a 3-month trial with Keeps - I figured I got nothing to lose. The 3 months were up and my spouse took progress pictures. I was impressed by the results. I've been on Keeps treatment plan for almost a year and I love having hair now.

Bottom Line: Yes, I would recommend this to a friend

---

Unethical

By Robert S.

,

Saugus, CA

,

May 10, 2019
Verified Reviewer

Overall Experience:

This company is poorly run and has horrible customer service! You'll notice the good reviews are from people who have been with them long enough to experience results from the treatment they purchased. These results would be the same no matter who you purchased them from. My complaint is that after three months in they sent me a letter explaining that for reasons beyond their control their supply has run out. However, they were in the process of getting a new supplier and they would still provide a one month supply to tide me over until they could ship the three month supply I already paid for.

My one month supply never came and I contacted them to complain that for a treatment that requires consistency, this is not acceptable. To make it right, they allowed me to purchase Minoxidil on my own and they would apply the cost as a credit to my account. However, they accidentally canceled my Finasteride and one month later they again sent me an email explaining they still won't have Minoxidil and that now I'd have to wait till June!

Enough was enough so I canceled my subscription. To my surprise, they not only would not send me my reimbursement but almost three weeks later they sent me a three month supply of Minoxidil. I had already canceled my account, due to the fact that they said they would not have enough supply until June, and they sent me a three month supply of minoxidil anyway. When I contacted them about this they told me it was because I already paid for it! I explained that not only did I cancel my account before it shipped but they expressly told me they would not have enough supply anyway. My purchase should have been refunded since they did not deliver on our agreement. They refused to refund my purchase and my reimbursement. They only offered to add the credit to my account.

So, in summary, they expected me to have a two-month break in treatment and the only thing they offered in return was a credit. Why in the world would I want credit with a company that can't deliver on their promises and in spite of their miss calculations expect me to continue to support them? Stay away from this company. I believe the circumstances beyond their control are an inability to run a business. They sure as heck don't know what customer service is. I gave them two chances to make things right and they decided to stick it to me. Now, I'm happily paying $5 more a month to a competitor who so far has made good on their promises.

Bottom Line: No, I would not recommend this to a friend

---

Keeps gave me my confidence back

By Virgil H.

,

Detroit, MI

,

May 8, 2019
Verified Reviewer

Overall Experience:

I first saw the ad on Instagram, was a little skeptical at first, but then I thought what's the worst that can happen, I go bald. I was already going bald! So I decided to try it and it worked out great. I personally saw results in a month in a half.

Bottom Line: Yes, I would recommend this to a friend

---

Terrible fulfillment

By Phillip Z.

,

Pflugerville, TX

,

Apr 16, 2019
Verified Reviewer

Overall Experience:

I ordered the drops 2 months ago and have not received it. They then canceled my order and did not refund me, I was then taken off the waiting list. Unethical and unorganized company, will never do business with them again.

Bottom Line: No, I would not recommend this to a friend

---

Advertisement

---

Did not love the customer service.

By Joseph B.

,

Massachusetts

,

Apr 9, 2019
Verified Reviewer

Overall Experience:

This is less a review of the physical product and more about the experience with customer service, and I am probably being petty.

Things started smoothly as I entered my personal information and sent a picture of my melon. I was told "male pattern baldness." Sounded about right to me. I went on and paid for the subscription, no problem, and within a couple of weeks the first shipment came. I found it (for myself) difficult to keep up with the topical application. Nothing notably wrong with it, the process just wasn't for me. I should mention that my hair is still in an OK place, I think I was being more preventative than anything.

So I emailed customer service to see about canceling my subscription. It cannot be canceled they tell me, not via email anyway, but they can put the subscription on hold for six months. At the time finances were tight so I obliged - I will revisit again in six months to see how things are.

Six months go by. I had made a note in my calendar to revisit the paused subscription. Unfortunately, things with work were busy and the renew day came and passed and I forgot to contact customer service. Keeps automated renewal did not miss the day. With no reminder of the activation, I got an email notification saying that "My shipment was on the way," with a $78 charge on my card. Crap! I emailed right away. So sorry I forgot to contact, would you please stop the shipment and cancel the subscription, yadda yadda.

I got an email back from customer service telling me that a hold had been placed on my order and that I had 24 hours to call in and cancel the order or the shipment would be sent. Call Jack Bauer. The rep also told me that I agreed to a subscription and how subscriptions work is that they send every month and that's what I agreed to. Along with that, they attached a screenshot of "what I agreed to."

Cue my response - no way you're are going to explain to me what a subscription is, belittle me with an agreement screenshot and put me on a timer for 24 hours. I did respond politely, citing that as a customer I reserve the right to cancel a subscription even after an agreement. I told them I would call to cancel and not be returning.

Shortly thereafter, the founder sends me an email asking for customer feedback, "we hate to see you leave, we always want to hear what you have to say...etc." Along with a notification that my subscription has been canceled. I sent my feedback - with no final response.

Ok so here is my issue. It took me no time at all to get into this "agreement." Yet twice, when I requested to cancel, I was given the runaround. Should I have called in the first time? Yes. But still, this idea of keeping customers on the hook with a six-month hold is shady. Making me call in during work hours for something that can be done with a few clicks? Huh? They gave no notice of the account going off hold, and no reminder that they were about to charge me again until they already did. When I made a fuss - things got taken care of immediately.

That's what this review comes down to. Was I the most responsible customer? No. But that does not give warrant to any business to make you hassle and squirm until they take care of your requests. Don't patronize me with screenshots and don't send some BS message from the founder saying how much we care about you. When I email and ask to cancel, simply cancel. I am the customer. Don't "we're a subscription service" to put me on pause and jack me for money with no notification six months later. If you can automate all that other stuff, take the time to automate a reactivation message. By the way, at no point in any time did I require to call into the service center...ONLY to request the subscription cancellation. I did not feel like my best interests were prioritized, quite the opposite.

Like I said, I am just being petty. Not a fan of how Keeps handled it.

Bottom Line: No, I would not recommend this to a friend

---

You know you're going bald when you use more toothpaste than shampoo.

By R S.

,

Massachusetts

,

Mar 18, 2019
Verified Reviewer

Overall Experience:

Thanks to Keeps, I'm back to using more shampoo than toothpaste! Having used the service for over a year now, I'm fully satisfied and have seen results.

They auto-shipping takes A LOT of the pain out of procuring hair loss treatments. I am on both Finasteride and Minoxidil, which would be one prescription to refill and an over-the-counter product. To do this on my own, the products would run out on different schedules and require separate trips to the store to refill. I love knowing that when I'm running low on my products, Keeps has my next order in the mail!

Pricing is also more than fair, which is really what attracted me in the first place. I won't lie, I've looked into other hair loss services and no one comes close to the pricing Keeps can offer for science-backed products.

The progress photos on the Keeps website also allows me to see the regrowth (which doesn't happen overnight). My doctor has taken a look and treatment is progressing nicely. He went ahead a refilled the medications and I'm looking forward to shopping for more shampoo!

Bottom Line: Yes, I would recommend this to a friend

---

Excellent product.

By Charles B.

,

Atlanta, GA

,

Mar 18, 2019
Verified Reviewer

Overall Experience:

They have a very helpful staff. The products they offer have met and exceeded my expectations. Great company, would highly recommend them to others dealing with hair loss. My hair is returning at a much faster rate than I ever expected. I have also introduced a few of my colleagues to this as well.

Bottom Line: Yes, I would recommend this to a friend

---

Keeps first use review

By Steve S.

,

Pennsylvania

,

Feb 26, 2019
Verified Reviewer

Overall Experience:

Just got my first order of Keeps in the mail. I paid for both Finasteride and Minoxidil. Only received Finasteride. Called customer service and they told me that "Minoxidil is on back order and there is no telling how long it will take for it to be shipped" (couldn't even give me a time frame). Reason being because FDA has it on back order because of government shutdown. Ok, that's fine...but why not mention that during the ordering process (ordered a week ago after the shutdown)? Listen...I never leave reviews on anything but this is messed up, I paid for something and didn't receive it. If I knew what I know now, I would have just paid for Finasteride ($70) and went to my local drugstore and bought Rogaine to avoid all this BS.

Beware! Keeps is cheaper but Hims probably is better when it comes to customer appreciation. God bless and good luck!

Bottom Line: No, I would not recommend this to a friend

---

Easy and effective

By Joshua C.

,

Lutz, FL

,

Feb 25, 2019
Verified Reviewer

Overall Experience:

This was an easy, painless non-surgical way to get all my hair back. I was very skeptical of topical hair regrow and these solutions and finally decided to take the plunge and try Keeps, and I'm so glad I did. I look 10 years younger and my hairline is where it used to be. I've got my confidence back and I'm a happy camper.

Bottom Line: Yes, I would recommend this to a friend

---

This product is effective.

By Adrian S.

,

New York

,

Jan 4, 2019
Verified Reviewer

Overall Experience:

At first, I wasn't sure this product would be effective, but it turns out that it is! The applicator takes a second to figure out, but it's actually easy to use. I could see a difference in my hair (especially the bald spot in the top/back) in a few weeks. The customer service and shipping are very good, and their website is easy to navigate. Impressive service all the way around!

Bottom Line: Yes, I would recommend this to a friend

---

Product really works!

By Nate M.

,

Nashville, TN

,

Jan 3, 2019
Verified Reviewer

Overall Experience:

I started Keeps about 10 months ago. I was consistent with usage and after about 5 months, I started to really see some progress! I've told all my friends about Keeps! If you're a dude that is worrying about losing your hair, go check Keeps out ASAP. But don't be discouraged if you don't see any results after the first month or two...as they say, great things take time! I love Keeps, and to top it off, their customer support is great - you can tell they really care about the customer.

Bottom Line: Yes, I would recommend this to a friend

---