Keeps
Claimed This company has claimed this profile, is getting alerted on any new customer reviews entering this page, and may engage in dialogue with its customers to address their matters.

Companies cannot pay money or provide goods in order to remove or alter customer reviews.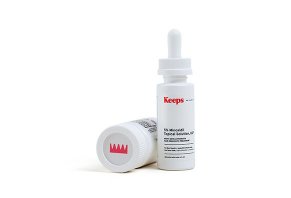 Keeps provides men with a customized hair loss treatment plan from a state-licensed physician, along with FDA-approved medications, including Finasteride and Minoxidil, from the comfort of your home.
Keeps Review: Does It Works, Side Effects, Cost
Working with a dedicated team of doctors, pharmacists, and care specialists, Keeps is an online men's health brand that provides access to affordable, scientifically-validated, FDA-approved medications that can help stop your hair loss before it's too late—without ever leaving your couch. And all of this without jargon, hoops to jump through, or gimmicky marketing.
Simply answer questions about yourself on their website and upload a few pictures, and a licensed physician will provide a personalized diagnosis and treatment plan within 24 hours.
From there, you'll receive a daily treatment supply once every three months—and since Keeps built their own supply chain and sells direct to customers, you pay half the price for these medications as at your local pharmacy.
If you need assistance at any point, the company emphasizes that their friendly, trained care specialists are just a phone call or email away.
The same hair loss medications at half the price? No waiting rooms or pharmacy checkout lines? Delivery to your door? There certainly seems to be a lot to like about Keeps, but be sure to read this brief article in advance so you can make the most informed decision possible.
The Basics of Genetic Hair Loss
As we discuss in How to Choose a Hair Loss Product, hair loss can be the result of many different causes (or, combinations thereof), including vitamin deficiencies and other poor nutritional habits, excess stress, grooming and hygiene habits, and certain medications, to name just a few.
However, the most common cause—experienced by about 50 million U.S. men—is something called androgenetic alopecia; more commonly known as male and female pattern baldness.
In those with this genetic condition, a hormone called dihydrotestosterone (DHT) "attaches" to hair follicles and begins to shrink them, so that their natural lifecycle becomes increasingly shorter. Eventually, the follicle ceases producing hair altogether."
While there's currently no cure for pattern baldness, two of the most common clinically substantiated treatments include Finasteride and Minoxidil, both of which Keeps offers. Before we take a closer look at how these might help, though, let's investigate their examination process.
How Does Keeps Work?
Overall, the Keeps process works over three steps:
Step 1: The Questionnaire
You'll start off by entering basic details like your name, date of birth, gender, and email address. From there, you'll dive into more detailed topics like:
Hair loss – When did you first notice it? Where on your head are you experiencing it? Have you noticed stray hairs in any of the following places (shower, pillow, brush, in food, etc.)? Any symptoms of itching or burning scalp, sudden and recent increase in hair loss, dandruff or greasiness, changes to skin color? Have you taken Minoxidil, Propecia, or anything else to address your hair loss in the past?
Lifestyle – Indicate your choices (do you drink more than three alcoholic beverages per day, smoke cigarettes, eat a restrictive diet, work out with extreme intensity?). Have you experienced any of the following over the past three months (death of a loved one, major surgery or illness, loss of a home or job)?
Photos – Here, you'll take photos of the top of your head, your hairline, and your crown, and then upload them to the site. (If necessary, you can skip this step and come back to it later.)
Part of the examination process involves uploading images of the top of your head, hairline, and crown. You can use your computer's camera, or you can utilize previously taken images. Credit: Keeps.com
Medical History – Any other family members (parents, siblings, etc.) experiencing hair loss? Have you been diagnosed with erectile dysfunction? Have you already seen a healthcare professional for your hair loss? Taking any current medications or supplements? Health conditions? Allergic to any medications? Anything else you would like the doctor to know?
Despite the number of questions presented here, we completed the process in less than 10 minutes, after which we entered our personal information, including the address and phone number.
Step 2: The Review
Within 24 hours of submitting your information, one of Keeps' contracted physicians, who's licensed in your state, will review your case and complete your consultation, at which point you'll receive an email notification.
The doctor will also use your answers to create a recommended treatment plan, involving one or more of the following products:
Note: If you already have a prescription, you can skip this step and purchase treatments directly through Keeps.
Step 3: The Plan & Products
After receiving your email and logging back into your account, you'll be able to see what your doctor recommends and then place your order accordingly. This will arrive within two to three days, with auto-refills shipped every three months.
Finasteride (brand name Propecia/Proscar, among others), 1 mg – An FDA approved prescription medication often used to treat benign prostatic hyperplasia (BPH), or an enlarged prostate, as well as androgenetic alopecia.
Without going into unnecessary detail, it's a 5-alpha-reductase inhibitor, which works by potentially blocking the effects of DHT. As mentioned on the Keeps website, it often only reduces, but doesn't always stop, hair loss, and it can be effective on all parts of the scalp, including the hairline, crown, and vertex.
Minoxidil (brand name Rogaine), 5% Solution – Comparatively, Minoxidil (whether through Keeps or another company) is an FDA approved over-the-counter topical treatment that's been clinically shown to help grow thicker, longer hair, and actually increase hair count.
However, it's generally only effective for the crown and vertex areas of the scalp (in other words, it's not ideal if you're experiencing a receding hairline), and it can take three to four months of daily use to experience any benefits.
Could Hair Loss Treatments Like These Cause Side Effects?
The Keeps website emphasizes that both Finasteride and Minoxidil, are generally considered safe, although all drugs come with some risk of side effects.
For example, RxList indicates that common Finasteride side effects (no specifics provided) include impotence, loss of interest in sex, trouble having an orgasm, abnormal ejaculation, dizziness, weakness, and skin rash. However, Keeps points out that only 3.8 percent of users experienced some form of these side effects during clinical trials, and they often resolved themselves over time.
In some instances (again, no specifics), WebMD reports that Minoxidil can cause temporary burning, stinging, or redness at the application site. Keeps tells us that some users might also experience some initial hair shedding at the onset of treatment.
When absorbed through the skin, in rare instances, WebMD reports the ingredient has also been linked to side effects like fast/irregular heartbeat, hand/foot swelling, weight gain, chest pain, and difficulty breathing when lying down.
Where Is Keeps Available and How Much Does It Cost?
According to the company's website, Keeps is currently available in more than 25 states across the country (covering about 80 percent of the population). For men who already have a prescription, they can ship treatments to all 50 states.
To access more information about the states in which Keeps is currently available, be sure to visit their website.
With these details in mind, when ordering through Keeps, you'll pay:
Finasteride (prescription required): $25/mo
Minoxidil (OTC): $10/mo
Doctor Consultation: First visit is free, $30 per visit thereafter (patients typically only need one visit per year)
Again, you can skip the consultation part if you already have a prescription for Finasteride from your doctor. Minoxidil is available in all 50 states without a prescription.
Per the company's FAQ, all orders for prescription medications are fulfilled by Eagle Pharmacy, located at 350 Eagles Landing Dr, Lakeland, Florida, 33810.
All orders come with a flat $3 shipping fee. Minoxidil and Finasteride currently aren't eligible for payment using FSA/HAS, so you need to contact your benefits provider directly if you have questions regarding insurance coverage for these medications.
If you have other questions about Keeps specifically or would like to cancel your subscription at any time, customer support can be reached at (833) 745-3377 or help@keeps.com.
What Do We Know About Keeps as a Company?
Keeps was launched in January 2018 and is based out of New York, NY.
It was co-founded by Steve Gutentag and Demetri Karagas, who met during their first week of college at NYU Stern School of Business. Ten years later, after Demetri pointed out Steve's thinning hair, they partnered with Dr. Jerry Shapiro and Dr. Antonella Tosti to create "a convenient, effective, and affordable solution for men's hair loss."
Previously, Steve and Demetri were co-founders of Get Maid and program managers at Google.
Keeps vs. Hims
We've mentioned it before, but it bears repeating here: Becker's Health Review reports that the telemedicine industry ("the remote diagnosis and treatment of patients by means of telecommunications technology") is set to attract seven million patients this year alone.
And based on the number of companies entering the market who are taking advantage of this explosion in telecommunications technology, this growth doesn't appear to be slowing down anytime soon.
The industry is in its infancy, however, so there's currently only one other company competing directly for (most of) the same customers as Keeps, who also offers reduced pricing, automatic monthly shipments, and remote diagnosis from a state-licensed physician:
| Company | Medications Offered | Monthly Pricing |
| --- | --- | --- |
| Keeps | Finasteride / Minoxidil | $25 / $10 |
| Hims Hair Kit | Finasteride / Minoxidil | $28.50 / $13 |
How to choose? As with just about any other consumer purchase, the right option for you is going to almost solely come down to your needs and personal preferences.
For example, if the price is your primary concern, Keeps' medications are meaningfully less expensive than Hims, although the latter also sells supplements, a DHT blocking shampoo, and Sildenafil (Viagra) for ED. So, if you'd like to purchase these products as well, the convenience offered by Hims' one-stop-shopping might make up for their higher prices.
We had the opportunity to exchange emails with a Keeps representative, who emphasized that the company "feels many of these supplementary products are unnecessary and unproven." As a result, they pointed out several key differentiators compared to Hims, including:
Keeps is creating the first simple, modern solution, so men will have the opportunity to take action before it's too late. After all, they pointed out, "hair loss is not inevitable, and if you start while you still have hair, it's actually optional."

For decades, they tell us, companies have benefited from misinformation and men's insecurities to sell products that don't work or aren't needed. Instead, Keeps promises to only sell products proven to work, while making sure you get just the one or two you need.
Either way, it's important to point out that in the case of Keeps and Hims, their telemedicine services aren't intended to replace the care offered by your primary physician.
Our Final Thoughts About Keeps
Continuing this emphasis on personalization, in our How to Choose a Hair Loss Product article referenced at the beginning, we point out that the 'right' treatment is largely going to depending on your diagnosis. And this is something only your doctor can assist with.
After all, even if you choose to go with Keeps or the competition, they emphasize that you'll still need the care of a primary physician. While there, you can discuss the potential pros and cons of telemedicine in general and Keeps specifically.
With this said, GoodRx reported that the average cash retail price for a 30-day supply of Finasteride and Minoxidil was $78.93 and $29.78, respectively, at the time of our research. As such, while we didn't test the service ourselves, if saving money and obtaining these medications more conveniently are your primary concerns, Keeps really does seem to deliver.
» Related: Everything You Need to Know About Hair Supplements
0 out 1 people found this review helpful

Best treatment for hair loss followed with great support line

By

Devin S.

,

Lakewood, CO

,

Aug 29, 2019
Verified Reviewer

I have always been skeptical about using hair products as they have never worked for me. I've used shampoos, foams, and many other over-the-counter products. Nothing seemed to help. I did give up for years and saw the crown of my head go completely bald. I saw an ad for Keeps and decided why not try one more time. Within two months I saw visible results and wow, my confidence has jumped significantly. I believe in this product, I love the support team, they answer any and all questions quickly. If you're reading this, you're probably in the same boat I was, give it a shot. I promise you won't regret it.

Bottom Line: Yes, I would recommend this to a friend

---

2 out 2 people found this review helpful

Excellent product, incredible results

By

William M.

,

New York

,

Aug 19, 2019
Verified Reviewer

I began noticing a receding hairline about a year and a half ago. When researching solutions, I started using minoxidil with limited results. When I stumbled upon Keeps, I immediately signed up because it's cheaper than the alternatives (trip to the doctor/pharmacy) and far cheaper.

The website is well made and the customer service team is responsive and informed. My intake visit with the doctor was a brief video call followed by a couple of photos of my hairline. Within a week or so, I had a box shipped to my door with three months' worth of Propecia.

A quick anecdote: when I moved, I forgot to update my address so the Rx was returned to sender. Keeps then reshipped the original prescription for a small shipping fee.

I'd highly recommend the service for its ease of use and price point.

Bottom Line: Yes, I would recommend this to a friend

---

2 out 2 people found this review helpful

Made me a believer

By

Charles W.

,

Chicago, IL

,

Aug 19, 2019
Verified Reviewer

Tried Keeps after trying, and failing, using Rogaine foam for a few years. I hadn't used Rogaine in a bit over a year and my bald spot continued to grow. Saw an ad for Keeps and the price was right so I decided to give it a try. There was no "shedding" like when I initially started Rogaine, it just started growing. I could see real results in as little as 3 months! They have a great website that allows you to upload your progress photos so you can track your hair growth, which is extremely helpful and keeps you positive throughout the process. Automatic home delivery makes the process so much easier and makes sure you never run out.

The process couldn't be easier they send you a measured dropper and it's one application in the morning and one at night. Rub it in thoroughly, wash your hands and you're done. I still wear hats and haven't had any issues with growth or with the product ruining my hats coloring or anything like that. I couldn't be happier with my experience and just love watching my hair grow back and my bald spot to continue to fill back in. EXTREME CONFIDENCE BOOSTER!

Bottom Line: Yes, I would recommend this to a friend

---

2 out 3 people found this review helpful

It really works!

By

Ramy H.

,

United States

,

Aug 8, 2019
Verified Reviewer

I have been using Keeps for about 15 months after one month of using For Hims, their closest competitor. Obviously, I chose to stick with Keeps and that was for mostly a financial reason as I am on a budget. Both services provided quality medication, great customer service, and present their product in a professional and appealing manner when it arrives in the mail, but their business models were a little different which gave Keeps the clear edge. Keeps sends me three months of medication every quarter for $105 plus a $3 shipping cost. My total quarterly cost with Keeps is $108. For Hims charged me $35 a month (so still ends up being $105 a quarter like Keeps) but also $5 shipping for each box. That made my price per quarter $120. That's a difference of $48 a year for the same medication.

About Keeps itself, the product is exactly as described, the customer service is very prompt with answering questions and it is very easy to get advice from one of the doctors. It is worth noting that every year, you must pay a small fee around $5 for an annual appointment with a physician (the actual price was higher, but it was discounted for me possibly because it was my first one). It is a very strange fee that really should just be included in the cost of the service since its purpose seems like it fulfills a legal requirement to renew the prescription.

Every morning and night I apply a 1ml dose of Minoxidil, generic Rogaine, to my scalp. Every morning, I also take my pill which is 1mg of Finasteride (generic Propecia). I wasn't happy about taking medication every day for the rest of my life, but I cannot argue with the results. I got tired of seeing photos of myself in weddings, at parties, or at the zoo with my daughter looking like I was completely bald because of the way the light was hitting my scalp. When I looked in the mirror, I appeared to have hair, but the mounting evidence to the contrary could not be denied.

After 16 months of treatment, 15 of which with Keeps, I have so much more hair and once again get haircuts regularly again. My wife, who I started dating nine years ago, says I have more hair now than I did even back then. I highly recommend Keeps and sing its praises to all who will listen because Keeps has saved me from my family curse of baldness. I am the only male in my family that is not bald and that includes my younger brother. The best time to use this treatment is when you notice your hair thinning BEFORE you are bald. Consistency is key as your progress will be slowly undone once you stop taking the medication.

Bottom Line: Yes, I would recommend this to a friend

---

Advertisement

---

It works and I have pics to prove it.

By

Jason S.

,

West Sacramento, CA

,

Aug 8, 2019
Verified Reviewer

I heard about Keeps from a podcast I regularly listen to. They had a great deal (a month free if I remember right), so I figured why not. My hairline sucks. I went to the website and it was a piece of cake. You answer a few questions, take 3 pictures of your head, pay $5 for a doctor review it and within a couple of days, they got back to me saying I was approved.

I just take the daily pill (Finasteride) and the twice-daily scalp rub stuff (Minoxidil). I know they say results can take like 4-6 months but I noticed a difference after just 2. The front center of my hairline had begun filling in. I have a bit of a widow's peak and it had this terrible line that left an embarrassing hair island in the front. But after 2 months it had filled in. No more island! The rest of the widow's peak is making slow but certain progress. If I grow my hair longer you can barely tell my hairline isn't full. Is my hair 100% back? Nope. Has this product helped regrow hair and fill in my hairline? Absolutely.

As for side effects, never had any man boobs. I did experience a drastic drop in my sex drive for about the first three months. My body was still functional. I just didn't have any drive. It resolved on its own and I haven't had any problems in the last 9 months.

For a little over a dollar a day it's well worth giving it a shot.

Bottom Line: Yes, I would recommend this to a friend

---

1 out 1 people found this review helpful

Changed the game

By

Brian K.

,

Los Angeles, CA

,

May 23, 2019
Verified Reviewer

Keeps hasn't just changed my hair, it's changed my confidence. I went to school acting, and the first three years out of college, I noticed my hair thinning, and falling out into my brush. As an actor, I really wanted to make sure I could hold to the hair I had for as long as possible, but how already, the stress of my hair loss made it worse. It wasn't until I worked on a tv show where they had to fill in my balding spot on the crown of my head with colored spray, that I realized I had to start doing something. I wish I could say I started and immediately got results but it took a few months and eventually I forgot I was even using Keeps everyday. Maybe 6 or 7 months later, I started getting comments on how good my hair looked...which hasn't happened in years. I now feel more confident and more myself, which is more than I could have ever imagined was possible when starting Keeps.

Bottom Line: Yes, I would recommend this to a friend

---

2 out 3 people found this review helpful

I got back what I've wanted for years!

By

Nathan N.

,

San Diego, CA

,

May 20, 2019
Verified Reviewer

I found Keeps 2-3 years after I noticed that I was thinning at the top of my head, and have been looking for a way to grow my hair back until I stumbled upon Keeps through an online ad. It was relatively cheap and 3 months into using it, I've noticed a immense difference in the scalp! I got back what I've wanted back and Keeps helped me get there!

Bottom Line: Yes, I would recommend this to a friend

---

2 out 2 people found this review helpful

Keeps changed everything

By

Russell S.

,

New York

,

May 16, 2019
Verified Reviewer

I started noticing my hair thinning up top and for a while, I thought nothing of it. Then, when I was getting my hair cut, I looked at the results in the mirror and couldn't believe it. I was 28 and the bald spot on top of my head made me look twice that. I was not ready to lose my hair. Coincidentally, I heard about Keeps shortly after that and decided to give it a try. It was affordable, so there was little risk, and people seemed to speak highly of it. It shipped right to my apartment and all I had to do is remember to apply twice a day. A few months later, I was able to see the hair start to return. After about four months of treatment, I asked my hairdresser how the bald spot looked and she smiled and said "there is none." Mission accomplished.

Bottom Line: Yes, I would recommend this to a friend

---

Effective and affordable

By

Marc M.

,

New York

,

May 14, 2019
Verified Reviewer

Male baldness runs in my family and the first I saw my hairline receding, I had to do something. At the time, the only option was a $1,000/year prescription, which was not financially possible. I had accepted my fate until Keeps came along. I've been using Keeps for over a year now and my hair is better than its ever been!

Bottom Line: Yes, I would recommend this to a friend

---

This stuff works

By

Antonio S.

,

Dallas, TX

,

May 14, 2019
Verified Reviewer

I did a 3-month trial with Keeps - I figured I got nothing to lose. The 3 months were up and my spouse took progress pictures. I was impressed by the results. I've been on Keeps treatment plan for almost a year and I love having hair now.

Bottom Line: Yes, I would recommend this to a friend

---

18 out 19 people found this review helpful

Unethical

By

Robert S.

,

Saugus, CA

,

May 10, 2019
Verified Reviewer

This company is poorly run and has horrible customer service! You'll notice the good reviews are from people who have been with them long enough to experience results from the treatment they purchased. These results would be the same no matter who you purchased them from. My complaint is that after three months in they sent me a letter explaining that for reasons beyond their control their supply has run out. However, they were in the process of getting a new supplier and they would still provide a one month supply to tide me over until they could ship the three month supply I already paid for.

My one month supply never came and I contacted them to complain that for a treatment that requires consistency, this is not acceptable. To make it right, they allowed me to purchase Minoxidil on my own and they would apply the cost as a credit to my account. However, they accidentally canceled my Finasteride and one month later they again sent me an email explaining they still won't have Minoxidil and that now I'd have to wait till June!

Enough was enough so I canceled my subscription. To my surprise, they not only would not send me my reimbursement but almost three weeks later they sent me a three month supply of Minoxidil. I had already canceled my account, due to the fact that they said they would not have enough supply until June, and they sent me a three month supply of minoxidil anyway. When I contacted them about this they told me it was because I already paid for it! I explained that not only did I cancel my account before it shipped but they expressly told me they would not have enough supply anyway. My purchase should have been refunded since they did not deliver on our agreement. They refused to refund my purchase and my reimbursement. They only offered to add the credit to my account.

So, in summary, they expected me to have a two-month break in treatment and the only thing they offered in return was a credit. Why in the world would I want credit with a company that can't deliver on their promises and in spite of their miss calculations expect me to continue to support them? Stay away from this company. I believe the circumstances beyond their control are an inability to run a business. They sure as heck don't know what customer service is. I gave them two chances to make things right and they decided to stick it to me. Now, I'm happily paying $5 more a month to a competitor who so far has made good on their promises.

Bottom Line: No, I would not recommend this to a friend

---