ScalpMED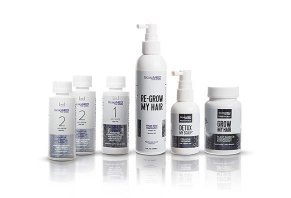 Summary
ScalpMED offers a line of hair regrowth products for men and women that claim to improve the health of your hair follicles so that you can better hold on to every hair you do have.
Pros
Most users see results
The active ingredient is FDA-approved
Generous return policy
Cons
Only useful for specific types of hair loss
Won't re-grow hair where you already fully lost it
Must be used long-term to maintain results
ScalpMED Review: What You Should Know
Unexpected hair loss can be devastating. Though the experience often feels inevitable, there are clinically effective treatments available that can slow down or even reverse the damage.
ScalpMED is a multi-patented hair growth treatment for men and women designed to restore thinning hair and prevent further hair loss. The company offers different formulas for each gender, both of which are tailored to their specific types of hair loss.
This hair treatment doesn't claim to act as a cure for hair loss, and it won't re-grow hair in places where you have lost it completely. However, it claims to strengthen hair follicles in the areas where they are thinning and help you better hold on to the hair that you still have.
When used as directed for several months, ScalpMED states that 95% of users experience significant hair regrowth.
Will ScalpMED solve your hair loss woes? In this analysis, we'll look at all the important details to help you make an informed decision.
Who Should Use ScalpMED and When?
For the best chance of success with ScalpMED, you need to start using the product line when your hair loss is just beginning. Once an area of your scalp loses all its hair follicles, you won't be able to re-grow hair there, and it's too late for treatment to be effective.
If you aren't sure whether ScalpMED will work for you, the company suggests running your hand over the thinning part of your scalp. If you feel "fuzz" over the area, then ScalpMED will likely succeed in restoring those hair follicles to health.
Your level of results will depend on when you start treatment and your unique biochemistry, but most people start seeing new hairs within 4–6 months. Expect some temporary shedding over the first few weeks as your scalp enters a new cycle of growth.
Keep in mind that you will need to continue the treatment indefinitely to maintain any results. Once you stop, you're at risk of losing any progress.
What's Included in ScalpMED System?
The three-step kit that includes the following:
One bottle of Nutrisol-RM
Two bottles of Vitadil (5A for men, 2A for women)
Two bonus gifts: Grow My Hair ($40 value) and Detox My Scalp ($37 value)
NutriSol-RM
NutriSol works to hair follicles while protecting the scalp against itching and flaking. It's designed to be used before Vitadil to maximize the amount of crucial nutrients that can access the scalp for healthy hair.
The company claims it contains a blend of essential amino acids, minerals, herbs, and other nutrients that restore the hair follicles, including saw palmetto fruit extract and biotin.
To use, shake the canister and place the nozzle directly onto the thinning parts of your scalp. Apply 4-6 pumps per treatment area, massaging gently until the product is absorbed.
Vitadil
Vitadil is a topical solution designed to deliver minoxidil (either at a 2% or 5% concentration) directly to the scalp to stimulate new hair growth safely. It's safe for adults over 18 who are dealing with gradual hair thinning or hair loss on top of the head.
After several months of use, you might start noticing soft, downy hairs growing along the treatment area. These hairs will thicken the longer you undergo treatment.
To use: After priming the scalp with NutriSol, apply a maximum of six pumps of Vitadil to the same treatment area, massaging after every two pumps to help it absorb. Refrain from washing or wetting your hair for at least four hours after treatment. You can perform a maximum of two treatments per day.
Grow My Hair and Detox My Scalp
The bonus products in your order include a hair growth supplement and scalp detox treatment, both of which are listed individually for sale on the company website.
Grow My Hair is a daily hair growth supplement that comes in a 60-day supply, and Detox My Scalp works to break up toxins on your scalp to deep-cleanse your hair follicles better than shampoo can do.
The formulations of both of these products vary slightly between the male and female versions.
Effectiveness of Active Ingredients
Vitadil
Whether you purchase the men or women treatment kit, you are receiving the same products. The primary difference between them is the concentration of minoxidil: the men's formulas are at 5%, and the women's contain 2%.
This FDA-approved compound has been proven to re-grow hair for men and women. According to a 2015 study, topical treatments of minoxidil lead to more hair regrowth after four months than a placebo.
While there is still some confusion about how minoxidil works, the main idea is that it keeps blood vessels in your scalp open. This enlarges your hair follicles, keeps them in the growing phase longer than usual, and creates a clear pathway for oxygen and nutrients to get in the hair shaft.
Though minoxidil does show clinical evidence for re-growing hair, it only works for certain types of hair loss.
You'll have the best results for thinning at the crown of your head and the beginning stages of a receding hairline. It won't work well for sudden, patchy hair loss or completely bald places.
ScalpMED also cites the results of an in-vitro study as proof that its kits are effective. The goal of this study was to see how quickly the product's active ingredients were able to pass through the skin and away into the bloodstream.
The results showed that ScalpMed took 26 hours to reach peak flux, compared to just four hours for a placebo. While the company plans to complete more studies to further prove this conclusion, it suggests that ScalpMed renders minoxidil more effective by maximizing the time that it is active on the skin.
Nutrisol-RM
The active ingredients in NutriSol are saw palmetto fruit extract and biotin:
Saw palmetto fruit extract: This US-native palm is often added to male hair-loss products to balance hormone levels and improve hair follicle health. One study found that men who applied saw palmetto topically for three months increased their hair density by over a third.

Biotin: As part of the B-vitamin family, biotin is necessary for maintaining health. It's found in organ meats, whole grains, nuts, egg yolks, and other natural sources, and many people take it as a supplement to grow stronger, thicker hair and nails. However, there's little evidence that this compound will have any effect on your hair when used topically, or that supplementing with it when you aren't already deficient will have any benefits.
Possible Side Effects
Though minoxidil is classified as safe for topical use by the FDA, some people experience unpleasant symptoms when they use it. You might suffer some tingling and scalp irritation, and the compound can burn if you get it in your eyes.
In rare cases, customers who used products that contained minoxidil experienced unwanted hair growth over other parts of their bodies. This can happen if the treatment gets absorbed into your circulatory system through the thin skin on your scalp.
If you experience this side effect, ScalpMED suggests you stop the treatment and speak with your doctor about the next steps.
Pricing and Money-Back Guarantee
2-month supply: $99.95 (subscribe and save for $89.95)
4-month supply: $179.95
6-month supply: $249.95
The costs are the same for both the men's and women's packages.
If you sign up for the subscription option, you will receive a new delivery every two months until you decide to cancel through your online account. Standard shipping is free for all orders, or you can pay $7.95 for USPS priority shipping.
A 120-day money-back guarantee backs all ScalpMED orders. If you are unhappy with your purchase for any reason during that time, you can return your products (even if they are empty) for a full refund, minus a return shipping fee.
Analysis of Customer Reviews
There are five reviews for Scalp Med on HighYa, averaging 3.4 stars. We also found six reviews on Amazon, averaging 4.1. Though this is too small of a sample size to make any conclusions, here are the perspectives that stood out to us.
Compliments:
Stops hair loss after several months of use
Led to thicker, healthier hair
Complaints:
Some users struggled to get refunds
Led to hair growth over the whole body (not just the head)
Some quickly lost all improvements once they stopped the treatment
Alternatives
| | ScalpMED | Keeps | Keranique |
| --- | --- | --- | --- |
| Overview | Topical treatments for male and female hair loss, a two-product system with 2% or 5% minoxidil. | Subscription company for receiving generic hair products for male-pattern hair loss. | Hair regrowth system for women that includes a three-step system for cleaning, re-growing, and protecting your hair. |
| Price | $99.99/ two-month supply | $10–$25/ month supply | $50/ month supply |
| Active Ingredients | 2% or 5% minoxidil, polysorbate 80, saw palmetto fruit extract, and biotin | Finasteride, 5% minoxidil, 2% ketoconazole | 2% minoxidil |
All three brands rely on minoxidil. This makes sense, as the compound is the only FDA-approved treatment considered effective for both male and female hair loss.
Both Keeps and Keranique sell their products exclusively on a subscription basis. Many customers will likely appreciate this fact, as you're likely to lose any hair regrowth progress if you don't continue using these products for the long term.
While ScalpMED has a product line for both men and women, Keeps and Keranique are tailored to specific genders, male and female, respectively. Some might feel like this is an advantage because either of these companies will better understand their gender-specific pain points regarding hair loss.
Finally, both ScalpMED and Keranique offer full haircare systems while Keeps sells you generic versions of hair growth products known to be effective. If you're looking to overhaul your hair routine, either of these brands may be more appealing.
If, however, you're looking for a treatment that you can integrate into your existing hair routine, Keeps offers the easiest, lowest-cost option.
The Bottom Line
ScalpMED claims to offer a solution to both male and female hair loss, and a look at the product's active ingredients convinces us it can deliver.
Concentrations of 2% or 5% minoxidil can renew dying hair follicles, but it can't restore the ones that have already died. Likewise, the treatment is more effective for some areas of hair loss than others, and you'll need to continue using it for as long as you want to maintain the results.
While ScalpMED's website might lead you to believe the company is offering something novel in its products, minoxidil is actually a common hair growth ingredient and found in most hair restoration brands, including Rogaine.
We don't think there's much evidence that ScalpMED will work better for you than other brands.
Customer Reviews
Posted on May 24, 2022
Baloney
What a major ripoff. This product is completely overpriced and does not regrow hair. Please people, just read the multitude of reviews. Additionally, this company is not BBB accredited which demonstrates that it is unethical, and cannot be reliable. Just another scam!
Length of Use: 3–6 months
Bottom Line: No, I would not recommend this to a friend
Pros and Cons
No "pros" were specified in this review
Terribly overpriced
Not BBB accredited
Research studies are flawed
Posted on Jul 21, 2021
Doesn't work
I've used ScalpMED for 6 months and haven't grown any hair. I'm done throwing my money away on this product. I wouldn't recommend using it.
Length of Use: 6–12 months
Bottom Line: No, I would not recommend this to a friend
Pros and Cons
It shipped pretty fast
The fact that I wasted a lot of money
Posted on Oct 7, 2020
Return policy
I keep getting the run around from you people. I want to return this product, it is making my hair fall out worse, in clumps, and is making little sore bumps on my head. Someone called me back and said they would leave me an email, but after searching my email, I did not have one. I deserve an answer, please inform me how I can get my money back. ASAP.
Length of Use: Less than 3 months
Bottom Line: No, I would not recommend this to a friend
Pros and Cons
No "pros" were specified in this review
They won't respond to your calls or talk to you
Posted on Feb 26, 2019
It worked very well for me
I was losing my hair very fast and looked online to find a good solution to stop my hair loss. Luckily I found Scalp Med and started using it. It's been 3 months now and I totally feel the difference. My hair doesn't fall anymore.
Bottom Line: Yes, I would recommend this to a friend
Posted on Sep 20, 2017
You too will be a fool!
First of all, these people that are using this product I found out either had chemo, or they used some chemical like a permanent, or they were in a fire or something happened to produce their hair loss. I feel their hair would have grown back anyway without this product.
I had natural hair loss. No chemical burns, no bad reaction, and no permanent burns from perms. This is my personal opinion. Also, you are stuck in a never-ending cycle of payments that go on and on and on. That man who said he invented it, no, he didn't. Look and see who made the Minoxidil. The Upjohn company made it back in the 50's. This Scalp Med just added some chemicals with it to make it sound good.
You have to keep on using it or your original hair loss will be there again and here are the side effects.
Side effects of oral Minoxidil may include swelling of the face and extremities, rapid and irregular heartbeat, lightheadedness, cardiac lesions, and focal necrosis of the papillary muscle and subendocardial areas of the left ventricle.[9] There have been cases of allergic reactions to minoxidil or the non-active ingredient propylene glycol, which is found in some topical Minoxidil formulations. Pseudoacromegaly is an extremely rare side effect reported with large doses of oral minoxidil.
Please use at your own risk. If you stop using it your hair will go back to the way it was before you used it.
Bottom Line: No, I would not recommend this to a friend
Posted on Mar 27, 2017
Pleasantly Surprised!
After reading some reviews of Scalp Med I was a bit hesitant to try it, but I figured the good reviews and great information from their site outweighed the bad. I have to say, I am THRILLED that I gave it a try. I don't normally leave product reviews but after having the success I did with Scalp Med I feel like my story needs to be shared.
My hair is thicker and healthier than it has ever been and I have to say it is all thanks to Scalp Med. I would recommend it to anyone who has noticed their hair is thinning, or simply wants thicker hair. It's restoring my confidence in myself and that feels great!
Bottom Line: Yes, I would recommend this to a friend
Posted on Mar 15, 2017
Scalp Med
My husband has been using it for at least four years, and he loves it.
I use their shampoo and conditioner. I have naturally thick hair, but I really like the way it makes my hair feel too.
Bottom Line: Yes, I would recommend this to a friend
Posted on Jun 30, 2015
Don't buy it
Unfortunately I did not see it has Minoxidil in it. Unfortunately, I had a bad reaction to it. They have been very uncooperative in wanting to give a refund! They think I should pay them to return the product. I already sent the empty bottles back, per their request. Good luck in dealing with them, customer service is quite poor.
Bottom Line: No, I would not recommend this to a friend
Our Promise to You
In order to safeguard you and ensure helpfulness and relevance, our compliance team manually assess every customer review before it goes live.
We have a zero-tolerance policy for fake reviews, and companies cannot control or alter any reviews at any time.