Caboki Reviews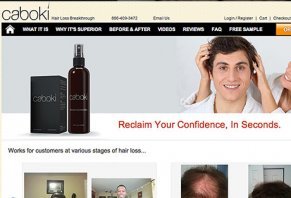 Caboki claims to be a professional-grade hair loss breakthrough that uses electrostatically charged particles that can cover thinning hair and bald spots.
About Caboki
Attention men and women with thinning hair: Have you heard about Caboki, a hair loss product that claims to instantly eliminate bald spots and thinning hair, all while looking completely natural? If so, you're probably wondering how well these 100% natural fibers perform, and if they really can thicken your hair shafts and amplify your hair volume.
But most importantly, is Caboki worth the price? We thoroughly covered the facts, and here's what we found.
How Caboki Works
As the only 100% natural hair building fiber on the market, Caboki is derived from Moroccan Gossypium Herbaceum, which the manufacturer claims is a variety of cotton that has "surface optical properties very similar to human hair." Whether for men or women, Caboki is claimed to adhere to your hair through a negative electrostatic charge, thereby giving it a thicker appearance without the need for spray or glue. In fact, when compared to wool-based fibers from other manufacturers, Caboki is claimed to adhere 200% better, which allows it to last all day, even under windy or hot/sweaty conditions. And because it's not a spray or "shoe polish," but is instead a natural fiber that is shaken on, Caboki won't smear or stain your clothing.
Because of its plant-based origin, Caboki contains no animal ingredients, synthetic dyes, fillers, or preservatives, uses only natural coloring, and is hypoallergenic. Caboki is claimed to work on all hair types and styles, although the manufacturer claims that you need to have at least some hair present in order for the fibers to properly bind, and that it needs to be at least 0.5" in length.
At the end of your day, the manufacturer claims that Caboki can be removed using regular shampoo.
Caboki Pricing & Refund Policy
If purchased directly through the manufacturer, Caboki is available in several different purchasing options:
Caboki 9g – 9 grams (25-day supply): $19.95
Caboki 25g – 25 grams (50-75 day supply): $34.95
Volume Control Mist – (50-day supply): $8
Caboki Starter Kit – Includes one 25-gram Caboki and one Volume Control Mist: $39.95
Caboki Value Pack 1 – Includes two 25-gram Caboki and one Volume Control Mist: $69.95
Caboki Value Pack 2 – Includes three 25-gram Caboki and one Volume Control Mist: $99.95
If you're unsure if Caboki is right for you and would like to obtain a free trial, you can complete a 30-second questionnaire on the product's website.
Regardless of which option you choose though, you'll need to choose between black, dark brown, medium brown, light brown, blonde, gray, dark, gray, silver/white, and auburn colors, which should be based on the root color of your hair.
Standard shipping will cost you $2.99, although Priority and Overnight options are available as well for an additional charge.
Caboki comes with a 60-day return policy, and the manufacturer claims that you can simply send back the unused portion, without calling customer service, to the address below. Once received, your refund should be process within 5-10 days:
Caboki Return Dept
4222 Fortuna Center Plaza #806
Dumfries, VA 22025-1515
However, if you do need to contact Caboki's customer service department for some reason, they can be reached at 866-409-3472.
What Do Other Consumers Have to Say About Caboki?
Although Caboki appears to have a mostly positive online reputation, people's opinions about the product seem to be sharply contrasted for the most past. In other words, it appears that people either love it or hate it.
With this in mind, some of the most common compliments include good hair coverage, natural look, and very little residue. On the other hand, some of the most common complaints reference high price, that the bottles don't last as long as advertised, application is a messy process, and that it looks "spotty" from an up close perspective. Additional complaints include that Caboki's fibers fall out frequently during the day and require constant touchup, and that they cannot be exposed to water or sweat (or even high humidity).
What's the Bottom Line About Caboki?
Now that you know more about Caboki, should you consider it a viable solution to thinning/balding hair? Maybe, as long as you keep the following in mind:
Balding Level
First and foremost, Caboki is not recommended for individuals with advanced hair loss, or for those who are completely bald. In addition, the manufacturer states that Caboki might not work well if you have a scar larger than 2 inches in diameter without any hair growth.
Balding Pattern
Caboki will also work best for those with thinning hair on the top and crown of their heads. This is because Caboki requires surrounding hair to blend into, so it won't work well on the frontal area of your scalp that meet with your hair line.
A Temporary Solution to a Permanent Problem
Finally, remember that Caboki is intended to be a temporary solution only. In other words, you'll eventually need to come to grips with your balding or to have hair transplant surgery if you want to go swimming or have a loved one run their fingers through your hair. Otherwise, those around you will immediately know that you're using the product to cover your balding.
Bottom Line:
If you keep your expectations realistic, and your thinning hair is primarily in the top and crown areas of your head, Caboki may represent a good solution. However, keep in mind that there are numerous ways that your "little secret" can be found out (e.g. sweating/swimming, up-close inspection, touching/scratching your head, etc.), which could lead to some embarrassment.
Pros:
Claims to be made of 100% natural fibers that can cover thinning hair and bald spots.
Claims to look completely natural, even up close.
Free trial available, as well as a 60-day return policy.
Cons:
Won't work well for advanced hair loss, or for those with frontal balding.
Some common complaints include high price, that it doesn't look natural up close, and messy application.
7 out 7 people found this review helpful

Great product, great customer service.

By Mary M.

,

Murrieta, CA

,

Jun 4, 2018
Verified Reviewer

I love this product, and it does everything for me (so far) that it says it will.

As to customer service, I ran into some glitches recently, and contacted customer service. I had to leave a message, which always makes me skeptical, but within one hour (and the recording had only committed to getting back to me within 24) I got a phone call from a lovely woman who absolutely took care of all my needs with no questions asked, and cheerfully. I will be staying with this company.

Bottom Line: Yes, I would recommend this to a friend

---

Advertisement

---