Hair Envy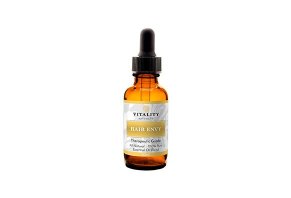 Summary
Hair Envy is a hair and scalp treatment made with therapeutic-grade essential oils that allegedly reduce dandruff and promote hair growth. Research supports that essential oils are effective for treating your hair.
Hair Envy Review - Is It Effective For Hair?
What is Hair Envy?
Produced by Vitality Extract, Hair Envy is a serum made from a 100%-pure blend of therapeutic-grade essential oils that purportedly work together to control dandruff and hasten hair growth.
The formula is intended to hydrate dry, brittle, and damaged hair while moisturizing the scalp to alleviate itching and dandruff.
According to the company website, Vitality Extracts was founded by a group of health and wellness enthusiasts dedicated to helping more people experience the benefits of natural essential oils.
Hair Envy Ingredients and Scientific Efficacy
Vitality Extracts lists the full ingredients list for Hair Envy online, which includes the following:
Avocado Oil, Castor Oil, Organic Argan Oil, Organic Jojoba Oil, Amla Oil, Lavender Essential Oil, Eucalyptus Essential Oil, Rosemary Essential Oil, Lemongrass Essential Oil, Tea Tree Essential Oil, Juniper Berry Essential oil, Spanish Sage Essential Oil, Cedarwood Essential Oil, Thyme Essential Oil, Geranium Essential Oil
As stated earlier, this ingredients list contains both essential oils and carrier oils and nothing else.
Essential oils are plant compounds extracted through distillation, evaporation, or other methods. They are valued for their scents, though they have long been used in traditional medicine to treat many health conditions.
Some of these compounds have proven benefits from a hair care perspective, as we'll show below. Unless otherwise specified, we gleaned our facts from ConsumerLab, a leading platform for reporting on health and cosmetic product ingredients
Lavender essential oil: Lavender oil has known antimicrobial and antibacterial properties that can improve scalp health. One study with mice also found that topical applications helped them grow hair faster than control groups.
Rosemary essential oil: According to Healthline, research shows that this oil can improve cellular regeneration, and it can regrow hair without scalp irritation.
Lemongrass essential oil: Lemongrass is a common treatment for dandruff treatment, and daily use can eliminate flakes.
Dr. Clarissa Wilson, a medical expert for the online health consultation platform DoctorSpring, told us that lemongrass might also combat hair loss.
"If you ask a doctor to prescribe you something against hair-loss, they will [likely] prescribe you something that is lemongrass oil-based," she said. "Since lemongrass oil is antibacterial, it can create an environment on your scalp that's conducive for healthy hair growth that also strengthens hair follicles."
Wilson further explained that you might not need an entire essential oil blend to experience the benefits.
"You can mix three drops of lemongrass oil with three tablespoons of olive oil," she told us, "and then massage it into your hair."
Thyme Essential Oil: Time extract works both to stimulate the scalp and prevent hair loss. This potent essential oil might also combat the kind of hair loss triggered by alopecia.
Tea Tree Oil: Tea tree oil is antimicrobial, which is why it's often used as a fungal treatment and as a remedy against dandruff.
While these ingredients show promise of working on their own, there's also evidence that they offer hair and scalp benefits when used as a blend on a specific condition called alopecia areata. This condition is an autoimmune response that causes hair to fall out in circular patches.
According to one double-blind study of people with alopecia areata, 44% of participants who massaged a blend of thyme, lavender, rosemary, and cedarwood in their scalp experienced new hair growth, compared to just 15% in the control group.
Hair Envy Side Effects and Safety
There are some specific side effects you could experience by using Hair Envy's essential-oils-based formulation.
The site notes that common side effects are related to your skin:
Contact dermatitis
Burning and pain
Redness
What's interesting about contact dermatitis is that it can produce dry, flaky sink, Healthline notes. This type of reaction can counteract the Hair Envy's attempt to cure your flaky scalp.
More severe reactions include swelling of your tongue and through, as well as a blistering rash on your scalp, Healthline notes. If any of these symptoms occur, stop using Hair Envy immediately.
What Do Customer Reviews of Hair Envy Show?
We found many reviews for Hair Envy on the Vitality Extracts website as well as the Better Business Bureau.
Overall, these reviews seemed positive. Many users reported that they loved the scent of Hair Envy and that it helped them get their dandruff under control. Others noted that they had baby hairs growing in places where they previously had small bald patches.
Saying that, we did find some negative reviews as well. One reviewer mentioned that the serum agitated her scalp to the point that it stung all night and made her consider an emergency room visit.
Others took issue with the company return and refund policy because they only qualified for store credit. Beyond that, the negative reviews we saw primarily dealt with issues with billing or slow shipping times that seemed more like one-time issues than reoccurring company problems.
What Is the Cost?
3 Pack: $99.95 or $84.96 with recurring subscription
6 Pack: $149.95 or $127.46 with recurring subscription
30ml Spray: $39.95 or $33.96 with recurring subscription
According to the company's terms and conditions, you need to contact the company directly at (844) 429-6580 or through its contact page to make any changes to your subscription orders.
Cancelation requests need to be submitted quickly, as the company strives to fill all orders within 24 hours.
Vitality Extract permits you to return Hair Envy and all other products within 14 days after delivery for store credit. You could contact the company directly for help if your order arrived defective or damaged.
Alternatives
There are plenty of other hair care products that rely on essential oils to promote growth and scalp health. Two Hair Envy alternatives include the Shedavi Hair + Scalp Growth Elixir and Rocky Mountain Oils Hair Support Essential Oil Blend.
The Shedavi Growth Elixir claims to provide your hair and scalp with everything it needs for better growth, thickness, and strength. Similar to Hair Envy, it claims to seal in moisture, promote growth, prevent split ends, and address the symptoms of dandruff. You can use this serum in the same way as Hair Envy.
The two products also contain near-identical kinds of essential oils, though the Elixir includes several extra ingredients like grape seed oil, avocado oil, sweet almond oil, and sulfur. You'll pay $25 for 59 ounces, which is approximately half the cost and twice the amount for Hair Envy.
Rocky Mountain Oils Hair Support blend also acts as a restorative treatment for your hair and scalp. It's designed to improve the health and appearance of all hair types and retails for $23.95 for 15 ml (Hairy Envy is 30 ml).
Unlike the other two products, Hair Support doesn't contain carrier oils, which means all that's included is a concentrated blend of rosemary, ylang ylang, ravintsara, cedarwood, holy basil, and sage. A lack of carrier oils could increase the possibility of skin reactions because the essential oils are more concentrated, Healthline notes.
Choosing between these products might be tricky, as they all include blends of essential oils with proven benefits for hair health.
The Shedavi Growth Elixir is the least expensive, and that's partly explained because its primary ingredient is a carrier oil, grape seed extract. This means that the product won't be as potent, but it might be easier to spread through your hair because you don't need to use as small amounts as the other products necessitate.
If, however, you want a highly concentrated hair and scalp product that contains nothing but health-promoting essential oils, you'll probably be better off choosing Hair Envy or the Rocky Mountain Oils Hair Support blend.
Bottom Line: Should You Buy Hair Envy?
Certain essential oils do show promise for improving hair health, hastening growth, and quelling dandruff.
Both published studies and customer reviews agree that Hair Envy seems to be a viable way to address your hair and scalp concerns.
However, Hair Envy is far from the only treatment option. We looked at two other hair care products that contained near identical essential oils and little else, which we believe means that they are likely similar in effectiveness to Hair Envy.
These products range dramatically in both the price and the amount received, so you might want to do some comparison shopping.
Alternatively, you might save money by buying some of the essential oils known for their hair and scalp benefits and blending them yourself for a homemade hair restoration solution.
This might be a solution if you already have some of the previously mentioned essential oils lying around. We suggest blending them with a carrier oil before applying them to your head so that you don't put such a concentrated dose on your scalp.
Regardless of whether you choose to go with Hair Envy, there is supporting evidence that using essential oils for hair health is effective. It's certainly an option to consider if you're looking for a natural treatment for your scalp and hair.
Customer Reviews
Posted on Jun 26, 2022
Hair loss
I have been using this product for over a year now. At first, it seemed like it was working, seemed to have more volume. Then I noticed it was suddenly shorter, so I assumed it replaced my long hair with newer hair. Now as I look in the mirror I can actually see my entire scalp under my hair! The funny thing is you can always feel little hairs, beginning to think they aren't baby hairs and maybe it's breaking off! Keep giving it the benefit of the doubt!
Length of Use: 1–2 years
Bottom Line: No, I would not recommend this to a friend
Pros and Cons
Increased volume for awhile
Oily looking hair
Thinning hair
Expensive
Posted on Feb 21, 2022
Directions
I received my first bottle with absolutely no directions on how to use the product. Just a bottle in a box in a mailer. I haven't used it yet because I am uncertain of the best way to use it. I need to find out how to cancel any future orders for a product I can't use.
Length of Use: Less than 3 months
Bottom Line: No, I would not recommend this to a friend
Pros and Cons
No "pros" were specified in this review
Do not know how to best use product
No directions on how to use the producu
Disappointed that I paid $28 for a product I can't use
Posted on Dec 29, 2021
Rancid and unusable
When I (finally after 2 months of trying to find out where the product was as I paid for 3-4 day shipping) received the product it was rancid and smelled horrible! There is no way to return anything because you can't speak to or email anyone. $200 worth of product went in the garbage. Don't buy!
Length of Use: Less than 3 months
Bottom Line: No, I would not recommend this to a friend
Posted on Oct 21, 2021
Trash!
This product does NOT work at all, will only damage your scalp. It only made my hair oily and my hair started to fall more than before. Add to this the long waiting time to receive your order and the lies of the company advertising that you will not get charged for 30 days for a free trial, I got charged the following day.
Customer service is rude and not helpful.
Run away from this scam!
Length of Use: 3–6 months
Bottom Line: No, I would not recommend this to a friend
Pros and Cons
The smell, kind of lemongrass smell
Oily hair
Lost more hair because of oily hair
Smell goes away fast
Posted on Sep 17, 2020
No improvement seen
Hair Envy: The product smells great, but the smell dissipates quickly. Have seen no new growth and hair is still falling as much, so no benefit seen.
Also purchased other essential oils from Vitality Extracts in the same order. My frankincense, cinnamon, ginger, and myrrh all smelled exactly the same, though were labeled as per my order. Package took 3 months and multiple emails and follow-ups to arrive. The tracking number given did not work. Would not deal with this company again.
Length of Use: Less than 3 months
Bottom Line: No, I would not recommend this to a friend
Pros and Cons
The smell
No benefits or improvements seen
Posted on Jan 9, 2020
Hair has stopped falling OUT
Have been using Hair Envy for around 2 weeks and noticed that my hair is not falling out the way it used to. I massage the oil onto my scalp several times a week and leave it in overnight. Then wash out with mild shampoo. Too early to notice new growth, but am amazed that I'm not loosing existing hair!
Bottom Line: Yes, I would recommend this to a friend
Posted on Nov 16, 2019
Beware of this scam - they will land you with a bill without prior approval
These guys are crooks. I pressed the button for the free trial, saw the price for 3 bottles for $38 and I pressed "buy," and before I knew it the payment went through to my PayPal but no total amount was shown. I thought I was paying $38, they charged me $149. Even if it is $38 per bottle, it still doesn't come to $149 (posting was apparently free).
They offered me a £50 store credit - really, as if I would go anywhere near their website given my experience.
To add insult to injury, I had to pay an extra £12 to collect it from the post office because the postage was not sufficient.
This is a deliberate con so please beware.
Bottom Line: No, I would not recommend this to a friend
Posted on Oct 6, 2019
Just scammers - out there to steal from innocent public
This is what I was willing to pay: At the time of writing, Hair Envy is sold by Vitality Extract for $39.95 per 30 ml bottle. All orders over $49.99 qualify for shipping. Otherwise, you'll pay $9.95 per order.
This is my email to them:
I have just noticed that a payment of $204.14! was the amount paid out to you! Firstly, I originally ordered the product at a cost of $49.99 or so that showed on the first top offer. Very surprisingly, you didn't indicate total to be payable where one had to complete order. Flabbergastingly and very distastefully, you charged me a total of $204.14. Is this your real business: scamming innocent people with your must be in your must be very fake products. I am going to publish the contents if this email online so others could be warned. Money does not grow on trees you know. Some of us have to work hard to earn money, so, you certainly don't have any right to steal from us!
Bottom Line: No, I would not recommend this to a friend
Posted on Oct 26, 2018
Rip off scam
I looked online at the product and decided not to try it. I got a phone call from the company offering to try the product with no further charges. I got my credit card statement and the company charged me full price for the product with no indication or remorse. The company acted like they did not say that no more charges would be made to the account. Don't buy. Scam and rip off.
Bottom Line: No, I would not recommend this to a friend
Posted on Oct 3, 2018
It's a scam!
I purchased the free trial for the hair growth serum and it didn't say at checkout that they were going to charge you for the full price of the product at the 30 days mark and then keep you in a monthly payment. I asked for a refund, they told me ye,s and then turned around and said go to talk to your bank. And when I did that, they said my account was closed and I can't get a refund. I was told to ship the products back to them, and they received it, but they still won't refund me. Every time I talk to them, they hang up on you, and they are rude and scam you. I wouldn't buy anything from them!
Bottom Line: No, I would not recommend this to a friend
Our Promise to You
In order to safeguard you and ensure helpfulness and relevance, our compliance team manually assess every customer review before it goes live.
We have a zero-tolerance policy for fake reviews, and companies cannot control or alter any reviews at any time.