Shapiro MD Reviews
Claimed This company has claimed this profile, is getting alerted on any new customer reviews entering this page, and may engage in dialogue with its customers to address their matters.

Companies cannot pay money or provide goods in order to remove or alter customer reviews.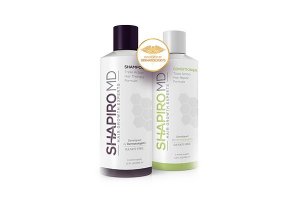 Shapiro MD is a professionally formulated shampoo and conditioner combination that uses ingredients like caffeine and saw palmetto to stop hair loss and re-grow hair.
About Shapiro MD
Developed by dermatologists, Shapiro MD is a hair loss treatment system that uses a 3-In-1 topical treatment shampoo and conditioner to help those experiencing male and female pattern baldness achieve thicker, fuller hair in just 30 days. How?
Using only natural, pharmaceutical-grade ingredients, the proven system promises to block the hormone DHT from causing hair loss, while also using stem cells to rejuvenate follicles and stimulate hair growth.
Based on more than 10 years of scientific research, the website claims most patients see results after just a few days of regular use with Shapiro MD, although major improvements—such as thicker, fuller hair and improved texture—have been reported within weeks (usually 30+ days).
Just use a nickel to quarter size amount every time you shower, and the company claims their triple action formula will work best for retaining existing hair and promoting new growth in the crown and temple area. Which is why they tell us it has helped thousands of men and women over the years.
Look, there's no question that losing your hair stinks. But is the Shapiro MD system really the most reliable way to stop hair loss and regain thicker hair? Is its patented formula based on verifiable breakthrough scientific research? Is it about to take the hair loss industry by storm, as mentioned in their long-form sales video?
The company makes a lot of big claims on the Shapiro MD website. Here, based on what we learned during our research, we'll help you better understand their legitimacy.
What Causes Hair Loss & What Role Does DHT Play?
There can be a variety of causes of thinning hair, including poor nutrition, infection, some medications, trauma, and poor grooming habits.
However, affecting nearly 40 million of the 55 million American men and women experiencing hair loss is something called male and female pattern baldness.
Without getting too technical, this involves an enzyme called type II 5-alpha-reductase that converts testosterone into dihydrotestosterone (DHT). When this DHT attaches to a hair follicle, it 'instructs' the hair to grow in continuously thinner cycles, until the follicle eventually becomes dormant and ceases producing hair altogether.
While there's no cure for this DHT-induced hair loss, the are popular over-the-counter medications like 2%-5% minoxidil creams and shampoos. However, this ingredient might not be as effective for individuals who have been experiencing hair loss for five or more years, and it's primarily used to stop hair loss, versus re-grow hair.
There are also prescription medications like finasteride, although it's only for men and requires that you continue using it to experience benefits.
What About Shapiro MD's shampoo and conditioner? What ingredients does it promote—and will they deliver?
Which Ingredients Are Found In the Shapiro MD Hair Loss System?
No label was listed on any of the three Shapiro MD websites we encountered during our research, although the company's patents 8,985,124 and 9,532,941 referenced the following:
About 0.01 to about 0.19 mg/ml of caffeine, which is about 0.001% to about 0.019% weight of caffeine/final volume;
About 0.01 to about 0.2 mg/ml of a saw palmetto berry derivative, which is about 0.001% to about 0.02% weight of saw palmetto berry derivative/final volume
About 0.5 to about 50 mg/ml of an epigallocatechin-3-gallate (EGCG) derivative, which is about 0.05% to about 5% weight of EGCG/final volume
Inactive ingredients (preservatives, foaming agents, moisturizers, skin conditioners, etc.) include: D1 water, Sodium C14-16 Olefin Sulfonate; Cocamidopropyl Betaine; Cocamide DEA; Dimethiconol dodecylbenzene sulfonate; TEA dodecylbenzene sulfonate; Glycol Distearate; Sodium Chloride; Fragrance; Hydrolyzed Wheat Protein; Guar Hydroxypropyltrimonium Chloride; Panthenol; Methylchloroisothiazolinone; Methylisothiazolinone; and Citric Acid
Is there clinical evidence showing these ingredients are effective for addressing hair loss? Or, for specifically blocking DHT?
First, based on how frequently they're referenced on the system's website, you might've noticed the absence of any stem cells listed. Regardless, Margaret Foster Riley, a law professor and expert on food and drug law at the University of Virginia, was quoted in a USA Today as saying:
"Stem cells that are in contact with skin are not really alive anymore. So I don't really see how a stem cell product is working on the skin. I suppose some of them may actually work in a way that cosmetics work otherwise, because of moisturizing capability. But it's not stem cell capability that's working there to the degree we know how stem cells work."
Further, while there seem to be a handful of positive studies regarding saw palmetto, WebMD only lists it as possibly effective for addressing BPH, while Healthline notes that "research is limited on saw palmetto's efficacy in treating hair loss."
According to sites like these, as well as Examine.com, this seems to be much of the same situation when it comes to caffeine and green tea as well.
Are There Any Potential Side Effects Related to Shapiro MD?
Again, according to sites like WebMD and Examine.com, the topical application of these four ingredients likely won't cause any side effects. And if they do, they probably won't be worse than mild irritation.
Shapiro MD expressly notes that their hair loss shampoo and conditioner are only intended for men who are 18 years old and above, as well as post-menopausal women.
Why this distinction? Here's how the product's website puts it: "Shapiro MD Shampoo is not recommended for women of childbearing age because of the theoretical risk of active DHT blockers on a potential unborn child."
Finally, the website indicates the system won't interfere with hair coloring, and it may be used together with Rogaine.
What'll you pay for Shapiro MD's ingredients?
How Much Does Shapiro MD Cost?
The Shapiro MD hair loss system (one 12 fl oz bottle of shampoo and another of conditioner) is priced at:
1 System: $69.95
2 Systems: $119.80
4 Systems: $199.80
If you choose the single system, you'll pay $7.95 S&H, while all other options including free rush shipping.
Regardless of the amount you purchase, Shapiro MD products come with a 60-day refund policy, less S&H. According to the company's Terms, this begins on the day your Product is shipped from their fulfillment center.
Need to request a refund? Customer service can be reached at (877) 907-4047 or support@shapiromd.com.
Shapiro MD Arbitration Agreement
While extraordinarily common among consumer products and services, it's important to note that all Shapiro MD purchases are subject to an arbitration agreement. This basically stipulates that instead of settling a disagreement in court, this would occur via third-party binding arbitration.
Further, the site's Terms specify:
"You agree that Shapiro MD's entire liability for all CLAIMS shall be limited, in the aggregate, to the lesser of (i) USD $500.00, or (ii) the total amount of money You paid to Shapiro MD in the one (1) month period immediately preceding the incident on which Your alleged claim is based."
What Do We Know About Steven Shapiro and Michael Borenstein?
Shapiro MD was co-founded in January 2011 by Steven D. Shapiro M.D., Ph.D., and Michael T. Borenstein M.D.
Before starting the company, Dr. Shapiro's bio indicates that he earned his medical degree from UMDNJ New Jersey Medical School and performed his residency in Dermatology at the University of Miami School of Medicine.
Currently, Dr. Shapiro provides his services at Gardens Dermatology & Cosmetic Surgery Center in Palm Beach Gardens, FL.
Dr. Borenstein is also a board-certified dermatologist on staff at Gardens Dermatology & Cosmetic Surgery Center, who completed his internship in Internal Medicine and residency in Dermatology and Cutaneous Surgery at the University of Miami School of Medicine. Currently, his bio indicates he's a specialist in medical, surgical, and cosmetic dermatology.
Despite their experience in medicine and the fact that the company's been in business since 2011, we didn't encounter any customer feedback for their hair loss shampoo or conditioner at the time of our research.
Neither they nor their parent company, Immudyne PR, were listed with the Better Business Bureau as of 5/13/17.
However, we did locate the 4,068,636, 8,985,124, and 9,532,941 patents listed on their website. We discussed the first two earlier, but interestingly, 4,068,636 is for a thermostatic device for automatic choke control granted in 1978, so it's unclear how it relates.

Now, let's find out how this hair-loss system relates to other OTC hair loss shampoos and conditioners.
Is Shapiro MD Better Than the Competition?
Did we encounter any formulations exactly like Shapiro MD's shampoo and conditioner-based system? No.
However, you only need to type the phrase "caffeine shampoo" into your nearest search engine to see that there are dozens of formulations that contain at least this stimulant (along with others like argan oil, niacin, and biotin).
During our research, we found most of these priced in the $10-$15 range, although many could be found for $8 or less.
On top of this, some brands were sold through national big box stores, potentially getting it in your hands faster, saving on S&H, and making the return process as easy as hopping in your car if you end up dissatisfied.
Expanding your search to "hair loss shampoo and conditioner" will reveal dozens more options, many of which contain the minoxidil mentioned above.
And based on what we learned from authoritative sites about the level of clinical evidence supporting its ingredients—along with the fact that these competitors could be found for about half the price—it's easy to imagine they might provide more bang-for-your-buck than Shapiro MD's system.
Let's carry this thought over to the final section as we wrap up.
Our Final Thoughts About Shapiro MD's Hair Loss Shampoo & Conditioner
At twice the price as much of the competition—and using a formulation that's reported by authoritative sites to have minimal clinical support for its efficacy at addressing hair loss—it might be difficult to recommend Shapiro MD as a first choice.
Furthermore, even if they did have robust clinical support, the company tells us this shampoo and conditioner team is only effective for addressing hair loss around the crown and temple area. So, if your hair loss is occurring in between these regions, it might not be the first choice, either.
These details with frequent claims on their site and in their promotional video that Shapiro MD make it appear that rhe system's real-world benefits are being oversold:
Is a "proven solution that addresses the most common cause of hair loss for men."
Is the "most reliable way of blocking DHT and stopping hair loss to regain thicker hair."
Contains "the 3 most powerful naturally occurring DHT blocking ingredients."
The manufacturer also doesn't provide any validation for their claim that "a massive 85% of our patients have reported back with great results."
If you feel like rolling the dice on Shapiro MD, though, the company seems to stand behind the system with a 60-day refund policy. Just keep in mind you'll lose your original shipping charges (if you ordered the single option), plus whatever it will cost you to send the bottles back to the company.
So far so good...

By Cecelia W.

,

West Long Branch, NJ

,

Mar 31, 2020
Verified Reviewer

It's more expensive than what I usually spend on shampoo and conditioner, but if it works as advertised, it will be worth it. Have only used for about 3 weeks and my hair looks beautiful and I'm looking forward to seeing what the results will be in the next few weeks.

Bottom Line: Yes, I would recommend this to a friend

---

Love the products

By Linda K.

,

Princeton, TX

,

Feb 18, 2020
Verified Reviewer

I have tried other products before and have not been as satisfied as I am in the short time I have been using this brand. I love the way my hair feels during the shampoo and conditioning process. I am hooked on this product.

Bottom Line: Yes, I would recommend this to a friend

---

Great product

By Sharon R.

,

Havertown, PA

,

Feb 13, 2020
Verified Reviewer

I had a great experience with the order and delivery. I have only used the product a couple of times but so far so good. I will continue to use it and hope I will see great results.

Bottom Line: Yes, I would recommend this to a friend

---

Pleased with the results.

By Susan K.

,

Texas

,

Jan 28, 2020
Verified Reviewer

My hair is fine and thin, so every hair counts. Over the last year, it seemed to be falling out more than usual. I was getting desperate. I saw the ad for Dr. Shapiro shampoo and thought I'd try it. I've been using it now for 2 weeks and my hair is not falling out like it was. I'm very encouraged that this is an answer to prayer. It leaves my hair clean and easy to manage. I'm pleased with the results.

Bottom Line: Yes, I would recommend this to a friend

---

Advertisement

---

Conditioner could use some work

I've only been using the product since the first of December so it's too early to tell if it stops hair fall, etc. One thing I can say is that the conditioner doesn't do a very good job detangling hair and I have to use another product after I use the conditioner or my hair gets very dry. Given the cost of a bottle of conditioner I would expect a better result.

Bottom Line: No, I would not recommend this to a friend

---

Horrible customer service, borderline scam

By Omar H.

,

Seattle, WA

,

Dec 9, 2019
Verified Reviewer

Today I had to help my mother who was very distraught about her experience with Shapiro MD. She had accidentally ordered a recurring subscription that includes an $80 box of shampoo and other products. She must have fallen for some sneaky option when checking out that gives her a 10% discount but makes her order recurring.

So I called the support line and was told to hit 2 for customer support. After doing so I have my phone number repeated back to me then the robot said an agent will contact you, but if you'd like to stay on the line and wait for an agent, hit star. I hit star, then I'm told an agent will have to get back to me in 24 hours...So their phone line support straight-up lies to you. Garbage.

I then move on to live chat on their website. I explain the situation to a "Jose" and then I'm asked to provide the order number. I provide it and after 10 minutes he tells me it is recurring due to accepting terms and conditions to the discount club to get 10% off.

Now I'm sure this was stated when my mother made the order but she's not great with this stuff so I guess she missed it. I wouldn't put it past them to have put these details in the fine print.

Anyway, I go off about how terrible their service is including the phone line mess I went through (I tried calling 3 times). Jose gets going on a tangent about how it's Black Friday and the staff should have gotten back to me on the phone and I shouldn't have received the "we'll contact you in 24 hours" message. It kind of seemed like he was wasting time.

I then tell him to try his best to cancel this order and he replies by offering to push back the order to a further date and change the billing cycle by adding more days in order to not lose the discount. I persist and tell him I'm done with Shapiro MD and ask "Can you cancel the order? Yes or no?"

It was yes apparently, and I finally got the cancellation email. But wait, there's more.

I ask for a case number and his employee number, but uh-ohm neither exists. I told him I'll be taking screenshots of this text exchange and he said if I want confirmation he highly advises I try calling because he had tried it just then and his co-worker picked up. I call his bluff and tell him to give me the number he used - it was the same I used multiple times already.

Bottom Line: No, I would not recommend this to a friend

Dec 9, 2019

Hi Omar, I'm so sorry you had this issue. This is not part of our policy and we want to make sure we right this with you and we will address this internally. Please email me at feedback@shapiromd.com.

---

My experience thus far

By Kathy W.

,

Port Orchard, WA

,

Nov 11, 2019
Verified Reviewer

So far it's going good, my hair loss has slowed down, my hair feels good and still need more time for the regrowth to start happening though. I sure hope this works. I really like the natural way I can restore my hair. Thanks for all your work helping other people with this problem, that is really appreciated from all of us out in the world trying your product.

Bottom Line: Yes, I would recommend this to a friend

---

Hoping it works

By Teresa K.

,

Blairmore, Alberta, Canada

,

Nov 2, 2019
Verified Reviewer

I haven't used it long, but am now a little leery about using it. Read the warning on the bottle and even though I am not at the age of having children anymore, I am worried about the hormonal problems it may cause as I am going through menopause. Was also more expensive than I thought it was going to be because it was in US funds and I live in Canada.

Bottom Line: No, I would not recommend this to a friend

---

Have just used the product for less than a month...

By Jeanne M.

,

Tucson, AZ

,

Nov 1, 2019
Verified Reviewer

I haven't seen any improvement yet in the amount of hair loss, but have only used it less than a month. I don't wash my hair every day, but every 4-5 days, so my results may be slower to show up. I cannot recommend the product yet because I haven't seen an improvement. I'm hoping...

Bottom Line: No, I would not recommend this to a friend

---

So far so good

By Lorie A.

,

New Jersey

,

Oct 25, 2019
Verified Reviewer

It has only been a couple of weeks since I received my first order and started using it. So far my hair feels softer and a little fuller.

I will continue to use the product and will be happy to review again after more time has passed.

Bottom Line: Yes, I would recommend this to a friend

---

It feels good

I haven't been using it long enough to really give a good review, but I will say that so far it makes my hair feel good. My hair tangles very easily and the shampoo seems to make it worse while in the shower. The conditioner, however, seems to combat that and my hair ends up soft and manageable.

Bottom Line: Yes, I would recommend this to a friend

---