Shapiro MD
This company has claimed this profile, is getting alerted on any new customer reviews entering this page, and may engage in dialogue with its customers to address their matters.

Companies cannot pay money or provide goods in order to remove or alter customer reviews.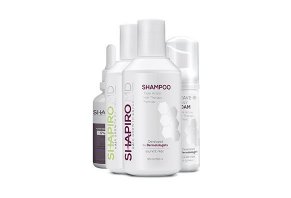 Summary
Shapiro MD offers commonly used hair loss remedies and the convenience of telehealth doctor visits. Though convenient, you may pay more for this premium when compared to traditional pharmacy services.
Pros
Convenient telehealth appointments
Finasteride and minoxidil are clinically proven to be effective
Pricing comparable to other similar services
Cons
Pricier than national pharmacies
Herbal topical formulations lack strong scientific support
Shapiro MD Hair Review: Can It Help Address Hair Loss?
What Is Shapiro MD?
Shapiro MD is a line of products that allegedly help fight hair loss and support hair growth in both men and women.
More than half of men age 40-49 may experience some form of hair loss. While this is widely considered to be a male condition, as many as 50% of women may experience excessive hair loss before the age of 79.
The available treatment options often include natural remedies, over the counter and prescription medications, and even surgery.
Shapiro MD alleges to offer another option. In fact, according to the website, the professional hair system is proposed to:
Promote thicker, fuller, and longer hair
Fight dihydrotestosterone (DHT)
Work for both men and women
Be effective and safe
Include FDA approved ingredients
Clinically proven
In this article, we'll discuss the most common cause of hair loss, the science behind Shapiro MD's ingredients, as well as how to shop their products to help you determine how they stack up against the competition.
What Causes Hair Loss?
Androgenetic alopecia is the most common cause of hair loss in both men and women.
Testosterone is converted to its metabolite, DHT, by the 5α-reductase enzyme. DHT, like testosterone, is an androgenic hormone that contributes to secondary male sex characteristics such as facial, armpit, and pubic hair growth.
While DHT is important for normal growth and development, too much is not necessarily a good thing. Excess DHT may work to shrink your hair follicles and shorten their growth cycle, resulting in thin, brittle hair that is likely to fall out faster. Also, DHT can prolong the length of time needed for your follicles to grow new hairs.
Over time, these actions result in what is known as male pattern baldness. This process involves regression of the hairline at your temples, baldness at the vertex of your head, frontal hairline regression, and full baldness.
While the exact mechanism for hair loss remains uncertain, genetic and hormonal factors play key roles in the process.
Shapiro MD Ingredients: The Scientific Evidence Behind Them
Shapiro MD's product line fights hair loss with just a handful of key ingredients.
Depending on your treatment choice, these ingredients can include:
Finasteride
Minoxidil
Green Tea Polyphenols (EGCG)
Caffeine
Saw Palmetto Berry Extract (SPBE)
Finasteride - 1mg
Finasteride is the generic form of Propecia, one of the most common treatments for male pattern baldness. Like most of Shapiro MD's ingredients, it limits the formation of DHT by blocking the actions of 5-α reductase.
As this medication has been well studied over the years, ample evidence is available regarding its potential benefits in those with hair loss.
A review of 12 randomized trials with nearly 4,000 subjects examined the available literature regarding the benefits and safety of finasteride. The study concluded that daily use of oral finasteride effectively improves hair count, as well as the subject and doctor assessment of hair appearance.
5% Minoxidil
Minoxidil is a common topical hair growth treatment for hair loss. The exact mechanism of action of this drug is unknown, though it may work by enlarging your hair follicles and prolonging the growth phase.
In 2005, this study concluded that minoxidil was effective in improving hair growth over 16-weeks when compared to a placebo. A few years later, 5% minoxidil was found to be more effective than a 1% formulation in Japanese subjects with male pattern baldness.
More recently, this review of the available literature found that minoxidil was effective in promoting hair growth.
Finasteride vs. 5% Minoxidil
Both oral Finasteride at 1mg doses and topical minoxidil 5% had similar efficacies when the available literature for each was compared.
Green Tea Polyphenols (EGCG)
Green tea is commonly included in many dietary supplements and natural medicine formulations in addition to its use as a beverage. EGCG is among the various active compounds found in green tea that may be responsible for its actions.
In mice, topical EGCG reduced the ability of excess androgens to damage hair follicles. Similar effects were seen in human scalps, though much more research is needed to determine the extent of any benefits EGCG may offer regarding hair loss.
Caffeine
While caffeine is certainly a more recognizable ingredient, it is probably less well-known as a hair loss remedy. Topical caffeine may work to limit DHT and stimulate blood flow when absorbed in the scalp.
The research in this setting is not abundant, though topical caffeine was recently compared to 5% minoxidil in a randomized trial. Researchers found that caffeine treatment was comparable to minoxidil at 6-months.
Saw Palmetto Berry Extract (SPBE)
Saw Palmetto is commonly grown in the southern United States and is a common ingredient in herbal supplements. While this extract is often used to treat bladder and prostate issues, it may also fight hair through a mechanism of action comparable to finasteride.
Some preliminary evidence has highlighted a potential role for Saw Palmetto in this setting, though strong support is lacking despite its suspected ability to reduce the formation of DHT.
Is Shapiro MD Safe?
Finasteride is a widely used remedy for hair loss. It's potential side effects are also well known. It may negatively impact libido and cause erectile dysfunction. These effects often disappear with discontinued use, though they may persist.
Finasteride is also known to cause birth defects. Use can be harmful in women, especially those that are premenopausal.
Minoxidil may be associated with less severe side effects. Most commonly, skin reactions may occur at the site of use and involve burning, stinging, or redness. Those that are far less likely may include dizziness, unwanted hair growth, irregular heartbeat, and difficulty breathing.
Saw Palmetto side effects are uncommon, though mild stomach discomfort may occur. Taking this ingredient with good may help alleviate this side effect.
Topical EGCG is unlikely to cause serious side effects. Similarly, topical caffeine was well tolerated in a recent randomized trial. Topical formulations of these ingredients are much less likely to cause any stimulant-related side effects when compared to oral intake.
Even though Finasteride is the only prescription medication offered by Shapiro MD, you should still speak with your doctor about hair loss before trying to treat it.
The Cost
Shapiro MD offers a number of products that are available for purchase directly through their website. Items can be purchased individually or as part of a kit.
Shampoo and Conditioner
In addition to cleaning, moisturizing, and nourishing your hair, these products are intended to also block the effects of DHT. Both products currently cost $39.95.
Leave-in Foamer
By applying 2-pumps evenly distributed through the scalp, the foamer is intended to block the actions of DHT to improve hair thickness, fullness, and health. This product is currently $29.
Finasteride
This medication requires a prescription for purchase, though your doctor visit can be handled remotely through the Shapiro MD website.
To start your visit, you must create an account with Shapiro MD and agree to the terms, privacy policy, and consent to Telehealth.
Available for men only, finasteride is $20 per 1-month supply. Men also have the option to bundle finasteride and shampoo for $35.
Minoxidil
Minoxidil is available in the 5% formulation for men, and the 2% formulation for women. With the dropper, apply 1mL 2x daily directly to the area of hair loss and spread evenly.
A single bottle lasts 1-month and costs $13.93. Two and four-bottle orders cost $26.53 and $37.77, respectively.
Hairbiotic
This prebiotic blend is designed to increase the absorption of nutrients found in the other Shapiro MD products. It costs $54.95 for a 1-month supply.
The Natural Kit
This kit is available for $79.95 and bundles the shampoo, conditioner, and leave-in foam.
Shapiro MD backs your purchase with a 90-day guarantee, though you are still responsible for any shipping costs. To process your refund, contact support at support@shapiromd.com or (877) 907-4047 to obtain your return authorization.
What Are the Alternatives to Shapiro MD?
Shapiro MD's primary hair loss remedies, finasteride, and minoxidil, are available elsewhere.
We've reviewed a company that similarly offers these products and telehealth to Shapiro MD. The table below compares these 2 companies, as well as pricing from other commonly used pharmacies.
| | | | | | |
| --- | --- | --- | --- | --- | --- |
| | Shapiro MD | Keeps | Walgreens | Rite Aid | Walmart |
| Finasteride | $20/month | $25/month, | Price depends on your insurance | Price depends on your insurance | Price depends on your insurance |
| 5% Minoxidil | $13.93/month | $10/month | $13.33/month | $8.33/month | $2.92/month |
While Walgreens, Rite Aid, and Walmart offer shipping options, they do not have telehealth. Thus prescriptions would still require an in-person doctor's visit.
Given that each retailer offers the same medications, your biggest decision when making your decision involves determining if the convenience of telehealth is worth the extra cost likely involved with Keeps and Shapiro MD.
The Bottom Line
Shapiro MD offers a number of products designed to fight hair loss.
Finasteride and minoxidil both have strong scientific support. However, their products that contain EGCG, caffeine, and Saw Palmetto require more research to determine their potential benefits. On the other hand, herbal supplements are less likely to result in serious side effects.
Finasteride also offers the convenience of telehealth visits, though you may pay more for this premium when compared to national pharmacies.
Taking these factors into consideration, your decision comes down to the following considerations:
Pricing - telehealth providers are more convenient than national pharmacies, but they are also more expensive.
Safety - finasteride should be avoided in women and may have unwanted sexual side effects in men.
Whether your visit is in-person or virtual, your doctor should be aware of your desire to address your hair loss. As Finasteride can negatively affect sexual function, they should be aware if you are using this medication.
Customer Reviews
Posted on Oct 9, 2022
No change
Not seeing any improvement from products or implants. The overall experience has been great, just not seeing results in areas I wanted.
Length of Use: Less than 3 months
Bottom Line: No, I would not recommend this to a friend
Pros and Cons
Staff
Easy to order
Customer service
No results
A little confusing on directions
Company Response from ShapiroMD
Oct 12, 2022
Hi Neil, we're so sorry to hear your experience with us was unsatisfactory. We would love the opportunity to speak with you and make sure you are 100% satisfied with our services and products. Please reach out to customercare@rexmd.com at your earliest convenience and someone from our management staff will be in touch with you to rectify the situation.
Posted on Sep 24, 2022
My hair is finally changing for the better since using your products!
The products were easy to order and arrived fast. My hair is growing new roots and is getting much stronger than before. I'm not losing so much on my brush anymore.
Length of Use: Less than 3 months
Bottom Line: Yes, I would recommend this to a friend
Pros and Cons
Hair became stronger and smoother
The smell
Company Response from ShapiroMD
Sep 29, 2022
Thank you for your feedback, Kathleen. We're so happy to hear that you had a positive experience with us. Thank you for being a valued Shapiro MD customer!
Posted on Sep 1, 2022
Not for color treated hair
Honestly, I'm really disappointed because I had great hopes for this product. However, I have color-treated hair and these products, especially the foaming leave-in hair treatment, are extremely drawing. It is very difficult to manage my hair even after leaving the conditioner on for 2 to 5 minutes. I even tried using it as a leave-in conditioner and still had difficulty coming through or sewing my hair due to how dry it felt. I will continue to use the products in the hopes that they do what they say in terms of hair regrowth and the fact that I ordered a three-month supply. However, I will not be re-ordering. Perhaps if your hair is in its natural state and has not been chemically processed at any point, it will be a good choice for you. Right now, after I use the Shapero shampoo and conditioner, I have to follow it with my regular conditioner just so I can manage my hair.
Length of Use: Less than 3 months
Bottom Line: No, I would not recommend this to a friend
Pros and Cons
Smells nice
Extremely drying, especially for processed hair
Leaves hair difficult to manage
Requires use of additional non-Shapiro products in order to manage hair
Posted on Aug 20, 2022
Very disappointed
I am very disappointed with both the product and the lack of customer service offered by the company. This product made my hair a greasy mess and when I called to discuss either returning or receiving a refund per the 100% satisfaction guarantee advertised all over the website, I was told that they would not take the product back because it had been opened and I could not receive a refund because I had used some of the product. What good is a 100% satisfaction guarantee if it only applies to a product that you have never even tried? If opening and or using part of the product voids the guarantee that should also be plainly visible on the website. This is a rip-off scheme and I am extremely dissatisfied with the gross lack of customer service and false advertisement.
Length of Use: Less than 3 months
Bottom Line: Yes, I would recommend this to a friend
Pros and Cons
No "pros" were specified in this review
It made my hair a greasy mess
The promise of a 100% satisfaction guarantee is false
Very poor customer service
Posted on Aug 11, 2022
2.5 years wasted!
At the time I ordered I was 69 now, at approaching 72, not one bit of difference! Buy a really good wig or hair piece and save your money!
Length of Use: 2+ years
Bottom Line: No, I would not recommend this to a friend
Pros and Cons
No "pros" were specified in this review
Nothing special
Posted on Aug 10, 2022
How would I know? I just barely started it last week and you recommend at least three months to substantial results.
One week of experience does not necessarily qualify me as a candidate to comment just yet! I'll let you know! I gotta be honest though and let you know this is the third product I've tried.
And to answer a question that appears below, NO, I would not recommend it to a friend until I find and believe it has actually worked for me!
Length of Use: Less than 3 months
Bottom Line: No, I would not recommend this to a friend
Pros and Cons
No "pros" were specified in this review
Perhaps the simple fact that I feel that I need something like it!
Posted on Jul 9, 2022
Love it!
I have used it for about 3 weeks and my hair seems fuller. I just don't like that you have to rinse the leave-in out later.
Length of Use: Less than 3 months
Bottom Line: Yes, I would recommend this to a friend
Pros and Cons
Smell
Makes my hair fuller
Have to rinse out the leave-in conditioner later
Posted on Jul 2, 2022
Postive experience
Customer service was very helpful and courteous. I give Miraha W. a 5-star rating. When I had concerns about when my order would arrive or if Shapiro had even received my order she found it immediately and reassured me that it was due to be delivered the next day. She was absolutely correct. Very pleasant young lady.
Length of Use: Less than 3 months
Bottom Line: Yes, I would recommend this to a friend
Pros and Cons
Easy to understand directions
Quality
Good customer service
No "cons" were specified in this review
Posted on Jun 28, 2022
Final piece
Just got the final piece yesterday, the last in foam. The minoxidil came with the dropper broken at the bottom, Sheila took care of replacing it today. Their customer service is great...highly recommend them.
Length of Use: Less than 3 months
Bottom Line: Yes, I would recommend this to a friend
Posted on Jun 4, 2022
Good but pricey
Pricey products but with good performance so far. I've had a couple of experiences with the customer support lines and they were "weak" and confused about how to take care of the issues.
Length of Use: 1–2 years
Bottom Line: Yes, I would recommend this to a friend
Pros and Cons
Works good
Good smell
Price
Customer service
Posted on Dec 3, 2021
Too expensive to continue using
And not pleased that if I stop the product the hair starts falling out again. Not sure if this is a "pay for sample then you're signed up for continuous deliveries," but if so, I want all connections and orders with this company canceled, deleted, and stopped.
Length of Use: Less than 3 months
Bottom Line: No, I would not recommend this to a friend
Pros and Cons
No "pros" were specified in this review
Cost
Must continue to use or hair continues to fall out, so it's a lifer deal
Our Promise to You
In order to safeguard you and ensure helpfulness and relevance, our compliance team manually assess every customer review before it goes live.
We have a zero-tolerance policy for fake reviews, and companies cannot control or alter any reviews at any time.