Hair Club Reviews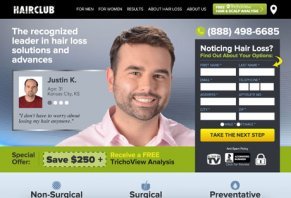 Hair Club's claims that its individualized approach provides effective hair loss restoration and treatment for men and women.
About Hair Club
Founded in 1976 by Sy Sperling, Hair Club is a company with offices throughout the United States, Canada, and Puerto Rico that claims to provide hair loss restoration and treatments for men and women. According to HairClub.com, each person's hair loss is different and it's an ongoing process that can change over time. But no matter what kind of hair loss you have, they claim to have a discreet, proven treatment to fit your budget, including:
Non-Surgical Hair Replacement – Uses the "virtually undetectable" BioMatrix Strand-by-Strand process to add hair only where you need it, and to provide the volume and density you desire in as little as 4 weeks. Hair Club claims no one will ever notice, even when up close. You can also choose to have your hair replaced all at once, or over time in order to be more discreet.
Hair Transplant Surgery – Known as Microscopic Follicular Unit Hair Transplantation, this involves the removal of hair follicles from the sides or back of your scalp, which are then transplanted to balding/thinning areas, where they'll continue to grow naturally. Hair Club claims their hair transplant surgery generally last 3-8 hours, although it can take 9-12 months to see a full cosmetic difference.
Extreme LaserComb – An FDA approved treatment that's applied 3 times per week, 10-15 minutes per session, and is claimed to use low-energy laser diodes to increase blood flow in the scalp and to promote thicker hair growth. The Extreme LaserComb is claimed to be especially effective when used in conjunction with the EXT Extreme Hair Therapy system of shampoos, conditioners, scalp cleansers, and nutritional supplements.
Xtrands – Adds multiple strands to each of your own hairs, which can maximize thickness and fullness. According to HairClub.com, Xtrands can help you achieve natural results and instant volume, in addition to hassle-free maintenance.
Hair Club claims that the efficacy of their treatment options is backed by "extensive testing and hundreds of thousands of satisfied customers," but can you reasonably expect to experience the same? In other words, can HairClub.com provide you with a thick, luscious head of hair, or just a thinning bank account? Consider the following:
What's Causing Your Hair Loss?
According to the HairClub.com website, there are numerous causes of hair loss, including heredity (also known as male/female pattern baldness), age, medical conditions, disease, diet, hormonal imbalance, and more. And depending on the cause of your hair loss, how advanced it is, and other characteristics unique to you, Hair Club claims to provide an individualized treatment plan that will maximize results.
In order to accomplish this, you can take the quick assessment on the Hair Club website to find out which solution is right for you, or schedule a TrichoView Hair and Scalp Analysis at your local Hair Club center.
The Pros & Cons of HairClub.com Treatments
You'll need to carefully weigh the pros and cons of each Hair Club treatment, or speak with a HairClub.com specialist who can walk you through the process. However, here are some of the top pros and cons for each Hair Club treatment:
Non-Surgical Hair Replacement – While you don't have to worry about painful surgery or long recovery times, it's recommended that you revisit a Hair Club-trained stylist for a once monthly shampoo and trim.
Hair Transplant Surgery – While hair transplant surgery arguably provides the most complete, life-like hair restoration results, the surgeries themselves can take hours to complete, and you'll need to lay low for a week or so in order to recover. On top of this, it can take up to a year for you to experience results.
Extreme LaserComb – While laser/light diodes have been shown to help regrow hair, according the LA Times, "there's no good evidence that the LaserComb works any better than more-established treatments such as the prescription medications Rogaine or Propecia." And while there's no indication on the company's website exactly how much they charge per session, purchasing your own laser comb can cost hundreds of dollars.
Xtrands – While this appears to be the fastest and least expensive option offered by Hair Club, it is only temporary and will have to be reapplied relatively frequently in order to maintain the same volume and thickness.
Are There Other Options for Reducing Thinning & Increasing Hair Volume?
In addition to the treatments offered by Hair Club, there are a variety of at-home remedies for thin hair, including making sure you're not over-drying your hair, avoiding products containing ammonium lauryl sulfate or sodium lauryl sulfate, shortening the length of your hair, and more.
For additional tips you can immediately put to use, we'd recommend searching online for "how to add thickness to hair," "how to stop thinning hair," or "how to increase hair volume."
Do Customers Think Hair Club's Treatments Are Worthwhile?
After searching for "Hair Club reviews," we found more than 130 complaints on Pissed Consumer with an average rating of 1.3 stars. Most of these appeared to revolve around high prices, products/procedures that were of low quality/didn't work well (in fact, multiple customers claimed their hair fell out instead of growing thicker), and high-pressure sales tactics during consultations.
Elsewhere online, other customer review websites such as ComplaintsBoard.com, Yelp, RipoffReport.com, and TrustLink.org appear to mirror many of these same complaints.
Hair Club for Men, Ltd is based out of Boca Raton, FL (although their hair transplantation services are provided by the affiliated physicians of Bosley Medical Group), and holds an A+ rating with the Better Business Bureau, despite having nearly 150 closed complaints (as of 1/31/15). Most of these appear to run the gamut from dissatisfaction with products/services to problems with financing.
Hair Club Pricing & Satisfaction Guarantee
While Hair Club's prices aren't specifically outlined online, you can pay anywhere from a couple of hundred dollars to may thousands, depending on the treatment option(s) you choose.
All HairClub.com treatments come with a 100% satisfaction guarantee, although the exact details can vary depending on the treatment. As such, we'd recommend reading through Hair Club's Terms & Conditions for full details.
To obtain a free copy of HairClub.com's Ultimate Hair Loss Guide or to ask any questions, you can contact customer service at (888) 498-6685.
Is HairClub.com Your Answer to Fuller, Thicker Hair?
Chopping to the point: Considering the individualized nature of hair loss, some Hair Club treatments will work much better for some than for others. And despite the numerous negative online customer reviews for the company, they've been in business for nearly 40 years, so they must be doing something right.
With this said, when you visit your nearest Hair Club center during your consultation, you might want to go into it understanding that you won't make any purchases until you've had time to weigh all your options, since the sales pressure can be pretty high. Also, unless you can't avoid it, you may want to avoid signing up for any new credit to pay for your services.
Hair treatment and employee services

By John S.

,

Edmonton, Alberta, Canada

,

Apr 15, 2019
Verified Reviewer

Let me start off with day one of my visit. I was greeted openly with pleasant greetings. I was nervous, never done anything of this extreme before. I had suffered a long time with coverage of different variety, you name it I've done it. Anything from lasers to shampoo but for ME, it didn't work. If it did, it was very parse and fine. I have been a client here for a couple of years. I continue coming because of that confidence and new man feeling I always have once I leave. The staff and stylist have always made me feel welcome and at home here. A very friendly bunch, especially Stylist Maureen.

For anyone thinking of trying this out, I hope your experience here will be as good as mine was.

Bottom Line: Yes, I would recommend this to a friend

---

Thieves and liars club!

By Victor G.

,

New York

,

Sep 9, 2018
Verified Reviewer

I was paying over $800 for literally nothing. I did not use any product or even go to my first appointment. I had to pay because they "could not give me full refund." I was still within the 3 DAY return policy (yes, they only give 3 days to consider your decision on spending over $3,000 on your hair). I emailed the lady to cancel and they never replied or a called back (even though she admitted she saw it). The refund policy days take effect the moment you sign, so even if it's 5 pm and they're about to close, that still counts as a whole full day. The lady said they couldn't give me a full refund so I'd just pay $500. Wanting to get out of this nonsense I agreed, but then when I get there she mentions there is a $200+ tax fee. Then I get the invoice, and I owe $821 for literally nothing. No service, no product, nothing. It's a scam. Just go natural and try oils. They work better and save you so much money.

Bottom Line: No, I would not recommend this to a friend

---

Advertisement

---

A completely satisfied customer here!

By Charles L.

,

Tennessee

,

Jul 21, 2018
Verified Reviewer

I have been going to Hair Club since the 90's when I started to notice that my hair was thinning and my hairline was moving further up my head. I saw the advertisements for Hair Club on the night infomercials a lot and decided to go there and give it a try as I was becoming very self-conscious about my hair loss.

I called Hair Club and made an appointment but was kind of nervous because I didn't know what to expect. I lived in Philadelphia, Pennsylvania at the time and I was directed to go to the Marlton, New Jersey Hair Club which was the closest to me at the time. I was given an analysis of my scalp and was told that there was something they could do for me. I was treated with much respect and dignity and felt very comfortable during the entire interview.

I started treatments there the following week and was hooked ever since. My stylist at the Marlton office was Natalie and she was very professional and we grew a very close bond between us. During my treatments, we talked about family and as it turned out, our sons were both serving in the Army. I enjoyed going there about every three weeks and continued going there for years until I retired from my job several years ago and moved to Knoxville, Tennessee. I was surprised to find a Hair Club in Knoxville and have been there for several years now. I rotate between two hair styling there and both are excellent. I am shown the same courtesy there and still visit Hair Club there every three weeks. My hair has never looked better, thanks to the work of Amanda Piper and Shanna Compton as they both have very warm personalities and make you feel at home. I am treated so well there that I would miss a doctor's appointment before I would miss a Hair Club appointment.

If you visit the Knoxville Hair Club, ask for Rhonda as she will give you a professional analysis on your hair loss. She is very pleasant and easy to talk to and has a very humorous side to her that makes you feel very much at ease. If you are losing your hair as many of us are, I highly recommend you visit your closest Hair Club as there is no reason you have to go bald. You will feel so much younger and better about yourself when you leave there, I promise!

Bottom Line: Yes, I would recommend this to a friend

---

Totally satisfied

By Paul Stanek

,

Niagara Falls, NY

,

Apr 2, 2018
Verified Reviewer

My wife has been going there for about eight months now, and we are both very happy with the results, and it's worth every penny. She has her life back! THANK YOU.

Bottom Line: Yes, I would recommend this to a friend

---

Advertisement

---

This treatment is no good

By Chris Hill

,

New Jersey

,

Sep 8, 2017
Verified Reviewer

This treatment was the biggest scam ever. As soon as I stopped taking the product, all of my hair began to come right back out, and I ended up right back where I started from. Completely a waste of money.

Bottom Line: No, I would not recommend this to a friend

---

Go to Hair Club to become bald

By Rahul

,

Canada

,

Aug 29, 2017
Verified Reviewer

Guys, don't believe their sweet talk or waste your money. If you are loosing hair, consult a doctor. These people are neither doctors nor specialists; they are just like people who work in salons, they just give you some shampoos and do some sweet talk and make you feel as you are having good hair. Believe me, nothing works. First, they say it's a nine-month program, and then they want you to come again and again forever.

Spending $200 per month for hair? It's really foolish, don't be a victim of this scam. Don't even try their products; you end up loosing more hair if you stop using their products. In fact, I lost more hair after going to them than before. I wasted money, time and obviously, now I am becoming bald.

Bottom Line: No, I would not recommend this to a friend

---

Only sell you what makes them the most money

I went to the hair club in the Bala Cynwyd, PA and they don't care what solution they sell you. They didn't even do the scalp check and just gave me answers on why nothing other than their hair system will work. They wasted my money and their consultants (salespeople) say anything to sell the system because it has the most margin.

If you live in the US, you're pretty much screwed if you want any kind of permanent solution because I've had the hair system, and two hair transplants from Beverly Hills, CA from Bosley. It's all a joke in my opinion and the US companies have denoted too much money to politicians to keep the FDA from approving other treatments that actually might work like synthetic hair transplant.

Bottom Line: No, I would not recommend this to a friend

---