HairClub Reviews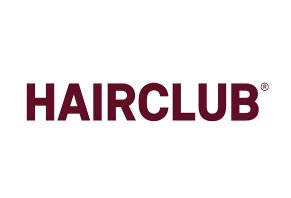 Summary
HairClub's chain of hair restoration clinics offers a myriad of solutions for all your hair woes. While the company provides an option for almost every hair problem, you might find them to be too costly to justify the improvement.
Pros
Treatment options satisfy a range of hair problems and pricepoints
100+ US locations
Both permanent and temporary treatment options
Free consultations to discuss hair needs
Cons
Procedures and products might be more expensive than what is offered elsewhere
Many people found the results too subtle for the cost
Our Full HairClub Review
HairClub is a chain of hair loss treatment centers across the United States that are focused on helping both men and women achieve their best looks hair-wise.
You can go to HairClub for one-off salon treatments, sign up for recurring hair replacement sessions, or even undergo surgical procedures to alter the state of your hair permanently.
When he started losing his hair at 26, HairClub founder Sy Sperling was determined to find a solution but was left disappointed with the available options. He established HairClub in 1976 to provide others dealing with hair loss with a better option.
All treatments offered by HairClub fall into one of three categories: regrowth, replace, or restore. Depending on your budget and treatment choice, HairClub can help you add thickness, length, and density to your existing hair to transform your look through the use of FDA-cleared devices and treatments.
The company claims that your HairClub experience will include professional advice paired with one-on-one guidance and personalized solutions based on your needs.
Today, HairClub consists of more than 120 locations across North America; should you seek out one of them? Learn from our analysis whether this hair loss treatment chain can deliver.
How Does HairClub Work?
HairClub locations are available across North America, and they are open to anyone who wants some help reaching their hair goals. The best thing to do is to schedule an initial consultation appointment at your preferred location.
Though the procedure may vary slightly by location, expect to receive a free hair and scalp analysis along with a detailed report and customized treatment plan.
You'll also receive one on one time with a hair expert to go over any questions or seek out further advice.
From here, it's up to you what treatments you decide to commit to.
What Treatments Are Available with HairClub?
The treatment options available with HairClub fit into three main categories: Regrowth, Replacement, and Restoration.
Regrowth
Hair Club offers many options for non-surgical hair regrowth that help you restore the hair you have naturally.
EXT Extreme Hair Therapy®: This comprehensive program combines in-center visits with personal care products you use at home to help you regrow hair and stop future loss.
It consists of a five-step system that includes shampoo, cleanser, conditioner, supplements, and a rejuvenator with Minoxidil, an FDA-approved treatment for treating hair loss.
When followed as directed, this therapy will increase your hair's shine and volume. Research shows that concentrations of 5% minoxidil can be effective for treating male pattern hair loss after a 16-week trial of twice-daily use. It's considered best for those at the beginning stages of hair loss or who are just starting to have thinning hair.
Laser Hair Treatment: HairClub gives you access to three kinds of FDA-cleared laser hair therapy products—LaserBand, LaserComb, and Capillus Lasers—that work to stimulate hair growth to increase density while preventing further thinning.
These devices utilize low-level laser treatment technology, an FDA-approved treatment for hair loss since 2007. According to a 24-week study from 2019 with 36 participants, wearing a laser helmet was found to be an effective way to increase hair density compared to using a placebo product.
You can purchase any of these devices from the Club for home use.
Replacement
For those who have parts of their scalp with thin to no hair, HairClub replacement techniques might be the best option for restoring your head to its former glory. Most club options are quick and let you see results after just one session.
Xtrands®: This non-surgical hair enhancement process involves tying new hair fibers to your existing hair. A stylist will work with you to pick out shades that match your hair and carefully identify healthy host hairs for attachment points.
An application wand is used to knot bunches of strands to the base of the host hairs, and your hair is then cut and styled to your preference. Once you shampoo your hair, each hair clump will separate out to add extra volume to your look.
This technique works best for men and women in the early stages of hair loss, as you need to have healthy existing hair to support the added fibers. Once completed, you can wash, color, or style the fibers as if they were your natural hair. Expect to need to return to HairClub every four weeks to receive new hair to maintain your results.
Xtrands+®: Similar to Xtrands, Xtrands+ is used to attach new hairs to your head with a medical-grade adhesive. This makes it suitable for men and women with moderate to advanced hair loss, as you don't need to have existing hair in the place where you get the replacement.
As with Xtrands, your hair can be cut and styled to your preference after application, and you can treat the replacement hair like your own hair. It's best to schedule return appointments for every 4–8 weeks to keep things maintained.
RestorInk™: This hair restoration technique gives you the appearance of thicker, fuller hair through permanent micro-pigmentation on your scalp. Tiny needles are used to create a series of light tattoos on your scalp that mimic the look of closely-shaved hair follicles. It's often used to create a cleaner hairline or camouflage thinning places on your scalp.
According to a 2015 report in the Journal of Clinical and Aesthetic Dermatology, scalp micro-pigmentation procedures like RestoreInk can be effective for hiding the effects of hair loss and hair transplant deformities and is likely to become a standard treatment soon.
Extensions: Transform your look without any long-term commitment with 100% Remy cuticle intact human hair extensions. Add up to 16 inches to your natural hair, which is seamlessly blended in to give you a natural look that can be removed without issue once you're ready for a change.
Restoration
HairClub offers options for surgical restoration to help your natural hair grow to restore thinning areas for a transformative, permanent solution.
Follicular Unit Extraction (FUE): This minimally invasive surgical technique takes hair follicles from your donor area and then transplants them to thinning or balding areas on your scalp without leaving any obvious scars.
Multiple studies have looked at the effectiveness of FUE. A 2010 assessment found the procedure to be effective for those who want to restore their hairline, though it is limited in effectiveness due to a high chance of visible scarring at the donor site.
Overall, this treatment is best for those in the early stages of hair loss and should only be used to fill in small spaces.
Follicular Unit Transplantation (FUT): A strip of tissue with hair follicles is removed from the back of your scalp, separated into grafts of one to four hairs, and then transplanted throughout your thinning areas for a refreshed look. The procedure makes it possible to harvest lots of hair grafts at once, so it's suitable for covering larger areas.
One clinical report from 2019 looked at the procedure's effectiveness for 273 males with significant levels of hair loss. It concluded that FUT offered an appealing treatment option due to relatively short operation times and esthetically pleasing outcomes.
BioGraft: This technique combines surgical hair restoration with a non-surgical option to restore your hairline and fill in thinning areas with Xstrands+ hair fibers. This procedure is more cost-effective than a total transplant and gives you more opportunities to change up your hairstyle over time with different temporary treatments.
How Much Does HairClub Cost?
The costs associated with your HairClub experience will vary based on many variables, including where you go for treatment, which option you choose, how much of your scalp you treat, and how often you return for further treatments.
The company claims to offer more than 700 combinations of products and services.
Salon services start at $39 per session, while ongoing maintenance treatments like Xstrands and Xstrands+ begin at $299 per month. Most elective surgical procedures should only require a few sessions, but will likely cost several thousand dollars each.
The best way to find out pricing information is to schedule a consultation so that you can get a sense of which treatments make sense for your situation and what their total cost will be.
According to the Hair Club customer service representative we chatted with, prices will vary significantly based on your personalized hair situation. "Once you receive your free analysis," he told us, "we will recommend the best option for you and provide you with exact cost and payment plans if needed."
You can schedule this free hair health checkup online, and expect the process to take about 60 minutes.
Commitment to Satisfaction
Due to the personalized nature of HairClub services, refunds are offered on a case-by-case basis. Some treatments, like Xtrands and Xtrands+, include a 90-day satisfaction guarantee.
If you don't love your results within that time, you can apply the cost of your initial investment towards another HairClub procedure. You can find out more about your options during your consultation.
Analysis of Customer Reviews
Seven customers have left reviews for Hair Club on our site. These average 2.3 stars. There are also over 650 reviews on Trustpilot, averaging 3.1 stars. Below, we've compiled some of the most common comments about these products.
Common Compliments:
Many had pleasant experiences through the whole process
Some users have successfully been going for decades
Success stories for both men and women
Common Complaints:
Expensive for minimal benefits
Difficult to qualify for refunds
Some users re-lost their hair as soon as they stopped treatment (and many ended up with more hair loss than before)
Alternatives to Hair Club and How They Compare
HairClub brands itself as a one-stop-shop for all your hair loss concerns, but the truth is that many of the company's treatments are available elsewhere.
For instance, it's possible to purchase Capillus laser caps online, and 2% minoxidil hair care products abound in the drugstore in products like Rogaine.
If you're looking just for advice or home treatment options rather than elaborate intervention treatments, you might do better with a brand like Keeps. This subscription company will send you generic anti-hair-loss products based on your specific needs.
Though these products don't work for all types of hair loss, they should offer you many of the same benefits that you could get from the HairClub EXT Extreme Hair Therapy® treatment.
In regards to hair transplants, this surgical procedure is available in hair restoration clinics across the country. Most aren't part of national chains like HairClub, so we can't comment on their costs or procedure specifics. Just note that the average price for hair transplants in the US range from $4,000–$15,000.
If you're interested in spending this much money, we recommend going to multiple hair restoration clinics besides HairClub to get a sense of how they might vary.
The Bottom Line
HairClub offers a plethora of products and treatment options related to hair care. Whether you're looking to stave off hair loss before it really begins, permanently restore your bald spots with some of your own hair follicles, or merely want to fill in some thinning patches temporarily, the company offers a product or treatment to solve it.
Just keep in mind that HairClub services aren't cheap. Most treatments will either require regular maintenance that comes to hundreds a month or cost thousands upfront for a surgical procedure.
While customer reviews indicated that HairClub works for many members, a large portion of users thought the company overcharged and underdelivered in regards to getting their hair back on track.
If you're frustrated with the state of your hair, we recommend booking a consultation at HairClub. Just keep in mind that many of the treatments they recommend to you aren't unique to this company and can be found elsewhere, possibly for less.
Customer Reviews
Posted on Apr 1, 2022
Extremely poor customer service
Danielle is awesome, but the Elk Grove location should fire their front desk person, Tessa. Absolutely not flexible and doesn't have a sense of customer service. This is a commitment from a customer perspective. She is very rude with a fake personality and absolutely does not take an ounce of effort to look for possible appointments or reschedules. Very harsh and would highly recommend changing the front desk employee.
Length of Use: Less than 3 months
Bottom Line: No, I would not recommend this to a friend
Pros and Cons
Product and idea
No flexibility for appointments and very rude customer service
Posted on Apr 15, 2019
Hair treatment and employee services
Let me start off with day one of my visit. I was greeted openly with pleasant greetings. I was nervous, never done anything of this extreme before. I had suffered a long time with coverage of different variety, you name it I've done it. Anything from lasers to shampoo but for ME, it didn't work. If it did, it was very parse and fine. I have been a client here for a couple of years. I continue coming because of that confidence and new man feeling I always have once I leave. The staff and stylist have always made me feel welcome and at home here. A very friendly bunch, especially Stylist Maureen.
For anyone thinking of trying this out, I hope your experience here will be as good as mine was.
Bottom Line: Yes, I would recommend this to a friend
Posted on Sep 9, 2018
Thieves and liars club!
I was paying over $800 for literally nothing. I did not use any product or even go to my first appointment. I had to pay because they "could not give me full refund." I was still within the 3 DAY return policy (yes, they only give 3 days to consider your decision on spending over $3,000 on your hair). I emailed the lady to cancel and they never replied or a called back (even though she admitted she saw it). The refund policy days take effect the moment you sign, so even if it's 5 pm and they're about to close, that still counts as a whole full day. The lady said they couldn't give me a full refund so I'd just pay $500. Wanting to get out of this nonsense I agreed, but then when I get there she mentions there is a $200+ tax fee. Then I get the invoice, and I owe $821 for literally nothing. No service, no product, nothing. It's a scam. Just go natural and try oils. They work better and save you so much money.
Bottom Line: No, I would not recommend this to a friend
Posted on Jul 21, 2018
A completely satisfied customer here!
I have been going to Hair Club since the 90's when I started to notice that my hair was thinning and my hairline was moving further up my head. I saw the advertisements for Hair Club on the night infomercials a lot and decided to go there and give it a try as I was becoming very self-conscious about my hair loss.
I called Hair Club and made an appointment but was kind of nervous because I didn't know what to expect. I lived in Philadelphia, Pennsylvania at the time and I was directed to go to the Marlton, New Jersey Hair Club which was the closest to me at the time. I was given an analysis of my scalp and was told that there was something they could do for me. I was treated with much respect and dignity and felt very comfortable during the entire interview.
I started treatments there the following week and was hooked ever since. My stylist at the Marlton office was Natalie and she was very professional and we grew a very close bond between us. During my treatments, we talked about family and as it turned out, our sons were both serving in the Army. I enjoyed going there about every three weeks and continued going there for years until I retired from my job several years ago and moved to Knoxville, Tennessee. I was surprised to find a Hair Club in Knoxville and have been there for several years now. I rotate between two hair styling there and both are excellent. I am shown the same courtesy there and still visit Hair Club there every three weeks. My hair has never looked better, thanks to the work of Amanda Piper and Shanna Compton as they both have very warm personalities and make you feel at home. I am treated so well there that I would miss a doctor's appointment before I would miss a Hair Club appointment.
If you visit the Knoxville Hair Club, ask for Rhonda as she will give you a professional analysis on your hair loss. She is very pleasant and easy to talk to and has a very humorous side to her that makes you feel very much at ease. If you are losing your hair as many of us are, I highly recommend you visit your closest Hair Club as there is no reason you have to go bald. You will feel so much younger and better about yourself when you leave there, I promise!
Bottom Line: Yes, I would recommend this to a friend
Posted on Apr 2, 2018
Totally satisfied
My wife has been going there for about eight months now, and we are both very happy with the results, and it's worth every penny. She has her life back! THANK YOU.
Bottom Line: Yes, I would recommend this to a friend
Posted on Sep 8, 2017
This treatment is no good
This treatment was the biggest scam ever. As soon as I stopped taking the product, all of my hair began to come right back out, and I ended up right back where I started from. Completely a waste of money.
Bottom Line: No, I would not recommend this to a friend
Posted on Aug 29, 2017
Go to Hair Club to become bald
Guys, don't believe their sweet talk or waste your money. If you are loosing hair, consult a doctor. These people are neither doctors nor specialists; they are just like people who work in salons, they just give you some shampoos and do some sweet talk and make you feel as you are having good hair. Believe me, nothing works. First, they say it's a nine-month program, and then they want you to come again and again forever.
Spending $200 per month for hair? It's really foolish, don't be a victim of this scam. Don't even try their products; you end up loosing more hair if you stop using their products. In fact, I lost more hair after going to them than before. I wasted money, time and obviously, now I am becoming bald.
Bottom Line: No, I would not recommend this to a friend
Posted on Aug 10, 2015
Only sell you what makes them the most money
I went to the hair club in the Bala Cynwyd, PA and they don't care what solution they sell you. They didn't even do the scalp check and just gave me answers on why nothing other than their hair system will work. They wasted my money and their consultants (salespeople) say anything to sell the system because it has the most margin.
If you live in the US, you're pretty much screwed if you want any kind of permanent solution because I've had the hair system, and two hair transplants from Beverly Hills, CA from Bosley. It's all a joke in my opinion and the US companies have denoted too much money to politicians to keep the FDA from approving other treatments that actually might work like synthetic hair transplant.
Bottom Line: No, I would not recommend this to a friend
Our Promise to You
In order to safeguard you and ensure helpfulness and relevance, our compliance team manually assess every customer review before it goes live.
We have a zero-tolerance policy for fake reviews, and companies cannot control or alter any reviews at any time.