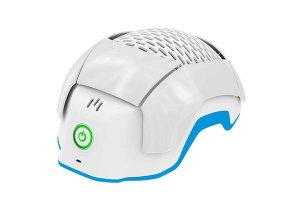 Theradome is an FDA cleared device worn on the head that claims to provide clinical strength restorative laser hair treatment in the comfort of your own home.
About Theradome
If you're one of the 80 million men and women in the U.S. who suffers from hair loss, Theradome is a new product that claims to help grow new hair, increase the size of your hair follicles, and to slow—or even stop—hair loss. In fact, the company claims that Theradome is the first and only FDA OTC cleared clinical strength laser hair therapy for home use, and that it's 100% proven to work.
But is this really the case? Can Theradome really help regrow your thinning hair? Let's comb through the facts and find out.
Understanding the Theradome
At its most basic, Theradome is a cool laser treatment intended to be worn on the head that the company claims has been developed over 5 years of research by biomedical engineers and doctors. The Theradome helmet weighs less than 16 oz. and is claimed to fit 98% of the population, but provides the same power, light level, and concentration as in-clinic lasers in the comfort of your own home.
Unlike much of the competition, when used for 20 minutes two times per week, Theradome is claimed to feature high-efficiency, specially developed lasers that increase blood flow to the scalp and reduce inflammation. Theradome's proprietary lasers emit a very specific wavelength of light, remain cool when used, and are controlled through microprocessor algorithms. The company says their lasers contain more energy (joules) than any other laser light therapy and have a narrower beam for deeper penetration.
In addition, Theradome's proprietary lasers emit a very specific wavelength of light (680nm) that has been shown to be ideal for clinical strength rejuvenation, remain cool when used, and are controlled through microprocessor algorithms.
Theradome claims that the helmet increases blood flow to the scalp and hair follicles, stimulates protein synthesis and cellular metabolism, and promotes thickness and density. With this in mind, the helmet is claimed to result in three primary benefits:
Grows new hair.
Doubles the follicle diameter of existing hair (reverses miniaturization).
Slows (and even stops) hair loss.
If used as directed, Theradome claims to halt hair loss within 18-26 weeks, to regrow hair within 28-52 weeks, and to provide fuller, thicker hair after 100 weeks.
Theradome features soft rubber pegs and foam pads for comfort, as well as a built-in speaker, while the automated treatment counting system keeps track of the total number of treatments you've undergone.
Theradome is claimed to result in zero side effects, and that it can be used with most hair-loss medications, and 30 days after surgical hair loss treatment.
Theradome Pricing and Refund Policy
Theradome is currently priced at $895, which includes free shipping. With your order, you'll receive one Theradome laser helmet, AC charger, foam pads, and a protection bag.
Theradome comes with a six-month money-back guarantee, which begins from the date the helmet is delivered. However, this guarantee only applies to U.S. customers, and all international orders are considered final. Details and requirements for processing returns can be found in the FAQs section of Theradome's website.
Theradome hair loss helmets come with a one-year manufacturer's warranty against defects in workmanship, although you can purchase an extended three-year warranty if you choose.
What Do Other Consumers Have to Say About Theradome?
At the time of publishing, HighYa and Amazon were home to numerous Theradome reviews.
The product had 21 reviews on HighYa with an average rating of 1.8 stars and 24% of users would recommend it to a friend. The most common complaints we saw were that the helmet didn't work.
On Amazon, there were 39 reviews that gave Theradome an average rating of 2.9 stars. Recent reviews of the product were mixed, with several people saying that the helmet worked and some saying it didn't.
In general, we believe that whether or not Theradome works for you has a lot to do with your own specific hair health and how many of your follicles are dormant and how many are dead.
Our Bottom Line About Theradome?
What do the facts and evidence say? The jury is still out. Here's why:
First, it's important not to confuse "FDA cleared" with "FDA approved." According to the FDA's website, a cleared device simply means that "that the medical device is "substantially equivalent" to a device that is already legally marketed for the same use." In other words, the device will be significantly similar to something else already on the market.
On the other hand, "approval" only occurs after the FDA has received proof "…of the device's safety and effectiveness." In layman's terms, this means that Theradome has simply let the FDA know that their hair loss helmet is very similar to an existing device already for sale through another company—not that it has been evaluated to achieve a specific result.
With this in mind, ESRP (associated with the Better Business Bureau) released a statement in April 2014 that requests that the company "modify or discontinue certain advertising claims for Theradome," as they don't provide adequate proof for some of its main claims, in addition to "insufficient evidence to demonstrate that the Food and Drug Administration (FDA) had "approved" the product "to increase the diameter of hair up to 200%."
On top of the vagueness between "cleared" and "approved," another seemingly fuzzy term used on the Theradome website is "dormant," as the company claims that their hair loss helmet can reinvigorate dormant follicles.
The important distinction here is that dormant follicles are ones that have begun producing increasingly thin hair, while dead follicles are no longer capable of growing hair at all.
In other words, similar to products like Rogaine and Scalp Med, Theradome can only regrow hair from live follicles, which means that if you're already experiencing advanced hair loss, you may achieve thicker hair from your live follicles and slowed or stopped hair loss, without total restoration.
Finally, based on customer reviews we read, the overall sentiment so far seems to be that the product doesn't work, or at the very least, that the results aren't in line with its high cost.
» See Also: How to Choose a Hair Loss Product, Even if You Don't Know What to Do
1 out 1 people found this review helpful

Works for me

By

Rigo O.

,

Los Angeles, CA

,

May 18, 2019
Verified Reviewer

Hello,

I have been using the product for about 6 months now and I've been seeing positive results. I must admit, I was a bit skeptical after using previous products with disappointing results. I still see areas I'd like improved, but I've noticed less hair fall out and new hair growth areas. I'm excited to see more positive results with continued use.

Bottom Line: Yes, I would recommend this to a friend

---

0 out 1 people found this review helpful

Amazing results noticeable in 90 days!

By

John S.

,

Los Angeles, CA

,

Apr 24, 2019
Verified Reviewer

I was skeptical about putting a helmet with lasers on my head, but the alternative was taking a pill that might lower my sex drive, or putting a chemical on my scalp that could cause itching and irritation. I had already used Nioxin shampoo and the Aveda Invati system. They worked well for maintaining hair, but nothing was working to actually grow hair back.

I took before and after pictures, and I was literally amazed. Within 90 days I could see a noticeable difference in the crown of my head. I usually use Toppik hair fibers to fill in the gaps, but I now have to use less and less each day, as my hair is literally growing back. I can't wait to see my 6-month and 1-year results!

I would recommend this product to anyone who does not want to put chemicals into their body and wants a more "natural" alternative. You can't feel anything from the lasers. You just look like you're wearing a bike helmet for 20 mins a day. The only thing I would say is to make sure your scalp is nice and clean before using the lasers. That way they can really get into your scalp and stimulate the hair growth process!

Bottom Line: Yes, I would recommend this to a friend

---

Advertisement

---

Good product

By

Inessa I.

,

San Jose, CA

,

Apr 23, 2019
Verified Reviewer

I have been using the Theradome helmet for 5 months. In general, I have a good experience while using it. It's comfortable and informs you about the remaining time (20 minutes in total). I noticed new small hair growing. Hair loss reduced. It looks like I got more volume visually. So, I do 3-5 treatments a week. I can see positive results and will continue to use it.

Bottom Line: Yes, I would recommend this to a friend

---

Exceptional service and care!

By

Amber Jane H.

,

Panama City, FL

,

Apr 23, 2019
Verified Reviewer

I don't know where to begin. I started by just research a possible battery replacement to see if that could even get my system to turn back on after having what I believe is water damage due to a recent Hurricane (Michael 10/10/2018) and it being stored up in my closet, and the staff was more then helpful and understanding! I started by contacting the UK office and they were first very caring and empathetic to me first and then said I had contacted the wrong country but were never less so helpful and so sweet! Just made my contact an easy one and it was just so awesome of everyone helping me so fast. Thank you again for EVERYTHING!

Bottom Line: Yes, I would recommend this to a friend

---

Advertisement

---

Highly recommended!

By

Amy L.

,

Santa Clarita, CA

,

Apr 16, 2019
Verified Reviewer

My hair has gotten a lot thicker after using the Theradome helmet and shampoo...I am really happy with the results and would recommend this product to anyone that is looking for fuller, healthier looking hair!

Bottom Line: Yes, I would recommend this to a friend

---

1 out 1 people found this review helpful

It REALLY grows your hair back!

By

Sun P.

,

California

,

Apr 16, 2019
Verified Reviewer

I am just so grateful to the Theradome team members who gave me the total confidence back. I started to notice thinning in my hair and purchased the Rogaine product. About a month after using Rogaine, I found the BEST product for my hair growth - THERADOME!

I have been using Theradome over 4 months and I can literally see the growth of my hair. My husband joined me to use it just so he can have thick hair as well. LOL.

I highly recommend this product to anyone who has a hair loss issue.

Bottom Line: Yes, I would recommend this to a friend

---

1 out 1 people found this review helpful

A product that actually shows results!

By

Benji K.

,

Los Angeles, CA

,

Apr 16, 2019
Verified Reviewer

I have been using the Theradome helmet for about 6 months now, about 110 treatments in, and I am definitely seeing results. My hair has become thicker all around, and my hairline is starting to grow back. I haven't felt like I've had this strong or this healthy of hair for a very long time.

I've tried medications and shampoos, but Theradome is the first product that has shown visible, tangible results.

Also, it's a super easy and convenient treatment!

Bottom Line: Yes, I would recommend this to a friend

---

1 out 1 people found this review helpful

Truly works

By

Bunny S.

,

California

,

Apr 16, 2019
Verified Reviewer

When Theradome showed me pictures of my scalp before I started and after 180 days of use I was startled and so pleased! My hair is shinier, thicker, with less shedding and tons of new growth! I'm over the moon about it. My hair used to be so thin it couldn't hide my extensions. Now, they are hidden; and I look forward to when I might not need to wear extensions!

Bottom Line: Yes, I would recommend this to a friend

---

2 out 3 people found this review helpful

I am over 55 and have thick luscious hair from Theradome

By

April B.

,

San Francisco, CA

,

Apr 16, 2019
Verified Reviewer

I have been using the Theradome for little over 4 months now. I follow the protocol with commitment. Especially now that I have beautiful hair from doing so.

I have always had very very thin-looking hair. It was long growing up, but I cut it to shoulder length with my first child 30 years ago. Since then, I have let it grow but it never seemed to grow. It might have been breaking off or just not growing. Well, after menopause started, I was accepting that now I would never get good length in my hair since menopause causes hair loss and thinning.

But...I now have longer hair than I did in high school, AND it is incredibly thick! I Love my hair more than I ever have! It's sooo fun and rewarding to swish my locks like a youthful woman! I mean, it feels sooo very healthy.

Bottom Line: Yes, I would recommend this to a friend

---

1 out 1 people found this review helpful

Theradome hair growth success

By

Par I.

,

Pennsylvania

,

Mar 29, 2019
Verified Reviewer

I started using the Theradome product several years ago, September of 2016, and noticed improvement rather quickly. Unfortunately, I started the process so long ago that I do not recall the number of days or weeks that passed prior to noticing a positive change. That said, my recollection is that I noticed new growth rather quickly in the front hairline edge. Subsequently, my hair became thicker and the parts I would make on the top of my head from the center crown area to the front hairline edge appeared to have significantly more hair and less of an appearance of thinning than before I started using the product.

I was very happy then and have, resultantly, continued using the product and will continue to do so for as long as it is working and available if it needs replacing.

Bottom Line: Yes, I would recommend this to a friend

---

1 out 1 people found this review helpful

Super easy treatment option!

By

Matthew T.

,

West Norriton, PA

,

Mar 25, 2019
Verified Reviewer

I've tried a lot of products for my thinning hair. All required some sort of subscription service, with monthly deliveries, or just blown up claims with actors that pass off as actual users, just to sell the product. The Theradome is the easiest and most convenient product out there. No subscription service or bogus claims. You buy it once, and wear it on your schedule. It's rechargeable, futuristic, and lets you know when it's done. It really is the best offer money can buy.

Bottom Line: Yes, I would recommend this to a friend

---