Knixwear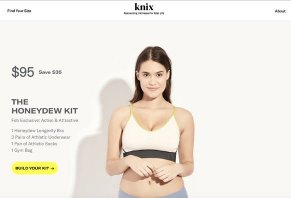 With a lineup of seamless, ultra-comfortable intimates, including bras, underwear, and loungewear, Knixwear claims their garments can help you "conquer your day."
Knixwear Review: Is It Worth It?
Knixwear advertises that by making the most comfortable wireless bras and seamless underwear available, they're reinventing intimates for real life.
Specifically, the website tells us their garments utilize four-way stretch fabrics to mold to your shape, move with your body, and deliver comfort, in addition to moisture-wicking, anti-odor, and quick-dry performance so you can "conquer your day."
Knixwear certainly seems to offer real intimates for real women, but does that necessarily mean that they're right for you? What about their tanks, tees, loungewear, and accessories?
Buying underwear and bras is already frustrating enough. Here, we'll help you make your purchasing process easier by providing the details you need to make an informed decision about Knixwear—starting with what they offer.
Knixwear's Underwear Line
Dubbed "the world's most comfortable underwear" by the company, each pair features seamless construction, a bonded technology that gets rid of bulky stitching, and the ability to avoid bunching, pinching, and rolling.
In fact, the company claims that their underwear is so seamless "that it has become a staple in the equestrian community — it's invisible even under those super tight, white riding pants."
Leakproof Underwear
Knixwear tells us that CEO Joanna experienced frequent stress caused by postpartum leaking, which is what inspired her to create the brand in the first place.
Made from top-of-the-line Italian textiles, their Leakproof line of underwear features a barely-there, built-in panty liner that promises to absorb 1-3 tsp of liquid (1-2 regular tampons worth), without a lot of bulk. They also feature a quick dry, moisture wicking gusset that's said to dry two to three times faster than regular cotton, as well as carbon cotton to fight odor, across seven styles:
Athletic – A mid-rise option that provides medium coverage for the hip and rear end. Compared to the Everyday line, all Knixwear Athletic styles feature stretch tech fabric that will relax a bit more.

Athletic Leakproof Boyshort – Additional coverage in the hip and rear, and sit slightly higher than a Bikini.

Athletic Leakproof Thong – Another mid-rise option, but one that delivers minimal coverage in the rear.

Everyday Leakproof Bikini – The Everyday line hugs more than the Athletic line, and the Bikini style delivers medium coverage on the hip and rear.

Everyday Leakproof Boyshort – Extra coverage through the hip and rear, and sit slightly higher than Bikini.

Everyday Leakproof Highrise – Sits at your natural waist and offers medium coverage (similar to Bikini) in the rear.

Everyday Performance Bikini – Mid-rise and medium hip and rear coverage.
Athletic Underwear
Seamless, moisture-wicking performance underwear with stretch tech that's designed to "maximize movement and comfort during your most intense workouts." From a fit perspective, according to the Knixwear website, these will relax more than the Everyday line.
Each pair also comes with bonded construction for invisible panty lines, a quick dry gusset with carbon cotton for odor-fighting protection, and super-soft fabric. Styles include:
Bikini – Mid-rise and medium coverage through the hip and rear.
Boyshort - Extra coverage through the hip and rear. These sit a little higher than Bikini.
Thong – Also mid-rise, but with minimal coverage.
Cheeky – Light rear coverage and the lowest rise available.
Everyday Performance Underwear
Knixwear tells us that this line features "light-as-air fabric and give you that naked-but-better feel, while soft velvet flocking hug your curves." The seamless, bonded construction means they're invisible under clothes, and the line hugs more snugly than Athletic:
Bikini – Medium coverage and a mid-rise silhouette.
Boyshort – Extra coverage in the hip and rear with a slightly higher sit.
High Rise – Medium coverage in the rear, and sit at the waist.
Thong – Minimal coverage and a mid-rise silhouette.
Luxe Essentials Underwear
This Knixwear line boasts a super soft, moisture-wicking fabric, a comfortable velvety waistband, and mesh paneling down the side for comfortable sexiness. Sits at the natural waistline and provides medium rear end coverage.
Thigh Saver Essentials
Long leg underwear with the same seamless design, built-in gusset, moisture-wicking fabric, and thoughtful design to help avoid chafing as many other styles in the Knixwear lineup. Ideal for wearing under your favorite summer dress.
Knixwear Bras
All of Knixwear's bras are underwire-free, provide support from an A to an E cup, and are said to feature "comfortable performance fabrics that evolve with your day."
V-Neck Evolution Bra (Standard & Luxe)
Seamless, molded construction, thicker straps for extra support (straight or cross-back), and a v-neck silhouette that can hide under any top. Unlined and unpadded, so it molds to your natural shape.
The Luxe V-Neck version adds velvety detailing on the straps.
8-In-1 Evolution Bra (Padded & Unpadded)
Features reversible colors and two sets of detachable straps, allowing this bra to deliver eight different wearing options.
Knixwear also offers this in a padded version that features ultra-thin, reversible, breathable cups for "an extra layer of modesty, without volume."
Longevity Bra
A medium-impact sports bra that Knixwear says can be worn on its own, or under any other workout gear. Features a long-line cut and a form-fitting, reinforced underbust for extra lift and support, moisture-wicking performance fabric, and unique back detailing. The cups will provide some measure of compression.
Knixwear Tanks and Tees
Evolution Tank
This pullover style tank is designed to act as a sleek base layer. It comes with a built-in bra that's bonded and wire-free, with thin, removable cups to add shape and coverage without bulk, along with a secure, comfortable fit.
Fits up to a DD cup and can be worn on its own, or invisible under whatever else you choose.
Don't Sweat It T-Shirt
A garment that uses Knixwear's Fresh Fix Technology in the underarm panels to help block sweat, absorb moisture, and eliminate odor. The fitted silhouette helps maintain comfort and allows you to wear the garment under clothing, while the four-way stretch design won't make you feel restricted.
Knixwear's Knixteen Line
According to the website, Knixwear's teen line features the same leak-fighting and period protection as their standard underwear line, including a seamless design, super soft Lycra Sports fabric, carbon cotton for odor elimination, and 'Oh-No' Proof Technology that uses a thin built-in panty liner to absorb up to 1-3 tsp of moisture (1-2 tampons worth).
These also feature moisture lock sides to keep leaks in, are lightweight and fashionable, and are easy to clean, so the company emphasizes they're ideal for anywhere.
The biggest difference is that Knixteen styles boast "a different size set and silhouettes to match a growing body." Available in Boyshort and Bikini styles.
How Much Do Knixwear Products Cost and Where Can You Buy?
Individually, Knixwear's intimates are priced at:
Bras: $45 - $60
Underwear & Shorts: $20 - $38
Knixteen: $17
Tanks & Tees: $48 - $65
Loungewear & Accessories: $10 - $69
However, in many instances, you can save by bundling items or building complete sets. At $18/mo, the company's Club Knixwear subscription program also delivers a new pair of underwear to your door once per month and allows you to skip a delivery or unsubscribe at any time.
Online US orders are charged a flat $8 S&H fee, while Canadian orders will be charged $10, plus tax.
In addition to directly through the manufacturer's site, Knixwear's intimates are sold through Amazon and TheGrommet.com, as well as dozens of in-store retailers throughout the US and Canada.
Money-saving tip: If you're an Amazon Prime customer, this could potentially help you save money on S&H charges.
Clothing (Bras, Loungewear, and Tanks) comes with a 30-day refund policy, less S&H charges, although according to the company's FAQ, they'll need to be unworn, with the tags still attached.
Underwear, whether worn or unworn, are not eligible for refunds or exchanges for hygienic reasons. Accessories are not eligible for refunds.
Customer support can be reached at info@knixwear.com.
What Can We Learn from Knixwear Customer Reviews?
On Amazon, Knixwear's Moisture Wicking underwear had more than 30 combined reviews and an average rating of about four stars.
Common compliments related to comfort and the soft, seamless fabric, while complaints frequently referenced less-than-stellar comfort or fit, and inaccurate sizing.
On TheGrommet.com, Knixwear's Reversible 8-in-1 Bra had a total of 110 reviews and a 3.2-star average rating, with many of the same compliments and complaints.
Lingerie Detective provided an in-depth review regarding their experience with the Evolution Bra, and noted that they were pretty happy with it, overall.
They liked that it centered their breasts, held them securely in place (even without an underwire) and lifted them away from their body, without causing any tissue folding. They also emphasized that the band and straps were super comfortable.
However, she pointed out that since the bra features two sewn loops at the strap, it's technically not 100 percent seamless. Regardless, she recommended it as a great bra for everyday wear, including low-impact sports, sleeping in, and hanging around the house.
As a company, Toronto-based Knixwear launched their Evolution Bra via a 2015 Kickstarter campaign, where it on to raise more than $1.1 million—followed by an Indiegogo campaign that raised another $1.6 million.
The company was founded in 2012 by CEO Joanna Griffiths, who previously worked as Director of Business Development for Bre.ad (acquired by Yahoo!), Promotions Manager for CBC Television, and Media Relations Manager for the Toronto International Film Festival.
Knixwear held a B rating with the Better Business Bureau, as of 2/1/18, although their main page with reviews and complaint details wasn't available during our research.
How Does Knixwear Compare to Other Intimates Companies?
Did we encounter any seamless intimates company that offered an identical lineup of bras, panties, and other garments and accessories to Knixwear? No. However, this doesn't mean they're your only option when it comes to individual designs.
For example, Thinx's line consists solely of anti-microbial, moisture-wicking, absorbent, and leak-resistant 'period panties,' although they offer a greater variety of styles, including hiphugger, hi-waist, and sport, in addition to some styles with cotton fabric.
Price-wise, Thinx's lineup falls between $24 and $30 per pair, putting them relatively on par with Knixwear's offerings. However, Thinx also offers a 60-day refund policy.
True and Co offers bras and panties like Knixwear, although in a much greater variety of designs, styles, and materials (no leakproof options), including their True Body seamless collection. Prices range between $44 and $64 for bras, and $16-$32 for undies.
Differentiating themselves, though, True and Co also sells lingerie and men's underwear.
Like Knixwear, Thirdlove sells their own line of bras (t-shirt, full coverage, racerback, plunge, strapless, etc.), underwear (thongs, bikinis, and cheekies), and loungewear. However, like True and Co, Thirdlove also offers a greater number of styles and materials.
Prices typically fall at the upper end of the spectrum compared to the above competitors, with bras typically between $68 and $76, and between $12 and $15 for each pair of underwear (or, three for $27 in many instances).
Thirdlove's unique Try Before You Buy program also allows you to return their intimates if they don't meet your needs, even after being worn.
How can you choose which of these options will best meet your needs, before handing over your hard-earned money? Let's carry this thought over to the final section as we wrap things up.
Our Final Thoughts About Knixwear
Based on what we learned during our research and from online reviews, they seem to feature a unique seamless design that's comfortable for most consumers, a broad range of styles, competitive pricing, and 30-day refund policy.
However, unlike close competitors True and Co and Thirdlove, Knixwear doesn't allow returns on underwear that's been worn or had the tags removed.
In reality, this means that as soon as you try their underwear, you own it.
---
Poor quality, worse customer service

By Janice D.

,

Brooklyn, NY

,

Mar 6, 2020
Verified Reviewer

I purchased their leakproof underwear and carefully followed the washing instructions, using the delicate cycle and air drying. One of the pairs I bought came apart (the underwear is taped together and not sewn). I sent a photo to customer service who responded "that never happens, send a photo." I replied that I'd already SENT a photo but re-sent it. They asked for the lot number printed in the underwear - no, actually "demanded" would be more accurate - they weren't going to replace the pair until I did so, and so I did. They said that they no longer carry that color but would send me a different color. Again - no apology, no effort WHATsoever to compensate that I was being sent a replacement that was not the color I purchased. Rude and dismissive, and I will not buy from them again.

Bottom Line: No, I would not recommend this to a friend

---

Bad product, bad business practice

By Rae H.

,

San Diego, CA

,

Dec 17, 2019
Verified Reviewer

Purchased a pair of underwear that was both uncomfortable and way too big - I wear a medium from every other brand and store, but the medium from Knix was about 2 inches wider! In terms of the period-proof aspect, they're just as uncomfortable as wearing a heavy pad, and too loose to be leak-proof. As many others have mentioned, there is a no-return and no-refund policy, which is frustrating for such an expensive item.

I left a 2-star review on the site, with a photo attached displaying the Knix garment next to a standard medium for size comparison. The site never published my review! In fact, I scrolled through and there are only 4 and 5-star reviews on the site. Dishonest!

Bottom Line: No, I would not recommend this to a friend

---

Buyer beware!

By Lauren R.

,

Toronto, Ontario, Canada

,

Dec 10, 2019
Verified Reviewer

Buyer beware! I ordered the Evolution Bra according to the website's sizing and it's waaay too small. I reached out to customer service a few times and they refuse to get me the proper size saying it's final sale! Why would customers buy bras online if you can't exchange them?! Bad experience!

Also...the company deletes reviews on Facebook and then blocks people whose reviews they don't like.

Bottom Line: No, I would not recommend this to a friend

---

Ridiculous no-return policy - I LOST OVER $80

By Nor C.

,

Florida

,

Nov 20, 2019
Verified Reviewer

I fell for the "buy so much, get free shipping, here's some discounts, etc." and spend over $80. The pictures on the website show women who would never fit in their underwear but I did not know that. Sizes go to XXL for bikinis. They do not have a detailed size chart. I tried on one and it does not fit. Ok, I figured I was out the price of that one. But they won't take back the ones unopened, claiming health reasons. DON'T BUY THEIR STUFF. If it doesn't fit, you are stuck with it. Close competitors allow returns. They do not care about customers. Very bad experience.

Bottom Line: No, I would not recommend this to a friend

---

Advertisement

---

Worst ever!

By Kathi B.

,

Cornelius, NC

,

Oct 12, 2019
Verified Reviewer

I discovered that after 9 holes of golf, the leak-proof high rise had leaked through the crotch and soaked my shorts inside a skort.

I researched a number of similar items and felt the claims for holding liquid were just what I needed.

Unfortunately, the claims are untrue, and I could smell the odor of urine taking off my pants.

Bottom Line: No, I would not recommend this to a friend

---

Don't last

By Tera A.

,

Texas

,

Sep 28, 2019
Verified Reviewer

Comfort is great and I was so excited. Unfortunately, I got only 3 wears out of 2 of them, and my 3rd pair fell apart (came unglued) after the first wear.

So unless you can afford disposable underwear, keep looking.

Bottom Line: No, I would not recommend this to a friend

---

Buyer beware

By Yvonne S.

,

Vancouver, British Columbia, Canada

,

Sep 7, 2019
Verified Reviewer

I really wish I had read these reviews before purchasing myself! I ordered 5 pairs of underwear - all size small. Some were too small and others too large! Only 2 of the 5 fit to size. I was told by the company that size varies due to batch and lot number and no apology, exchange, or refund was extended. Wow, such a financial and environmental waste - thanks for contributing to the landfill with your useless random sizing!

Bottom Line: No, I would not recommend this to a friend

---

Buyer beware

By Tanya J.

,

Parker, CO

,

Aug 29, 2019
Verified Reviewer

So you better know your size, even though they don't have stores in most places to try on and learn your size. You cannot return even unopened packages of underwear. I bought my daughter size Small, because that is what she wears in every other brand out there, all of them. But Small was way too tight. And since the best purchase price for underwear is in a package of 3, you are screwed if you get the wrong size. You would think you could return at least the two that weren't opened. Nope! And they claim they tell you at purchase that these are final sale, and it is in their return policy, but they should make it really obvious at check-out, like a pop-up saying YOU CAN'T EXCHANGE OR RETURN. MAKE SURE SIZE IS ACCURATE, or something. Hope I can sell them on eBay. Nice to spend over $100 on underwear and can't even use them.

Bottom Line: No, I would not recommend this to a friend

---

They cancelled my order, did not notify me and only refunded me when I contacted them to find out where my order was

By Carey D.

,

Miami, FL

,

Aug 21, 2019
Verified Reviewer

I had a terrible experience with Knix and I never even got my order! Seven days after I placed my order, I checked their website to see when I should expect a shipping notification. The FAQs said I should have received one 2 days after placing my order, so I contacted them and spoke to a representative called Catherine. She informed me that the order was canceled because of fraudulent activity linked to the address...(The thing is, I paid via PayPal and they had my money...) I asked why I wasn't refunded or notified and was told they had a glitch in the system...Um, okay? She then offered to send my order to another address with a 20% discount or she could refund my money...Um, again - okay? Am I missing something? Why was the refund not issued when the order was canceled and why was I not notified? I then asked if they could send the order to the address I provided when I placed the order and she told me that they could not do that... Um, okay? So you have my order, you have my money and I am asking you to send my order to the address I provided and yet you won't because of fraudulant activity linked to the address. Um, I am definitely missing something! The conversation was very frustrating...I ordered with them because I read a review that their underwear was brilliant. Maybe I just had bad luck with them but I have a sneaky feeling that they do this to customers - a lot!

Bottom Line: No, I would not recommend this to a friend

---

False advertising and horrible customer support

By Rebecca M.

,

Indiana

,

Aug 16, 2019
Verified Reviewer

To preface, it takes quite a bit for me to be dissatisfied with a product and even more to write a negative review. I'm an "it's good enough" and an "I'll give them the benefit of the doubt" type of woman. I'm usually more motivated to write something positive.

Through the site's bra size text I was suggested for a 3, but their size chart put me in a size 4, so immediately I was confused. I went with 4, since I definitely didn't want a tight fit. When the bra arrived I was very excited to try a most comfortable bra and something with no underwire. I read the instructions and immediately tried to put it on, which was the first hurdle. It took me about 10 minutes to get it on, since it was SO tight. I could not even begin to try to clasp it behind my back. The instructions mentioned it needs to relax, but I was skeptical. I wore the bra for about 3 hours around the house before I literally couldn't stand it anymore and took it off. I gave it one more try on a more active day and had to leave my office and come home to change because I was so uncomfortable. It honestly felt like it was bruising my sides and back.

So I contact customer service, and they were entirely unhelpful. Their only comment to my complaint and concern was that I must have picked out the wrong size. Nothing about helping with returns. Nothing about refund or store credit to try another size or a different product. The same happened after providing feedback through email. No follow-up no offer to help. Nothing. Will never recommend to a friend and will actually advise against other's purchasing anything from them. False advertising, poor product, and non-existent customer support.

Bottom Line: No, I would not recommend this to a friend

---

Awful, deceitful return policy

By Ann W.

,

New York

,

Aug 15, 2019
Verified Reviewer

I can't believe this company...will not accept unworn bathing. It's terrible quality for $95 and they say their policy is final sale. There was no disclaimer what-so-ever. Stay away!

Bottom Line: No, I would not recommend this to a friend

---