ActivatedYou Morning Complete
Claimed This company has claimed this profile, is getting alerted on any new customer reviews entering this page, and may engage in dialogue with its customers to address their matters.

Companies cannot pay money or provide goods in order to remove or alter customer reviews.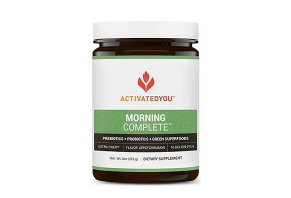 With a blend of 8 proprietary formulas, including superfoods, veggies, and probiotics, Morning Complete by ActivatedYou claims to deliver all-in-one health.
---
This company is actively collecting reviews from its customers. All reviews submitted are subject to moderation and approval to ensure they meet our

Review Guidelines

.

Very disappointed!

By Kathleen B.

,

Wisconsin

,

Oct 14, 2019
Verified Reviewer

Overall Experience:

I am very disappointed in this product. I am just as bloated, if not more, has not helped with regularity - at all, more gassy than ever and I purchased the product to hopefully help the above issues. It's uncomfortable and I feel heavier and absolutely do not like the way I look through the midsection. I have been drinking it at the same time every morning for 2 weeks. I've emailed about my diet only receiving a "standard" response. I continue to drink it in hopes something will soon change, but not optimistic. Again, I am very very disappointed. I do not want to continue using and deal with not liking how I look, feel, and constantly having gas. Can I PLEASE get a refund before having to consume 3 JARS! Which I will not do.

Bottom Line: No, I would not recommend this to a friend

Oct 15, 2019

Hi Kathleen, thank you for sharing your experience with Morning Complete. I'm very sorry that you did not have the results you had hoped from the product. Thank you for giving the product a try and I've gone ahead and initiated a refund for the order number you attached with your review. Please keep an eye out for a confirmation email in the next 1-2 business days. If you have any other questions, please email me at chloe@activatedyou.com and I'd be more than happy to assist you.

---

Updated review

Update

By Polly E.

,

Norfolk, England

,

Oct 5, 2019
Verified Reviewer

Overall Experience:

OK, my update. The product has now arrived and firstly I was horrified at how empty the pots are. I'm not sure if there is a reason for the enormous size of the container, compared to the quantity of power held inside the container, especially considering the current ecological climate with people looking to reduce their use of plastics - to me it seems both misleading and wasteful. I did photograph it so I could show you just how low the level is of powder but can't upload any images here sadly. But I can say I found it shocking.

So to the product itself. Well, the flavor and texture for me are unpleasant, but I think that is a personal thing. Some people like it, I don't. However, when you experience issues with digestion as I do you'll try anything in all honesty. So I have taken it daily.

1) I have taken it for several weeks now, just in half a glass water and chugged it fast because the taste and powdery texture make me gag. I then down extra water after it both to take the flavor away and because a bit of extra water is always good.

2) It does cause far more noxious gasses than I would like to have to deal with on a daily basis and as yet that hasn't died down. I can see that this could cause some people pain, it hasn't for me - I just have to ensure I don't try to hold it in (as that would be painful) and for the love of my kids, go outside regularly and open doors and windows! It may die down with continued use, in which case that's fine.

3) I have had a good clear out every day. This is unheard of for me. I have struggled with constipation for years and this has made a big difference to my life.

IN CONCLUSION:

1) The pushy buying experience was horrid and the extra cost on top of the product and shipping for customs taxes made it very expensive.

2) The product has helped me to get my digestion moving but the toss up is the exorbitant cost, poor and wasteful packaging, and extreme noxious gasses have to be weighed up against that.

If the gasses die down and they do something about the packaging, I will definitely continue. If not, I will likely look for something else.

Bottom Line: No, I would not recommend this to a friend

Oct 7, 2019

Hi Polly, thank you for sharing your feedback. If you decide at the end of your trial that you'd like to return the product for a full refund, please email me at aria@gundrymd.com and I'd be more than happy to assist you.

Previous review
Aug 23, 2019

Horrible purchasing experience.

I haven't received the actual product yet, I'm waiting for it to arrive and will review that at that time. My review is on the purchasing experience for Morning Complete, which is truly awful.

It is that pushy sales style which attempts to sell you multiple other products as you scroll through.

1. It tried to force me to purchase a greater quantity that I wanted.

2. It tried to sell me other supplements which made me question the claims about Morning Complete itself.

3. All of these pushes to sell me other stuff quadrupled the amount of time to process the order, which almost forced me to quit the process entirely and not complete the order. I did only because I am very serious about my digestive health and I want to try it.

If Morning Complete doesn't work for me, it has assured me that I wouldn't look at any other products from the company anyway.

As regards the product, my biggest concern before I start taking it is the lack of a breakdown of contents and amounts of ingredients, that is putting me off before I've even received it.

So far in all I'm not impressed with the company and honestly very concerned about the product's ingredients. I'll review again when I receive the product.

Sep 4, 2019

Hi Polly, I'm Chloe from ActivatedYou. Thank you so much for your thorough feedback on your purchasing experience. I am really sorry to hear about your frustrating experience and I want to stress that our customer's experience is our #1 priority so your feedback is incredibly valuable as we are always looking for ways to improve our processes. We typically recommend a few deals at checkout to ensure that our customers are receiving the best deal possible. But of course, these are totally optional. I hear your concerns though, and have noted them so that we can further improve our checkout experience. I also wanted to mention that our full list of ingredients can be found on our website: https://activatedyou.com/morning-complete/. I appreciate your feedback! Please keep me updated on your Morning Complete experience as time goes on. You can e-mail me at Chloe@ActivatedYou.com if you have any questions. On behalf of everyone at ActivatedYou, thank you for your feedback and for giving Morning Complete a try! Looking forward to speaking with you.

(

read more

read less

...)

---

Bloating and gas side effects

By Melissa M.

,

Seattle, WA

,

Sep 25, 2019
Verified Reviewer

Overall Experience:

I'll start with the good news, the product tastes great and is easy to mix up and drink.

Now for the challenges: the product was shipped to the wrong address even though I had contacted the company to verify the correct mailing address the day I placed the order. I had to drive 20 miles to an old address to pick up the package. However, when I contacted the company they immediately shipped one replacement bottle to me at my current address. This was a little odd because I had ordered three bottles initially, but they were quick to re-ship nonetheless.

Unfortunately, this product is not a good fit for me. It creates a horrible bloated feeling and gas all day long. These are both undesirable side effects and I will need to return the products.

Bottom Line: No, I would not recommend this to a friend

Sep 26, 2019

Melissa, I want to apologize for the inconvenience, but I'm happy you were able to retrieve the product! Thank you for giving the product a try - I've gone ahead and initiated a refund for the order number you provided on your review. Please expect a confirmation email in 1-2 business days. If you have any other questions, please email me at chloe@activatedyou.com and I'd be more than happy to assist you.

---

Not sure just yet...

By Vikki O.

,

Canton, GA

,

Sep 17, 2019
Verified Reviewer

Overall Experience:

Received two containers yesterday, and tried it this morning.

I, too, was disappointed that the container was only half full - but I poured the contents onto a scale, and there is, indeed, 8 oz of the product. Seems like a small container would be wise, considering that UPS charges by the size of the box, rather than by the weight.

Taste: I put a scoop into 8 oz. of water. The taste was horrible - almost had a metallic after-taste. I poured that one out.

Then, I tried it in 8 oz of coconut water (I use the Harmless brand when I can't get Thai coconuts), and that was much better. I plan on making almond milk tomorrow morning and trying that. And, I'll try adding it to a smoothie, though I would prefer it be a neutral taste, as I don't want my smoothies tasting like apple/cinnamon.

What I DON'T want is to receive a container every month. I don't want a subscription, I just wanted to try it - so I'm hoping I don't have that issue.

I like reading the reviews, though, because everyone has a different experience. The over-sell WAS annoying, but many companies do that. Just keep clicking on "no thanks", and you'll be fine!

If the product doesn't agree with me (or with you!), then the best alternative is to take some supplements, juice vegetables, and fruit and greens, or put them all in the blender so you get the fiber, too. I only plan to use Morning Complete on the mornings I don't have time to make a drink from scratch. So - I'll let you know how it goes! No recommendations for or against right now. But, this review requires me to choose a "yes" or "no", so it has to be "no" until more results are in! Stay tuned!

Bottom Line: No, I would not recommend this to a friend

Sep 18, 2019

Hi Vikki, thank you for taking the time to share your experience with Morning Complete. A lot of our customers have shared they do the same and use the powder to supplement their morning smoothies! Keep us updated on how you are enjoying Morning Complete with almond milk. Please email me at chloe@activatedyou.com and I'd be more than happy to double-check your account to ensure that you are not signed up for our subscription service. Thank you!

---

Advertisement

---

Lots of gas and bloating so far and less energy

By Sanaz K.

,

Toronto, Ontario, Canada

,

Sep 8, 2019
Verified Reviewer

Overall Experience:

Been using the product for a couple of weeks. It cost me a lot more in CAD dollars of course.

It doesn't upset my stomach, it tastes delicious, so I'm inclined to keep drinking it. It's not off-putting like other powder supplements.

The jar was only half full. That was a disappointment.

It does, however, cause a bit of bloating in my bowels and all-day gas!

I haven't really experienced any weight loss, but I look slimmer. It almost acts as a diuretic product that makes you lose water weight. It hasn't helped curb my carb cravings at all.

I'm going to keep taking it until it's finished,

Ms. Q makes it seem like it is a meal replacement in the morning. That it's all you need that it might even be filling. I don't find that to be true, and I don't feel like I have more energy. If anything, if I don't eat any food in the morning, I'm totally exhausted and sleepy by midday.

I'm not sure if I would purchase more because I found the sales gimmicks very lame. I didn't like the constant attempt at getting me to buy more or a different product altogether in addition to Morning Complete.

So I can't recommend it at this time.

Bottom Line: No, I would not recommend this to a friend

Sep 10, 2019

Hi Sanaz, thank you for giving Morning Complete a try. I'm glad to read that you're enjoying the taste of it! As always we ask that you consult your physician to ensure that this is the right fit for you. With your physician's approval, I encourage you to continue giving the product a try! It takes about 90 days to see optimal changes. Of course at any time if you are dissatisfied or unimproved, please email me at chloe@activatedyou.com and I'd be happy to issue you a full refund.

---

This is what I needed!

By Betty S.

,

Tennessee

,

Sep 7, 2019
Verified Reviewer

Overall Experience:

I had been struggling with never feeling full. I could eat a whole meal and still feel hungry afterward or within an hour afterward. Yet my energy was always so low to the point of having to take a nap in the late afternoon. No matter how much food I ate, it would not give me energy. And I do not like the taste or results of coffee, pop, or energy drinks, so I don't drink them. I didn't eat much junk food or bad food either. I had other issues going on such as headaches, fatigue, sore muscles, anxiety, and depression. I went to more than one doctor and went through two different panels of bloodwork and everything came back normal. No one had answers for me. I started doing research on more holistic approaches. I decided to use CBD oil for focus, headaches, muscle aches, and my anxiety and begin using ActivatedYou Morning Complete to clean my gut, provide me with energy, and help me eat less.

I've been on both products for two weeks. I am excited to share I am no longer having any of my symptoms. My energy lasts all day long, I feel better physically and mentally. I no longer crave any bad foods. The amount of food I eat has declined and I feel full again! Having the energy and feeling full are the two best results.

However, the reason I gave this product review a neutral 3 stars is because the flavor of the powder is awful. So awful! If it was apple flavor only, it would be great. It would mix well with anything and everything, but the combination of apple cinnamon is gross. I have tried it with soy milk, apple cinnamon tea, green tea, cardamom tea, pomegranate and strawberry tea, and peach tea. Nothing mutes the awful flavor. I manage to get it down by steaming two tea bags of green tea, add honey, then add the powder. It's tolerable at that point. I also want to note the powder does not dissolve in cold soy milk. It clumps no matter how much I stir it in.

The second reason it gets 3 stars is because of the gas I've had. I have more gas now than I've ever had. I'm hoping that this symptom will end at some point. I figured after two weeks, my gut would have killed off the bad bacteria but perhaps it needs longer. I'll come back with an update if the gas ends or doesn't after 30 days. My gut should absolutely have killed off the bad bacteria by 30 days and if I still have gas, then it's either something in the product that is causing it or perhaps I'm still eating too much food.

I hope that the company will read my honest feedback and the feedback of others and please, please change the flavor of the supplement. I LOVE the results of your product but the flavor is terrible!

I have recommended this product to others and will continue to, but I give them the warning in advance that the flavor isn't good and that the product causes gas in the beginning as your gut is getting cleaned out of bad bacteria.

*Side Note: You cannot take this supplement and not make any changes in your eating or exercise habit. If you take this supplement you have to be serious about cutting bad foods out of your diet, eating less, and adding exercise daily or five times a week. Taking a daily walk is enough. This supplement is meant to be added into a healthy eating and exercise plan. I've seen reviews say this product has caused terrible cramping and gas. It will if you continue to eat junk food, and bad food while taking it because continuing to eat bad food does the opposite of what this supplement is meant to do for you. It will also continue to cause cramping and gas if you don't get your body moving. Your body needs exercise for healthy digestion.

I'm a woman in my 30's and before adding these two products I felt like I was in my 50's. Now I'm exercising daily in the morning, having energy all day and feeling like I'm in my 30's again. My recommendation is to try this product for yourself to see if it works for you, but be sure to eat healthier (this supplement will help you crave healthier food) and add at least a little exercise to your day to assist the supplement in helping your body.

Bottom Line: Yes, I would recommend this to a friend

Sep 10, 2019

Hi Betty, thank you so much for taking the time to share your experience! I'm thrilled to read that you've seen success and positive changes from using ActivatedYou products. I will happily pass along your feedback of creating a different flavor to our Product Development team. If at any time you have any questions or concerns, please don't hesitate to reach out to me at chloe@activatedyou.com.

---

Confused

By Kelly M.

,

Lousiana

,

Sep 3, 2019
Verified Reviewer

Overall Experience:

I really wanted to love this product. But I'm confused. It tastes good and first had a good BM. Now I'm so constipated and forcing to get anything out (sorry for the details). Does that symptom, does it go away? Or is this just not right for me?

It was also very annoying trying to finish the order and have them keep trying to sell me more and different products.

Bottom Line: No, I would not recommend this to a friend

Sep 4, 2019

Hi Kelly, thank you for your review of Morning Complete! It sounds like you could be experiencing "Die-Off" symptoms. This occurs when introducing a probiotic blend into your system. These symptoms typically go away within a week or two. I would also like to make sure that you consulted your physician to ensure that Morning Complete is right for you. Please e-mail me at Chloe@ActivatedYou.com if you ever have any other questions.

---

Worst bloating that keeps me awake all night

By Tammi L.

,

San Bruno, CA

,

Aug 15, 2019
Verified Reviewer

Overall Experience:

I have been taking the ActivatedYou for a week and a half but I do not see any good results. Instead, every time I take it, it gives me a bloated stomach and a very uncomfortable stomach throughout the day. Every morning, I excrete very little and have diarrhea. Before this supplement, I excrete regularly and I have bloated stomach sometimes. But after taking this, I feel my bloating is worst and bowel movement is irregular.

I really want to love this product but I feel I should stop taking it because it's becoming so bad that I can't even sleep at night. I am bloated and have stomach pain.

Bottom Line: No, I would not recommend this to a friend

Aug 16, 2019

Tammi, thank you for taking the time to share your experience. I'm very sorry to read that you are experiencing this. It sounds like you might be experiencing "Die-Off" symptoms, which can occur when probiotics are introduced to the gut and begin killing off the bad bacteria. s always, we ask that you consult your primary care physician prior to trying a new product to ensure that you do not experience any interactions while taking them. Because everybody is different, we do understand that our products may work well for some and not others.

I want to apologize again that this was your experience and I ask that you email me at chloe@activatedyou.com and I'd be more than happy to take care of your order for you.

---

Had the opposite effect

By Ruby R.

,

Chicago, IL

,

Aug 7, 2019
Verified Reviewer

Overall Experience:

I've been taking both the probiotic pill and the Morning Complete powder for about 2 weeks now. I experienced bloating and gas almost immediately but also started the pill and powder a couple of days before "that time of the month"...so I attributed my uncomfortable-ness to my period. Side note: the cramping, gas, and bloatedness I experienced was worse than ever! I usually don't experience THAT much during "that time."

This whole week, I'm wondering why I have put on a couple of pounds when I've been working out, eating right (as I usually do)...I'm pretty thin, and I now have a protruding pooch on me. I'm thinking maybe I'm pregnant and the last period was not a period but a "symptom" of being pregnant! Another side note: it's almost impossible for me to get pregnant due to a surgery I had (but still...not a 100% impossible).

Then I think back..."did I change anything in my diet? What have I been eating that could cause this much bloat...?"

Last night it came to me - my ActivatedYou stuff. It HAS to be that! As soon as I woke up, I looked up reviews and read a bunch of other reviews saying the same thing! Omg - I finally figured it out. I will NOT be continuing with this. I'm a pretty fit person and this has made me the most bloated, gassy, uncomfortable person ever. I've never experienced anything like this. I get that it might take a couple of months but from reading the other review that said it just got worse...I'm not taking any chances.

I'll go back to my other probiotic that did NOT give me all these side effects.

Bottom Line: No, I would not recommend this to a friend

Aug 8, 2019

Hi Ruby, I'm so sorry to hear that you had this experience with our Advanced Restorative Probiotic nd Morning Complete. It sounds like you might be experiencing "Die Off" symptoms. This often occurs when probiotics are introduced to the gut and begin killing off the bad bacteria. As always, we ask that you consult your primary care physician prior to trying a new product to ensure that you do not experience any interactions while taking them. Because everybody is different, we do understand that our products may work well for some and not others.

I want to apologize again that this was your experience and I ask that you email me at chloe@activatedyou.com and I'd be more than happy to take care of your order for you.

---

Helpful

By Carolyn T.

,

Houston, TX

,

Aug 6, 2019
Verified Reviewer

Overall Experience:

I have been using Morning Complete for at least a year. It helps my digestive health, and has helped with my BM. It actually tastes fine to me, maybe takes a few days to get use to, I just mix with water. It's positive, I feel more full in the morning and believe I have noticed a higher energy level. I recommend you at least give it a try, every body is different. I try to order in quantity now when they offer lower prices. It is pricey to me, but I will spend the money because I notice the difference with my digestive health and BM.

Bottom Line: Yes, I would recommend this to a friend

---

Severe constipation and bloating that won't go away

By Linda P.

,

Auburn, CA

,

Jul 29, 2019
Verified Reviewer

Overall Experience:

I was really hoping this would work for me. First off, I sent a note to customer service asking for suggestions when I started getting constipated. They didn't offer any and gave me the same "we are sorry" message from Chloe in the other non-favorable reviews. Then did an immediate refund which I didn't even ask for. Then an email asking questions like "did your problem send you to the hospital." I answered no. I hope I don't have to say yes soon. The bloating, cramps, and severe constipation was so bad that after 5 days of not going and trying OTC remedies the doctor suggested an enema. It helped some but now another 5 days! I stopped taking the product after 2 weeks. When will I feel better? This is HORRIBLE. No one with the same symptoms in the reviews said what they did or how long it took to feel better. HELP! I hope a customer that went through this can share their experience.

Bottom Line: No, I would not recommend this to a friend

Jul 30, 2019

Linda, I want to start by sincerely apologizing that you had this experience with Morning Complete. We take matters like this very seriously and I want to assure you that I have passed along your order number and reaction to our Product Development and Customer Service team. This is not a typical reaction to Morning Complete so we always ask that our customers consult their physician prior to starting any new supplement. With that said, I want to apologize again. Please expect to be contacted by our customer service team to see how we can make this right and if you ever have any future concerns or questions, my personal email is chloe@activatedyou.com.

---