Penetrex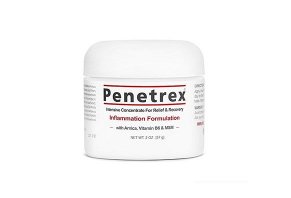 Summary
Penetrex is a topical anti-inflammatory treatment that is intended to provide pain relief when it is applied directly to the skin overlying the affected area. Our research indicates there is some clinical support but not as robust.
Penetrex Review - Is It Safe & Effective?
What is Penetrex?
Penetrex claims that their topical formulation will provide actual relief for muscle, nerve, ligament and tendon pain, rather than simply masking it. Instead, the company claims that Penetrex works by addressing the root of the issue - inflammation.
Whereas oral anti-inflammatory medications require digestion and absorption to deliver their effects, Penetrex allegedly offers immediate benefit by being absorbed directly into the skin.
The company states that this method of delivery allows for a higher concentration of the active ingredients at the location of pain when compared to oral formulations.
According to the company, simply apply Penetrex anywhere you may be experiencing pain, discomfort, tingling, or numbness. While Penetrex is designed to be an effective treatment on its own, the company claims that it can be used as a complement to existing therapies such as heating pads, ice packs, arthritis gloves, massagers, and supplements.
In this article, we'll highlight the research we found during our literature review to help you determine if the Penetrex blend of ingredients can live up to the claims made by the company.
How To Use Penetrex
According to the website, users should massage Penetrex into the affected area thoroughly for 1-2 minutes. The company suggests repeating this process 3-4 times daily over an initial treatment period of 7-10 days.
They claim that as your symptoms begin to subside, you can gradually reduce the number of applications done each day until you are using Pentrex as needed.
Also, the company recommends that you apply Penetrex just before the period when you tend to experience the worst of the pain or discomfort - before bedtime or physical activity, for example.
As pain and the associated symptoms vary greatly person-to-person, Penetrex does not provide a timeframe for expected results. They do mention that customers have reported immediate relief, while others found benefits after weeks of use.
For these reasons, there is also a wide array of purchase frequencies. According to Penetrex, some users get by with just 1-2 jars each year, whereas other order 6 jars at a time.
The Penetrex Ingredients: Do They Work?
Penetrex claims that the secret behind their supplement is the blend of ingredients. Every application contains just a handful of active ingredients that are intended to provide relief for your pain through their anti-inflammatory actions.
Per the product's website, Penetrex uses the following active ingredients:
Arnica
Pyridoxine (Vitamin B6)
MSM / DMSO2 methylsulfonylmethane
Boswellia serrata
Cetyl myristoleate
Arnica
Arnica is a plant that has been widely used for various applications for centuries. Its active components may provide anti-inflammatory and pain relief, as well as promote blood flow.
When used every 4-hours in well-trained males, topical arnica did not improve exercise performance or inflammatory blood tests. Subjects did report less muscle tenderness after use, however.
In a review of 11 controlled trials, topical arnica at concentrations of 10% or less were ineffective in treating pain, swelling, and bruising. Researchers concluded that more work was needed to determine the long-term safety and efficacy of formulations with higher concentrations.
Pyridoxine (Vitamin B6)
Vitamin B6, like other B vitamins, is found in meat, poultry, fish, whole grains, nuts, and seeds. It may support the proper functioning of nerves.
Deficiency is well known to be associated with nerve pain and various skin conditions. Thus, vitamin B6's ability to relieve nerve pain has been well studied, though evidence for topical formulations is lacking.
In patients with carpal tunnel syndrome, 120mg of vitamin B6 daily for 3-months effectively improved clinical symptoms and sensory tests results.
Much more work is needed to characterize the role of topical treatment in similar conditions.
MSM / DMSO2 methylsulfonylmethane
This sulfur-containing compound is often included in a variety of dietary supplements. It may reduce inflammation and support the function of tendons, ligaments, and muscles.
I elderly patients with signs and symptoms related to joint degeneration, 1200mg of MSM daily over 3-months improved joint pain and function.
In a review of 3 studies, both topical and oral MSM were not effective in offering clinically relevant pain reduction in those with knee arthritis.
More work is needed to be able to draw definite conclusions regarding MSM's ability to reduce pain and inflammation, mainly when applied topically.
Boswellia serrata
Boswellia serrata is an extract that is obtained from Middle Eastern trees. It is often included in supplements that claim to offer pain relief due to its suspected anti-inflammatory properties.
This benefit was previously demonstrated with oral use of the extract. In 60 patients with knee arthritis, 100mg of Boswellia serrata over 3-months improved joint function and reduced pain.
In mice, topical and oral Boswellia formulations were compared. Topical delivery accounted for 2-6x higher concentrations in the joint vs. the plasma concentrations associated with oral delivery. Both methods of delivery reduced cartilage loss and inflammation, though researchers concluded that the high joint concentrations achieved with topical administration warranted further research.
More work is needed to determine the long-term effects on human subjects.
Cetyl myristoleate (CMO)
CMO is a fatty acid that may work to lubricate your joints and reduce inflammation.
In subjects with mild knee pain, those randomized to receive a supplement that was 62.4% CMO reported improved pain.
In patients with knee arthritis, CMO cream improved knee range of motion, stair climbing, ability to get out of a chair, and balance when compared to placebo.
Again, more work is needed to determine the safety, efficacy, and specific dosing for the topical application of CMO.
Potential Penetrex Side Effects
Topical pain relief formulations are generally safe. As they act locally, you avoid some of the unwanted whole-body effects that may be associated with oral supplements and medications.
Keep in mind that most of the research currently available has tested oral use of the Penetrex ingredients. The ingredients have been well-tolerated when studied individually.
There are some considerations you should make when using Pentrex or similar topical products, however.
Make sure you understand the ingredients. Mild skin rash or eye irritation is likely to be the most common side effects. Mi You may want to avoid topical formulations if you have allergies to any specific ingredients, you are known to have sensitive skin, or you have open wounds over the painful area.
If you do develop a rash while using Penetrex, discontinue use and speak with your doctor.
On the product's website, no specific dosage amounts are listed for each ingredient. We contacted customer service, who let us know that they would get back with us with this information via phone. No further response was ever provided.
Thus, there is insufficient information to fully characterize the safety profile for the Penetrex blend. More long-term studies with human subjects are needed.
Even if the risk for using a supplement is minimal, it is always best to speak with a physician before use. Identify the source of your aches and pains first so the appropriate plan of care can be identified.
Penetrex Pricing & Return Policy
As of this writing, Penetrex was available both directly on the manufacturer's website as well as on Amazon.com. The product came in several different quantities and was priced the same on both sites:
1 Penetrex (2 oz.) - $18.98
1 large Penetrex (4 oz.) - $34.95
6 -pack Penetrex (2 oz.) - $99.00
3-pack Penetrex (4 oz.) - $97.50
Keep in mind that their 3 and 6-pack options provide the same total amount (12oz.) Therefore, opting for three 40z jars is slightly cheaper.
As for the return policy through the manufacturer, the website terms state that each order comes fully backed by the company's no time-limit, no-hassle policies.
To process your return, call (858) 356-5980 or use the company's contact page.
The Penetrex website also provides a link so you can find retailers near you. Products are also available in-stores or online from major vendors like CVS, Walmart, and Amazon.
While pricing is nearly identical, remember that the return policy may vary seller to seller.
Alternatives
Topical pain relief formulations are widely available from all of the major vendors that sell health and wellness products.
Performing product comparison, you'll find that pricing and formulations can vary greatly.
We've previously reviewed one example - Australian Dream Cream.
This supplement also provides MSM/DMSO2 in addition to vitamins, essential oils, and their key ingredient: histamine dihydrochloride. The company claims that daily use will help you relieve joint, muscle, and back pain.
Also, Australian Dream similarly prices their 2oz jar from $15-$18 and backs your purchase with an "empty jar" guarantee.
Though the key ingredient does not have strong scientific support, Australian Dream does provide its specific concentration in their pain relief products. This information isn't shared by Penetrex.
Also, Australian Dream has a favorable safety profile, it is priced at or below the cost for Penetrex, and it is backed by a guarantee. Thus, it may be a more reasonable option for pain relief.
The Bottom Line on Penetrex
The Penetrex blend of ingredients does have some support for their anti-inflammatory and pain-reducing actions, though it isn't robust. Also, much of the research has tested the ingredients in oral formulations.
There isn't much support for the topical application of these ingredients, though what is available demonstrates promise. Keep in mind, that topical delivery may offer different results than those found in studies using oral delivery methods.
Also, Penetrex has not provided details for the concentration of each ingredient included in its topical blend. Therefore, we are unable to draw strong conclusions regarding this product's safety and efficacy.
Nonetheless, customers seem pleased. The product currently holds a 4.2- rating on Amazon based on more than 31,100 reviews. Happy users report relief for pain related to hip arthritis, shoulder bursitis, and back surgery.
Customers are happy, the product is priced competitively, and some of the ingredients have a confirmed ability to manage aches and pains. Also, the financial and safety risks are likely low given the topical application and product guarantee.
On the other hand, scientific support is not robust and we aren't provided the ingredient concentrations to offer a true comparison to the research and similar products.
Thus, Penetrex may not provide the pain relief you're looking for, but it's not an unreasonable option to try - after you've spoken to your doctor.
Customer Reviews