Protandim Nrf2 Synergizer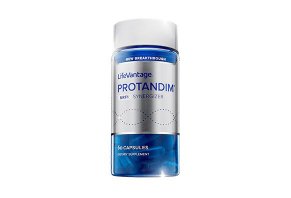 Protandim's Nrf2 Synergizer is an anti-aging dietary supplement that is designed to promote cellular repair and rejuvenation by jumpstarting your body's ability to produce antioxidants. While the supplement may boost antioxidant activity, there is no evidence for how this translates into anti-aging benefits.
Protandim Nrf2 Synergizer Review - Does It Work and is It Safe?
What is Protandim Nrf2 Synergizer?
Nrf2 Synergizer from Protandim is designed to allegedly help jumpstart your body's ability to produce antioxidants.
According to Protandim, this is accomplished by boosting Nrf2, an enzyme that increases the expression of antioxidants to promote anti-inflammation, protective, and healing capabilities.
Antioxidants help fight off free radicals, molecules that cause the oxidative stress that is associated with a wide variety of adverse health. This is an important role as avoiding free radicals is impossible as they are generated by vital functions like eating, breathing, and exercising.
Protandim states that by taking 1 capsule daily, Nrf2 Synergizer will:
Help you detox genes
Reduce oxidative stress by as much as 40% in 1-month
Activate Nrf2 to decrease cellular stress
Produce enzymes that neutralize free radicals
Regulate survival genes
Help your body repair and rejuvenate its own cells
According to the website, science backs up these purported benefits.
In this article, we'll help you determine if Nrf2 Synergizer can offer the proposed benefits by reviewing the details of Protandim's clinical studies.
The Nrf2 Synergizer Active Ingredients: Do They Work?
Protandim's Nrf2 Synergizer is alleged to jump-starting your body's ability to produce antioxidants through a blend of natural ingredients.
According to the Supplement Facts label, every capsule of Nrf2 Synergizer contains the following:
Calcium - 77mg
Proprietary Blend - 675mg
Milk Thistle Extract - Despite its name, milk thistle does not contain dairy. The extract has been used in formulations that claim to offer detoxifying benefits.
Bacopa Extract - Bacopa is a tropical herb that may boost brain function, relieve inflammation, and fight free radicals.
Ashwagandha Extract - Ashwagandha is found in India and may improve memory, boost immunity, and offer antioxidant benefits.
Green Tea Extract - A common dietary supplement ingredient, green tea may offer a variety of health benefits through its caffeine and antioxidant content.
Turmeric Extract - This spice has been used for centuries in food preparation and traditional medicine. Its antioxidant and anti-inflammatory properties are related to its active compound, its active compound, curcumin.
As Nrf2 Synergizer was studied as a stand-alone product, we can use the published research to gain a better understanding of the potential benefits of this supplement, if any.
In 2006, Nrf2 Synergizer (675mg daily) was administered to healthy subjects from 20-78 years of age. After 120-days, the supplement effectively boosted superoxide dismutase (SOD), an important antioxidant.
Researchers also noted that thiobarbituric acid-reacting substances (TBARS) declined during the study duration. TBARS typically increase with age and can be associated with adverse health effects like heart attack and stroke.
In 2009, Nrf2 Synergizer was tested in a laboratory setting. When exposing cultured mouse cells to the supplement, researchers measured an increase in antioxidant enzymes. When given orally to mice with muscular dystrophy, Nrf2 Synergizer cut TBARS nearly in half, though treatment did not improve motor function or microscopic assessments.
In 2011, human blood vessel cells treated with Nrf2 Synergizer had more antioxidant enzyme activity. Most recently, Nrf2 Synergizer was put to the test in rat cells. Researchers concluded that the supplement was able to promote antioxidant activity and protect against free radical damage.
While there are many studies that support the antioxidant-boosting capabilities of Nrf2 Synergize, most of them were completed in a laboratory setting or with animal models.
Despite having at least one study that included human subjects, the significance of increasing SOD levels with Nrf2 Synergizer has not been demonstrated. Much more work is needed to determine the long-term safety and efficacy.
Is Nrf2 Synergizer Safe?
Nrf2 Synergizer contains 5 natural ingredients that are generally safe to use.
While this blend was well tolerated throughout 120-days, this is the only real evidence we have detailing its safety. Without additional research in human subjects, the effects of using this supplement in the long-term are unknown.
You are most likely to experience mild digestive disturbances like stomach pain, diarrhea, nausea, or vomiting. The company does suggest that headache and rash are also possible.
Though these symptoms should disappear by reducing your dose or discontinuing use, you should speak to your doctor before trying new supplements.
The Cost
Protandim's Nrf2 Synergizer is available directly from the product page with a few purchasing options.
You can place a one-time order for a 1 or 3-pack; they are priced at $59.99 and $150.99, respectively. Shipping is free on orders of more than $100.
You can also opt for a subscription to save further. Your 1-pack ships monthly and you're auto-billed $49.99. The 3-pack ships every 3-months for $125.99.
A 30-day guarantee backs your purchase. To process your return, contact support at 866-460-7241 or email the company at support@lifevantage.com.
You can also find a 1-month supply at Amazon for $40.65, and they also offer 30-day returns.
What Are the Alternatives to Nrf2 Synergizer?
While there are many anti-aging supplements available on the market, Nrf2 Synergizer's blend is less common. In fact, our research didn't reveal any other supplements that provided the exact ingredients.
At HighYa, we have previously reviewed other anti-aging products that claim to work at the cellular level. Basis by Elysium is one example.
While the benefits of these 2 supplements are similar, Basis claims to achieve them by boosting your Nicotinamide adenine dinucleotide (NAD+). This molecule plays a major role in how your body creates energy.
Basis combines pterostilbene and nicotinamide riboside, so you won't find any of the Nrf2 Synergizer ingredients. As you'll pay $60 for a 1-month supply, you wouldn't save money with this product.
Also, the research does demonstrate an ability to boost NAD+. However, there's no evidence for what the real-world implications of this mean. Until research demonstrates tangible benefits, you may want to save your money.
If you're interested in Nrf2 Synergizer's specific blend, Ayurvedic Brain Health Support is a closer match. Though they claim to boost mental function. This supplement contains bacopa, ashwagandha, and turmeric for just $11.99 for a 45-day supply.
This is a much more cost-effective option, even if you figure in the expense of adding green tea and milk thistle.
Pros and Cons
Evidence demonstrates an ability to increase antioxidant activity
30-day return policy
Support is mainly in laboratory and animal models and in the short-term
No evidence for anti-aging benefits
Costly, even with a subscription
The Bottom Line
Protandim's Nrf2 Synergizer contains a blend of ingredients that have demonstrated the ability to boost antioxidant activity, though most of the support is in laboratory and animal models.
There is at least one human trial that also backs this benefit, though there isn't any evidence that describes what anti-aging effects are possible.
Nonetheless, at Amazon, 66 customers rate Nrf2 Synergizer 4.3-stars. Those pleased with the results mention benefits like less pain and more energy, as well as less hot flashes and improved vertigo.
Users seem generally pleased, though the benefits they cite are vague. As Nrf2 Synergizer is costly and lacks strong scientific support, you should probably save your money.
While aging naturally involves many unavoidable processes, you can maintain your general well-being by starting with a healthy diet and regular exercise.
If you have symptoms that seem beyond regular aging, seek the care of your doctor.
---
The product is the TRUTH!

By Mya N.

,

Douglasville, GA

,

May 31, 2018
Verified Reviewer

Overall Experience:

I have been taking Protandim for three days now. I have never felt this good in my life. I take natural herbs, and have been for a while. So I'm familiar with each herb does. I have taken each herb in Protandim, either through a pill or tea formula. My experience has been amazing. I felt a difference just a few hours after taking the pill. I have been sleeping like a baby since day one, and I don't wake up feeling sluggish. I'm actually full of energy and motivated. My brain is typically foggy and always rambling, thinking about the 100s of things I have to do, but since I took this pill, no foggy brain...my mind is quiet all the time. It's crazy! No one can tell you exactly what it feels like, it's something you have to experience for yourself. I will forever take this pill. I can only imagine what it is doing on the inside.

Bottom Line: Yes, I would recommend this to a friend

---

Overall Experience:

It seems to work for me. I have been taking it for years now. My cholesterol and glucose numbers are down, and I feel much more strength than before. I would give it 5 stars if it would not be for the fact that it is expensive.

Bottom Line: Yes, I would recommend this to a friend

---

Advertisement

---

It will perk you up, and that's about it.

Overall Experience:

I think that, as many other direct marketing products, this one too is overpriced and overrated.

It contains green tea and turmeric, which are natural antioxidants. You could make your own organic green tea at home and enjoy it for very little money.

Turmeric is a close family of ginger root, which is said to boost immunity. Both green tea and turmeric will give you extra energy, but turmeric will help at a circulatory level. It does not have caffeine.

Milk Thistle is said to help liver and pancreatic functions, helping to stabilize blood sugar, and detox the body. This is great, but there are many supplements out there to choose from.

If you decide to take Protandim, do it in the morning. It gave me insomnia. It also gave my co-worker a heck of a bad mood and aggressiveness, probably because she isn't used to stimulants.

I'd say: no.

Bottom Line: No, I would not recommend this to a friend

---

A Complete Scam

By Bobbi Barrett

,

San Carlos

,

Jun 24, 2015

Overall Experience:

I took Protandim for 3 days and broke out in a terrible rash all over my body. It lasted 2 weeks and I had to take steroids to get rid of it. The worst experience of my life. I had an allergy to Rose Thistle that I wasn't aware of so we need to know what the ingredients are before taking something like this. I do take part of the blame, but the people at Protandim had no sympathy whatsoever. They said they had never heard of a reaction like this, although it is listed in their side effects.

Don't take this.

Bottom Line: No, I would not recommend this to a friend

---

Advertisement

---