LifeVantage Reviews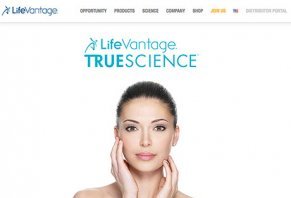 LifeVantage is a nutraceutical company that claims to be a leader in Nrf2 science, which can help reduce free radicals in your body and improve your health.
About LifeVantage
As a self-proclaimed leader in Nrf2 science, LifeVantage is a nutraceutical company that claims to manufacture scientifically-validated products focused on healthy living and the reduction of oxidative stress.
As such, LifeVantage's products and network marketing business structure are claimed to help people achieve healthy living.
But when it comes down to it, is the LifeVantage opportunity really an "opportunity," and are their supplements really "deeply rooted in science?" Keep reading to find out.
How LifeVantage Works
At its most basic, LifeVantage a manufacturer of nutraceutical products who provides compensation to independent Distributors who sell them.
The company has been around for several years, and you may have watched a clip about the company on ABC's PrimeTime show, or you may have been approached by a friend or family member who is already a Distributor.
As a result, you're probably interested in learning more about the company.
As such, let's take a closer look at LifeVantage's products, as well as their business model.
LifeVantage Products
LifeVantage claims that science is the foundation behind all of their products, and that their flagship supplement Prodantim was developed by Dr. Joe McCord, co-discoverer of superoxide dismutase (SOD), an enzyme claimed to eliminate free radicals.
As such, the company claims to hold an active patent on Protandim and several of their other products.
With this in mind, LifeVantage claims that all of their products are formulated around Nrf2 technology, which is a "a powerful protein that is latent within each cell in the body, unable to move or operate until it is released by an Nrf2 activator."
In layman's terms, Nrf2 is claimed to signal your DNA to produce antioxidants, which may provide a wide variety of benefits, including protection from free radicals.
Here are LifeVantage's Nrf2-based products:
Protandim – Using natural plant ingredients, this is a daily "NRF2 synergizer" dietary supplement that is claimed to help reduce oxidative stress by an average of 40% in 30 days, which is accomplished by increasing the amount of antioxidant enzymes produced by your body.

TrueScience – An anti-aging beauty system that uses Nrf2 technology to provide instant and cumulative anti-aging benefits, including increased hydration, smoother, brighter, and luminous skin, and more. Included in the system are an Ultra Gentle Facial Cleanser, Perfecting Lotion, Eye Corrector Serum, and Anti-Aging Cream.

Canine Health – May help reduce oxidative stress in dogs, in addition to supporting brain, eye, and skin function, supporting joint health and mobility, and supporting cognitive function.
The LifeVantage Opportunity
LifeVantage also provides individuals with the opportunity to sell their supplements as an independent Distributor, which the company claims have more than 67,000 of as of the end of the 2013 fiscal year.
When compared to other network marketing/MLM companies, LifeVantage claims to offer a real opportunity for real people that can help them feel good and lead a healthy life, while moving them toward financial independence.
In addition, LifeVantage claims to have a compensation plan like no other, which includes a variety of bonuses and pools, as well as royalty commissions.
On top of this, LifeVantage claims to have created a proven system that can help you improve your chances for success, which they've named the Master Track program.
This system is claimed to include a training manual, weekly training programs, training calls, conference calls, personal mentoring, monthly training meetings, quarterly events and annual conventions, in addition to incentives and promotions.
LifeVantage Pricing and Refund Policy
LifeVantage products are priced as follows:
Protandim: $50 ($40 for Preferred Customers)
TrueScience: $211 for the complete set ($160 for Preferred Customers). Note: Each product in the set is also available for individual purchase.
Canine Health: $30 ($25 for Preferred Customers)
The LifeVantage Preferred Customer program is basically an autoship program, where you'll receive a reduced price for agreeing to receive automatic monthly shipments of your chosen product(s).
All unopened LifeVantage products come with a 30-day refund policy, less S&H charges. This means that in order to be eligible for a refund they must be in original condition with all safety seals intact and in a saleable condition.
If you're looking to become a LifeVantage Distributor, you'll be required to fill out an application and pay $50 for a Start Kit, which includes 1 (30-pack) Presentation Tear Off Pad, 1 (25-pack) Newspapers, 1 (10-pack) LifeVantage Opportunity DVDs, 1 LifeVantage Decal, a 2 disc set Pro Audio series, plus an additional four weeks of discs.
On top of this, you can purchase single LifeVantage products or entire packages that range from $25 to $630 each.
In order to ask additional questions about the Distributor program, to request a refund, or to cancel your Preferred Customer enrollment, you'll need to contact LifeVantage customer service at 866-460-7241.
Note: Protandim is also sold through Amazon.com if you'd rather avoid having to go through a Distributor to purchase.
What Do Other Consumers Have to Say About LifeVantage?
From a Distributorship perspective, it appears that LifeVantage has a positive reputation for paying on time and according to their commission structure.
On the other hand, many Distributors have claimed that the company's high prices can make their products difficult to sell.
In addition, several Distributors have voiced their concern about the lack of clinical evidence showing that their products work, which is something we'll discuss in more detail in the final section.
From a consumer standpoint, it appears that LifeVantage's products have an evenly mixed online reputation, with some of the most common complaints referencing failure to work (as advertised or at all), high price, nausea/upset stomach/diarrhea, skin reactions (redness, welts, etc.), and bad taste.
Can LifeVantage Improve Your Health and Your Financial Position?
With all of this information in mind (and there's a lot of it!), can LifeVantage's supplements improve your health, and can their Distributorship program provide all the financial benefits it claims? Perhaps, although it's important that you keep the following in mind:
Network Marketing/MLM Opportunities
First, keep in mind that when it comes to multi-level marketing (MLM) opportunities, including popular options such as Amway and Herbalife, it's often the case that earning a solid income takes much more time, effort, and money than the companies may initially lead you to believe.
And while it's positive that LifeVantage seems to offer a fairly robust support system, the reality is that the vast majority of independent representatives end up losing money on the venture.
Note: Even among those who do make money, according to LifeVantage's Earnings Claims Statement, the majority of Distributors make $636 or less per month in commissions, while the bulk of those actually earned $100 or less per month.
With this said, if you're thinking about becoming a LifeVantage Distributor, be sure to thoroughly understand what you're getting yourself into, including watching the company's Basic and Detailed compensation plan videos.
Product Ingredients
It's important to note that none of the company's supplements include a product label or ingredients list on the LifeVantage website.
This is a bit disconcerting, as this is something you'll be putting in your (or your dog's) body, and you deserve to know exactly what's in it.
Fortunately, we were able to locate an ingredients list for Protandim on a third-party website, which includes the following:
Milk thistle extract (225 mg - 80% silymarin)
Bacopa extract (150 mg - 45% bacosides)
Ashwagandha root powder (150 mg)
Green tea extract (75 mg - 98% polyphenols)
Turmeric extract (75 mg - 95% curcumin)
Clinical Studies and Efficacy
Now that we know more about some of the ingredients contained in LifeVantage products, let's see what science has to say about their efficacy.
Regarding Protandim, ConsumerLab.com notes: "A daily serving of one caplet provides, with the exception of milk thistle extract, amounts of each ingredient far below those used in clinical trials," and that "Protandim may have antioxidant activity, but there is little evidence that it provides any therapeutic benefit in humans."
In other words, between the only 2 clinical studies performed on humans, Protandim was only shown to be effective in one of them. All other studies have been conducted on mice and/or in vitro.
Note: According to ConsumerLab.com, there was a Protandim recall in December 2012 due to "the potential for contamination with small metal fragments." However, it appears the issue has since been addressed.
Bottom Line
Regardless of whether you're thinking about joining LifeVantage as a Distributor or are simply interested in buying their supplements, keep in mind that unless you have a great deal of time to commit, you may end up losing money and that there is only the slightest clinical evidence showing that their products work as advertised.
TrueScience Products

By Robert L.

,

Toronto, Ontario, Canada

,

Dec 18, 2019
Verified Reviewer

I have been using LifeVantage products for near 3 years and also as a Distributor, I feel it is great! I have recommended to my co-workers around me. I have seen results from them and they thanked me for that.

Bottom Line: Yes, I would recommend this to a friend

---

Does not work! Have to give a reason why I want to cancel?

By Nedda R.

,

Brisbane, Australia

,

Nov 20, 2019
Verified Reviewer

This tablet does not work on either me or my sister nor my 2 dogs. My dog's arthritis has not improved at all and one of my dog's liver enzymes is way up there as it has always been as well as having Cushing's disease.

This is our sixth month into Protandim and I am still forking out hundreds of dollars to keep my dogs health under control.

The hair product is useless apart from drying the hair profusely and making the fibers larger, but definitely no new regrowth.

The face products have made my skin worse, it's redder and more inflamed and literally parched like dried sandpaper and peels daily. It has never been inflamed or reacted like this until I started this product. I have Rosacea.

My sister has now got a body full of psoriasis and dermatitis scars and sores that she has never had before. She has only ever had a patch under her knee and a couple of patches here and there and now she looks like a burn victim. It's all over her body now. It's horrific.

We have tried this product that we were brainwashed into thinking would make us happy and healthy individuals, but in fact, it has done nothing except worsen our conditions. My sinuses, osteoarthritis, rosacea, and depression have worsened, and these days to the extent that I do not even wish to get out of bed.

So here is me now begging to stop this automated shipment but they require a reason?!

I have not received acknowledgment of this request yet, nor an outcome.

This is what I've written to LifeVantage!

Please discontinue our orders immediately. I'm appalled that you require a reason for our decision to cancel, before you allow us to cancel, we shouldn't have to give a reason, it's our choice and our money going down the drain, and we feel the need to have further investigations into this product.

Thank you.

Bottom Line: No, I would not recommend this to a friend

---

My experience and rebuttals

By A. M.

,

Georgia

,

Sep 11, 2019
Verified Reviewer

I started taking LifeVantage products for a really bad rash on my face, and it was healed 65 days later. The rash has not come back, even though I have eaten some things that previously aggravated it, like wheat. In addition, my teens have gone from cranky to pleasant taking these products in just a week or two.

I wanted to answer some negative reviews. The only way to get an autoship is to create an account and sign up for one. It is super easy to log in and change the date of your autoship or to cancel it. I have changed my autoship several times.

For Lori who was tired and had headaches with the products, that is called a Herxheimer reaction, which means your body is detoxing. I like to think the bad stuff makes a stink on it's way out. The best remedy for this is to drink more water and get a pill splitter and take a half pill.

Also, there was a review from a physician in June 2015 about problems with "dishonest management" in his dealings with the company spanning several years. Well, a new CEO, Darren Jensen, started with the company in May 2015, and he has hired a bunch of new executives, so whoever he was complaining about is likely now gone.

As far as criticism about research, there are 26 published studies from independent sources. Go to pubmed.gov and search "Protandim."

Bottom Line: Yes, I would recommend this to a friend

---

It appears to work

By Lisa T.

,

California

,

Aug 26, 2019
Verified Reviewer

I want to preface this review with the fact that I am not a distributor nor do I intend to become one because I am not good at multi marketing. I bought this product and started taking it on the recommendation of my brother. I have lupus and he thought it could help with my energy levels. I started having my husband take it by just adding it to his daily vitamin pack that I give him. So, his is really an unbiased change. It took about three months or 4 months but then he started saying I feel better, have more energy. I started noticing he was doing his daily things again that he used to love to do before he got sick. For him, I have seen an amazing increase in energy and a decrease in daily pain levels. Can I attribute this to the product, not scientifically, but for us, we will keep taking it.

Bottom Line: Yes, I would recommend this to a friend

---

Advertisement

---

Why I use Protandim

By Kerry L.

,

Melbourne, Australia

,

Aug 19, 2019
Verified Reviewer

My family members are using Protandim, being 3 of my sisters. One has a husband with Huntingdon's disease...his clinical testing showed his lung capacity had increased by 40 percent, his speech had improved and he was able to do board games again within a very short time of taking it.

Another sister who is 72 was scheduled for 2 knee replacements and suffering a great amount of pain became pain-free after using Protandim.

My other sister who is 70 years old only started 4 days ago. She was suffering from dizziness and pain in her head, wasn't sleeping properly and suffering from fatigue and would often cut short our conversation because she was too tired. Within 3 days she is brighter, no pain, no dizziness. I'm hearing my sister bright and alert like she used to be.

I started a week ago and my left foot that I used to limp with in pain is improving so much so I'm not limping.

I know it's a brilliant product and became excited after 2 minutes of watching the video because I knew intuitively this is an amazing life-changing product.

Bottom Line: Yes, I would recommend this to a friend

---

Bad stuff

By Lori F.

,

Golden, CO

,

Jul 11, 2019
Verified Reviewer

I took NRF2 for 3 days and just kept getting more and more tired, with this horrible headache. Couldn't figure it out until I took my blood pressure - 166/92. I never have high blood pressure. I never actually read the ingredients because my friend kept saying how wonderful it is.

Then I realized that it had maltodextrin in it (another form of MSG) and all these obscure inactive ingredients!

I tried to send it back and get my money back, but, apparently they don't stand behind the idea of "Love the Product or Full Refund".

Bottom Line: No, I would not recommend this to a friend

---

It is a scam!

By Btenda A.

,

Manteca, CA

,

Jun 14, 2019
Verified Reviewer

Please, I implore everyone reading this to RUN from this SCAM. They want to take your money on automatic bank deductions, WATCH OUT for that because they don't tell you! I am a nurse and there are no studies or scientific evidence that this works. I tried and it DOES NOT work, but they sure do want to keep taking my money. If you want to return the product, unopened, they threatened me with a restocking fee and I never authorized the shipment in the first place. I had to fight for my refund, again, a charge I did not authorize. Just RUN now and get some of your own Ayurvedic herbs like ashwagandha and stay far from away from this SCAM.

Bottom Line: No, I would not recommend this to a friend

---

LiveVantage is a fantastic company with a medical break through product!

By Gary G.

,

Perth, Western Australia, Australia

,

Feb 4, 2019
Verified Reviewer

I personally have had a massive positive impact on my life by taking Protandim.

I would highly recommend it to anyone to please take the product ASAP. My mental clarity and strength are much better. My brain functions at optimal levels these days and I never feel fatigue the way I used to.

I am diagnosed with mild "Border Line Personality disorder" and was prescribed Escitalopram, which is basically an anit-depressant. For my individual case I have found Protandim to be many times more effective than the prescribed medication.

What impresses me more is the fact that the ingredients in Protandim are all herbal base.

Protandim has 24 Peer Review articles on Pubmed.gov, which is in the US the National Institutes of Health website for medical research. Basically, the repository for all scientific research in the medical field. So, doctors around the world know about this website and they go to it all the time to find out the newest treatment for this that and the other disease and what medication works for what. It funded by the National Institutes of Health in the US, therefore, it's completely unbiased.

Protandim is also safe to take with other prescription medications.

The ingredients in Protandim were actually selected because they were largely metabolized by the liver, which does not interfere with most prescription drugs which are generally metabolized by the kidney, so the general answer to that is "yes, Protandim is safe to take with other prescription medication."

Thank you LifeVantage! Thank you biochemist Doctor Joe M. McCord.

Bottom Line: Yes, I would recommend this to a friend

---

Will definitely keep taking

By Helen Wouters

,

Battleford, Saskatchewan, Canada

,

May 2, 2018
Verified Reviewer

My experience with health is long, so I will do the short version of why I believe in Protandim. In October 2017 I was in severe pain in my right hip (I had a left hip replacement in 2012). X-rays showed severe arthritis. In December 2017 I was placed on the waiting list for my second hip replacement. In September 2017 we went to visit dear friends, and she was a distributor, she took me to a presentation, I ordered Protandim, not really believing, but because she was a dear friend.

After taking it for a month I saw no results, so I said I don't want it anymore. My friend said ok, but, to get any results, try it for every month of your age (I am 65, so try it for at least 6 months). I said ok. I have been on it for 6 months. In the meantime, I went to my meetings preparing me for my hip replacement. Now here is the terrific news! I have been without pain in my hip for over two months! I have taken myself off the waiting list. X-rays showed the severe arthritis in my hip is almost gone! Thank you to my dear friend.

And everyone, you do the math.

Bottom Line: Yes, I would recommend this to a friend

---

Is Protandim just a misleading profit maker?

I cannot be sure if or if it doesn't really work. Even though Dr. Joe McCord, recipient of Elliot Cresson Award, has been with the board until 2013. The reason is I have bought as many as 50 bottles, even 20 of Canine Health and no one could tell me, including LifeVantage's main office in Utah, on how to get tested to see that in fact, my glutathione levels were increased at all. So if only animal subjects tested, how can those claims be made? I need answers or I'll think it's been a scam for all the money I spent, as I do a significant amount of research, especially with dogs, and not even Rodney Habib, the most intelligent blogger for DOGS, ever mentioned Protandim or Canine Health and he is remarkable, better than 50% of US veterinarians. He may not be a licensed vet but he sure knows a heck of a lot more than most of them about canine health, and couldn't recommend this product to anyone, as if there's no way for me to know. And it was 2.5 yrs ago, and I'll say this again, buying around 50 bottles at least, yet I couldn't get facts with my own bloodwork. Period or question?

Bottom Line: No, I would not recommend this to a friend

---

Was skeptical at first

By Jessica Lee

,

Arizona

,

Feb 12, 2018
Verified Reviewer

I tried Protandim and the first couple of weeks didn't notice any changes that I could specifically credit the product for. But now it's been four months, and I've lost weight, I have more energy, and my sleep quality is far better. I don't cramp as severely around my cycle, and it's regular, which has been a huge issue in the past.

I also drink Axio, and when I quit drinking coffee there were no withdrawal symptoms, and I was a pot a day consumer at the least. The energy and mental clarity I have at my second shift Quality Control is noticable. My skin is clear, and my hair before Protandim was starting to fall out, and now it's growing and healthy and I no longer have balding concerns. My family said the whites of my eyes are clear, and they said I use to look tired all the time and now to them I look healthier.

I have now made other healthy adjustments in diet and lifestyle not too drastic, I am 50 yrs old, and I have considered becoming a distributor because others have noticed changes in me. I tell them about Protandim, and now they want to try it.

Bottom Line: Yes, I would recommend this to a friend

---