Qunol CoQ10 Reviews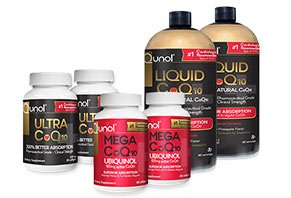 The four-product lineup of Qunol CoQ10 supplements promises to deliver 3X better absorption than the competition, along with heart and blood pressure health.
About Qunol CoQ10
Claiming to be working with some of the best clinical researchers in the country, Qunol CoQ10 promises to deliver 3X better absorption than regular formulations. What's this mean for you?
We're told their CoQ10 supplements can help support heart and vascular health, promote healthy blood pressure levels, and act as powerful antioxidants. And they might be even more effective if you've been prescribed statins by your doctor!
But just what is CoQ10? Even if it provides real-world health benefits, is Qunol's formulation meaningfully different than the competition? Does any clinical evidence support the supplement brand?
Let's begin exploring these important questions by defining what we're talking about.
What Is CoQ10? Does It Provide Any Meaningful Health Benefits?
By themselves, coenzymes can't do much. But when they bind to a type of protein called an enzyme, they can enhance the enzyme's ability to cause a chemical reaction. Like what?
Enzymes perform a ton of different roles in the body, from food digestion to protecting the heart and skeletal muscles.
Now, a specific one of these, called Coenzyme Q10 (or, CoQ10 for short), is found in large quantities in food like salmon and tuna, liver, and whole grains. It's also a very common type of supplement, like Qunol (more about this soon).
Why? Here's how WebMD puts it:
"CoQ10 has been used to treat many different conditions. There's evidence that CoQ10 supplements can lower blood pressure slightly. CoQ10 is also used to treat heart failure and other heart conditions, possibly helping to improve some symptoms and lessen future cardiac risks when combined with regular medications, but the evidence is conflicting."
The article goes on to explain that there's also some evidence that CoQ10 might prevent or address side effects related to statin drugs (often used for treating high cholesterol), slow the progression of Alzheimer's, and treat migraine headaches, although much of the evidence is "preliminary."
They also note that CoQ10 has been studied for "low sperm count, cancer, HIV, muscular dystrophy, Parkinson's disease, gum disease, and many other conditions," although "the research has not found any conclusive benefits."
What about the clinical evidence for Qunol's "3X absorption" claims? We'll get to that in just a second, but let's first take a look at their different formulations.
How Many Different CoQ10 Formulas Does Qunol Offer?
Overall, there are four different formulations in Qunol's lineup:
Qunol™ Mega CoQ10
Once your body processes CoQ10, it's turned into another chemical known as ubiquinol, or the biologically active form of CoQ10.
By containing 100mg of water and fat-soluble ubiquinol (along with 6mg of vitamin C), we're told that Qunol's Mega CoQ10 formula can be absorbed by your body 3X faster than a standard CoQ10 supplement consisting of unsolubilized ubiquinone.
As a dietary supplement, adults should take one Mega CoQ10 softgel with or after a meal.
Qunol ™ Liquid CoQ10
Contained in a zero-calorie suspension of medium chain triglycerides, lecithin, sucrose, protein, and USP-grade ubiquinone, Qunol tells us their Liquid CoQ10 formula is scientifically shown to provide "superior absorption over regular CoQ10 supplements."
All you have to do is take two teaspoons (5ml each) of the orange-pineapple flavored supplement before, with, or after a meal and you'll provide a 100% natural "powerhouse" to your cells.
Qunol™ Ultra CoQ10
Using 100mg of USP-grade ubiquinone and 150IU of vitamin E, Qunol's Ultra CoQ10 formula promises to be a "powerful antioxidant that fights free radicals," absorbs quickly, and provides natural health benefits.
To accomplish, Qunol recommends taking one Ultra softgel per day, with food.
Qunol Plus Extra Strength
By combining 200mg of ubiquinol and 250mg of omega-3 fatty acids (150mg EPA, 100mg DHA), we're told Qunol's Plus Extra Strength formula will not only support cellular energy production but will also further support heart and vascular health.
All you have to do is that one softgel daily, with or after a meal.
Now, what about that clinical proof?
Is Qunol CoQ10 Clinically Proven to Provide 3X Better Absorption?
Here's how the company puts it:
"Clinical trials have proven that no other CoQ10 supplement absorbs better than Qunol®. In fact, Qunol® Ultra absorbs 3X better absorption than regular CoQ10."
While no clinical evidence is provided to support this "3X" claim, a note at the bottom of Qunol's website clarifies that this is comparing the ubiquinol found in their Mega formula with "unsolubilized ubiquinone in oil suspensions in softgels and/ or powder-filled capsules/tablets."
In layman's terms, if you compared the Mega formula with another ubiquinol-based CoQ10 supplement, you might not find that Qunol's supplements absorb any better.
Will Qunol CoQ10 Cause Any Side Effects?
Mayo Clinic indicates that CoQ10 in general (not Qunol's supplements specifically) is likely safe when taken up to 3,000mg per day for eight months.
In rare instances, however, CoQ10 might increase the risk of bleeding; cause skin itching and rashes, digestive upset, headache or migraines; reduce blood sugar, and reduce the effectiveness of Warfarin.
As with any new nutritional supplement, be sure to speak with your doctor before taking Qunol CoQ10.
How Much Does Qunol CoQ10 Cost?
Qunol offers four different BOGO promotions on their CoQ10 supplements:
Mega CoQ10 (60-120 softgels per bottle): $49.98 or $69.98
Liquid CoQ10 (exclusively available at Costco): $49.98
Ultra CoQ10 (30-90 softgels per bottle): $24.98 to $59.98
Plus Extra Strength (90 softgels per bottle): $139.98
All orders over $75 include free shipping.
Also, keep in mind that Qunol CoQ10 supplements are available through several third-party retailers, including Walmart, Amazon, LuckyVitamin.com, and iHerb.com.
If purchased directly from the manufacturer, Qunol CoQ10 comes with a 30-day money back guarantee, less S&H.
To request one, you'll need to contact customer service at 877-290-262 or customerservice@qunol.com for an RMA
Do Qunol's CoQ10 Supplements Come With Positive Customer Reviews?
Between Amazon, Walmart, and Walgreens, we found hundreds of online customer reviews for Qunol's Ultra formula, where it scored anywhere between 4.6 and 5 stars.
Common compliments referenced noticeable results (increased energy, reduced leg cramps, lower cholesterol, etc.), high quality, and no side effects.
On the other hand, the most common complaints referenced the fact that it contains ubiquinone (instead of the more bioactive ubiquinol, which can be found in their Mega formula), and side effects like a mild digestive upset.
Last year, Consumerlab (membership required for access to full report) performed in-depth testing on 50+ of the most popular CoQ10 supplements, including Qunol's Liquid and Ultra formulas.
Overall, they found both of these supplements contained what the manufacturer claimed (as did most of the other supplements in the test), that the Mega CoQ10 was the least expensive of those tested, and it was also noteworthy that it included the solubility enhancer polysorbate 80.
From a company perspective, Qunol is manufactured by Quten Research Institute based out of Fairfield, NJ. They had an A+ BBB rating and zero closed complaints as of 10/10/16.
What Kinds of Health Benefits Can You Expect From Qunol CoQ10?
When it comes down to it, there's limited (although mounting) clinical evidence that CoQ10 supplementation—other than what's gained from food—can slightly reduce blood pressure and provide some heart-related benefits.
However, as we discussed earlier, Mayo Clinic calls much of the available evidence for these and other claims "conflicting" and "preliminary." As such, there's no guarantee you'll experience the same.
On the other hand, it seems that the vast majority of customers who've left online reviews for Qunol's CoQ10 supplements were pleased with their experiences.
Just keep in mind that there are hundreds of other CoQ10 supplements out there, many of which are available locally at corner pharmacies and big box retailers alike. And by saving on S&H, some of these local options might provide a better bargain, too.
If you feel like giving Qunol CoQ10 a try, though, the company seems to stand behind their products with a 30-day refund policy.
The best turmeric supplement hands down

By George D.

,

West Yarmouth, MA

,

Jan 16, 2020
Verified Reviewer

I started taking turmeric supplements for my inflammation issues (Chronic Tendonitis). I didn't think turmeric was all it was touted to be because all the other supplements I tried didn't work well at all. Unlike the rest of them, Qunol works! After taking Qunol for two weeks, I noticed a marked improvement in my pain level while performing physical movement. Qunol costs a bit more, but it's worth every penny. I'll not sell my drums now. On with the show!

Bottom Line: Yes, I would recommend this to a friend

---

Extremely satisfied

By Kathy S.

,

Richfield, NC

,

Jan 16, 2020
Verified Reviewer

My husband has been using Qunol CoQ10 for several years now. His mother and dad have both had heart issues and so far my husband has a healthy heart. He is 62 years old. He is really doing well.

Bottom Line: Yes, I would recommend this to a friend

---

Advertisement

---

Heart health and fight against free radicals

By Suzette M.

,

Geneva, OH

,

Jan 3, 2020
Verified Reviewer

My husband and I have taken Qunol Mega CoQ10 for several years now. We are in our 60's and worry about health risks as we age. My husband is on statins and has been treated for blood pressure issues since the age of 20. Both of us have multiple family members who have had different forms of cancer. We researched and chose Qunol because of its superior absorption and because it is both water and fat-soluble. Our belief is this product helps maintain heart health and fights against free radicals which are known to cause cancer. To date, we have been able to maintain normalcy in our blood pressure, stabilization of cholesterol and have been cancer-free.

Bottom Line: Yes, I would recommend this to a friend

---

1 out 1 people found this review helpful

Positive results

By Roberta K.

,

Hamden, CT

,

Dec 17, 2019
Verified Reviewer

I have been using Qunol Ubiquinol at least 8 years with great results. With a family history of heart disease and taking a statin medication, I, fortunately, thus far (age 76) have not experienced any signs of heart disease. My muscle aches from taking the statin are at a minimum.

Bottom Line: Yes, I would recommend this to a friend

---

Advertisement

---

Happy

By Gary F.

,

Spring, TX

,

Dec 10, 2019
Verified Reviewer

I have been using Qunol CoQ10 for a while and have been very pleased with it. One day I was shopping the vitamin aisle at Walmart and noticed the Qunol Turmeric and started using it and am very pleased with its results. I feel so much better and will continue going forward.

Thanks for such good products.

Bottom Line: Yes, I would recommend this to a friend

---

Sold on the product

By Wayne J.

,

Century, FL

,

Nov 6, 2019
Verified Reviewer

Before taking Qunol I did my research a little online. Then I talked to three of my doctors and all three said that I should take Qunol that it had positive effects. Why should little o' me doubt the word of my three doctors, including my Heart Specialists?

Bottom Line: Yes, I would recommend this to a friend

---

1 out 2 people found this review helpful

CoQ10 by Qunol

By Edward H.

,

Florida

,

Oct 10, 2019
Verified Reviewer

I use CoQ10 by Qunol and find that it helps my immune system energy level and my heart. I am 67 years old and my last physical check-up and blood work were perfect. I would recommend this product to anyone, especially those over 50. Too many people die of a heart attack so taking a supplement of this high quality will help to give you a better chance to live a full life and have longevity to enjoy your kids and grandkids and be there for those who depend on you. Living life without every and feeling sluggish is not living. I take my Qunol CoQ10 nightly - I still work and am a top producer. I ride my bike and swim and am active.

Bottom Line: Yes, I would recommend this to a friend

---

1 out 1 people found this review helpful

Customer service is almost extinct

By Lynda S.

,

New York

,

Jun 28, 2019
Verified Reviewer

It appears it is a one-person show. They put a hold on your credit card. Five minutes after you order you get a label number so in THEIR MIND THEY ARE ENTITLED TO PUT A HOLD and CHARGE YOUR CREDIT CARD. I have sent others to them, all had issues and none reordered. If you like the product, go to Costco. I have a complex of issues. I think it may help. The stress just to receive the products to me is not worth any discount.

Bottom Line: No, I would not recommend this to a friend

---

8 out 10 people found this review helpful

Qunol CoQ10 liquid

By Joyce M.

,

Indiana

,

Jun 6, 2018
Verified Reviewer

I noticed at 70 years old, I have more energy when I take daily dosages of CoQ10. When I stopped for a short period of time, I found myself taking frequent naps during the day and no energy. I started back taking it and became an active senior. Also, my heart mammogram was excellent. I've been taking it for three years.

Bottom Line: Yes, I would recommend this to a friend

---

10 out 11 people found this review helpful

Jury is still out

By Sodie Ingle

,

Panama City Beach, FL

,

Jul 11, 2017
Verified Reviewer

I've been taking Qunol CoQ10 for several years. I began taking CoQ10 when I began taking a statin for cholesterol about ten years ago. I went to Qunol because the "hype" sounded good regarding helping with the side effects from the statin. I have no idea if it's really doing anything for me. There is so much conflicting information regarding whether it's truly effective. I think I will go off it and see if I feel any difference. I have not had a bad experience by taking this, so it is difficult to say definitely yes or no to my recommendation.

Bottom Line: Yes, I would recommend this to a friend

---

10 out 22 people found this review helpful

After sis months, side effects, maybe?

I've been taking CoQ10 liquid for six months or so in hopes of eliminating blood pressure pills and for overall better health. For awhile now I've noticed less flavor in my food, which I attribute to CoQ. I'm in the 240's and a good eater but lately pecan pie, which I love, tastes different. Also cottage cheese, milk, Dunkers (nutty donuts), Mexican omelets, rye toast, Heath Bar candy, stuffed cabbage, Stroh's ice cream, to name a few. Well, that's more than a few, but I don't know what to eat anymore because so many entrees don't have flavor anymore, and this has been the only change in my diet for the past six months. I think I'll get off of it for a few weeks.

Bottom Line: No, I would not recommend this to a friend

---