Piping Rock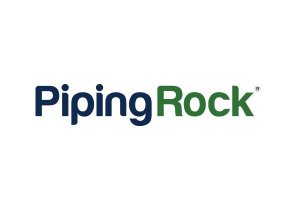 Piping Rock is a NY-based supplement brand that offers good deals on health and wellness products on its e-commerce site. However, a large number of customers report shipping issues.
Piping Rock Review: What You Should Know
What Is Piping Rock?
Piping Rock is an e-commerce site with a focus on natural health products like vitamins, supplements, pet supplies, and more.
By providing quality vitamins, supplements, and essential oils at discount prices, Piping Rock claims to offer everything you need to live healthy at an incredible value.
The company claims offers some of the lowest prices in the industry by manufacturing their supplements in their facility in Ronkonkoma, NY, shipping them right to your door, and then passing the savings on to you.
There were hundreds of products sold on its website, and a large percentage are Piping Rock name-brand items.
For instance, the company sells close to fifty different scents of fragrance oils, all of which are sold in different formats and under the Piping Rock name.
One standout section of the site is called "Crazy Deals." Here, you'll find dozens of sale products sold for a fraction of the listed price.
For example, we found clove fragrance oil selling for $0.89 (87% off) and Super Lion's Mane Mushroom supplements for $7.59 (62% off). There are also several dozen "two for one" deal options listed among the site's Crazy Deals.
In addition, local customers can also purchase Piping Rock supplements through their brick and mortar outlet, which is located adjacent to their manufacturing facility in New York.
Quality Control
The company manufactures all brand-name products on-site in order to control its quality.
Piping Rock owns and manages GMP-certified facilities, which is an FDA regulation acronym for "good manufacturing practices." This certification ensures that manufacturers meet minimum requirements for creating, packaging, and selling drug products.
The company also owns a world-class microbiology lab for testing the safety, purity, and potency of their products. They claim that each product undergoes hundreds of quality checks, both before hitting the market and during post-production, to ensure quality.
We found evidence that Piping Rock occasionally experiences product recalls. In August 2019, the brand recalled its wintergreen essential oil due to a failure to meet child-resistant closure requirements.
Return Policy
Piping Rock provides a one-year, 100% satisfaction guarantee on all their supplements.
To initiate a return, you'll need to contact customer service and include a brief explanation of why you're returning the product.
How Do Piping Rock Prices Compare to Other Sellers?
Because Piping Rock sells a wide variety of supplements and other health products, their prices can vary significantly based on what you buy.
We wanted to determine whether you'll get a better deal on this site, so we compared the cost of a sampling of products in every category to two other e-commerce sites, Amazon and Walmart.
Note that the majority of products sold by Piping Rock are its own brand. We chose to look only at name brand products to ensure all three stores carried them.
The final category of this chart shows what a close equivalent Piping Rock brand product costs, where applicable.
| Category | Product | Piping Rock | Amazon | Walmart | Piping Rock Brand Equivalent Price |
| --- | --- | --- | --- | --- | --- |
| Supplements | Alive! Calcium + D3 Gummies | $8.89 | $8.61 | $12.24 | $4.25 |
| Vitamins | Dynamic Health Children's Liquid Multi-vitamin | $6.19 | $9.73 | $9.73 | $5.79 |
| Herbs | Jason Naturals Aloe Vera 98% Soothing Gel | $3.49 | $7.24 | $6.92 | NA |
| Essential Oils | Timber Press Books The Herbal Apothecary: 100 Medicinal Herbs and How to Use | $16.99 | $16 | $16 | NA |
| Beauty | Mill Creek Keratin Shampoo | $7.39 | $7.99 | $13.29 | NA |
| Sports | Bob's Red Mill Hemp Protein Powder | $8.99 | $16.22 | $9.88 | $7.99 |
| Weight Support | Bio Nutrition 100% Natural Raspberry Ketone | $12.99 | $13.99 | $16.42 | $15.99 |
| Nuts & Seeds | Now Foods Almond Flour | $5.99 | $8.41 | $10.52 | NA |
| Organic | Now Foods Organic Spirulina | $10.99 | $9.88 | $12.29 | $10.59 |
| Pet Products | K9 Glucosamine | $25.99 | $39.30 | $30.71 | $24.40 |
Piping Rock seems to deliver on its promise of offering some of the best prices available.
We found that the company beat out the competition cost-wise for almost every product we looked at, especially with Piping Rock brand items.
Just keep in mind that you'll have to factor in shipping costs. PipingRock.com offers a $3.95 flat shipping fee, regardless of your order size.
If you already have Amazon Prime or can pick up items in-store at Walmart, then you might not save money with Piping Rock overall.
Analysis of Customer Reviews
On our website, Piping Rock has earned a rating of 2.8-stars after more than 250 reviews. Most of these reviews seem to be either five stars or one star.
Happy shoppers stated that their orders arrived quickly and in excellent condition. They appreciated the cost savings compared to shopping with other companies.
On the other end of the spectrum, the one-star reviewers wrote that they never received the products they ordered or that the item took more than ten weeks to arrive.
Others questioned the efficacy of the products they received and that they might not be the pure formulations the company promised.
Trustpilot reviews show a similar story. Reviewers awarded Piping Rock 2.5 stars after more than 800 reviews, the majority of which are one-star.
A large percentage of negative reviews seem to be from shoppers outside the United States who struggled with slow shipping and poor customer support.
The Bottom Line
Piping Rock offers a vast assortment of supplements and other wellness products at prices that beat most name brand alternatives available today.
This seemingly makes it an excellent resource for stocking up, especially since the $3.95 shipping rate doesn't change based on how much you order.
However, the average customer experience seems to leave something to be desired. Piping Rock doesn't have great reviews, most of which due to shipping problems.
If you're willing to risk longer shipping times, then the cost savings offered by Piping Rock may be worth it to you because of their low prices.
---
Great products at great prices

By John P.

,

Vancouver, Canada

,

Nov 21, 2020
Verified Reviewer

Length of Use: 3–6 months

Overall Experience:

I have ordered three times from Piping Rock now, vitamins, lavender oil, and prebiotics.

Each time I have received my order within a week or less and well-packaged.

Their prices even with a little duty and shipping are still much cheaper than if I bought them locally.

The lavender oil is fantastic! I put 1/2 of the bottle in my electric Air Wick freshener in my bathroom, left the house, and when I arrived home a few hours later and I opened my front door, I could smell this wonderful lavender.

I have been very satisfied with their products and service.

Pros and Cons:

Good prices
Have to pay duty and shipping

Bottom Line: Yes, I would recommend this to a friend

---

Disappointed transaction

By Philip B.

,

Denbigh, United Kingdom

,

Aug 28, 2020
Verified Reviewer

Length of Use: Less than 3 months

Overall Experience:

When I ordered some odorless garlic capsules, I thought I was buying from a UK supplier, so I was surprised to get an email saying the item had been shipped airmail. This caused me to research Piping Rock online, and I was surprised to find so many negative reviews, which gave me concern. When my order was delivered, I was dubious about the quality of what I had purchased from the reviews so opening one of the containers and smelling the contents, it had a faint smell of rotting vegetation/vegetables. I have been taking odorless garlic capsules for years and nearly all have no smell, though some have a faint peppery smell. To be on the safe side, I binned both containers without trying any of the capsules. The photos on the website, which just show a tiny part of a room, do not convince me at all, because it could be any room/office, it does not show me a modern lab/production facility. I will not be making any more purchases from Piping Rock for sure.

Bottom Line: No, I would not recommend this to a friend

---

Advertisement

---

Scam, fraud, con, horrendous. Never buy from Piping Rock.

By Kash M.

,

United Kingdom

,

Aug 4, 2020
Verified Reviewer

Length of Use: Less than 3 months

Overall Experience:

BEWARE! I have ordered from Piping Rock and paid all the taxes, after receiving the order I have received a letter saying that I have to pay import duty £60. I have contacted them and explained I am just a customer, not an importer, why do I have to pay these duties? Such disgusting customer service. They took all the money and did not clear taxes and leave it for me to pay.

I have a dreadful experience.

TOTALLY DODGY.

SCAMMER.

EMBARRASING.

Bottom Line: No, I would not recommend this to a friend

---

Very satisfied with shipment time and quality product

By Linda D.

,

Florida

,

Jun 5, 2020
Verified Reviewer

Length of Use: Less than 3 months

Overall Experience:

I have only ordered one time but I ordered 4 products, they all came when they said they would. I liked it more than I expected too. The prices I felt were on the cheap, so I felt if I didn't like, I didn't spend a lot of money. I am very satisfied with my products which were eye skincare and face oils. I have oily skin but the oils I bought do not make my face oily.

Pros and Cons:

Price
Quality
What I expected
No "cons" were specified in this review

Bottom Line: Yes, I would recommend this to a friend

---

Advertisement

---

Shipping

By Thomas M.

,

Port St. Lucie, FL

,

Jun 2, 2020
Verified Reviewer

Length of Use: Less than 3 months

Overall Experience:

After reading all these reviews it seems to me that shipping out of country is a problem. I would not blame Piping Rock. Piping Rock, to save all these hassles stop shipping abroad. Stay in the good USA.

Bottom Line: Yes, I would recommend this to a friend

---

Avoid!

By Stefano P.

,

Forli, Italy

,

May 30, 2020
Verified Reviewer

Length of Use: 3–6 months

Overall Experience:

After more than a month my order has not yet arrived. Customer care always responds by saying the same thing: COVID, without realizing that the rest of the world works. Finding a phone number to call is difficult and when you can talk to someone they always answer the same thing "you have to wait" but they don't say how long. They don't provide order tracking so I called DHL who doesn't know anything about my orders and says the company is obligated to provide tracking to the customer. I asked for it several times but they keep saying they don't have it. A nightmare experience.

Bottom Line: No, I would not recommend this to a friend

---

Prompt delivery, good quality products.

By Jean C.

,

Quebec, Canada

,

May 25, 2020
Verified Reviewer

Overall Experience:

For me it was my first experience with this supplier because I was not able to find this product in Canada where I am presently. I found the Piping Rock website and the product that I need was available, I placed my order and it was received in a timely matter considering the current COVID-19 ordeal. I am happy with the product that I ordered, I will use Piping Rock again.

Cheers.

Bottom Line: Yes, I would recommend this to a friend

---

Product not delivered even after over 2 months, no tracking link, no proper response other than asking me to wait

By Adil C.

,

India

,

May 4, 2020
Verified Reviewer

Overall Experience:

Ordered the product over 2 months ago, I messaged them after a month, they said I need to wait further, texted them after more than 2 months, they still asked me to wait, their representative kept sending me the copy-paste texts, I was not ready to accept it, I kept texting and they accepted to refund me the product cost, the shipping cost is still gone, the shipping cost was almost equal to the product cost. Even after paying the shipping cost, they didn't even provide a tracking link, they say they shipped, but what's the proof? The company and its representatives dealt it with an ignorant manner. I won't recommend this brand at all. Plus, medicines are time-specific, they should know the products they're selling when they're dealing with their customers. I should have ordered it from a local website in my country.

Bottom Line: No, I would not recommend this to a friend

---

Maybe I'm amazed...

By Mike V.

,

Cheshire, United Kingdom

,

Apr 30, 2020
Verified Reviewer

Overall Experience:

Both at some of the negative comments included, but more so because even in these difficult times my order, which was mostly 2 for 1 items, arrived within a week! It is good as they say in tennis playing circles.

Bottom Line: Yes, I would recommend this to a friend

---

Updated review

Good experience

By Jaime F.

,

San Juan, Puerto Rico

,

Apr 29, 2020
Verified Reviewer

Overall Experience:

I ordered from Piping Rock, I thought that they never sent tracking info so I was upset and called, they said they would update me. Turns out their email went to spam. It took about two weeks for me to get my order.

Bottom Line: Yes, I would recommend this to a friend

Previous review
Apr 7, 2020

Don't bother with Piping Rock

I ordered supplements from Piping Rock that they never shipped. Horrible customer service. I received emails that were done on Google Translate, I was not impressed, had to go through PayPal to get my money back.

(

read more

read less

...)

---

DO NOT SHOP HERE

By Tom S.

,

Yorkshire, England

,

Apr 15, 2020
Verified Reviewer

Overall Experience:

Do not shop here, items will take months to arrive and often may not arrive at all! You will be promised a refund but only a partial one as you will still be charged for the shipping of the items you didn't receive. I didn't even receive the partial refund that was promised to me, there are plenty of alternative sites that offer the same products at better prices and with faster delivery times. Do not be robbed!

Bottom Line: No, I would not recommend this to a friend

---