VitaPulse Reviews
Claimed This company has claimed this profile, is getting alerted on any new customer reviews entering this page, and may engage in dialogue with its customers to address their matters.

Companies cannot pay money or provide goods in order to remove or alter customer reviews.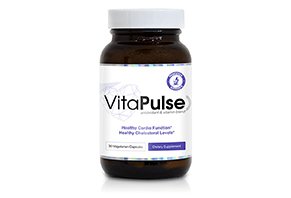 VitaPulse is a nutritional supplement from Princeton Nutrients that's claimed to combine antioxidants NAC, PQQ, and CoQ10 to provide heart healthy benefits.
---
This company is actively collecting reviews from its customers. All reviews submitted are subject to moderation and approval to ensure they meet our

Review Guidelines

.

Vita Pulse helped me

By Kathy E.

,

Las Vegas, NV

,

Jan 6, 2019
Verified Reviewer

Overall Experience:

I am a Type I diabetic at high risk of heart attack. Prior to using VitaPulse, I was experiencing heart palpitations from time to time. I've been taking VitaPulse for several years now, and since using it, I have not experienced any more heart palpitations. Additionally, it also helped me reduce and maintain cholesterol levels acceptable to my doctor. As a diabetic, LDL levels of 140 were not acceptable. With the help of VitaPulse and other measures, I have successfully reduced and maintained my LDL to 109 without the use of statin drugs which I refuse to take.

Customer service at Princeton Nutrients is A++, and product deliveries are very quick. I also use their NovaLite product, which has immensely helped my digestion. At age 66, my comprehensive metabolic panel test results are very good, and my doctor says I'm doing great, thanks in part to these products.

Bottom Line: Yes, I would recommend this to a friend

---

VitaPulse is a scam

By Tallal S.

,

Land O' Lakes, FL

,

Nov 6, 2018
Verified Reviewer

Overall Experience:

I bought a 6 package of VitaPulse, which is claimed that each bottle has 30 capsules. So for 6 bottles, I expected that I would have 6 months supply, but I was surprised when after a few months it was finished. I ordered again, 6 packages. The first bottle that I opened I marked the day of starting. It finished in 3 weeks. So I opened the second bottle and counted, there were 24 capsules in the bottle. I opened the 3rd bottle and counted, it had 23 capsules. I called their office and talked with a lady that sounds very kind. She said this is not our problem, and I don't know what happened that the factory has done this mistake, but I gave you 2 free bottles, and she sent me those 2 bottles. Please watch out Princeton Nutrients.

Bottom Line: No, I would not recommend this to a friend

Nov 6, 2018

Hi Tallal, I'm Veronica from Princeton Nutrients. Thank you for taking the time to leave us a review about your experience with VitaPulse. I'm so sorry to hear about this frustrating experience you had. On behalf of everyone at Princeton Nutrients, I truly apologize for this mix up. We take these issues very seriously and we will do whatever we can to ensure that this doesn't happen again. I'm happy to hear that one of our customer service representatives was able to assist you with this. But please feel free to email me at vnicholson@princetonnutrients.com if you have any outstanding issues or questions that I can assist you with! Thank you!

---

Advertisement

---

They work well for me.

By Agnes P.

,

Minnesota

,

Oct 13, 2018
Verified Reviewer

Overall Experience:

I began taking VitaPulse a few years ago. I ran out and realized how much tired I felt all day. I got more. I also began to take Heart Biotics and my good cholesterol went higher than it ever had been.

Thanks.

Bottom Line: Yes, I would recommend this to a friend

---

Overall Experience:

I took VitaPulse for one year. My cholesterol went from 210 to 180, and my LDL and HDL numbers improved as well. I found another version of this made by Solar Ray with the same formulation for half the price.

Bottom Line: Yes, I would recommend this to a friend

Aug 29, 2018

Hi Greg,

I am Veronica with Princeton Nutrients. Thank you for taking the time to leave us a review. We are glad to hear that you have seen an improvement in your health since taking VitaPulse. I also want to mention that our products are made with the highest quality ingredients so that is why they are priced this way. We highly recommend you speak to your primary physician before switching to a new product. If you have any questions please reach out to me at Veronica@PrincetonNutrients.com.

---

Order process is a scam

Ohio

,

Dec 5, 2017
Verified Reviewer

Overall Experience:

I can't comment on the product itself, but the order process tries to get you to buys more and more stuff. We had issues trying to get it to take our order, and it sent us two orders and billed us twice too. When we tried to return it, they gave us a hard time and wouldn't pay for return shipping and handling for their mess up. I would not recommend ordering this product from their website.

Bottom Line: No, I would not recommend this to a friend

Jan 3, 2018

Hi there Joe, Veronica here with Princeton Nutrients. I am sorry to hear that you did not get a chance to try VitaPulse. Many of our customers love this product! I also apologize for the difficulties you experienced during the ordering and return process. I would be more than happy to assist you if assistance is still needed at this point in time. Please email me at vnicholson@princetonnutrients.com. Thank you Joe, I look forward to hearing from you.

---

Seems to work okay

By Joe Pere

,

Arkansas

,

Dec 1, 2017
Verified Reviewer

Overall Experience:

I was reading the comments and realizing I've forgotten a few things. I had no recollection VitaPulse was supposed to reduce cholesterol. Mine has improved as has my blood pressure. I can't say it was all because of VitaPulse as I also started to eat less sugar, walk 20-40 minutes a day and lose some weight. I do take a statin, and the CoQ-10 with NAC and PQQ additives are why I tried this. Not sure the latter two are worth it, but trying to buy all three separately to save money didn't work. So, I need to decide between a reorder of this or a new product found on the net that is cheaper. SO many choices, it is crazy.

Bottom Line: Yes, I would recommend this to a friend

---

Cholesterol way down

By Tim Hunt

,

Louisiana

,

Oct 2, 2017
Verified Reviewer

Overall Experience:

My doctor put me on Cholesterol lowering drugs when I did a blood test and found my Cholesterol was sky high. I started taking the drug to lower my Cholesterol and started feeling funky. And when I went and read the side effects that the drug has on my body, I freaked and went online to see what was there naturally that I could do to lower my Cholesterol. That's when I came across VitaPulse.

I've been taking VitaPulse for about 15 months now. I had another blood test done on 8/7/17 (note, I have not been taking the Cholesterol lowering drug my doctor prescribed for the last 14 months) and my doctor was all proud telling me that my blood test showed that my Cholesterol was very low and telling me to keep taking the Cholesterol lowering drug (which I cannot even remember the name of anymore).

I just had to bust her bubble, "Well doc, I have not been taking that since 14 months ago and definitely have not changed my eating habits (living here in Cajun country who could right?)." She said, "Well, what are you doing?" That's when I told her I started taking VitaPulse, which she had no idea what that was. I told her to go research it online and that it must work, being that I'm not taking your drugs.

All I can say is YAY! I'm a believer after that blood test!

Bottom Line: Yes, I would recommend this to a friend

---

Advertisement

---

Best supplement I ever had

By Ed Trevis

,

Texas

,

Sep 28, 2017
Verified Reviewer

Overall Experience:

Have taken VitaPulse for almost a year now! My cholesterol is down to almost normal, so as my A1C. I have lots of energy and better brain function, am more focused and super energetic. I would strongly recommend this to anyone.

Bottom Line: Yes, I would recommend this to a friend

---

My cholesterol and LDL did not go down

By Rohan de Fonseka

,

Maddington, Western Australia

,

Sep 15, 2017
Verified Reviewer

Overall Experience:

I had high hopes with VitaPulse and have ordered the product three times. I recently had a blood test, and my Cholesterol was 7.1, which is high, and my LDL was also quite high. Frankly, I was disappointed as my hopes were high thinking I can avoid drugs. I would like an explanation what I should do as I would like to have a natural solution for Cholesterol and LDL.

Based on my results it is hard to recommend this product.

Bottom Line: No, I would not recommend this to a friend

Sep 18, 2017

Hi Rohan, I'm Veronica from Princeton Nutrients. I am so sorry to hear that you did not experience the results you had expected when taking VitaPulse. While a majority of our customers love the amazing benefits of VitaPulse, we do understand that it is not for everyone. I suggest that you consult your primary physician to find out what method would work best for you and your body. I would also love to offer you a full refund, just for giving our product a fair try. Please email me directly at vnicholson@princetonnutrients.com, and I can begin the process immediately. Thank you Rohan!

---

Not what I was hoping for

Overall Experience:

I purchased a nine-month supply of VitaPulse in 2016 in hopes that it would lower my cholesterol. Their ad stated that you had 90 days to try it out, which sounded good. I intended to take it and then get a blood test to determine whether my cholesterol had gone down near the end of my trial period.

Well, laboratories won't just let you schedule your own cholesterol check, at least not where I am. You have to have a medical reason to get the test, and I didn't want to bug my doctor (and get charged) to get him to order the test for me. So, I continued taking the pills and got a cholesterol check about eight months later at my regular doctor's appointment as part of my regular check up. Not only was my cholesterol NOT lower, it was actually a few points higher. I was very disappointed.

VitaPulse has CoQ10 in it, so it wasn't a complete waste of money. It just didn't do for me what I hoped it would do.

Bottom Line: No, I would not recommend this to a friend

Sep 6, 2017

Hi there Mary Ann, Veronica from Princeton Nutrients here. Thank you so much for leaving a valuable review on your experience with VitaPulse. I am so sorry to hear that you did not experience the amazing results that VitaPulse has to offer. While a majority of our customers love VitaPulse, we do understand that it is not for everyone. Please email me directly at vnicholson@princetonnutrients.com and I will be more than happy to issue you a full refund, regardless of how long it has been. Thank you.

---

VitaPulse results after 12 months

By Tama Walker

,

Houston, Texas

,

Aug 10, 2017
Verified Reviewer

Overall Experience:

It would appear my overall cholesterol numbers were reduced with VitaPulse, but my actual LDL lipoprotein subfractions increased substantially. I was disappointed this week in this product after having taken it for over 12 months. My LP PLA2 activity also increased, which means my risk for a heart attack was greater than it ever has been. I have had one heart attack six years ago.

No, I can't recommend this product and will not be purchasing it again. My cardiologist doesn't run overall numbers, he looks at what kind of particles make up your LDL and HDL, which is a detailed picture of what is going on with your heart.

Bottom Line: No, I would not recommend this to a friend

Aug 11, 2017

Hi there Tama, I am sorry to hear that you did not enjoy VitaPulse. While most of our customers see results in the first 30 days, we realize that certain supplements may work differently on some. I would be more than happy to answer any further questions you may have as well as issue you a refund per our 90-day money back guarantee. Please feel free to email me at vnicholson@princetonnutrients.com, so I can begin processing your refund as quickly as possible. Thank you Tama.

---

I have bought six bottles of VitaPulse.

Overall Experience:

After buying six bottles of this product and taking it as recommended (in the morning one per day), I found NO difference in my health, energy level nor my blood pressure level.

I truly was excited to know that there was a product to encompassed a few of my daily vitamin regimen, unfortunately, it wasn't the case for me. I saw NO results or felt any different.

Bottom Line: No, I would not recommend this to a friend

Aug 11, 2017

Hello Linda, Veronica here with Princeton Nutrients. I am sorry to hear that you did not see the results you had expected while taking VitaPulse. We always stand by our 90-day money back guarantee because we realize that some people may not experience that same results as others. Please email me personally at vnicholson@princetonnutrients.com if you would like me to issue you a full refund just for giving VitaPulse a fair trial. I will ensure you are refunded as quickly as possible. Thank you Linda.

---

Advertisement

---

Great numbers

By Lonnie Sawyer

,

Raleigh, North Carolina

,

Jul 10, 2017
Verified Reviewer

Overall Experience:

I was going to give this a try, and that's all.

However, my cholesterol dropped from a reading of 254 to 214 without any diet changes. That was in four months. I just bought a six-month supply and can't wait to see my new numbers.

I usually don't give feedback on anything, be it good or bad, but I thought the benefit I received was worth passing on.

Bottom Line: Yes, I would recommend this to a friend

---

Updated review

Non delivery

By Gamaliel

,

Winnipeg, Manitoba, Canada

,

May 21, 2017
Verified Reviewer

Overall Experience:

I got my credit card reversed today (May 18, 2017). Thanks Veronica for keeping your word. It eases a lot of emotional stress on my part. We all want to stay healthy by buying supplements, and it sucks to feel being ripped off. I hope Princeton Nutrients' service will improve.

Thank you HighYa, you regained my trust on your website. More power to you guys. Thank you again.

Bottom Line: No, I would not recommend this to a friend

Previous review
May 11, 2017

Non delivery

I paid for the order in December of last year. I ordered two bottles for a discount. But since then, no delivery. A charged already appeared to my credit card. When you call their number, they give you a tracking number. When you track it online, it says it's on route to Calgary. Until now, no delivery. When we call the supplier, they said there's nothing they can do since they mailed it already. I sense a scam in here. Don't waste your money on this.

May 11, 2017

Hello Gamaliel, my name is Veronica, and I work with Princeton Nutrients. I am so sorry to hear that you haven't received your shipment. I would be more than happy to issue you a full refund and reship you two new bottles, free of charge. I can understand how frustrating your experience has been and I want to make this right for you. I assure you that we are a one hundred percent an honest company, and your order looks to have been lost by the courier service. Please contact me directly at vnicholson@princetonnutrients.com, so that I can help you. Thank you!

(

read more

read less

...)

---

Great benefits

By Ricky Hooker

,

Burlington, NC

,

May 5, 2017
Verified Reviewer

Overall Experience:

I started using VitaPulse over a year ago. I take it early morning on an empty stomach just as prescribed. I am 60 years old and run three times a week and lift weights. I stay active and am starting new projects since I feel so alive and full of energy.

I had a TIS stroke in 2001, and I take Plavix. However, I knew I needed something additional to keep my heart strong. I would recommend VitaPulse to anyone wanting more energy, heart health and blood pressure, and vitals that are always normal.

Bottom Line: Yes, I would recommend this to a friend

---

Overall Experience:

Energy, energy, energy. That is how I feel (at 78 young) after taking VitaPulse for over a year now! My husband (82) and I are quite active. We play tennis two times a week, meeting and greeting at our church, and volunteering wherever needed. Entertaining family and friends. Life is good, and I am thankful that Princeton Nutrients and VitaPulse are part of my daily life!

"Who dares, wins!" My husband and I are winners!

Bottom Line: Yes, I would recommend this to a friend

---

Blood pressure reduction

By Gary Parido

,

San Diego, CA

,

Apr 30, 2017
Verified Reviewer

Overall Experience:

I am currently under treatment for an autoimmune condition. This has involved considerable pain. I was taking four blood pressure medications. When I started VitaPulse, I have decreased down to two blood pressure drugs.

The other benefits are increased energy, along with not sleeping as much. This was due to decreased pain and increased energy level. Thank you for this excellent product.

Bottom Line: Yes, I would recommend this to a friend

---

Advertisement

---

VitaPulse for a month

By Darrell James

,

Ontario, Canada

,

Apr 29, 2017
Verified Reviewer

Overall Experience:

Found that I gained more energy and felt more alive after taking VitaPulse. I was skeptical at first but am now a true believer in the product and look forward to continuing on with VitaPulse.

Bottom Line: Yes, I would recommend this to a friend

---

VitaPulse makes a difference

By Tracy Mans

,

Sydney, Australia

,

Apr 28, 2017
Verified Reviewer

Overall Experience:

Both my husband and I have been on VitaPulse for two months. I have more energy, have lost weight, and feel healthier. My husband travels internationally and at first was skeptical about the product, but now won't leave home without it. We have just ordered another six bottles.

Bottom Line: Yes, I would recommend this to a friend

---

Helped lower my cholesterol

Overall Experience:

My doctors had been after me for years to take drugs to lower my cholesterol, and I adamantly refused to take any sort of statin drug. I started taking VitaPulse, and after six months my cholesterol levels on my blood work came back as normal. No more arguments with my doctors about having to take medication I did not want! I really believe in the benefits of this product.

Bottom Line: Yes, I would recommend this to a friend

---

Overall Experience:

My brother had a heart attack a few years back in New Orleans. He is a truck driver and has been for over 30 years. He went to the doctor about a year ago because he couldn't walk very far without his chest hurting, and was not breathing very good. His tests didn't look good.

Oh, I forgot to say, 29% of his heart is dead. He started using VitaPulse and six months later after going to the doctor his test came back better, and the doctor was impressed. I can't say it was VitaPulse, but what do I know?

Bottom Line: Yes, I would recommend this to a friend

---

VitaPulse experience

By Ron H.

,

Honolulu, HI

,

Apr 26, 2017
Verified Reviewer

Overall Experience:

I noticed right away in the first few weeks that I had relief in my digestive system and excretion system, and with super clean movements! There is an improved energy overall! I will continue taking this supplement.

Bottom Line: Yes, I would recommend this to a friend

---

Advertisement

---

Lower Your Caffeine Consumption

Overall Experience:

I started taking VitaPulse almost 2 months ago and within the first week I found myself not going for that second cup of coffee mid-morning.

I have much better energy throughout the day, even during the afternoon slump. Overall I am more relaxed and am getting better sleep.

This is a great product with extensive heart health benefits above and beyond just feeling more energized. Highly recommend!

Bottom Line: Yes, I would recommend this to a friend

---

Magnificent

By Kendrick Cox

,

Detroit, MI

,

Apr 23, 2017
Verified Reviewer

Overall Experience:

I recently had to go to urgent care and the emergency room for treatment of an infection. I'm 66 years old and am not a steadfast exerciser. I have taken VitaPulse for a little over a year. My entire family was astonished when my vitals were checked and my blood pressure was normal, and my other vitals were all in good shape. I do not take any medications or other supplements other than fish oil. Needless to say, it is VitaPulse that is mainly responsible for the great results I had. I'm a believer.

Bottom Line: Yes, I would recommend this to a friend

---

It works

By Ken Maczuga

,

Kamloops, British Columbia, Canada

,

Apr 22, 2017
Verified Reviewer

Overall Experience:

I have been using VitaPulse for about one month now. My heart palpitations have stopped, and I have reduced my blood pressure medication by about 40%. I am very pleased with these results.

Bottom Line: Yes, I would recommend this to a friend

---

VitaPulse

By Penny Dietrich

,

Kitchener, Ontario, Canada

,

Apr 20, 2017
Verified Reviewer

Overall Experience:

I am pleased so far with the VitaPulse that I ordered. I'm looking forward to being able to discontinue the Lipitor that I am presently taking. I feel good about a natural solution to lowering my cholesterol and making my heart healthier.

Bottom Line: Yes, I would recommend this to a friend

---

Seems to be as advertised

Shelbyville, IN

,

Apr 19, 2017
Verified Reviewer

Overall Experience:

I was already taking CoQ10, so I did not expect any dramatic changes. This new one is quite easy to take, and I believe is doing the job as intended.

Bottom Line: Yes, I would recommend this to a friend

---