Qunol Ultra CoQ10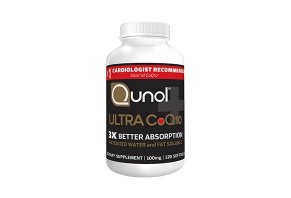 Summary
Qunol claims that Ultra CoQ10 will boost your energy and support heart health. Our in-depth analysis will help you understand how this supplement works and if it is right for you.
Qunol Ultra CoQ10 Review: Ingredients, Effectiveness, Safety, and More
Ultra CoQ10 is a dietary supplement from Qunol that aims to boost your energy and support heart health.
According to Qunol, taking just one pill with food daily will:
Restore normal CoQ10 levels
Boost your energy
Support a healthy heart
Provide antioxidant capabilities
Assist in managing blood pressure
Promote cognitive health
Qunol believes that these benefits are possible because of its star ingredient, Coenzyme Q10 (CoQ10).
CoQ10 is a component of your cells' membranes and works as an electron transporter. This function is a vital component of one of the processes you use to generate energy.
Low levels of this coenzyme have been linked to elderly individuals, as well as those with liver and cardiovascular disease, COPD, and neurodegenerative disorders. Thus, supplementation may be advantageous.
But does Ultra CoQ10 really live up to Qunol's claims?
In this article, we'll take a closer look at the safety and effectiveness of Ultra CoQ10's ingredients and help you understand if this supplement is a good option for you.
Ultra CoQ10 Active Ingredients: Are They Scientifically Proven?
Ultra CoQ10 offers just two ingredients to deliver the proposed benefits. In this section, we'll dive into each one to help you determine if there is any available scientific support to lend some merit to Qunol's claims.
Vitamin E – 150 IU 500% RDA
Vitamin E is thought to be a powerful antioxidant. Additionally, It may play a role in boosting immune function, promoting blood flow, and preventing blood clots.
The heart-healthy effects of Vitamin E remain unclear, however.
In a long-term study, men who took 400 IU of vitamin E every other day did not lower the risk of major cardiovascular events. Similarly, 600 IU of vitamin E did not reduce the number of major cardiovascular events in women that were treated over a 10-year span.
There doesn't seem to be strong support for the proposed heart-healthy benefits of vitamin E supplementation. However, there is some research demonstrating a potential benefit in specific patient populations (diabetics, for example).
Coenzyme Q10 – 100mg
The CoQ10 content of this supplement is thought to be responsible for the benefits Qunol claims you can achieve with daily use of Ultra CoQ10.
In a recent review, coenzyme Q10 improved fatigue in more than 60% of the studies included. These results were demonstrated in healthy individuals and those with chronic medical conditions.
The benefit was also demonstrated when the time to exhaustion during treadmill exercise improved in those that consumed 200mg daily for 8-weeks.
Some beneficial cardiovascular effects have been demonstrated as well.
Patients with chronic heart failure that took 300mg of CoQ10 daily for 2-years improved their symptoms, reduced the number of hospital stays, and minimized their risk for death from a cardiovascular event.
In another study, heart failure patients that took CoQ10 at 2 mg/kg doses per day for 1-year reduced both hospitalizations and complications.
In subjects with high blood pressure, 120mg of CoQ10 daily over 12-weeks normalized blood pressure readings. A systematic review seemed to confirm these results. However, they mentioned the need for long-term studies to best identify the safety and efficacy of this coenzyme's ability to treat high blood pressure.
Summary
There are a number of studies that provide merit to the proposed energy and cardiovascular benefits of CoQ10. However, the available research often tests larger doses than what is offered in Ultra CoQ10.
Possible Side Effects
While vitamin E is generally safe to use, 400 IU every other day for 8-years was actually associated with an increased risk for stroke. You are most likely to experience nausea, diarrhea, and stomach cramps when consuming excess.
CoQ10 was found to be safe even at doses 3x larger than Ultra CoQ10.
Lack of energy and symptoms related to cardiovascular health can be due to a serious underlying medical condition. While this supplement may offer benefits, you should first report symptoms to your physician before treating them on our own.
Where to Buy and Pricing
Qunol's website links you to Amazon to purchase your Ultra CoQ10, though you can buy directly from them as well.
Your 120 capsule (2-month supply) bottle is currently $28.00; US orders ship free. You'll save an additional 5% if you subscribe through Qunol's site. Cancel any time and select a delivery frequency ranging from 1-month to 1-year intervals.
At Amazon, the same quantity costs $24.98, and it ships free with prime.
You'll save an additional 5% with a subscription. You can cancel anytime and select delivery frequencies ranging from one to 6-month intervals.
Qunol's website makes no mention of a product guarantee, so purchasing at Amazon may be a better bet as it's cheaper, and you can take advantage of the free returns.
Are There Any Alternatives?
A simple internet search will reveal several similar products. Shopping around may allow you to save some extra money.
For example, Piping Rock Health Products offers a 90 200mg soft gels for around $9. Swanson offers 50 100mg soft gels for about $5.
Another option is getting your CoQ10 fix naturally. You can find this coenzyme in foods like organ meats, fatty fish, and beans.
The Bottom Line
With available research to add merit to Qunol's claims, a reasonable price point, and stellar reviews, Ultra CoQ10 may be a reasonable option to boost energy and support heart health.
This supplement is rated 4.7-stars on over 4,000 reviews on Amazon. With more than 80% of all reviews being 5-star, happy customers often report improved energy, cholesterol levels, and blood pressure.
Still, due to the reported side effects of vitamin E and the potential to alter your blood pressure, you should seek medical advice before taking this supplement.
Customer Reviews
Posted on Jun 28, 2019
Customer service is almost extinct
It appears it is a one-person show. They put a hold on your credit card. Five minutes after you order you get a label number so in THEIR MIND THEY ARE ENTITLED TO PUT A HOLD and CHARGE YOUR CREDIT CARD. I have sent others to them, all had issues and none reordered. If you like the product, go to Costco. I have a complex of issues. I think it may help. The stress just to receive the products to me is not worth any discount.
Bottom Line: No, I would not recommend this to a friend
Posted on Jun 16, 2017
After sis months, side effects, maybe?
I've been taking CoQ10 liquid for six months or so in hopes of eliminating blood pressure pills and for overall better health. For awhile now I've noticed less flavor in my food, which I attribute to CoQ. I'm in the 240's and a good eater but lately pecan pie, which I love, tastes different. Also cottage cheese, milk, Dunkers (nutty donuts), Mexican omelets, rye toast, Heath Bar candy, stuffed cabbage, Stroh's ice cream, to name a few. Well, that's more than a few, but I don't know what to eat anymore because so many entrees don't have flavor anymore, and this has been the only change in my diet for the past six months. I think I'll get off of it for a few weeks.
Bottom Line: No, I would not recommend this to a friend
Posted on Jul 11, 2017
Jury is still out
I've been taking Qunol CoQ10 for several years. I began taking CoQ10 when I began taking a statin for cholesterol about ten years ago. I went to Qunol because the "hype" sounded good regarding helping with the side effects from the statin. I have no idea if it's really doing anything for me. There is so much conflicting information regarding whether it's truly effective. I think I will go off it and see if I feel any difference. I have not had a bad experience by taking this, so it is difficult to say definitely yes or no to my recommendation.
Bottom Line: Yes, I would recommend this to a friend
Posted on Jun 6, 2018
Qunol CoQ10 liquid
I noticed at 70 years old, I have more energy when I take daily dosages of CoQ10. When I stopped for a short period of time, I found myself taking frequent naps during the day and no energy. I started back taking it and became an active senior. Also, my heart mammogram was excellent. I've been taking it for three years.
Bottom Line: Yes, I would recommend this to a friend
Posted on Oct 10, 2019
CoQ10 by Qunol
I use CoQ10 by Qunol and find that it helps my immune system energy level and my heart. I am 67 years old and my last physical check-up and blood work were perfect. I would recommend this product to anyone, especially those over 50. Too many people die of a heart attack so taking a supplement of this high quality will help to give you a better chance to live a full life and have longevity to enjoy your kids and grandkids and be there for those who depend on you. Living life without every and feeling sluggish is not living. I take my Qunol CoQ10 nightly - I still work and am a top producer. I ride my bike and swim and am active.
Bottom Line: Yes, I would recommend this to a friend
Posted on Nov 6, 2019
Sold on the product
Before taking Qunol I did my research a little online. Then I talked to three of my doctors and all three said that I should take Qunol that it had positive effects. Why should little o' me doubt the word of my three doctors, including my Heart Specialists?
Bottom Line: Yes, I would recommend this to a friend
Posted on Dec 10, 2019
Happy
I have been using Qunol CoQ10 for a while and have been very pleased with it. One day I was shopping the vitamin aisle at Walmart and noticed the Qunol Turmeric and started using it and am very pleased with its results. I feel so much better and will continue going forward.
Thanks for such good products.
Bottom Line: Yes, I would recommend this to a friend
Posted on Dec 17, 2019
Positive results
I have been using Qunol Ubiquinol at least 8 years with great results. With a family history of heart disease and taking a statin medication, I, fortunately, thus far (age 76) have not experienced any signs of heart disease. My muscle aches from taking the statin are at a minimum.
Bottom Line: Yes, I would recommend this to a friend
Posted on Jan 3, 2020
Heart health and fight against free radicals
My husband and I have taken Qunol Mega CoQ10 for several years now. We are in our 60's and worry about health risks as we age. My husband is on statins and has been treated for blood pressure issues since the age of 20. Both of us have multiple family members who have had different forms of cancer. We researched and chose Qunol because of its superior absorption and because it is both water and fat-soluble. Our belief is this product helps maintain heart health and fights against free radicals which are known to cause cancer. To date, we have been able to maintain normalcy in our blood pressure, stabilization of cholesterol and have been cancer-free.
Bottom Line: Yes, I would recommend this to a friend
Posted on Jan 16, 2020
Extremely satisfied
My husband has been using Qunol CoQ10 for several years now. His mother and dad have both had heart issues and so far my husband has a healthy heart. He is 62 years old. He is really doing well.
Bottom Line: Yes, I would recommend this to a friend
Posted on Jan 16, 2020
The best turmeric supplement hands down
I started taking turmeric supplements for my inflammation issues (Chronic Tendonitis). I didn't think turmeric was all it was touted to be because all the other supplements I tried didn't work well at all. Unlike the rest of them, Qunol works! After taking Qunol for two weeks, I noticed a marked improvement in my pain level while performing physical movement. Qunol costs a bit more, but it's worth every penny. I'll not sell my drums now. On with the show!
Bottom Line: Yes, I would recommend this to a friend
Our Promise to You
In order to safeguard you and ensure helpfulness and relevance, our compliance team manually assess every customer review before it goes live.
We have a zero-tolerance policy for fake reviews, and companies cannot control or alter any reviews at any time.