Reliefband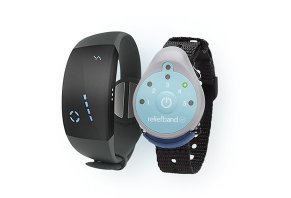 Summary
Reliefband is a bracelet that claims to quell your nausea and motion sickness by sending pulses of electric currents to a key pressure point in your wrist. Many users love using it, but clinical evidence shows that other options might be more effective.
Pros
Works for many users
As discrete as a standard watch
Helps many people travel comfortably without motion sickness
Cons
Requires regular applications of a messy gel
The battery needs frequent charging
Clinical evidence doesn't support its use
Reliefband Review: A Detailed Look at Its Effectiveness and More
For those who suffer from debilitating nausea, the Reliefband claims to calm your queasiness in seconds without any medication or negative side effects.
It's marketed towards those who deal with motion sickness while on cars, boats, amusement park rides, and airplanes, pregnant women with morning sickness, and for dealing with hangovers, intense video games, and anxiety.
This simple wristband relies on a low-grade electric current that travels through the median nerve of your wrist in a process called P6 electrostimulation. When you have it running, your nausea will be purportedly stopped in its tracks.
The idea of wearing a bracelet to quell nausea seems farfetched. Here, we'll explore whether you can expect the Reliefband to work as promised, and if so, which situations this bracelet is best for.
How Does Reliefband Work?
The company claims that Reliefband is one of the only available nausea solutions that will prevent queasiness before it begins, treat your symptoms once they appear, and deliver long-lasting relief.
This non-invasive, FDA-cleared device is purportedly the only available OTC wearable option that has been used in hospitals to treat nausea and vomiting.
To use the Band, you'll first start by cleaning the underside of your wrist, especially the part between the two tendons that is two finger widths from your first wrist crease.
Next, apply a small drop of the included conductivity gel to the spot, spreading it around so that the gel takes up the size of a large coin.
You'll then put on the device, ensuring that the sensors are placed right over the gelled area. Press the power button to turn it on, starting at the lowest power level and increasing it until you can feel tingling through your palm and middle finger, but it is still comfortable.
You can apply extra gel if even the lowest setting feels too powerful. Plan to reapply the gel every few hours as it will stop conducting the electricity if it gets too dry.
When the nausea feeling has passed, you can press the power button for three seconds to turn the Reliefband off. It's a good idea to turn the bracelet off periodically while wearing it to see if you still have nausea and vomiting symptoms.
If you do, then turn it back on. Make sure you wipe off any remaining gel from your wrist and a bracelet with a tissue once you're done with it.
You can monitor the battery life on the Reliefband 2.0 by looking at the LED on the bottom right of the screen. Four blue LEDs signify a full charge, and the battery is depleting as the number of lights goes down.
Clinical Evidence for Reliefband
Reliefband is based around the idea of pressure points and their power to control sensations in the body. Specifically, the device stimulates the P6 pressure point in the underside of the wrist between the two tendons, which is known for relieving nausea and motion sickness.
A 2006 study from the Journal of Alternative and Complementary Medicine looked at 26 trials that involved approximately 3,000 patients.
It found that stimulating the P6 pressure point proved more effective than a placebo for relieving nausea and vomiting in both children and adults in some, but not all studies.
However, this study found that "wristwatch-like electrical devices" (like Reliefband) were not effective for anyone.
What was found to be effective was electroacupuncture and manual acupressure, but both improved different symptoms. Electroacupuncture was more effective for relieving vomiting, while acupressure tended to improve vomiting.
This seems to show that you might better off working with an acupuncture specialist to relieve your motion sickness symptoms, rather than wearing a wristband.
Alternatively, you might find some relief by manually pressing on the P6 pressure point with your fingers when you start feeling sick.
Models, Pricing, and Money-Back Guarantee
There are two models available:
Reliefband Classic ($99)
Reliefband Premier ($199)
Both come with one conductivity gel tube, and you can purchase replacements for $15 per 0.25-oz tube.
Either Band can be purchased using an FSA (Flexible Spending Account) or HAS (Health Savings Account).
Both operate the same way, though the Reliefband Premier has an LCD screen and sleeker design that mimics a fitness tracker or smartwatch. The Classic model looks more like a standard watch and includes an adjustable nylon strap.
The company offers free shipping for both devices, and each also includes a 30-day money-back guarantee.
This means that if you are unsatisfied with your purchase for any reason, you can request a full refund, minus any return shipping and handling charges. However, this refund is only available for devices purchased from the company, not from other retailers.
Analysis of Customer Reviews
On Amazon, the Reliefband Premier averages 3.9-stars after more than 50 reviews, and the classic model comes in at 4.2-stars after over 750 reviews.
Common Compliments:
Helped users have fun at amusement parks without getting sick
Makes it easier to travel on airplanes
Helped some customers overcome lifelong, debilitating motion sickness
Offers relief from chemo treatments
Common Complaints:
Didn't reduce nausea for some users
Doesn't hold a charge long
Only somewhat helpful for morning sickness for some users
Expensive and inconvenient to replace the gel pack
Gave some users bad wrist rashes
Overall, reviewers are split on how well Reliefband works. Some seemed to notice immediate improvements in their nausea, while others didn't experience any difference whatsoever.
Still, others found the electric pulses to be even more painful and irritating than their nausea, so they stopped using the device for that reason.
What we didn't notice were reviewers complaining about Reliefband's quality or the pricing. For those who found that the device worked as described, either model seemed well worth the cost.
Popular Alternatives
Many users love using Reliefband, but clinical evidence shows that other options might be more effective. Two worth considering are electroacupuncture and traditional acupuncture.
Acupuncture is the centuries-old practice of inserting fine needles into various pressure points across the skin to relieve a variety of ailments, including arthritis, muscle pain, headaches, eye strain, low energy levels, and nausea.
Though the research on its effectiveness for each of these conditions is still ongoing, clinical studies seem to find acupuncture to be more effective than a placebo.
Electroacupuncture is similar to traditional acupuncture, except that a small electric current is passed between pairs of needles.
The procedure purportedly increases acupuncture's benefits and can lead to faster healing and pain relief. The same points are stimulated during treatment, and electric currents are sent from one needle to another.
One advantage of this procedure is that the needle placement doesn't need to be as precise as regular acupuncture as the electricity will stimulate a large area. It's also possible to have several pairs of needles stimulated at the time, and it tends to offer more immediate results.
To experience the benefits of either procedure, you will need to book a session with a qualified practitioner. Expect each session to last for 10 to 20 minutes, and costs vary widely based on where you live, who you visit, and your practitioner's level of expertise.
However, these procedures work best for eliminating long-term pain or nausea related to medical treatment—such as after surgery or during chemotherapy. It's not ideal for treating motion sickness or other forms of nausea that you experience in a less clinical environment.
The Bottom Line
The Reliefband claims to give you immediate nausea relief at the press of a button. Customer reviews indicate that it works well for many users. However, others found it too inconvenient for any potential benefits due to the short battery life, messy gel, and painful electric shocks.
And, while clinical evidence supports the benefits of stimulating your P6 pressure point, there's less evidence that wearing an electric device on your wrist will work.
One thing to consider is whether the Reliefband works in part due to the placebo effect. If you wear a device that claims to combat nausea, it makes sense that you'll feel less nauseous through the power of suggestion.
This isn't necessarily a negative if that's the case, as your symptoms will be reduced either way. However, it does make the device a relatively expensive investment if the only benefit is that you are tricking yourself.
Overall, Reliefband offers something novel for those who deal with chronic nausea. This device might not work for you, but the company's 30-day return period should give you ample time to try it out.
Customer Reviews
Posted on May 16, 2023
Unopened box
I received their base model on 4/15. I bought it to treat my chronic migraines coupled with extreme nausea. I called customer service to see if the model was sufficient for my needs and I might want to upgrade. Not a return call. During my second call, they updated the recording message, indicating their short-staffed employment status. Due to this time-sensitive return policy company, they should return a call. I still have this and have been informed of a 14-day return policy. Maybe if someone had returned initially, I could've returned or refunded the item. Very annoyed and angry. When I did get a live person, they sounded bothered by my story and pleased to tell me I was out of luck. Save your money!
Length of Use: Less than 3 months
Bottom Line: No, I would not recommend this to a friend
Posted on Mar 7, 2023
Waste of money
It takes them 8 weeks to issue you a refund. It's a waste of money. The gel doesn't stay in contact with the band. It doesn't charge correctly. You have to hold the charger when charging your band.
Length of Use: Less than 3 months
Bottom Line: No, I would not recommend this to a friend
Pros and Cons
No "pros" were specified in this review
No charge
Messy oil
Posted on Jan 23, 2023
Don't waste your money
Could not get it to charge. Tried many times to get help from the company to troubleshoot and never received information. Tried many times to return and could not get information from the company.
Length of Use: Less than 3 months
Bottom Line: No, I would not recommend this to a friend
Posted on Jan 7, 2023
Stopped turning on after 2 uses
The concept might be sound, I'm not sure, I only got to try it a couple of times before it stopped turning on or charging. I didn't contact them within 1 year so they did nothing to help me. Do not pay full price for this product from this company, you are getting ripped off for sure.
Length of Use: Less than 3 months
Bottom Line: No, I would not recommend this to a friend
Posted on Apr 12, 2022
Use Reliefband for ocean cruising
I am quite sensitive to motion sickness while cruising — I'm sometimes nauseous while the ship is still docked if there is up and down movement. I've used Reliefband on more than a dozen cruises now, and I swear by it. I have gone days without shutting the device off while the ship was at sea, but typically find I only need it a few times each day. I've even lent it to other passengers who are feeling nauseous and have seen people improve within minutes of wearing it. I've learned over time that hair gel works fine as a replacement for the (expensive) conductive gel. I highly recommend Reliefband for seasickness!
Length of Use: 2+ years
Bottom Line: Yes, I would recommend this to a friend
Pros and Cons
Works very quickly
Easy to take when traveling
Conductive gel is expensive, but alternatives exist
Posted on Jan 13, 2022
For morning sickness
Morning sickness for me was debilitating. I ordered the Reliefband Sport, it does take the edge off and allows me to function, I'd say about a 75% reduction in nausea intensity. HOWEVER there is a mostly, constant tingling into the thumb area of my hand, it feels like a pins and needles feeling and is not a comfortable feeling at all. Additionally, I will get occasional "zingers" which feel like an electric shock from my median nerve.
I do not have a palmaris longus muscle/tendon on either wrist (which only occurs in less than 10% of the population). The lack of this muscle may allow the stimulation to be greater to the median nerve.
When I tried the band on hubby (who does have that muscle) he said that the most he felt was like a 9-volt battery sensation directly under the band and that was on the highest setting.
Length of Use: Less than 3 months
Bottom Line: Yes, I would recommend this to a friend
Pros and Cons
Nausea relief
Constant pins and needles feeling
Wearing it constant and was irritating to my wrist
Occasional electric shock feeling
Posted on Sep 17, 2020
This does work!
I cannot believe the negative review. I have had the CLASSIC style for years. I have an inner ear disorder which is very debilitating. I've found that the Classic Reliefband works very well to help with dizziness and nausea. Nothing else has helped.
I've also worn it on boats, planes, and trains to help with motion sickness that I am very prone to. I did not need to use "messy gels" with this also. You need to find the sweet spot as to have this work effectively. I find that one wrist is better than the other for me. I will set it on 3, and I will feel the pulse through the center of my hand. You may have to play around with it.
I have the newer version, but do not like it as well. When traveling, I make sure I have an extra set of batteries just in case. So please, try this if you have issues with nausea, dizziness, and even anxiety when flying. I do. AND I turn it on and focus on the feeling it is putting out. It distracts me from my fear of flying. I'm a real person, leaving this REAL review. It works!
Length of Use: 2+ years
Bottom Line: Yes, I would recommend this to a friend
Pros and Cons
It works, and without medications
It is easy to use
The batteries are not expensive
The plastic blue battery cover, had to keep in place
Hate the plastic band that come with it, I got an after market band/velcro that I like better to adjust for a small wrist
It is a little pricey, but well worth it if you are sick, I wish too that it was more "stylish", the design is big and clunky
Posted on Nov 3, 2018
Didn't help
I purchased a 1.5 ReliefBand from Amzon about two months ago to take on vacation with me. I get very nauseated when in a boat on a sunset sail or to go snorkeling. I also get nauseated when riding in the back seat of a car. Our transportation on the trip was a golf cart and I had to sit on the back seat so I was not facing the way we were going, I got very nauseated, and the ReliefBand did not help any as far as I could tell. It also didn't help on the sunset sail. I was hoping so badly that this device would be the answer to this party killing problem. I love being on the water, but I will be land bound until I find something that works without making me fall asleep on the trip. So very disappointed.
Bottom Line: No, I would not recommend this to a friend
Our Promise to You
In order to safeguard you and ensure helpfulness and relevance, our compliance team manually assess every customer review before it goes live.
We have a zero-tolerance policy for fake reviews, and companies cannot control or alter any reviews at any time.