Rocket Mortgage
Claimed This company has claimed this profile, is getting alerted on any new customer reviews entering this page, and may engage in dialogue with its customers to address their matters.

Companies cannot pay money or provide goods in order to remove or alter customer reviews.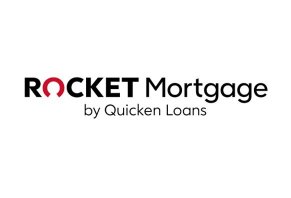 Rocket Mortgage is widely regarded as the premier online mortgage lender on the internet while offering four different kinds of mortgages as well as refinancing options.
What Is Rocket Mortgage?
Rocket Mortgage is an online mortgage lender from Quicken Loans that provides purchase mortgages and refinancing of mortgages you already have.
The company's marketing places a heavy emphasis on how easy it is to use their site, how approachable they make mortgage information and, on top of that, how they have a consistent track record of excellent customer service.
Quicken Loans is based in Detroit and is the flagship name in the online lending business. Their lending services include mortgages, personal loans and more. Their services also include expense management, too.
In this review, we'll talk about how Rocket Mortgage works, the types of loans the site offers and what their reputation is among customers and independent rating agencies. We'll wrap up with a quick section on the site's pros and cons, as well as who we think the site is good for.
How Rocket Mortgage Works
In most cases, Rocket Mortgage is an entirely online process through which you apply for your mortgage.
You'll go to their site or their app and tell them where you're at in the mortgage process. To make it simpler, Rocket Mortgage gives you three choices:
Researching how much you can afford
Getting a pre-qualification approval
Applying for a mortgage to buy your home
These situations are appropriate, in our opinion, because most homebuyers find themselves preparing to look for homes, actively looking for homes or putting an offer in on a home and, hopefully, hearing from the buyer that their offer is accepted.
If you're preparing to start your home search, you want a rough idea of how much house you can afford. Rocket Mortgage's estimation for how much you can afford actually has two parts: what you can afford and how much cash you'd need to buy a home, as paying for a house includes providing a good-faith payment, a down payment (in most cases) and closing costs.
We tested the "What you can afford" tool. The site asked us for the city and state in which we wanted to buy our home, our pre-tax income, monthly debt payments, how much we had for a down payment and closing costs and our credit score.
Based on the fictitious information we provided ($75,000 income, $1 monthly debt obligations, $10,000 down payment) the site told us we could afford a $79,000 mortgage.
What was interesting is that it seems like Rocket Mortgage bases how much you can afford based on your down payment, as the estimate they gave us had one specific section titled, "You need around this much for a down payment and closing costs: $10,000."
We tested our theory by bumping up the down payment/closing cost cash to $40,000. Rocket Mortgage told us we could afford a $365,000 mortgage, which confirmed our theory.
This means that your credit scores and monthly debt obligations, according to Rocket Mortgage's estimate tool, aren't' nearly as important as how much money you can put toward closing costs and a down payment.
In reality, our research indicates that there are a wide variety of factors included in your mortgage amount, including your credit scores, your monthly debt obligations as well as what state and federal down payment assistance programs there are. The site also doesn't seem to take into account loans that may not require a down payment.
Now, if you're ready to move to the next step and get a pre-qualification/pre-approval, you'll have to provide more concrete evidence of your debt obligations and your income. Rocket Mortgage will then take this information and draft an official letter that tells real estate agents the mortgage for which you can most likely qualify. Having this letter is a standard requirement for a serious home search.
The final step in their process is applying for a mortgage, which is a significant and time-consuming process in which Rocket Mortgage will do a deep dive of your finances and credit history, match those up with mortgages that fit your profile and then choose one that works best.
Rocket Mortgage will use your online account as the epicenter of your application; it's where you'll upload the documents they request and where you can keep track of where you're at in the process. IT's also where you can correspond with Rocket Mortgage customer service reps if you have questions about the process.
If you chose a bank or brick-and-mortar mortgage company, you'd most likely correspond with your loan officer via email and provide documents via email and/or the mortgage company's online portal.
Who Can Use Rocket Mortgage?
According to their website, the following types of borrowers can apply for a mortgage, although there is no guarantee Rocket Mortgage will approve your application:
Credit score of at least 580
Self-employed (process will be a hybrid of online and phone calls)
Condo purchases (process will be a hybrid of online and phone calls)
Military
There are certain types of purchases that the lender won't provide loans for: mobile homes, prefabricated homes and new construction loans.
Types of Loans Rocket Mortgage Offers
Earlier we said that Rocket Mortgage provides purchase mortgages, refinancing and home-equity mortgages.
The four types of loans they offer are conventional, FHA, VA and Jumbo. Conventional loans are loans that aren't part of a special government program.
FHA loans are loans the Federal Housing Administration provides. The down payments on these loans are 3.5 percent and the minimum credit score for that amount is 580. These loans come with certain requirements for the condition of the home, too, According to Investopedia, roof and attic issues, electrical problems and certain hazards may require fixing before the sale can take place, per FHA guidelines.
VA loans are loans from the Department of Veterans Affairs. Down payments are, in some cases, not required and the terms of the loan are designed to be helpful, financially speaking, for military families.
Jumbo loans are special loans created for homes that are significantly more expensive than the average sale price of a home in that state. They have slightly different requirements than FHA loans and VA loans.
If there's one bit of advice we could provide here, it would be for you to research down-payment assistance programs in your state. There may be programs available that can help pay for some or all of your closing costs and there's no guarantee that Rocket Mortgage will offer these programs as an option.
Rocket Mortgage's Other Home Loans
In addition, to purchase mortgages, Rocket Loans will refinance existing mortgages you have. Refinancing is a popular option for those who can qualify for an interest rate that's lower than what they received when the lender approved them for their first mortgage.
Reputation Among Customers and Independent Rating Agencies
According to their website, the company has been J.D Power's top mortgage originator (the people who give you the mortgage) for the past nine years and the top mortgage servicer (the people who oversee your monthly payments) for the past five years.
J.D. Power is an independent research firm that polls past customers of companies from a variety of industries and then provides rankings for those companies based on customer feedback.
Their 2018 U.S. Primary Mortgage Origination Satisfaction Study ranked Quicken Loans as the top mortgage originator, beating out competitors like Fairway Independent Mortgage (#2), PrimeLending (#3) and others.
J.D. Power's 2018 U.S. Primary Mortgage Servicer Satisfaction Study placed Quicken Loans at the top, too, where the lender beat out TD Bank and Huntington National Bank. In fact, Quicken Loans was the only company in the study to earn five "Power Circles", which, according to J.D. Power, means the company is "Among the Best" as opposed to the "Better than most" four-circle ranking.
As far as customer reviews go, Rocket Mortgage has a stellar reputation in the Google Play and iTunes stores. At the time of publishing, the company's Android app had an average of 4.4 stars from more than 2,300 reviews. Its iTunes app has an average rating of 4.8 stars from more than 29,000 reviews.
Our belief is that the combination of positive reviews from both mobile platforms as well as consistent excellence in J.D. Power rankings indicate that you will more than likely have a positive experience using Rocket Mortgage to get a mortgage.
The Bottom Line – Is Rocket Mortgage Right For You?
Based on our research, we believe that Rocket Mortgage's greatest strength is its reputation. The fact that they're an all-online mortgage lender isn't anything new. However, it's their dominance of customer reviews and independent rankings that seems them apart.
The site's downside is that they don't offer home-equity lines of credit or home equity loans, two products that are popular for those who want to leverage the equity in their home (what your home is worth minus what you owe).
In general, we think this is a great site for someone who wants the convenience of applying for a and processing a mortgage online without the hassle of phone calls and in-office visits. Keep in mind, though, that their site notes that self-employed individuals will have to participate in phone calls in order to complete their mortgage application.
However, if you're someone who prefers face-to-face contact, wants to ask a lot of questions and wants to become an expert in mortgages, Rocket Mortgage may not be the best fit simply because you can't have any face-to-face contact with the person or team who is processing your loan.
If you don't' have a lot of mortgage knowledge but still want to use Rocket Mortgage, take a moment to read through our in-depth mortgage guides that employ the insight of experts and solid analysis to give you important takeaways for your home-buying journey:
This company is actively collecting reviews from its customers. All reviews submitted are subject to moderation and approval to ensure they meet our

Review Guidelines

.

Great experience

By

Nicholas P.

,

Lewiston, NY

,

Oct 24, 2019
Verified Reviewer

Working with the team at Quicken Loans was a great experience, everyone that I had the pleasure of working with was polite, kind and did everything that was expected. Even when there were a few bumps in the road with my application, the team at Quicken Loans made sure to get it handled in a timely fashion and we were able to close when expected.

Bottom Line: Yes, I would recommend this to a friend

---

EASY, just like advertised

By

Marvin P.

,

Washington

,

Oct 22, 2019
Verified Reviewer

The agent, Charles, was extremely helpful in keeping on top of the process to qualify me for the loan. He even called us during his days off, to make sure that we understood what was going on, or to let us know what documents needed to be uploaded to Quicken Loans.

Bottom Line: Yes, I would recommend this to a friend

---

Advertisement

---

First home purchase

By

Megan J.

,

Madisonville, KY

,

Oct 21, 2019
Verified Reviewer

Andrew Garcia-Garrison was an absolute pleasure to work with from day one. He made the buying process go as smoothly as possible and I really appreciate all his hard work! The only issue I had was actually with the title company not communicating with Quicken very well, so we had a few complications with the closing, other than that the experience was wonderful!! I will definitely refer others to Quicken Loans.

Bottom Line: Yes, I would recommend this to a friend

---

Rocket Mortgage should be rated minus 1 in customer service

By

Tom A.

,

Timberlake, NC

,

Oct 20, 2019
Verified Reviewer

If you want a company that sends you false automated emails, requires you to keep sending the same information repeatedly, requires you to initiate any corrective action, takes over 90 days to complete a new mortgage, takes over 13 days to receive your money once the papers are signed, then this is your mortgage company. The initial team did good getting us started. The closing team dropped the ball after every turn. All my emails and phone conversations are available to Rocket Mortgage to review how our loan was handled. I hope they will learn from the many mistakes that were made at every turn. No one should be subjected to this treatment. They did not earn their thousands of dollars charge.

Bottom Line: No, I would not recommend this to a friend

---

Advertisement

---

1 out 1 people found this review helpful

Started out great

By

Marti R.

,

Washington

,

Sep 20, 2019
Verified Reviewer

It started out great with a very nice rep who gave me estimates and explained costs. He even offered us a "special" deal when I said the closing costs looked high. Then when we got closer to closing and the appraisal, I asked where the discount he offered were reflected in the loan estimate and suddenly no one would talk to me anymore. I had emails to prove the "deal" we were supposed to get, but you can't really prove something if no one is willing to talk to you. Some slick salesman who claimed to be our "advocate" took over and explained how things were going to cost even MORE than we thought and ignored any information about discounts offered by the previous guy. In the end, things didn't work out due to our appraisal coming in lower than expected (no one's fault), but we weren't desperate to make this happen, so it's probably a blessing in disguise. I will definitely be working with a different company in the future.

Bottom Line: No, I would not recommend this to a friend

---

1 out 1 people found this review helpful

DO NOT USE THIS COMPANY!

By

Sharon B.

,

Glenpool, OK

,

Aug 20, 2019
Verified Reviewer

Everything was fine when I started out, but when it was to the closing agent, everything went wrong. He would tell me and my title company that he had everything that he needs in order to close on my house by the date I requested. By the next EVENING, he would call me to say that he needed something else, but by the time he would call me, it was too late to contact who I needed and get it taken care of and eventually this caused the closing date to be delayed by 3 days. Unfortunately, this caused two other closings to be delayed and left everyone in a lurch. Terrible service and was lied to on several occasions.

Bottom Line: No, I would not recommend this to a friend

---

1 out 1 people found this review helpful

Acute mental distress

By

Susan B.

,

Pittsburgh, PA

,

Aug 1, 2019
Verified Reviewer

I sent all my paperwork in the first day. It's been about 6 weeks and all the underwriters have done is mess around with petty BS like the URL not being printed on the statement and it's now 2 business days before I was supposed to close and they have done nothing but cause acute mental distress and a logistical nightmare. Hate them and don't even care if I get the house now.

Bottom Line: No, I would not recommend this to a friend

---

0 out 1 people found this review helpful

Refi

By

Iris B.

,

Antioch, CA

,

Jul 22, 2019
Verified Reviewer

Well, the first day my sister-in-law helped me get started. From the start it was great. My agent was Kyle, what a beautiful young man. It was like he only wanted the best for me like he was my family. His communications along with his spirit were simply AWESOME. And anyone after him were as beautiful. My appraiser was great and also the young lady that did my closing. Quicken Loans/Rocket Mortgage was AWESOME to work with. I will continue to work with them in the future. Much love to you all.

Thank you.

Bottom Line: Yes, I would recommend this to a friend

---

0 out 1 people found this review helpful

Home purchase

By

Kelly R.

,

Aledo, TX

,

Jul 17, 2019
Verified Reviewer

My husband and I purchased a new home in Aledo, Texas with a loan from Rocket Mortgage. The experience was so easy and painless! This was actually our second home loan from Rocket Mortgage as we also did a refinance on our previous home. The process of providing and receiving documents is very quick, easy, and reliable. The ease of the Rocket Mortgage technology greatly contributes to the ease of the entire process. Everyone we worked with was so helpful and courteous. Each step of the process was explained so we knew exactly what to expect. Post-closing, once our mortgage was available in Quicken Loans, again, the technology makes everything easy and accessible. We recommend Rocket Mortgage/Quicken Loans to everyone we know.

Bottom Line: Yes, I would recommend this to a friend

---

0 out 1 people found this review helpful

Refinanced home

By

Carrie E.

,

Florida

,

Jul 13, 2019
Verified Reviewer

I am very happy with the streamlined process and with Jake Bevilacqua at Quicken Loans. I was going to refinance years ago and I am glad I waited. Been in my home 13 years and bought at the height of the real estate boom then the crash...my home is finally worth more than I paid. They have made the process so easy and efficient for working people...no scanning documents, just link your info and they do the rest. I would recommend Jake and Quicken Loans to anyone who doesn't want a headache in this process.

Bottom Line: Yes, I would recommend this to a friend

---

1 out 2 people found this review helpful

Great experience!

By

Teri R.

,

California

,

Jul 10, 2019
Verified Reviewer

Refinancing was extremely easy and very quick. Online application was easy, uploading documents was quick and efficient. From application to signing was eight days, close was three days later...AMAZING!

Bottom Line: Yes, I would recommend this to a friend

---