Rocket Mortgage
This company has claimed this profile, is getting alerted on any new customer reviews entering this page, and may engage in dialogue with its customers to address their matters.

Companies cannot pay money or provide goods in order to remove or alter customer reviews.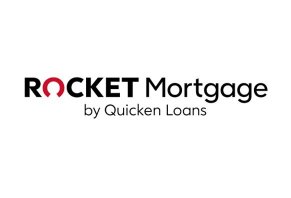 Summary
Rocket Mortgage has an excellent reputation for customer service and ease of use, as well as a unique in-house mortgage for which you can choose the length of repayment.
Rocket Mortgage Review: A Detailed Look
Rocket Mortgage is the mortgage application platform of Quicken Loans. You get an in-app and online experience that emphasizes ease-of-use and competitive mortgage rates.
In addition to providing you with a seamless way to get a mortgage and process your application, Rocket Mortgage is part of Quicken Loan's standing as the highest-rated and biggest mortgage lender in the nation.
A website like this is a relief for homebuyers who find the entire process of getting a mortgage overwhelming and intimidating.
Not only does Rocket Mortgage emphasize a fluid application but they also lend directly to you (in most cases) rather than giving you multiple rates from other lenders.
In this review, we will walk you through Rocket Mortgages rates and fees, the types of loans it offers, the application process, and what customers say about their experience, to help you decide if this lender is right for you.
Editor's note: While Quicken Loans and Rocket Mortgage have two different names, their websites offer one thing: mortgages. Any mortgage you click or tap on Quicken Loans' site will take you to Rocket Mortgage.
Rates
Rocket Mortgage's rates will include two numbers: the interest rate and the APR.
The interest rate is the base rate for your loan. However, when you get a mortgage you're not just paying interest, you're paying a variety of fees separate from your down payment and closing costs.
Because of this, Rocket Mortgage and other lenders give you an APR that reflects how much your actual interest rate is after you include the fees.
These fees, says Adam Pearsall, branch manager and mortgage broker at Florida-based Lending Hand Mortgage, usually encompass an application fee, underwriting fee, administration fees, third-party processing fees, and credit report fees.
Here are Rocket Mortgages rates and APRs at the time of publishing. The APR is listed first, then the interest rate:
30-year fixed: 4.395%/ 4.125%
15-year fixed: 3.986%/ 3.500%
30-year fixed FHA: 4.767%/ 3.750%
30-year fixed VA: 4.083%/ 3.625%
5-year ARM: 4.445%/ 3.750%
Can You Get the Best Rates with Rocket Mortgage?
Lenders like Rocket Mortgage will take your metrics—credit scores, down payment, etc.—and pair you with one of their loans.
The interest rates Rocket Mortgage gives you may not always be the lowest, Pearsall said, but you won't know it unless you get a loan estimate from other companies.
Some of what influences this is Quicken Loan's internal need for certain mortgages one week and other mortgages the following week, Pearsall said.
Some weeks, Quimay need to get loans for people with credit scores above 720 and 20% down payments. If that's the case, you'll get a competitive rate for those loans because Quicken Loans wants your business.
However, if your credit scores don't fit that profile, Quicken Loans may raise the rate on loans they don't necessarily need. This decision could make your mortgage slightly more expensive than a competitor.
Let's say various factors lead Rocket Mortgage to raise rates on a mortgage that put it 0.25% higher than a competitor.
For a $300,000, 30-year fixed-rate mortgage with a 5% down payment, you'd pay an additional $15,000 in interest over the life of the loan for a 0.25% increase.
RateShield Interest Rate Lock
Whichever rate you receive, Rocket Mortgage offers a "Rate Shield" on 30-year, fixed-rate conventional, FHA, and VA loans.
Rocket Mortgage locks in the rate you get when their underwriting department approves your loan. If your loan's rate goes up between approval and closing, your rate stays the same. If it goes down, then you get a lower rate.
This is a great guarantee because loan rates can go up and down on a weekly and even daily basis.
Loan Types
Rocket Mortgage provides the following types of loans, all of which have their own requirements for down payments, credit scores, and other factors:
Conventional Loans
These are mortgages not related to a government program. They often give you the best rates but don't have as many options for low or no down payments.
Their interest rates are fixed and variable. Fixed rates remain the same for the life of your mortgage, while variable rates ("adjustable rates") rise and fall based on the interest rate published by the Federal Reserve.
FHA Loans
These mortgages are part of the Federal Housing Administration. They give you mortgages that require down payments as low as 3.5% if you have a credit score of at least 580.
However, that down payment jumps to 10% if your credit score is 550 to 579.
This program requires that your home meet certain safety standards, too, which means your home search has to be more selective than a search with a conventional mortgage.
Each of these loans has its own set of requirements for credit scores, down payments, debt-to-income ratio, and certain derogatory marks on your credit history.
While FHA loans provide you with lower down payments, they also have a big disparity between the APR and interest rate because of various additional fees they charge.
VA Loans
These mortgages are part of the Department of Veteran Affairs' efforts to provide affordable housing for service members.
The loans have very generous down payment requirements—0% in many cases—along with no private mortgage insurance and limits on closing costs.
USDA Loans
The United States Department of Agriculture offers these loans for homes that are located outside of urban areas.
This loan has specific requirements for how much money you can earn, how much the home costs, and what your down payment is. To find out which areas in your region are eligible, use the USDA's property eligibility search tool.
YOURGage
This loan allows you to choose your repayment term from 8 to 29 years. This is a useful feature because most loans have repayment periods of 15 or 30 years. Down payments are as low as 3% and the interest rate is fixed.
Rates for 8-year YOURgages can be as low as 2.75%, a chat representative told us. These loans are a good option if you have enough extra income to pay off your loan faster but don't have enough money saved up to make a big down payment.
Jumbo Loans
This final group of loans is specially designed for homes whose sale price is significantly higher than the national average. Because these loans are so big, they present more risk to the lender.
Therefore, lenders require higher credit score requirements and other standards to increase the chances you'll follow through on your payments.
Mortgage Refinancing
In addition to mortgages for buying homes, Rocket Mortgage provides mortgages for refinancing your home.
You typically research refinancing when mortgage rates are lower than they were when you bought your home. The lower interest rates usually equate to lower monthly payments.
Rocket Mortgage's refinancing program gives you options for loans with lower interest rates (when possible).
They also allow you to get a new mortgage with a shorter repayment period. Your payments will go up with a shorter repayment period, but you'll pay off your loan faster.
Rocket Mortgage gives you the option for a cash-out refinance, too. This option is based on equity: the difference between what your home is worth and what you owe.
Loan Process
Rocket Mortgage's website and app frame their application process in three ways: ready to buy, ready to look, and ready to explore rates.
Ready to Buy
The first category will put you into Rocket Mortgage's online mortgage application. This is an extensive application asking you in-depth questions about your finances. This application requires a hard credit check.
Ready to Look
If you're starting your home search, Rocket Mortgage will give you a "pre-approval", which is an official statement from Rocket Mortgage saying how big of a loan you can most likely get based on preliminary information you provide.
Some realtors may require this letter before you work with them in the early stages of your home search. Pre-approvals don't require a hard credit check.
Preliminary Rate Research
The final option is to get a basic set of loan amounts based on how much house/monthly payments you can afford.
This application is very limited because the home price and monthly payment projects are general. Also, it won't require a credit check.
These are very rough estimates and most likely won't reflect the actual loan you get from Rocket Mortgage.
Application Support
You can reach out to Rocket Mortgage customer service if you have questions:
By phone: (855) 207-9072
By email: support@rocketaccount.com
By chat/screen-sharing
Having support available within seconds is an excellent benefit of using Rocket Mortgage. There are crucial questions about income, debt, and other financial factors that you need to answer accurately to make your application go smoothly.
Once you're done with your application, Rocket Mortgage will assign you an account specialist to help you through your application.
Your loan officer will alert you of important deadlines, too: home inspection, appraisal, earnest money, etc.
Finally, self-employed applicants will have to talk with a loan specialist over the phone rather than doing an online application. They'll ask you questions and explain to you the
Analysis of Customer Reviews
Customers have left extensive feedback about their experiences with Rocket Mortgage here on our website. The company has an average rating of 4.5-stars, with 88% of reviewers indicating that they would recommend Rocket Mortgage to a friend.
Common Compliments:
Account representatives were friendly and professional
The loan process was easy
Excellent communication
Digital application and uploads made the loan process easy
Common Complaints:
"Online" process required phone calls
Poor communication with an account specialist
Pushy initial interactions with account specialists
Delayed closing dates
These summaries of good and bad reviews come in the context of a 10:1 good-to-bad review ratio. So, while the bad reviews can cause fear, the proportion of the good to bad reviews indicates you're very likely to have a good experience with Rocket Mortgage.
Another important thing to note is that the good reviews spanned both home purchases and mortgage refinances, which means the company's customer service is consistent across multiple products. You'll probably get the same level of treatment whether you're buying a home or refinancing a mortgage.
The excellent reviews Rocket Mortgage receives on HighYa corroborates Quicken Loans' perennial standing as the top mortgage originator (lender who gives mortgages directly to buyers/homeowners) in the J.D. Power U.S. Primary Mortgage Origination Satisfaction Study.
The study is based on an independent investigation of experiences and feedback from actual customers.
The Bottom Line
The company has an excellent reputation for customer service. HighYa reviewers and J.D. Power give the company excellent ratings.
Rocket Mortgage's online process makes applying for a mortgage simple and efficient. You can upload documents through your online account and get notifications about important deadlines.
Rocket Mortgage's YOURgage gives you multiple term lengths. If you've got the financial means to take advantage of this program, you can save considerable money by paying off your loan sooner.
The downside to using Rocket Mortgage is that, in most cases, you will receive Rocket Mortgage's best rate and their best rate isn't always going to be the best rate on the market.
You'd have to get quotes from multiple lenders to find out how good of a deal you're getting from Rocket Mortgage.
Finally, Rocket Mortgage has limited refinancing options. They do not provide home equity lines of credit, nor do they provide home equity loans.
So, if you're someone who wants to take out an equity-based line of credit without refinancing your home, Rocket Mortgage isn't the best option.
Customer Reviews
This company is actively collecting reviews from its customers. All reviews submitted are subject to moderation and approval to ensure they meet our
Review Guidelines
.
Our Promise to You
In order to safeguard you and ensure helpfulness and relevance, our compliance team manually assess every customer review before it goes live.
We have a zero-tolerance policy for fake reviews, and companies cannot control or alter any reviews at any time.