NewDay USA Reviews
Claimed This company has claimed this profile, is getting alerted on any new customer reviews entering this page, and may engage in dialogue with its customers to address their matters.

Companies cannot pay money or provide goods in order to remove or alter customer reviews.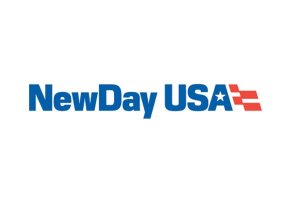 NewDay USA is a mortgage lender that claims to provide a wide range of financial products that can help you save money and achieve your financial goals.
About NewDay USA
By helping you purchase a new home, refinance up to 100% of the value of your home, obtaining the cash you need in as little as 30 days, and handling every step of the application process, NewDay USA (NMLS #1043) claims to be "America's mortgage company." In addition, NewDay USA claims to be your partner in achieving your financial goals, not just during the lending process, but into the future as well.
It's no secret that obtaining a home loan of any kind can entail a long, frustrating process, so if you're in the market for one, you're probably looking for any kind of advantage you can get. With this in mind, does NewDay USA make the home loan process any easier, and can their products really help save you money?
How NewDay USA Works
Whether you're looking to consolidate your debt, lower your monthly payments, update your home, purchase a new home, or even to just have a little extra money on hand, NewDay USA is a mortgage company that claims to help you get the money you need as quickly as possible. This includes standard mortgages, home equity loans, and more.
While NewDay USA loans are available for everyone, the company primarily focuses on active military, veterans, and their spouses. As a result, their VA loans can help you obtain 100% of your home's value—putting thousands more in your pocket—compared with the 80% or 90% that most other lenders are capable of providing. And overall, they offer two different programs:
The NewDay USA Loan Process
In order to begin the loan approval process, you can fill out NewDay USA's online form, or you can contact one of their loan officers directly via phone. Once the process is underway, you'll be assigned a dedicated loan officer, who the company claims will be with you every step of the way, from your first phone call to closing at your kitchen table. In fact, NewDay USA claims that you'll even be provided with your loan officer's personal cell phone number.
While most banks will only lend you up to 80% or 90% of your home's value (known as a "cash out"), if you're a veteran, are actively serving in the military, or are a spouse of a member of the military, NewDay USA may be able to lend you up to 100% of your home's value. Then, after your application has been submitted, NewDay USA claims that your loan will be handled by in-house underwriters and loan processers, which can save you time and hassle, and could even result in a "yes" when others have said no. Because of this, NewDay USA claims that your mortgage can be closed in as little as 30 days, and that your loan documentation package can be sent via express mail, allowing you to sign all your paperwork in the comfort of your own living room.
The NewDay 100 VA Loan
If you're a veteran, NewDay tells us their 100 VA Loan can help you refinance up to 100% of the value of your home, compared with the 80% or 90% that most other lenders are capable of providing. According to the company, this means you can have the money you need to consolidate high rate credit card debt, pay for your child's education, lower your monthly payments, and more.
In fact, NewDay tells us that their 100 VA Loan helps the average customer lower their payments by $460 per month or $7,680 per year.
The NewDay $0 Down Home Loan
NewDay USA's $0 Down Home Loan gives veterans the opportunity to purchase a home with no down payment, no appraisal fee, and no points.
Important note: According to the NewDay USA website, appraisal fees may only be covered up to $500, and they'll only cover the fee once you've submitted "a fully documented loan application, meet all loan program guidelines, and submit a signed Intent to Proceed statement." In addition, keep in mind that you might still be a assessed third-party fee, like title company charges, recordation fees, and more.
NewDay USA Pricing
What you'll pay for your NewDay USA loan can vary widely, and is based on a number of factors such as military service, loan amount, credit score, property details, how much equity you have in your home, and more. However, your loan's interest may be tax deductible, which is something you should discuss with your tax professional.
With this in mind, in order to gain a better understanding about what your loan will cost or how long it will take you to pay off, you'll need to contact NewDay USA customer service at 800-405-4187.
What Do Other Consumers Have to Say About NewDay USA?
Although the NewDay USA URL was originally registered November 2011, the company doesn't have many online customer reviews. However, among those available, some of the most common complaints reference very long closing times (2+ months) and high loan fees (one customer claimed $40K).
See Also: American Advisors Group Reviews
On the other hand, NewDay Financial, LLC based out of Fulton, MD, holds an A+ rating with the BBB, despite having 47 closed complaints over the past 3 years. Many of these complaints are varied and cover everything from pulling unauthorized credit reports and excessive junk mail, to large out of pocket expenses in order to obtain loans (e.g. appraisals, inspections, etc.).
Should You Choose NewDay USA for Your Mortgage or Home Equity Loan?
Considering all of this information, should you choose NewDay USA for your next home loan? Perhaps, but keep the following in mind:
Focus on Military
First, although NewDay USA claims to provide loans for the general population, their primary focus appears to be on active military, veterans, and their spouses. As such, their flagship product, known as the NewDay 100—which can provide you with a loan equal to 100% of your home's value—is only available to these individuals. As such, if you're not in the military, you'll definitely want to shop around.
Closing Times
Also, it's important to note that NewDay USA's advertised 30-day closing time is the absolute minimum you can expect. While all loans are subject to credit approval, acceptable collateral, and available equity, and not all loan products are available in all states, based on online customer reviews, it appears that most loans will take longer than this.
Money You'll Receive
Remember that any cash outs you receive will be less any existing mortgage payoffs. In other words, if your home is valued at $300K and you owe $250K, in a best case scenario, you'll only be eligible for a $50K loan. And this is before considering any out of pocket expenses required in order to close your loan.
Finally, keep in mind that consolidating your debts may increase the length of time needed to repay them, and your total finance charges may be higher over the life of the loan.
Bottom line
While NewDay USA appears to offer some unique products for members of the military and their spouses, if you're a civilian, you'll definitely want to shop around to find the best home loan product.
This company is actively collecting reviews from its customers. All reviews submitted are subject to moderation and approval to ensure they meet our

Review Guidelines

.

I wanted to refinance

By James D.

,

Minnesota

,

Mar 3, 2020
Verified Reviewer

I wanted to refi, but was uncertain who to contact. I made the call to NewDay and was well received. My agent Nicholas Savignano was helpful and especially diligent. I am very pleased, and I believe the military-style management helps incredibly.

Bottom Line: Yes, I would recommend this to a friend

---

Unprofessional, expensive, and frustrating

By Vanessa F.

,

Alexandria, VA

,

Feb 5, 2020
Verified Reviewer

I knew going into this that at 1% origination cost NewDay USA was significantly more expensive than other lenders. I expected that NewDay was experienced and the process would be as easy as my last refinance. What I did not realize was that while the nice, respectful agent who was willing to work with me after 5 pm when I got home from work had no experience and no oversight. My home has significantly increased in value, 50%, in six years. I have never missed a payment. I chose to refinance to pay off credit card debt. My agent Cody was right on it, calling me nightly making sure I got my appraisal. After that, he only called when he needed something ASAP. Documents he couldn't accept because they were encrypted, and needed me to re-send my PII unencrypted. Then he didn't even warn me, I just got a call from a random credit agency and I had to chase my agent down to tell me they needed to validate my most recent mortgage payments. (I was...just supposed to trust a random call from a credit agency?) But I did it. So imagine my surprise when I call him the night before my closing - agreed upon and still "cleared to close" on 1/17 on my dashboard - when he tells me no, the company can't close for a week after I electronically signed the electronic copy of the paperwork I had just received. When I follow-up again, he says I'm cleared to close, but he can't schedule the notary. And when I close with the notary on 1/24, I realize that my agent had lied to me (it is on your phone record) about being able to pay my mortgage 1/2 every two weeks when I get paid. Which is called "partial payments" and is not an allowed option on my new mortgage. So now I am sitting at home, filling out the paperwork to go with these stupid creditor checks that I have to mail myself just so you can keep the money for a few more days by not wiring it to me to pay online, and I am very, very angry.

Bottom Line: No, I would not recommend this to a friend

---

Advertisement

---

Refi was not what I thought it would be - actual help for a Veteran.

By Timothy F.

,

Hamilton, OH

,

Feb 5, 2020
Verified Reviewer

My loan officer Brandon was very helpful, I just feel my rate should have been lower. My appraisal was off by $50k. So I paid your high fees and got basically nothing out of it. Will not recommend to other Veterans. Comps were taken from Hamilton, not where I live, which is Hanover TWP. Huge difference in real estate values.

Bottom Line: No, I would not recommend this to a friend

Feb 6, 2020

Hello Timothy,

We appreciate your review. The appraisal process is certainly a large factor in the loan process, but NewDay is unable to influence any appraiser or appraisal process, and is therefore unable to affect the appraised value of the home. Thank you for the opportunity to respond to your concerns.

---

NewDay is the ONLY way to go

By Jeffrey B.

,

Nevada

,

Feb 5, 2020
Verified Reviewer

I received a mailing about refinancing my existing VA mortgage. With nothing more than a phone call, the process was in motion. I spoke to a man named Nick Barth and he was my Loan Coordinator throughout the process. Nick was friendly, courteous, professional, and made every effort to ensure that the refinance was completed in a timely manner. He made the entire process easy as pie, so to speak, and kept me informed throughout the process. It took a few subsequent phone calls, uploading a couple of verifications, and the Notary was at my door with the loan package. I never even had to leave my home to complete the loan. Did I mention that I also got a GREAT rate? The new, much lower payment also has already had a significant impact on my budget as well. In a time when customer service seems a lost art, the service I received from Nick Barth and NewDay was a true masterpiece of the service arts. Simply put, if you have a VA loan you wish to refinance, NewDay is the ONLY way to go. Give them a call today then sit back and enjoy watching real masters work, because after that first phone call, watching is basically all you have to do. Well, that and figuring out how to spend all the extra cash in your pocket. Thank you Nick and thank you NewDay for the truly EXCEPTIONAL experience.

Bottom Line: Yes, I would recommend this to a friend

---

Advertisement

---

What a terrible experience!

By Staci N.

,

Cincinnati, OH

,

Jan 20, 2020
Verified Reviewer

The entire process with NewDay was terrible! Initially, we were told it would take about 30 days to close which turned into almost 90 days. Communication was lacking throughout the entire process. Emails and phone calls would go days or even a week with no return response and we had to constantly reach out to get information. We were told everything was in order multiple times and ready to close and then they would come back to us with something else they needed. Many times we were told one thing and then it was found to be inaccurate. I would not go through this process again with this company. It was very stressful, to say the least.

Bottom Line: No, I would not recommend this to a friend

Jan 21, 2020

Thank you for this feedback. Although we try to request the necessary documents with one call, further documentation is sometimes necessary to support provided information. We apologize for the delay in your loan process.

---

Disappointed

By Rayford M.

,

North Carolina

,

Jan 10, 2020
Verified Reviewer

From the beginning, we were told we would close 11/13/19. This time came and at the last minute we're told we needed more documents and then we will close. This time came and then the last minute we needed more documents then we could close. This happened four or five times. When we finally closed later December we furnished pay off for several items. When checks were issued they were wrong. It is now January 7th and still hadn't been resolved.

Bottom Line: No, I would not recommend this to a friend

---

Refinance

By Randall C.

,

The Villages, FL

,

Jan 8, 2020
Verified Reviewer

From start to finish the process was simple and painless. I never had to leave my home, even for closing. NewDay managed to save me $350.00 per month by refinancing at a lower rate. I highly recommend this company. It is also nice to know they are here to help veterans. Thank you!

Bottom Line: Yes, I would recommend this to a friend

---

HORRIBLE EXPERIENCE

By Marc R.

,

Massachusetts

,

Dec 12, 2019
Verified Reviewer

The experience was horrible. Our rep Uchenna Ezealaji​ seemed to be inexperienced and everything felt disjointed and pieced together. I would not recommend NewDay, a very disappointing experience. I can't wait NOT to recommend AND will be telling everybody I know about my poor experience.

Bottom Line: No, I would not recommend this to a friend

Jan 21, 2020

Thank you for your feedback regarding your experience with NewDay USA and bringing this to our attention. Our goal is to provide excellent customer service and based on your comments we have fallen short of this goal.

---

Poor Veteran/Customer Service

By Keith Z.

,

Tampa, FL

,

Dec 10, 2019
Verified Reviewer

Always needed one more thing...process delayed and interest rate lock expired. Agent had to re-lock rate but would not get new rate even after Feds lowered interest rates another 1/4%, closed on Saturday, the 23rd of November, Agent stated loan will fund on Friday, the 29th of November and consolidation checks will be delivered Saturday, the 30th of November by overnight carrier. Monday, December 2nd has come and gone with no overnight delivery. Called agent and asked for the name of the carrier and tracking number but he was unable to provide and can not confirm if anything had even shipped out. So still waiting...without any information. And this was a VA Refinance with significant cost and funding fees. Big mistake!

Bottom Line: No, I would not recommend this to a friend

---

Outstanding service

California

,

Nov 7, 2019
Verified Reviewer

Mr. Kye Graver, the NewDay USA loan specialist assigned to work with us, was exemplary in every manner. He was very timely with his phone calls, follow up and execution of necessary documents.

His product knowledge and awareness of CA laws, regulations, as well as the product model of NewDay USA interfacing with the VA and it's requirements indicated that Kyle was very SAVVY representing your amazing company exceedingly well - Admiral Sir.

Mrs. Matthews, my dear spouse of 46 years, and I felt that Mr. Kyle Graver represented the company with integrity and honesty. "As advertised."

All along the way working toward the closure of the refinance of our loan from the USAA aka PHH mortgage of 12 years ago at 6.5 % to a new 4.25% interest, Mr. Graver guided us easily step by step both electronically as well as in written documents.

The speed in which we received paper documents is unsurpassed in my experience. It is as though you have a direct line to the US PONY EXPRESS" metaphorically speaking of course - LAUGH!

Regrettably, with the recent fires we have sustained here in Southern CA recently, it did push us back 2 weeks due to the power grids being shut done and evacuation orders always looming.

Fortunately, we were not impacted directly by the fires so we did not have to evacuate but, caution was always warranted etc. resulting in the appraiser being backed up 2 weeks, which was just fine. The VA Appraiser was AMAZING!

In closing, as a former service-connected disabled US Marine who attended OCS in Quantico, VA, during the Vietnam era and as Lt. Commander "DECORATED", I value honesty, integrity, and what the Admiral espouses the company to represent.

Also, your female spokesperson, a former US Marine as I was appraised of a "Ms. Tatianna" is a great spokesperson for the NewDay USA and because of her credibility, the Admiral's testimonials and its advertising on FOX NEWS with Hannity and with Laura Ingram, we decided to take the "plunge" and work with you all.

THE BEST DECISION IN WHICH VICKI AND I HAVE EVER MADE IN A LONG TIME!

Hands down!

ESSENTIALLY "Our experience was that the loan process was seamless and easy."

As always getting documents and submitting them on a timely basis is essential. Kyle GRAVER made this experience "enjoyable as well".

We are grateful for the new loan at 4.25%.

We wish the NewDay USA staff, the Admiral, and to USMC Tatianna and the entire crew there our heartfelt thanks and best wishes to all for a "JOB WELL DONE."

Many blessings to you all during these special days up coming like Veteran's Day, Thanksgiving, Christmas, New Years.

Thank you all for your service to this great country as well .

With honor yours,

Dr. Bob Matthews

Lt. Commander/USPHS OSG OHS DOJ /R

Vicki Ishler Matthews

Teacher of the year and LEUSD History Day Teach of the Year

Bottom Line: Yes, I would recommend this to a friend

---

VA refinance. Excellent communication, smooth process.

By John C.

,

Spokane Valley, WA

,

Nov 4, 2019
Verified Reviewer

Kevin Lasek was a pleasure to work with. He was readily available and honestly answered all the questions and concerns I had.

The process went smoothly and at the estimated time.

I was in communication with another lender and the quick response to questions I had about interest rates and closing fees from Kevin was the determining factor in going with NewDay USA.

Bottom Line: Yes, I would recommend this to a friend

---