SculptMedix by DermalMedix Reviews: Is It Worth It?
This company has claimed this profile, is getting alerted on any new customer reviews entering this page, and may engage in dialogue with its customers to address their matters.

Companies cannot pay money or provide goods in order to remove or alter customer reviews.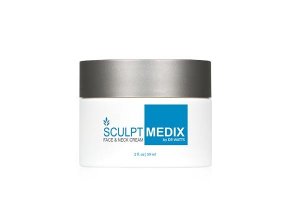 Summary
SculptMedix anti-aging face and neck cream uses epidermal growth factor that allegedly makes your skin look younger by reducing wrinkles, firming your skin, and lifting your skin.
Our Full Review
SculptMedix is an anti-aging face and neck cream that claims to reduce skin sagging and wrinkling to give your skin a younger, more vibrant look.
The key to this cream's supposed effectiveness is its inclusion of something called epidermal growth factor (EGF), a "Nobel Prize winning technology" that helps your skin repair itself.
SculptMedix is part of the DermalMedix skincare line whose founder is Dr. David Watts, a Los Angeles-based doctor.
According to DermalMedix's website, Watts is a board-certified plastic surgeon and an Army vet. His brand is responsible for other skincare products include VeinMedix, CrepeMedx, and Footmedix.
In this review, we're going to talk about how the SculptMedix works, highlight the ingredients the product's website says are important, talk about EGF and then review the pricing and return policies.
We'll also take a few minutes to compare SculptMedix to other anti-aging creams.
How SculptMedix Works
According to the product's website, applying the cream is a pretty simple process. You'll want to clean and dry your skin first. Then, take a dime-sized amount of the cream and apply it to your neck and face twice a day.
The product's directions say you'll want to use an "upward circular motion" to rub the cream into your skin.
These twice-a-day treatments should, the SculptMedix site says:
Firm and lift your skin
Tone down fine lines and wrinkles
Help your body make collagen
These claimed benefits materialize based on the ingredients included in a jar of SculptMedix. In fact, DermalMedix says that three main ingredients are responsible for the anti-aging properties they say the cream has:
EGF
Oligosaccharides
Sodium hyaluronate
Each one of these ingredients has a certain set of benefits that DermalMedix assigned to them. For example, they say that EGF "increases blood flow, supports skin cell regeneration and promotes collagen production".
They say that oligosaccharides "give you immediate lifting and tightening effects" and that sodium hyaluronate makes your skin supple and moisturizes it.
Pro tip: Each jar of cream is 2.1 fl. Oz. and should last you around 30 days.
EGF, Oligosaccharides and Sodium Hyaluronate: What the Science Says
We were curious about what the science says about how SculptMedix's three main ingredients can help your skin, so we did some research to find out what doctors and research says.
EGF has a promising background – its discovery by a pair of scientists was one reason those scientists won the 1986 Nobel Peace Prize in Physiology or Medicine.
The Nobel Assembly noted that the EGF and nerve growth factor the scientists discovered could help "increase our understanding of many diseases starts such as developmental malformations, degenerative changes in senile dementia, delayed wound healing and tumor diseases."
As such, EGF's benefits are most often associated with wound healing. We were able to find out, however, one study that indicates that EGF's were able to reduce wrinkles and pore size as well as improve skin texture in a test group of 29 30-year-olds.
What's not known, however, is the concentration of the cream used in the test or if the EGF used was the same as what you'll find in SculptMedix.
Oligosaccharides are particular types of carbohydrates that are found in several of SculptMedix's ingredients, including chicory.
WebMD notes that some people use a chicory paste to reduce skin swelling and inflammation but the site doesn't mention anything about chicory's effectiveness in day-to-day anti-aging regiments.
Sodium hyaluronate is the final main ingredient in SculptMedix. According to Drugs.com, the most common uses for this ingredient are for joint pain, as its primary function is to keep joints lubricated. The site did not indicate any uses for skincare.
Side Effects of the Ingredients in SculptMedix
As far as we could tell through our research of the ingredients in this anti-aging cream, the possibility of side effects is low.
The major concerns we read about were regarding injectable doses of sodium hyaluronate, not topical applications of a cream.
Mayo Clinic notes that common reactions to sodium hyaluronate include itchy skin, blue or purple patches on the skin and other non-skin related issues.
Pricing and Return Policy for ScupltMedix
At the time of publishing, you could buy SculptMedix for the following prices:
One jar: $80 and free shipping
Two jars: $144 and free shipping
Three jars: $204 and free shipping
DermaMedix says that the product comes with a 90-day money-back guarantee. They say that you can make your return with "no questions asked."
Based on our research of the fine print, we found that the 90-day deadline starts from the day the cream leaves the shipping facility.
If you make a return request within those 90 days, you have to contact their customer service department to start your return. You can contact DermaMedix at 800-425-0243.
How SculptMedix Compares to Other Anti-Aging Creams
Anti-aging creams featuring EGF aren't quite as plentiful as those that use popular ingredients like hyaluronic acid and retinol.
We were able, however, to do a quick Google search and find two competing EGF creams:
DHC Care EGF Cream: $89 for 1.2 ounces
Bioeffect EGF Serum: $160 for 0.5 ounces
The big difference between these two products and SculptMedix is pricing and EGF concentration. You get nearly twice as much SculptMedix for the same price as DHC's cream and about four times the cream as you get in serum from Bioeffect.
We took a look at the ingredients for each of these products and found that DHC contains EGF as well as hyaluronic acid, a popular moisturizing ingredient in many types of skin creams and serums.
Bioeffect contains sodium hyaluronate, which is a salt form of hyaluronic acid that is claimed to help reduce wrinkles.
It's hard to say which of these products will produce the best results. If your choice is based on price and quantity, SculptMedix is the most affordable and provides a month's worth of cream.
The Bottom Line: Pros and Cons of Using SculptMedix
Based on the research we've done in this review, we believe there are some distinct advantages and disadvantages to using SculptMedix.
First, the cream's price is competitive when set against what's available from other EGF creams. Still, at $89, a 30-day supply could be cost-prohibitive for those on a budget who are looking for an affordable anti-aging cream.
The main downside to the cream, we believe, is that it uses ingredients whose anti-aging properties have yet to generate a lot of confirming research.
EGF can help with wounds but the proverbial jury is still out regarding how effective it is in rejuvenating your skin. Research of the other two main ingredients didn't reveal much from reputable medical websites.
So, as you make your decision about whether or not SculptMedicx is right for you, it's important to understand that research shows EGF's effectiveness for anti-aging skin treatment isn't definitive.
Also, keep in mind that DermaMedix says that their anti-aging face and neck cream can produce results within one jar's worth of use but that "it's very difficult to predict exactly when you will begin to see results."
Customer Reviews
Posted on Dec 13, 2021
Surprisingly effective
Firmed up my skin, made my pores smaller and my skin brighter. It reduced the appearance of my eye bags. It also works for my hands and I also use it for my cracked fingertips (dry air in the prairies) before putting on my hand lotion. I recommend this product 100%.
Also, I'm 53 now and I don't have issues with wrinkles as I've been using an RF device for 20 years now. I also started moisturizing at 16 years old. My mum advised me about wrinkles when I was a teen, and the thing about this is that it's best to prevent them rather than deal with them when they've set in. So, at my age, I have no wrinkles, except minor sagging around the jawline and the beginning signs of a marionette where I smile.
Apart from using Dermal Medix, I use an RF device and I've also started using a microcurrent device to exercise my facial muscles for a natural lift. My jawline is lifting up, the marionette is disappearing, and I've got volume back on my cheeks. It takes discipline to maintain my skin and acquire the habit of moisturizing and zapping my face two times a day. I'd say it's worth it because It's helping me age better than I'd expected. Aside from these skin rituals, it's important to hydrate with water, eat healthily, exercise, and take vitamin C sources.
Again, I recommend this product 100% for older people, as well as adopting healthy living and using devices. For younger people, I also recommend this for the purpose of preventing wrinkle formation. You won't regret early intervention and prevention by moisturizing.
Length of Use: 6–12 months
Bottom Line: Yes, I would recommend this to a friend
Pros and Cons
How quickly it works
How it actually works
Non-invasive
Delivery is fast
The price
I got one jar that was damaged and the contents were all around the outer rim of the jar
Posted on Feb 27, 2021
3 weeks in, need more time!
I turned 76 last week and have been using SculptMedix for three weeks. I see very little change, so far. My face and neck already appear somewhat younger than most 76-year-olds but there are some minor cheek wrinkles. I'm more concerned about sagging jowls and "turkey neck", both of which are beginning now. I hope to slow it down and possibly to reverse what's started.
I intend to keep up the suggested regime with my two jars, so by March 24th or so, I should know if this is the product for me. Wish me luck!
Length of Use: Less than 3 months
Bottom Line: Yes, I would recommend this to a friend
Pros and Cons
Subtle odor
Not heavy or greasy
Absorbs relatively quickly
No "cons" were specified in this review
Company Response from DermalMedix
Mar 1, 2021
Hi Kathryn, thank you for giving SculptMedix a try. Keep us updated on your experience and if you have any questions or concerns, my email is sloane@dermalmedix.com. Please don't hesitate to reach out.
Posted on Feb 18, 2021
It's a "band-aid" not a cure
Used the product for a few days and my skin actually looked better. Didn't use it for a couple of days my skin went right back to the original. It does not last.
It's a very expensive "snake oil".
Length of Use: Less than 3 months
Bottom Line: No, I would not recommend this to a friend
Pros and Cons
Did seem to work at first, but only with continued use
The cost
The lasting effect
Locks you into purchasing more and more of the product
Company Response from DermalMedix
Feb 18, 2021
Hi Bill, thank you for sharing your feedback! I'm sorry to hear that this was your experience with SculptMedix. We recommend 90 days of consistent use to see maximum results from our formulas. We understand that SculptMedix may not be the right fit for everybody so please email me at sloane@dermalmedix.com if you'd like to initiate a refund. Thank you.
Posted on Oct 6, 2020
Amazing
I have been using the SculptMedix for about 3 weeks and wow, I can really tell a difference. I started to see a little bit of a difference after 1 week but know there is a big noticeable difference. I am 67 years old and had a lot of wrinkles on my forehead and they are almost gone, the wrinkles around my mouth from smoking for so many years were very deep but they are starting to be less and less noticeable. I would highly recommend this product.
Length of Use: Less than 3 months
Bottom Line: Yes, I would recommend this to a friend
Pros and Cons
How fast it works
It is a little bit pricey for me
Posted on Oct 5, 2020
What I think of the SculptMedix in the middle of COVID-19!
It is easy to apply and I think the outcome would be better if I didn't have to wear a face mask 6 hours straight every day! It feels good, but like I said, it would probably be doing a better job if it wasn't for the mask. I will, however, continue to use it hoping that this COVID lets up and I could get better results.
Length of Use: Less than 3 months
Bottom Line: Yes, I would recommend this to a friend
Pros and Cons
Not greasy
Have not had any irritation from it
Considering all factors I could see a slight difference on the upper face
Thought it would have tightened more, especially under the chin and neck area
Posted on Oct 3, 2020
Seeing results
I am seeing results. I've been using this product for two weeks. The wrinkles and sagging skin have not disappeared completely, but I am happy with the results. I will continue to use SculptMedix. It's refreshing to actually see and feel a difference. There are so many products out there that over-promise results and under deliver. This is the best one I have found.
Length of Use: Less than 3 months
Bottom Line: Yes, I would recommend this to a friend
Pros and Cons
Firmer skin
Less fine lines
Smoother skin
Takes a while to receive product
Pricing goes up after the first order
Posted on Sep 26, 2020
DermalMedix
Works pretty well. I like the softness of my face and throat while using it. Puffiness in the eyes are down. No bad reaction to it, no skin peeling.
Length of Use: Less than 3 months
Bottom Line: Yes, I would recommend this to a friend
Pros and Cons
Easy to use
Softness of skin
Puffiness of eyes are less
No "cons" were specified in this review
Posted on Sep 23, 2020
My skin feels softer
I have been using the product for about a month. I can't say I've consistently used it twice a day. However, my skin does feel softer and the crepy skin on my neck may appear a little tighter. I think it needs more time.
Length of Use: Less than 3 months
Bottom Line: Yes, I would recommend this to a friend
Pros and Cons
Lightweight
Non-greasy
No "cons" were specified in this review
Posted on Sep 22, 2020
Very nice product!
I can see an improvement in skin texture and firmness. I also notice an improvement in skin tone, no more blotchy spots. I am 67 years young and will continue to use this product daily. I was leary this was going to be another one of those products that sits on my shelf. But to my surprise, it works!
Thank you SculptMedix.
Length of Use: Less than 3 months
Bottom Line: Yes, I would recommend this to a friend
Pros and Cons
Tightens my skin
Feels light, not heavy
No scent
Absorbs quickly
Cost
Small jars
Posted on Sep 15, 2020
High hopes
I am 76 years old and the ravages of time are definitely upon me. I have been using the SculptMedix by DermalMedix for about 3 or 4 weeks. I am definitely beginning to see a lessening of the wrinkles in my cheeks.
I did try a new moisturizer a couple of weeks ago and that may also be helping.
Length of Use: Less than 3 months
Bottom Line: Yes, I would recommend this to a friend
Pros and Cons
Easy to use and easy to follow routine
Odorless, or nearly so
Doesn't stain bedding
No "cons" were specified in this review
Posted on Sep 11, 2020
Only been using it for a few weeks but confidence is high
The first time I ordered from your company - shipment arrived quickly, I like the feel of it on my skin. Keeps it hydrated.
So, waiting to see if it really works on the lower facial area - around my mouth and chin.
Length of Use: Less than 3 months
Bottom Line: Yes, I would recommend this to a friend
Pros and Cons
Doesn't irritate me - my face, or makes it itch, which is a plus
Keeps face soft and hydrated for a long time - surprising since I have very dry skin
Hopefully it keeps working and firms up my face
Too early to tell - received it 8/15/20
Our Promise to You
In order to safeguard you and ensure helpfulness and relevance, our compliance team manually assess every customer review before it goes live.
We have a zero-tolerance policy for fake reviews, and companies cannot control or alter any reviews at any time.