Cosmedique Reviews
Claimed This company has claimed this profile, is getting alerted on any new customer reviews entering this page, and may engage in dialogue with its customers to address their matters.

Companies cannot pay money or provide goods in order to remove or alter customer reviews.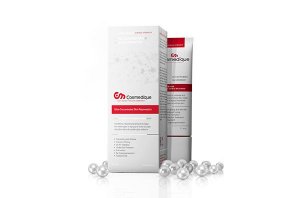 Cosmedique is a nutrient-rich skin cream that promises to promote anti-aging benefits comparable to plastic surgery by allowing ultra-fine particles to penetrate through your skin.
About Cosmedique
Cosmedique is a skin cream that is branded as a 'comprehensive, nutrient-rich, anti-aging formulation' on the company website.
Developed in Switzerland but manufactured in the United States, the cream claims to help rejuvenate cells deep in the dermis layer of your skin so that it can restore itself from the inside out.
Through this process, Cosmedique purportedly improves skin texture and reduces discoloration through intense hydration, leaving you with a soft, smooth appearance.
For this reason, the product website claims that Cosmedique is 'the perfect solution' for preventing skin from aging. It states that you'll notice firmer, brighter skin and enhanced moisture after just one treatment.
After eight weeks of daily use, Cosmedique states that your skin cell density will resemble a 30-year-old, (no matter how old you are) and that your lines, wrinkles, and blemishes will fade to the point that they almost disappear.
How Does Cosmedique Work?
The Cosmedique website states that their cream is formulated with ingredients like hyaluronic acid, retinol, DMAE, vitamins A, C, and E, natural proteins, ceramide, caviar extract, tocopherol acetate, and the 'key ingredient' of Swiss apple extract.
According to the brand, these ingredients are formulated to be as small as possible so that they can get through the skin. In fact, it promises to be the first no-needle treatment that can stimulate the recovery of damaged cells by working from the inside out.
Can Cosmedique possibly live up to its bold claims? Let's unpack this product to find out.
What Is the Science Behind Cosmedique?
It's important to note that at the time of writing we weren't able to find any evidence of clinical research or peer-reviewed studies that pertained to Cosmedique. Nonetheless, we found some facts about what it promises on the website.
The website's science section illustrates that each ingredient in the cream is molecularly engineered to easily travel through every layer of skin so that it can fill up the spaces between connective fibers, collagen, and elastin to restore the formation levels of collagen.
After consistent application, the section states, the wrinkles on your face will look smoother and less visible.
The site claims to have synthesized hyaluronic acid into as small a form of possible so that it can better penetrate through the epidermis down to the dermis (the skin's base layer). This process restores skin cell counts to previous levels, it states, resulting in a smoother texture and fewer age spots.
These claims are impressive, but can cosmetic ingredients successfully travel through layers of skin to promote anti-aging benefits?
Can Cosmetics Really Penetrate the Skin?
The idea of cosmetic products penetrating through skin is one that Highya has dealt with numerous times.
Cosmetic companies often use the phrase 'skin penetration' to suggest the idea that your success at improving your skin is directly linked to how deep the product's ingredients can get into your skin.
For this reason, many anti-aging products claim to contain skin penetrating ingredients, though the reality is more nuanced than they are suggesting,
There are four factors that affect skin penetration: molecular size and weight, whether a product is oil or water-soluble, molecular polarity, and the overall condition of your skin.
For these reasons, most molecules in cosmetic products won't effectively penetrate through layers of skin cells.
So, will Cosmedique's ingredients actually make it to your skin's dermis layer?
It's almost impossible to tell without a chemistry lab. However, any product that you can order without a doctor's prescription almost certainly won't have enough potency to fully penetrate your skin, which might mean that Cosmedique is overstating its skin benefits.
Looking at the ingredients in this product will tell us more.
What Ingredients Are in Cosmedique?
Cosmedique's full ingredient list is not present on their website. However, they do highlight some of the cream's main ingredients. Notably, there isn't any information about the concentrations of these ingredients, so it's difficult to determine whether they are potent enough to be effective.
We relied on the EWG cosmetic database for our information about the properties of Cosmedique's ingredients, which include the following:
Hyaluronic Acid: As a natural polysaccharide found in your body's connective tissues like cartilage, hyaluronic acid works to lubricate and cushion joints.
It's often added to topical cosmetic products to add moisture and improve the appearance of aging skin, but we couldn't find clinical evidence that it works to permanently improve skin because the molecules are too large to adequately penetrate the skin.
Retinol: More commonly called vitamin A1, retinol is naturally found in food and has traditionally been used to reverse skin damage.
DMAE: Examine.com tells us that DMAE is a natural chemical in the human body that can reduce the build-up of aging-related pigmentations in the skin, helping it to reduce sagging and signs of aging. This makes it a common ingredient in anti-aging skin creams.
Natural Proteins: While the Cosmedique websites lists 'natural proteins' as an ingredient, it doesn't specify what form they are or where they are sourced from, making this component impossible to properly review.
Ceramide: ScienceDirect tells us that ceramide is a form of naturally-occurring lipid molecules that are found in high concentrations within the top layers of skin cells so that they form a protective layer over your skin that plumps it up and aids moisture retention. These benefits are not permanent, though, as the protective layer that ceramide forms gets washed away every time you shower.
Caviar Extract: Strange as it might sound to use fish eggs on your face, caviar extract is full of fatty acids and trace minerals that can moisturize skin when added to creams. The EWG database tells us that this extract can work as a skin conditioning agent, but we weren't able to find any scientific evidence that provides long-term skin benefits.
Tocopherol Acetate: As a popular form of vitamin E for cosmetic products, tocopherol acetate is also a natural antioxidant that helps maintain the health of your cells. Notably, the EWG database mentions that the compound has some risks for ecotoxicology.
Swiss Apple Extract: Considered by Cosmedique to be the cream's key ingredient, Swiss apple extract contains stem cells from apples, which supposedly can stimulate the production of human skin stem cells so that your skin can regenerate itself return to a younger appearance.
However, we weren't able to find any clinical studies that looked at the efficacy of Swiss apple extract, nor any that stated whether it is a valid ingredient for improving skin texture in anti-aging creams.
Are There Potential Side Effects for Cosmedique?
Like we previously mentioned, we couldn't track down the full list of ingredients or concentrations for Cosmedique.
What we can determine is that this cream contains many skin conditioning agents that are common in commercial skincare products. However, some ingredients might be cause for concern.
WebMD tells us that retinol can cause your skin to age faster if you wear products containing it in bright sunlight because it makes your skin more sensitive to the sun. An article from Livestong.com also told us that high concentrations of retinol can also cause severe skin irritation and redness.
Likewise, we learned from WebMD that some people are sensitive to DMAE. It causes them to suffer from insomnia, tenseness, and headaches at too high of a dose, though this typically only happens when it is taken orally.
Because we couldn't determine how much retinol or DMAE is in Cosmedique, you may want to err on the side of caution when applying this product to your skin.
Cosmedique Cream Cost and Where to Buy
At the time of writing, Cosmedique cream is only available through the company website on a free trial/ subscription basis. You can receive a 60-day supply trial offer of Cosmedique for the cost of shipping (about $6.50 or $14.95).
It's critical to note that at the end of your trial period, you will be billed $187.50 for the product if you don't return it to the company.
You are also automatically enrolled in the company's subscription program after receiving your trial and will be sent replenishment cream every sixty days for the full price of $187.50.
If you decide you don't want to pay for your trial offer of the cream, you must return it within the first thirty days of ordering it to cancel your account. You can contact the company directly at (855) 315-7475 or through email at support@cosmedique.com.
What Do Customers Think of Cosmedique?
We couldn't find any verified review on Cosmedique's website, but Shadow.com compiles reports from sites like Amazon and Facebook to arrive at an overall rating of 82 percent approval for the product after over 600 reviews.
The individual reviews from Cosmedique customers on Shadow.com are less positive, though.
Many people complain that their 'free trial' was a rip-off and that they were billed for the total cost of the product before the end of the 30-day return period. Others also complained that they couldn't get through to the company by phone and that the line seemed disconnected.
We noticed that some reviewers thought that their skin didn't look any different after using the cream for more than a month, though other reviewers mentioned that they think their skin looks better than expected and that the product works better than anything else they've tried.
Our Consensus: Who Is Cosmedique Best For?
If you are looking for a permanent solution for a younger-looking face, you might not find it in a cream. We've written before that the best way to keep your face looking young is by preventing it from aging in the first place by managing stress, wearing sunscreen, and eating a healthy diet.
Though Cosmedique claims to be a comprehensive, nutrient-rich, anti-aging formula, we weren't able to locate enough information available about this product for us to comment on whether it will work as promised.
The Cosmedique website lists numerous ingredients that have some scientifically-proven benefits for improving your skin texture, but other ingredients in the formula show no evidence of working as claimed, according to other sources.
Likewise, Cosmedique doesn't list any information about ingredient concentrations, so we aren't able to determine if they are potent enough to be useful.
Will skin creams like Cosmedique really penetrate through your skin to renew it? It's unlikely because the product is available without a prescription. This means that the active ingredients within the cream likely aren't concentrated enough to produce permanent changes for your skin.
The fact that you can only buy this product through a "free trial/ subscription service" should also be something you consider, as a consumer in our opinion.
If online reviews are to be believed, some Cosmedique customers struggled to cancel their subscriptions or were still billed for the total cost of the product when they attempted to cancel them.
If you are looking for a skin cream that provides permanent improvements to your face, you might be better off choosing a product with more published information about its ingredients and effectiveness in clinical studies.
Scam

By Jodi W.

,

Hong Kong, China

,

Mar 19, 2020
Verified Reviewer

I bought a "trial" of the cream product paying just for postage (as advertised) of $10.99. I was charged USD187.50 a month later. The company was responsive by email but not helpful. They just pointed out that somewhere in the 16 pages of terms and conditions (which were on a separate tab to the offer) that I'd agreed to this.

I'm disputing the charge through my bank and I canceled the card so no further charges could be made. I was offered an option to send the product back for a partial refund. On questioning customer service they admitted to the obvious fact that the partially used tube of cream would be tossed out. Which begs the question why send so much cream for a "trial" and why ask people to send something by expensive track and sign post when it's just going to be tossed. Additionally, the address given brings up two possible destinations when you search on Google Maps. One is not a shop front, just a block of apartments so getting a signee will (predictably) prove difficult. One does not get the partial refund if the partially used tube of cream doesn't arrive safely. A total trap. Ridiculous.

Bottom Line: No, I would not recommend this to a friend

---

Believe the hype

By Sheila D.

,

Shirley, NY

,

Jan 24, 2020
Verified Reviewer

I am a pessimist by nature but have proof that Cosmedique is worth every dime. I am 50 years old and no one believes me. I look around and think to myself "I have a spectacular secret"! If someone asks I certainly tell.

Recently my brother came over to me and said: "your skin is flawless - you look beautiful sis". I hate to brag, but I get that a lot since I started using this product.

It is gonna be tight ordering this month but my PERSONAL REVIEWS matter more than the money.

Bottom Line: Yes, I would recommend this to a friend

---

Scam! Beware!

By Shmuel S.

,

Israel

,

Jan 12, 2020
Verified Reviewer

Simple scam! They will charge you again and again! Anyway, the product is doing you nothing good! Are you ready to pay thousands of dollars with no way to stop them from charging you? Rating zero!

Bottom Line: No, I would not recommend this to a friend

---

Skin Repair Cosmedique trial

By Jane L.

,

Singapore

,

Nov 26, 2019
Verified Reviewer

A rude shock when I see my bill of $228.35 for USD162.47 charged for a trial offered online on the 23rd of October.

If the company is not going to explain or refund my money, I will not hesitate to bring this matter to our small claim court!

And honestly, I only used a couple of times and see not much effect on my skin. Therefore I am not satisfied being charged for this huge amount. SERIOUSLY, to pay $228.35?

Bottom Line: No, I would not recommend this to a friend

---

Advertisement

---

Scam!

Was attracted by a trial of Singapore dollars $28, and I applied. And now after one month, there is a charge to my Visa card of $256!

I am going to make a police report! If Cosmedique doesn't pay me back my money!

How unscrupulous to con money using such lowly tricks! I won't hesitate to take this cheat to court and make it known to the public, to prevent more victims like myself!

I will post on Facebook and Instagram of such dirty tricks!

Crooks!

I am totally shocked, beyond words!

Bottom Line: No, I would not recommend this to a friend

Oct 18, 2019

Hello Catherine,

Here at Cosmedique we offer both regular purchases as well as 15 & 30 day trial offers for those that wish to partake in a try before you buy option.

For those that opt to order a trial offer, all of the terms of our promotion are available on our website check out page for the customer's review prior to placing their order. They are also reiterated on the customer's order confirmation email. We encourage and hope that a customer will read the terms of their order prior to placing it.

First orders with our company on the trial offer, come with both the trial time as well as a concurrent 100-day money-back guarantee.

We encourage all potential customers to read what they are ordering from any company. This is why we offer both regular purchases as well as trial offers. And again, a first order with our company comes with a 100-day money-back guarantee whether you opt for the trial offer or purchase the product outright.

I do show we emailed you return instructions today and we're more than happy to issue your refund upon receipt of your return.

---

Scam

By Ainura C.

,

Sydney, New South Wales, Australia

,

Sep 30, 2019
Verified Reviewer

This is a big scam people! DO NOT buy this product, wasting money, isn't even worth a $1. I got mine 2 months ago and it didn't work! 100% SCAM! $180 is a lot of money, what a waste of time and money!

Bottom Line: No, I would not recommend this to a friend

Oct 18, 2019

Hello Ainura,

When we communicated with you back on September 17th, we informed you that you had a 100-day money-back guarantee and we provided you with return instructions. We also offered you a discount on the product if returning it was a hardship for you.

We have not received a return from you and additionally, you were only charged the discounted price. You do still have 28-days remaining in your money-back guarantee and can certainly still return the product should you wish to.

If you need us to resend the return instructions to you then please contact customer support at support@cosmedique.com.

---

Scam

By Frieda C.

,

Dublin, Ireland

,

Aug 14, 2019
Verified Reviewer

Ordered "free" sample just paying postage. Was charged €174.73 this month.

I was very shocked by this. There is no way I would pay this for a tube of face cream.

Buyer beware!

Bottom Line: No, I would not recommend this to a friend

Oct 18, 2019

Here at Cosmedique we offer both regular purchases as well as 15 & 30 day trial offers for those that wish to partake in a try before you buy option.

For those that opt to order a trial offer, all of the terms of our promotion are available on our website check out page for the customer's review prior to placing their order. They are also reiterated on the customer's order confirmation email. We encourage and hope that a customer will read the terms of their order prior to placing it.

First orders with our company on the trial offer, come with both the trial time as well as a concurrent 100-day money-back guarantee.

We encourage all potential customers to read what they are ordering from any company. This is why we offer both regular purchases as well as trial offers. And again, a first order with our company comes with a 100-day money-back guarantee whether you opt for the trial offer or purchase the product outright.

---

Don't be fooled by this SCAMMER

By Maria C.

,

Connecticut

,

Jul 26, 2019
Verified Reviewer

This is a total scam and don't give your credit card.

They sent me a sample and charged $8.76 for shipping, after a few days I called them to cancel my subscription but no one is answering the phone, I was just listening to the music for an hour hoping someone will pick up the phone but luckily no, then tried it once again but they won't pick up their phone. When I checked my credit card I got billed from COSMEDIQUE for $187.50 without my permission. My advice to everyone, don't be fooled by this SCAMMER. I rate them ZERO.

Bottom Line: No, I would not recommend this to a friend

Jul 26, 2019

Here at Cosmedique we offer both regular purchases as well as 15 & 30 day trial offers for those that wish to partake in a try before you buy option.

For those that opt to order a trial offer, all of the terms of our promotion are available on our website check out page for the customer's review prior to placing their order. They are also reiterated on the customer's order confirmation email. We encourage and hope that a customer will read the terms of their order prior to placing it.

First orders with our company on the trial offer, come with both the trial time as well as a concurrent 100-day money-back guarantee.

This reviewer in particular, placed her order two months ago. She emailed us on June 17th requesting return instructions. She did, at that time, disclose that she had trouble reaching us via telephone however, we responded to her email within 45 minutes of receiving it.

We provided the customer with return instructions as well, again, within 45 minutes of receiving her request for return instructions. We also offered her a discount option at that time should she wish to keep the product.

She replied 2-days later with some confusion over the terms of her order at which time we reiterated the terms and again told her the product could be returned or alternatively she could accept the discount option. The customer then replied on June 20th requesting the discount option at which time we promptly provided her with a refund and waived her need to return the product.

While this all happened a month ago now, certainly if this reviewer has changed her mind about accepting the discount option, she does still have 38 days remaining in her 100-day money-back guarantee period, in which she can still return the product for the remaining portion of her refund.

Again, we encourage all potential customers to read what they are ordering from any company. This is why we offer both regular purchases as well as trial offers. And again, a first order with our company comes with a 100-day money-back guarantee whether you opt for the trial offer or purchase the product outright.

---

Total scam! Be careful.

By Julie B.

,

France

,

Feb 17, 2019
Verified Reviewer

They make you pay about $18 for shipping. Only once you pay for the shipping and place your order that they send you an email informing you that you will pay the totality of about $187 after 30 days, and you will be automatically enrolled in a subscription where they send you the cream and charge you without taking your permission.

I contacted them by emails several times to inform them not to send anything and to cancel my subscription until I had to stop my bank card to force them to cancel everything!

Total scam, be careful!

Bottom Line: No, I would not recommend this to a friend

Jul 26, 2019

Here at Cosmedique we offer both regular purchases as well as 15 & 30 day trial offers for those that wish to partake in a try before you buy option.

For those that opt to order a trial offer, all of the terms of our promotion are available on our website check out page for the customer's review prior to placing their order. They are also reiterated on the customer's order confirmation email. We encourage and hope that a customer will read the terms of their order prior to placing it.

First orders with our company on the trial offer, come with both the trial time as well as a concurrent 100-day money-back guarantee.

This reviewer in particular, emailed us twice after placing her order. The first emailed and asked for clarification of our trial offer terms and the second email requested a cancellation.

We promptly placed her order on hold and attempted to reach out to her so that we could clarify the terms of her order with her as requested. We called her 6 times and emailed her 3 times however we never received any further response and this canceled her order prior to shipping as she requested in her second email.

The reviewer was never charged for shipping (international) nor was she charged for the product at all and nothing was ever shipped to her. At no time was there any need to have her bank intervene. This review is incredibly misleading and inaccurate.

Again, we encourage all potential customers to read what they are ordering from any company. This is why we offer both regular purchases as well as trial offers. And again, a first order with our company comes with a 100-day money-back guarantee whether you opt for the trial offer or purchase the product outright.

---

CRAP!

By Andrea C.

,

Massachusetts

,

Dec 20, 2018
Verified Reviewer

Cosmedique is a total scam! Overpriced and overrated! Leaves waxy buildup, does absolutely nothing for any wrinkles. Total frauds. Rude customer service, when you can get it! No one answers the phone...just a bunch of phony baloney emails. Buyer beware!

Bottom Line: No, I would not recommend this to a friend

Jul 26, 2019

We're sorry that Cosmedique did not work out for you. Unfortunately, every product out there simply does not work for every person.

Here at Cosmedique we offer both regular purchases as well as 15 & 30 day trial offers for those that wish to partake in a try before you buy option.

For those that opt to order a trial offer, all of the terms of our promotion are available on our website check out page for the customer's review prior to placing their order. They are also reiterated on the customer's order confirmation email. We encourage and hope that a customer will read the terms of their order prior to placing it.

First orders with our company on the trial offer, come with both the trial time as well as a concurrent 100-day money-back guarantee.

This reviewer in particular sent us 5 emails over the course of 20 days all of which were politely and promptly responded to by real customer service representatives.

She was offered and sent return instructions upon request as well as offered a discount if she did not wish to return the product. She never returned the product and was only charged the discounted amount.

Again, we encourage all potential customers to read what they are ordering from any company. This is why we offer both regular purchases as well as trial offers. And again, a first order with our company comes with a 100-day money-back guarantee whether you opt for the trial offer or purchase the product outright.

---

Cosmedique scam

By Patrice M.

,

Maryland

,

Aug 20, 2018
Verified Reviewer

Do not fall for the Cosmedique free trial, unless you are a genius. I certainly thought I was; it is nearly impossible to find the terms and conditions where they tell you they will be charging you over $175 after a couple of weeks. The product is no better than the Olay Regenerist that I have used for years. I was SCAMMED!

Bottom Line: No, I would not recommend this to a friend

Jul 26, 2019

Here at Cosmedique we offer both regular purchases as well as 15 & 30 day trial offers for those that wish to partake in a try before you buy option.

For those that opt to order a trial offer, all of the terms of our promotion are available on our website check out page for the customer's review prior to placing their order. They are also reiterated on the customer's order confirmation email. We encourage and hope that a customer will read the terms of their order prior to placing it.

As a side note, you do not need to be a "genius" as this reviewer suggested... you simply need to read a few short paragraphs right on our website check out page. If you do not agree with the trial offer terms but are still interested in the product then you do have the option to just order the product without the trial time.

First orders with our company on the trial offer, come with both the trial time as well as a concurrent 100-day money-back guarantee.

This reviewer, in particular, placed her order in March of 2018. She emailed us wanting to return the shipment at which time we promptly provided her with return instructions as well as a discounted option.

The reviewer never replied to our email nor did she return the item. As a courtesy, she was not charged the full price of the product but charged with the discount we had offered her since she never reached back out to us. So essentially she never followed through with returning her order yet opted to post this review some 5 months after her order.

Again, we encourage all potential customers to read what they are ordering from any company. This is why we offer both regular purchases as well as trial offers. And again, a first order with our company comes with a 100-day money-back guarantee whether you opt for the trial offer or purchase the product outright.

---