SHREDDED-AF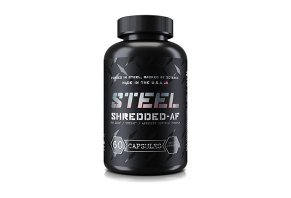 SHREDDED-AF is a dietary supplement from Steel Supplements that combines a blend of stimulants with other ingredients intended to boost metabolism and increase weight loss.
SHREDDED-AF Review: Does It Work or Just Hype?
According to Steel Supplements, their SHREDDED-AF thermogenic supplement uses a blend of pure, potent ingredients to help men and women boost their metabolism, mobilize fat, suppress cravings, and deliver all-day energy and mental clarity. And all of this without having to worry about a crash afterward.
Due to its potency, the website recommends customers start with one capsule per day to assess tolerance, and then increase to two capsules per day (with at least six hours between doses) if well tolerated. Eventually, you could even take two capsules at once.
Although SHREDDED-AF is advertised as a premiere all-in-one fat burner backed by science, does the clinical evidence necessarily support this claim? Let's start by building a solid foundation and working our way up from there.
The Basics of Metabolism and Fat Loss
The Rush University Medical Center explains that metabolism "is a process" whereby "our cells change the food we eat into the energy we need to breathe, move, think and do . . . everything. It keeps us, as it keeps all living things, alive."
The amount of fuel our body receives from this food is measured in calories, and the number of calories our body burns to maintain basic processes (cellular function, blood flowing, lungs breathing, etc.) is known as our resting metabolic rate. This will be different for everyone.
While our resting metabolic rate doesn't really change, the article goes on to explain that we can speed it up by exercising. And if you expend more calories than you consume through a combination of diet and exercise (known as a calorie deficit), it's possible to decrease your body fat and increase your lean muscle percentages over time.
Furthermore, because "muscle tissue uses more energy than fat tissue," this can increase your metabolism even more and allow your body to burn more calories, "even when you're at rest."
With these core details in mind, how does SHREDDED-AF promise to help increase your metabolism and help you achieve a leaner, more muscular physique?
Taking a Closer Look at SHREDDED-AF's Ingredients
According to the supplement facts label listed on the Steel Supplements website, SHREDDED-AF contains the following ingredients:
Vitamin B6 5 mg
Vitamin B12 500 mcg
Folate 400 mcg
Caffeine Anhydrous 300 mg
Beta-Phenylethylamine 150 mg
N-Acetyl-L-Tyrosine 150 mg
N-Phenethyl Dimethylamine 150 mg
Hordenine HCL 100 mg
Paradoxine (std to 12.5% 6 Paradol) 50 mg
N Methyltyramine 50 mg
Theophylline 40 mg
LeanGBB (Gamma-aminobutyric acid) 15 mg
Noopept 30 mg
Bioperine (Black Pepper Full Extract) 5 mg
Alpha Yohimbine 2 mg
Huperzine A (Huperzia Serrata) 200 mcg
3.5 Diiodo-L-Thyronine 150 mcg
The HighYa team isn't staffed by individuals professionally trained in pharmacology or medicine. As a result, when reporting whether or not an ingredient is effective for a claim, we rely on the clinical evidence summaries provided by sites like WebMD, the Natural Medicines Database, and Examine.com.
These sites cumulatively list caffeine as possibly effective for maintaining mental alertness and improving mental performance throughout the day (250 mg), improving memory in some with outgoing personalities (200 mg), and for increasing physical strength, boosting endurance, and improving performance during certain physical activities (no dosages listed).
Furthermore, taking 20 mg of caffeine with 200 mg of (now illegal in the US) ephedra is possibly useful for improving weight loss.
The same sites report that 100-300 mg/kg of tyrosine may help improve mental performance and memory under stressful conditions, as well as improve memory following a lack of sleep.
Examine.com tells us, "Noopept [whether found in SHREDDED-AF or elsewhere] has a similar effect to piracetam, in that it provides a mild cognitive boost after supplementation.
Noopept also provides a subtle psychostimulatory effect." Only a single study is referenced and no dosing, although the ingredient was reported to have "surprisingly effective rehabilitative effects."
Finally, some research indicates that taking huperzine A (again, no dosages listed) regularly over the course of four weeks may help improve memory in "older children and teenagers who complain of memory problems."
Outside of these, sites like WebMD and the Natural Medicines Database indicate there's insufficient clinical evidence to support Steel's claims regarding SHREDDED-AF's ingredients.
» See Also: Thermogenic Supplements 101: What They Are, Effectiveness, Safety
The Safety and Potential Side Effects of SHREDDED-AF's Ingredients
According to many of these same authoritative websites, the most common side effects associated with many of SHREDDED-AF's ingredients (pyridoxine, caffeine, tyrosine, and huperzine A) are nausea, upset stomach, and vomiting.
In some instances (no specifics or dosing details listed), pyridoxine could also lead to stomach pain, loss of appetite, headache, tingling, and sleepiness.
And as anyone who's consumed too much coffee or soda will attest, caffeine can cause side effects like insomnia, nervousness and agitation, restlessness, anxiety, stomach irritation, increased heart rate and respiration, and chest pain.
Pro tip: Although the level can vary widely depending on the specific brew, an average 8 oz cup of coffee contains about 95 mg of caffeine. This means that at 300 mg, each two-capsule dose of SHREDDED-AF contains more than three times this amount, which might cause issues with sensitive individuals.
When taken in doses up to 150 mg/kg per day, tyrosine is listed as safe, although (again, no dosing specifics) some people may also experience headache, fatigue, and heartburn.
Huperzine A may be safe if taken for less than three months, although it can cause "diarrhea, vomiting, sweating, blurred vision, slurred speech, restlessness, loss of appetite, contraction and twitching of muscle fibers, cramping, increased saliva and urine, inability to control urination, high blood pressure, and slowed heart rate."
Theophylline is listed as a drug by WebMD, described as "a relatively weak but inexpensive bronchodilator containing a chemical similar to caffeine," which works by relaxing" the smooth muscle that surrounds the airways. While no further explanation is provided, they report its use requires blood-level monitoring.
Phenethylamine, hordenine, and yohimbe are listed as possibly unsafe when taken by mouth, as they each have stimulant-like effects on the body that can lead to rapid heart rate, anxiety, agitation, and high blood pressure. Yohimbe could even lead to "kidney failure, seizure, and heart attack." N Methyltyramine is also a potent stimulant.
Based on all of these details, the SHREDDED-AF website emphasizes that customers should never combine the supplement with other stimulant-based products. And if you take two in the same day, you need to space them six to eight hours apart.
Furthermore, they emphasize that you'll want to drink plenty of water to remain hydrated while taking SHREDDED-AF, and that you should take a four-week break after using the supplement for no more than 12 weeks in order to avoid developing resistance.
How Much Does SHREDDED-AF Cost?
Each 60-capsule bottle of SHREDDED-AF is priced at $69.95. Standard shipping is $9.99, while faster options are available at higher prices.
Steel Supplements provides a 30-day refund policy on all SHREDDED-AF purchases, less S&H charges and a 15% restocking fee. Their website emphasizes that only unopened bottles in resaleable condition are eligible.
You can reach support at 941-960-8968 or cs@steelsupplements.com.
What Are Customers Saying in Their SHREDDED-AF Reviews?
There were more than 620 customer reviews for SHREDDED-AF on the Steel Supplements website at the time of our research, who had given the product an average rating of about five stars.
Compliments frequently referenced effective results (boosted energy, improved weight loss, greater workout intensity, etc.), and no side effects commonly reported with these types of supplements, like jitteriness or nervousness.
The almost non-existent complaints typically revolved around no results and inability to process a refund after trying the supplement.
How to Choose Between SHREDDED-AF and Other Thermogenic Dietary Supplements
Whether you're searching online or in local stores, you have perhaps thousands of thermogenic weight loss supplements to choose from.
In fact, the HighYa team has written about some of the most popular options over the years, including Performix SST ($110), Hydroxycut Hardcore Elite ($35), LeanFire XT by Force Factor ($60), and Instant Knockout ($40), to name just a handful.
Considering that some of these options are more than five times the price of others—not to mention they can feature vastly different ingredients, what's the best way to pick something that's ideal for you?
Start by talking with your doctor. They'll listen to your needs, ask appropriate questions, and even perhaps run some tests to provide you with a science-backed diagnosis.
Once this is in place, they can recommend options that might deliver the most value for the money.
In general, though, it seems many medical professionals don't recommend using thermogenic supplements. Why? Returning to the Rush article above, they point out:
"The speed of your metabolism remains roughly the same no matter when or what you eat. The few exceptions to this rule are not good weight loss strategies.
"For example, studies have shown that caffeine slightly increases the rate at which you burn calories in the short term. But your body becomes used to caffeine over time, so the effect doesn't last if you're a regular coffee or tea drinker.
Products promoted as metabolism boosters tend to be similarly ineffective, and some have dangerous side effects."
From a realistic expectations standpoint, Healthline adds: "While there is evidence that [thermogenic supplements] can reduce appetite and boost metabolism and fat burning, the effects are relatively small.
They may be more effective when paired with other diet and exercise changes but are not a magic pill solution," although "some people have experienced serious complications."
Did your doctor give you the green light? Based on our years of experience writing about dietary supplements, whether you're thinking about purchasing SHREDD-AF or a third-party product, you should also focus on doing business with companies who:
Support their advertising with sound clinical evidence
Don't charge excessive S&H fees
Back their supplements with at least a 30-day satisfaction guarantee, even if the bottle is open, with no restocking fees
Come with mostly positive online customer feedback
Let's use these details—along with everything else discussed in this article—to come to a conclusion about SHREDDED-AF.
Is SHREDDED-AF the Right Thermogenic Supplement for You?
From a high-level perspective, the bottom line is that vitamins and dietary supplements are loosely regulated, so the FDA (or any other governing body) doesn't review manufacturers' advertising claims before they're sold to customers.
They're also not tested for potency or purity, possible side effects, or potential medication interactions.
Zooming in and looking at SHREDDED-AF specifically, sites like WebMD and the Natural Medicines Database report that many of its ingredients (phenethylamine, hordenine, yohimbe, and N Methyltyramine) have stimulant-like effects that could cause potentially dangerous side effects like rapid heart rate, high blood pressure, and even heart attack.
Furthermore, at nearly $70, SHREDDED-AF is also priced at the higher end of the spectrum compared to much of the competition, and you lose the ability to request a refund as soon as you open the bottle.
Even if you don't open it, you'll still pay a 15% restocking fee. The Steel Supplements website, however, was clearly marked in this regard.
Together, these are just a few of the reasons why you must talk with your doctor before placing any orders, who could help you achieve the most bang for your buck.
» Read next: A Beginner's Guide to Losing Weight and Getting in Shape
Good AF

By Farris B.

,

Texas

,

Jun 13, 2019
Verified Reviewer

Just took it yesterday before my fasted cardio and wow I had energy throughout the cardio and also throughout my morning. I already dropped 2 IBS from it. I highly recommend you drink plenty of water and start with one capsule in the beginning.

Bottom Line: No, I would not recommend this to a friend

---