SHREDDED-AF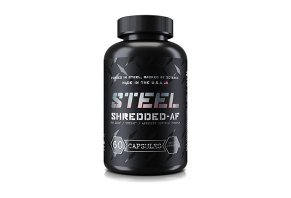 Summary
SHREDDED-AF is a dietary supplement from Steel Supplements that is claimed to combine a blend of stimulants with other ingredients intended to boost metabolism and increase weight loss. Research does back some of the ingredients, however, consuming too much of it can draw some red flags.
SHREDDED-AF Review: Does It Work And Is It Safe?
What Is SHREDDED-AF?
According to Steel Supplements, their SHREDDED-AF thermogenic supplement uses a blend of pure, potent ingredients to help men and women boost their metabolism, mobilize fat, suppress cravings, and deliver all-day energy and mental clarity. And all of this without having to worry about a crash afterward.
Due to its potency, the website recommends customers start with one capsule per day to assess tolerance, and then increase to two capsules per day (with at least six hours between doses) if well tolerated. Eventually, you could even take two capsules at once.
If you're interested in dropping pounds, boosting your metabolism can be very advantageous. The bottom line is – the more calories you burn, the more weight you can lose.
Adding a fat-burning dietary supplement to a plan that involves regular exercise and a healthy diet can maximize your potential to achieve goals – if the supplement is effective.
In this article, we'll review the available research to help you determine if SHREDDED-AF can boost your metabolism and help you achieve a leaner, more muscular physique as it is advertised.
Ingredients and Scientific Support for Their Effectiveness
SHREDDED-AF contains ingredients that are commonly found in dietary supplements that claim to boost metabolism.
According to the supplement facts label listed on the Steel Supplements website, every 2-capsule SHREDDED-AF serving contains the following ingredients:
Vitamin B6 5 mg
Vitamin B12 500 mcg
Folate 400 mcg
Caffeine Anhydrous 300 mg
Beta-Phenylethylamine 150 mg
N-Acetyl-L-Tyrosine 150 mg
N-Phenethyl Dimethylamine 150 mg
Hordenine HCL 100 mg
Paradoxine (std to 12.5% 6 Paradol) 50 mg
N Methyltyramine 50 mg
Theophylline 40 mg
LeanGBB (Gamma-aminobutyric acid) 15 mg
Noopept 30 mg
Bioperine (Black Pepper Full Extract) 5 mg
Alpha Yohimbine 2 mg
Huperzine A (Huperzia Serrata) 200 mcg
3.5 Diiodo-L-Thyronine 150 mcg
Up next, we'll highlight the available research for some of the key players offered in this blend.
B Vitamins
B vitamins may offer a variety of health benefits related to brain and nerve health, red blood cell function, energy metabolism, and even weight loss
Though meats, seeds, and nuts are packed with B vitamins, a deficiency is not uncommon. For this reason, as well as their role in overall health, B vitamins are found in a wide array of supplements.
Vitamin B12 deficiency may be associated with fatigue. You can boost energy through supplementation, though this benefit is less apparent in those who already consume adequate amounts.
Another study found that low levels of B12 were associated with being overweight or obese. Also, those with lower levels had higher BMIs.
Caffeine Anhydrous
Caffeine anhydrous, like caffeine, is a stimulant. The difference is caffeine anhydrous is highly concentrated; 1tsp, or 5000mg, is equivalent to roughly 28 cups of coffee
Caffeine has been well studied for its proposed metabolism and performance-boosting effects
Caffeine at 3mg/kg doses given before exercise increased fat burning when compared to the caffeine-free regimens. Similar dosing enhanced performance in endurance exercise.
When compared directly to caffeine, 4.45 mg/kg doses of caffeine anhydrous were found to be superior. Subjects that consumed caffeine anhydrous experienced significant increases in their running time to exhaustion
Amino Acids
Amino acids play a role in virtually every single chemical reaction in your body. As SHREDDED-AF claims to enhance mental clarity, they've likely included L-tyrosine for its suspected nootropic benefits.
One study demonstrated that 2g of tyrosine may improve performance on mental examinations.
Other Extracts
Yohimbine extract is obtained from the bark of African evergreensIn obese women on a calorie-restricted diet, 20mg doses of yohimbine were associated with greater weight loss.
These effects were not seen in men, however. Those treated with 43mg daily over 6-months did not experience any effects.
Huperzine is a Chinese herbal extract that is often included in supplements that claim to enhance cognitive function
In a review of 20 trials, huperzine doses ranging from 0.2 to 0.8mg daily effectively boosted cognitive function and the ability to perform daily living activities
More recently, its cognitive-enhancing effects were studied in mice. Researchers found that huperzine improved the impaired cognitive performance associated with obesity.
Black pepper is a popular spice, though it is often included in supplements that intend to boost metabolism for its suspected role in weight loss.
In overweight individuals randomized to treatment with 6mg of black pepper daily, supplementation reduced both BMI and body fat.
Safety and Potential Side Effects
Most of the ingredients offered in SHREDDED-AF have been well tolerated even when studied at much larger doses
Your greatest risk for unwanted side effects is likely related to the caffeine anhydrous content. You may react differently than what is typical with natural forms of caffeine.
Signs that you have consumed too much caffeine can include restlessness, nausea, agitation, rapid heart rate, and elevated blood pressure. Too much consumption of caffeine can be especially dangerous in those with a history of heart conditions.
The FDA considers 400mg daily to be safe; the caffeine anhydrous content in SHREDDED-AF is 300mg. Thus, combining this concentrated form of the stimulant with your regular soda, tea, and coffee intake can place you in an unsafe range.
For these reasons, always talk to your physician before using this product.
The Cost
At the Steel Supplement site, each 60-capsule bottle of SHREDDED-AF costs $70. Standard shipping is $9.99, while faster options are available at higher prices.
Steel Supplements provides a 30-day refund policy on all SHREDDED-AF purchases, less S&H charges and a 15% restocking fee. Their website emphasizes that only unopened bottles in resaleable condition are eligible.
The Bottom Line
SHREDDED-AF contains some ingredients that do offer some scientific support that backs the energy, mental, and metabolism-boosting claims. Also, most of the ingredients are generally safe at higher doses, according to tests.
However, this supplement contains a large quantity of caffeine anhydrous. While the weight loss and performance-enhancing benefits of this ingredient were demonstrated in research, consuming too much can be risky.
At $70, SHREDDED-AF costs more when compared to much of the competition. And you lose the ability to request a refund as soon as you open the bottle.
Even if you don't open it, you'll still pay a 15% restocking fee. The Steel Supplements website, however, was marked in this regard.
With a potentially harmful ingredient, a hefty price tag, and unfavorable return policy, you may want to seek weight loss support elsewhere.
Talk with your doctor before placing any orders. They will likely suggest incorporating lifestyle changes like regular physical activity and a healthy diet as your first step in the journey of weight loss.
Customer Reviews
Posted on Jun 13, 2019
Good AF
Just took it yesterday before my fasted cardio and wow I had energy throughout the cardio and also throughout my morning. I already dropped 2 IBS from it. I highly recommend you drink plenty of water and start with one capsule in the beginning.
Bottom Line: No, I would not recommend this to a friend
Our Promise to You
In order to safeguard you and ensure helpfulness and relevance, our compliance team manually assess every customer review before it goes live.
We have a zero-tolerance policy for fake reviews, and companies cannot control or alter any reviews at any time.