Hydroxycut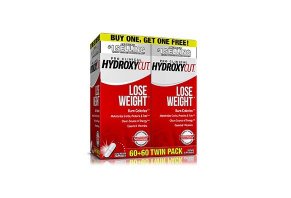 Summary
Hydroxycut leans heavily on the weight loss benefits of caffeine. While there is clinical support for its efficacy, the doses offered in their products may place you at an increased risk for unwanted side effects.
Pros
There is research that demonstrates caffeine's ability to boost metabolism and aid weight loss
It is offered by a variety of retailers and priced competitively
Cons
The caffeine content in some products approaches the recommended daily limit
The track history of the company involves an FDA-banned ingredient and a recall for health fraud
The return policy does not allow you to trial the supplement
Hydroxycut Review: Does It Work for Weight Loss?
Hydroxycut is a line of capsules, drink mixes, and gummies that are proposed to offer weight loss benefits.
Weight loss remains atop many fitness wishlists, especially in the US. Though a healthy meal plan and regular physical activities are irreplaceable components of any weight loss plan, adding a dietary supplement may be a reasonable addition to your daily routine.
Given the obesity issue in the country, there are scores of dietary supplements that claim to help you jumpstart your metabolism and achieve lasting results.
Hydroxycut is one such company that proposes to offer science-backed weight loss through a diverse product line.
This review examines the safety and effectiveness of the ingredients used for weight loss in Hydroxycut.
Key Ingredients: Is There Evidence for Their Effectiveness
Hydroxycut offers most of its weight loss benefits through various forms of caffeine, though there are additional ingredients that may also benefit your metabolism. This section identifies the most prominent players from Hydroxycut's different blends.
Caffeine
Hodroxycut's primary form of caffeine is C. canephora robusta, though many products contain some of the additional sources we'll discuss here.
In a study examining the effects of caffeine on weight loss in diabetic rats, C. canephora robusta was superior to C. arabica.
Caffeine dosed at 3 mg/kg before exercise led to greater fat burning in healthy subjects when compared to caffeine-free regimens.
Yet another study concluded that weight loss was more effectively maintained in those that consumed more caffeine. This recent review of 13 randomized studies found caffeine to benefit body weight, BMI, and body fat.
Some Hydroxycut products also offer caffeine anhydrous, a highly concentrated version of the stimulant. One teaspoon of caffeine anhydrous is roughly equivalent to 5000mg of caffeine, the amount equal to 28 cups of coffee.
In fit adults, 4.45 mg/kg doses of caffeine anhydrous were associated with greater improvements in running time to exhaustion when compared to natural caffeine.
Green Coffee Bean Extract (GCBE) is yet another source of caffeine that is offered in Hydroxycut products. It is obtained from raw coffee beans and may actually provide more caffeine than those that are roasted.
A review of 3 randomized trials demonstrated that GCBE at 180-200mg doses over 1 to 4-months offered more weight than placebo.
B Vitamins
B Vitamins are frequently supplemented as they are proposed to support brain and nerve health, red blood cell function, energy metabolism, weight loss, and more.
Vitamin B12 deficiency is often associated with fatigue, though supplementation may boost energy only in those with reduced dietary intake.
Cayenne Pepper
The active ingredient in cayenne pepper, capsaicin, is often included in weight loss blends. Though its effects have been studied, the potential benefits appear to be mild at best.
In a randomized trial, 1g of cayenne burned an extra 10 calories during a 4.5-hour span. More recently, this review confirmed these results.
Yohimbe Extracts
Yohimbine is obtained from the bark of African evergreens and is another reasonably common weight loss supplement ingredient.
Yohimbine at 20mg doses was associated with weight loss in obese women. These benefits were not seen in men taking 43mg daily over 6-months, however.
Apple Cider Vinegar (ACV)
In obese Japanese individuals, 750 or 1500mg of ACV reduced body weight, BMI, body fat, waist circumference, and triglycerides over 3-months when compared to the placebo group.
The combination of calorie restriction and 1500mg of ACV daily over a 12-week span was associated with reduced body weight, BMI, and appetite.
Is Hydroxycut Safe?
Hydroxycut's caffeine content offers the highest potential for unwanted side effects.
The FDA considers limiting caffeine to no more than 400mg daily (3 or 4 cups of coffee) to be the safest use for the stimulant. Some Hydroxycut products can approach this amount of caffeine alone.
Thus, taking this supplement in addition to your regular coffee, tea, and soda intake can place you well above this limit. Doing so means that you'll run a higher risk of consuming amounts of caffeine that may cause harm.
Ingesting too much caffeine can result in a variety of adverse effects such as:
Headaches
Restlessness
Nausea
Agitation
Dizziness
Diarrhea
Rapid heart rate
Elevated blood pressure
Confusion
Fever
Additionally, the FDA warns against the rapid consumption of large quantities of the stimulant. Rapidly consuming 1,200mg of caffeine has been associated with seizures and even death.
Also, keep in mind that caffeine anhydrous adds 225mg of caffeine to some of the Hydroxycut supplements. As this version of the stimulant differs from natural forms, you may react differently.
For these reasons, we strongly recommend avoiding stimulant-containing products like Hydroxycut as the risk may not be worth the potential benefits.
Always speak to your doctor before ingesting this supplement or similar products to ensure your safety.
The Cost
Hydroxycut's line of supplements contains more than 10 products that include capsules, shakes, and even gummies, all geared towards helping you achieve lasting weight loss.
The blend of ingredients can vary product to product, though most include multiple forms of caffeine. There is at least one product that is alleged to offer stimulant-free weight loss, however.
Products are reasonably priced, ranging from about $20-$30 for a 1-month supply. Formulations include:
Pro Clinical Hydroxycut - vitamins b and D, ACV, and caffeine
Hydroxycut Gummies - vitamins and minerals, plus caffeine
Hydroxycut Drink Mix - 0 sugar, 10 calories, includes vitamins, minerals, electrolytes, and caffeine
Hydroxycut Black - caffeine anhydrous, GCBE, and plant extracts
Hydroxycut Hardcore - caffeine anhydrous, GCBE, plant extracts, and amino acids
Hydroxycut Organic - vitamins, extracts, and caffeine
Hydroxycut Ultra Lean - caffeine, ALA, vitamins, extracts
Pro Clinical Hydroxycut Non-Stimulant - vitamins and extracts, *contains GCBE
Hydroxycut Max for Women - caffeine anhydrous, GCBE, collagen, argan oil, extracts
Slay By Hydroxycut - caffeine anhydrous, GCBE, extracts
Hydroxycut Platinum - vitamins, minerals, extracts, caffeine
Hydroxycut HD - caffeine anhydrous, GCBE
Hydroxycut Hardcore Elite - caffeine anhydrous, GCBE, extracts
Your purchase is backed with a 30-day guarantee, though you must return the products in an unused/unopened condition. Such a policy does not allow you to determine the benefits, so keep this policy in mind when considering Hydroxycut.
Lastly, you can find Hydroxycut products from other retailers, both in-store and online. If you're interested in trying this supplement, it may be worth shopping around as prices may differ vendor to vendor.
Some other national brands that carry Hydroxycut products include:
Amazon
CVS
GNC
Target
The Vitamin Shoppe
Walmart
Walgreens
For additional inquiries, contact Hydroxycut sup
Hydroxycut's Reputation
Hydroxycut got their start by offering weight loss through ephedra. The FDA banned this stimulant in 2004 as it was found to be associated with a host of serious adverse events related to psychiatric, neurological, and cardiovascular issues.
In light of the new regulations, Hydroxycut offered a new formulation consisting mainly of various sources of caffeine and plant extracts. The reported adverse event continued, however, and the FDA recalled Hydroxycut in 2009 for health fraud.
Over the last decade, the company has offered various formulations, most of which promote weight loss benefits through the actions of various forms of caffeine. While the blends no longer contain ephedra, caffeine-containing products can still be dangerous.
As the FDA doesn't regulate dietary supplements as they do medications, we lack the research necessary to identify the true safety and efficacy of this product, particularly in the long-term.
Speak with your doctor before trying any new dietary supplement, and to exercise extreme caution when considering stimulant-containing products like Hydroxycut.
The Bottom Line
Hydroxycut relies heavily on the caffeine content of their supplement line to help you achieve weight loss.
While the stimulant has support for energy- and metabolic-boosting effects, the amounts offered in many of the Hydroxycut products can carry a higher risk for unwanted effects, particularly when added to your typical caffeine intake.
Their products no longer contain ephedra, but rapidly consuming high levels of caffeine can also be fatal.
At Amazon, Hydroxycut products seem to garner decent ratings ranging from 3.5 to 4.2-stars. While happy customers enjoy the weight loss results, many others describe a number of the side effects listed above.
Implementing healthy lifestyle changes should always be your first step in losing weight. If you are interested in adding Hydroxycut or similar supplements to your regimen, avoid doing so without speaking to your doctor.
Customer Reviews