Hydroxycut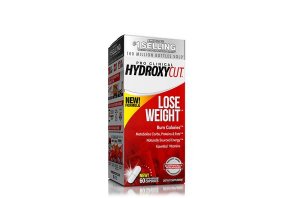 Claimed as "America's #1 selling weight loss supplement brand," Hydroxycut offers several products that can potentially fit your lifestyle and overall goals to lose weight.
Hydroxycut Reviews - Does It Work For Weight Loss?
Hydroxycut, a brand of weight loss supplements, offers a range of products that contain its "key" weight loss ingredient, robusta coffee extract, also known as C. canephora robusta, which has been shown in some studies to help people lose weight.
More specifically, C. canephora robusta beans are premium coffee beans that have not yet been roasted. As a result, these beans have a high level of chlorogenic acid, which can potentially help promote weight loss.
This review takes a deeper look at Hydroxycut so you can decide if these products are right for you. We've included expert input from a Registered Dietitian and Certified Diabetes Educator, as well as independent scientific findings of Hydroxycut published by the U.S. National Library of Medicine.
Interview requests with officials associated with Iovate Health Sciences Group Inc., the Canadian manufacturer of Hydroxycut, were unmet at the time this review was published.
Keep in mind that this information is not intended as medical advice. Some people might have an adverse reaction to the ingredients in Hydroxycut, so before you take any of the Hydroxycut products, talk to your medical provider, first.
Does Hydroxycut Work? Registered Dietitian Answers Questions About Hydroxycut
According to the Hydroxycut website, the key ingredient "weight loss driver" called C. canephora robusta has shown "great results" in two scientific studies in which both groups followed a low-calorie diet and engaged in moderate exercise.
In one 60-day study, people taking this key ingredient lost 10.95 pounds on average compared to the placebo group, which lost about 5.4 pounds.
In the other study, which lasted eight weeks, those taking the key ingredient lost about 3.7 pounds; whereas those in the placebo group lost 1.25 pounds.
The following information about Hydroxycut was provided by Ruth Pupo Garcia, a Registered Dietitian and a Certified Diabetes Educator who works at Adventist Health White Memorial in Los Angeles; and is a graduate of the California State University at Los Angeles Dietetics Program.
With 20 years in the field of nutrition and diabetes education, Garcia's expertise includes weight management, behavioral therapy, and public speaking. It's important to note that Garcia is a source with no connection to Iovate Health Sciences Group Inc., the Canadian manufacturer of Hydroxycut.
What Is Your Knowledge of Hydroxycut?
It has been around for quite some time and has also been recalled in the past for potentially harmful ingredients. It is a stimulant type of supplement, increasing cardiac rate.
Do Patients Ask You About Hydroxycut?
To be honest, most of my patients have tried Hydroxycut and other supplements and have had poor or little results. This may be due to a lack of change in nutritional habits and not just the supplement failing itself.
Is Hydroxycut Safe and Effective?
It can be safe for healthy individuals who do not have a history of heart disease or high blood pressure, anxiety or other diagnoses. It's best to consult with a physician prior to taking any weight loss supplement. The effectiveness has been noted in some studies, however, the effect is small. Some people report decreased appetite, which can help in weight loss.
Does Robusta Coffee Extract in Fact Help People Lose Weight?
Robusta is contributing a caffeine component and is known to benefit weight loss efforts overall. According to the American Journal of Clinical Nutrition, energy expenditure may increase by 100 calories per day with regular coffee consumption. Regular coffee can provide the same effects as Robusta extract.
What Are the Potential Side Effects of Taking Hydroxycut?
Some people report anxiety, jitters and some nervousness. It can also increase heart rate and blood pressure.
What Are Your Thoughts on the Ingredients in the Female-Friendly Option?
(Editor's note: Hydroxycut also has a "female-friendly" option that contains folic acid and iron; it also has biotin and a blend of avocado, mango and kiwi.)
Definitely the folic-acid and iron are important nutrients in female nutrition. It's a plus to provide 50% of the RDA for folic acid; however, the 2mg of iron is a very small dose, almost non-contributing. The avocado, mango and kiwi extracts benefits are unknown.
What Lifestyle Should a Person Incorporate to Get Maximum Benefits of Hydroxycut?
In studies that showed a weight loss using Hydroxycut, all participants followed a low or reduced- calorie diet. Usually, weight loss plans advise 1,200 calories per day, but individual needs vary.
Who Would Make an Ideal Person to Take Hydroxycut?
Perhaps a person with no prior medical history that lacks the energy to exercise, or wants to decrease appetite. Once again, these benefits are minimal, or may be a placebo effect, and a healthy diet and exercise are a requirement for losing unwanted pounds.
Who Should Avoid Taking Hydroxycut?
Anyone with heart disease, high blood pressure or sensitive to caffeine.
Would You Recommend This Product to People Who Want to Lose Weight?
I generally do not recommend stimulant supplements; as supplements are not regulated by the FDA for ingredients. It is perfectly acceptable to have coffee before a workout for added energy and some fat burn.
For success at weight loss, we often search for a quick-fix or a magic pill. Weight loss takes time and effort. For some people taking supplements, Hydroxycut may provide some help; however, the true long-term success will come from sustained healthy diet and consistent physical activity.
Hydroxycut Product Line
Hydroxycut products can be purchased online through the manufacturer's website; as well as through several retailers including Walmart, GNC, CVS Pharmacy, Walgreens and Target. The Hydroxycut line includes the following products below; with descriptions attributed directly to the company.
Pro Clinical Hydroxycut (rapid-release capsules) – for weight loss and energy, with ingredients including vitamins B and D, and apple cider vinegar

Hydroxycut Gummies – for "on the go" with 16 vitamins and minerals, including vitamin D and a B vitamin complex

Hydroxycut Drink Mix (powder packet) – for men and women, with zero sugar, 10 calories per serving, and electrolytes and vitamins

Pro Clinical Hydroxycut Non-Stimulant (capsules) – for non-stimulant weight loss because it's 99% caffeine free; ingredients include apple cider vinegar and B and D vitamins

Hydroxycut Organic (capsules) – for organic weight loss that contains B vitamins and is gluten-free

Hydroxycut Ultra Lean (capsules) – for weight loss with essential vitamins and a formula called CurcumaSlim™

Hydroxycut Max! For Women (liquid capsules) – contains ingredients including biotin for the hair, skin, and nails

Slay by Hydroxycut (mini capsules) – for burning calories

Hydroxycut Black (rapid-release liquid capsules) – for weight loss

Hydroxycut Platinum (rapid-release capsules) – formulated with probiotics, vitamins "and a metabolic boost"

Hydroxycut HD (liquid capsules) – for "weight loss plus enhanced focus"

Hydroxycut Hardcore (rapid-release capsules) – for "hardcore weight loss" with "extreme energy and maximum intensity"

Hydroxycut Hardcore CLA Elite (soft gels) – a non-stimulant weight loss formula

Hydroxycut Hardcore Elite Sport (capsules) – weight loss plus thermogenic formula

Hydroxycut Hardcore Elite (rapid-release thermo capsules) – thermogenic and weight loss formula
A Look at Hydroxycut Customer Reviews
The Hydroxycut Pro Clinical Weight Loss Supplement received 3.8 out of 5 Stars on Amazon out of 2,991 customer reviews, with one customer who gave it a perfect score stating they lost 7.4 pounds in six days, and that the product "does not make me sweat profusely or feel jittery overall."
Another customer who gave the product 5 out of 5 stars noted: "it definitely will not curb your appetite…but it speeds up your metabolism so that you're constantly burning calories." One person who gave a rating of 4 out of 5 stars said "I was pleasantly surprised by the results. It wasn't anything drastic but it was definitely a good way to stave off hunger pangs and push through tough days."
On the flipside, a customer who rated this product with 2 out of 5 stars wrote: "I've been taking it for a week now and have had lots of bowel problems. If that's how it's supposed to be, I wouldn't say it's the most pleasant weight loss plan."
One customer who gave the product 1 out of 5 stars wrote "they made me shaky instead of giving me more energy to work out. They didn't help my weight loss go any faster than just diet and exercise."
Another person who also gave a rating of 1 out of 5 stars stated "it made me feel extremely dehydrated…and I was too nauseous to get anything done. After looking up my symptoms, they aligned with liver issues. Then read about the liver-damaging risks when taking this product."
Potential Side Effects of Hydroxycut
The use of supplement and alternative drugs continues to thrive and is becoming an increasing cause of concern, since many of these substances may have unexpected or unexplained medical consequences, according to "Hydroxycut® (herbal weight loss supplement) Induced Hepatotoxicity: A Case Report and Review of Literature" published by the U.S. National Library of Medicine. The findings, published in 2010, included the first reported case of hepatotoxicity (which implies chemical-driven liver damage) from Hydroxycut in Hawaii.
The review noted that the use of a dietary supplement is gaining increasing popularity in the U.S. "as a quick-fix remedy with allegedly no side effects;" and that nearly one in five adults in America admits to using herbal medications for their diseases or health improvement, and 58% of those using these drugs fail to report such use to their primary care physicians.
"One such common drug is Hydroxycut…which has been touted as a safe remedy for weight loss as well as a fat burner," according to the review. "Though it was recalled by the manufacturer after an FDA issued warning on May 1, 2009, the side effect of hepatotoxicity was mentioned to be rare."
The review went on to state that the FDA warning was based on reports of 23 cases of liver damage, including one fatality and a liver transplant. "We are presenting another case with severe liver toxicity in the setting of exposure to Hydroxycut and extensive testing to rule out other causes of hepatotoxic disease, as well as a biopsy indicative of drug induced hepatotoxicity."
In one case report noted in the review, a 19-year-old male, who had no significant past medical history, presented to a community medical center with a two-day history of fever, severe fatigue, myalgia (muscle pain), arthralgias (joint pain) and an erythrematous (red) rash over his lower extremities. The teen had started using Hydroxycut approximately one week prior for fat burning and muscle building. According to the review, he denied any smoking or alcohol use, and was taking no other prescription or over the counter medication apart from Hydroxycut.
"On day four, the patient was transferred to our hospital for possible urgent liver transplant evaluation," the review indicated. In the end, after medical treatment, this patient "had gradual recovery of liver functions, and at 14 weeks after initial onset of symptoms his liver function tests had returned to normal."
The conclusion of the review stated that "natural products" continue to be claimed as "safe and effective" for the treatment of health conditions including weight reduction. "However these products have not undergone rigorous scrutiny for effectiveness and safety and consequently drug induced toxicities do occur with some frequency," the review warned. "While some preparations of Hydroxycut have been withdrawn from the market by its manufacturer, there still remain a substantial number of similar products on market which may have deleterious health effects."
Our Bottom Line on Hydroxycut
Hydroxycut was first introduced in 2002, so these products have been around for a while, and even though they were recalled in 2009, Hydroxycut products were placed back on the market in 2010, and have remained ever since in markets worldwide.
As one might expect, customer reviews on the Hydroxycut website are nothing but positive, with men and women stating they've had great success with these products. Assuming these are in fact real testimonials from real people, their feedback speaks volumes about these products, which the manufacturer claims as "America's #1 selling weight loss supplement brand."
Nevertheless, in one study published by the Food and Drug Administration, a Health Hazard Evaluation Board noted the problem of "liver toxicity following consumption of dietary supplement, Hydroxycut." Therefore, it's important to keep in mind the potential side effects that can occur with taking these products. As mentioned at the beginning of this review, this information is not intended as medical advice; so before you take any of the Hydroxycut products, talk to your medical provider, first.
» More on Dieting and Losing Weight: