Plexus Slim Reviews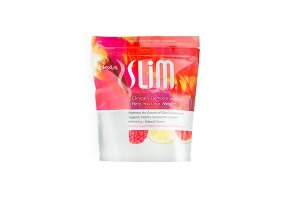 Plexus Slim is a weight loss supplement that claims to be able to help you maintain healthy blood sugar, cholesterol, and lipid levels, while also burning fat in all your problem areas. In this review, we evaluate the ingredients and facts to help you better understand whether or not this product is the right choice for you.
Plexus Slim Review - How Well Does It Work?
Medically Reviewed by Anthony Dugarte, M.D., C.S.C.S
What Is Plexus Slim?
Plexus Slim is a microbiome activating pink drink that features a patent-pending blend of six ingredients the company claims will improve your digestive health, support healthy glucose metabolism, and help you lose weight.
Just tear open a packet, pour the powder into 12–20 ounces of water 30–60 minutes before eating a meal, and repeat one to two times per day. According to the website, Slim's ingredients immediately go to work promoting the growth of good gut microbes like Lactobacillus, Bifidobacterium, and Akkermansia.
Together, they say it's "clinically demonstrated to improve your gut health and promote weight loss," without the use of artificial sweeteners, flavors, or preservatives, as well as gluten, animal byproducts, or GMO ingredients.
How Does Plexus Slim Work?
Beneficial bacteria species like Lactobacillus and Bifidobacterium have been clinically shown to help improve digestion and boost immune function, and deliver relief from conditions like bloating, gassiness, diarrhea, and irritable bowel syndrome (IBS), to name just a few.
On the other hand, prebiotics act as food to help these beneficial bacteria thrive. Specifically, Plexus Slim is considered an XOS (xylooligosaccharide) prebiotic. It uses xylose sugar polymers that are non-caloric and indigestible by humans.
Plexus Slim may be effective due to this product's ability to promote a healthy variety of friendly gut bacteria through the actions of XOS.
Plexus Slim Ingredients: Do They Work?
Plexus provides the following ingredient label:
Calories 5
Total Carbohydrate 2 g
Chromium 200 mcg
Xylooligosaccharide 1,000 mg
Plexus Slim Blend 531 mg – Green coffee bean extract (contains 50% chlorogenic acid less than 2% natural caffeine), Garcinia cambogia fruit extract, alpha lipoic acid, mulberry fruit extract
While XOS seems to be the star of the show, we'll also highlight available research for Plexus Slim's other ingredients.
Chromium
Chromium is naturally available in beef, fruits, broccoli, red wine, and whole wheat products. This mineral is necessary for small amounts; the RDA for men and women is 35 and 25mcg/day, respectively. You'll get about 6-8x that amount in each serving of Plexus Slim.
While a review of 15 randomized trials did not find 10-1000mcg of chromium to benefit glucose or insulin regulation in neither diabetics nor nondiabetics, a similar dosing range offered in the form of brewer's yeast may help fasting blood glucose.
Chromium supplementation in those overweight or obese is associated minor, though unlikely relevant, reductions in body weight, according to this review of 20 randomized trials.
Available support for chromium's carbohydrate energy metabolism effects is mixed. Mild benefits may be seen in overweight, obese, or diabetic individuals. Chromium's weight loss benefits are likely mild at best.
Xylooligosaccharide
Plexus advertises that Slim's prebiotic formula has been clinically shown to increase Lactobacillus levels by 365 times, Bifidobacterium by 290 times, and Akkermansia microbes by 250 times.
They also indicate that, in an "independent, randomized, double-blind, placebo-controlled, human clinical study, [participants] who used one pack of Slim twice a day lost an average of 5.45 pounds in 8 weeks, while the placebo group lost an average of 3.12 pounds.
The company does not provide references for this study, and it could not be confirmed in our literature review.
Plexus does cite one study examining the effects of XOS on the gut bacteria of healthy and diabetic subjects; those treated with 2g/day for 8-weeks had reduced harmful gut bacteria.
In another randomized trial, those that received 1.2g of XOS daily for 6-weeks had higher levels of Lactobacillus and Bifidobacterium when compared to placebo. Those receiving 1.4 or 2.8g of XOS over 8-weeks had increased Bifidobacterium but not Lactobacillus; the effects were greater at higher doses of DOS.
Though the specific studies Plexus failed to cite were not located, XOS's ability to boost friendly gut bacteria has been investigated. Currently, results are mixed. Its ability to increase Bifidobacterium may be more likely, particularly at doses nearly 3x more than what Slim contains.
Plexus Slim Blend
Green coffee bean extract (GCBE) contains caffeine and may help reduce appetite.
The combination of GCBE, olive oil, and caffeine reduced triglycerides in mice. A review of 3 randomized trials with GCBE doses ranging from 180-200mg daily for 4-12 weeks concluded that significant weight loss was achieved when compared to placebo.
More recently, obese women treated with 500mg of GCBE and daily exercise for 8-weeks significantly reduced their metabolic syndrome severity scores.
Garcinia cambogia extract is made from the rind of the fruit, and the proposed weight loss benefits have been extensively studied.
While 2,800mg of garcinia combined with chromium significantly reduced body weight and BMI in obese individuals, 1500 mg of garcinia daily for 12-weeks did not produce significant weight loss when compared to placebo.
ALA is thought to be a powerful antioxidant and may also aid in weight loss.
A review of 11 randomized trials with ALA dosing ranging from 300 to 1800mg/day
Mulberry fruit is related to the fig. They've been studied less extensively when compared to the other ingredients. Rich in anthocyanins, an antioxidant found in plants, mulberry fruit extract was effective at reducing body weight in obese mice.
Plexus Slim blend offers research-tested ingredients that may offer some benefit in reducing weight. However, these studies often tested the ingredients in conjunction with other ingredients or structured exercise programs. Their effects are less likely when used alone, especially given that Slim offers much lower dosing compared to available research.
Are There Any Known Side Effects?
The Plexus website notes Plexus Slim isn't recommended for use by children under 18, and that you should consult with your physician beforehand if you're pregnant or nursing.
Probiotic supplementation can cause side effects like mild, temporary digestive upset, bloating, and gassiness as your bacteria levels re-balance. While this same level of clinical support doesn't exist for prebiotics, it makes sense that you might experience similar side effects as beneficial bacteria flourish.
Chromium at 1000mcg was safe, though diarrhea, headaches, and rash have been reported. XOS and the ingredients found in the Plexus Slim Blend were safe when tested at much higher doses than what this supplement offers.
And because green coffee bean contains caffeine, you might experience related side effects like nervousness, upset stomach, and increased heart rate if you're especially sensitive to stimulants. With this said, Slim contains very little caffeine.
The Cost
Plexus Slim is available in raspberry, lemon, and watermelon flavors.
If purchased from their website, 30 packets are priced at $89.95 as a one-time purchase, or $84.95 if you subscribe to monthly automatic shipments, plus shipping and applicable taxes.
You can also purchase Slim through an independent Plexus Ambassador for the same price, or on Amazon for $99.
An Ambassador is an independent distributor who purchases Plexus products at wholesale, sells them to the public, and earns commissions from sales. They can also sign up other Ambassadors who become part of their "downline," which allows them to earn commissions from their sales as well.
Plexus offers a 60-day money-back guarantee on all of their products, Slim included, which you can request by calling (480)998-3490 or sending a message via the contact form on their website.
Are There Other XOS Prebiotic Powders Like Plexus Slim?
There are perhaps hundreds of prebiotic dietary supplements competing in the same marketplace as Plexus Slim. Many also use xylooligosaccharides as a bacterial food source, contain non-GMO ingredients, are free of artificial flavors or preservatives. Such prebiotics promise to boost healthy gut bacteria levels.
Even if you narrow your options down to only powders, there are still many competitors. Here were some of the top consumer-rated products on Amazon at the time of our research, as well as how their high-level details compared:
| Brand | Price | Ingredients |
| --- | --- | --- |
| Plexus Slim | $89.95; $3 per serving | 1,000 mg xylooligosaccharides per dose. Also contains chromium, green coffee bean, Garcinia cambogia ALA, and mulberry. Advertises weight loss. |
| Biome Fuel Advanced Prebiotic Supplement | $27.97; $0.47 per serving | 1 g xylooligosaccharides per dose. Also contains 3 g inulin. |
| Great Gut Oligo30 Prebiotic | $34.97; $0.85 per serving | Includes fructooligosaccharides (FOS), potato starch, PreticX 70P XOS, kiwi pectin, and cocoa powder. |
| Hyperbiotics Organic Prebiotic Powder | $24.65; $0.47 per serving | No XOS or FOS. Fiber-based w/acacia fiber, Jerusalem artichoke fiber, and green banana flour. |
| Protocol for Life Balance XOS Prebiotic Powder | $20; $0.65 per serving | Only ingredient: 1.55 g xylooligosaccharides. |
| Pinnaclife Prebiotic Fiber | $17.99; $0.60 per serving | Contains 11.7 g of digestion-resistant maltodextrin. Additional ingredients include vitamins B3 and B6, Olivamine10 Max proprietary blend, and green tea, red wine, and grapevine extracts. Also available in individual packets. |
| Cutting Edge Cultures Prebio Plus Prebiotic Fiber | $25; $0.22 per serving | Contains only a 2 g proprietary blend of inulin, acacia, and fructooligosaccharides. |
While consumers are undoubtedly flush with choices when it comes to prebiotic powders, choosing between all of them is as easy as deciding which factors are most important to you.
For example, with a $25 price tag and 112 servings per container, Cutting Edge Cultures offers the lowest price among competitors above.
On the other hand, at nearly $90 and with only 30 servings, Slim's per-serving price is almost 14 times greater than Cutting Edge's. And based on our experience investigating thousands of dietary supplements over the years, consumers don't typically experience better results by paying more for one.
Still, Plexus Slim is the only option in our table that's advertised as promoting weight loss. Although, as we discussed earlier, the company doesn't cite any verifiable clinical trials to support this claim.
From an ingredients perspective, with just 1.55 grams of xylooligosaccharides per serving, Protocol for Life Balance is the most paired-down prebiotic powder above. Comparatively, Pinnaclife contains several added ingredients, most of which are part of a proprietary blend so consumers can't be sure exactly how much of each it includes.
Pinnaclife also contains maltodextrin as a food source for beneficial bacteria. Other supplements such as Plexus Slim, use xylooligosaccharides (xylan sugars), fructooligosaccharides (fruit sugars), galactooligosaccharides (milk sugars), or lactulose (derived from lactose).
While MedlinePlus reports that lactulose is especially useful for relieving constipation, we didn't encounter clinical support during our research that any one of these prebiotic substances—on their own—will deliver meaningfully better digestion-related benefits than the others.
Where does all of this leave you when it comes to Plexus Slim? Let's wrap everything up in the next section.
The Bottom Line
At $3 per serving, Plexus Slim's price is almost five times higher per dose than the next closest popular option in our table above, Great Gut Oligo30 Prebiotic.
And based on what consumers typically report about dietary supplements in general, paying more for one often doesn't lead to substantially better results.
From this perspective, you might be able to achieve many of the same gut-related benefits, but at a much lower price.
When asked about the level of value provided by the Plexus Slim supplement, clinical dietitian Robert Santos-Prowse pointed out that, according to the Plexus Slim study, people using the supplement lost an average of 2.33 pounds over those who didn't take the supplement.
If you follow the same eight-week protocol at Plexus Slim's pricing, Santos-Prowse points out you'll have a "total cost (plus tax and shipping) of about $336" and that the money you pay to lose an extra 2.33 pounds "seems like a very poor return on investment."
On the other hand, if you don't mind paying a premium price for a supplement from a national brand who's been in business since 2006, and one that contains a patent-pending blend of ingredients, then Slim might fit the bill.
Furthermore, the powdered supplement comes with mostly positive feedback, here on HighYa, as well as elsewhere online, with some customers reporting it "delivered more than hoped for" and that it "doubled weight loss."
Keep in mind that successful results in XOS studies often occurred at doses of nearly 3x higher than what is in this supplement. While this is more reassuring for the safety of Slim, it does not speak favorably in terms of efficacy.
It also might make sense if you place a great deal of importance on becoming a Plexus Ambassador and trying to make money by selling this product.
Just keep in mind that when it comes to multi-level marketing (MLM) ventures, most independent salespeople don't turn a profit, and many find they make more money recruiting others than merely selling products.
Didn't work

By Michelle L.

,

Tennessee

,

May 8, 2019
Verified Reviewer

I tried the pink drink and a few of the other items for at least 3 months, I never felt any difference. I ended up canceling my monthly orders and getting rid of what I had left. This was a couple of years ago.

Bottom Line: No, I would not recommend this to a friend

---

New formula, not the same

By Cameron B.

,

Connecticut

,

Dec 21, 2018
Verified Reviewer

I tried the pink drink two years ago and loved it. It suppressed my appetite and I lost weight without exercise. They changed the flavor of the pink drink and I have purchased it twice and noticed nothing. It's not the same. It doesn't taste as good as the old drink and didn't do anything as far as suppressing my appetite. I am looking for something else now to jump start my weight loss.

Bottom Line: No, I would not recommend this to a friend

---

Trial results

I am near the end of a 30-day trial with Plexus Slim. When I agreed to join this trial, I told them that I would not change my diet or activity during the trial period. When I test something, I want to make sure that any improvements are most likely the result of the item I'm testing. The bag says to "eat healthy and exercise." That alone would cause a person to lose weight.

I have not seen any difference in weight or energy level. I get the same energy boost from the ProbioSlim I buy at GNC for far less cost. Any problems I had, such as a dull headache were labeled as detox. I missed one day and paid for it when I took Plexus Slim the next day. Anything I ate passed quickly through my system.

Regarding the price, one bag of 30 Plexus Slim is about $100 including shipping. After a while, it is recommended that you increase to two pink drinks a day, which doubles your price. Then, of course, there are other products that will take care of all kinds of things. It's an MLM, so everything is overpriced.

I was encouraged to become an ambassador and sell Plexus to three friends. I was told that they would end up paying for my Plexus because of the commission. I don't want to do that to anyone.

I'm going back to my GNC ProbioSlim!

Bottom Line: No, I would not recommend this to a friend

---

It didn't work for me.

By Lester Bauman

,

Alberta

,

Feb 10, 2016

I was having digestive problems, etc. and someone gave me a month's supply of Plexus BioCleanse and also their ProBiotic. It set up a very severe reaction within me - it was like dynamite going off within me and practically blew my guts out. It may be that the product actually works, but it should be used with extreme caution, starting off in much smaller doses than recommended. It turns out that I have Crohn's disease, which is probably why I had the extreme reaction. But there is no place to go to for help except self educated lay "doctors". I still think a probiotic is a good idea, but I'm pretty cynical about "cleanses", especially cleanses that you are supposed to keep on taking forever.

Bottom Line: No, I would not recommend this to a friend

---

Advertisement

---

Seriously delivers more than hoped for

By Angela Dhaut

,

Harrisonburg

,

Jan 13, 2016

I really didn't think this was going to work. It sounded too good to be true, and it was just the hundreds of convincing testimonials - some even from friends, that led me to be willing to see for myself. First the simple stuff: It actually DOES taste great. Much like a liquid cherry tootsie roll. It's diabetic friendly; so the sweet comes from Lohan fruit (monk fruit) and Stevia only. It is pink because of beet root extract. Totally natural, and from my own diligent research - full of safe, good stuff. Nonetheless I didn't think it would DO anything. Well, here is what I found. Over the course of days and weeks of using it daily a LOT of great things happened. I stopped wanting to finish full meals, much less get seconds, but I still enjoyed my food. I stopped snacking - just because I never felt drawn to do so. Crazy, for me, to experience that kind of liberating thing. I also just felt more balanced mood wise and started waking up more restful. After a month I lost 8 lbs and was really excited because it was seemingly because of two things. 1. I simply had total control over cravings like never before and was eating less altogether & actually craving good foods 2. The product somehow triggers the body to release stored fat. Overall extremely pleased and just wanted people to know.

Bottom Line: Yes, I would recommend this to a friend

---

Rescued by Plexus.

By Staci

,

San Diego, CA

,

Aug 9, 2015

I started using Plexus products 15 months ago. I was SUPER skeptical, in fact, I took the ingredients lists to my OBGYN before I tried the products. He did a thorough search for me on not just the ingredients but the company as well. He was impressed with the quality of the ingredients, and said right off the bat, that 3 of the ingredients in the Slim were known to have successful results for weight loss. He gave me the thumbs up, so I ordered. The reason I was interested in trying it, was because I was always fatigued, I had just finished weaning my 4th son from nursing and I was gaining weight, was extremely moody with my kids, and overall felt horrible. I had tried "other" health programs (not products) but they weren't my thing. I knew what it took to get healthy, I just needed something to make it a little easier during that transition , to help me not feel deprived and tempted by my sweet tooth.

In my experience (I started using the products on Dec. 5th-yes, I was glutton for punishment trying to lose weight through the holidays!), I noticed my fatigue had disappeared after 3-4 days of using the products. On Christmas day, I realized I had NO desire for dessert and felt full after only eating 1/3 of what was on my plate. By New Year's day, I had lost 5 pounds. I was no longer feeling the battle between me and sweets, but more importantly, I was desiring healthier foods. I was having less mood swings, I was much happier, energized and was sleeping better. After 6 months, I had dropped 4 pant sizes, I have backed off of some of the products, and I'm still down 19 pounds, and with the help of Plexus, it has been a great tool to help with the transition into a healthier lifestyle! My husband has now lost 30 lbs, my mom is off of her cholesterol meds, and my aunt is off her Thyroid Meds (according to her DR, thanks to Plexus)!

The customer service on the phone can be a little inconsistent, but I grant them a little grace because I know they are growing tremendously fast due to their success; however, I have never had any issues with refunds as long as it is requested within the 60 days (so, if you call them on day 58 and tell them you want your money back, you are good to go. If you call on day 61, it's a missed opportunity). I've never had to mail anything back. They ask if the package has been opened, and if it was, you keep it, if it is still sealed, then it would need to be returned and the credit will occur upon receipt.

My 11-year old son has actually thanked me for "doing Plexus," because he says it gave him his mom back. Thank you Plexus for rescuing me.

Bottom Line: Yes, I would recommend this to a friend

---

Learn to read

By Adam

,

Tennessee

,

Jul 22, 2015

I have used this product for six months, no problem and I have had some weight loss.

This product works for some and not for others, everyone is different.

For those people who complain about return policies and charges on their credit cards, you might want to learn to read.

The agreement/contract you sign whether as a preferred customer or ambassador (distributor) specifically states what will happen and how.

If you can't bother to read what you are signing or agreeing to when you click on a the submit button then you have no one to blame but yourself. Learn to take responsibility for your own actions.

Bottom Line: Yes, I would recommend this to a friend

---

Works Great

By Susie Q

,

California

,

Jun 28, 2015

I have been taking Plexus Slim plus Accelerator for 5 weeks and have lost just shy of 13 pounds. I am happy. I haven't struggled or gone on some wild exercise frenzy that I wont continue. I eat breakfast and within 45 minutes mix the pink into 24 ounces of water and take the accelerator. It has been that easy and I actually enjoy drinking plain old water all day long.

Bottom Line: Yes, I would recommend this to a friend

---

Doubled my weight loss.

By Jenny Bryant

,

Dallas, TX

,

Jun 28, 2015

I have been on my weight loss journey since November and started taking Plexus Slim over a month ago. I had been steadily losing 1lb per week with diet and exercise since November. Since starting Plexus, I have been loosing 2-3 lbs per week and have had so much energy that some days I am doubling up on my workouts. Even my trainer has started taking it. I would try it, you can even buy a 3 day or 7 day trial pack. Help yourself with your weight loss, as well as your energy, blood pressure, blood sugar levels, cholesterol levels and more.

Bottom Line: Yes, I would recommend this to a friend

---

Product and business

By Anonymous

,

Aug 5, 2014

I tried Plexus for six months and never lost anything but money. I signed up to sell it and found the company did not honor compensation plan either! What a joke! Stay away from this one!

Bottom Line: No, I would not recommend this to a friend

---