SlimQuick Pure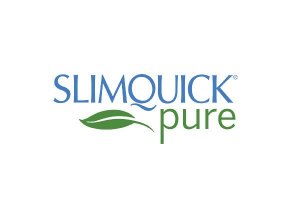 SlimQuick is a women's weight loss brand that sells green tea extract supplements, gummies, and powdered drink mixes designed to help you shed pounds faster. While the ingredients may be effective for jumpstarting your metabolism, the potential for harmful side effects may not be worth the risk.
SlimQuick Pure Review: A Detailed Look
HighYa is supported by our readers. When you buy something through a link on this page, we may earn an affiliate commission. Learn more.
SlimQuick sells weight loss products designed for women.
The company claims that if you take SlimQuick products regularly and follow a healthy diet and lifestyle, you can lose weight up to three times faster than you would through exercise alone.
In this review, we take a look at SlimQuick products to help you understand if they work and if they are right for you.
Research shows that green tea can boost metabolism and reduce fat retention
SlimQuick refund policy lets you return used products
The study referenced by SlimQuick doesn't involve the brand
Available research involved small sample sizes
Lots of potential negative side effects due to the excessive caffeine content
Is There Evidence for SlimQuick's Effectiveness?
SlimQuick sells a variety of diet aids, but each product is designed to accomplish similar goals.
Green tea is a common fat-burning supplement ingredient as it may promote a variety of metabolic benefits. Much of this benefit is attributed to green tea's caffeine content.
Green tea doses ranging from 90 to 400mg as many as three times daily helped boost energy expenditure when combined with caffeine. Also, combining daily exercise and 500mg of green tea reduced body weight, BMI, waist to hip ratio, and body fat more than exercise alone.
These studies highlight the potential weight-loss benefits of green tea, especially when combined with an additional source of caffeine, diet, and exercise.
SlimQuick may differ from other similar products in that it contains a patented blend, called AlloPure, that combines green tea extract and soy lecithin to improve its absorption.
As evidence of its products' effectiveness, the company highlights a 2009 study in Alternative Medicine Review, where 50 overweight women followed a 1,350-calorie diet and took a bio-available green tea extract called GreenSelect™.
This extract, like KetoGreen, contains a blend of green tea that is combined with phospholipids to increase its absorption.
Participants in this study lost an average of 31lbs over 90-days, compared to the eleven pounds lost by the 50 control women who followed the same restricted-calorie diet but didn't take the extract.
Greenselect at 300mg daily over 24-weeks also reduced weight, blood lipid profile, and blood pressure when compared to diet and exercise alone. Similar effects were seen when obese women were treated with this same dose for 3-months.
SlimQuick extrapolates from the 2009 study to claim that its own trademarked green tea blend allows for three times faster weight loss than dieting alone. Data from more recent studies is also supportive.
Keep in mind that these studies were small, short-term, and investigated a different brand's product.
Also, KetoGreen is not the only active ingredient in SlimQuick products that may play a role in boosting metabolism.
Caffeine is a well-known stimulant, that is why so many people start their day with a cup of coffee each morning. It may offer a variety of health benefits like boosting metabolism and enhancing mental focus.
When dosed at 3 mg/kg before physical activity, caffeine was associated with more fat burning in healthy subjects when compared to caffeine-free regimens. A recent review of 13 randomized studies found that caffeine may help reduce weight, BMI, and body fat.
Also, this study concluded that caffeine might help to sustain weight loss benefits.
Caffeine anhydrous is a concentrated form of the stimulant that is featured in many of the products in SlimQuicke's product line. One teaspoon is equivalent to roughly 5000mg, or about 28 cups of coffee.
In physically fit adults, 4.45 mg/kg doses of caffeine anhydrous were more effective than caffeine at enhancing athletic performance.
Product Line
SlimQuick currently offers five weight loss products:
SlimQuick Pure Regular Strength
This classic SlimQuick supplement contains antioxidants, calcium, vitamin D, and AlloPure. Each serving contains the caffeine equivalent of two cups of coffee.
Instructions: Take three capsules with breakfast and three with an afternoon meal six hours later. Don't exceed six capsules within 24 hours.
Price: $24.99 per 60ct.
SlimQuick Pure Caffeine Free
These stimulant-free capsules contain antioxidants, calcium, vitamin D, and AlloPure Green Tea™.
Instructions: Take three capsules with breakfast and three with an afternoon meal six hours later. Don't exceed six within 24 hours.
Listed Price: $24.99 per 60ct.
SlimQuick Pure Keto Extra Strength
Formulated with MCT (medium-chain triglycerides) oil powder and KetoGreen™ Green Tea to assist you with following the ketogenic diet. Each serving contains the caffeine equivalent of 2.5 cups of coffee.
Instructions: Take three capsules with breakfast and three with an afternoon meal six hours later. Don't exceed six within 24 hours.
Listed Price: $24.99 per 60ct.
SlimQuick Pure Extra Strength Mixed Berry
This powdered drink mix can be dissolved in your water bottle and drunk whenever you need a weight loss boost. Each serving is zero calories and contains antioxidants, calcium, vitamin D, and AlloPure Green Tea™. One serving contains the caffeine equivalent of one cup of coffee.
Instructions: Dissolve one packet in 500ml (17oz) cold water and stir until dissolved. Take one serving in the morning and one in the afternoon the first day, two servings in the morning and one in the afternoon the second day, and two servings in the morning and two in the afternoon the third day and beyond. Do not take more than four servings in 24 hours.
Listed Price: $24.99 per 24 drink packets.
SlimQuick Pure Extra Strength Gummies
For those who prefer their supplements to taste like candy, SlimQuick Gummies contain the same active ingredients. They are caffeine-free.
Instructions: Take three gummies with breakfast and three with an afternoon snack. Don't exceed six in 24 hours.
Listed Price: $24.99 per 60ct.
Possible Side Effects
Most of SlimQuick's products are stimulant-containing and must be used with extreme caution.
Caffeine anhydrous may affect you differently when compared to your typical response to natural caffeine, as it is a highly concentrated form of the stimulant.
Caffeine at 400mg daily is considered safe. The caffeine anhydrous offered in SlimQuick is part of a proprietary blend, so the company does not share the dosing.
Thus, consuming SlimQuick in addition to your regular tea, coffee, and soda intake may place you at levels beyond those that are safest.
This can be especially dangerous in individuals with pre-existing heart conditions, as well as those taking medications that support cardiac function. However, healthy individuals can certainly experience side effects as well.
Consuming too much caffeine can lead to restlessness, nausea, agitation, rapid heart rate, and increased blood pressure. Also, the rapid consumption of 1,200mg or more can be associated with seizures or even death.
For these reasons, pregnant women, women who are breastfeeding, and anyone under 18 shouldn't take SlimQuick products.
Never consume SlimQuick in ways other than as directed and always consult your doctor before using this or any other stimulant-containing supplement.
Shipping and Return Policy
It's possible to buy SlimQuick products online or instore at retail locations like Walmart, Target, Walgreens, Rite Aid, and more.
SlimQuick advertises free shipping on all orders on the site. Each purchase qualifies for a 30-day, 100% money-back guarantee. You can return the product—no matter how much you used—to the company with the original receipt to receive a full refund.
You will need to contact customer service to start the return process.
Purchases made from other retailers will be subject to their return policy.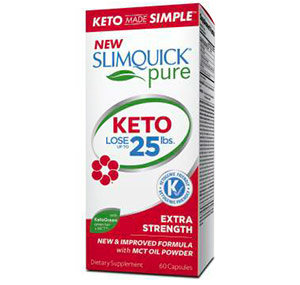 Analysis of Customer Reviews
On our website, there are 17 customer reviews of SlimQuick that average 2.6-stars. On Amazon, SlimQuick products average between 3.5 to 4-stars. Below are the main takeaways from customer feedback:
Common Compliments:
Successfully decreased appetite and increased energy
Even taking lower doses than recommended led to weight loss over 2–3 months
Led to consistent weight loss, especially when paired with exercise
Common Complaints:
Bad side effects like dizziness, constipation, shortness of breath, etc.
Some users gained weight
Increased appetite for some
Some found it cheaper and just as effective to drink more caffeine
Messed with some user's sleep
Key Takeaways:
Reviews are mixed, but many customers successfully lost weight when taking these supplements. Others found the side effects to be too much to handle and stopped taking them before they could experience any benefits.
The Bottom Line
While blends similar to those offered in SlimQuick were associated with 30lb weight loss over 90-days, this extreme result has not been demonstrated consistently. Nonetheless, there is ample support for the metabolic and weight loss effects of green tea and caffeine.
While this may sound promising, keep in mind that SlimQuick relies heavily on the caffeine anhydrous included in their products. While this is a proven method of boosting your metabolism, there is considerable risk for harmful side effects.
The risk can be even greater in those with existing medical conditions or in individuals that already include various forms of caffeine in their regimen.
Incorporating lifestyle changes like adopting a healthy meal plan and taking part in regular physical activity is vital to any weight loss plan. If you haven't done so already, this is where you should start your journey.
If you continue to struggle with your weight, the next step should be speaking with your doctor to determine a safe and effective plan of care.
---
Scam!

By Don S.

,

Sarasota, FL

,

Oct 27, 2020
Verified Reviewer

Length of Use: Less than 3 months

Overall Experience:

Sucker you in with promo of $39/bottle, but ship out and bill for $249. Customer service on first call said they would issue a return authorization, but on the next call, no return! Am now disputing a claim with credit card company.

Bottom Line: No, I would not recommend this to a friend

---

Overall Experience:

I purchased the Slimquick Pure Extra Strength to kick start a weight loss program. I started with the recommended dosage of 3 pills the first dose and bad dizziness occurred lasting a few minutes. I decided to go one tablet per serving for a few days, move to 2 for a few, then to the recommended 3.

I started the 2 pills 3 days ago and stopped taking all together yesterday. I have been having terrible shortness of breath, anxiety/panic attacks, uncomfortable constipation, headaches, and even some slight heart palpitations and after actually reading reviews I now know why.

This product was definitely not meant for me to use. Please read reviews, and if you suffer from any of the problems listed above in even the slightest form, the symptoms will get worse - guaranteed.

Bottom Line: No, I would not recommend this to a friend

---

Great!

By I Z.

,

Spring Hill, FL

,

Jan 18, 2019
Verified Reviewer

Overall Experience:

A few years ago I was taking this. Two in the morning and one later in the afternoon. I never did the full dose because it made me jittery. It did help curb my appetite. But any pill alone will not work 100%. You need to move people. I stopped drinking soda and went to only water. I did the elliptical for 10 minutes twice a day and some weight training. In about 2-3 months, I lost 25 lbs AND I felt amazing! Now that I'm a bit older and not as active, I'm going to try the same routine once again...and I'm sure I'll have positive feedback yet again. Good luck to all! Keep ya posted!

Bottom Line: Yes, I would recommend this to a friend

---

Weight gain

By William T.

,

California

,

Jan 5, 2019
Verified Reviewer

Overall Experience:

We have been taking this product for two weeks already. By the advertisement, this product provides significant weight, appetite loss, and healthier sleep patterns. We have witnessed neither.

We were under the assumption that what we read from the advertisement that we would be set. This is not the case. Our appetite has not decreased, and we have gained weight.

I would not recommend this product to anyone.

Bottom Line: No, I would not recommend this to a friend

---

Advertisement

---

Hmmmm...

By Tiffany M.

,

Houston, TX

,

Dec 2, 2018
Verified Reviewer

Overall Experience:

Although nothing is as good as real diet pills from the doctor, I am unable to obtain them. So I look around for natural remedies at the chain drug stores. They all have caffeine in them.

Sometimes these pills make me more hungry, but then I have an energy spout after eating. Also, if I'm constipated sometimes, these work, if you know what I mean.

These are just caffeine pills because phen phen went off the market and we are willing to try anything. It's cheaper to just down caffeine all day long.

Bottom Line: No, I would not recommend this to a friend

---

Overall Experience:

I tried this product because of the reviews and because it's specifically designed for women. I don't like the hot flashes that it causes. It has nothing to do with age; I'm only 27, and it affects me too. It did help me to lose a pound and half after two days of taking them. Hopefully, it helps me to lose more. I am lightly active, I walk a mile every day and go to the gym a few times a month.

Bottom Line: Yes, I would recommend this to a friend

---

Overall Experience:

I bought this in hopes that it would curb my appetite and boost my metabolism. It did neither. All it did was mess with my sleep. I took it as directed for about a week and go no results at all. If anything, it made me want to eat more. It also has a 100% back money guarantee, and that's not true either. I took it to the pharmacy where I purchased it with my receipt, and they would not honor it.

Bottom Line: No, I would not recommend this to a friend

---

Hidden label under Slimquick Pure label, beware

By Michelle

,

Massachusetts

,

Aug 29, 2017
Verified Reviewer

Overall Experience:

So I had been taking Slimquick Pure. I bought a new bottle, and I feel like I'm high on drugs. Well, that's because there is a hidden black and gold label under the original label. This is misleading and also I will not be buying again.

Bottom Line: No, I would not recommend this to a friend

---

Overall Experience:

I've lost ten pounds in the last month and a half! After a small breakfast and the three extra strength pills, I have no hunger all day. I have to force a little lunch! I can only eat a small portion of dinner then two more pills. It does not give me energy though, but I'm wondering if it's giving me hot flashes! I'm 38.

Bottom Line: Yes, I would recommend this to a friend

---

Overall Experience:

I started taking Slimquick Pure yesterday, and it has both good and bad side effects. The good is I've never had so much energy in my entire life, and it does reduce my hunger. The bad is it's so much caffeine that it's causing insomnia, and it gives me a headache and stomach pain. So if I can live through the bad side effects, I'll continue to take the pills because I need energy and to lose weight.

Bottom Line: Yes, I would recommend this to a friend

---

Great so far!

By Patricia

,

Cleveland, Ohio

,

Apr 27, 2017
Verified Reviewer

Overall Experience:

This is my second day of taking this product. It has decreased my appetite. I brought a piece of cheesecake to eat I don't want it or anything else. I have more energy. It does make me a little light headed, but nothing I can't deal with. So far so good!

Bottom Line: Yes, I would recommend this to a friend

---