Active-PK
Claimed This company has claimed this profile, is getting alerted on any new customer reviews entering this page, and may engage in dialogue with its customers to address their matters.

Companies cannot pay money or provide goods in order to remove or alter customer reviews.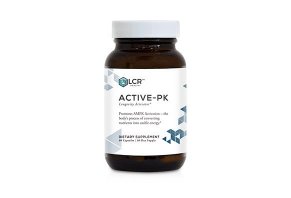 Active-PK supplement by LCR Health promises to increase your energy and help you lose weight by combining Gynostemma Pentaphyllum extract, quercetin, and berberine.
Active-PK Review - Benefits, Ingredients, Efficacy, Side Effects
What Is Active-PK?
Active-PK from LCR Health is a supplement that claims it can boost AMPK levels inside your body, resulting in reduced fatigue, a slimmer waistline, fewer cravings, and clearer thinking.
All of this is claimed to be done without the use of caffeine, dairy, synthetic additives, or animal byproducts.
To achieve the purported benefits of this supplement, LCR Health says to take two capsules of Active-PK daily with a glass of water, either with food or on an empty stomach.
Can you realistically expect to experience these benefits? To help you gain a better understanding, in this Active-PK review we draw on the knowledge of professional opinion and discuss how the supplement works, its ingredients, efficacy, side effects and whether this is right for you.
How Does Active-PK Work?
To understand how Active-PK works, it's important to get familiar with what AMPK is. 5'-AMP-activated protein kinase (AMPK) is an enzyme found in all mammalian cells that "activates" during physical activity.
In humans, AMPK activates in skeletal muscle, although in other mammals, such as mice, it also generates in other organs.
Once activated, a 2010 study reports that AMPK "stimulates energy generating processes such as glucose uptake and fatty acid oxidation and decreases energy consuming processes such as protein and lipid synthesis."
The study's authors are Dr. Erik Richter, professor of Human Physiology and Exercise Physiology at the University of Copenhagen, along with Dr. Neil Ruderman, director of the Diabetic Cardiovascular Disease Program Project at Boston Medical Center.
Richter and Ruderman state in the study that AMPK initiates the entry of glucose into cells and helps break down fatty acids inside tissues, both of which produce usable energy for the body.
The enzyme also inhibits cells from using energy for other tasks, such as creating proteins and lipids, thereby making more power available for immediate use by the body.
As a result, Dr. Barry Sears told us, "AMP kinase is an energy sensor that can be considered the enzyme of life, as it regulates every aspect of your metabolism leading to greater health and lifespan."
Taken together, this is why LCR Health refers to AMPK as your body's metabolic "master switch," since it "tells your body to stop storing fat and start converting it into clean, usable fuel," they say.
Active-PK Ingredients and Their Efficacy: Can They Help You Lose Weight?
Per the supplement facts label listed on the LCR Health website, Active-PK contains the following ingredients:
Gynostemma Pentaphyllum Leaf Extract 450 mg
Quercetin Dihydrate 100 mg
Berberine HCl 100 mg
Sites like WebMD and Natural Medicines Database report that taking between 500 mg and 1.5 grams of berberine per day could help ease conditions related to canker sores, high cholesterol, high blood pressure, and polycystic ovary syndrome (PCOS). Active-PK's 100 mg dose is much lower.
Furthermore, taking 30 mg of Gynostemma pentaphyllum (also commonly known as jiaogulan) daily has been shown to help decrease total cholesterol and increase good HDL in individuals with high cholesterol levels.
Outside of these, however, these sites indicate there's insufficient clinical evidence showing that quercetin can reliably deliver health benefits in humans.
Also, the sites didn't indicate that any of these ingredients can deliver on LCR Health's claims of boosting AMPK levels, trimming abdominal fat, increasing endurance, raising metabolism, supporting energy levels, or optimizing brain function.
We contacted Dr. Erik A. Richter for a professional opinion. Richter is one of the two men who wrote the study we mentioned earlier.
"In my professional opinion," Richter said, "It's not possible for over-the-counter ingredients to meaningfully boost AMPK levels and result in benefits such as increased energy, better brain function, and weight loss."
However, he emphasized, "there are multiple pharma companies working on AMPK activators, so it is not an impossible future possibility."
Potential Side Effects
The LCR Health website points out that because Active-PK contains all-natural ingredients, it's safe to use and causes no known side effects. However, it's important to emphasize that just because something is natural, this doesn't automatically mean it's completely safe.
For example, WebMD and Natural Medicines Database report that berberine is unsafe to take if you're pregnant, nursing, have diabetes, or are experiencing low blood pressure.
Furthermore, it can cause a major interaction with Cyclosporine and minor interactions with medications changed by the liver.
While up to 500 mg of quercetin has been used in studies that lasted up to 12 weeks, it's unknown if it's safe for longer-term use. It can also cause moderate interactions with Cyclosporin, antibiotics, and medications changed by the liver.
Finally, while Gynostemma may be safe to take for up to fours months, these sites indicate it can cause side effects like severe nausea and increased bowel movements (no specific circumstances noted).
It's also possibly unsafe for those who are pregnant or breastfeeding, as well as those with autoimmune diseases, bleeding disorders, diabetes, or who are scheduled to undergo surgery within two weeks (since it may slow blood clotting).
Together, the LCR Health website recommends speaking with your physician before purchasing Active-PK, which is certainly something we'd advise as well.
Active-PK Cost and Return Policy
Active-PK is only available for purchase on the LCR Health website, priced as follows:
1 Bottle: $89.95
3 Bottles: $242.85 ($80.95 per bottle)
6 Bottles: $455.70 ($75.95 per bottle)
All orders come with LCR Health's 90-day Ironclad Guarantee, less shipping, which you can request by calling (800) 384-8308 or sending an email to support@LCRHealth.com.
Active-PK vs. Similar AMPK Supplements
We found dozens of standalone jiaogulan, quercetin, and berberine dietary supplements during our research, many of which were priced well below $20 per bottle.
However, we encountered only a handful of top-rated options on Amazon that specifically advertised AMPK activation in their names. Here's how their prices and ingredients compared to Active-PK:
Brand
Price
Ingredients
Active-PK by LCR Health
$89.95
Gynostemma 450 mg, Quercetin 100 mg, Berberine 100 mg
Life Extension AMPK Metabolic Activator
$21.97
Calcium 130 mg, Hesperidin 500 mg, ActivAMP Gynostemma 450 mg
LUZ AMPK Activator
$35.97
Gynostemma 150 mg, Berberine 900 mg, Alpha-Lipoic Acid 300 mg, Resveratrol 150 mg
Takenutritionx AMPK Activator
$36.99
Gynostemma 450 mg,
Quercetin 100mg,
Berberine 100mg
Botanic Choice AMPK Formula
$50
ActivAMP Gynostemma 150 mg, Berberine 17 mg, Rosehip 400 mg
Horbaach AMPK Metabolic Activator
$16.87
ActivAMP Gynostemma 450 mg
Price-wise, we can see that Horbaach's AMPK Metabolic Activator is the lowest cost option among popular competitors above, by a decent margin.
It only contains 450 mg of Gynostemma, although as we discussed above, there's insufficient reported clinical evidence that it can help humans lose weight, increase energy, or improve brain function.
Life Extension also contains the same level of Gynostemma as Active-PK, but at a much lower price. It doesn't contain quercetin, but again, there's insufficient clinical support that it can activate AMPK in humans.
From an ingredients perspective, Takenutritionx's AMPK Activator features the same formulation and dosages as Active-PK, but at a meaningfully lower price.
Based on this, we can see that Active-PK isn't necessarily the "revolutionary formula" advertised by LCR Health.
The Bottom Line: Is Active-PK Worth It?
So far, dozens of customers have given Active-PK an average rating of 3.9 stars here on HighYa, many of which reported excellent customer support, as well as benefits like reduced weight and inches around their waist, improved sleep, decreased cravings, and boosted energy.
LCR Health had similar Better Business Bureau feedback at the time of our research.
It's important to balance the positives by pointing out that many HighYa readers reported no results with Active-PK, although a company representative responded in most of these instances to address the customers' concerns.
Furthermore, websites like WebMD and the Natural Medicines Database, along with medical professionals like Erik Richter, report insufficient clinical evidence supporting LCR Health's claims related to AMPK activation, weight loss, or boosted energy or improved brain function for Active-PK's ingredients.
Finally, Active-PK comes with a much higher price than popular competitors on Amazon. And based on our experience writing about hundreds of dietary supplements over the years, customers typically don't report meaningfully better results after paying more for one.
Taken together, if you're looking to explore potential AMPK activation, we think it's difficult to justify paying a much higher price for Active-PK.
» Keep Reading: Weight Loss Pills and Supplements 101: Everything You Need to Know
My experience with Active-PK

By

Sharon H.

,

Virginia

,

Nov 12, 2019
Verified Reviewer

I feel amazing, I used to be bloated, and so uncomfortable. I recently started taking the Active-PK supplements and now I don't have any discomfort and the bloating and queasy stomach have ceased. I have finally been able to add exercise to my schedule and now I walk 3-4 times a week. The best part of that is that I can go a full 2.9 miles before I have to worry about getting to a lady's room. I think by adding this to my current prescription meds that it helps it work for the better.

Bottom Line: Yes, I would recommend this to a friend

---

So far, so good

By

Melinda F.

,

Virginia

,

Nov 11, 2019
Verified Reviewer

54-year-old female dealing with perimenopause. Weight gain around the middle that I've never had. Sudden onset of bloating and weight gain.

I exercise weekly and watch my diet. Still could not get the weight gain to budge. I've taken the Active-PK now almost one month and feel like it definitely curbs my appetite. I have lost a couple of pounds and a 1/4" around waist and hips. No negative side effects. I am on the plan to receive it monthly and am looking forward to my next shipment.

Bottom Line: Yes, I would recommend this to a friend

---

Very happy with Active-PK

By

Pam D.

,

South Australia, Australia

,

Nov 9, 2019
Verified Reviewer

I have been taking Active-PK for a while now and I am feeling very well and I am more active. People have commented that I have lost weight in the face and neck which pleases me very much. Maybe when winter is totally over, and I am in summer clothes, these same people will notice that I have slimmed down in my body also. I took them before but did not seem to have much success and then I saw a video from Dr. Rand and I watched it from beginning to end and learned more about the results that I could expect and I found the video very informative and it made me want to start taking them again.

Bottom Line: Yes, I would recommend this to a friend

---

0 out 1 people found this review helpful

Updated review

Update

By

Cynthia D.

,

Erie, PA

,

Nov 9, 2019
Verified Reviewer

Despite one of the customer service representative asking me to contact her to process product return/refund, I still have not gotten any response from the company. So much for a hassle-free return guarantee.

Bottom Line: No, I would not recommend this to a friend

Previous review
Oct 30, 2019

Worse than a placebo

I bought a 3-pack of Active-PK with the hope of helping reduce belly fat. After regularly taking for approximately 1 month, I am highly disappointed to report that there has not been even a slight improvement! I emailed the customer service requesting a product return/refund but have not gotten any response.

Oct 30, 2019

Hello Cynthia. My name is Taylor and I am with LCR Health. I am sorry to read your review of our Active-PK. We have many satisfied customers who have seen their desired results following three months of consistent daily use, but we understand that our products may not be the best choice for everyone. LCR Health always advises our customers to consult their physician prior to making any changes to their daily supplement regimen, as results may vary. Please email me at taylor@lcrhealth.com for additional assistance on the return process. Thank you for taking the time to share your experience. We genuinely appreciate your feedback. I look forward to hearing from you and I wish you a wonderful day.

(

read more

read less

...)

---

Advertisement

---

Amazing!

By

Beatriz F.

,

Maryland

,

Nov 7, 2019
Verified Reviewer

This product is amazing! Let me tell you, I'm 70 years old, 5'3, and overweight for many years. Trying different diets or "miracle pills", with no success at all. But I decide to give Active-PK and myself the last chance to lose weight without pain (gym) or starvation.

So here I am, telling you that this is the REAL ONE...I've already lost 8 pounds with no change in my life whatsoever...meaning: I eat bread, chocolate candies and soda...and no exercise! And one more thing...NO UPSET STOMACH either! I sleep like a baby, the thing I couldn't do with other diet pills, and I have energy all day long! I'll keep taking Active-PK until I reach 160 pounds!

Bottom Line: Yes, I would recommend this to a friend

---

More energy

By

Stepheh H.

,

Auckland, New Zealand

,

Nov 6, 2019
Verified Reviewer

At first I felt strange, like being slightly stoned, that lasted around a week, lower apatite. Now I seem to have a lot more energy, not sure but have only been taking them for 9 days.

Bottom Line: Yes, I would recommend this to a friend

---

No changes in weight.

After one month no change. I was really good. My weight never goes up more than 3 lbs. Had the worst cravings...and I take it every day! Going to return. The guy seems so fit....Rand. I don't know why no weight change. Read a medical review that states the ingredients aren't that great. And possibly bad for the kidneys. So I couldn't give it to my husband...which I planned on this together.

Bottom Line: No, I would not recommend this to a friend

---

I was unable to start when it arrived, as I was on the road, so I have only been using it for about a week.

By

Steve P.

,

Traveling in a motorhome

,

Nov 6, 2019
Verified Reviewer

Thus far, I have noticed that I have more energy during the day and that my desire to eat during the day has decreased. I am encouraged as I was recently told, just before I started that my A1C is now at 5.9 up from 5.6 or 5.7 a year ago. I had been using the Isagenix system very regularly until I retired this past January from 40 years of dentistry due to bilateral hand numbness. Since then my living situation and daily activity schedule have become much less regulated and so I have not kept up w/ the protein shakes, etc. I am opposed to Metformin or other RX's used to manage this issue, so hopefully this will help with managing my blood sugar.

Bottom Line: Yes, I would recommend this to a friend

---

A step in the right direction.

By

Lynne V.

,

Ottawa, Ontario, Canada

,

Nov 6, 2019
Verified Reviewer

Since starting Active-PK my energy had been greatly increased. It calms my food cravings and by taking it first thing in the morning it sets the tone for my day.

So far I am down 10 lbs and I feel much better.

Bottom Line: Yes, I would recommend this to a friend

---

New lease on life

By

Yvonne F.

,

McDonough, GA

,

Nov 6, 2019
Verified Reviewer

I have been taking Active-PK for almost a month and already feel an improvement in my energy level, food cravings, and overall wellbeing. Because of the lessening of my craving for sweets and carbs, I am making better food choices that hopefully help me to lose some weight.

I have also noticed a marked improvement in my mental clarity. I am hoping for even greater improvements since I purchased a three month supply of Active-PK.

My husband is closely watching the changes in me and said he is considering giving Active-PK a try.

Bottom Line: Yes, I would recommend this to a friend

---

Encouraging report

By

Nila R.

,

Fort Worth, TX

,

Nov 4, 2019
Verified Reviewer

I was hesitant about trying the product. When I asked my doctor about it he said if I experienced any change it would be the placebo effect. I thought even if it is a placebo effect it would be improvement, so I tried it. I have been taking 2 in the morning for about 4 weeks. The first thing I noticed was I could bend over better then I realized my stomach was not getting in the way and I could reach around me better. Then I noticed weight loss. So far I have lost 8 lbs. I continue to lose a few ounces a day. I eat far less often. I notice the cravings I used to have do not tempt me anymore. It is a joy to think about candy bars or ice cream and not even want to stop and get one. So if that is the placebo effect I am all in favor of it!

Bottom Line: Yes, I would recommend this to a friend

---