Active-PK
This company has claimed this profile, is getting alerted on any new customer reviews entering this page, and may engage in dialogue with its customers to address their matters.

Companies cannot pay money or provide goods in order to remove or alter customer reviews.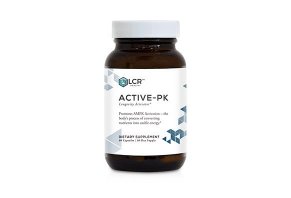 Summary
Active-PK is a dietary supplement from LCR Health that is alleged to reduce fatigue, slim your waist, limit cravings, and provide clearer thinking by increasing AMPK levels inside your body. Strong support for these actions is lacking in human subjects, however.
Pros
Early results for these ingredients are promising
Favorable return policy
Cons
More work is needed in human subjects to identify long-term safety and efficacy
2 or 3x more expensive than other brands that offer larger doses
Active-PK Review - Benefits, Ingredients, Efficacy, Side Effects
What Is Active-PK?
LCR Health claims that Active-PK will boost your 5'-AMP-activated protein kinase (AMPK) levels with just 3 active ingredients.
According to the company, by taking just 2 capsules daily, you'll:
Reduce abdominal fat
Boost energy
Think more clearly
Minimize cravings
Support a strong, slimmer-feeling body
LCR Health says that these effects are possible without the use of caffeine, dairy, synthetic additives, or animal products.
In this article, we'll help you gain a better understanding of the potential benefits of Active-PK by discussing the safety and efficacy of ingredients. But first, we'll talk a bit more about AMPK and Active-PK's proposed mechanism of action.
How Does Active-PK Work?
AMPK is an enzyme that is found in all mammalian cells. It is activated in an intensity-dependent manner during physical activity. This means that the more challenging the activity, the more active AMPK becomes.
AMPK serves to increase both glucose uptake and fatty acid oxidation, while limiting the synthesis of protein and fats. Essentially, AMPK plays a role in prioritizing energy-generating processes.
According to LCR Health, by boosting AMPK with Active-PK, you will begin to use fat as an energy source rather than storing it.
Active-PK Ingredients and Their Efficacy: Can They Help You Lose Weight?
The Active-PK ingredients thought to be responsible for the purported benefits:
Gynostemma Pentaphyllum Leaf Extract 450 mg
Quercetin Dihydrate 100 mg
Berberine HCl 100 mg
Obese subjects randomized to 450mg daily of gynostemma pentaphyyllum over 12-weeks experienced significant reductions in body weight, body fat mass, percent body fat, and BMI.
Diabetic patients that were randomized to treatment with gynostemma pentaphyllum at 6g daily over 12-weeks experienced significant decreases in fasting blood glucose levels, HbA(1C), and insulin resistance compared to controls.
In high-fat diet mice, supplementation with 0.8% quercetin produced short-term increases in energy expenditure; while present at 3-weeks, this was no longer evident after 8-weeks.
In 58 healthy subjects randomized to 1 g/day of quercetin or placebo, those receiving quercetin did not experience alterations in energy, fatigue, or sleep quality over 6-weeks.
Berberine reduced body fat and improved insulin sensitivity in obese, diabetic rats. These effects seemed to be related to berberine's ability to activate AMPK in both fat and muscle cells. The AMPK-related effects of berberine were corroborated in another mouse study.
Regarding human studies, 30 randomized patients with heart disease, treatment with 300mg of berberine daily activated AMPK and reduced inflammation related to cholesterol.
In another trial, 24 subjects with metabolic syndrome were randomized; those that received 500mg of berberine three times daily over 3-months experienced remission, decreased waist circumference, and insulin secretion.
We contacted Dr. Erik A. Richter, professor of molecular physiology at the University of Copenhagen, for a professional opinion.
"In my professional opinion," Richter said, "It's not possible for over-the-counter ingredients to meaningfully boost AMPK levels and result in benefits such as increased energy, better brain function, and weight loss."
However, he emphasized, "there are multiple pharma companies working on AMPK activators, so it is not an impossible future possibility."
Side Effects
Active-PK offers a blend of natural ingredients, though this doesn't necessarily guarantee safety.
While up to 5x the dose of quercetin found in Active-PK has been used safely over a 6-week span without serious adverse effects, it's unknown if it's safe for long-term use.
In a 12-week study, there were no episodes of hypoglycemia or adverse effects at gynostemma doses more than 5x the dose included in Active-PK.
In a 12-week study, 1500mg of berberine daily was not associated with serious adverse effects, though mild gastrointestinal symptoms are possible.
Though the risk for using Active-PK is low, and associated side effects are mild, it's still a good idea to speak with your doctor before using any new supplements.
Cost and Return Policy
Active-PK is available directly from the LCR Health website. Current pricing is listed below:
1 Bottle: $89.95
3 Bottles: $242.85 ($80.95 per bottle)
6 Bottles: $455.70 ($75.95 per bottle)
All orders are backed with LCR Health's 90-day guarantee. To process your refund, call support at (800) 384-8308 or email them at support@LCRHealth.com.
What Are the Alternatives to Active-PK?
This blend of ingredients is not unique to Active-PK. While formulations vary by pricing and dosing, as well as the included ingredients, there are a number of other supplements that offer similar blends.
AMPK Booster from SuperSmart offers more gynostemma and a comparable dose of berberine, though it lacks the quercetin content. Nonetheless, for a similar blend, you'll pay just $42 for a 1-month supply.
AMPK-4 Activator contains more gynostemma, berberine, and quercetin when compared to Active-PK. Priced at just $35.99 for a 45-day supply, this is the most cost-effective option yet.
The Bottom Line: Is Active-PK Worth It?
Active-PK offers a blend of natural ingredients with some support for their ability to support fat loss, though much of the support is in animal and laboratory models. Oftentimes, benefits were found at doses higher than those offered in this supplement.
More randomized trials are needed to determine the long-term effects, if any, in human subjects.
With the lack of strong scientific support, it may be hard to justify the hefty price tag, especially with other more cost-effective products on the market.
Nonetheless, users seem to be generally pleased with Active-PK. More than 225 rated it 4.1 stars at HighYa. Those pleased report excellent customer service, as well as weight loss, improved sleep, fewer cravings, and more energy.
If you're interested in using Active-PK or similar ingredients, be sure to discuss their safety with your doctor first.
Customer Reviews
Posted on Aug 10, 2023
Scared to keep taking
I've only been taking Active-PK for 12 days now, so I can't honestly say if it will work for me. My concern is my legs. The day after I started the pills, I noticed that my legs felt extremely tight and heavy, like I had run or lifted weights. My first thought was maybe that's a good thing? Every day has been the same except now along with that, my lower legs (from knees down) feel like balloons that could pop. I talked with my husband and had him research the ingredients (he is a pharmacist), and he said to stop taking them. His concern is that I'm retaining fluid? My thought was blood clots. I am going to call today and ask if I can go ahead and return the 6 bottles that I purchased. I have not lost any weight or noticed any energy increase. I have noticed a slim change in hunger. I'm really disappointed because I wanted to give them a good chance to work, but it's not worth my health.
Length of Use: Less than 3 months
Bottom Line: No, I would not recommend this to a friend
Pros and Cons
Less hunger
Tightening of legs
Heaviness of legs
Legs feeling like they would pop
Posted on Mar 23, 2021
Working so far
Well, I started taking it but was only taking 1 per day. Nothing much happened. Then once I started 2 per day as directed I began going #2 more often and have been losing about a pound a day. Happy with the level of comfort, so I will continue.
Length of Use: Less than 3 months
Bottom Line: Yes, I would recommend this to a friend
Pros and Cons
Weight loss is consistent and not harsh
Easy to take
No after effects
Price is a little high
Posted on Feb 27, 2020
Significant drop in fasting blood sugar
Fasting blood sugar is normally about 107. Blood work 45 days ago was 127. Started using the Active-PK product 30 days ago. Checked fasting blood sugar by skin prick 14 days ago - reading was 124. Skin prick this morning reading was 104.
Wow!
Bottom Line: Yes, I would recommend this to a friend
Posted on Feb 26, 2020
Looking forward to more!
I have felt slimmer in my abdomen area since I have been taking Active-PK for the last 30 days. It is kind of hard to explain the feeling, but there is more room when I put on pants. Which is always exciting! But from just taking these pills and no sit-ups is encouraging.
I am looking forward to the next 30 days with Active-PK to see if the "slim" feeling continues to increase.
Bottom Line: Yes, I would recommend this to a friend
Posted on Feb 22, 2020
Rapid onset with obvious effects
Active-PK has brought my weight down 5kg in 2 weeks while allowing me to feel fully energetic with a reduction in appetite for unhealthy substances together with a focusing of consumption-based pleasure-seeking on healthy food. I observe its effect also every day in the production of an unusual (odorless but voluminous) gaseous byproduct of visceral fat consumption. Active-PK makes all aspects of the day effortless and completely hunger-pang free, clearing my thinking for increased productivity.
Bottom Line: Yes, I would recommend this to a friend
Posted on Feb 22, 2020
Feeling good
I have been feeling good with more energy since starting the Active-PK. Have noticed that my stomach/abdomen area is getting smaller and is softer. It is easier to bend over to tie shoes, etc.
Bottom Line: Yes, I would recommend this to a friend
Posted on Feb 21, 2020
LCR and blood sugar
Just as I started taking LCR, I was hit with a severe cold. I kept taking LCR and was very pleased my blood sugar DID NOT spike to 300 mg/dL like it normally would when fighting a virus.
So far I am very happy with LCR and plan to continue taking LCR, looking forward to controlling my type 1 diabetes and detoxing my body. I'm hoping to lose a few pounds too.
Thank you for your work, care, and concern.
Bottom Line: Yes, I would recommend this to a friend
Posted on Feb 20, 2020
New client
I started the product a few weeks ago. I have had an increase in energy. I am using the product along with a weight loss program and exercise and I am down 6 lbs. I am looking forward to the final results.
Bottom Line: Yes, I would recommend this to a friend
Posted on Feb 19, 2020
More energy and motivation
I have only been taking Active-PK for a few weeks but I have found that I have much more motivation and energy. I can keep myself busy all day and get a lot done around our house and farm. I have lost a kilo in weight and intend taking Active-PK for the immediate future.
Bottom Line: Yes, I would recommend this to a friend
Posted on Feb 19, 2020
Working out
It gives me energy and allows me to work out with ease daily. I take it on an empty stomach and sail through my workouts, and I actually enjoy them now and look forward to working out.
Bottom Line: Yes, I would recommend this to a friend
Posted on Feb 16, 2020
Pay attention to side effects!
I used LCR's Active-PK for about one year with some very GOOD results - good energy, increased stamina, good maintenance of weight (though no NO weight loss). However, about 6 months in, my knees started to feel achy when standing from a sitting position. At one year, with my knees worsening, I did a better study on the side effects and found that the main ingredient of Active-PK, Gynostemma Pentaphyllum, carries a warning to not use more than 4 months or risk the development of the auto-immune disease, Rheumatoid Arthritis. I stopped the product immediately. The other ingredients - Quercetin and Berberine, both have anti-inflammatory benefits and without those two ingredients, my left knee swelled up to about double in size, put pressure on the sciatic nerve and strained my knee ligaments. I've spent the last two months using other supplements to reduce swelling and heal my ligaments and muscles. All I can do about possible arthritis is pray! BE CAREFUL - don't use this product longer than 4 months.
Bottom Line: Yes, I would recommend this to a friend
Company Response from LCR Health
Feb 20, 2020
Hi Vjo. My name is Taylor and I am with LCR Health. I am sorry to read about your experience with Active-PK. Our raw materials have GRAS approval which are standards set by the FDA, defined as "Reasonable certainty in the minds of qualified scientists that the substance is not harmful under its intended conditions of use." Immune activating ingredients like Echinacea, Astragalus, licorice and Gynostemma pentaphyllum should be avoided if one has an autoimmune disorder. LCR Health always recommends our customers to consult their physician prior to starting a new supplement if you have a medical condition or if you are currently taking medication. Please email me at taylor@lcrhealth.com so that I may file an adverse reaction report and offer you a full refund for your purchase. I want to thank you for sharing your experience with Active-PK with us. I wish you a wonderful day and I look forward to hearing from you soon.
Our Promise to You
In order to safeguard you and ensure helpfulness and relevance, our compliance team manually assess every customer review before it goes live.
We have a zero-tolerance policy for fake reviews, and companies cannot control or alter any reviews at any time.