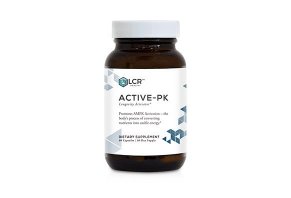 By combining Gynostemma Pentaphyllum extract, quercetin, and berberine, Active-PK by LCR Health promises to increase your energy and help you lose weight.
What Is Active-PK?
Active-PK by LCR Health features just three ingredients, although the company advertises that when combined, they can boost AMPK levels inside your body, resulting in reduced fatigue, a slimmer waistline, fewer cravings, and clearer thinking. And all of this without using caffeine, dairy, synthetic additives, or animal byproducts.
Together, LCR Health says that if you're experiencing rapid weight gain, brain fog, or insufficient energy to enjoy the activities you love, take two capsules of Active-PK daily with a glass of water, either with food or on an empty stomach.
From there, its revolutionary, third-party tested formula will ramp up your AMPK levels, increase your metabolism, and optimize your brain function.
How, exactly, does all of this happen? Can you realistically expect to experience these benefits? Are there other supplements claiming to deliver the same?
Let's answer all of your pressing questions about Active-PK, starting with how it works inside the body.
How Does Active-PK Work?
5' AMP-activated protein kinase (AMPK) is an enzyme found in all mammalian cells that "activates" during physical activity. In humans, AMPK activates in skeletal muscle, although in other mammals, such as mice, it also generates in other organs.
Once activated, a 2010 study reports that AMPK "stimulates energy generating processes such as glucose uptake and fatty acid oxidation and decreases energy consuming processes such as protein and lipid synthesis."
The study's authors are Dr. Erik Richter, professor of Human Physiology and Exercise Physiology at the University of Copenhagen, along with Dr. Neil Ruderman, director of the Diabetic Cardiovascular Disease Program Project at Boston Medical Center,
In layman's terms, Richter and Ruderman tell us in the study that AMPK initiates the entry of glucose into cells and helps break down fatty acids inside tissues, both of which produce usable energy for the body.
The enzyme also inhibits cells from using energy for other tasks, such as creating proteins and lipids, thereby making more power available for immediate use by the body.
As a result, Dr. Barry Sears told us, "AMP kinase is an energy sensor that can be considered the enzyme of life, as it regulates every aspect of your metabolism leading to greater health and lifespan."
Taken together, this is why LCR Health refers to AMPK as your body's metabolic "master switch," since it "tells your body to stop storing fat and start converting it into clean, usable fuel," they say.
How does the supplement activate the AMPK enzyme in humans, without using physical activity, though?
Active-PK Ingredients and Their Effectiveness
Per the supplement facts label listed on the LCR Health website, Active-PK contains the following ingredients:
Gynostemma Pentaphyllum Leaf Extract 450 mg
Quercetin Dihydrate 100 mg
Berberine HCl 100 mg
Sites like WebMD, Natural Medicines Database and Examine.com report that taking between 500 mg and 1.5 grams of berberine per day could help ease conditions related to canker sores, high cholesterol, high blood pressure, and polycystic ovary syndrome (PCOS). Active-PK's 100 mg dose is much lower.
Furthermore, taking 30 mg of Gynostemma pentaphyllum (also commonly known as jiaogulan) daily has been shown to help decrease total cholesterol and increase good HDL in individuals with high cholesterol levels.
Outside of these, however, these sites indicate there's insufficient clinical evidence showing that quercetin can reliably deliver health benefits in humans.
Also, the sites didn't indicate that any of these ingredients can deliver on LCR Health's claims of boosting AMPK levels, trimming abdominal fat, increasing endurance, raising metabolism, supporting energy levels, or optimizing brain function.
We wanted to get the opinion of a doctor, so we reached out to Richter, one of the two men who wrote the study we mentioned earlier.
"In my professional opinion," Richter said, "it's not possible for over-the-counter ingredients to meaningfully boost AMPK levels and result in benefits such as increased energy, better brain function, and weight loss."
However, he emphasized, "there are multiple pharma companies working on AMPK activators, so it is not an impossible future possibility."
Potential Side Effects
The LCR Health website points out that because Active-PK contains all-natural ingredients, it's safe to use and causes no known side effects. However, it's important to emphasize that just because something is natural, this doesn't automatically mean it's completely safe.
» Related: Can Dietary Supplements & Vitamins Cause Dangerous Side Effects?
For example, WebMD, Natural Medicines Database, and Examine.com report that berberine is unsafe to take if you're pregnant, nursing, have diabetes, or are experiencing low blood pressure.
Furthermore, it can cause a major interaction with Cyclosporine and minor interactions with medications changed by the liver.
While up to 500 mg of quercetin has been used in studies that lasted up to 12 weeks, it's unknown if it's safe for longer-term use. It can also cause moderate interactions with Cyclosporin, antibiotics, and medications changed by the liver.
Finally, while Gynostemma may be safe to take for up to fours months, these sites indicate it can cause side effects like severe nausea and increased bowel movements (no specific circumstances noted).
It's also possibly unsafe for those who are pregnant or breastfeeding, as well as those with autoimmune diseases, bleeding disorders, diabetes, or who are scheduled to undergo surgery within two weeks (since it may slow blood clotting).
Together, the LCR Health website recommends speaking with your physician before purchasing Active-PK, which is certainly something we'd advise as well.
How Much Does Active-PK Cost?
Active-PK is only available for purchase on the LCR Health website, priced as follows:
1 Bottle: $69
3 Bottles: $186.30 ($62.10 per bottle)
6 Bottles: $330.15 ($55.03 per bottle)
All orders come with LCR Health's 90-day Ironclad Guarantee, less shipping, which you can request by calling 800-384-8308 or sending an email to support@LCRHealth.com.
Active-PK vs. Competing AMPK Dietary Supplements
We found dozens of standalone jiaogulan, quercetin, and berberine dietary supplements during our research, many of which were priced well below $20 per bottle.
However, we encountered only a handful of top-rated options on Amazon that specifically advertised AMPK activation in their names. Here's how their prices and ingredients compared to Active-PK:
Brand
Price
Ingredients
Active-PK by LCR Health
$69
Gynostemma 450 mg, Quercetin 100 mg, Berberine 100 mg
Life Extension AMPK Metabolic Activator
$21.97
Calcium 130 mg, Hesperidin 500 mg, ActivAMP Gynostemma 450 mg
LUZ AMPK Activator
$35.97
Gynostemma 150 mg, Berberine 900 mg, Alpha-Lipoic Acid 300 mg, Resveratrol 150 mg
Takenutritionx AMPK Activator
$36.99
Gynostemma 450 mg,
Quercetin 100mg,
Berberine 100mg
Botanic Choice AMPK Formula
$50
ActivAMP Gynostemma 150 mg, Berberine 17 mg, Rosehip 400 mg
Horbaach AMPK Metabolic Activator
$16.87
ActivAMP Gynostemma 450 mg
Price-wise, we can see that Horbaach's AMPK Metabolic Activator is the lowest cost option among popular competitors above, by a decent margin. It only contains 450 mg of Gynostemma, although as we discussed above, there's insufficient reported clinical evidence that it can help humans lose weight, increase energy, or improve brain function.
Life Extension also contains the same level of Gynostemma as Active-PK, but at a much lower price. It doesn't contain quercetin, but again, there's insufficient clinical support that it can activate AMPK in humans.
From an ingredients perspective, Takenutritionx's AMPK Activator features the same formulation and dosages as Active-PK, but at a meaningfully lower price. In fact, consumers can purchase two bottles of Takenutritionx for only a couple of dollars more than a single bottle of Active-PK.
Based on this, we can see that Active-PK isn't necessarily the "revolutionary formula" advertised by LCR Health.
Still, considering everything we've covered in this article, is it worth paying a higher price for Active-PK? Let's address this critical question as we wrap things up.
Bottom Line: Is Active-PK by LCR Health Worth It?
At the time of publishing, dozens of HighYa readers have given Active-PK an average rating of 3.6 stars, many of which reported excellent customer support, as well as benefits like reduced weight and inches around their waist, improved sleep, decreased cravings, and boosted energy. LCR Health had similar Better Business Bureau feedback at the time of our research.
So, if you're looking to purchase your next dietary supplement from a reputable company, then LCR Health certainly seems to fit the bill.
It's important to balance the positives by pointing out that many HighYa readers reported no results with Active-PK, although a company representative responded in most of these instances.
Furthermore, websites like WebMD and the Natural Medicines Database, along with medical professionals like Erik Richter, report insufficient clinical evidence supporting LCR Health's claims related to AMPK activation, weight loss, or boosted energy or improved brain function for Active-PK's ingredients.
Finally, Active-PK comes with a much higher price than popular competitors on Amazon. And based on our experience writing about hundreds of dietary supplements over the years, customers typically don't report meaningfully better results after paying more for one.
Taken together, if you're looking to explore potential AMPK activation, we think it's difficult to justify paying a much higher price for Active-PK.
» Keep Reading: A Beginner's Guide to Losing Weight and Getting in Shape
Great product!

By

Elizabeth B.

,

Orlando, FL

,

May 16, 2019
Verified Reviewer

I've been using this for 2 weeks now. I know it takes time for drugs to start working, but I am starting to feel different. I feel not as hungry and more energetic but not jittery. Because I find myself without cravings and not as focused on eating I find that I am losing some weight in my problem areas. I'm not sure why the folks with the bad reviews seem to think this is a weight loss drug. It's more of a lifestyle change and works best with making a conscious effort in the lifestyle choices we make throughout our days. This drug should compliment your more healthy choices. Don't expect to get weight loss results if you don't even have enough self-control to stop eating the crap and drink some water and exercise. Lifestyle change! One day at a time! You didn't gain the weight in one day and you won't lose weight in one day. Be realistic.

Bottom Line: Yes, I would recommend this to a friend

---

1 out 1 people found this review helpful

Caused bloating

By

C C.

,

Nevada

,

May 9, 2019
Verified Reviewer

I really hoped this product would do me some good. I took the pills for 2 weeks. I hoped to get through at least a month but cannot continue. The bloating occurs within an hour of taking the supplement on an empty stomach as instructed. It definitely suppressed my appetite which I never had an issue with for starters. I was not using this supplement for weight loss either. I tried it just for general health purposes. The claims of what our bodies lack over time were compelling so I thought I'd give it a try. The bloating is a big problem for me. When I feel so bloated and stuffed, I have no desire to eat much because it would only add more to my discomfort. I do some form of exercise 5-6 days a week so I forced myself to be sure drink plenty of water and to eat very small portions to stay nourished and recover. Unfortunately, it's too uncomfortable to continue these pills if hours of being bloated is the result and I could not recommend it.

Bottom Line: No, I would not recommend this to a friend

May 10, 2019

Hello C.C. My name is Taylor and I am with LCR Health. I am sorry to read your review of Active-PK. Many of our satisfied customers have seen great results, but we understand that results may vary. We always advise our customers to consult their physician prior to making any changes to their daily regimen, which is why we provide the full ingredient list on our official website. Bloating is not a common side effect of Active-PK and I would like more information. I would like to issue you a full refund, without any need for return. Please contact me at taylor@lcrhealth.com so I may receive more information and begin to process your refund.

---

Advertisement

---

20 out 26 people found this review helpful

Updated review

Update

By

Murray W.

,

Linden, Canada

,

Mar 18, 2019
Verified Reviewer

I have now been using the product for one month, have seen no benefit.

Bottom Line: No, I would not recommend this to a friend

Previous review
Feb 17, 2019

Update

One day after writing this review my product arrived. I have tried it for two days, nothing to report yet.

(

read more

read less

...)

Previous review
Feb 10, 2019

Scam

I ordered the product a month ago. I have still not received any product. I sent two emails to the company inquiring what was happening, they don't even bother to reply. My suggestion, try a different company.

Feb 11, 2019

Hi Murray, I'm sorry to hear that you haven't received your product. Please email me at taylor@lcrhealth.com and I'll look into your account. Looking forward to hearing from you!

(

read more

read less

...)

---

6 out 6 people found this review helpful

Very helpful

By

Teresa A.

,

Queensland, Australia

,

Mar 16, 2019
Verified Reviewer

The review of the product and company has allowed me to place my order with full confidence. Which I will do next, if it works great. If not, at least I know my cholesterol levels may lower and my card details won't be exploited. Thank you for your information.

Bottom Line: Yes, I would recommend this to a friend

---

Advertisement

---

13 out 13 people found this review helpful

Don't waste your money

By

Brad W.

,

Houston, TX

,

Mar 12, 2019
Verified Reviewer

Don't waste your money! Used three bottles and had no results what so ever. In my humble opinion, it's total crap. LCR called me to see how I liked the product and I told them I got no benefits from the product at all. Their reply was that I needed to buy three more bottles. I asked the lady if she would buy more of a product that didn't work and there was dead silence. They say if you don't like the product they will refund your money...that is a joke! DON'T WASTE YOUR MONEY!

Bottom Line: No, I would not recommend this to a friend

Mar 13, 2019

Brad, I'm very sorry to hear about your experience with Active-PK. This product has helped many people but we do understand that everybody is different, which is why we will always honor our 90 day money back guarantee. Please email me at taylor@lcrhealth.com and I'd be happy to begin your refund process immediately.

---

10 out 11 people found this review helpful

After one week. Zero weight loss.

By

Manuel A.

,

Miami, FL

,

Mar 12, 2019
Verified Reviewer

I have taken the product as instructed for one week and all I have lost is my money.

How can I get a refund? Sorry, but I can not recommend this product. Looks like it just does not work for me. Great disappointment.

Bottom Line: No, I would not recommend this to a friend

Mar 13, 2019

Hi Manuel, I'm very sorry to hear that you haven't seen the results you had expected! We understand that everybody is different so it may work for some but not others. Please email me at taylor@lcrhealth.com and I'd be happy to issue you a full refund.

---

19 out 21 people found this review helpful

It's more crap

By

Chase W.

,

North Carolina

,

Feb 27, 2019
Verified Reviewer

I wound up tricked into 12 frickin' bottles of this stuff and used it as directed, with no visible or physical effect. This is just another BS hype to get your money. Leave it in your wallet.

Bottom Line: No, I would not recommend this to a friend

Feb 28, 2019

Hi Chase, I'm very sorry to hear that you haven't seen improvements from taking Active-PK and that you feel that you were tricked into purchasing 12 bottles. Please email me at taylor@lcrhealth.cm and I'd be happy to issue you a full refund.

---

42 out 43 people found this review helpful

Inches lost on waste

By

Jeannie H.

,

New Hampshire

,

Jan 11, 2019
Verified Reviewer

I am a 41-year-old mom of two who has had two c-sections and I could never seem to lose that unwanted belly flop over my incision line. I have even gone as far as having lipo suction (which by the way just made the stomach look worse in that area). I started Active-PK about 40 days ago and I'm a bit in shock how much my stomach has gone down and how good I feel. I think that belly bulge is almost down to the way it was pre-children, a good two inches down.

I'm excited to see how this product keeps working and I would highly recommend. Thanks so much!

Bottom Line: Yes, I would recommend this to a friend

---

65 out 66 people found this review helpful

Positive results

By

Pamela P.

,

California

,

Dec 15, 2018
Verified Reviewer

I first learned about Active-PK by watching a video the company put out. I decided to try it because the doctor who helped formulate this product is a reputable doctor in LA. I am a nurse by profession. I have never been a really thin person and like many have gone up and down back and fourth over the years with my weight. I ordered three bottles, a 3-month supply, and just started on my last bottle. For me, it has worked so I will be ordering more. I have lost inches and weight and am feeling good. Just as it directs, I get up every morning and take two with a glass of water. I have never experienced any side effects and it does not cause you to feel jittery. It is stated that you need to take it for a while, no miracles overnight, and I agree. Patience.

Bottom Line: Yes, I would recommend this to a friend

---

96 out 101 people found this review helpful

Just bought Active-PK.

By

Karen N.

,

Pembroke Pines, FL

,

Dec 4, 2018
Verified Reviewer

I saw the ad on Facebook during the middle of the night. I have degenerative discs in my neck, so I rarely sleep a full night and read to fall back asleep. Something about the ad caught my attention. I have never used a weight loss pill, special meals or been on any weight loss program. I watched the video and was impressed with the scientific data about weight loss. I scrolled through the website, checked the price, and thought I would order it in the morning when I could get my card. On the order screen, it said PayPal, so I went ahead and ordered it. I received my first order of Acive-PK on Tuesday, November 20th, two days later. I took the first two Wednesday morning as directed.

I own my own business and work 10 hours a day, seven days a week. My mind is constantly tumbling with thoughts of what needs to be done. That morning at 10 am, I walked into my office with such calmness that I can't ever remember feeling. I had NO thoughts. I was scheduled to go to a lunch with my entire family. I had been nervous that I would have to rush through it to get back to work. I actually took the rest of the day off and wasn't stressed about it. I don't know how to explain how fast they worked or all the benefits I have received in the last ten days.

I have slept every single night without ANY neck pain. I have not had one migraine that usually accompanies the neck pain. I am calm and stress-free. I spend 4 to 6 hours a day driving. I was a train wreck while driving. I would curse out drivers and feel like I was going to have a stroke. I am completely calm now while driving. That change alone is miraculous.

I also have no hunger pains. I keep snacks in my car for when I can't eat, and I haven't touched them. I eat a banana for breakfast and literally forget to eat until dinner.

I can't say enough about these pills. I tell everyone. I bought a 90-day supply and have already gone through one whole bottle giving them to people to try.

One of my managers started his free sample yesterday and texted me at 10 am to tell me how calm he was. He texted me this morning and said he slept through the night for the first time in years. He's calm and relaxed for the first time that he can remember.

I'm not a paid reviewer, I don't work for LCR, I'm just a very happy customer. I don't even care if I lose any weight. All these other benefits are worth the money.

I just wanted to share my story. I hope these benefits last for a long time.

Bottom Line: Yes, I would recommend this to a friend

---

63 out 64 people found this review helpful

Enjoying life again.

By

Verlaine D.

,

Las Cruces, NM

,

Dec 3, 2018
Verified Reviewer

I will be 75 in January and am in good health for my age, but I have been chronically tired for about 3 years. I would sleep well but wake up in the morning with no physical or mental energy. I avoided going out in the evening because I was so lethargic.

Now I get out of bed looking forward to the day, full of enthusiasm. Instead of sitting in front of the television and snacking, I am busy with far more interesting things to do an people to see.

Active-PK has curbed my appetite and I am slowly losing weight. I checked with my doctor to see if it was safe for me to take the product along with my blood pressure medicine and she gave me the go-ahead.

The only minor downside for me is I am beginning to feel slightly hyper, but I will take that over being vaguely depressed.

I am halfway through my first bottle of Active-PK and hope the benefits I am feeling will continue.

Bottom Line: Yes, I would recommend this to a friend

---